The best breakfast in Paris offers some of the unique dining experiences in Paris with its top-rated cafés and world-class French bistros. There is a range of restaurants that cater to every taste and budget. Whether you are in the mood for authentic French breakfast or brunch-like cuisine, the selections of quality breakfast spots are plenty.
Paris is a culinary haven where some of the top Michelin-rated chefs in the world have come to open their restaurants and revolutionize French cuisine – whether it's breakfast, lunch, or dinner. The restaurants below are more than croissants, baguettes, or any continental breakfast you may be used to!
So if you are wondering where to eat breakfast in Paris, we've put together some of the best breakfast spots in Paris located in beautiful neighborhoods or part of some of the best hotels in Paris.
Bon appetit!
You Might Like:
The Best Breakfast in Paris Top Picks
1. Jozi Café
Address: 3 Rue Valette, 75005 Paris, France
Restaurant Menu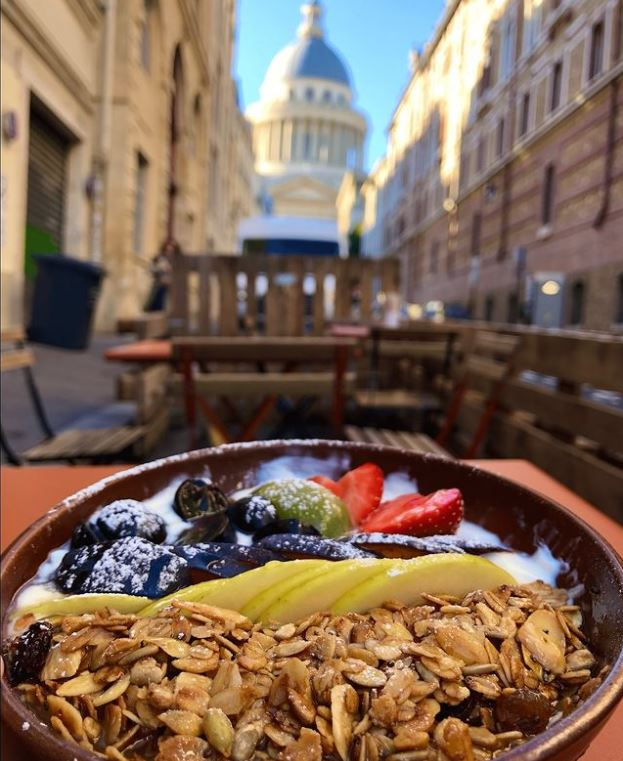 On a cold morning walking around the Panthéon, we spotted a cozy place that looked inviting for a much-welcomed cup of coffee. The interior was decorated with a minimalist style, with tables, seats by the window, and pictures adorning the dark-blue-green walls. It was a perfect spot to study during the week or have a relaxed breakfast or brunch at the weekend.
The mirror placed on top of the coffee machine allowed us to watch our drink being made. When ordering our coffee to go, the barista gave us a pastry for free with a smile. The venue also had some tables outside for those who prefer a Parisian-style setting.
We had a variety of food and drinks, including crepes, avocado toast, carrot cake, a blueberry muffin, pancakes with fruits, fresh squeezed orange juice, and two coffees. All of them were of high quality and very delicious. The coffee was strong and the chai latte was amazing.
This place is an absolute must-visit if you care about authenticity and enjoy non-pretentious spots with high standards and deserves our top pick as some of the breakfast in Paris.
2. Seasons
Address: 24 Rue de Sèvres, 75007 Paris, France | map
Restaurant Menu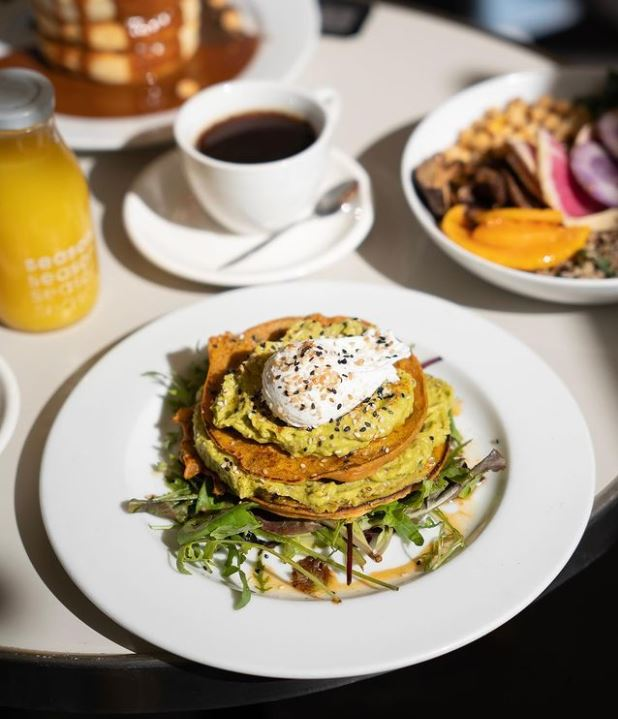 Season is a wonderful place to experience breakfast or brunch in the Marais. It is especially perfect for those with Celiac disease, as the food is both delicious and gluten-free. The service is friendly and helpful, and many of the servers are able to communicate in English fluently. Our favorite server was from Montreal!
Moreover, those who do not require gluten-free food will not be disappointed, as there are a number of great choices like French toast and pancakes. The coffee is a bit pricey, but the food itself is fairly priced. We went three times during our 5 day stay in Paris, which is a testament to how much we enjoyed the food. Season is also a great spot for families, and wifi is available.
There can be long lineups on weekends, so it is best to arrive early. However, the line moves quickly, which is a plus. We highly recommend this place!
3. Ob-La-Didi
Address: 54 Rue de Saintonge, 75003 Paris, France | map
Restaurant Menu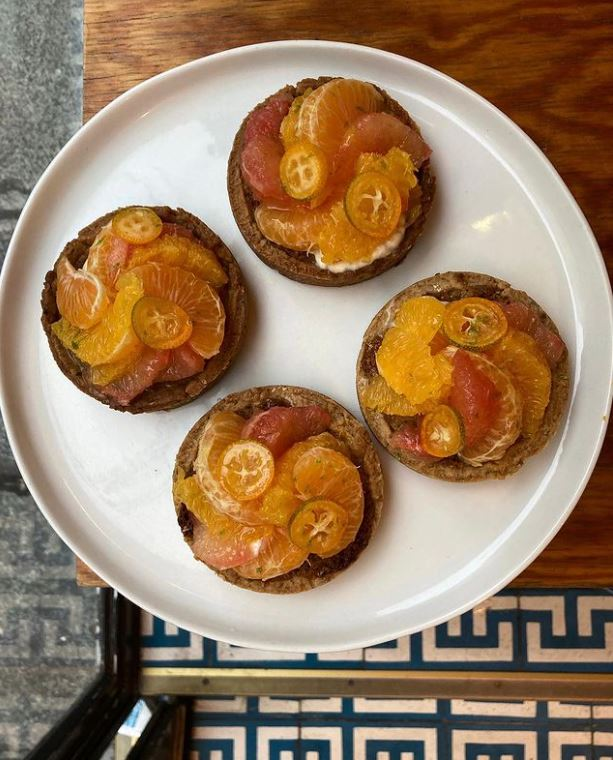 Ob-La-Di is a cute little charming cafe with fantastic options for espresso drinks, baked goods, and vegan plus gluten-free options served in a hip cafe with blue & white tiles. We recommend arriving as early as possible as it could be challenging to find a seat given that the café is relatively tiny. Our favorite item on the menu: the homemade granola dish is fantastic, and avocado toast.
This Paris breakfast is really special. It has a small menu but enough choices to make you happy. The café was the best I had in Paris. The Tartines were excellent and really hit the spot. It's one of those places you hesitate to tell people about because it's so good but so tiny!
The cafe is located on a quiet road in the 3e arrondissement, near rue de Bretagne, the Marais, and other attractions. You are met with a cool and funky vibe as soon as you step inside. Don't let the small size deceive you — the kitchen in the back is great and serves up amazing breakfasts and a range of delicious coffee. We couldn't get enough of their flat whites every morning during our stay in Paris.
4. Loulou
Address: 107 Rue de Rivoli, 75001 Paris, France | map
Restaurant Menu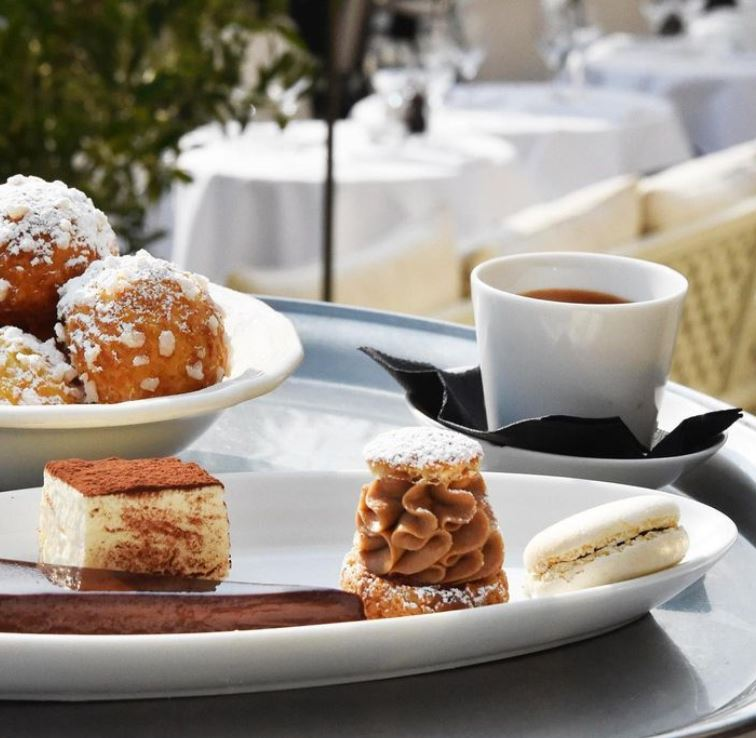 Loulou is more than just your typical breakfast in Paris – it's a café with Australian influences near the Louvre Museum. It's also one of the best breakfast in Paris near Eiffel Tower.
The menu is perfect for those looking for a hearty breakfast, featuring salads, burgers, desserts, and a variety of homemade cold-pressed juices. It's colorful décor, and cheerful atmosphere will make sure to wake you up in the morning!
Visiting the restaurant at the Musee des Arts is a truly unique experience. The setting is simply breathtaking, as it is situated in the garden next to the Louvre and offers stunning views of the Eiffel Tower. What's more, the restaurant features outstanding decoration, service and cuisine that will make your meal unforgettable.
5. Mokonuts
Address: 5 Rue Saint-Bernard, 75011 Paris, France | map
Restaurant Menu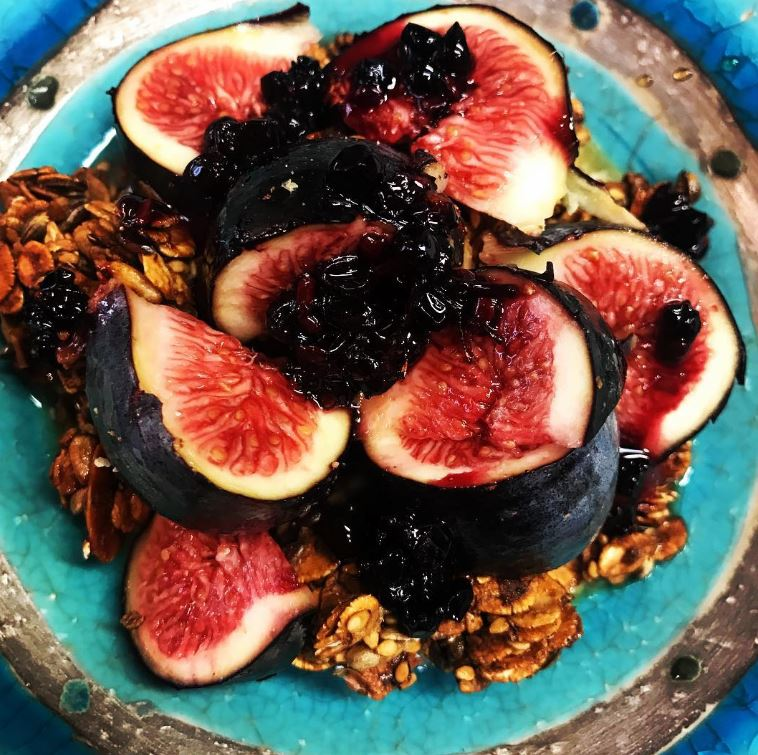 Mokona ranks up there as one of the best breakfast in Paris located in the 11th district. The restaurant is conveniently close to the Faidherbe-Chaligny metro station and Gare de Lyon. Although the breakfast menu changes daily, you can always count on staple items such as fluffy pancakes, the toast of the day, granola and creamy yogurt, and their dessert of the day.
The restaurant is unique in that seating is arranged knee-to-knee with diners from all over the world. We heard people speaking Dutch, French, Arabic, and English on our visit.
The menu was presented in French on a chalkboard, but there was no need to worry if you don't speak the language. The staff of three all spoke English, and you could easily see what other diners were ordering and point to your desired meal.
Reservations are required as the restaurant is only open for breakfast and dinner.
6. Health Inside
Address: 30 Rue Charlot, 75003 Paris, France | map
Restaurant Menu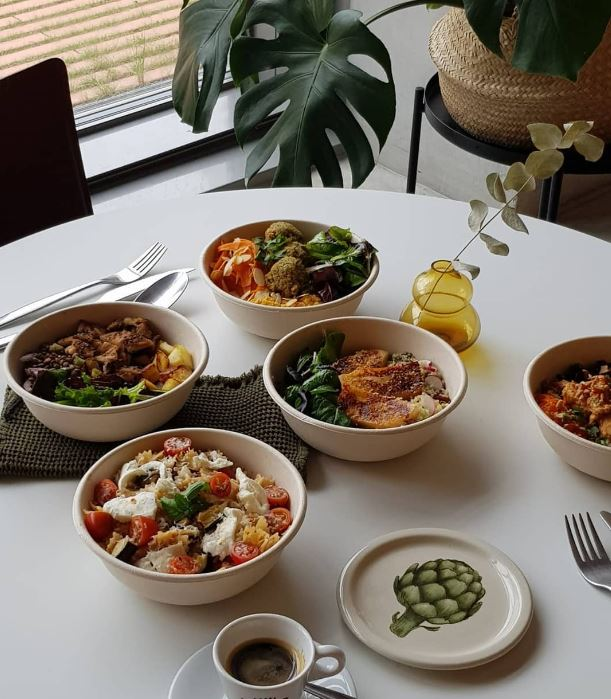 Health Inside has a 'healthy' take on its breakfast menu with its wholesome bowls, salads, and a variety of vegan options. The restaurant offers detoxified foods and dietary supplements made with organic food in a retro-chic atmosphere. Be sure to try the granola and vegan yogurt with fruits!
7. Immersion République
Address: 8 Rue Lucien Sampaix, 75010 Paris, France | map
Restaurant menu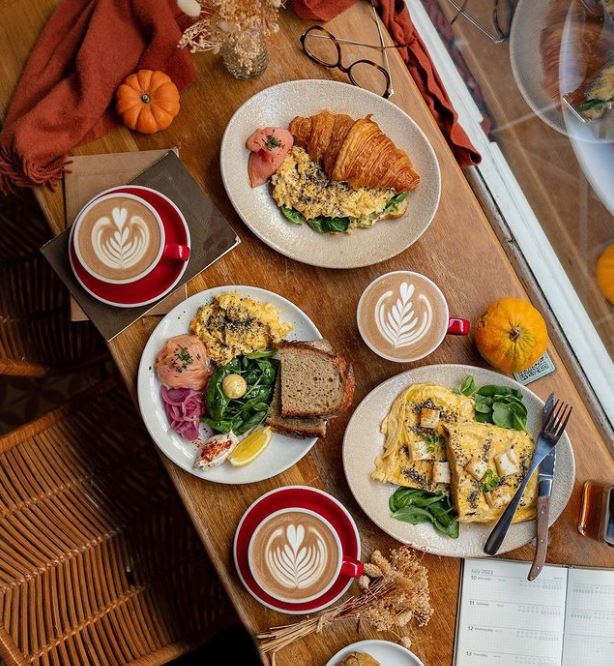 It is rare to find a restaurant in Paris serving breakfast all day. However, Immersion Republique serves their brunch menu all day long, so you never have to worry about missing out on breakfast. Delicious highlights from the brunch menu include truffle flavored runny omelets, crispy chicken savory waffles, avocado stracciatella toast, homemade basil pesto, candied tomatoes, and hazelnuts.
When you reserve a table at Immersion Republique, you get to enjoy the view of Prieure Saint Martin des Champs. The restaurant offers a unique combination of Australian and French cuisine and is sure to tantalize your taste buds with its avocado toasts, freshly baked cookies, and hot chocolate. This restaurant is truly one of the best breakfast places in Paris.
The staff at Immersion Republique are well-educated and provide guests with prompt service. The atmosphere is always pleasant, making it a great place to visit year-round.
8. Marcel 3
Address: 22 Rue Montmartre, 75001 Paris, France | map
Restaurant Menu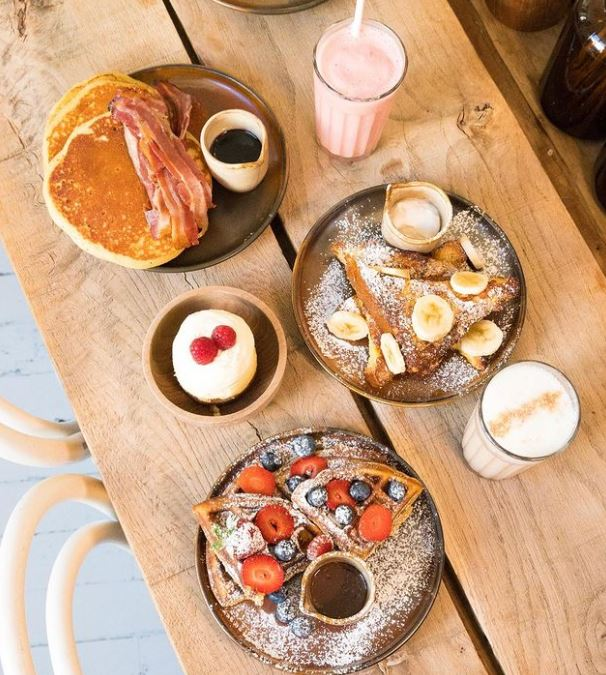 Marcelle is a popular cafe with a unique atmosphere. Its white exterior and wood furniture interior are coupled with funky lights and mirrors, giving it a rustic-chic feel. The breakfast menu includes some delicious items such as homemade granola bowl or agave dish, bircher muesli, homemade bread, brioches, avocado toast, and a variety of sandwiches and salads.
For dinner, Marcelle serves up both hearty and healthy dishes. Fish and chips features a natural filet that is breaded and crispy-fried. The Cobb salad is a generous bowl of sliced avocado, perfectly grilled chicken, bacon slices, a boiled egg and chunks of velvety Roquefort, all atop a mountain of lettuce. The nachos have a unique twist, adding feta cheese, and the tortilla chips are freshly fried. The jalapeños give the perfect amount of heat. The service is cheerful and helpful and they honor requests. All in all, it is a delightful dinner experience.
9. Maison Nomade
Address: 140 Rue du Faubourg Saint-Martin, 75010 Paris, France | map
Restaurant Menu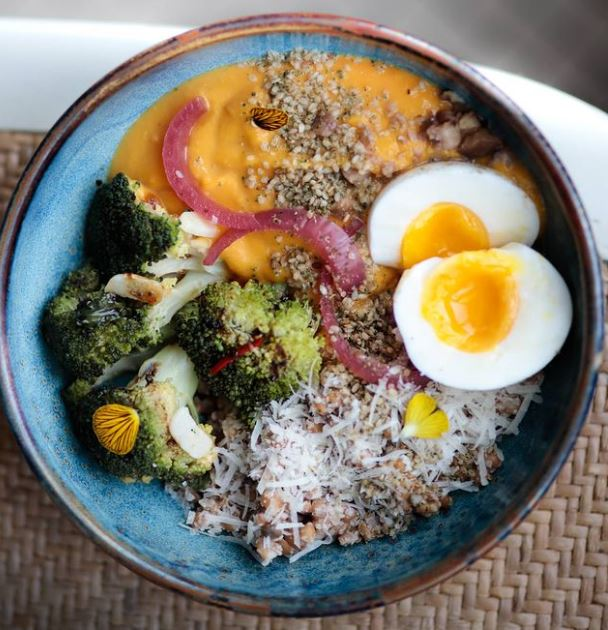 Maison Nomade is not just another breakfast place in Paris, but a whole concept dedicated to health & wellness. It offers a variety of options for breakfast and lunch, with added yoga lessons and alternative medical treatments. Choose from breakfast goodies such as smoothies, granola, pancakes, and toast. And for lunch, you have a bowl of vegetables, a veggie burger, and Mexican tortillas.
10. Kozy Bosquet
Address: 79 Av. Bosquet, 75007 Paris, France
Restaurant Menu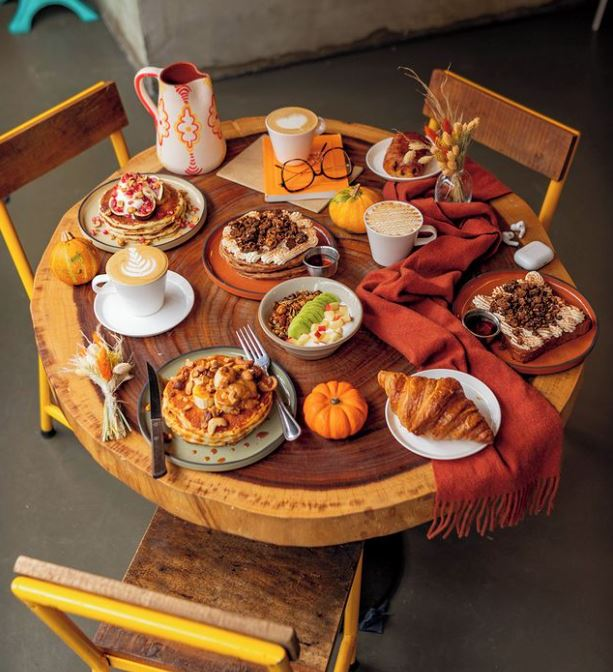 Kozy Bosquet is a popular breakfast spot in Paris that is great for first-time visitors. It features azure doors that are sure to draw you in. Inside, you will find an Instagrammable café with quality plates and presentation. The menu has a variety of options, with highlights such as avocado toasts, salmon brioches, eggs benedict, pancakes, and waffles. These come in stacks filled with fruit, nuts, and maple syrup, making for a delicious brunch.
I would personally recommend the banana pancakes, which were so yummy. The staff were very relaxed, and the café had a hipster vibe aimed at young adults. This makes it a great place to visit with a small group of friends. All in all, Kozy Bosquet is a great spot to start your day in Paris.
11. Holybelly 5
Address: 5 Rue Lucien Sampaix, 75010 Paris, France | map
Restaurant Menu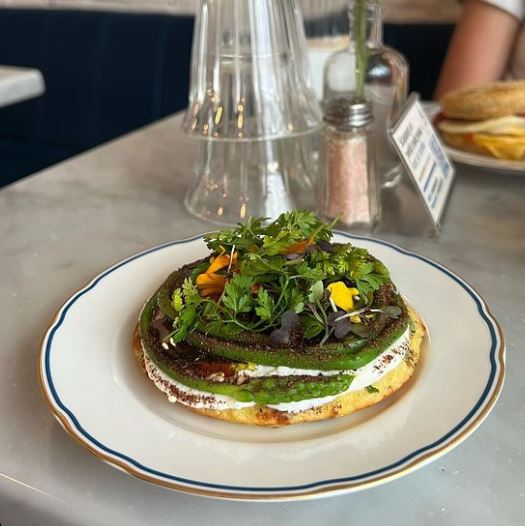 Holberry 5 is a lively breakfast place in Paris located a few steps from the Canal Saint Martin and the square of the Republic. It is famous for its pancakes with seasonal fruit, bacon and eggs, specialty coffee and tea, fresh juices, cocktails, and craft beers. Open seven days a week from 9 am to 4 pm, it offers a unique industrial-chic setup.
We visited Holberry 5 at around 10am and had to queue for about 30 minutes before being allowed inside. The decor was super funky and the atmosphere lively. We both ordered poached eggs with halloumi, mushrooms for my sister, two flat whites, and two glasses of freshly squeezed orange juice. Service was quick and friendly, with all staff speaking in both French and English. I asked for hot sauce to accompany my eggs.
The food was amazing! The bread was a little on the chewy side but full of flavour, the butter softened. The hash browns, however, were the secret star. Huge and round unlike traditional patties, they were super crunchy on the outside. The hot sauce was not quite as hot as I'd like and surprisingly sweet, but it was a great accompaniment to the eggs.
12. Cafe Berry
Address: 10 Rue Chapon, 75003 Paris, France | map
Restaurant Menu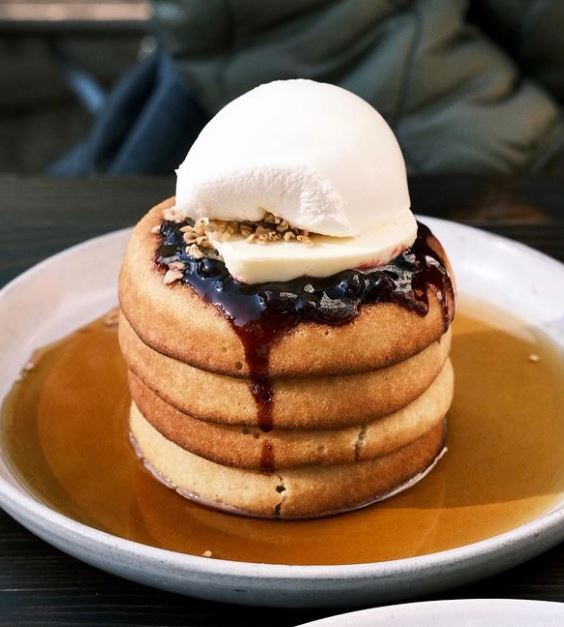 The charming Cafe Berry offers a pleasant and delicious atmosphere, with a menu oriented towards health and wellness. Breakfast menu highlights are the lattes come in a variety of flavors, the avocado toast, and pancakes.
Our meal was pink avocado toast with beetroot houmous. It was not only a delicious treat, but was also beautifully presented. The combination of the avocado and the houmous made it a vibrant pink color, which added to the meal's overall appeal.
13. Sunday in Soho
Address: 7 Rue Saint-Marc, 75002 Paris, France
Restaurant menu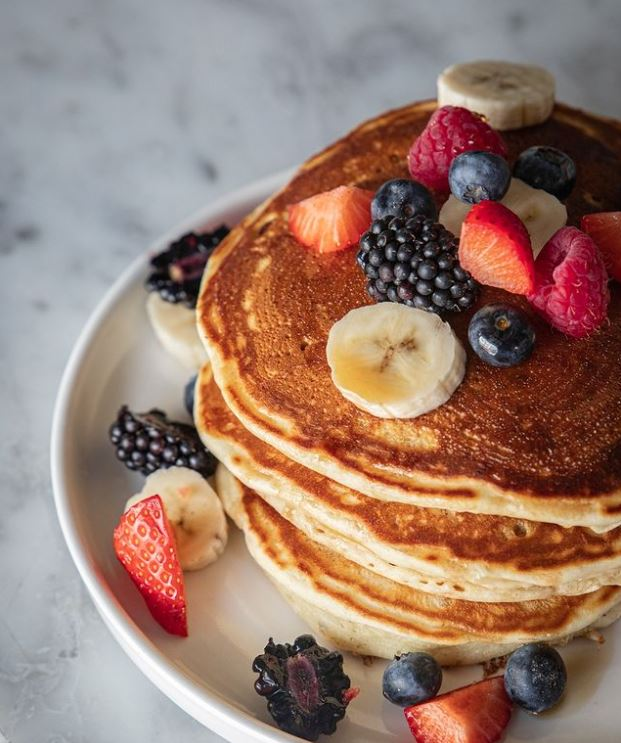 We had the pleasure of visiting a cafe in Paris on a Sunday morning and were delighted with the experience. The owner was incredibly friendly and very nice, and despite having to wait, he invited us upstairs to a cozy, warm area of the cafe that resembled his old New York apartment.
The menu had endless choices, so we decided to try the French toast and the avocado on toast. Both items were phenomenal and the portions were huge. The atmosphere was great and the set up was lovely, perfect for a Sunday morning brunch. It was everything you would picture in a cafe in Paris.
Unfortunately, they forgot my extra bacon, but they quickly brought it out in less than five minutes along with two extra eggs as an apology. The service was simply impeccable.
In addition to the amazing food, they also had fantastic coffee and mimosas. I would highly recommend this cafe if you ever find yourself in Paris on a Sunday. It is a must-do!