Finding the best brunch in Paris could be a real task, given the number of unique restaurants in the city.
Brunch is an increasingly popular option for meals in the French capital. In recent years, many of Paris's best restaurants and hotels have incorporated it into their menus, combining French flair with this mid-day meal. Whether you're looking for pancakes and waffles or savory dishes like eggs benedict or Croque monsieurs, you'll find all you're looking for and more at the best brunch spots in Paris.
These eateries offer brunch menus for certain hours of the weekend, and some even serve all-day menus throughout the week. Enjoy your brunch with coffee, wine, or orange juice, and prepare to be spoiled for choice with the unique aesthetics, top-notch food, and outstanding service these places offer. Discover the cutest places to have brunch in Paris, the signature dishes you must order, and the best drinks to pair with your food.
The Best Brunch in Paris
Considering the long list of restaurants in Paris for brunch, we categorized our list by location, vibe, and of course, the instagrammable food. Allez!
Location: We choose the best neighborhoods, or arrondissements, to save you time wandering all of the 20 arrondissements in Paris. Some of our favorite neighborhoods are Latin Quarter, Le Marais, Saint Germain des Prés, The Louvre (1st), and Eiffel Tower (7th) arrondissements.
Vibe: Looking for casual or something more 'fine dining' brunch, we have you covered below.
Food: Some of the best spreads that will make into your Instagram feed.
Let's go (Allez!)
YOU MIGHT LIKE:
1. La Cuisine – The Royal Monceau
€€€€
Address: 37 Av. Hoche, 75008 Paris, France | map
Brunch Menu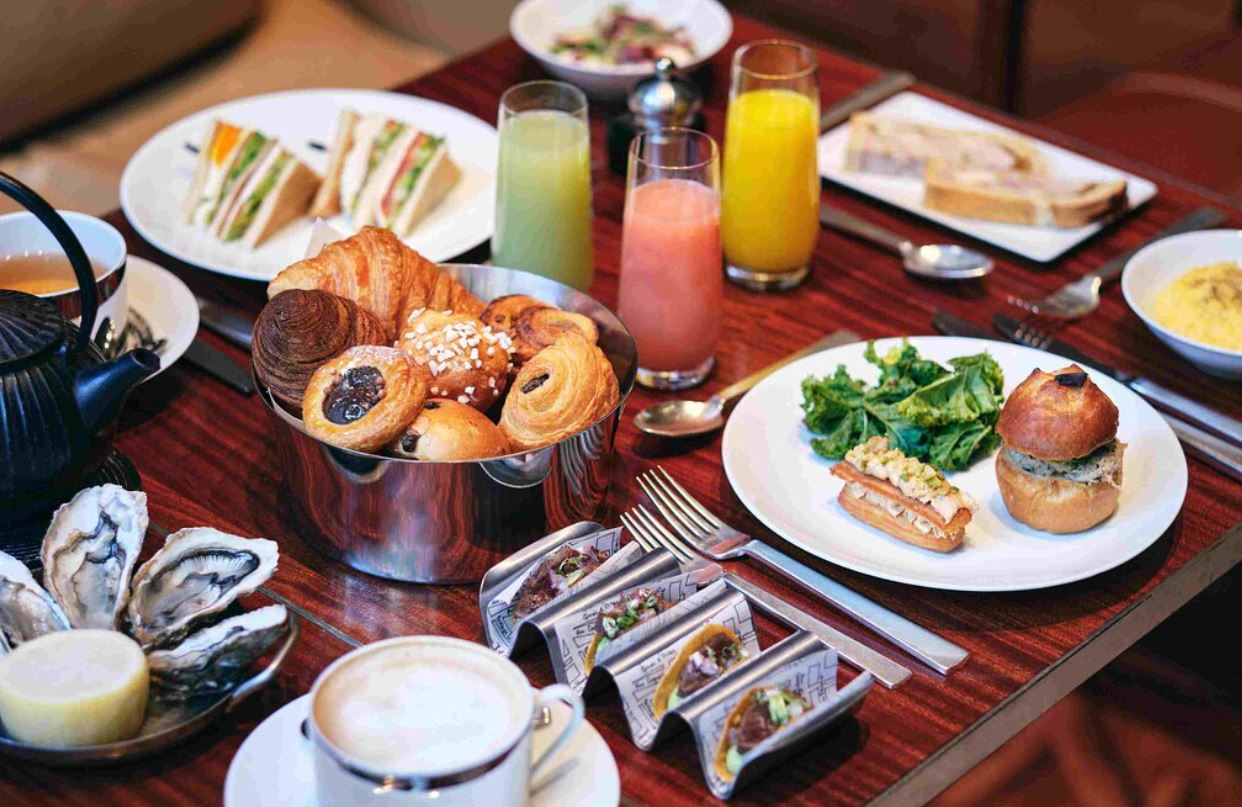 The Royal Monceau offers an exceptional brunch spot in Paris in the restaurant La Cuisine.
In the kitchen, renowned Chef Pierre Hermé's brunch menu changes with the season, using only local products by exceptional artisans. The buffet varies between Saturday and Sunday, but expect the staple fruit juices and hot drinks overflowing throughout the brunch. My favorite part of this Parisian brunch spot is the buffet of pastries (in particular, the "Ispahan croissants" with rose almond paste, raspberry, and lychee compote), cakes (choices of vanilla, lemon or chocolate), slices of bread, and fresh fruit. Be sure to check out the pancakes stand, prepared on the spot, and garnish according to your desire with delicious homemade spreads and jams. A definite favorite for a weekend brunch in Paris.
Brunch highlights:
Hot dishes: cut meats, mini-burgers, scrambled, poached, white omelet, plus delicious seasonal recipes
Buffet selection of exceptional charcuterie, Italian antipasti, Lebanese mezes, oyster fish and seafood, salads, fresh pasta stand prepared to order, etc.
The buffet of cheeses from Marie Quatrehomme and Bordier butter.
For the sweet part: chocolate mousse, whipped cream, pastries (thin chocolate tarts, Isfahan macaroon, infinitely vanilla tart, éclairs), etc. The list of desserts, each more delicious than the other, is endless.
2. Brunch Café de la Paix
€€€€
Address: 5 Pl. de l'Opéra, 75009 Paris, France | map
Brunch Menu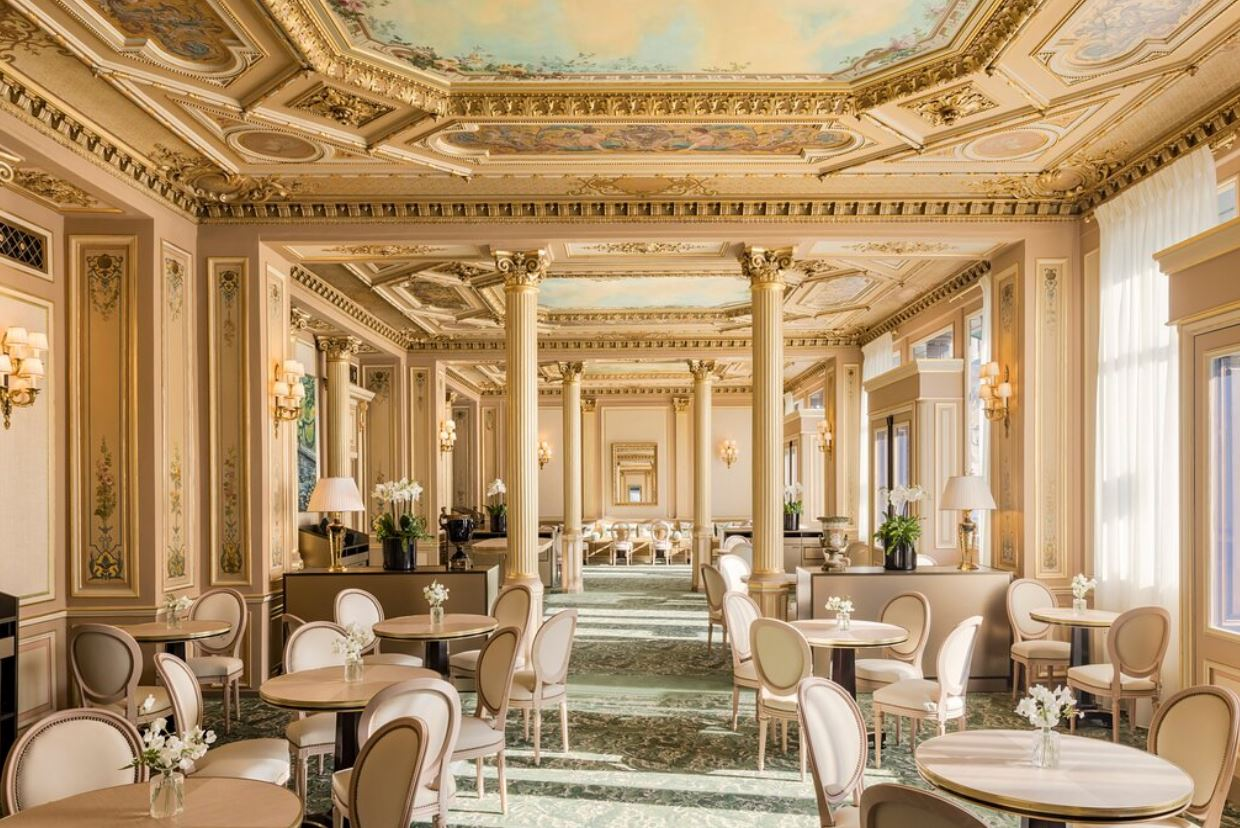 The Café de la Paix is coming back as one of the best brunch in Paris after completely restoring its magnificent Napoleon III décor. A true Parisian institution opposite the sublime Opéra Garnier, this exceptional restaurant serves brunch in an all-you-can-eat buffet style.
You will be spoiled with choices, with multiple options for that perfect Sunday Brunch.
Brunch highlights:
All the fresh ingredients of your choice for that perfect salad
There's a sushi stand, a Lebanese spread, and gourmet charcuterie for something savory. There is also pasta, meat, and egg cooked to your liking. We chose a seasonal egg on the menu, a soft-boiled egg on a pea purée, white asparagus salad, and lemon zest – it was terrific!
Other items on the buffet: small burgers, croque-monsieur, chicken nuggets, and club sandwiches.
A brunch menus of pastries and bread with delectable jams and spreads.
The fresh green detox smoothie, cucumber, pineapple, and apple were divine.
For something a little more light for a weekend brunch, be sure to try the cereal bar, the bakery side, and the imposing pastry buffet. Opera, fruit tarts, cabbage, terrines, cakes, tiramisu, donuts, fruit salads, and sweets of all kinds will bring you back for more.
3. Solis
€€€
Address: 39 Av. de Wagram, 75017 Paris, France | map
Brunch Menu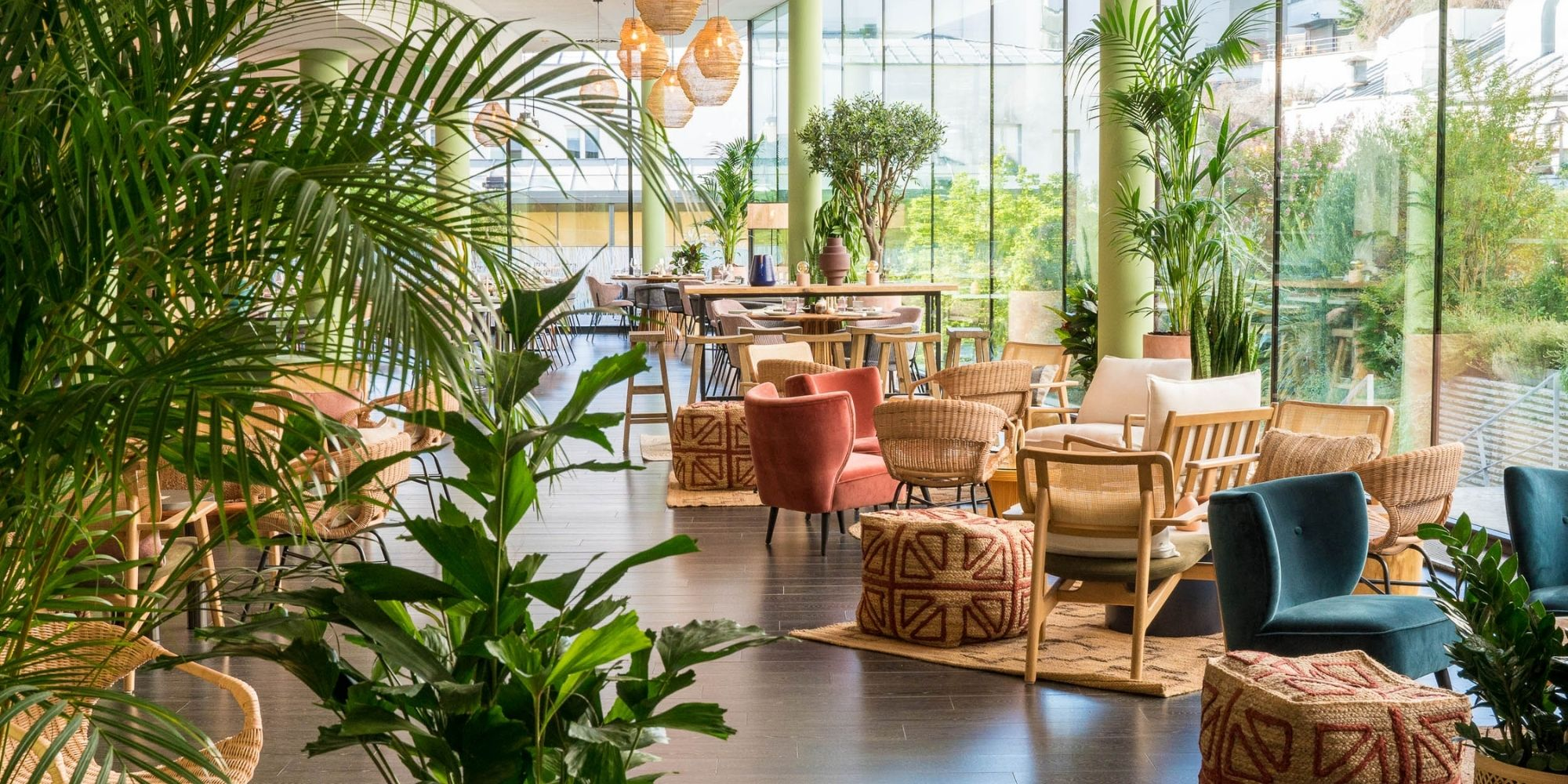 One of the best brunch spots in Paris with a bit of character. Integrated into the Renaissance Arc de Triomphe hotel, the Solís is a cozy Sunday brunch known for its colorful atmosphere and Mediterranean cuisine, rich in flavors. It's a Paris brunch spot in an an all-you-can-eat buffet that accompanies a 'dish of the day.'
Brunch highlights:
A bakery counter with mini pastries, bread, cakes, muffins, delectable jams, chocolate, and our favorite, the salted butter caramel.
A cold buffet with a selection of salmon, a gourmet cheese platter, elaborate and original salads, and delicious cold Mediterranean mezes.
The hot buffet consists of typical brunch dishes such as crispy bacon, scrambled eggs, pizzas, focaccias, and an assortment of hot mezes.
One of the best brunch places in Paris for pastries. We recommend to try the chocolate mousse, a pistachio tiramisu, a chocolate cherry cake, a selection of macaroons, and other delicacies.
Squeezed fruit juices and unlimited hot drinks are the perfect complements to this brunch. There is also a selection of champagne, wine, beer, or other non-alcoholic drinks.
4. Martin République
€€
Address: 40bis rue René Boulanger, 75010 Paris | map
Brunch Menu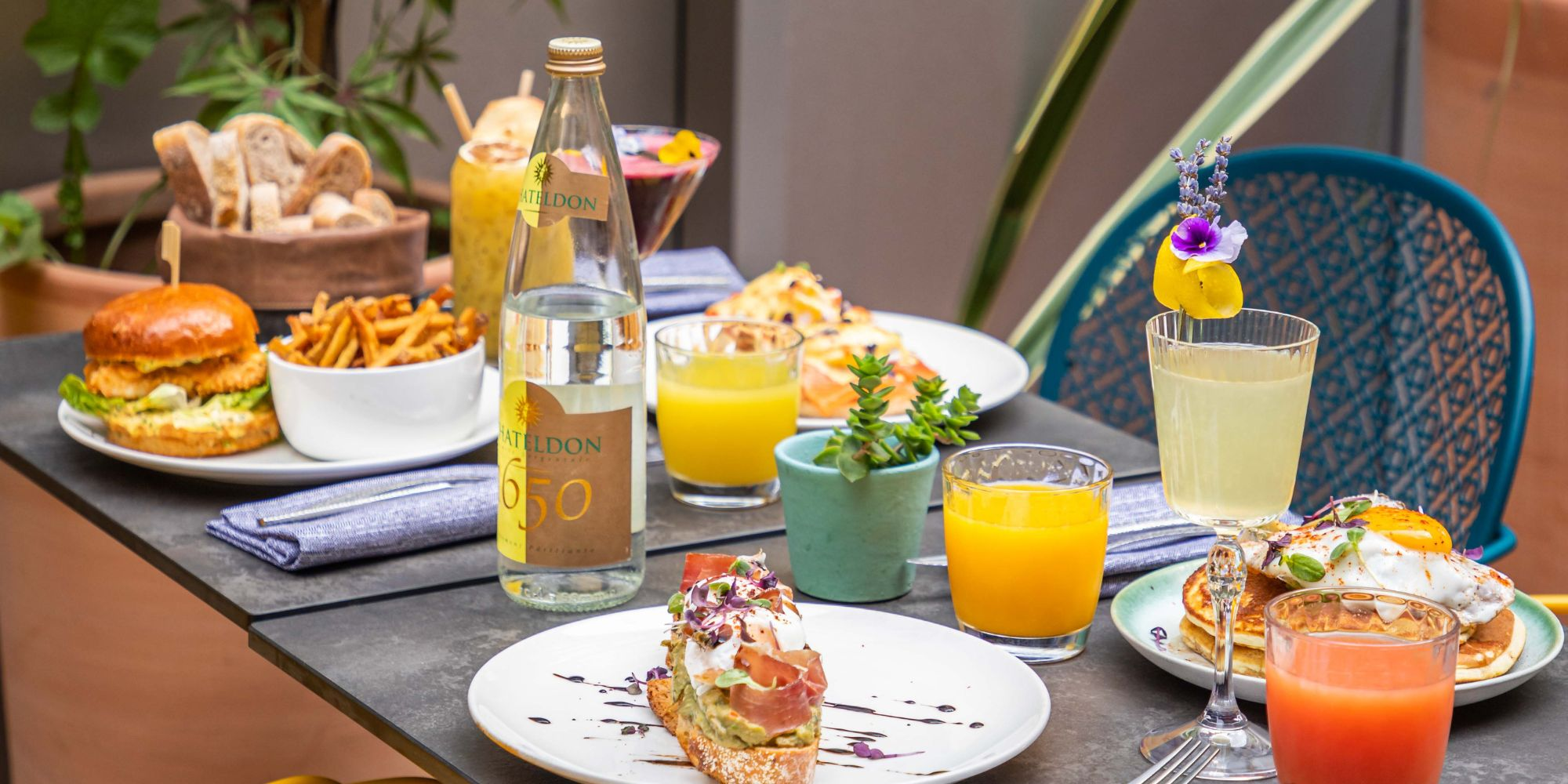 The Martin République restaurant is a trendy brunch in Paris inside the 5-star hotel, Renaissance Paris Republique Hotel, with a hidden terrace. The refined and contemporary interior decoration and lush exterior create a contrasting atmosphere and unique vibe for your brunch spot in Paris. If you can't make the brunch hours, the restaurant is also available for lunch or dinner.
Brunch highlights:
You have a selection of cold and hot drinks, with a generous serving of fresh juice and hot chocolate, tea, or coffee.
We ordered three savory dishes from the a la carte menu: avocado toast, croque monsieur, egg dishes such as scrambled eggs and eggs benedict.
We recommend fluffy pancakes and brioche French toast for the sweet options. It was served with vanilla-flavored applesauce from Madagascar – absolutely fantastic.
5. Shirvan Café Métisse
€€€
Address: 5 Pl. de l'Alma, 75008 Paris, France | map
Brunch Menu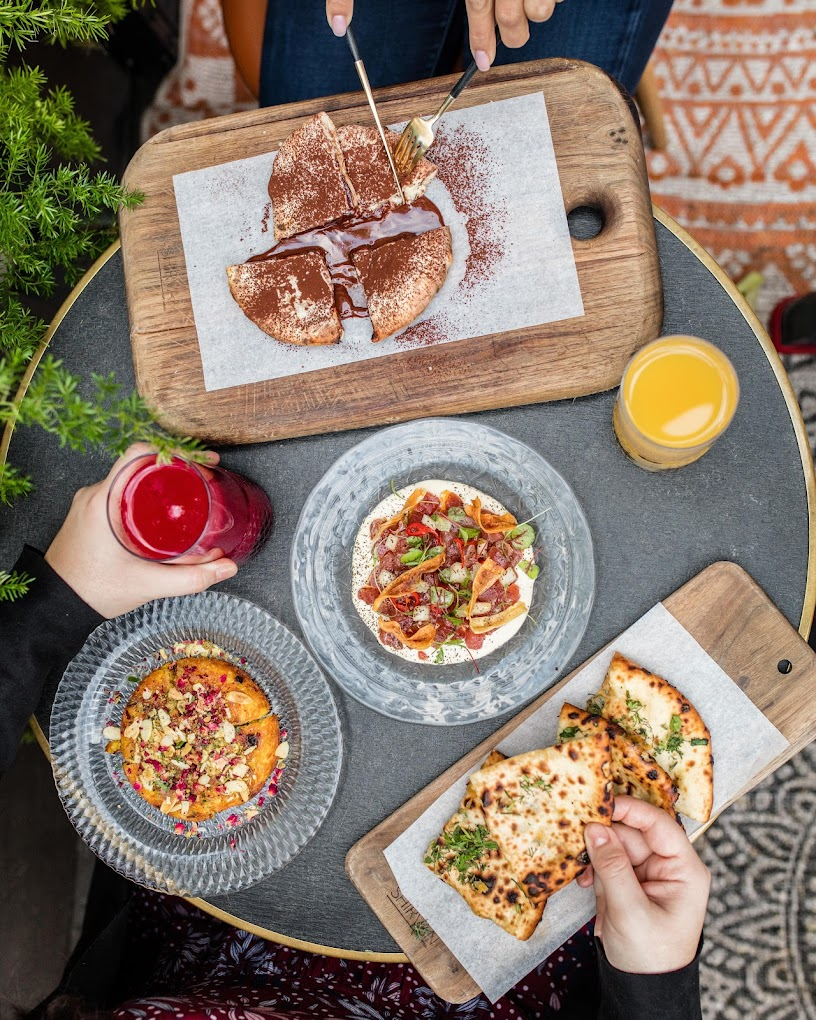 Shirvan is a restaurant led by Michelin-rated chef Akrame Benallal, with the menu blending influences from India, Central Asia, and North Africa. This popular brunch restaurant in Paris is a stone's throw from the Golden Triangle. This restaurant is for you if you are looking for a chic and cozy vibe for brunch.
Brunch highlights:
A selection of choices for meat lovers, vegetarians, and spices from Middle Eastern-inspired cuisine.
The ultra-melting gravlax salmon, amazing homemade hummus with crunchy fennel, and the fresh salad.
For the main course: Basdirma veal, chicken tandir, sea bream with coconut sauce cooked in a banana leaf, lentil curry accompanied by basmati rice with herbs and saffron, and eggs benedict.
The potatoes are cooked to crispy perfection; be sure to try their scrambled eggs as well.
The green beans with sweet pepper and Iranian black lemon, broccoli with spices.
Everything is accompanied by the traditional pita bread with zaatar.
For desserts: caramel-crumble rice pudding, praline opera, strawberry with orange blossom, yogurt with its condiments (cereals, fruit fresh, etc), Lamona brioche to accompany with tonka caramel or lime-infused honey.
6. Spoon
€€€
Address: 25 Pl. de la Bourse, 75002 Paris, France | map
Brunch Menu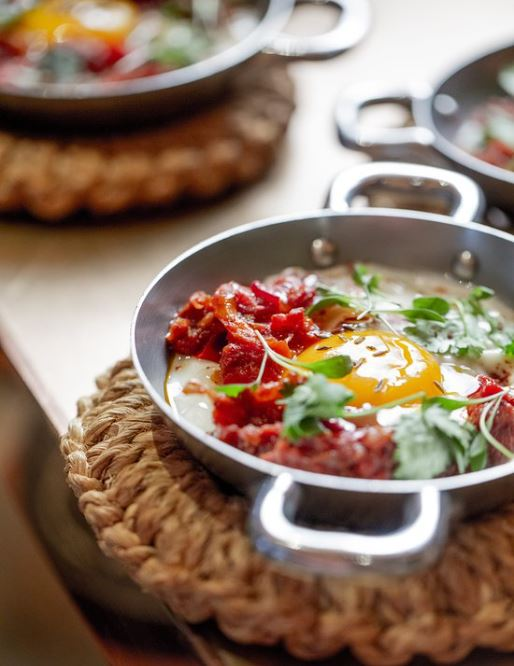 Spoon is one of the best brunch spots near Place de la Bourse, at the foot of the Palais Brongniart. Enjoy brunch in this trendy restaurant by Michelin Chef Alain Ducasse, featuring contemporary decor and vibe in a chic and relaxed atmosphere.
Brunch highlights:
A brunch buffet starting with a section dedicated to Asian and Middle Eastern flavors. You will have choices of lentil dahl, Lebanese tabbouleh, butter chicken, airy hummus, and our favorite out of the lot, the Indian samosas.
For the main hot dishes: Quinoa Louksor (vegetarian), Maigre Madras (fish), or Kefta Tel Aviv (meats). The dishes are beautifully presented and delicately flavored.
The dessert options have the following: a raspberry/harissa tart, a chocolate cake with a heart of cardamom, multi grain pancakes accompanied by maple syrup, a babka with thundering spices, etc.
7. Eataly Paris Marais
€€€
Address: 37 Rue Sainte-Croix de la Bretonnerie, 75004 Paris, France | map
Brunch Menu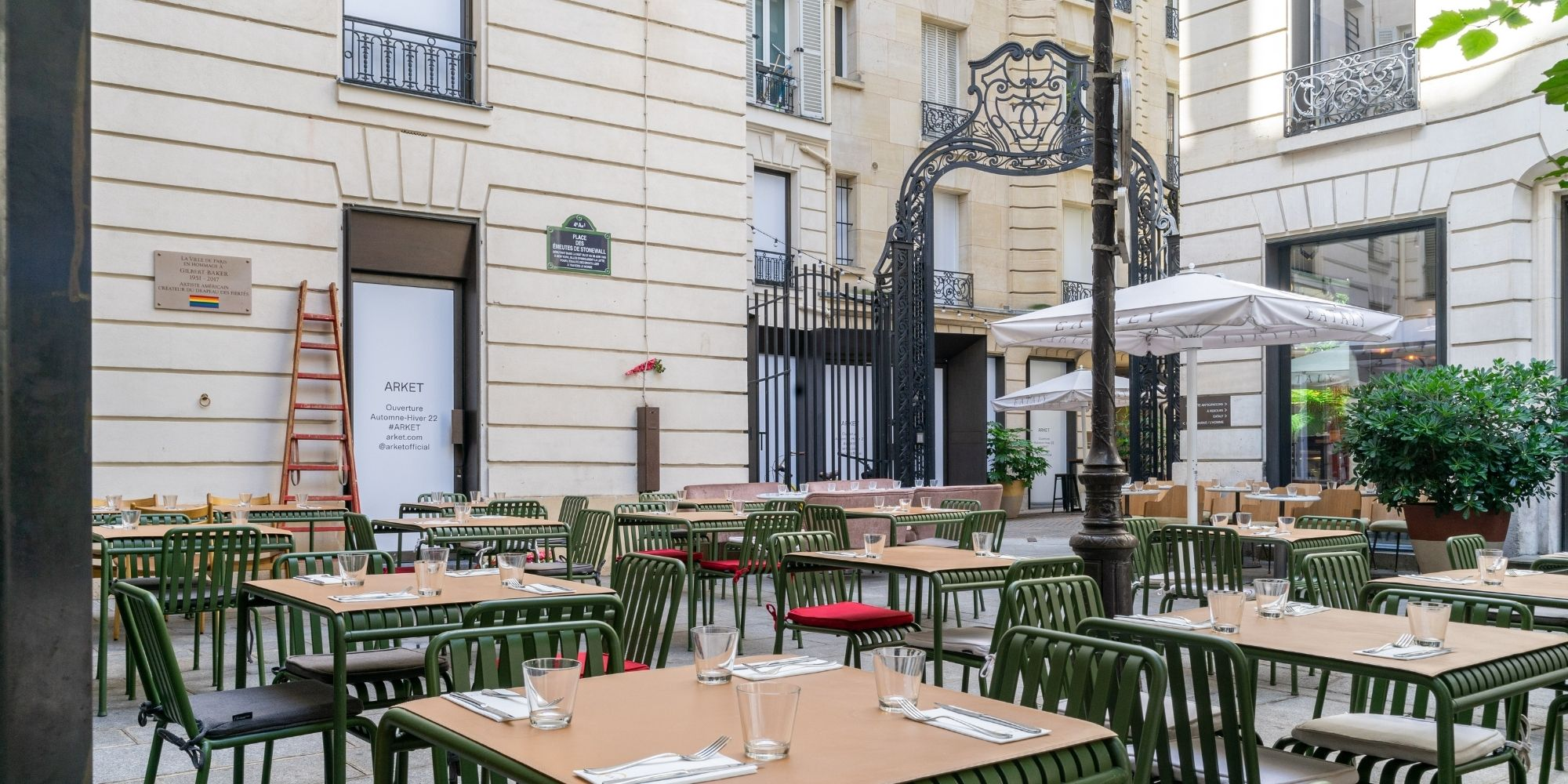 The Marais district is our favorite neighborhood in Paris, so it only fits we include Eataly Paris Marais. It's the perfect Sunday brunch in Paris, where you can stroll the neighborhood and explore its charming historic streets filled with trendy boutique shops and cafés. One of the best brunch spots in Paris with a terrace!
Brunch highlights:
Italian selections in an all-you-can-eat buffet.
 A selection of ham, cheese, and fresh and sweet melon will transport you from Paris to Italy.
Fresh salads with seasonal ingredients
The pizzas and a variety of focaccias will leave you speechless.
Various pastries, slices of bread, and brioches are prepared in Italian style.
Special mention for the chocolate babka and the apricot-filled croissant!
We ordered a classic lasagna and gnocchi with pesto and burrata for the main dish.
Be sure to try the tiramisu, panna cotta, and various Italian cakes and pastries for desserts.
8. Ladurée Champs-Elysées
€€€
Address: 75 Av. des Champs-Élysées, 75008 Paris, France | map
Brunch Menu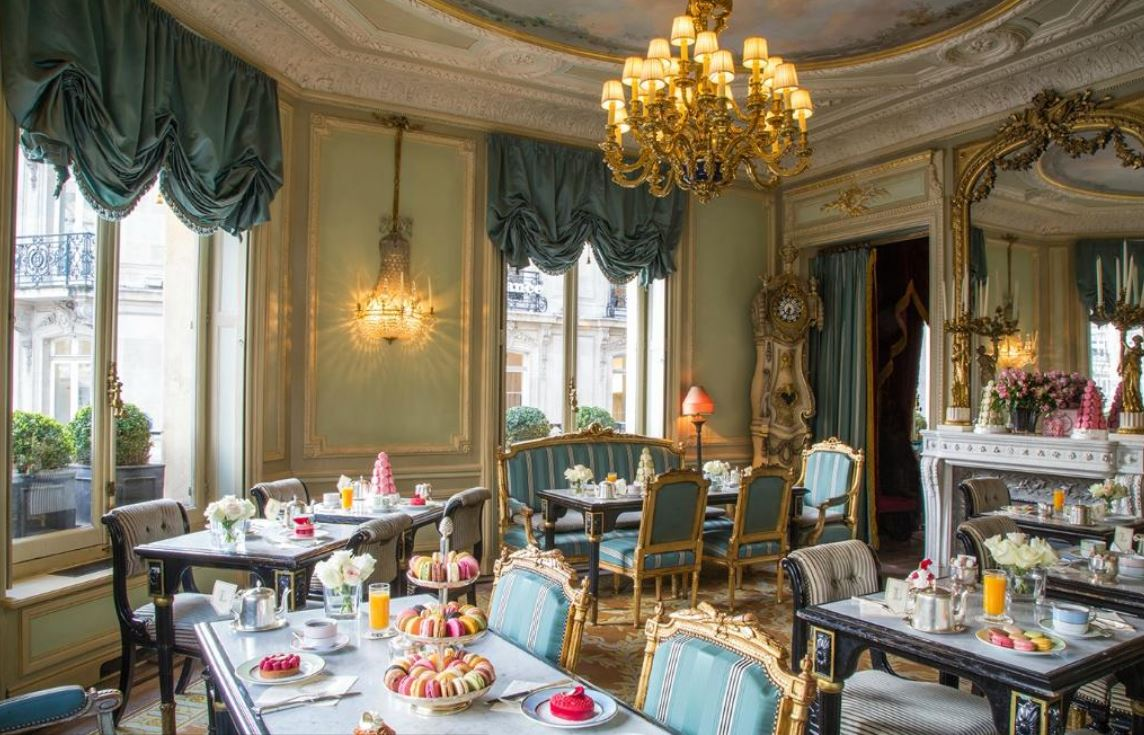 Set in the most famous avenue in the world, the Champs Elysées, the Ladurée offers a fantastic brunch in its magnificent Napoleon III decor. The second floor features magnificent private lounges that give way to a breathtaking view of the most beautiful avenue in the world. Ladurée also has a terrace, making it one of the best brunch spots in Paris.
Brunch highlights:
A selection of fresh fruit juice (orange or squeezed grapefruit), hot drinks, and pastries to start. We recommend the pistachio pain au chocolat or the walnut croissant, specialties of Ladurée.
A seasonal fruit salad, yogurt, granola, and baguettes with jam and honey.
For the savory part, you can feast on eggs benedict on a bed of spinach and brioche French toast, accompanied by a delicious Hollandaise sauce, with a choice of bacon or smoked salmon. We also ordered avocado toast, poached eggs, and French toast with maple syrup.
Choices of classic French pastries
Complimentary selection of its famous macarons.
9. Le Grand Corona
€€
Address: 3 Pl. de l'Alma, 75008 Paris, France | map
Brunch Menu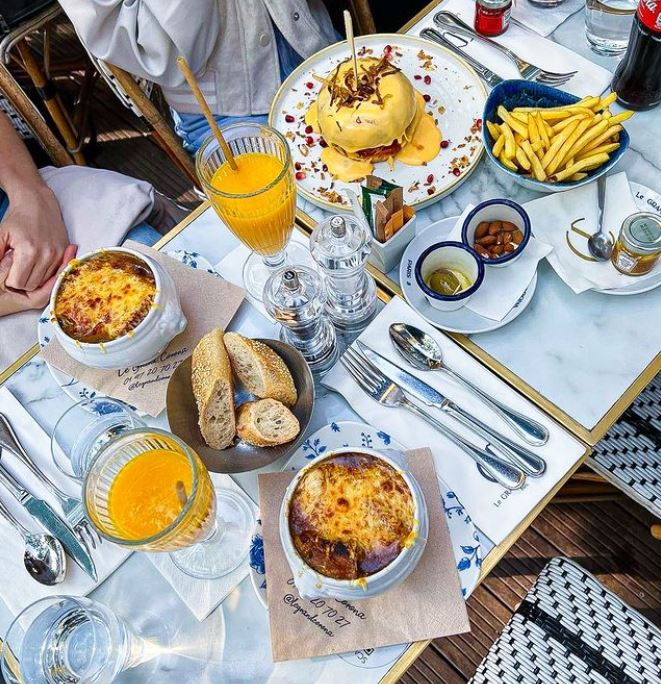 Located in the chic 8th district, a stone's throw from the Champs-Élysées and the Pont de l'Alma, is a popular brunch restaurant in Paris, Le Grand Corona. The pretty glass roof or its terrace seating gives it an inviting and airy vibe.
Brunch highlights:
From the a la carte menu: scrambled eggs with mushrooms, bacon, or smoked salmon, mini-sausages accompanied by white beans with tomato, avocado burger, cheesy egg muffin, egg benedict, Croque-truffle, or fried eggs.
Dessert: mini pastries, cupcakes, cream puffs, and macaroons, all accompanied by a hot drink and freshly squeezed juice.