The best boutique hotels in Lake Thun place you in some of the most idyllic locations in Switzerland.
Lake Thun is an idyllic travel destination located in the Bernese Oberland region of Switzerland. Boasting stunning views of the Alps and a tranquil atmosphere, Lake Thun is the perfect destination for those looking for a peaceful getaway. The region is also known for its boutique hotels, which offer visitors a unique and luxurious experience. From quaint family-run establishments to chic modern hotels, there is something for everyone.
Whether you're looking for a romantic escape or a chance to explore the region's natural beauty, Lake Thun has it all.
We hand-picked top-rated boutique hotels in Lake Thun to consider for your next getaway!
The 10 Best Lake Thun Boutique Hotels 
1. Boutique Hotel Riviera 
8.0 Average Rating
Get the Lowest Rates Here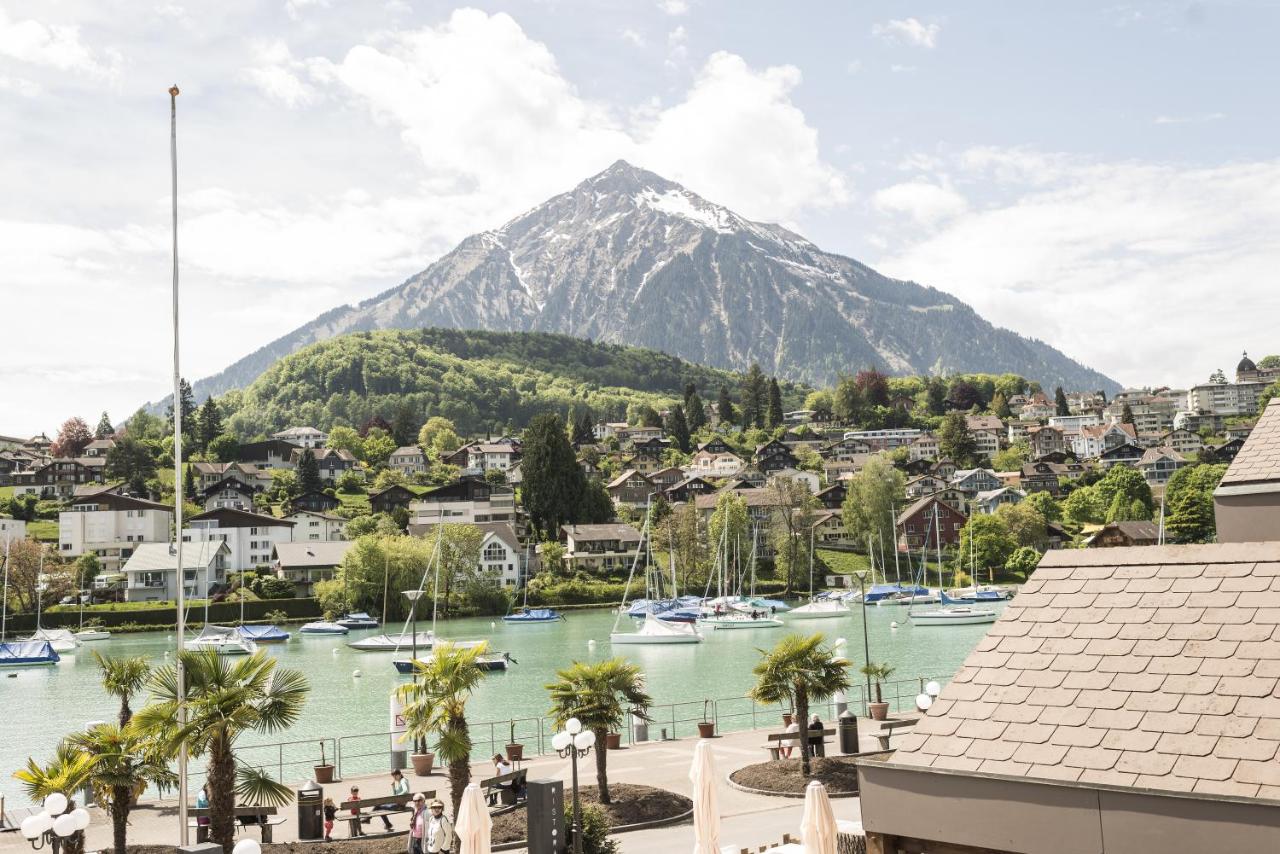 Boutique Hotel Riviera is an accommodation in Spiez offering a variety of amenities. Guests can enjoy a meal at the on-site restaurant or partake in water sports activities. Each room features a flat-screen TV with cable channels, free toiletries, a hair dryer, and some with views of the mountains or lake. Additionally, this accommodation features a stairlift for guests with restricted mobility.
The area offers a variety of activities, such as canoeing and hiking. Nearby destinations include Bern, 34 km away, Leukerbad, 34 km away, and Belp Airport, 29 km away.
2. Hotel Du Nord
8.4 Average Rating
Get the Lowest Rates Here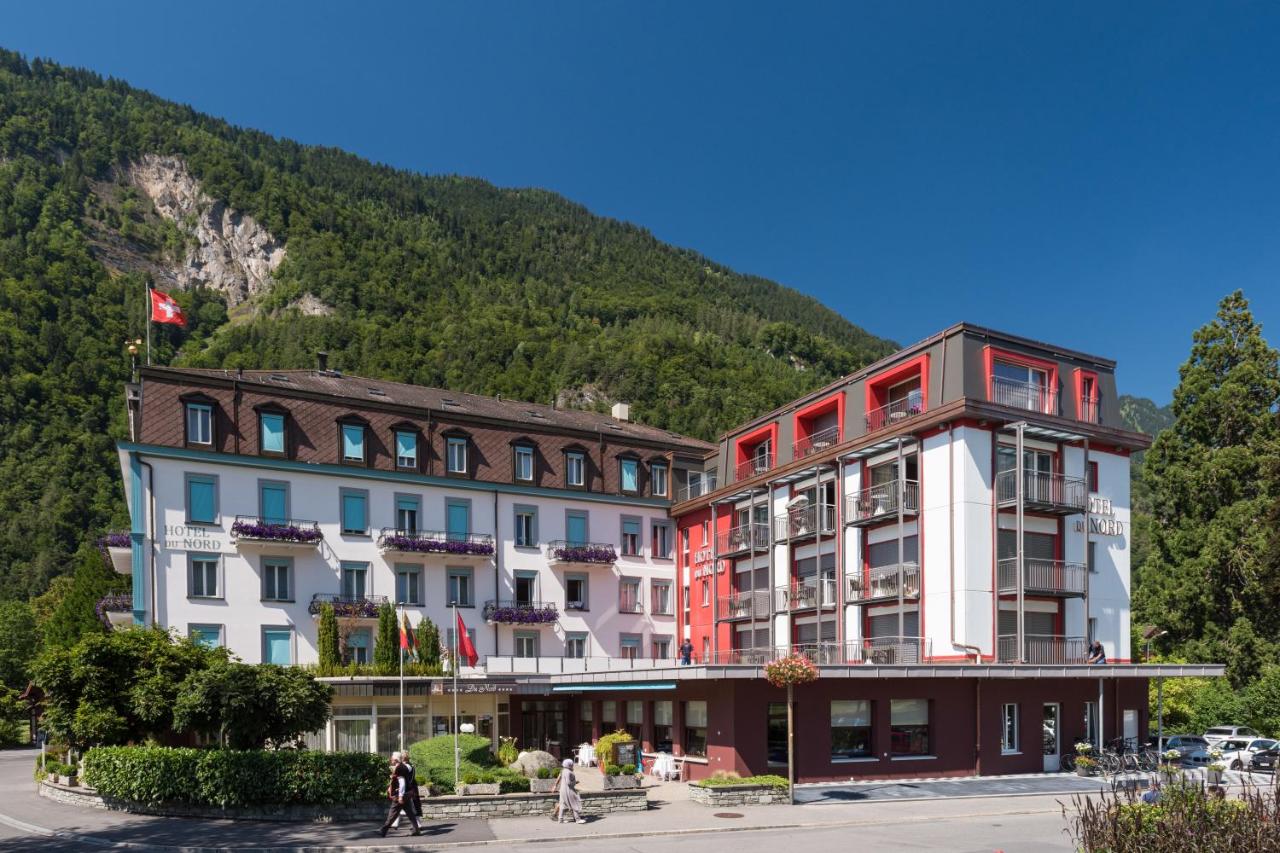 Situated in the heart of Interlaken, the Hotel Du Nord is a traditional and historic boutique hotel that dates back to 1847. It offers panoramic mountain views and is conveniently located just 400 meters from the Interlaken Ost Train Station and the pier and 200 meters from the Harderbahn Cable Car. All rooms are non-smoking and come with tea-making facilities, while some also feature a balcony or a terrace. Free WiFi is available throughout the hotel.
For those looking to relax, the Bödelibad is located in the vicinity of the Hotel Du Nord, offering public indoor and outdoor pools and various spa and fitness facilities. Guests can also rent bicycles at the property.
3. la belle vue Boutique Hotel & Café
8.8 Average Rating
Get the Lowest Rates Here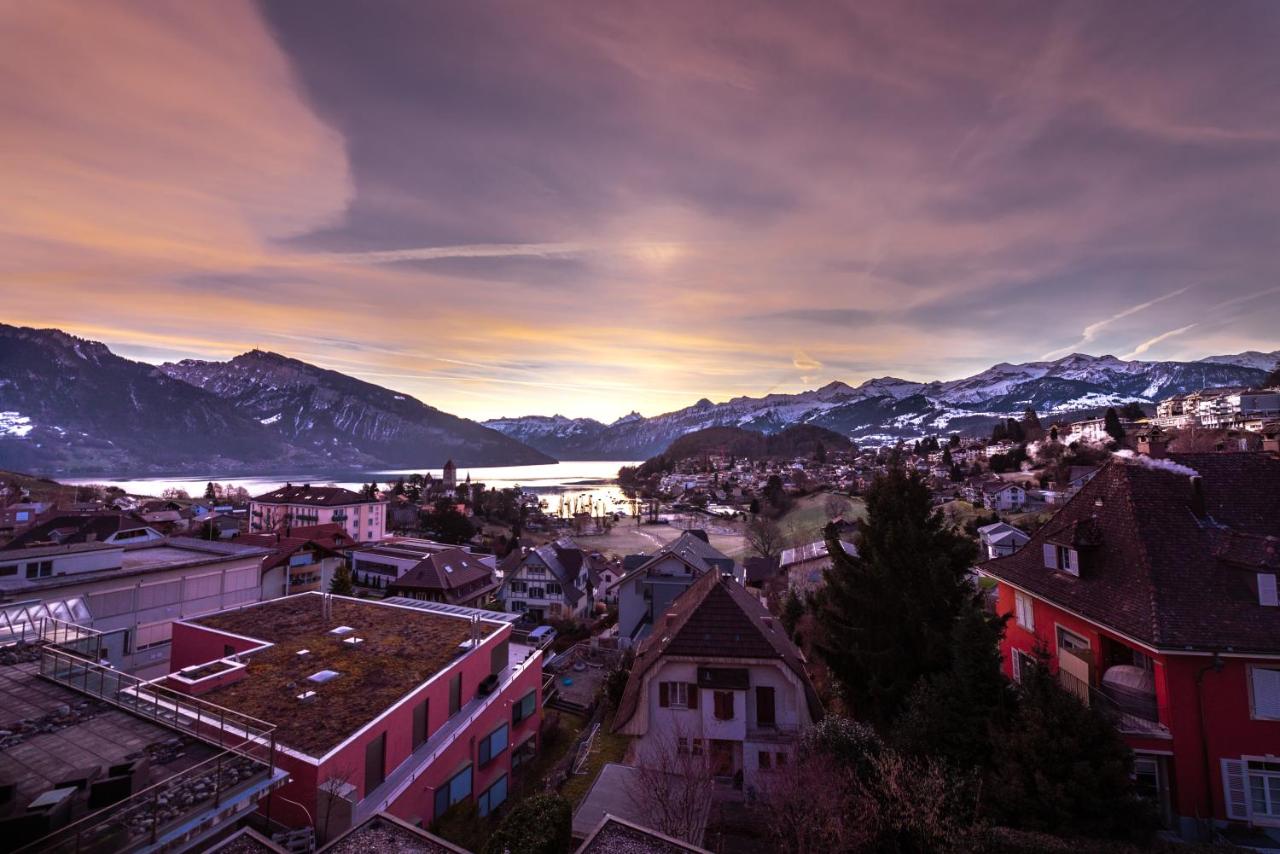 Awaken to a dreamy view of a castle, a lake, and majestic mountains. At La Belle Vue Boutique Hotel & Café, you can leave the daily grind behind and take some time for yourself. This hotel's relaxing and calming atmosphere makes it a perfect holiday destination.
Located on a quiet side street, La Belle Vue Boutique Hotel & Café is surrounded by businesses such as a baker, newsagent, photographer, hairdresser, and bank. This boutique hotel provides a home away from home, allowing visitors to enjoy a holiday in heaven.
4. The HEY HOTEL
8.2 Average Rating
Get the Lowest Rates Here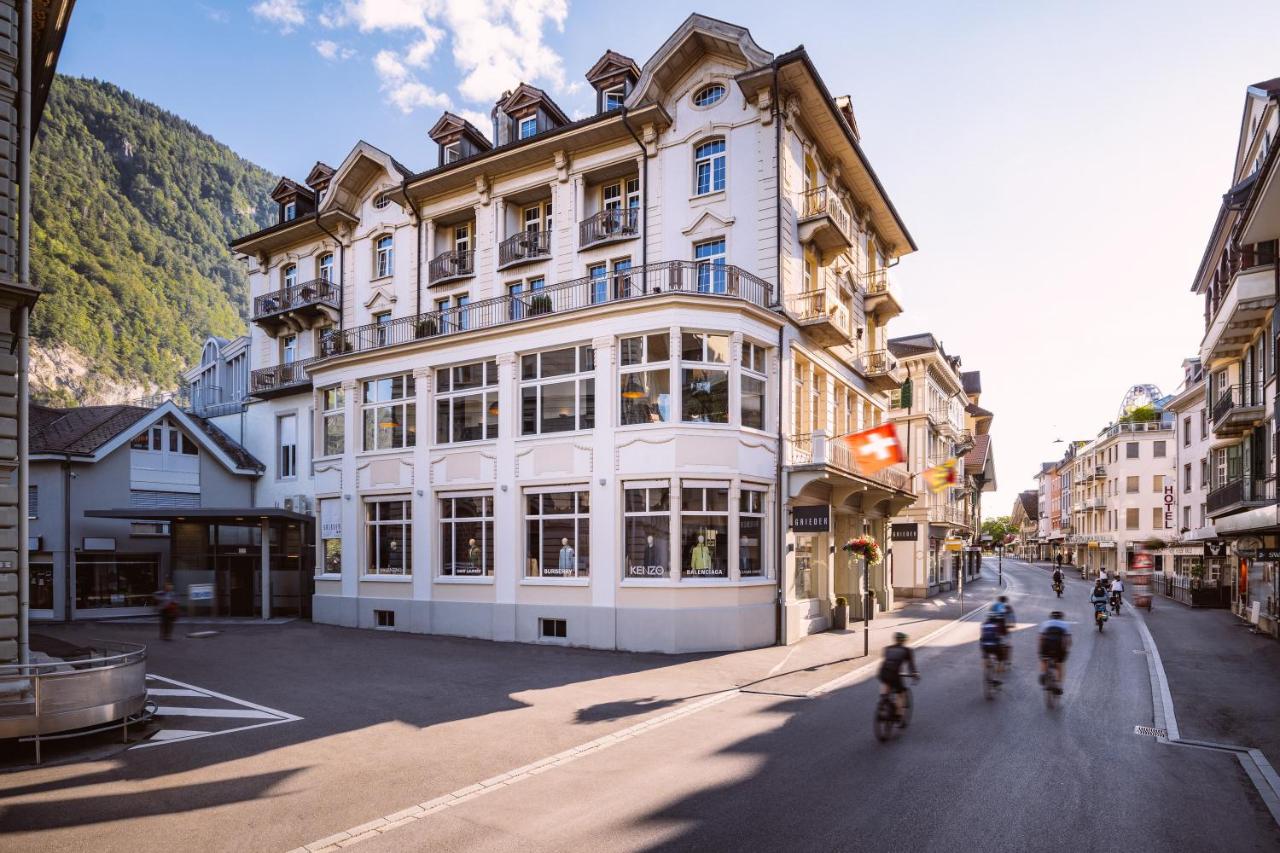 The HEY HOTEL is a boutique hotel in the heart of Interlaken, just 400 meters from Interlaken-West Train Station. It boasts a relaxed Swiss ambiance and modern, stylish interiors. The hotel offers a wide range of rooms for solo travelers, couples, families, or groups of up to 5 people. Most rooms are air-conditioned for guests' comfort.
The hotel's restaurant and bar are located on the ground floor, with an open lobby concept that creates a welcoming and communicative atmosphere. Attractive shops and boutiques, cafés, bars, and restaurants surround the hotel. All of Interlaken's main sights are within easy walking distance, and the congress center is just a 5-minute stroll away.
5. Hotel Chalet Swiss
8.3 Average Rating
Get the Lowest Rates Here
This traditional chalet-style boutique hotel, built in 1862, is situated in Interlaken and offers stunning panoramic views of the Eiger, Mönch, and Jungfrau Mountains. It features a sauna, a bar, and free WiFi access.
The hotel rooms are decorated in a classic Swiss chalet style and come equipped with cable TV, a safe, and a bathroom with a hairdryer.
The ski bus to the Jungfrau ski area in winter stops outside the hotel. Furthermore, guests can take advantage of Interlaken's public buses free of charge, and the Interlaken West Train Station is a mere 8-minute walk away.
6. Hotel Seepark Thun
8.2 Average Rating
Get the Lowest Rates Here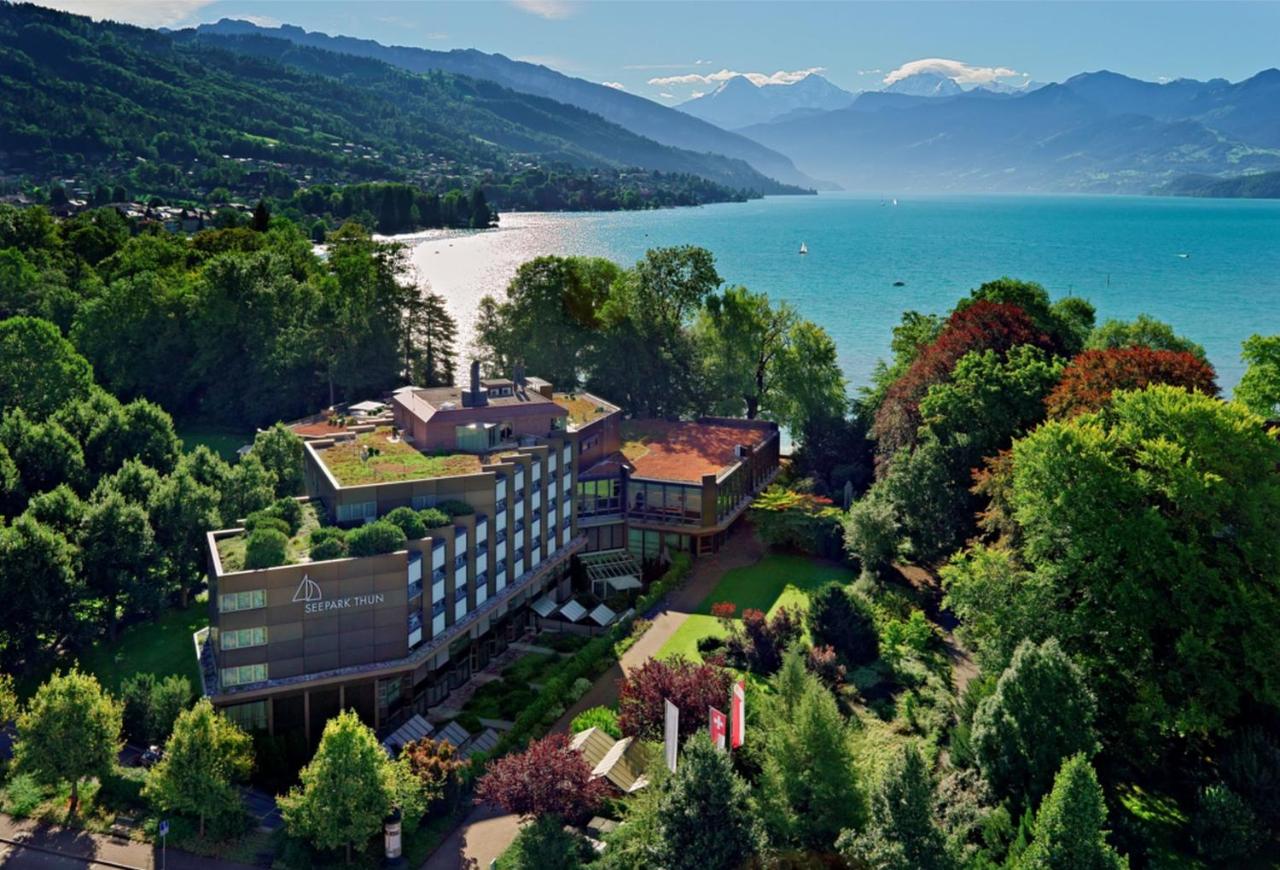 Hotel Seepark Thun is a luxurious 4-star superior boutique hotel situated overlooking Lake Thun. Guests can enjoy modern furnishings, a free minibar and fruits, and an en-suite bathroom in each room, most of which have a balcony. Additionally, the hotel provides bicycles free of charge, and the Seepark Bus Stop is a short walk away.
The hotel's wellness area includes a Finnish sauna, herbal hut, hot tub, steam bath, fitness room, and relaxation room with drinks. Guests can also enjoy outdoor dining on the terrace with picturesque views of the lake and Schadau Park. Gourmet dishes are served at a restaurant, and hot food and snacks are available at the Timeless bistro.
Hotel Seepark Thun is located 160 meters from Marquard Wocher Panorama, 250 meters from Schadau Castle, and 280 meters from Scherzligen Church. The rate also includes the PanoramaCard Thunersee, which comprises free use of local public transport and many discounts.
7. Hotel Krone Thun
8.5 Average Rating
Get the Lowest Rates Here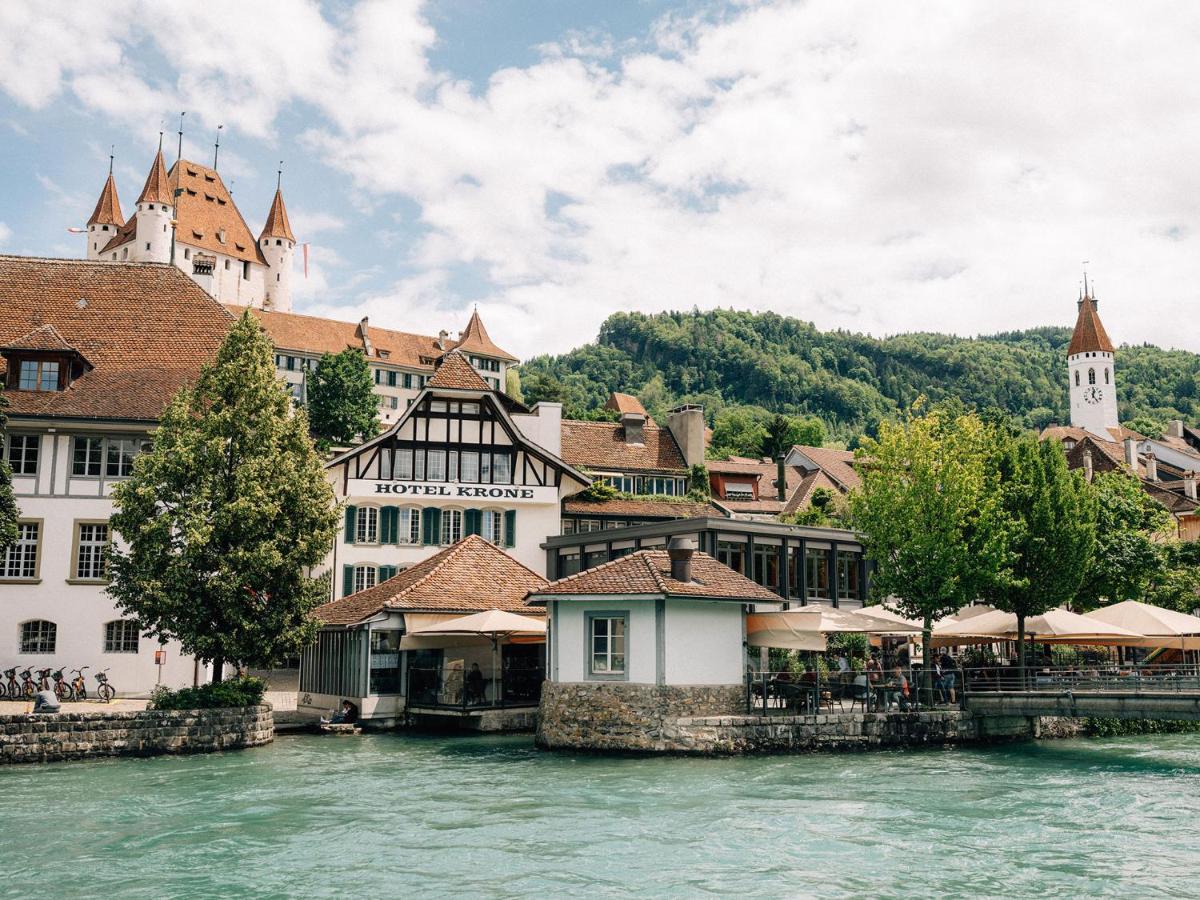 Situated in the heart of the Old Town of Thun, this luxurious 4-star boutique hotel is just steps away from the Aare River and Town Hall. The spacious rooms feature cable TV, a safe, and a maxi bar on the floor. Guests can enjoy free WiFi, an internet terminal, and a children's playground.
The hotel boasts two restaurants: a grill restaurant and a Chinese restaurant, Wong-Kun, where guests can dine in fine weather on the terrace overlooking the river.
The Lake Thun Card is included in the rate and offers several benefits in the region, including a 50% discount of the local mountain railways and free use of local buses.
8. Hotel Krebs Interlaken
8.4 Average Rating
Get the Lowest Rates Here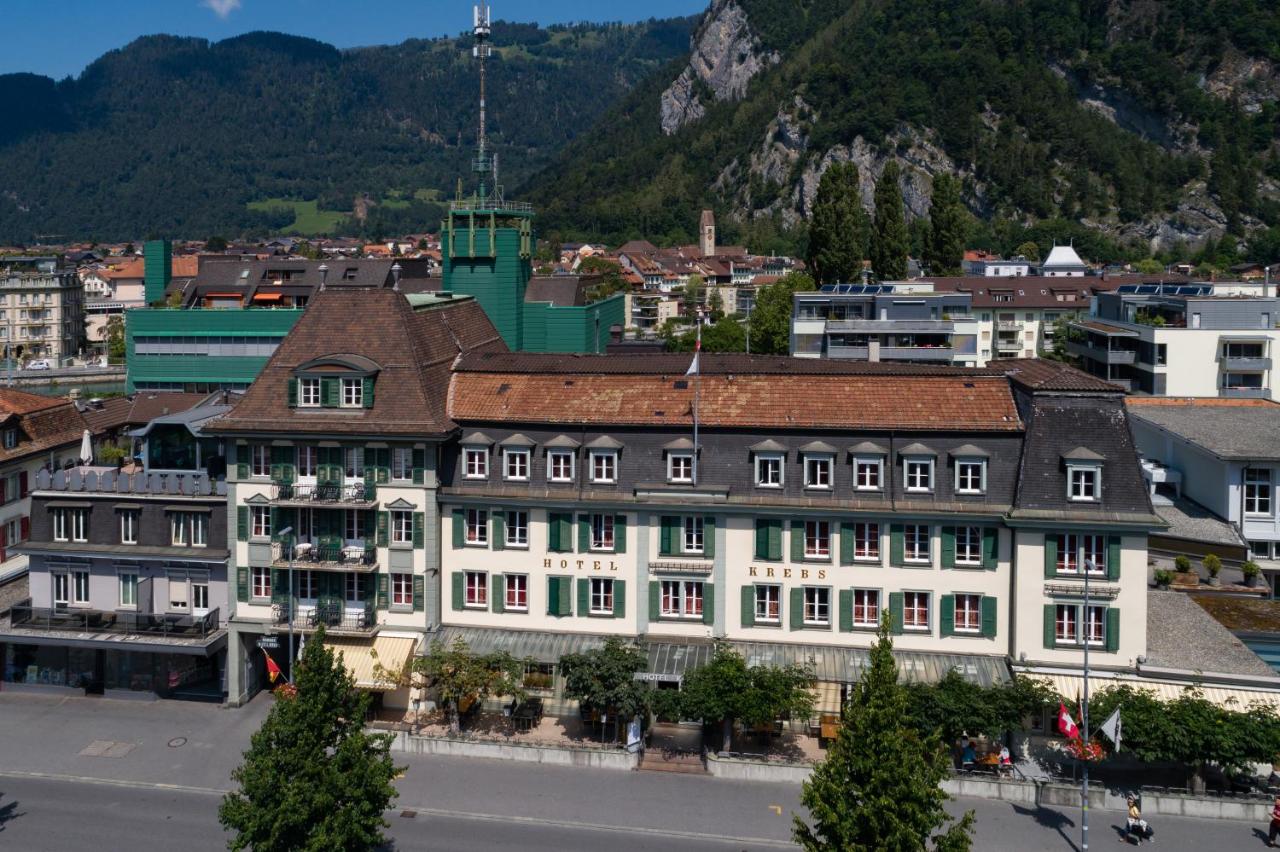 Located in the heart of Interlaken, the Hotel Krebs is a charming boutique hotel close to the western train station. Guests can take advantage of the hotel's internet terminal and free wireless internet access in the lobby. All rooms are modernly furnished, and a junior suite has been designed especially for handicapped guests.
The restaurant at Hotel Krebs serves up delicious Swiss specialties and boasts a terrace with stunning views of the mountains of the Bernese Oberland. Half board includes a 3-course dinner.
Thanks to its central location, guests can easily explore all of the attractions Interlaken has to offer on foot. It is also a great base for excursions to the mountains, the lakes, and the surrounding cities.
9. Alpenrose Hotel and Gardens
8.4 Average Rating
Get the Lowest Rates Here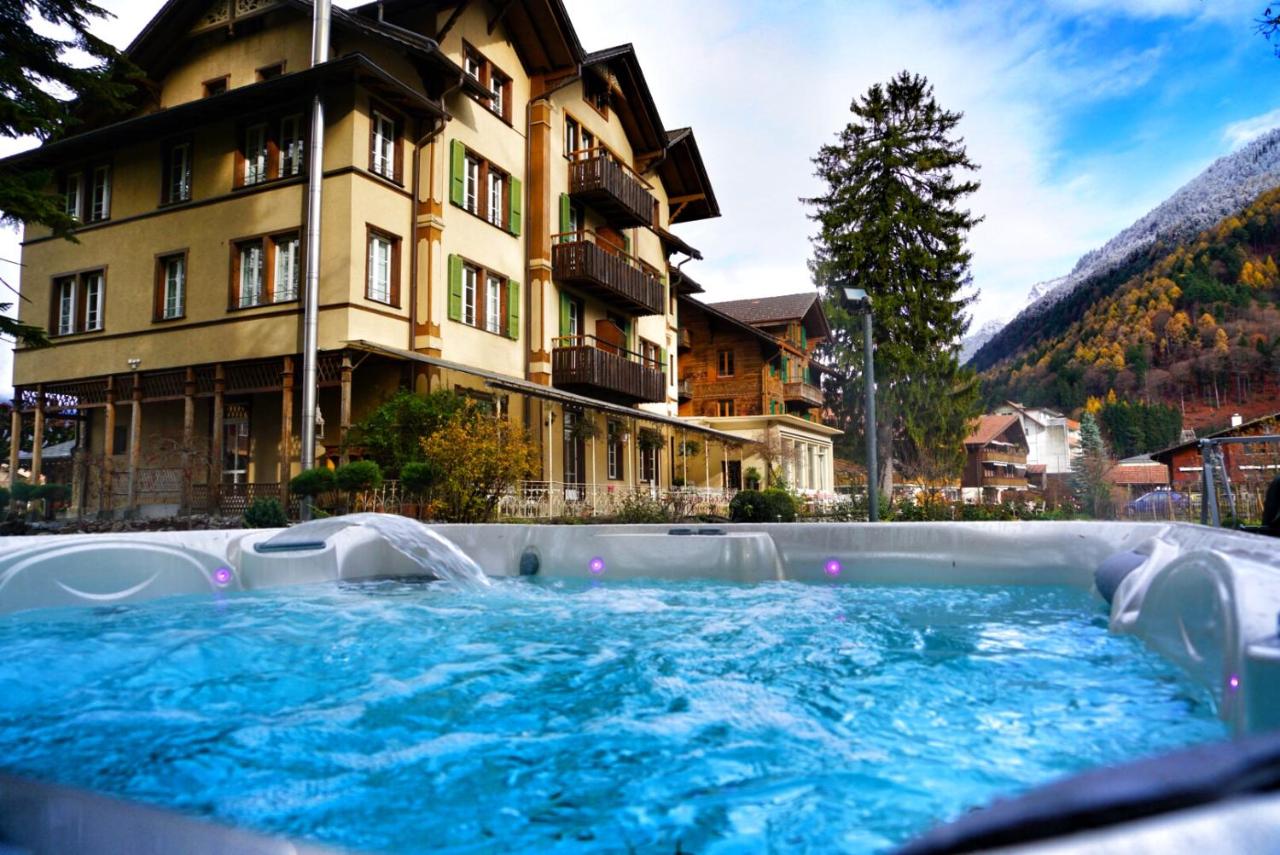 The Alpenrose is a luxurious boutique hotel located in the midst of lush gardens. It offers stunning views of the Jungfrau mountain range from its sun terrace. All of its en-suite rooms feature mountain views as well.
Guests can enjoy the hotel's lounge and bar area or relax in the garden jacuzzi. Furthermore, the hotel offers a car park for its guests and is only a 3-minute walk away from the bus and train stations and the shopping area.
10. Edelweiss Lodge
8.5 Average Rating
Get the Lowest Rates Here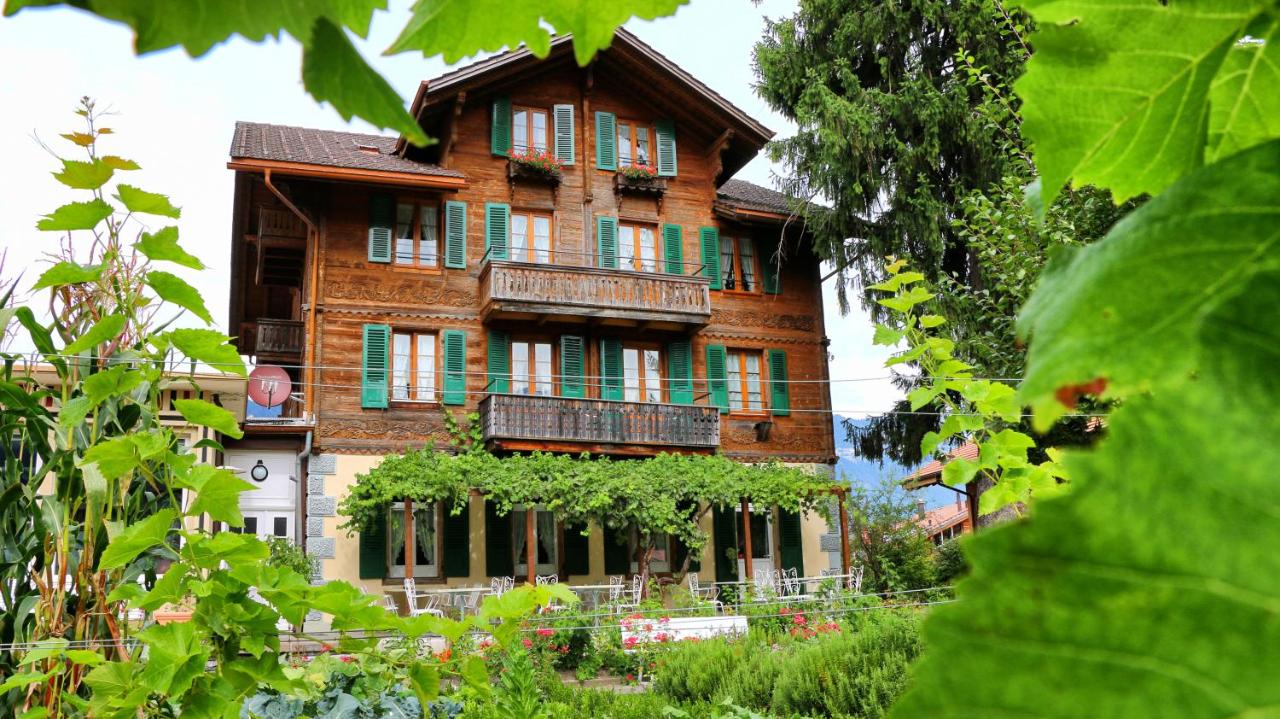 Edelweiss Lodge is a luxurious boutique hotel in Wilderswil, 22 km from Giessbachfälle. This boutique hotel offers accommodation with free WiFi, a garden with a terrace, and access to a hot tub. Guests can enjoy a continental breakfast every morning.
The area surrounding Edelweiss Lodge is ideal for hiking, skiing, and cycling activities. The hotel also offers a ski pass sales point. The nearest airport is Zurich Airport, 132 km away from the boutique hotel.