The best boutique hotels in Kefalonia place you in some of the most idyllic locations in Greece.
Kefalonia, also known as Cephalonia, is a Greek island located in the Ionian Sea. It is one of the largest islands in the Ionian Sea and is known for its breathtaking natural beauty and rich history. From turquoise waters to lush green landscapes, Kefalonia offers a stunning array of scenic views.
The island is dotted with traditional villages, historic monasteries and churches, and charming ports that are perfect for exploring. Whether you're looking to relax on the beach, participate in water sports, or discover the cultural heritage of the island, Kefalonia is a perfect travel destination for all kinds of travelers.
We hand-picked top-rated boutique hotels in Kefalonia to consider for your next getaway!
The 10 Best Kefalonia Boutique Hotels
1. Thalassa Boutique Hotel – Adults Only
8.7 Average Rating
Get the Lowest Rates Here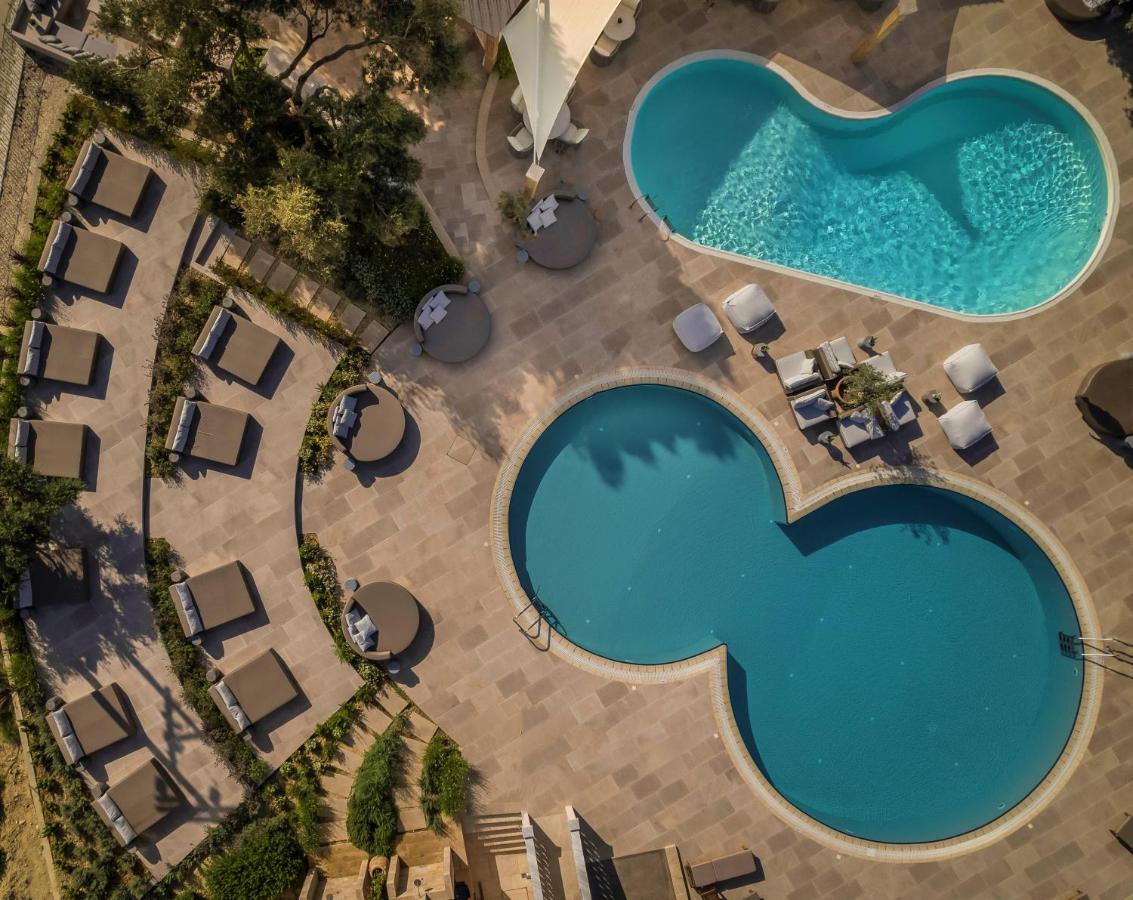 The Thalassa Hotel is an elegant boutique hotel option situated 250 meters from the sandy beach of Makris Yialos. Guests can enjoy stunning views of the Ionian Sea from the balconies of their rooms. All guest rooms are decorated elegantly and come with a TV with satellite channels, air conditioning, and a hairdryer. They also include a safety deposit box and tea-and-coffee-making facilities.
The swimming pool is surrounded by a lush garden and has a sun terrace with umbrellas and comfortable sun loungers. The more active guests can visit Thalassa's fully equipped fitness room.
Breakfast is served daily in the hotel's charming dining area which offers spectacular views of Kefalonia. The bar offers drinks and light meals.
The boutique hotel is conveniently located in the center of Lassi village, close to many bars, restaurants, and shops. Free private on-site parking and free Wi-Fi in public areas are also available.
2. Leivatho Hotel
8.7 Average Rating
Get the Lowest Rates Here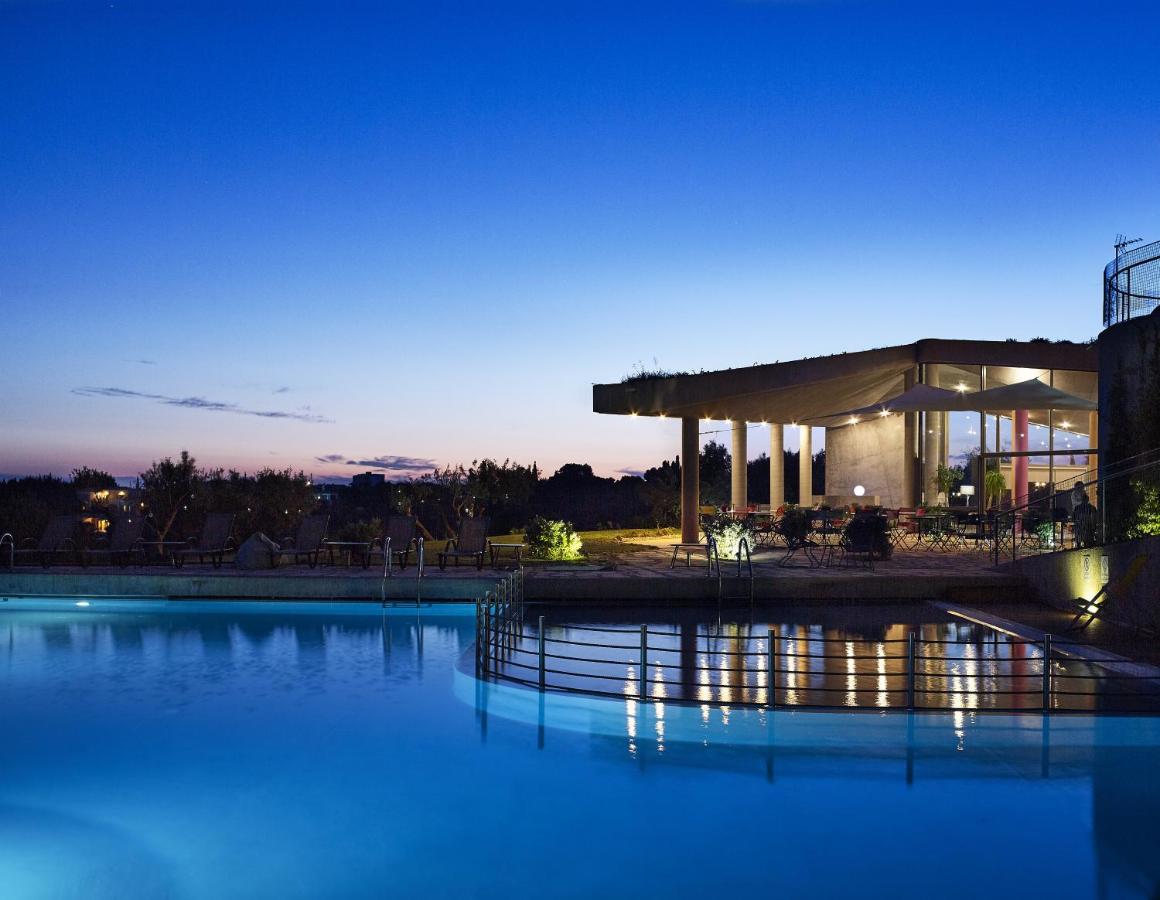 Leivatho Hotel is a family-run boutique hotel, located on Avithos Beach, with stunning views of the sea. It has been awarded for its unique architecture and eco-friendly practices.
The hotel offers a range of accommodation options, including minimalist-design rooms, studios, and suites. Each unit features a balcony or terrace with a sea or garden view, a modern bathroom, and kitchen facilities. Guests are welcomed with complimentary fruit.
Guests can enjoy a delicious, ever-changing morning buffet, focusing on local specialties and products. Leivatho Hotel also uses pure cotton bed linen and offers natural bulk soaps and amenities.
The hotel features a swimming pool and furnished sunbathing terrace, a pool bar, a free gym with a separate sauna room, free towels for the gym and the pool, and a children's playground. Staff can arrange for car hire and transfer service. Free parking and free Wi-Fi are also available.
3. Kefalonia Grand
9.0 Average Rating
Get the Lowest Rates Here
Situated on Argostoli beachfront, just 240 m from the central Vallianou Square, Kefalonia Grand features elegantly decorated rooms with modern furniture, a restaurant, and free WiFi.
Rooms feature soft white tones, with accents in black. All units have a private shower, bathrobes, and free toiletries. Floors and bathrooms are made of forged cement, while some rooms feature a seating area for your convenience. A flat-screen TV is provided, while views of the sea, garden, or city are featured in certain rooms.
You will find a 24-hour front desk at the property.
The boutique hotel also offers bike hire and car hire. Argostoli Port is 300 m from Kefalonia Grand, while Fanari Beach is 2.1 km away. The nearest airport is Kefalonia Airport, 7 km from Kefalonia Grand.
4. Almyra Hotel
9.3 Average Rating
Get the Lowest Rates Here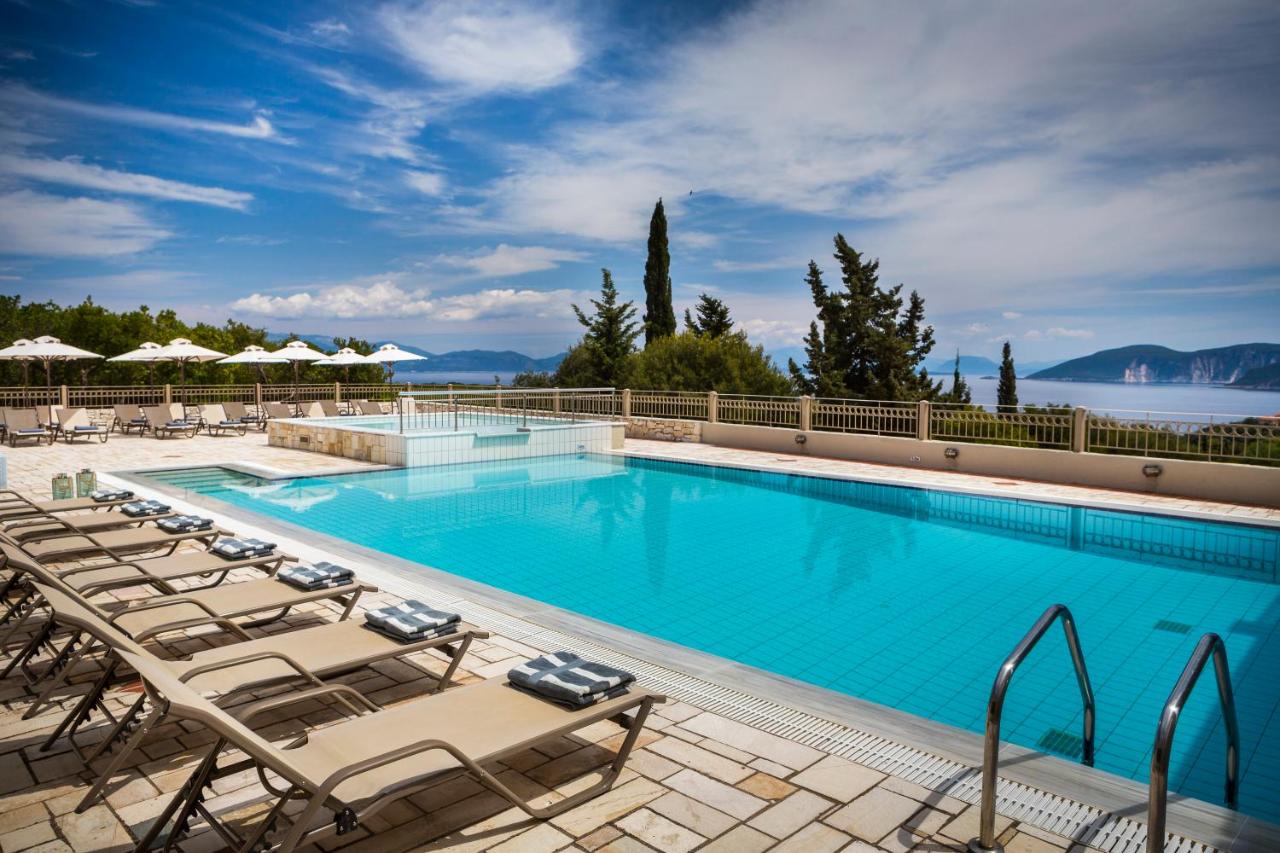 The Almyra Hotel in Fiscardo is an ideal choice for romantic getaways. It offers comfortable guest rooms with satellite TV and DVD player, plus tea-and-coffee-making facilities and free wired internet. The boutique hotel also features two fresh-water pools with a surrounding sun terrace that overlooks the sea, as well as a panoramic rooftop terrace with views over the bay.
Breakfast and lunch can be enjoyed on the hotel's terrace with lovely views over the sea and the surrounding hills. Guests can also relax with a drink at the pool bar or rooftop bar. For exclusive souvenirs, jewelry, objects of art, and clothing, the hotel has a boutique. Free wireless internet is available in the hotel's lounge area.
The Almyra is just 800 meters from the port and 1 km from Embisi Beach. Shuttle bus service to and from Fiskardo is provided and parking at the hotel is free. It is a 10-minute walk to the picturesque harbor of Fiskardo, while the cosmopolitan Emblisi Beach is a 15-minute walk away.
5. Aura Boutique
9.3 Average Rating
Get the Lowest Rates Here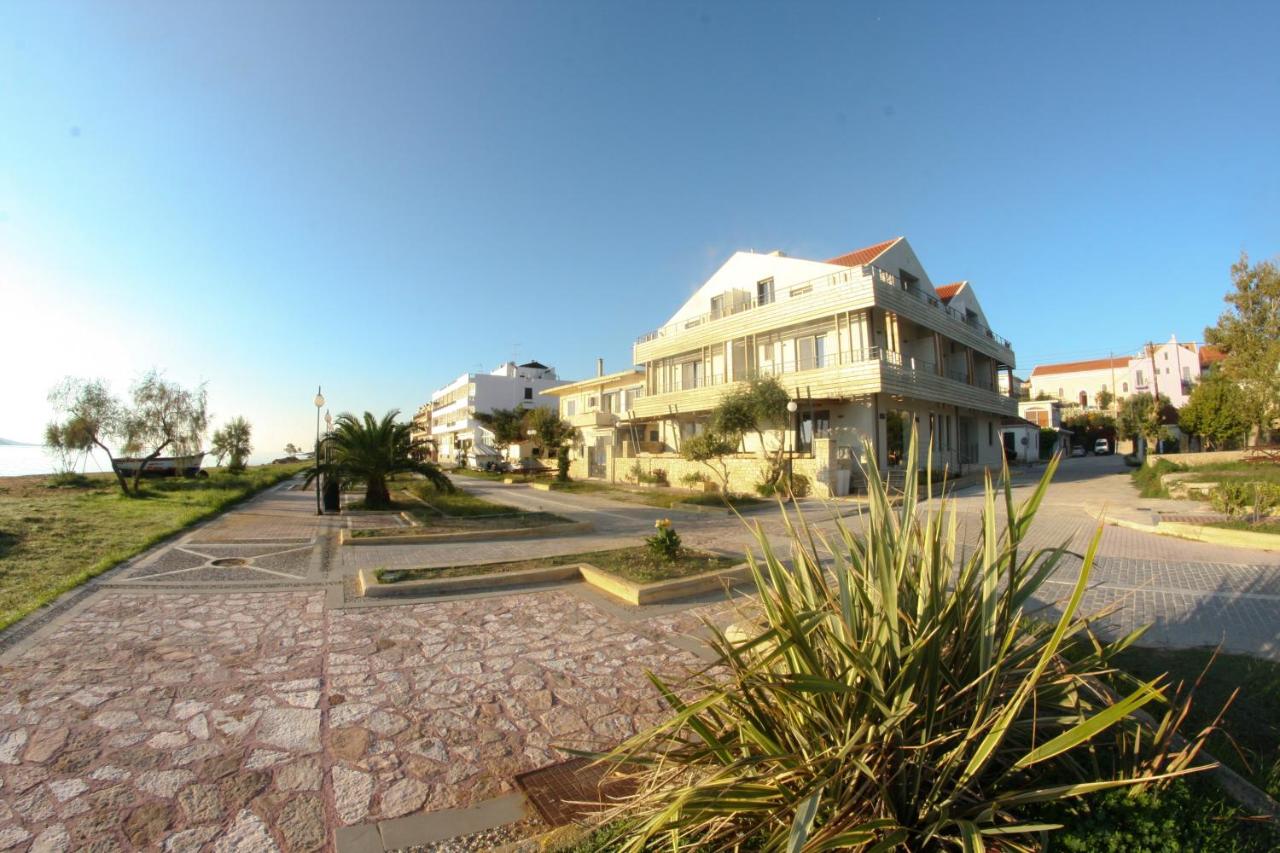 Aura Boutique is situated in Lixouri Village, offering rooms and suites with stunning views of the Ionian Sea. All areas of the property provide free WiFi.
Each room and suite is equipped with a satellite, flat-screen TV, air conditioning, and a balcony. There is a dining area with a refrigerator, kitchenware, and an electric kettle. The private bathroom includes a shower or bath, a hairdryer, and complimentary toiletries.
Aura Boutique provides a 24-hour front desk and a snack bar. Additional amenities include grocery delivery, a communal lounge, and luggage storage. Guests can enjoy activities such as cycling both on-site and in the surrounding area.
6. White Rocks Hotel Kefalonia
8.9 Average Rating
Get the Lowest Rates Here
White Rocks Hotel Kefalonia is a luxurious seafront hotel set on a hilltop with picturesque views of the Ionian Sea. Guests can enjoy the hotel's private beach area, outdoor pool with a sun terrace, and a beachfront bar.
The boutique hotel features a wide selection of rooms surrounded by lush gardens. Each room is air-conditioned and includes double or large double beds, a flat-screen TV, a mini-bar, a safety deposit box, and free Wi-Fi. Toiletries, beach towels, and a hairdryer are also included. The rooms offer a choice of a private terrace, balcony, or garden.
The hotel boasts 2 restaurants offering Mediterranean cuisine and panoramic sea views. Guests can also enjoy coffee, drinks, and cocktails at the 3 on-site bars throughout the day.
Additional facilities include a 24-hour front desk, concierge, and massage treatments upon request. Free parking is provided. The nearest airport is Kefalonia Airport, 6 km away, while Argostoli is 4 km away.
7. Fiscardo Bay Hotel
9.4 Average Rating
Get the Lowest Rates Here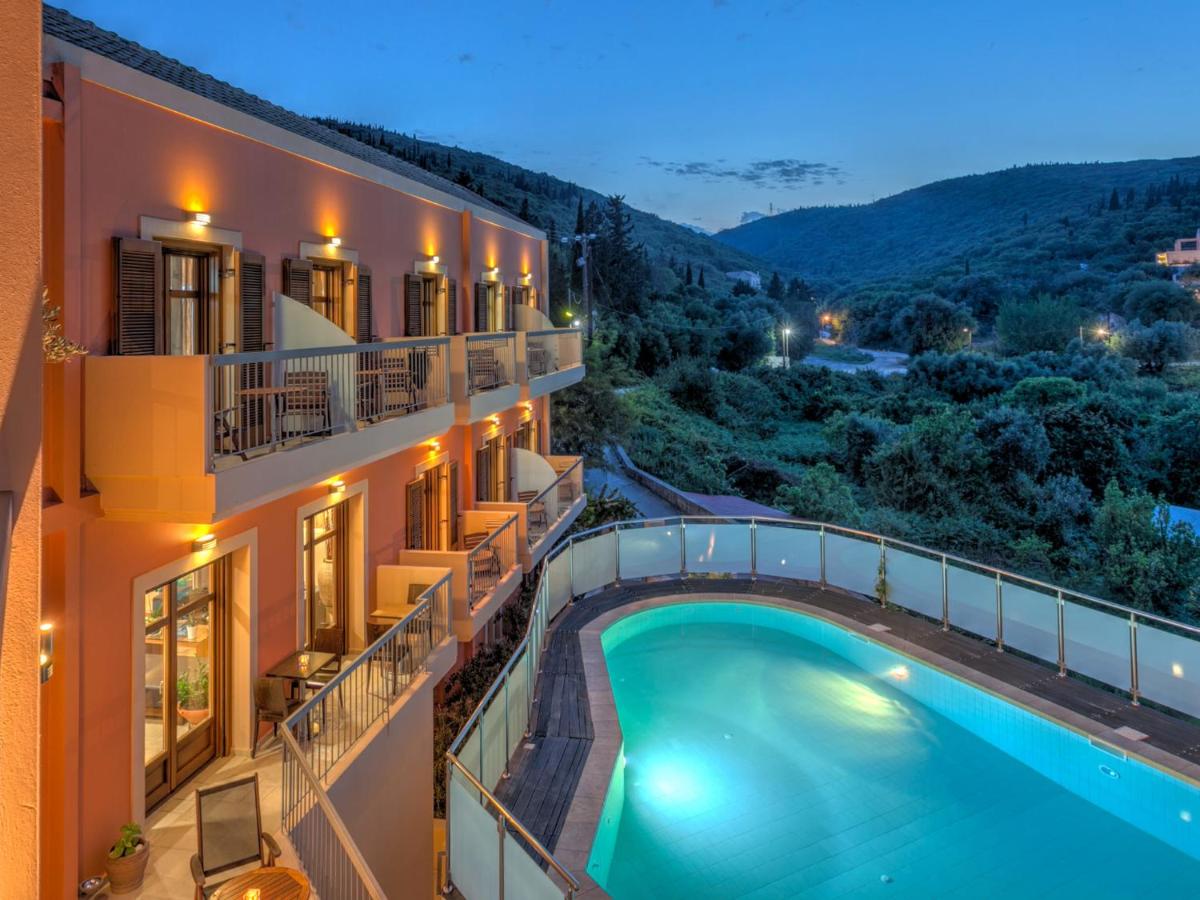 The Fiscardo Bay Hotel is conveniently located a short walk from the stunning Fiscardo waterfront. It offers an array of amenities, including a freshwater swimming pool, bar, wooden sun deck with loungers, contemporary units with flat-screen satellite TV and CD player, a private balcony with Ionian Sea views, air conditioning, a hairdryer, and a fridge.
For breakfast, guests can enjoy Greek delicacies served in the breakfast room or on the outside terrace. Furthermore, Fiscardo Bay can organize sailing trips to the surrounding islands, as well as diving expeditions. Foki Beach is within a 15-minute walk, while Marmara Beach is 8 km away.
8. Aenos Hotel
8.8 Average Rating
Get the Lowest Rates Here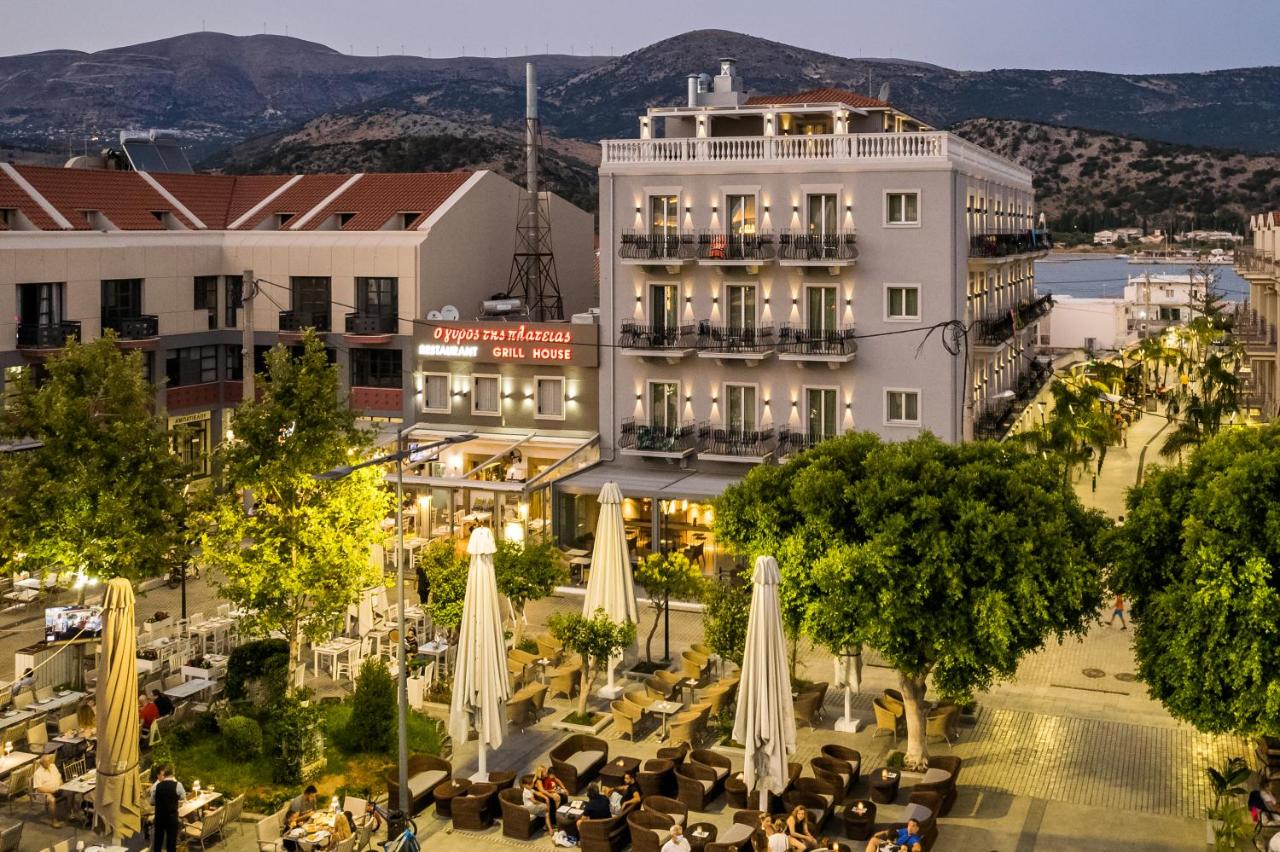 Aenos Hotel is situated on the main square of Argostoli and provides a friendly environment with 24-hour service. It offers a buffet breakfast for its guests. The rooms are decorated in a modern style and include Smart Samsung TV, Dunlopillo pillows and mattress, a reading light by the bed, and Korres toiletries in the bathroom. Most rooms have a private balcony that overlooks the main square and the port of Argostoli.
Aenos Hotel also provides an on-site cafe where guests can enjoy a coffee. Drinks and snacks are served on the terrace. There is also a communal lounge appointed with elegant furnishings and a large TV.
9. Hotel Athina
8.3 Average Rating
Get the Lowest Rates Here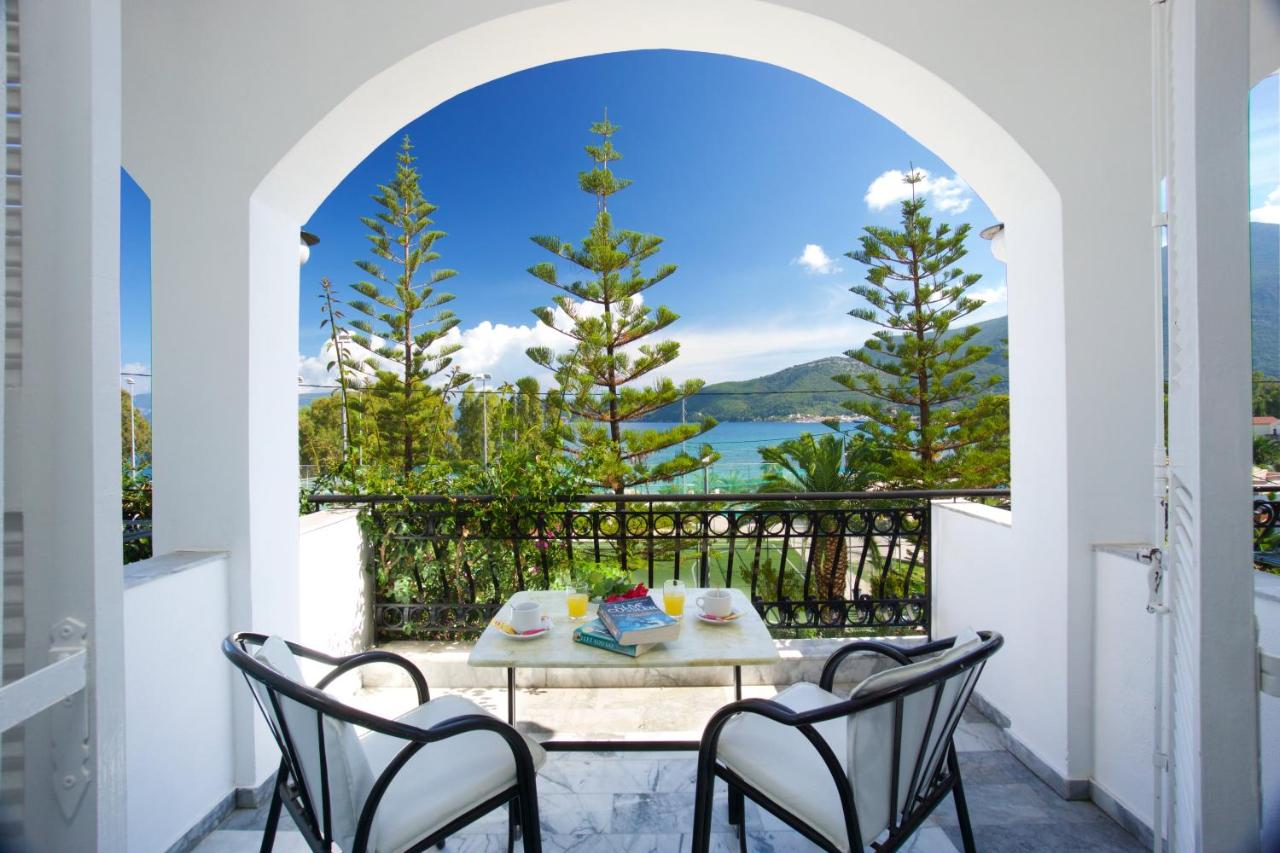 Athina Hotel is located in Karavomylos Sami, Kefalonia Island. It is close to some of the island's most attractive sights, such as the awarded Antisami beach, the Melissani Lake, and the Drogarati cave.
The hotel offers comfortable and fully-equipped accommodations for up to 4 people. All rooms feature a relaxing view of either the Ionian Sea or the mountains.
The hotel enjoys a convenient location, with the center of Sami just 1 km away, the port 2 km away and the beach only 40 m away.
10. Electra Kefalonia Hotel & Spa
9.2 Average Rating
Get the Lowest Rates Here
Electra Kefalonia Hotel & Spa is located in Svoronata, just 100 m from Ammes Beach. This 5-star hotel features free WiFi and a garden, as well as a restaurant, free private parking, a fitness center, and a bar.
The hotel offers air-conditioned rooms with a flat-screen TV with satellite channels, a kettle, a bidet, a hairdryer, and a desk. Every room has a wardrobe and a private bathroom.
A continental or buffet breakfast is served every morning. Spa and wellness facilities, including a sauna and a hot tub, are available for guests' use. The area is popular for cycling and car hire is available.
On-site facilities include a hammam, hairdressers, and a business center. Historical Houses is 2.8 km away and Avithos Beach is 3.8 km away. The nearest airport, Kefalonia Airport, is 1 km from the hotel.