The best restaurants in Le Marais in Paris offer some unique dining experiences in the French capital. A range of restaurants cater to every taste, vibe, and budget; whether you are in the mood for authentic French or international cuisine, fine or casual dining, the selections of quality restaurants are plenty.
Le Marais is situated on the right side of the Seine River and covers Paris's third and fourth districts. Some of its famous landmarks include the Place des Vosges or Picasso's Museum. This beautiful arrondissement is one of the oldest neighborhoods in Paris, packed withtrendy boutiques, cafés, galleries, charming winding streets, historic buildings, some of the best hotels in Paris, and of course – restaurants that provide the best gourmet experiences in Paris.
So if you are wondering where to eat in Le Marais, we've put together some of the best restaurants in Le Marais to try that are worth checking out for your next visit!
You Might Like:
The Best Le Marais Restaurants
1. Café Charlot
Address: 38 Rue de Bretagne, 75003 Paris, France | map
Restaurant Menu
Cafe Charlot is located on one of the most popular streets in Paris' Le Marais district, making it a perfect place to people watch. Hotels in the area recommend this Paris restaurant as one of the best classic French bistros in the neighborhood. Popular menu items include the peppercorn steak with its delicious sauce, chicken and parmesan risotto, and burrata salad.
When we arrived, Cafe Charlot was bustling with activity. Almost all of the tables were occupied, mostly by French locals. This was a good sign, as it signified that the restaurant is reputable and the food is of high quality. Service was prompt and friendly.
My food was quite good, but the caesar salad with chicken was delivered too quickly for it to have been cooked fresh. The chicken was a fried chicken breast cut into small pieces. The lettuce was crisp and fresh.
The wine list was impressive, offering a good selection of wines by the glass, including chablis. A top choice as one of the best restaurants in Le Marais!
2. Le Mary Celeste
Address: 1 Rue Commines, 75003 Paris, France | map
Restaurant Menu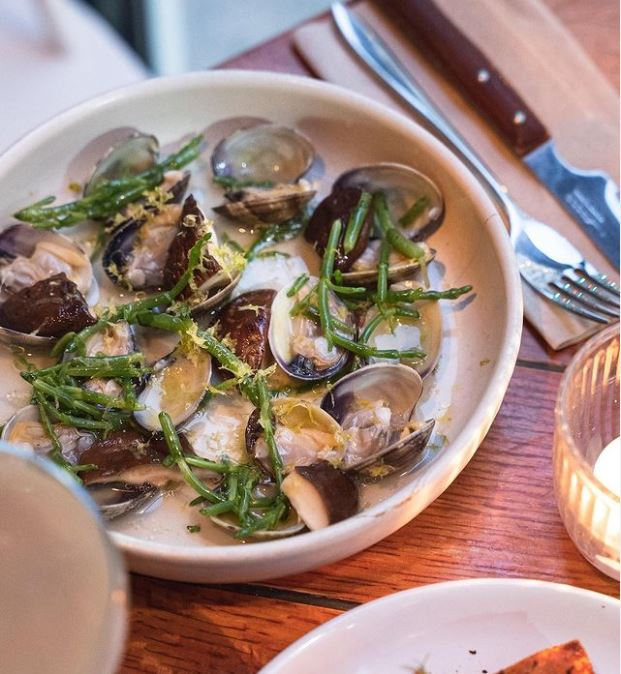 Le Mary Celeste is a popular restaurant in Le Marais known for its traditional French cuisine and creative cocktails. The atmosphere is fun and funky, and the service is friendly and efficient. Our server spoke perfect English and the dishes we ordered were delicious. We had deviled eggs, an amazing "grilled cheese" sandwich with blue cheese, herbs, pear and toasted sourdough bread, and a beet salad with some kind of wonderful sauce and crispy shredded fish skin, as well as a salad with asparagus, toasted pine nuts, and an amazing dressing.
The price was fair and comparable to what we would have paid at home. Reservations are recommended, or you can enjoy dining at the bar. The restaurant is open all day on Saturday and Sunday and is a great spot to enjoy the upbeat and cheerful vibe of the neighborhood. Definitely recommend for those looking for traditional French cuisine!
3. Fulvio
Address: 4 Rue de Poitou, 75003 Paris, France | map
Restaurant Menu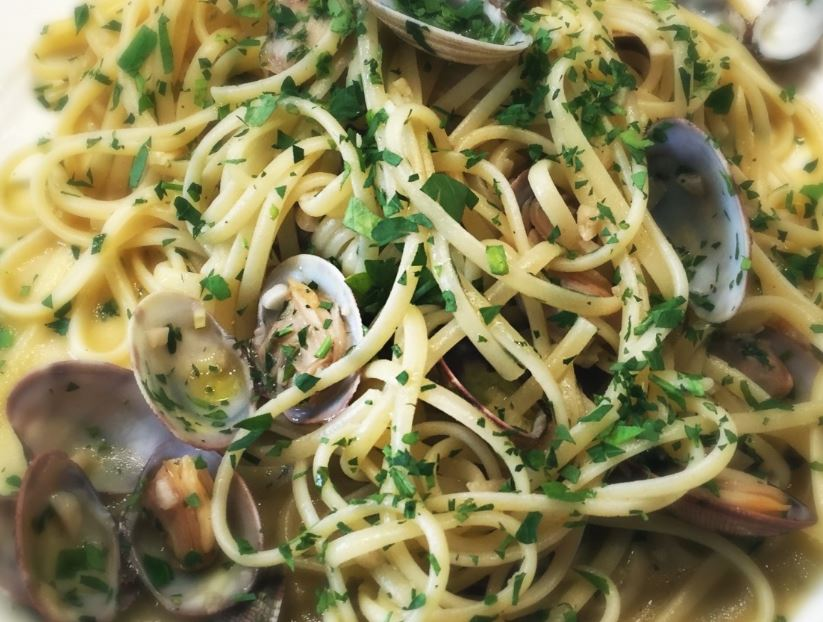 One of the best restaurants in the Marais specializing in authentic Sardinian cuisine.
The food is delicious and the atmosphere is cozy and comfortable. Fulvio, the owner of the restaurant, hand-writes his beverage menu in a detective's notepad and the food menu on a chalkboard. Some of the main courses are saltimbocca, veal + eggplant parmesan, burrata, and pasta dishes bathed in rich, delectable sauces. The tagliatelle in broccoli, speck and pepper cream sauce is particularly noteworthy. The tiramisu is also worth trying.
The restauranteur is passionate about his work, and the people in the restaurant can feel that. Even after people have finished eating, they stay to catch up with Fulvio. It's an antidote to the impersonal style of many restaurants and the atmosphere is full of good ol' fashioned humanity. With great food and a warm atmosphere, Fulvio's is a great choice for Italian food lovers.
4. Breizh Café Crêperie
Address: 109 Rue Vieille-du-Temple, 75003 Paris, France | map
Restaurant Menu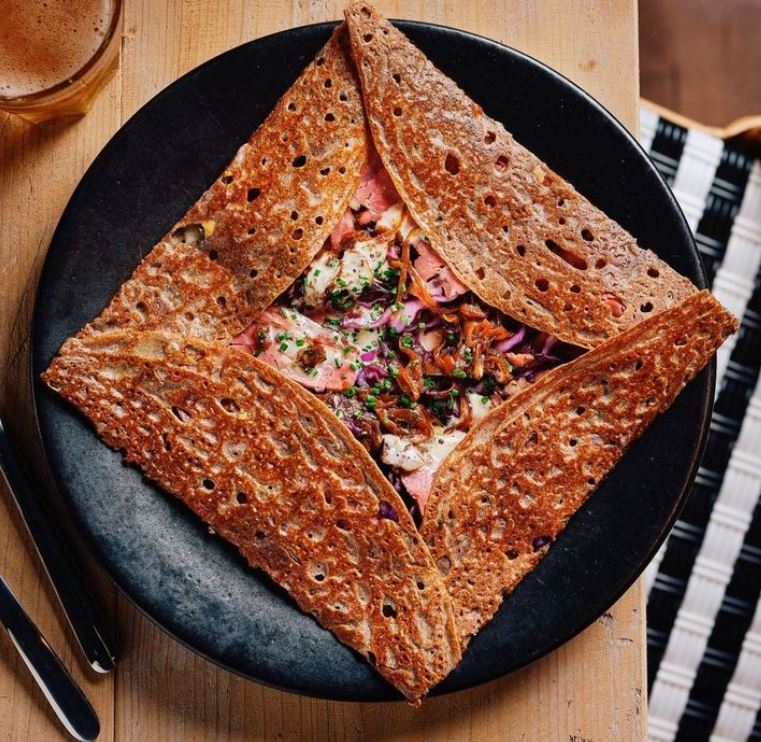 Breizh is a restaurant in Le Marais that serves traditional cuisine. Their menu includes a variety of deli-style galettes and crepes made with buckwheat flour. The atmosphere is relaxed and café-like with friendly staff, offering simple yet delicious food for a fair price.
The crepes and galettes are made with high-quality ingredients, such as jambon cru, comte, and a mirrored egg. The egg is particularly noteworthy, as it is one of the best eggs one can ever eat. Breizh serves caramelized apples, toffee sauce, and ice cream for dessert. The crepes are of a different flour base than street vendor creperies, but the quality of the ingredients and the preparation make them incredibly wholesome and filling.
5. Bouillon République
Address: 39 Bd du Temple, 75003 Paris, France | map
Restaurant Menu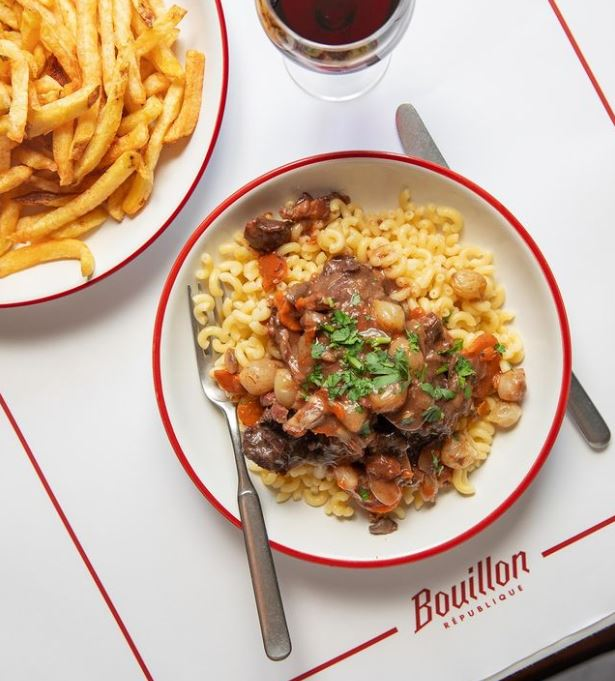 Bouillon République is a bustling traditional French restaurant in Le Marais. During dinner hours, a massive queue can be seen extending out the door. The dining space is ample, with lots of seating, and the ambiance is quintessentially French. The menu offers a range of classic French dishes, and the food is consistently excellent for a fair price.
The service is fast and efficient, with staff like Brice providing attentive and responsive service with a great sense of humor. The dishes are simple, but perfectly cooked and well-served, and the starters and desserts are particularly noteworthy. The only downside is that the dishes could be a bit more flavorful. For €113 for five people, including half a liter of soda, half a liter of red and white wine, and a full meal from starter to dessert, the prices are unbeatable. We highly recommend Bouillon République.
6. Au Bascou
Address: 38 Rue Réaumur, 75003 Paris, France | map
Restaurant Menu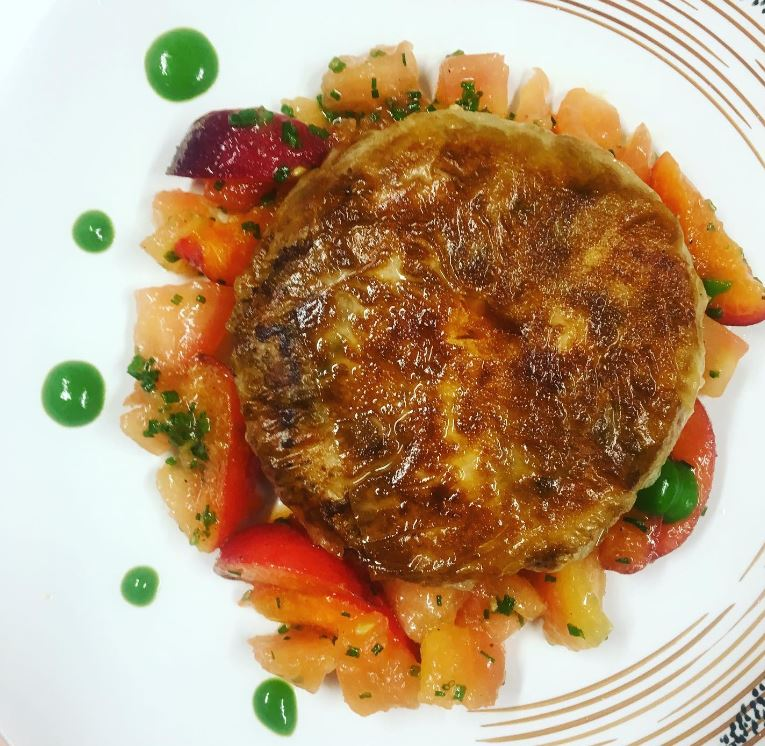 Au Bascou is a charming bistro located near the northern edge of Le Marais near the Arte Métier Museum. It has been open since the 1960s and serves a variety of classic southwestern French cuisine from the Basque region. The restaurant offers a unique dining experience with exquisite flavors created from quality ingredients at very reasonable prices.
The chalkboard menu features a variety of dishes, and the kitchen is known for its delicious foie gras 'mi cuit,' Ris de Veau, and Tourtière Pommes et Pruneaux. All of these dishes are a must-try for anyone looking for a classic yet unique meal.
7. Café Louis Philippe
Address: 66 Quai de l'Hôtel de ville, 75004 Paris, France | map
Café Louis Philippe is a popular Le Marais restaurant situated opposite Île Saint-Louis in the Seine River. It's a family-run French eatery that features striped awnings on an expansive balcony with flower-filled windows. This is a great spot for anyone looking for a local vibe; the traditional French fare is decent and affordable, especially during the summer. The menu includes beef bourguignon, frog legs, tomatoes, and a hot goat cheese sauce.
The restaurant is very busy, yet the waiter was charming and attentive. Despite the busy atmosphere, they were able to accommodate a member of our party who had celiac disease. We were impressed by the quality of the food, especially the frogs' legs and the tuna. The prices are slightly higher than expected, but the overall experience was worth it. We even went back the following week for a lunchtime burger and fries.
8. Big Love
Address: 30 Rue Debelleyme, 75003 Paris, France | map
Restaurant Menu
Big Love is a restaurant in Le Marais that offers gluten-free and vegetarian dishes. It has an Italian atmosphere, making it a joyous place to dine. Its menu offers a unique fusion of French and Italian dishes, including some of the best pastas in Paris. The cocktails are inventive, and the decor is wholesome.
The restaurant itself is small but full of character and a great atmosphere. The food served is of high quality and also very reasonably priced.
It is advised to book in advance, even during off-peak season, as the restaurant is often very busy, and people can be turned away at the door. Big Love is a must-visit restaurant and well worth the effort.
9. Le Hangar
Address: 12 Imp. Berthaud, 75003 Paris, France | map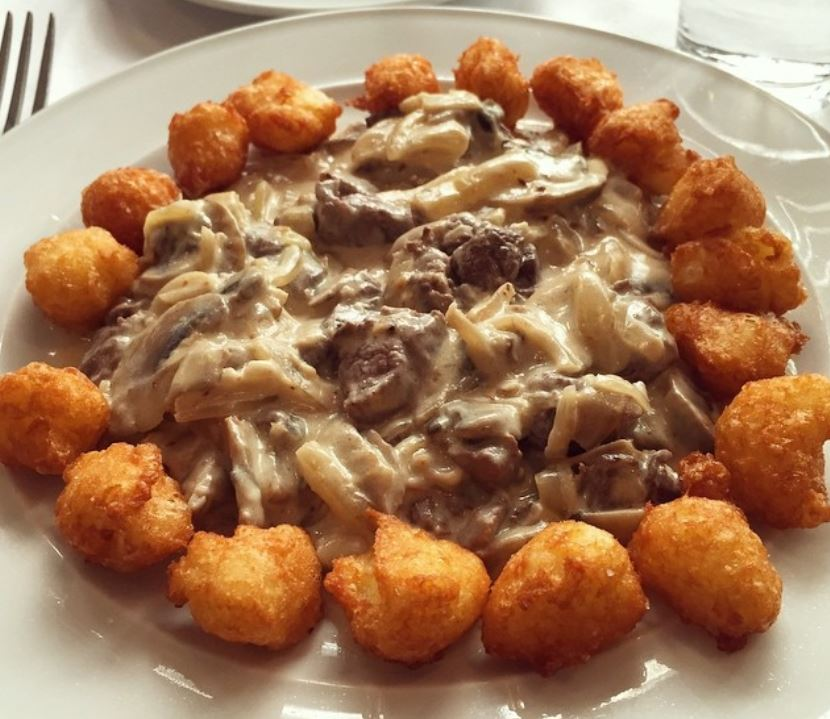 Le Hangar is a hidden gem tucked away in Le Marais, Paris, just behind Musée Pompidou and Rue Rambuteau. This family establishment is a favorite among locals, serving delicious French comfort food. Popular dishes include the great dauphine potatoes and beef stroganoff.
When we visited, we noticed a mix of locals and those tipped off about the restaurant. We ordered a few starters, including the special Morilles mushrooms on toast with a brown butter sauce and white asparagus with mousseline sauce. For the main course, I had the foie gras poelé, and my partner had a filet of bar poached to perfection. We ended our meal with a chocolate soufflé for dessert.
The atmosphere was cozy and inviting, and we were not rushed throughout the meal. As the evening progressed, the restaurant filled up with more people. Overall, it was an enjoyable experience, and we highly recommend it to anyone visiting the area.
10. L'Aller Retour
Address: 5 Rue Charles-François Dupuis, 75003 Paris, France | map
Restaurant Menu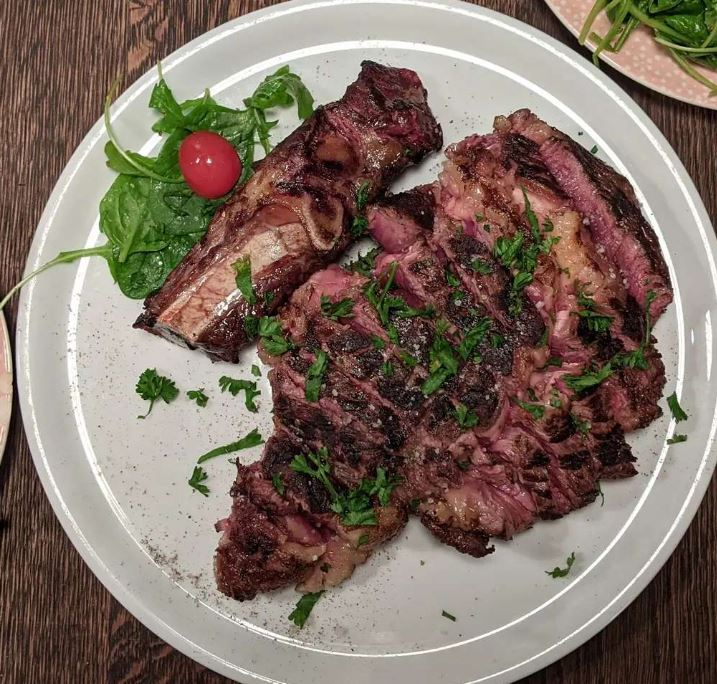 L'Aller Retour Le Marais is a high-quality restaurant in a small, intimate setting with a low-light ambiance. Their specialty is steak, and the menu is limited but top-notch. Their steak frites, tarte citron, and cheese plate are all mouth-watering.
In addition, their tenderloin of Beef Bavaria, bone marrow, and chocolate fondant are all highly recommended. Prices are also quite reasonable. The atmosphere and service are excellent, making it perfect for a romantic date night.
11. Le Trumilou
Address: 84 Quai de l'Hôtel de ville, 75004 Paris, France | map
Restaurant Menu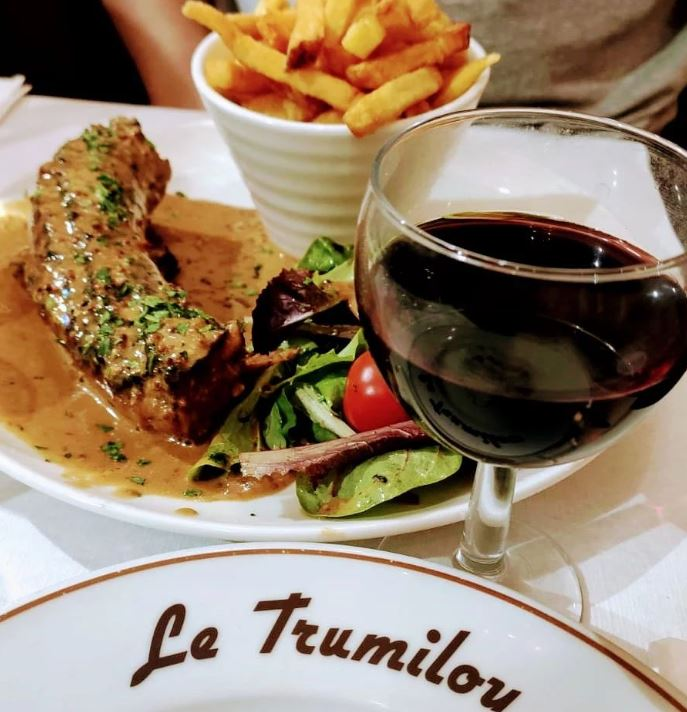 Le Trumilou is a renowned restaurant in Le Marais. For over 30 years, it has maintained its positive reputation among locals and devoted customers. The highlight on the menu is the duck with prunes. The wine list is small yet reasonably priced and of superior quality.
We have visited Le Trumilou numerous times and have always been impressed by its simple decor and friendly service. On one occasion, we ordered the two-course meal and were served a giant, flavourful dish of mushrooms. The herbs were set alight and brought to our table. We decided to take a seat outdoors on a Friday evening and found that it was quite pleasant. There were no smokers nearby, and the traffic was light. The house red wine was also superb. The steak was served with a generous portion of fries and salad. We also ordered a house salad and were pleased with the result. For dessert, we had the Il Flotant, which was a classic. The service was great, and when we were unable to finish the steak, they packed it up for us to take home. We enjoyed it for dinner that same night.
12. Au Bourguignon du Marais
Address: 52 Rue François Miron, 75004 Paris, France | map
Restaurant Menu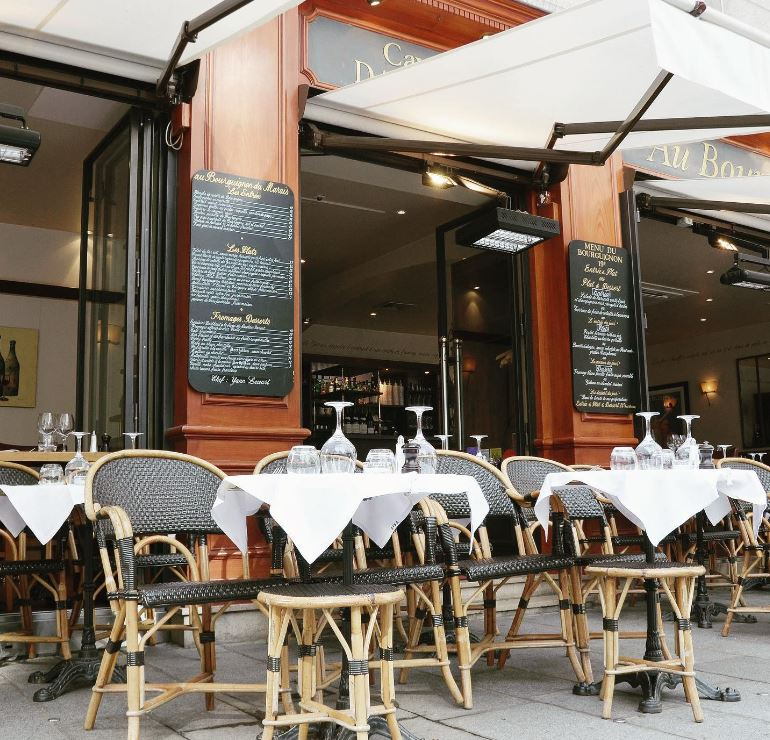 Au Bourguignon du Marais is a popular restaurant in Le Marais among locals and tourists specializing in traditional dishes from the Burgundy region of France. The Beef Bourguignon is highly recommended and served in a traditional cast iron pot. It's a large portion so consider sharing with a friend! Don't forget to pair your dish with one of their wines from Burgundy.
The atmosphere of the restaurant is buzzing, and the staff is accommodating, even for solo travelers. They are also willing to speak English if needed. My experience was great – I enjoyed the French onion soup and the Beef Bourguignon. Both dishes were good, though the portions were quite large. I would have liked to have more room for dessert. There is a good selection of wine by the glass to choose from.
13. Temps des Cerises
Address: 30 Rue des Rosiers, 75004 Paris, France | map
Restaurant Menu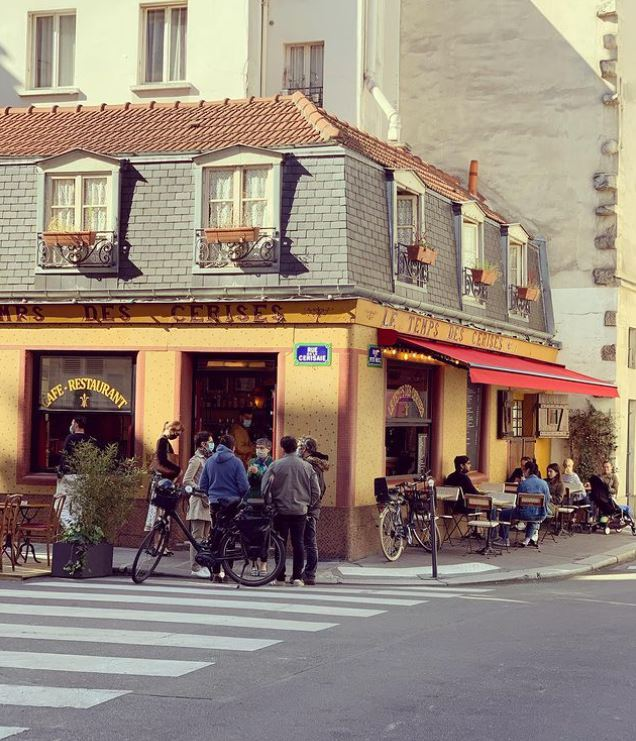 Tucked in a quiet corner, in a small two-floor building seemingly out of place and out of time, they serve delicious French fare done correctly and with care and a welcoming spirit that makes you feel like this is your neighborhood bistro, and you're just one of the regulars. For fans of French onion soup, magret de canard, and crème brûlée, this is the place to relive the memories of a Parisian childhood you never had but wish you did. For a truly decadent surprise, don't skip the moelleux au chocolat. C'est magnifique!
14. Ruisseau Burger
Address: 22 Rue Rambuteau, 75003 Paris, France | map
Restaurant Menu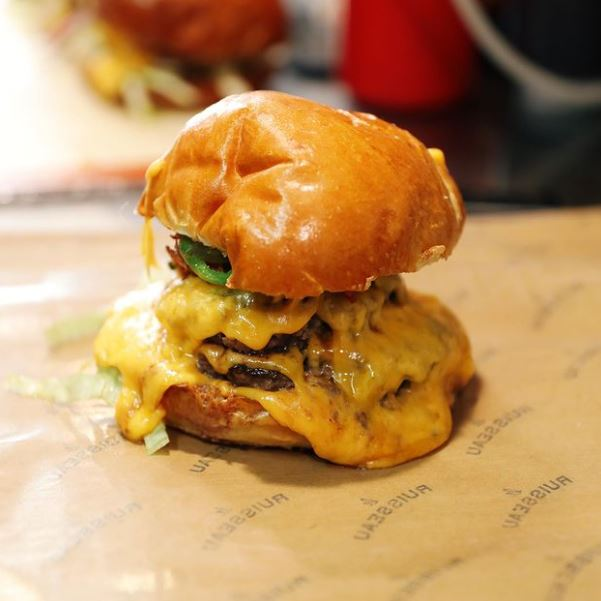 Le Ruisseau Burger in Le Marais is an excellent option for those looking for a tasty French burger cooked precisely to your liking, with cheese and a BBQ sauce. The menu can suit a diverse clientele, and the price is relatively low for French standards (combo is around €15). This restaurant also handcrafts and bakes its buns daily, unlike other restaurants where the bread and buns are pre-packaged in bulk.
15. Café Les Philosophes
Address: 28 Rue Vieille-du-Temple, 75004 Paris, France | map
Restaurant Menu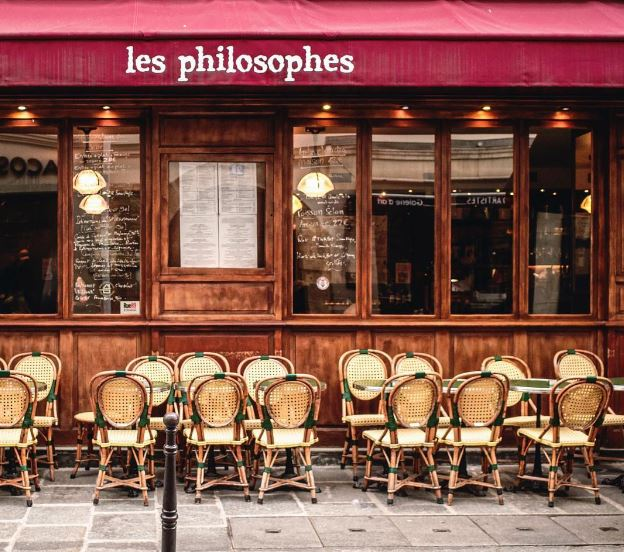 This restaurant is in the heart of Le Marais on a street where you can sit back and people-watch. They serve exceptional traditional French choices that are prepared to the highest standard (our favorite is the French onion soup and boeuf bourguignon when in season) in a high-level quintessential French bistro atmosphere.