Finding the best romantic restaurants in Paris is a real task, given the number of world-class restaurants in the city.
The French capital is dubbed the most romantic city in the world, partly because of the plethora of restaurants that serve the perfect ambiance (think of having dinner with Eiffel Tower views) and its world-class cuisines with Michelin star ratings.
Although Paris has over 120 Michelin-star restaurants, each providing its unique and unforgettable experience, there are plenty of options for a romantic dinner experience in Paris. Whether you are in the mood for authentic French cuisine, fine dining, or casual dining, the selections of quality restaurants are plenty.
We've put together some of the most romantic restaurants in Paris that are worth checking out for your next date night!
You Might Like:
The Most Romantic Restaurants in Paris
1. Restaurant j'Adore
7, rue Beudant 75017 Paris | map
Restaurant Menu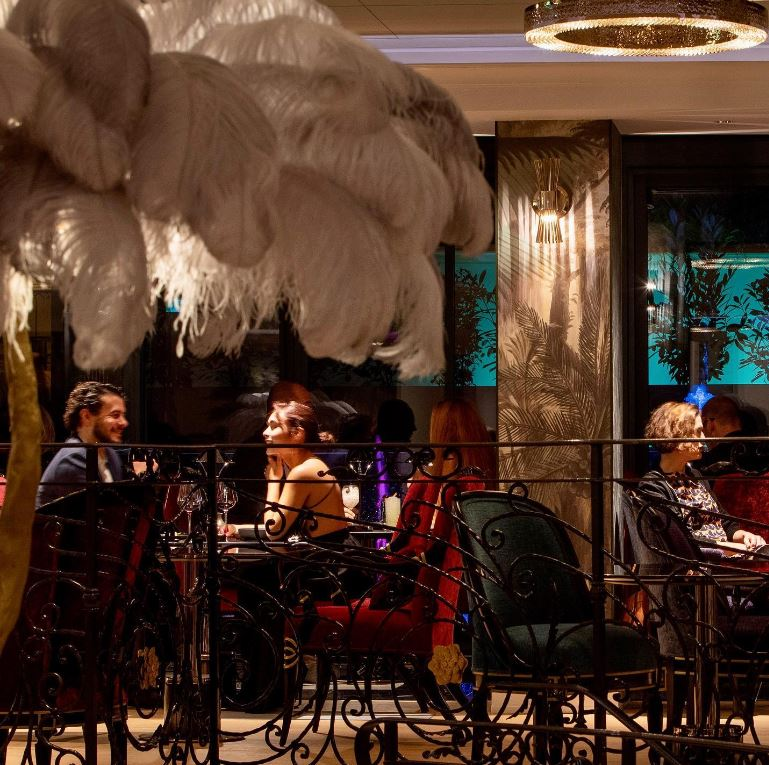 Nestled in the heart of the Batignolles district in a 5-star hotel, the Restaurant j'Adore is ideal for couples looking for a romantic atmosphere to celebrate a moment for two and live a memorable experience.
The Belle Époque inspires the decoration using aristocratic materials such as velvet, marble, and gilding, elements of that you'll find in most romantic restaurants in Paris. Outside, the decor is lush with this green wall and the fountain, bringing the final touch to this majestic setting.
2. Cristal Room Baccarat
11 place des Etats-Unis, 75016 Paris | map
Restaurant Menu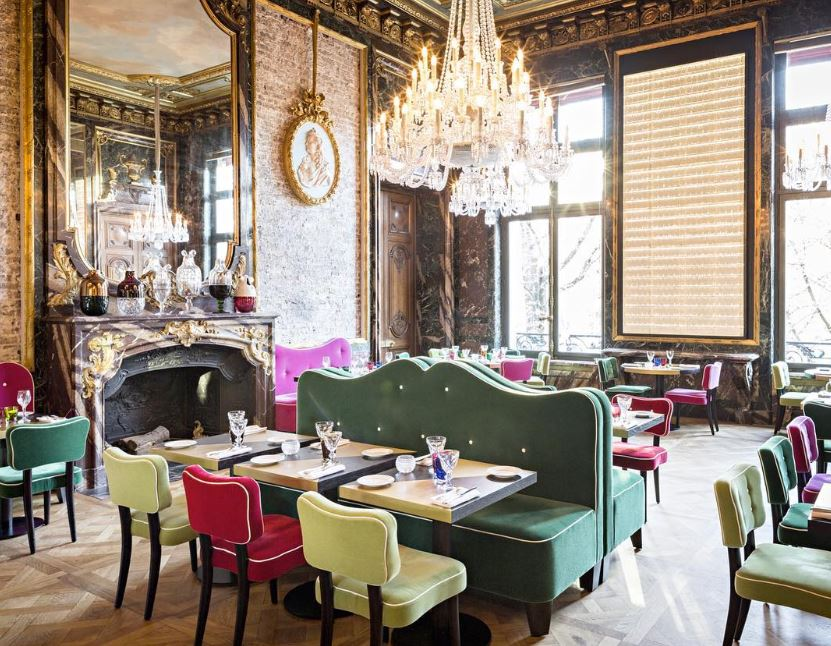 Cristal Room Baccarat is one of the best romantic restaurants in Paris. It is located in the heart of the city in a former mansion that dates back to 1764. Upon entering, guests will be welcomed by the luxurious space with opulent chandeliers and a red-carpet walk. The glasses are particularly chic, and the front-of-house staff provides excellent service. The restaurant also boasts an extensive wine list and contemporary, traditional French cuisine prepared by Michelin-rated chef Guy Martin.
The food at Cristal Room Baccarat is well-cooked and seasoned.  After dinner, guests are encouraged to take photos by the balcony with views of the park. There is also a unique side room that provides good photo opportunities. The overall experience is one of lavish fine dining and worthy of the title of one of the best Paris romantic restaurants.
3. Le Jules Verne
Tour Eiffel, Avenue Gustave Eiffel, 75007 Paris | map
Restaurant Menu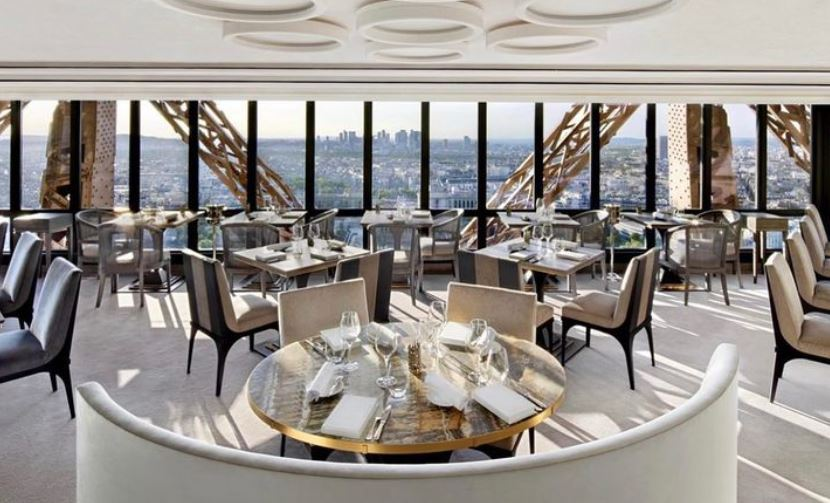 What could be a more romantic dinner in Paris than having your meal at the Eiffel Tower? The Jules Verne is an elegant restaurant located within the iconic structure, offering its guests breathtaking views of Paris. The menu is filled with exquisite dishes, such as brioche with truffle cream and olive tuile, crab curry with granny apples and seaweed, Dubarry cream with cauliflower, and young Ile de France leek flan and caviar. It is recommended to leave room for dessert and sample the delightful vanilla mille-feuille.
The overall experience at the Jules Verne is truly remarkable. The staff is attentive and entertaining, ensuring an enjoyable evening. The food is superb, with degustation courses that are carefully matched and balanced. Care is taken to ensure the food arrives at the right time, not too fast or too slow. The waiter will assist in selecting the perfect complimentary wine, one that is of excellent quality yet reasonably priced.
4. Le Pur
5, rue de la Paix, 75002 Paris | map
Restaurant Menu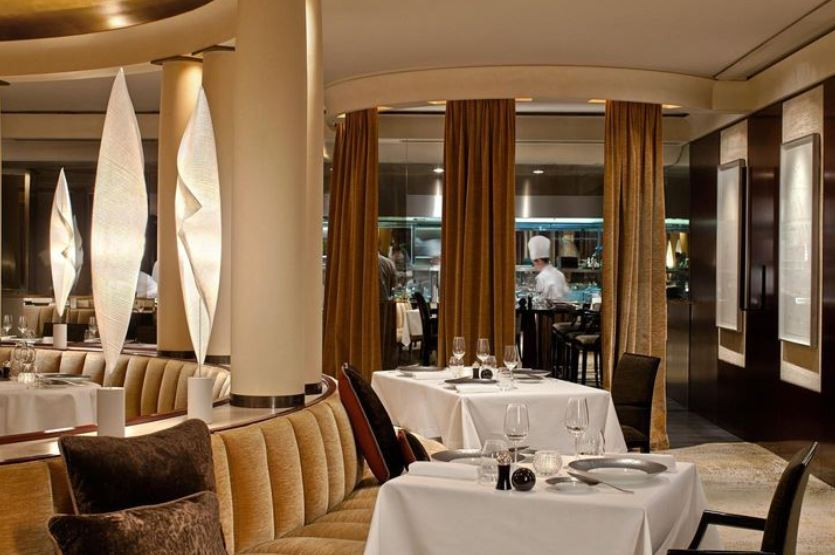 Le Pur is an excellent restaurant choice for a romantic Michelin-star dining experience in Paris. Located at the 5-star Park Hyatt Hotel, it is an exquisite fine-dining restaurant helmed by renowned chef Jean-François Rouquette. The menu offers a 9-course selection of French traditional cuisine.
Any solo traveler will be delighted with the availability of reservations. The presentation of each dish is thoughtfully crafted and executed. Staff are friendly, helpful, and attentive, making sure to explain each dish as it arrives. To top it off, the Chef himself will come to greet each guest. It is truly an unforgettable experience that will have you returning for more.
5. Le Coupe-Chou
11, rue de Lanneau, 75005 Paris | map
Restaurant Menu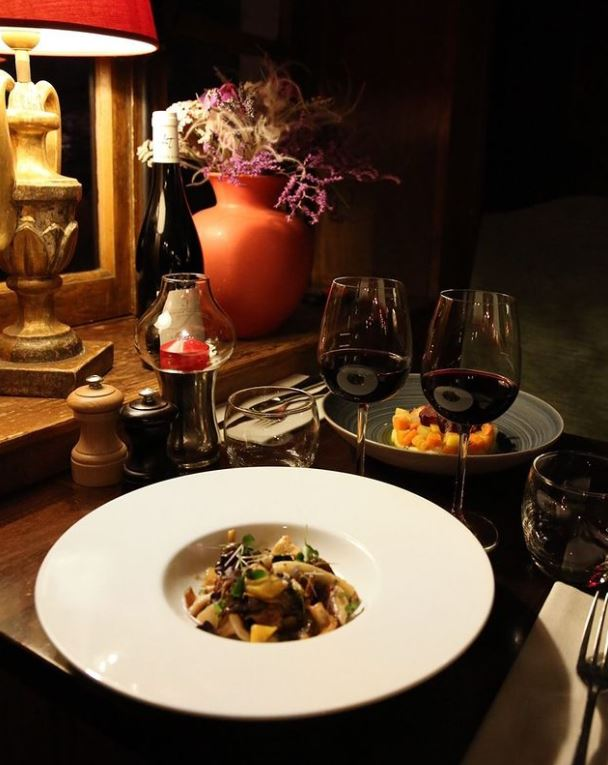 The Coupe-Chou is one of the most beautiful restaurants in Paris on a narrow and picturesque rue de Lanneau. Composed of four houses dating from the 14th, 16th, and 17th centuries, the restaurant has been restored to its former beauty after two years of hard work and research. Guests can explore the houses and move from one to the other by climbing a few steps or crossing narrow corridors.
The Coupe-Chou offers a delightful dining experience with lovely service and some great food. Menu options include gravlax and bisque for starters, boeuf bourguignon for mains and an ile flotante and poached pear for dessert. The restaurant is surrounded by some of Paris' most iconic landmarks, including Notre-Dame de Paris, the Seine, the Contrescarpe, the Latin Quarter, the rue Mouffetard, and the Pantheon, making Coupe-Chou a true witness to the city's history. It is an elegant and charming place that is well worth visiting and returning to.
6. Les Ombres
27 Quai Branly, 75007 Paris | map
Restaurant Menu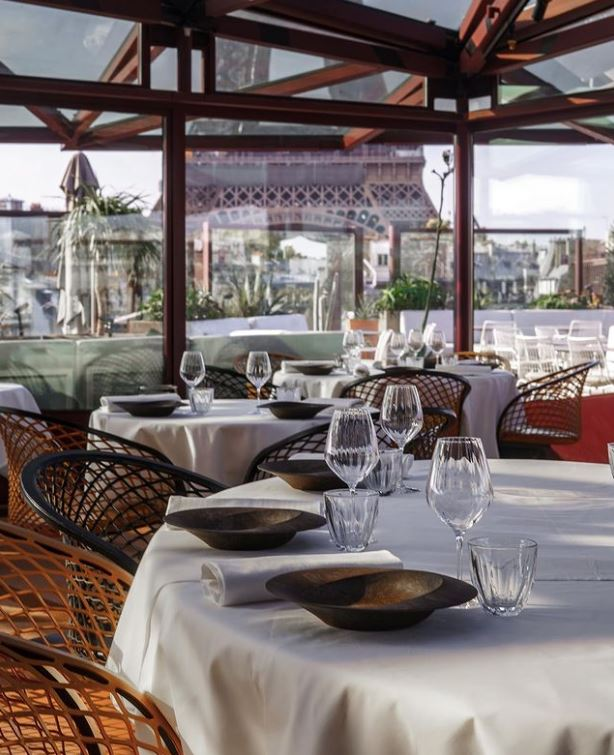 If your idea of a romantic dinner in Paris includes enchanting views of the Eiffel Tower, this restaurant is an excellent choice. Les Ombres features a fantastic rooftop terrace overlooking the Quan Branly Museum, surrounded by the seven-story Quai Branly district.
Take in the magnificent view in a quiet and sophisticated location, and taste the excellent home cuisine for that perfect date night, featuring a menu by Michelin-rated chef Alain Ducasse, which has a refined contemporary take on French cuisine in an elegant setting, boasting an exceptional view of the Eiffel Tower. 
7. La Tour d'Argent
15 Quai de la Tournelle, 75005 Paris | map
Restaurant Menu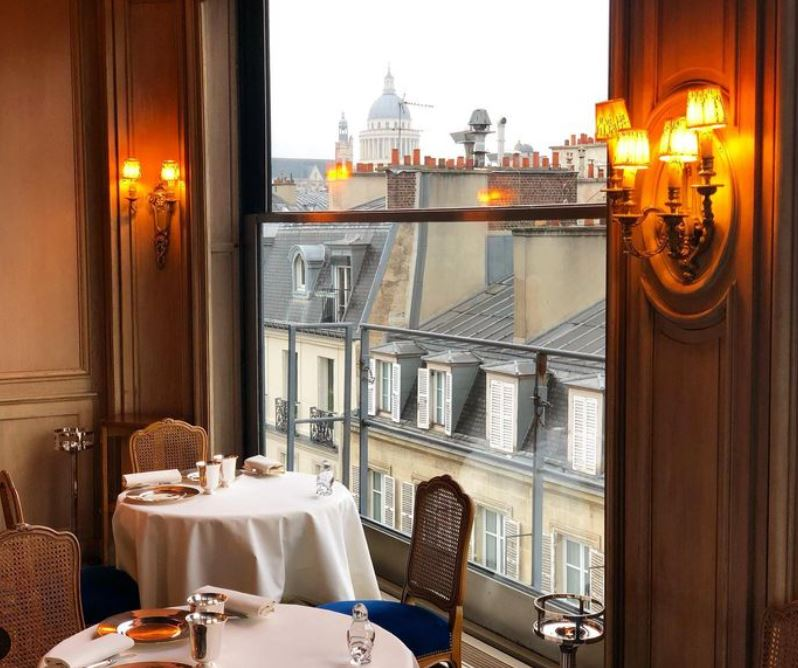 La Tour d'Argent is one of the world's oldest and most famous restaurants, founded in 1582. It offers a breathtaking and romantic view of Notre Dame, the Seine, and the Paris skyline. Its specialty is the 'blood duck,' a dish prepared according to a recipe invented in the 19th century.
I recently had the opportunity to experience La Tour d'Argent before the renovation works began. It was an unforgettable experience – truly a renowned French restaurant that did not disappoint. The view was spectacular, directly facing the back of Notre Dame and much of the best part of Rive Droit on the Seine.
The service was impeccable yet relaxed. The sommelier was extremely knowledgeable, especially considering the immense size of their wine list, which is like a Bible. We opted for the suggested wine pairings for each course on the set menu, and the bottles we tasted were remarkable.
Finally, the food – the duck was the best I have ever tasted! Without a doubt some of the most romantic dinner in Paris you will experience.
8. Le Cinq
Address: 31 Av. George V, 75008 Paris, France | map
Restaurant Menu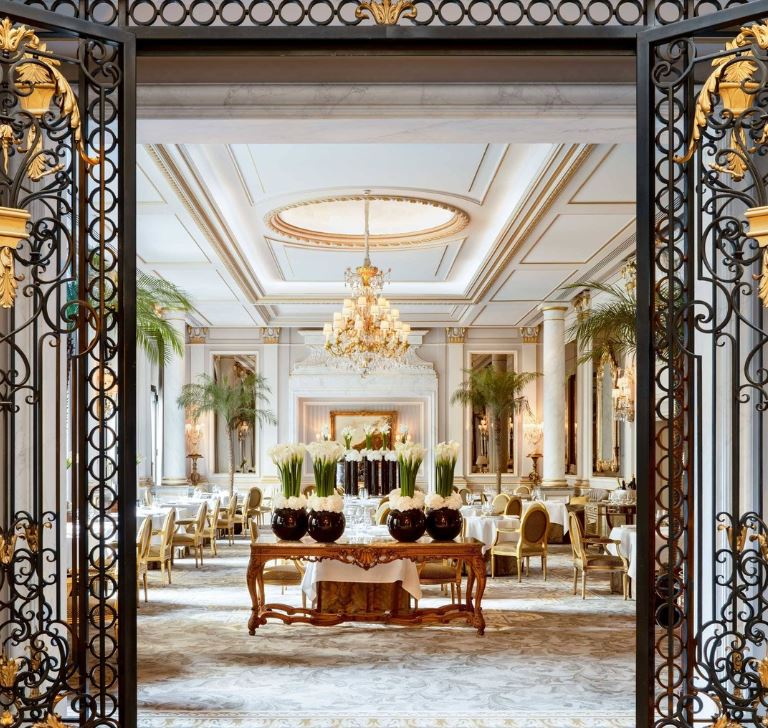 Le Cinq is part of the prestigious Four Seasons hotel in Paris, one of the few luxury Palace hotels that is a short distance from the iconic Champs Elysées. The interior design is far from subtle. Date night here is dress-in-the-nines style as brocade carpet meets gold-legged Louis XVI seats, chandeliers, fine china, and even Phillipe Starck cutlery.
Moreover, the 8-course dinner menu at Le Cinq features signature dishes as extravagant as its setting. Be sure to try their crispy Brittany langoustine in lemon emulsion and wilted turbot in watercress and pear vinegar.
9. LE CIEL DE PARIS
Address: Tour Maine Montparnasse, 56th floor Tour Maine Montparnasse, Av. du Maine, 75015 Paris, France | map
Restaurant Menu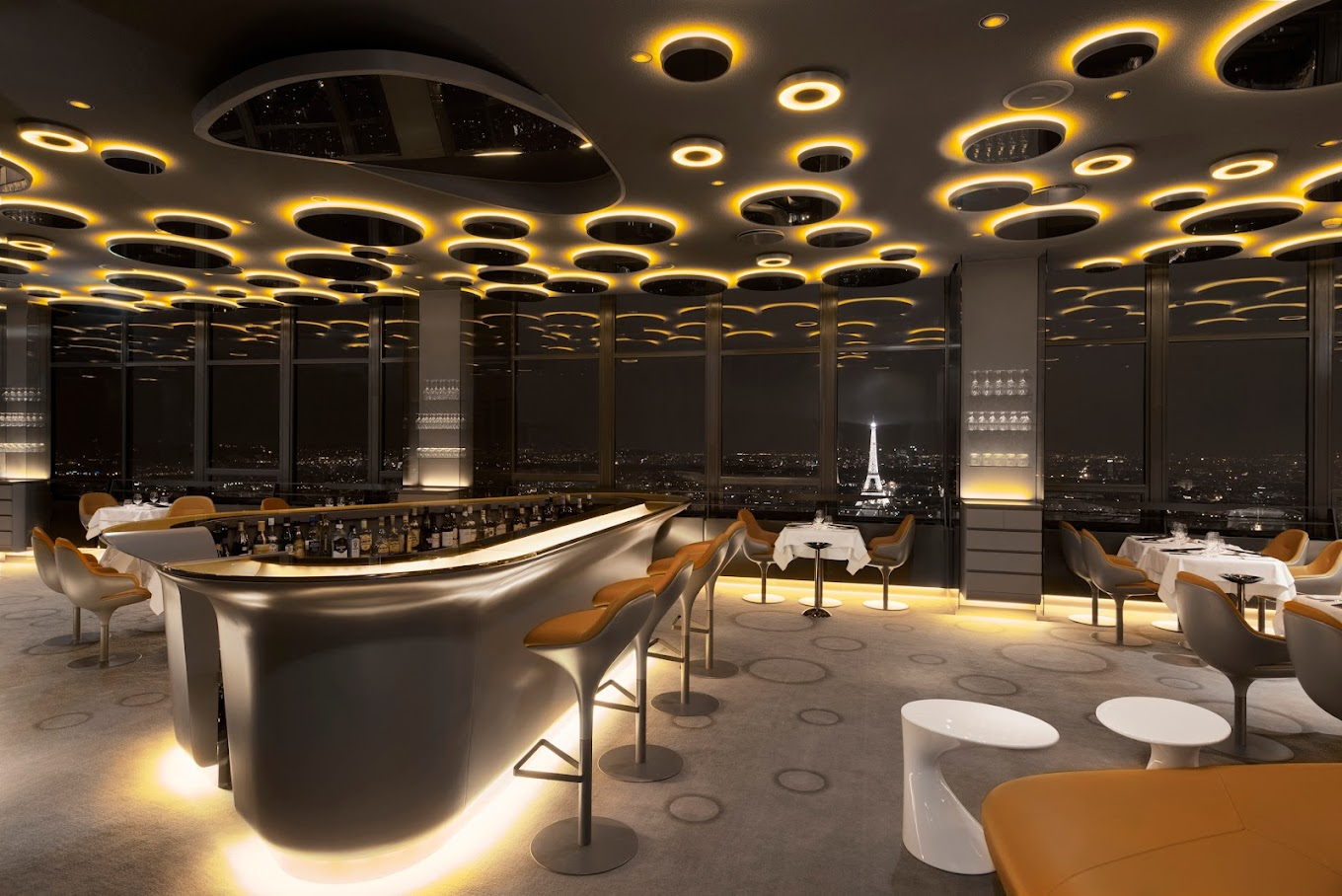 One of the best Paris restaurants with delicious food with a view of the majestic Eiffel Tower. Le Ciel de Paris is a glass-walled restaurant on top of one of the city's tallest structures, with sweeping views of Paris, serving refined French cuisine. After 38 seconds in the elevator, reach the top of the Montparnasse tower in the 15th arrondissement and discover the new design decor of Le Ciel de Paris, signed Noé Duchaufour-Lawrence, with the theme Paris Big Screen.
One of the best romantic Paris restaurants with a view because of its enhanced by textured materials in muted hues, also offers you a hyper-trendy millefeuille bar, leaving you speechless. Be sure to try the tasty, savory, or sweet creations of the talented chef Christophe Marchais.
10. 6 NEW YORK
Address: 6 Av. de New York, 75016 Paris, France | map
Restaurant Menu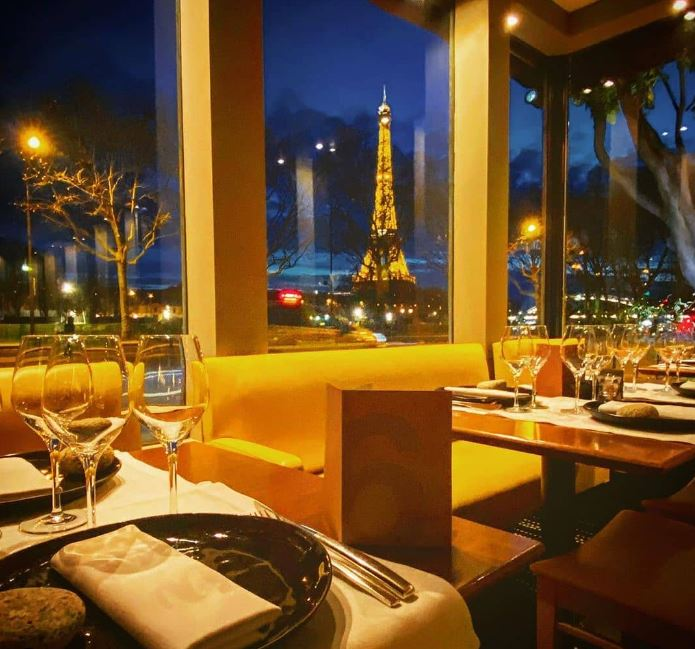 The ex-right-hand man of Jean-Pierre Vigato, the talented cook Jérôme Gangneux opened this elegant Alma restaurant a dozen years ago, between the Eiffel Tower and the Champs Elysées, in the 16th arrondissement of Paris. We like the opulent decor of this famous gourmet stopover, it's a bright setting at lunch, its more subdued in the evening, and its exceptional romantic view.
It's a charming restaurant serving plentiful delicious food, with its menu featuring truly delicious neo-classical dishes are truly one of a kind.
11. RESTAURANT GEORGES
Address: 6th Floor Georges Pompidou Place Georges Pompidou, 75004 Paris, France | map
Restaurant Menu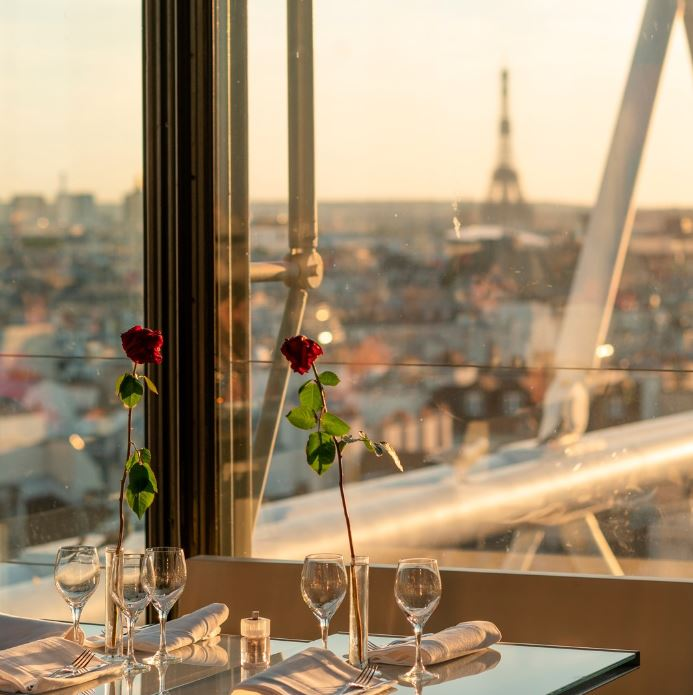 Restaurant Georges at Center Pompidou is an avant-garde establishment designed by Dominique Jacob and Brendan McFarlane. It offers a spectacular view of the Eiffel Tower and other Parisian monuments, giving its guests a remarkable romantic dinner Paris experience. The restaurant serves inventive cuisine with a refined presentation of exceptional local products, ensuring a unique and enjoyable gastronomic experience.
This renowned establishment is conveniently located on the top floor of Centre Pompidou in the 4th arrondissement. It is the perfect location for after-work cocktails, lunch, or dinner, with a private room for events. Guests have visited several times and always had a great time. However, it is important to note that Restaurant Georges is closed on Tuesdays, so it is best to make reservations in advance.
12. LE MEURICE ALAIN DUCASSE
Address: 228 Rue de Rivoli, 75001 Paris, France | map
Restaurant Menu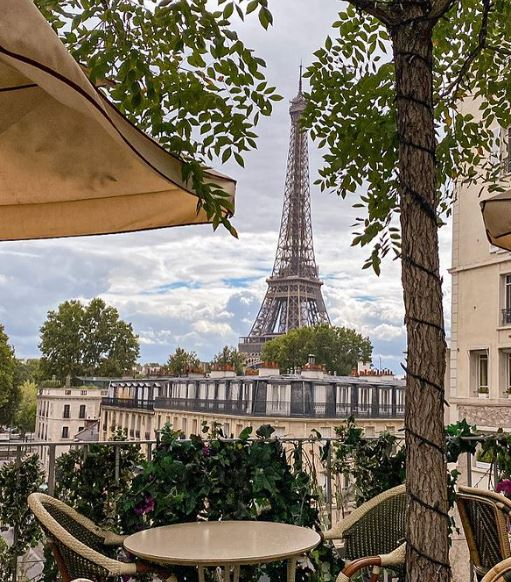 Freshly renovated in 2016 by designer Philippe Starck, Le Meurice displays a pure style from the time of Louis XIV with refined lines inspired by the Salon de la Paix at the Palace of Versailles. Here, simplicity is the keyword. There is no excessive decoration on the table, just a white tablecloth and cutlery for that romantic dinner setup. Its sole focus is on the cuisine's taste, using classic products that bring out their authentic taste, orchestrated by renowned Chef Jocelyn Herland and Cédric Grolet.
Get a table upstairs to enjoy a nice view of the Jardin des Tuileriesthrough the restaurant's large windows. One of the best Paris restaurants with a view and amazing food!
13. L'OISEAU BLANC
Address: 19 Av. Kléber, 75116 Paris, France
Restaurant Menu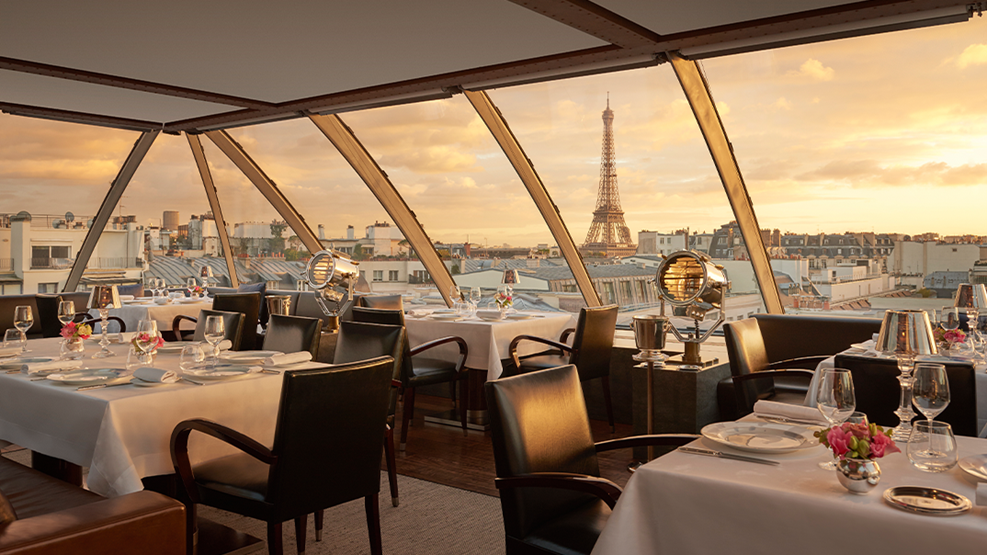 Giving pride of place to French cuisine and aviation, L'Oiseau Blanc will make you soar above the rooftops of the City of Light with a gastronomic French cuisine experience. As a tribute to aviation pioneers Charles Nungesser and François Coli, a replica of the "L'Oiseau Blanc" plane they used to attempt to cross the Atlantic hangs in the air.
In addition to having a magnificent panoramic view over the rooftops of Paris, you can fully enjoy it on the open-air terrace. Or, if you prefer to face the Eiffel Tower, book the Perfect Table decorated by Maison Saint-Louis, where the chef will prepare a romantic menu just for you.
14. TERRASS"
Address: 12 Rue Joseph de Maistre, 75018 Paris, France | map
Restaurant Menu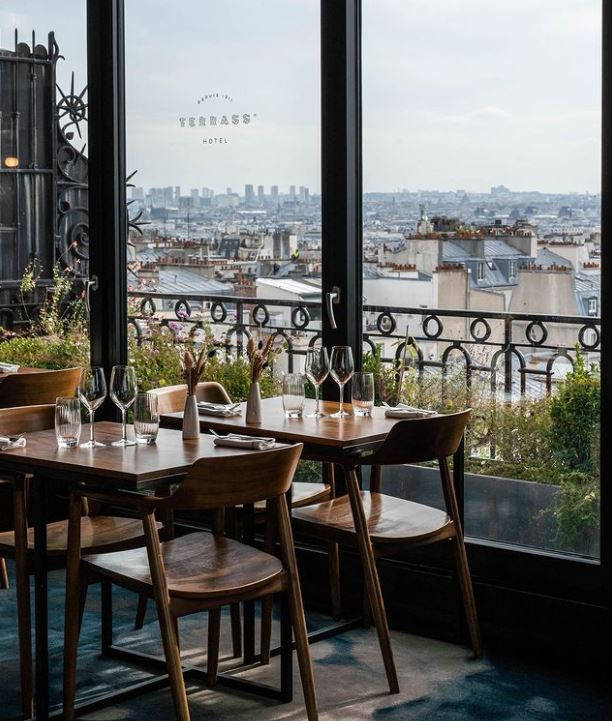 You will have to climb to the seventh floor of the Terrass" Hotel to go to the Terrass" Restaurant. This gastronomic restaurant enjoys a breathtaking panoramic view of Paris, a romantic setting for lunch or dinner. At lunchtime, the menu is between €18 and €24 for the main course. Poultry marinated in lemongrass and soy, accompanied by Chinese cabbage, is tender and melting in the mouth.
And for dessert, the black forest with kirsch liqueur with a worked aesthetic makes you want to bite your teeth into it. At dinner, à la carte dishes cost between €12 and €70. Once again, the meat is in the spotlight with the Normand beef tenderloin served with chanterelles and Jerusalem artichoke, which go perfectly with the meat.
15. La Suite Girafe
Address: 1 Pl. du Trocadéro et du 11 Novembre, 75016 Paris, France | map
Restaurant Menu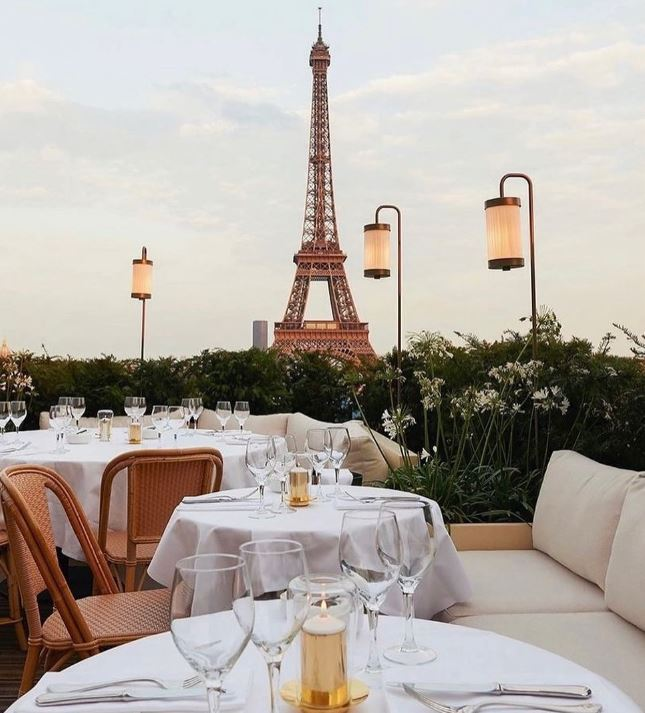 La Suite Girafe is an exciting new discovery in Paris, offering an unparalleled view of the Eiffel Tower from its rooftop restaurant. Seating up to 100 people, the outdoor restaurant provides an exquisite dining experience with a menu of fresh seafood from the French coast.
Originally the private flat of a curator in the 1930s, La Suite Girafe (LSG for short) has been renovated and is now open for lunch and dinner. The cuisine is characterized by a celebration of the sea, showcasing raw and cooked seafood dishes in an assortment of forms. LSG is the perfect spot for a unique and memorable meal and worthy of a title as one of the best romantic restaurants in Paris.
16. Perruche
Address: Printemps De L'Homme, 2 Rue du Havre 9ème étage, 75009 Paris, France | map
Restaurant Menu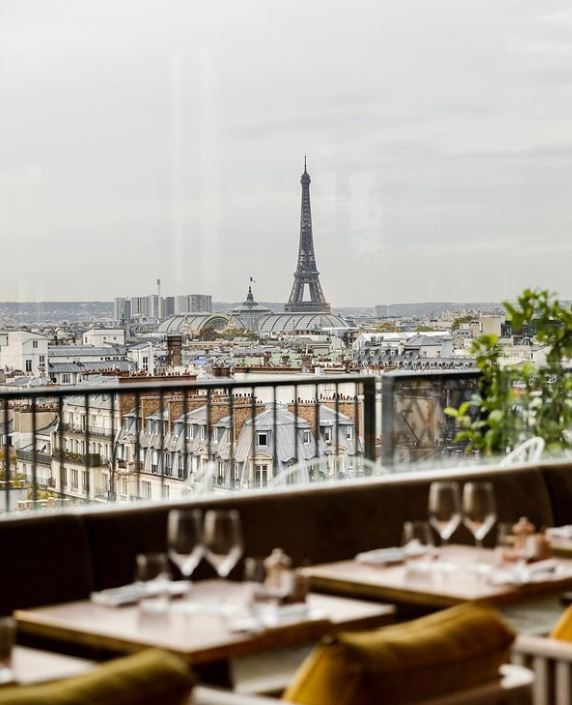 Perruche is a rooftop restaurant located in the Printemps Haussmann department store in Paris. It offers the city's most stunning views, including a romantic open-air terrace and rooftop gardens. The restaurant serves classic Provencal cuisine accompanied by a robust wine and cocktail menu.
On our visit, we started off with some delicious foie gras and sea scallop carpaccio. We also had a bottle of champagne, and our glasses were kept full throughout the evening. We both had the truffle pasta for dinner, which was flavourful and on par with what I've had in Chicago. The atmosphere of the restaurant was amazing and surprisingly busy for a Wednesday. With views of the Eiffel Tower and the Paris skyline, it's no wonder why it's a popular spot for a romantic dinner in Paris.