The best waterfall hikes in Oahu are some of the most stunning scenery you will experience in Hawaii. There are plenty of incredible waterfall hikes on the island, whether you are looking for a short day hike or something more challenging. Regardless of your trail, its diverse, lush rainforest will take your breath away. From secret falls nestled deep within the tropical jungle to iconic multi-tiered waterfalls, each breathtaking experience comes with its own unique adventure. From novice hikers to experienced trekkers, here's a look at some of the best waterfall hikes Oahu offers!
The Best Waterfall Hikes Oahu
1. Manoa Falls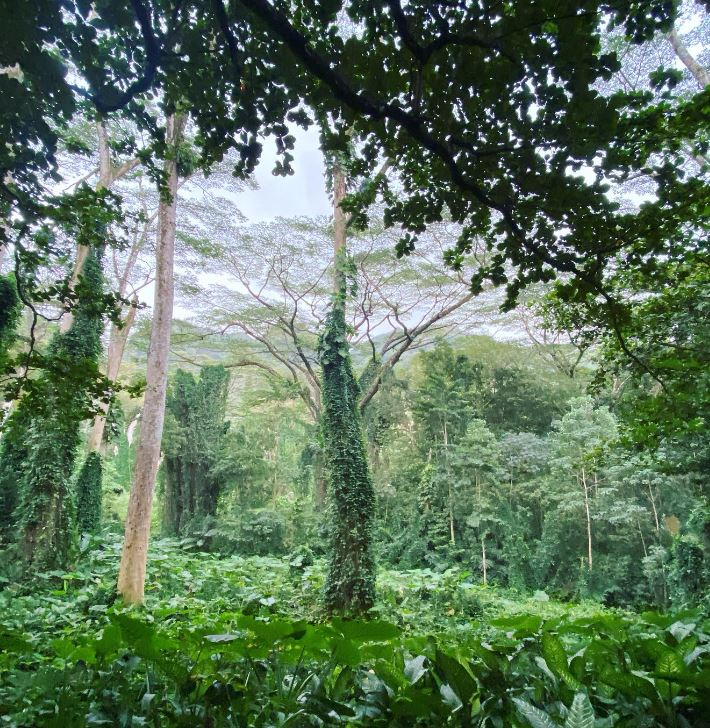 Known as "The Valley of the Rainbows," Manoa Falls is a 150-foot cascading waterfall in the lush rainforest of Oahu. This beautiful attraction is often listed as one of the must-see places on the island and has long been celebrated for its unique beauty. Hiking Manoa Falls is an adventure like no other, with visitors entering through the dense jungle before following a winding path to the base of the falls.
Along your journey, you'll encounter tropical plants, vibrant birds, wildflowers, and, if you're lucky, some wild chickens! Once you reach the base of Manoa Falls, you can take in its breathtaking beauty up close or relax on the surrounding rocks.
For those looking for a longer trek, an alternate route leads deep into Muolaulani Forest Reserve. This challenging trail will take about four hours to complete and has several river crossings and narrow pathways along the way. No matter which route you choose, Manoa Falls is sure to provide a unique and unforgettable experience.
2. Waimano Falls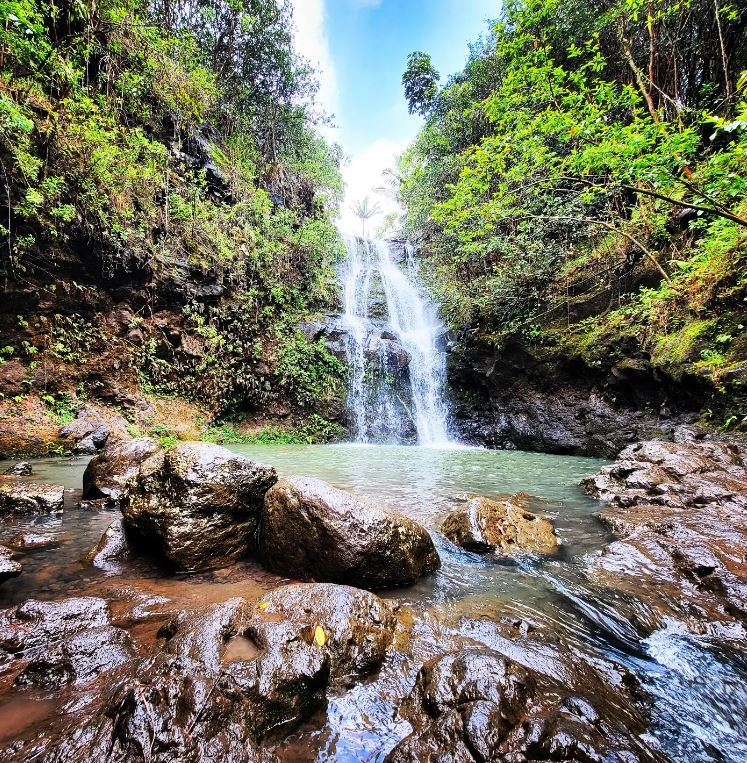 This stunning 200-foot waterfall cascades down a towering cliff face and is surrounded by lush tropical foliage. No wonder this natural beauty is often listed as one of the must-see attractions on Oahu.
The main trail leading to Waimano Falls is relatively easy and should take no more than two hours. Along the way, you'll be treated to some truly remarkable sights, including native Hawaiian plants, wildflowers, birds, and wild boars. Once you reach the falls, you can climb up to the ridge above and take in some of the most incredible panoramic views Oahu offers.
You'll also see multiple cascading waterfalls tiers, which add a unique touch of drama to this already stunning location.
3. Waimea Valley Waterfalls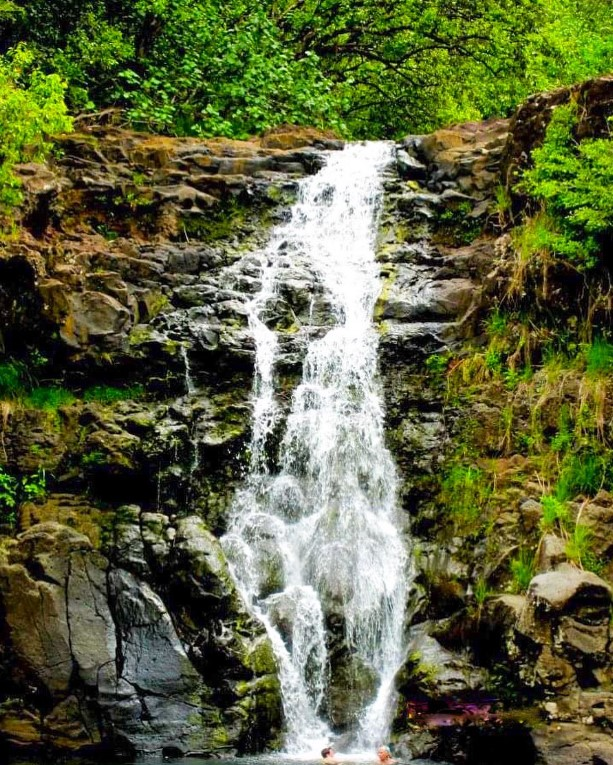 Nestled within Waimea Valley on the north shore of Oahu lies a hidden oasis and one of the most beautiful attractions on the island—Waimea Valley Waterfalls. This lush valley is home to multiple cascading waterfalls ranging from 25 to 45 feet in height and is rich with native Hawaiian plants, flowers, and wildlife.
The best way to experience these falls is by taking a leisurely hike along the nearby trails. Along your journey, you'll encounter tropical plants, wild boars, and an abundance of birds. You may even be lucky to spot some endangered species, such as the Hawaiian monk seal. When you reach the base of Waimea Falls, you can admire its unique beauty up close or take a dip in its refreshing pool of crystal blue water. But no matter how long you stay here, you're sure to be captivated by this tranquil paradise.
4. Sacred Falls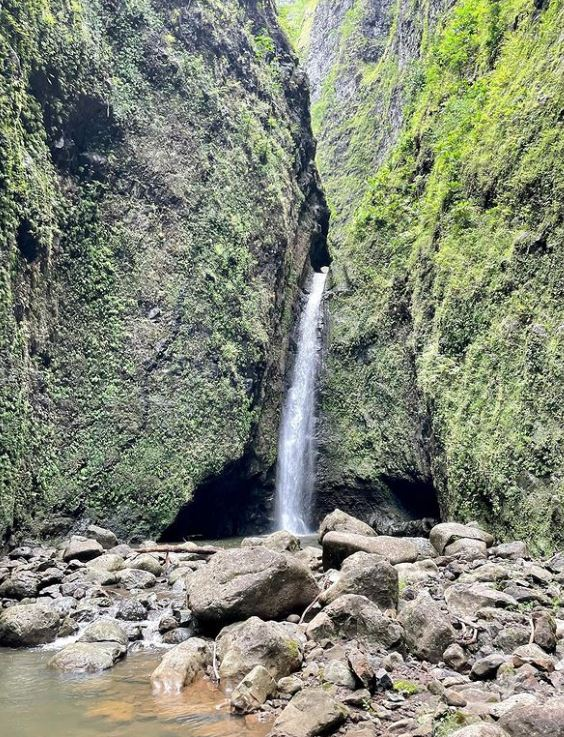 If you're looking for a dramatic out-of-the-way hike on Oahu, consider adding Sacred Falls to your itinerary. This stunning waterfall may not have the highest drop, but its sheer beauty makes up for it.
The hike to Sacred Falls is considered strenuous and is only recommended for experienced hikers or those who are physically fit. You'll spend most of your time trekking across rugged terrain while enjoying incredible views. Once you reach the falls, you can take in the awe-inspiring sight of multiple cascading waterfalls that plunge into a shimmering pool below. And depending on when you visit, you may even find yourself surrounded by vibrant rainbow rainbows—a delightful bonus!
5. Maunawili Falls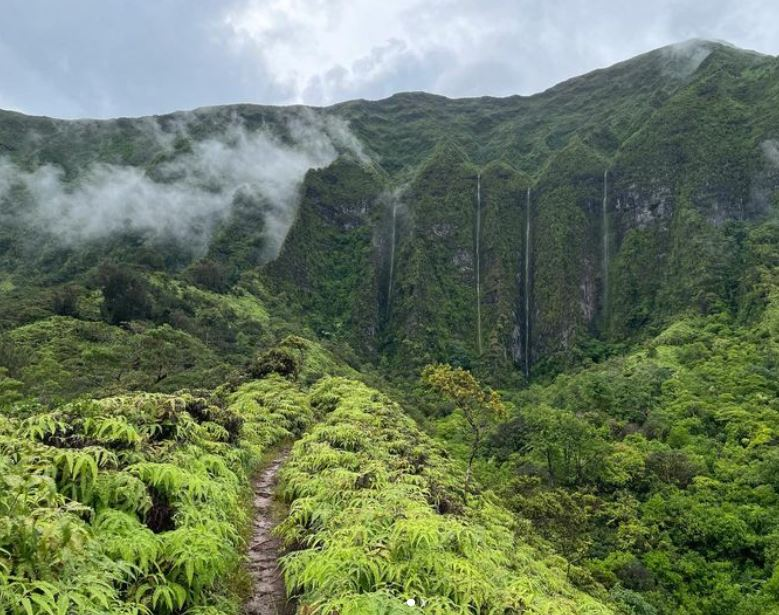 A short drive from Honolulu, the Maunawili Falls are a secret gem of Oahu. With lush tropical vegetation and obvious pools of water perfect for swimming, it's no wonder why this destination has become so popular with locals and visitors alike. If you're looking to explore beyond the beaten path, this is definitely the hike for you!
A relatively easy trek through grassy fields leads you to a stunning 200-foot waterfall that pours into a crystal-clear pool at the bottom. Here you can take a refreshing dip in the cool waters or jump off some of the rocks into the pool. Be sure to bring your swimsuit and plenty of sunscreens, though, since there is limited shade on the trail. And once you reach the falls, make sure to take advantage of some of the photo ops it offers. The view from up top provides a spectacular panorama worth capturing.
6. Ka'au Crater Waterfalls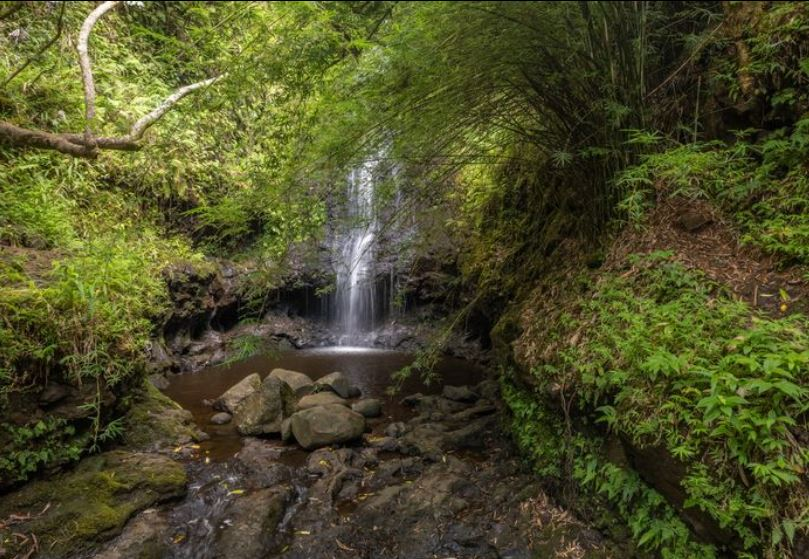 This incredible series of waterfalls cascading through steep valleys provides breathtaking views you won't miss! The hike to the waterfalls is both challenging and rewarding.
The trail winds through dense jungle-like terrain, eventually leading to stunning vistas deep into the crater. Along the way, you'll experience a variety of vegetation, such as fragrant eucalyptus trees and banyans, while taking in the sights and sounds of nature. Once you reach the base of the falls, be sure to take some time to appreciate their sheer beauty before crossing a shallow pool at the bottom. You can then continue towards the upper tiers of smaller waterfalls that lighten up even more as they pour into terraced pools below.
7. Waihee Falls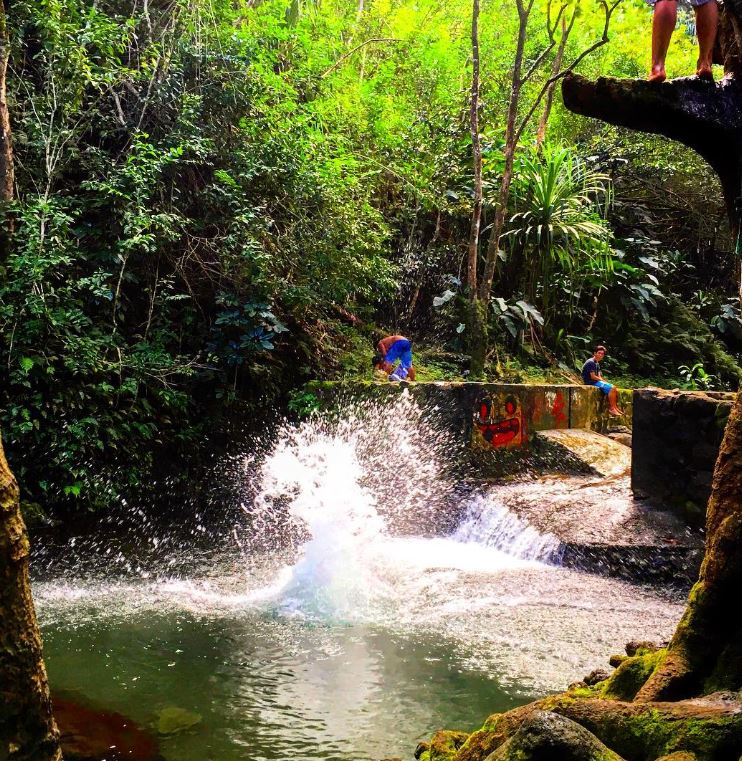 Tucked away in a remote valley on the western side of Maui lies Waihee Falls—a hidden gem of Hawaii's island paradise. This breathtaking cascading waterfall is a must-see for any nature lover or thrill seeker looking to explore beyond the beaten path.
The trek to get here is relatively challenging but makes for a rewarding journey once you arrive. You'll traverse through lush landscapes and take in various vegetation and fauna sights before reaching the impressive drop of the falls. At the bottom, you can take a refreshing dip in the cool pools created by rushing waters and admire the beauty surrounding you. Be sure to bring your swimsuit and plenty of sunscreens, as this hike has limited shade.
8. Makapu'u Tidepools and Waterfall Hike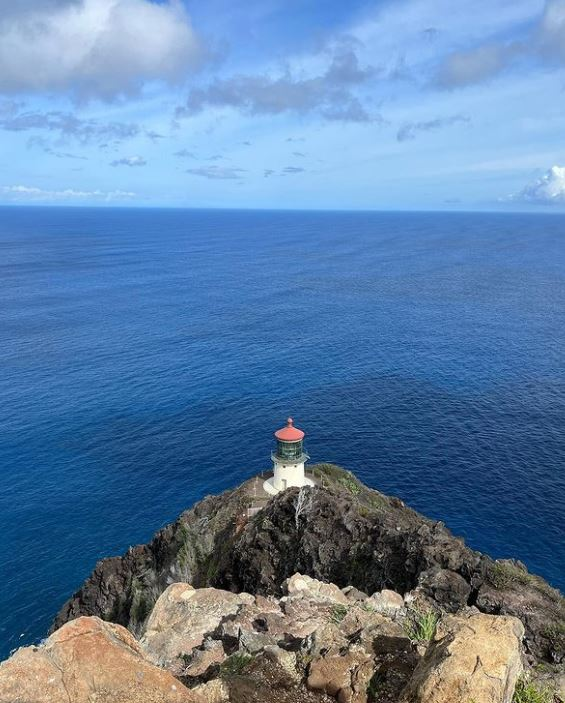 For those looking to explore some of the hidden gems of Oahu, look no further than the Makapu'u Tidepools and Waterfall Hike. This unique trail combines stunning scenery with a thrilling off-the-beaten-path adventure, making it a must for any nature lover.
The hike begins from the Makapu'u Lookout and descends down into the valley below. You'll traverse unique terrains, such as lava rocks and lush vegetation, along the way, before arriving at an impressive waterfall cascading down from a mountain ridge above.
The waterfall's base is a secluded pool of rock formations surrounding a tranquil lagoon. Here you can take a dip in one of many tide pools while admiring the vibrant blues and greens that define Hawaii's beauty. Be sure to also take some time to appreciate some of the endemic species of flora and fauna that call this wild oasis home.
9. Kailua Pillbox Hike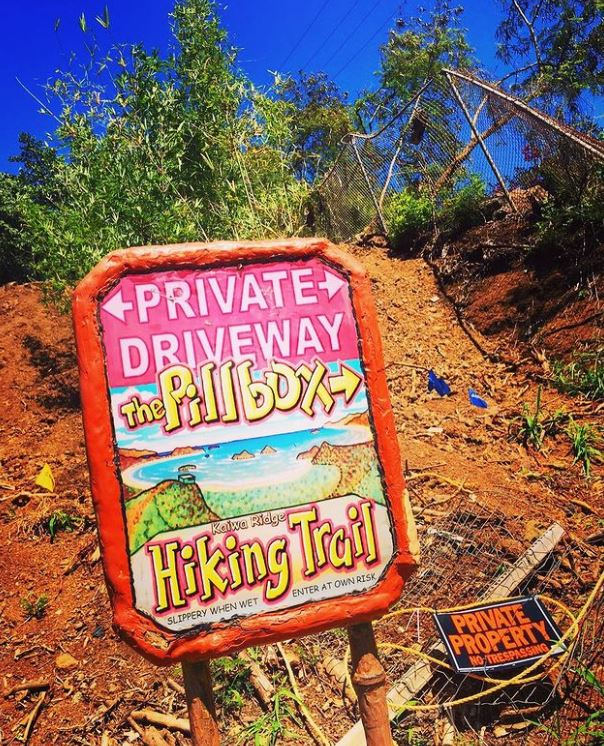 Look no further than the Kailua Pillbox Hike on Oahu's windward coast for a mix of historical and scenic sights. This trail is perfect for hikers of all skill levels as it offers an easy journey while still boasting views that will take your breath away.
The hike follows an old road used during WWII, which leads to two WW2 bunkers known as "pillboxes" perched atop the hillside overlooking white sandy beaches and crystal blue waters below. Along the way, you'll traverse through lush landscapes of eucalyptus trees and wildflowers before reaching these historic remnants of Hawaii's past.
At the top of the trail, you can sit back and relax among the tranquil views of Kailua Beach Park and Lanikai Beach—a prime spot for admiring vibrant hues in the sky at sunset or sunrise. You can even dip in one of the nearby tide pools before continuing your journey!
10. Ahupua'a O Kahana State Park Waterfall Hike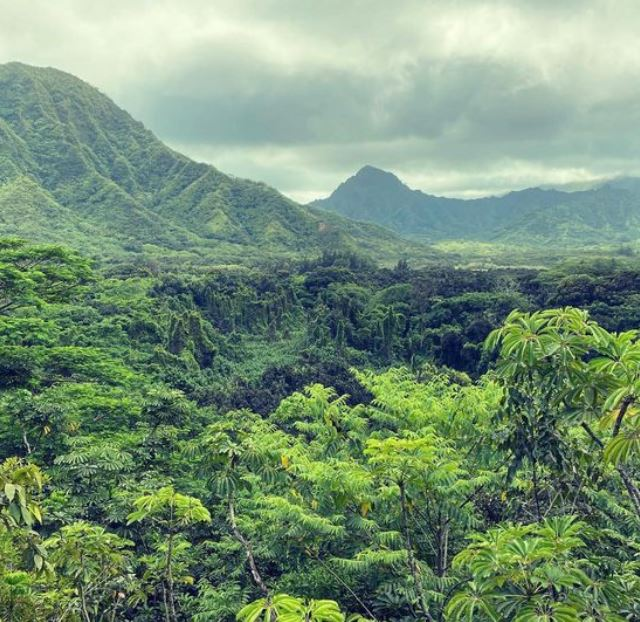 Just a short drive from Honolulu is Ahupua'a O Kahana State Park, home to some of the most stunning waterfalls on Oahu. This picturesque hike follows an ancient Hawaiian trail before arriving at a majestic cascade plunging down from the lush valleys above.
The adventure begins from the main parking area, where you'll traverse grassy terrain before snaking alongside a stream and crossing a few bridges. As you ascend up the hillside, be sure to take some time to admire vibrant wildflowers growing along the way and the occasional views of the ocean in the distance.
After about an hour of trekking, you'll arrive at your destination—an impressive rock-rimmed pool at the base of a cascading waterfall. Here, you can take a break and soak in this tranquil oasis while also enjoying views of majestic cliffs looming in the background.
11. Laie Falls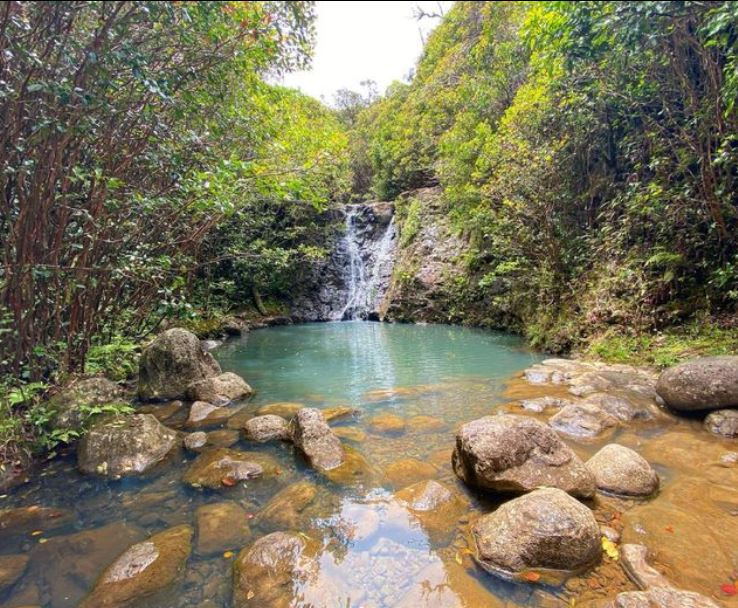 Get lost in the beauty of nature at Laie Falls on Oahu's North Shore. Nestled in a jungle-like setting, this spectacular waterfall is easily accessible and makes for the perfect day excursion. The journey begins by following an old dirt road that leads to a lush rainforest trail with wooden bridges, bamboo groves, and ancient Hawaiian petroglyphs along the way.
After about a 20-minute walk through rolling hills, you'll reach your destination—the majestic 50-foot-high Laie Falls. Experience serenity among powerful cascading water crashing into deep blue pools below surrounded by emerald jungle-scape filled with vibrant flora and fauna. Take some time to admire panoramic views of the surrounding peaks before taking a cool dip in one of the nearby natural pools.
12. Olomana Three Peaks Trail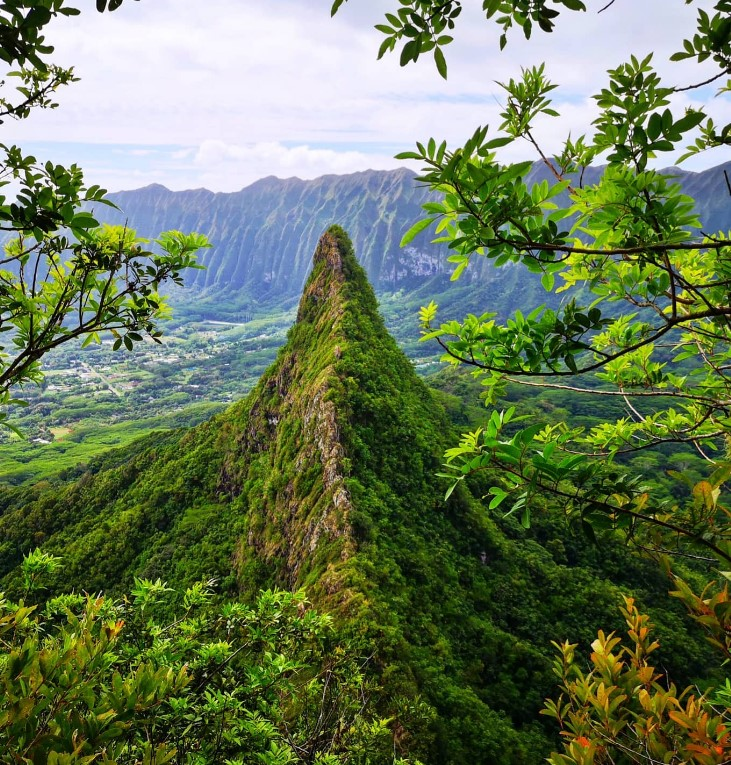 Climb to new heights with a hike up Olomana Three Peaks Trail in Windward Oahu. This thrilling adventure takes you to the highest point on the island's windward side and offers spectacular views from its three pinnacles.
The trailhead starts at a secluded and picturesque spot, where you'll traverse along a narrow path via ropes and ladders. As you ascend, your eyes will be drawn to stunning views of verdant valleys below and wildflowers and native Hawaiian plants dotting the landscape.
At the summit, marvel at astonishing 360-degree panoramic vistas, including the majestic Koolau Mountains and beyond. Adventurers brave enough to make it this far can also venture out onto narrow ridges between peaks known as "Kissing Points"— though they do so at their own risk!
13. Kaunala Trail
Discover a hidden gem of Oahu on the Kaunala Trail in Makua Valley. This challenging loop trail takes you through a pristine jungle, breathtaking waterfalls, and historic archaeological sites.
Begin your journey at Ka'a'awa streambed, following a narrow path that winds up over water-carved rocks and through the lush rainforest. As you ascend, enjoy stunning views of the surrounding valley below and Makua beach in the distance. You'll also find ancient ti leaves taking root along the way—an iconic symbol of Hawaiian culture.
Continue your journey to a stunning 40-foot waterfall cascading into an inviting pool below. Take some time to immerse yourself in nature before heading back down the same path, stopping at historical sites like ancient ruins and petroglyphs.
14. Pu'u O Kona Waterfall Hike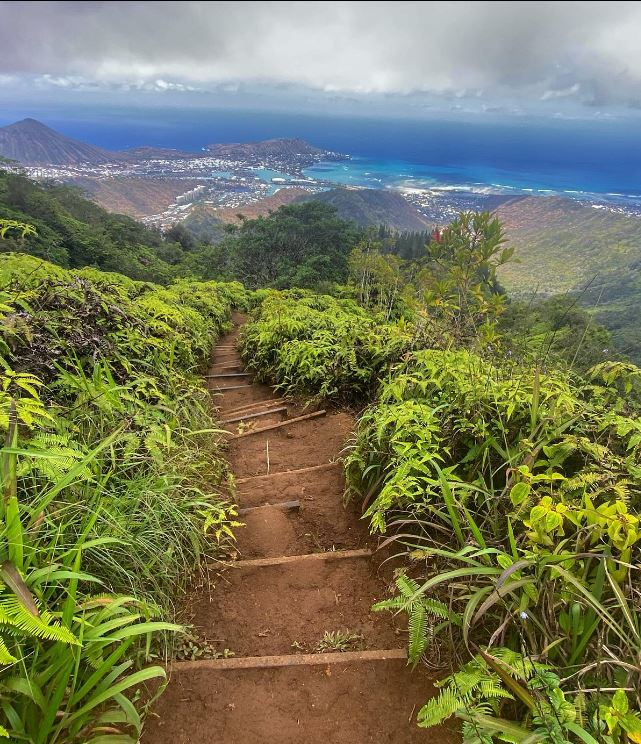 Venture off the beaten path and explore one of Maui's hidden gems—the Pu'u O Kona Waterfall Hike. This breathtaking journey takes you through a lush jungle setting, past stunning waterfalls, and to a lookout point with dramatic views of the valley below.
Your journey begins at Waipio Valley Lookout, meandering downwards via an old jeep road. Keep your eyes peeled for the sweet smell of wild orchids in bloom, and take time to appreciate the vibrant colors of native flora along the way. Make sure to keep an eye out for slippery mud pits as you venture deeper into nature.
Eventually, you'll reach Pu'u O Kona Waterfall—a majestic cascade plunging down from high above into a turquoise pool below. Take some time to relax and enjoy the natural beauty before heading back down via the same route.
15.
Lulumahu Falls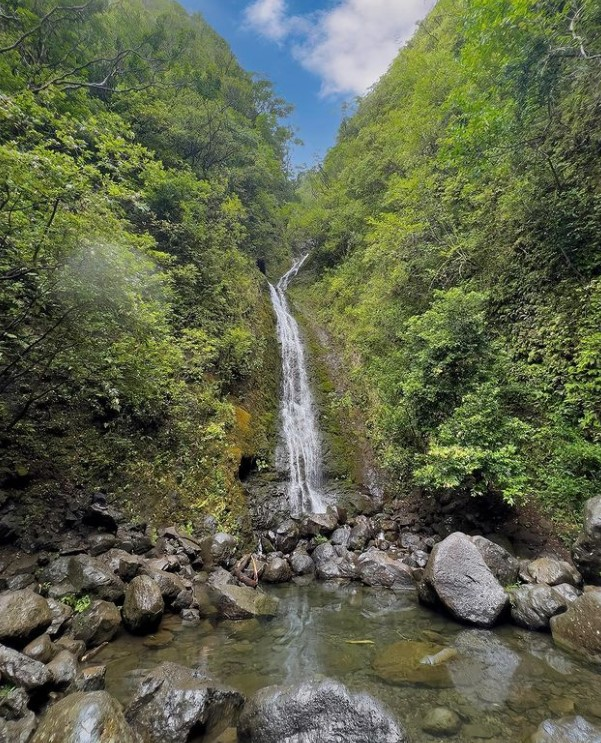 Take a journey through the lush jungles of Oahu and explore one of the island's most breathtaking waterfalls—Lulumahu Falls. This hidden gem is nestled in a tranquil valley surrounded by towering cliffs and native trees. Begin your journey at Lulumahu Road, following the winding path towards the falls.
Enjoy views of the lush jungle around you and plenty of lush ferns and wild ginger that line the way. Take time to appreciate the abundance of native birds chirping in the foliage before arriving at Lulumahu Falls. At Lulumahu Falls, you will see a stunning 50-foot cascade thundering into an aquamarine pool below. Relax here under a shaded tree and take time to soak in this beautiful vista before returning.
Waterfall hikes in Oahu offer an unforgettable experience for adventurers looking to explore the lush jungles and experience breathtaking natural beauty. From Pu'u O Kona Waterfall all the way to Lulumahu Falls, you will find something special in each of these hidden gems. So if you're up for a journey filled with adventure and memories that will stay with you forever, don't miss out on waterfall hikes in Oahu!