The best boutique hotels in Hamilton place you in some of the most idyllic locations in Bermuda.
Hamilton, Bermuda, is a stunning island paradise in the North Atlantic Ocean. It is a world-renowned travel destination famous for its crystal-clear waters, pink-sand beaches, and vibrant culture. Hamilton is a vibrant and cosmopolitan city offering a unique blend of British colonial architecture, modern amenities, and lively nightlife.
We hand-picked top-rated boutique hotels in Hamilton, Bermuda, to consider for your next getaway!
The 10 Best Hamilton, Bermuda Boutique Hotels
1. Royal Palms Hotel
9.3 Average Rating
Get the Lowest Rates Here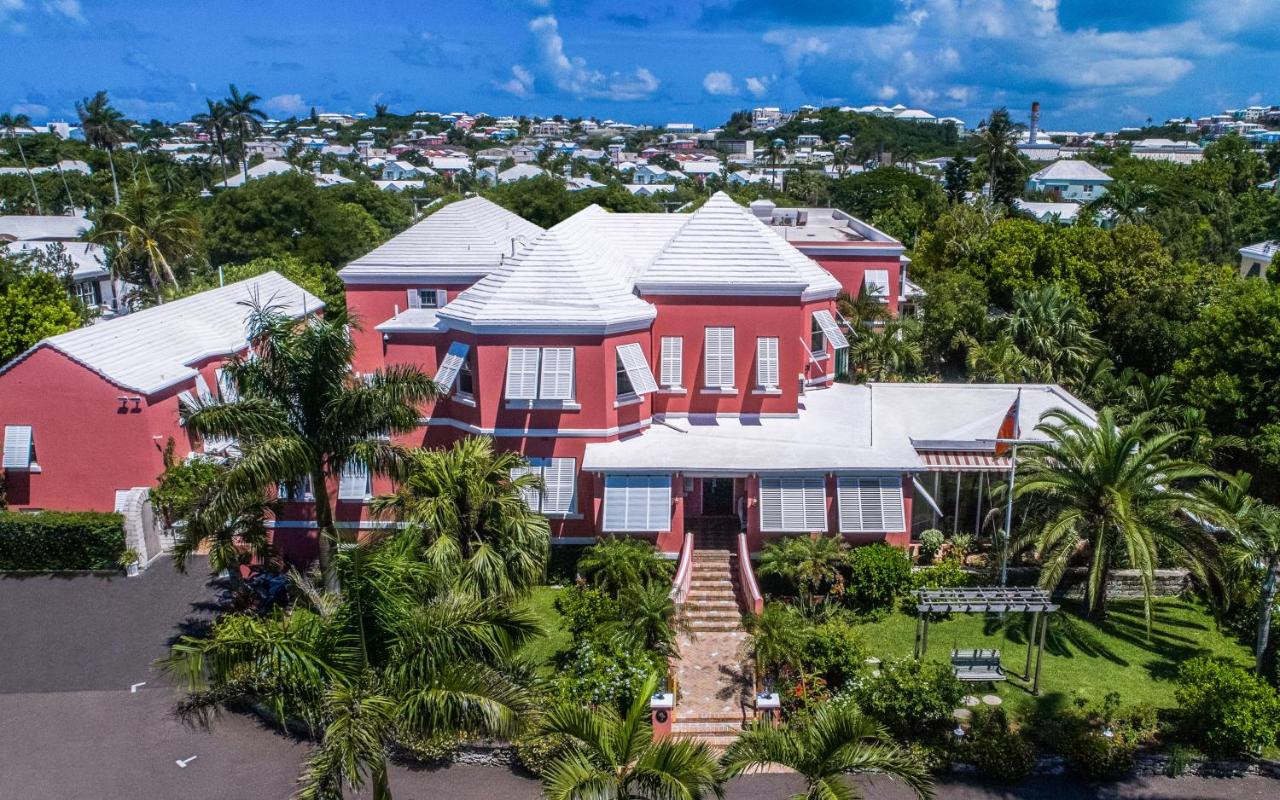 Royal Palms Hotel is a 19th-century manor house set 1 km from Hamilton Marina and Yacht Club. It features spacious rooms and suites with classic décor and an outdoor swimming pool set in attractive gardens. Guests can also enjoy two restaurants offering a range of Mediterranean and local dishes.
Each room and suite has a flat-screen TV with cable & movie channels, Bluetooth speaker, coffee maker, and free Wi-Fi. All Suites have a kitchenette.
The hotel is conveniently located near several attractions. Elbow Beach is just a 10-minute taxi ride, while Ocean View Golf Course is 12 minutes away. The ferry and bus terminal can be reached with a 10-minute walk into the city.
2. Oxford House
9.3 Average Rating
Get the Lowest Rates Here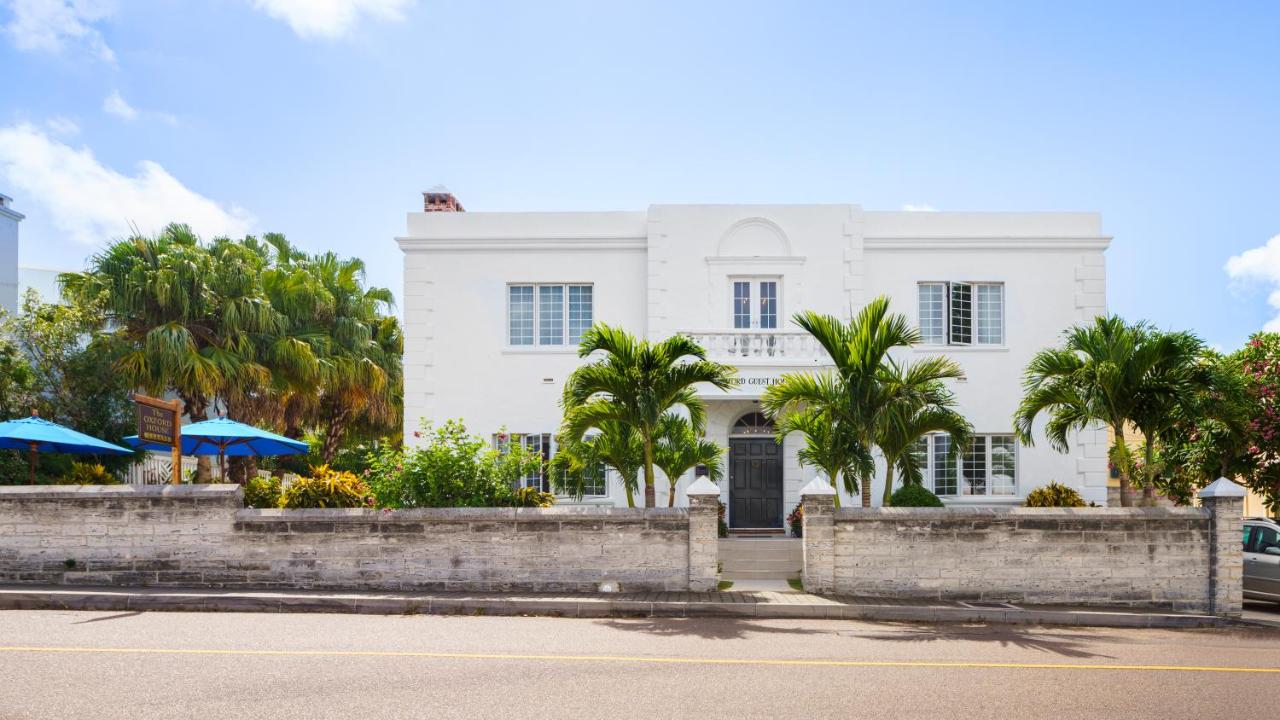 Oxford House in Hamilton offers accommodation with free WiFi throughout the property. All rooms are fitted with a flat-screen TV and a private bathroom. Some rooms have a seating area where guests can relax. Tea is available to enjoy while looking out at the garden or city. Other amenities include bathrobes, free toiletries, and a hairdryer. Luggage storage space is also available at the property.
3. Hamilton Princess & Beach Club A Fairmont Managed Hotel
8.7 Average Rating
Get the Lowest Rates Here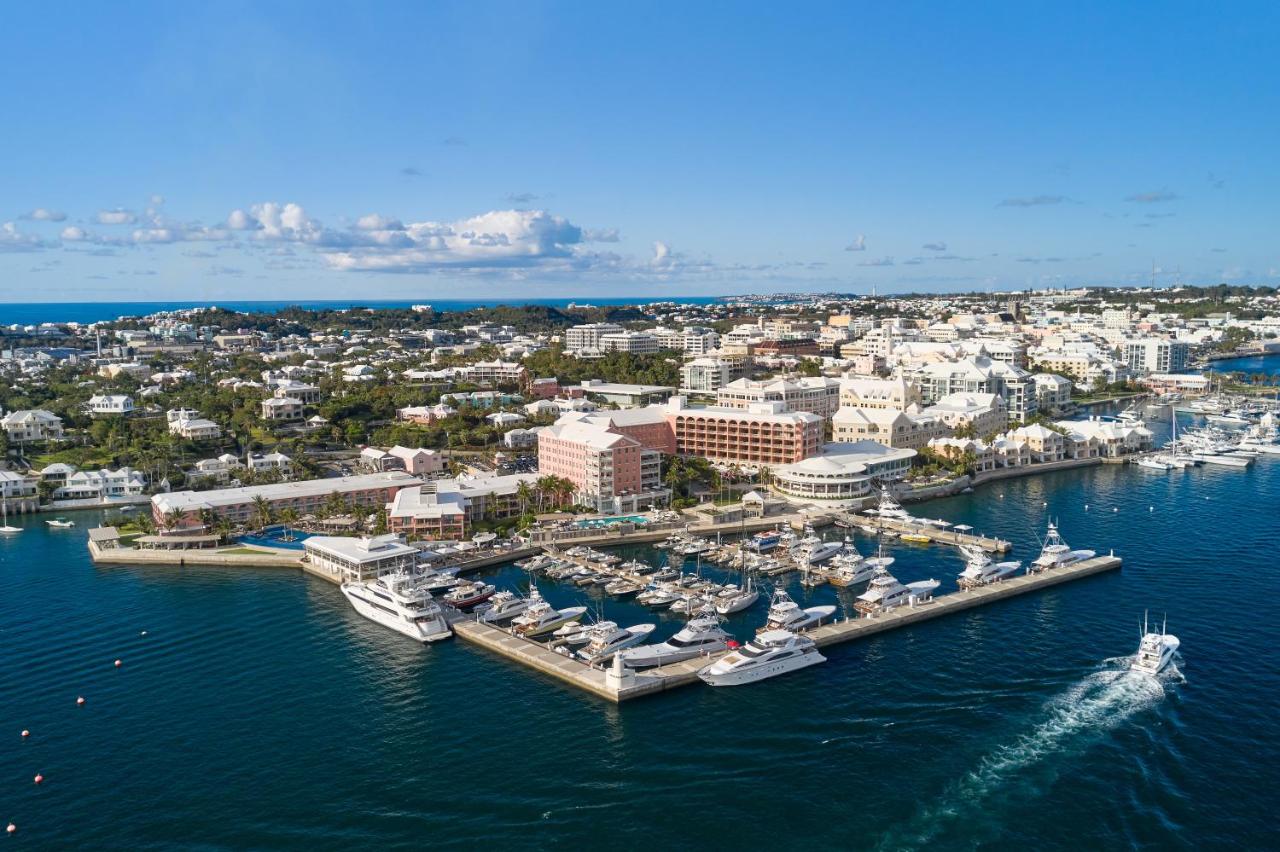 This luxury waterfront hotel overlooks Hamilton Harbour and boasts an infinity pool with Hamilton Harbour views and floating sun loungers. It has multiple on-site restaurants, including Crown & Anchor, 1609 Bar & Restaurant, The Duchess Café & Gelateria, Intrepid Steak, Seafood & Raw Bar, and the Beach Club Kitchen.
Crown & Anchor Bar, Restaurant, & Terrace is open for breakfast, lunch, and dinner. This restaurant has hardwood tables and a full-service bar. 1609 Bar & Restaurant is open seasonally with an open-air dining experience for lunch and dinner. Intrepid is a new fine dining restaurant open Monday – Saturday for dinner service only, offering a contemporary twist on classic American grill cuisine.
4. Edgehill Manor Guest House
8.8 Average Rating
Get the Lowest Rates Here
Edgehill Manor Guest House is the perfect destination for a peaceful holiday. Located in a stunning garden setting, it offers guests breathtaking sea views. The property features an outdoor pool and a free continental breakfast. Guests can enjoy free Wi-Fi, cable TV, and a furnished balcony in each air-conditioned room.
The guest house is conveniently situated only a 10-minute walk away from the Royal Bermuda Yacht Club and Point Pleasant Park. Hamilton's historic center is only 800 m away, while Elbow Beach is just 1.5 km away. St John's is a 15-minute drive from the property, and Bermuda VC Bird International Airport is a 25-minute drive away.
5. Newstead Belmont Hills Golf Resort & Spa
8.7 Average Rating
Get the Lowest Rates Here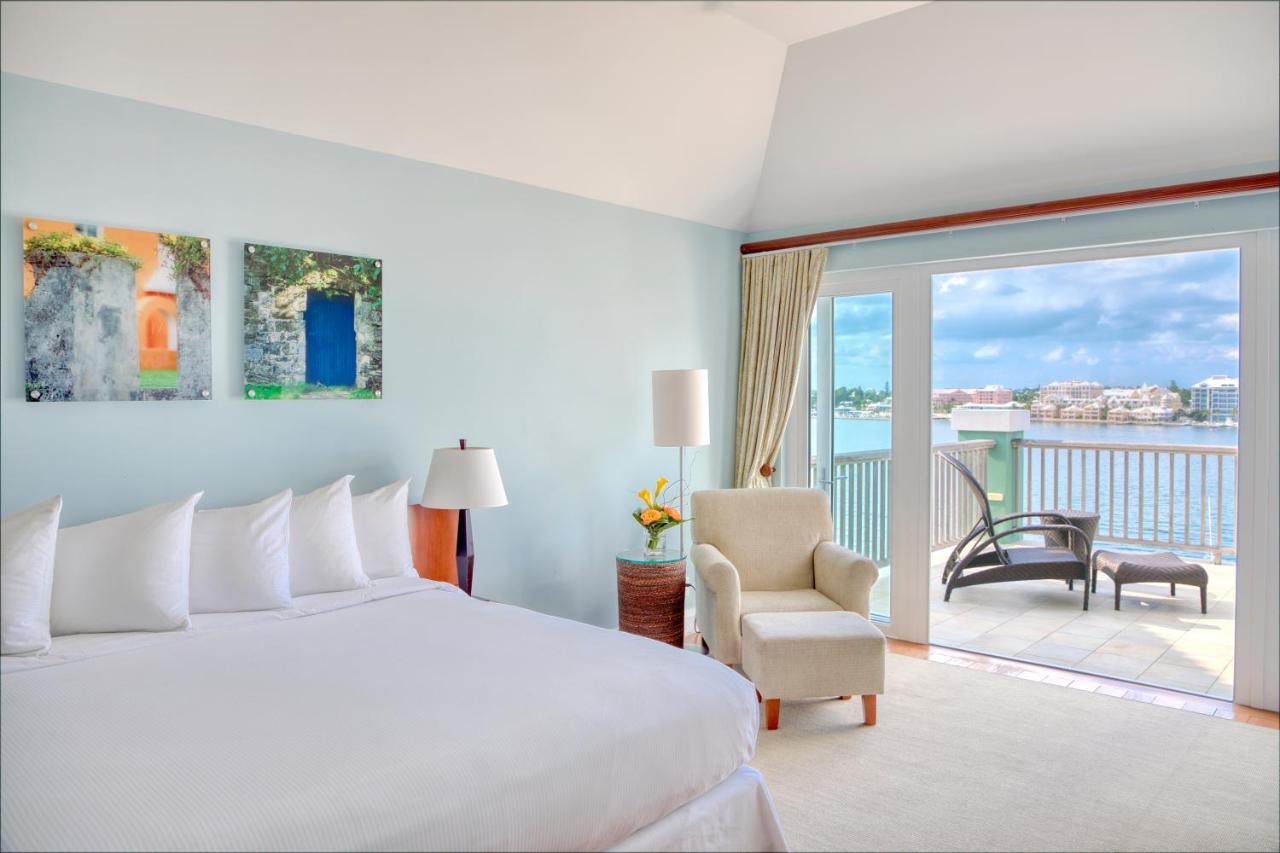 Newstead Belmont Hills Golf Resort & Spa is located on the harbor in Paget. This luxurious resort offers a full-service spa and on-site dining. Guests can also enjoy a free round of golf on the 18-hole semi-private golf course, with a free shuttle service provided.
The resort provides elegantly styled studios and suites, each with a private balcony with views of Hamilton Harbour. Each room includes free Wi-Fi and a 26-inch flat-screen TV. Kitchenette facilities are available in the studios and suites.
The resort offers a 24-hour fitness center, an outdoor pool, and a hot tub. Hamilton city center is a 5-minute boat ride, and the Botanical Gardens are a 7-minute drive away. South Shore Beaches are also just a 5-minute shuttle ride away.
Blu at Belmont Hills restaurant offers views of the golf course and Hamilton Harbour. Open for dinner, the restaurant offers continental cuisine. Beau Rivage overlooks the harbor and features French dishes for breakfast, lunch, and dinner.
6. The Reefs Resort and Club
8.7 Average Rating
Get the Lowest Rates Here
The Reefs Resort and Club is a beachfront resort in sunny Southampton. It features an infinity-edge pool, free Wi-Fi, and included breakfast. There are also on-site restaurants and a fitness center for guests to enjoy.
Each room is luxurious, with ocean views, private patios or balconies, a flat-screen TV, and a wardrobe. Guests can also use the on-site spa, tennis courts, and complimentary beach equipment.
The boutique hotel is a great choice for outdoor activities, as the Fairmont Southampton Golf Course is 900 m away, while Horseshoe Bay is 2 km away. The Reefs Resort and Club can also help guests arrange activities such as snorkeling and kayaking. LF Wade International Airport is 25 km away.
7. Cambridge Beaches Resort and Spa
8.6 Average Rating
Get the Lowest Rates Here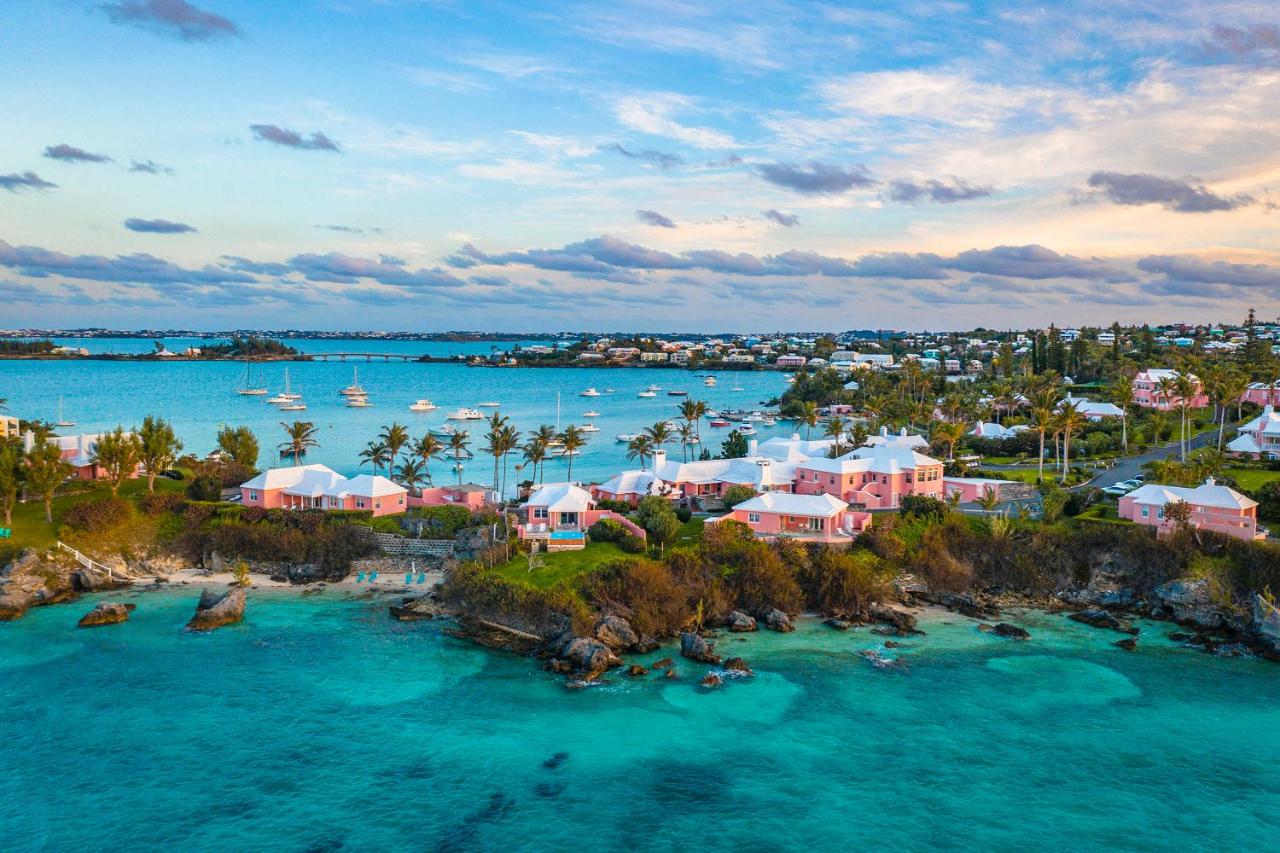 The Cambridge Beaches Resort and Spa offer guests a luxury experience in Bermuda. With four private beaches and rooms offering tropical views, this resort has everything travelers need for a relaxing stay. The resort features a full-service spa, tennis court, putting green, croquet lawn, two pools, watersports center, restaurant, bar, and room service. Free Wi-Fi is available to guests, as well as balconies and patios. The resort concierge can help guests arrange plans both on-site and off.
The boutique hotel has three seasonal restaurants to choose from. Breezes is a seafood restaurant, and Shutters is a casual dining option for breakfast, lunch, and dinner.
The Cambridge Beach is within a 5-minute drive of the Royal Navel Dockyard and shopping. Horseshoe Bay Beach is 12.9 km from the resort.
8. Willowbank Resort
8.0 Average Rating
Get the Lowest Rates Here
Willowbank Resort is located in Somerset, 4.6 km from Horseshoe Bay. Guests can enjoy various activities in the area, such as hiking, snorkeling, and cycling. The resort offers a fitness center, free private parking, a garden, a shared lounge, room service, a concierge service, a tour desk, luggage storage, and a terrace.
The rooms have air conditioning, a flat-screen TV with satellite channels, a fridge, a kettle, a shower, free toiletries, a desk, free WiFi, bed linen, and towels. Some rooms even have a sea view.
The nearest airport is L.F. Wade International, 29 km away. The resort offers a paid airport shuttle service.
9. Pompano Beach Club
8.8 Average Rating
Get the Lowest Rates Here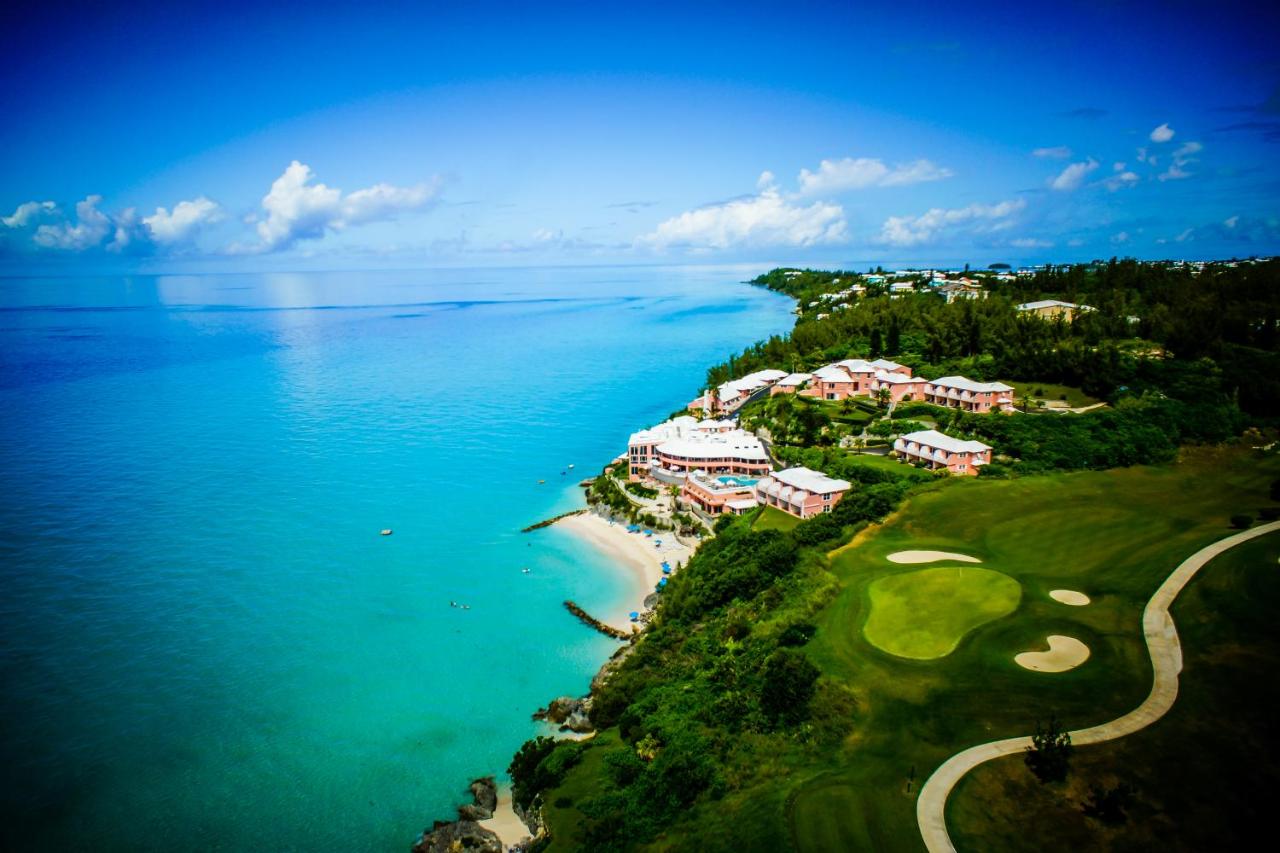 Pompano Beach Club is a luxurious complex located in Pompano Beach, 25 minutes' drive from Hamilton Capital City. It offers modern-style rooms with air conditioning, a seating area, cable TV, a coffee maker, a fridge, and a terrace with sea views. The bathrooms are private and come with bathrobes, hairdryers,s, and showers.
The complex features two swimming pools, a hot tub, free Wi-Fi, and a free shuttle service. It also offers free continental breakfast and three restaurants. The Cedar Room serves gourmet cuisine; the Coral Reef Café has snacks and lunches; and the Ocean Grill features a á la carte menu. There is also a beach bar and a pool bar.
In addition, Pompano Beach Club can arrange water activities such as sailing, snorkeling, kayaking, and fishing. It has a games room, tennis court, fitness center, and massage service. The Bermuda International Airport is 25 minutes' drive away, Robinson's Marina is 5 minutes' walk away, and Bermuda's Maritime Museum is a 15-minute drive away.
10. Grotto Bay Beach Resort
8.5 Average Rating
Get the Lowest Rates Here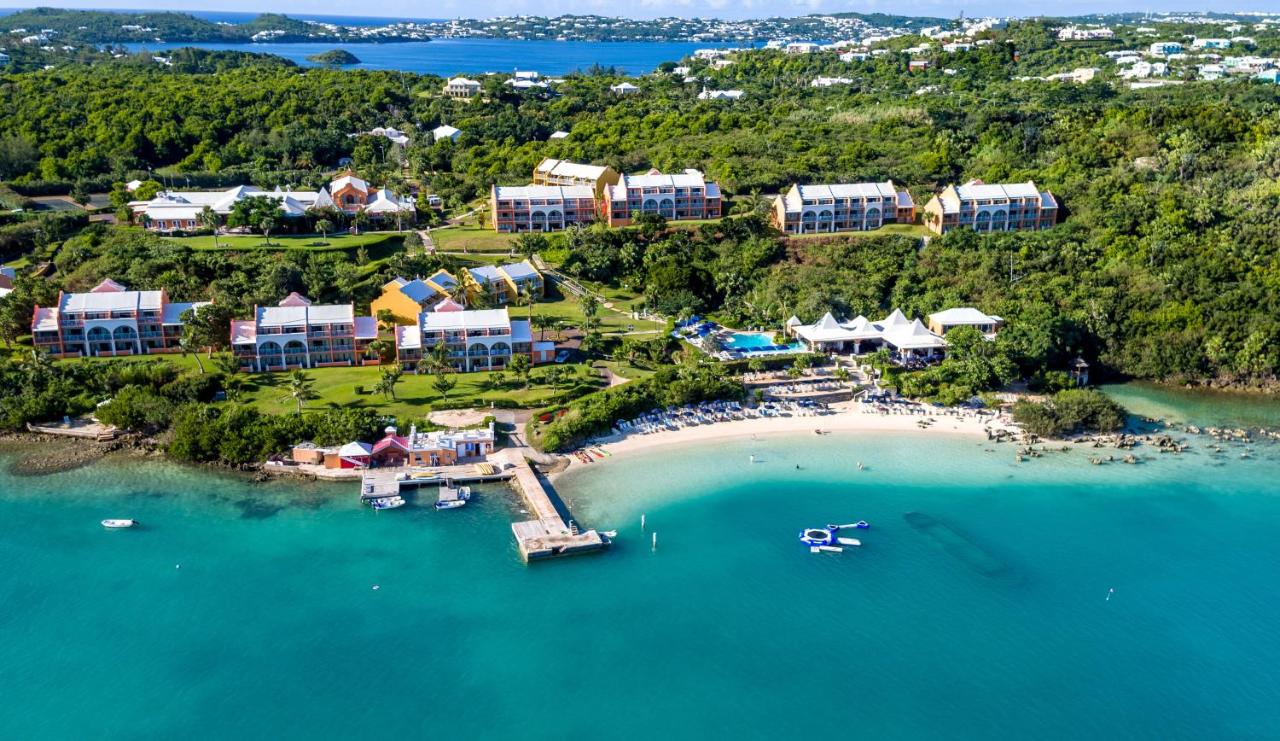 Grotto Bay Beach Resort is a 21-acre tropical estate located along Castle Harbour. It is just a 10-minute drive from LF Wade International Airport. All rooms feature a private patio or balcony, mini-fridge, coffee maker, air conditioning, and tropical island decor.
Guests of the resort are able to enjoy the private pink sand beach, as well as free access to the tennis courts, outdoor pool, and hot tub. Water sports, such as windsurfing, snorkeling, and scuba diving, are available on-site. Additionally, guests can go swimming in the Grotto Cave.
When it comes to dining, the resort offers a variety of local and international cuisine at the Great House. This includes the Hibiscus and Palm Court dining rooms and the Rum House Bar, where guests can enjoy a cocktail.
Nearby attractions include the Tucker's Point Golf Club, just 4 km away, and Saint George's Island, a 10-minute drive away.