The best boutique hotels in Hvar place you in some of the most idyllic locations in Croatia.
Hvar, a picturesque island in the Adriatic Sea, is one of Croatia's most popular travel destinations. Known for its crystal-clear waters, stunning beaches, and vibrant nightlife, Hvar offers something for every type of traveler. With a rich history dating back to ancient times, the island is also home to historical landmarks such as the medieval fortress and the Renaissance-era cathedral.
Visitors can enjoy various outdoor activities, such as hiking, sailing, and kayaking, or unwind and soak up the sun on one of the island's many beaches. With its breathtaking natural beauty and diverse offerings, Hvar is a must-visit destination for anyone traveling to Croatia.
We hand-picked top-rated boutique hotels in Hvar to consider for your next getaway!
The 10 Best Hvar Boutique Hotels
1. Amfora Hvar Grand Beach Resort
8.2 Average Rating
Get the Lowest Rates Here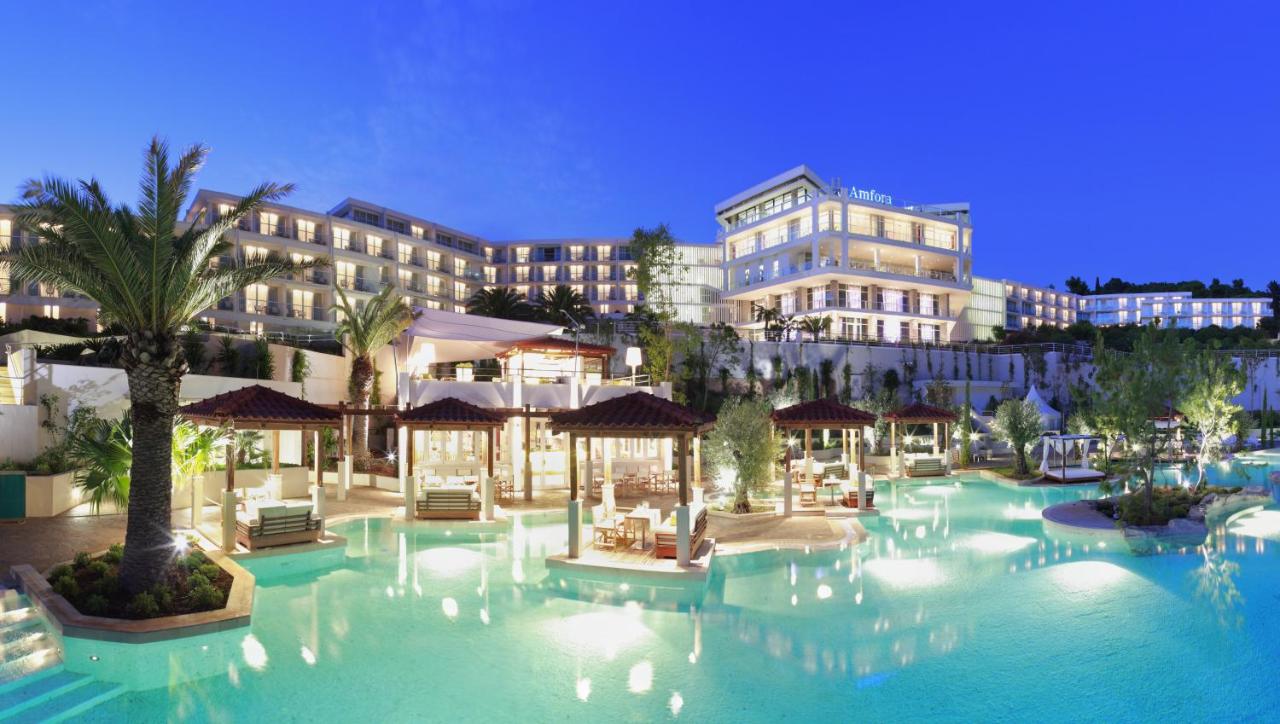 This luxurious hotel is in a secluded bay, only 2 minute's walk from the beach. Guests can enjoy spectacular sea views and take a 10-minute walk to Hvar's center.
All Amfora Hvar Grand Beach Resort rooms are air-conditioned and have cable TV. WiFi is provided free of charge throughout the hotel. Guests can also rent a private seaside cabin at the exclusive Beach Club Hvar and enjoy a massage.
The boutique hotel has a multi-level pool filled with fresh water, and guests may also enjoy cocktails at the stylish lounge area or the poolside Cascades Restaurant. The rooftop restaurant Windows on Hvar offers panoramic views of the Hvar Archipelago and the Amfora Bay and serves a rich breakfast and dinner buffet with traditional, local, and international dishes. At the beachside Splash Bar & Restaurant, guests can enjoy the views under the shade of a cool white tent and enjoy authentic barbecue specialties.
2. Riva Marina Hvar Hotel 
9.0 Average Rating
Get the Lowest Rates Here
Riva Marina, located in the heart of Hvar, has been refurbished for 2022 and offers stunning sea views. The air-conditioned rooms feature themes, with en suite bathrooms, flat-screen TVs, minibars, and free WiFi.
The terrace allows guests to enjoy gastronomic delicacies and innovative cocktails. It is the perfect spot to take in the city's beauty and watch the mega-yachts come and go.
Riva Hvar Yacht Harbour Hotel offers guests a bespoke service experience, including 10% off all F&B outlets when using the room card. Room service is also available, allowing guests to enjoy a meal in the privacy of their room or on the balcony.
3. Adriana Hvar Spa Hotel
9.1 Average Rating
Get the Lowest Rates Here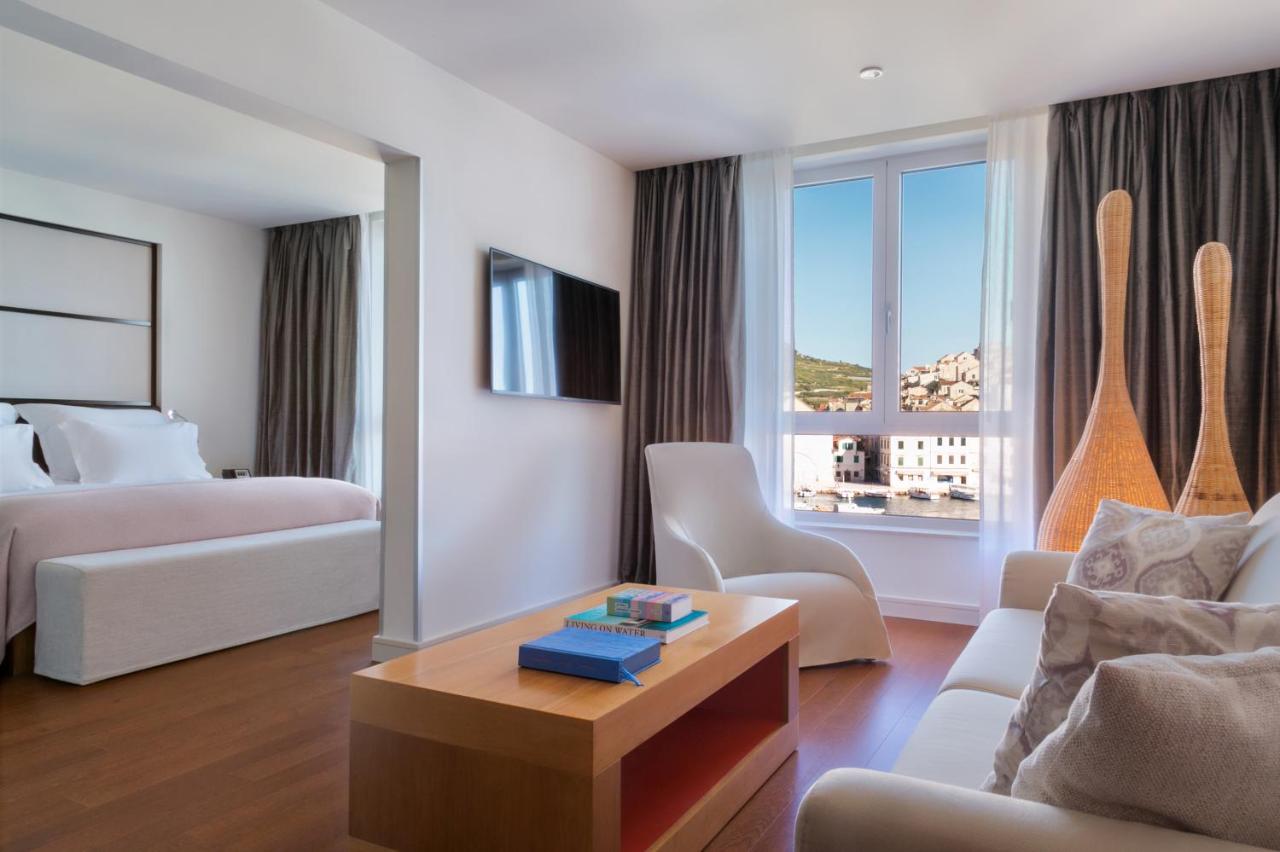 Adriana Hvar Spa Hotel went through a complete refurbishment of public areas in 2018. Situated overlooking Hvar city, guests can enjoy panoramic views from the rooftop terrace, drink at the Top Bar, or dip in the new rooftop swimming pool. The boutique hotel offers free WiFi in all rooms and public areas.
The rooms have queen-size beds, ergonomic mattresses, and glass-boxed bathrooms. Each room also features air conditioning and a flat-screen SAT TV. The penthouse suites offer a spectacular view of the sea and the town.
The luxurious Sensorí spa, completely refurbished in 2018, provides therapeutic, massage, and beauty treatments. The sky bar comprises a multi-level garden terrace, a dance floor, and a restaurant serving Mediterranean specialties. Guests can also visit the lobby bar with a small front terrace facing the harbor.
The Val Marina Restaurant serves premium cuts of meat, and fresh and local fish, carefully paired with a great variety of national and international wines. The hotel also provides 24-hour reception, concierge, and room service. All rooms and facilities have been adapted for guests with disabilities.
4. Hotel Podstine
8.6 Average Rating
Get the Lowest Rates Here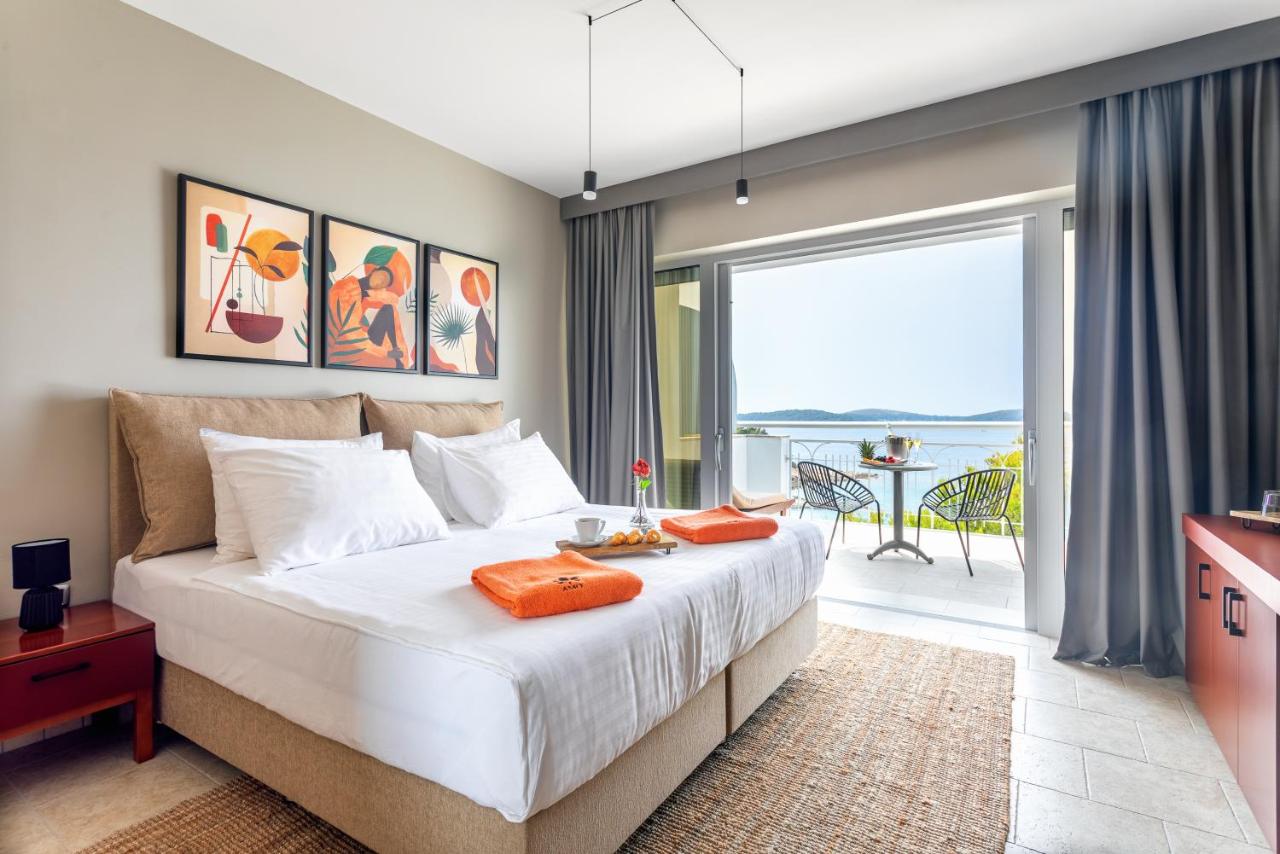 Hotel Podstine is located in a beautiful bay with a private beach surrounded by palms and pine trees, just a 15-minute walk from the center of Hvar. It offers elegant air-conditioned rooms with satellite TV, a minibar and complimentary toiletries, and free WiFi in the lobby area.
The boutique hotel features a spa & wellness center with a gym, Finnish sauna, and various body treatments and massages. Guests can enjoy complimentary beach towels for the entire stay and rent private boats on-site. There are also several tennis courts a-10 minute's walk away.
A restaurant offers delicious cuisine, while the bar overlooks the Paklenski Islands. Free parking is included. The reception can arrange a private wine tasting with local wineries and excursions to the islands of Vis (with the Green Cave), Biševo (Blue Cave), or Bol. Bike and scooter rentals and a shuttle service from Split Airport to the Island of Hvar are also available.
5. Hotel Moeesy, Blue & Green Oasis – Newly opened in July 2022
9.5 Average Rating
Get the Lowest Rates Here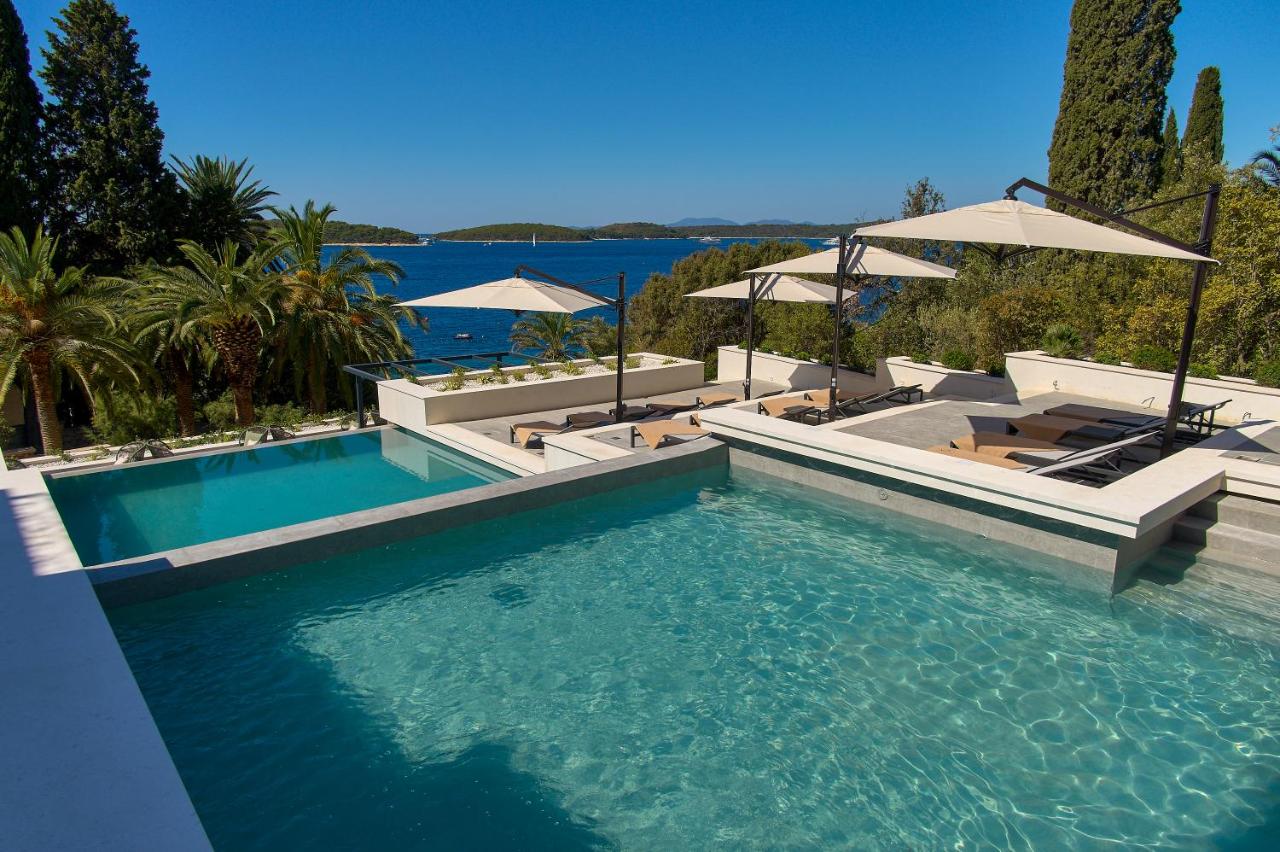 Hotel Moeesy, Blue & Green Oasis is a newly-opened hotel just 30 meters from the beach in Hvar. It opened in July 2022 and offers air-conditioned rooms with free Wi-Fi and satellite TV. The boutique hotel is surrounded by a pine forest, just a 10-minute walk from the old city center and port.
The hotel's à la carte restaurant serves meat and fish dishes, accompanied by premium Dalmatian and other wines.
6. Heritage Hotel Dea Hvar
9.5 Average Rating
Get the Lowest Rates Here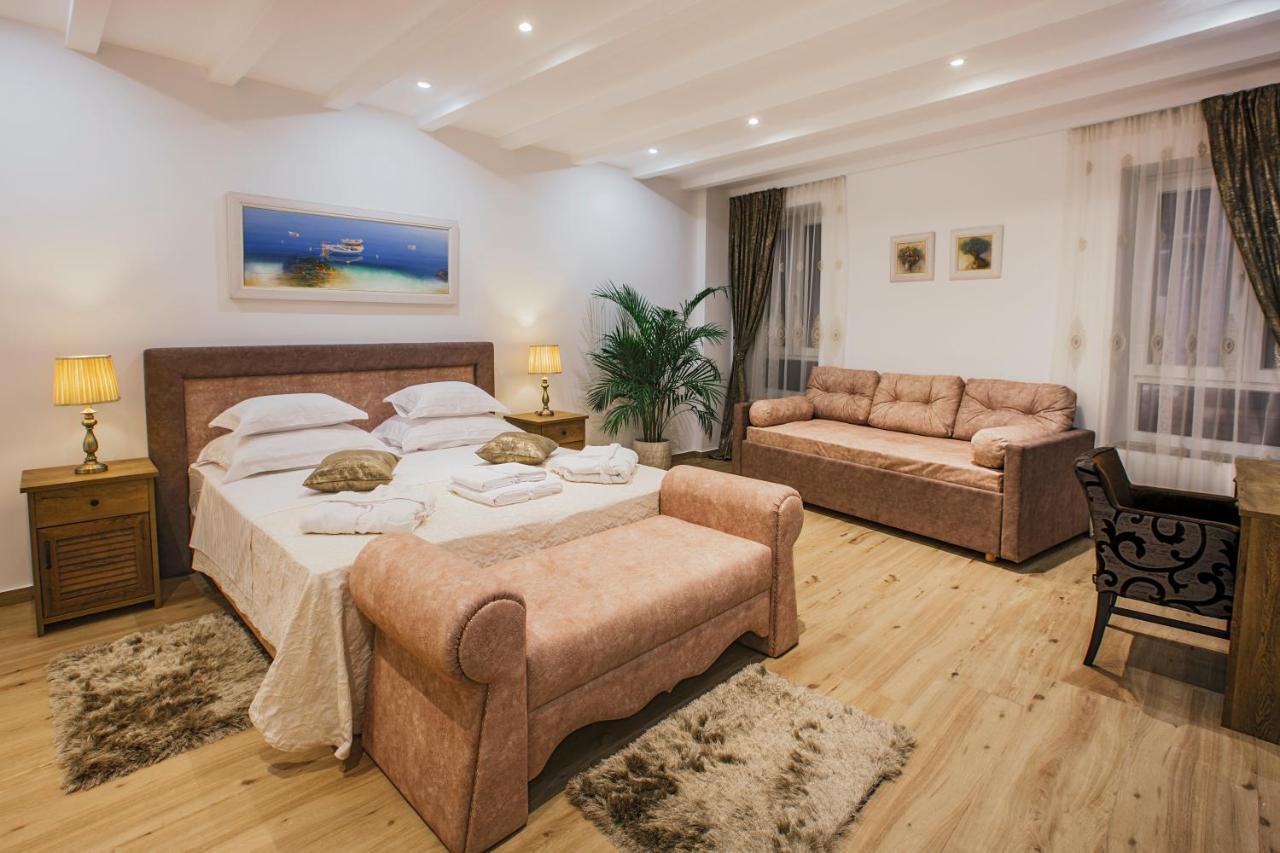 Heritage Hotel Dea Hvar is located in the Hvar Old Town district of Hvar, Croatia. It is 1.6 km from Stipanska Beach and provides guests with free WiFi. The hotel also has a garden and a restaurant.
The rooms at Heritage Hotel Dea Hvar feature a seating area, a flat-screen TV with satellite channels, and a private bathroom with free toiletries and a shower. Guests can access a kettle and a desk, while some rooms have a balcony. A buffet breakfast is served each morning.
The boutique hotel has a 24-hour front desk that can provide information about the local area. Additionally, bike hire is available for those interested in cycling.
Popular attractions near Heritage Hotel Dea Hvar include Hvar City Harbour, Hvar's Theatre and Arsenal, St. Stephen's Square in Hvar, Carpe Diem Club Hvar, St. Stephen's Cathedral in Hvar and the Hvar Benedictine Convent.
7. Hotel – Aparthotel Teranea
8.9 Average Rating
Get the Lowest Rates Here
Hotel Teranea Aparthotel Teranea is located in Hvar and offers accommodation with free WiFi access. Guests can also use the garden, which features an outdoor swimming pool with stunning sea views.
All units have a seating area with a sofa, a dining area, and a fully equipped kitchen with various cooking facilities such as a dishwasher, an oven, and a fridge. Each unit also has a terrace and is equipped with a satellite flat-screen TV, as well as air conditioning.
The boutique hotel offers daily excursions and trips that can be arranged at the reception for an extra fee.
8. Palace Elisabeth, Hvar Heritage Hotel
9.4 Average Rating
Get the Lowest Rates Here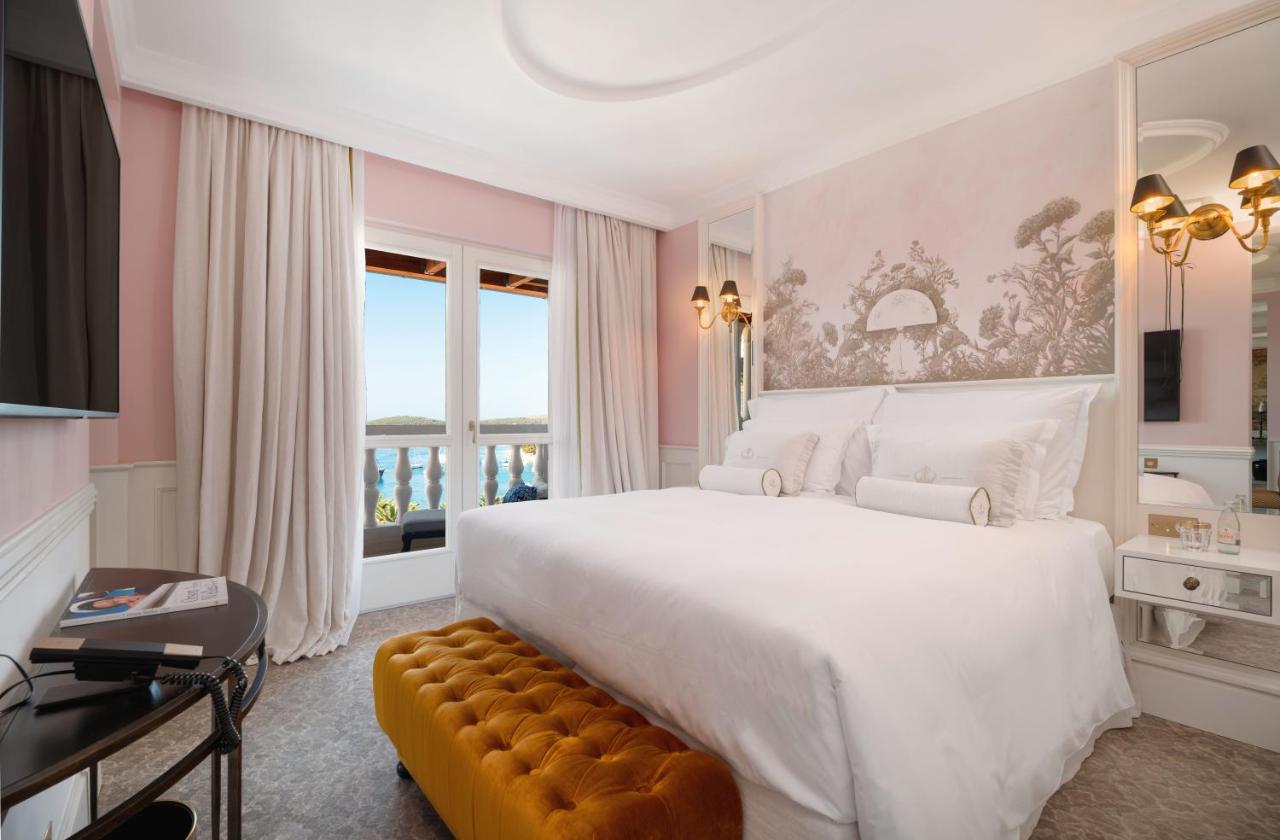 Palace Elisabeth, Hvar Heritage Hotel, is the oldest hotel in Hvar. It is framed by St. Stephen's Cathedral and the famous Hvar Theatre, surrounded by Gothic and Renaissance architecture. All guest rooms are air-conditioned, featuring satellite TV and breathtaking views over Hvar Bay and the sunsets over the Paklinski Islands. Free WiFi access is available in all areas.
While staying at this historic hotel, guests can enjoy a tasty dinner at the hotel's restaurant or sip cocktails and listen to soothing jazz music on the terrace of the Arsenal Bar, which overlooks the Hvar Marina. The enchanting terrace of the hotel's restaurant offers views of the marina and the Hvar seaside promenade and serves Mediterranean delicacies.
9. Beach Bay Hvar Hotel
9.2 Average Rating
Get the Lowest Rates Here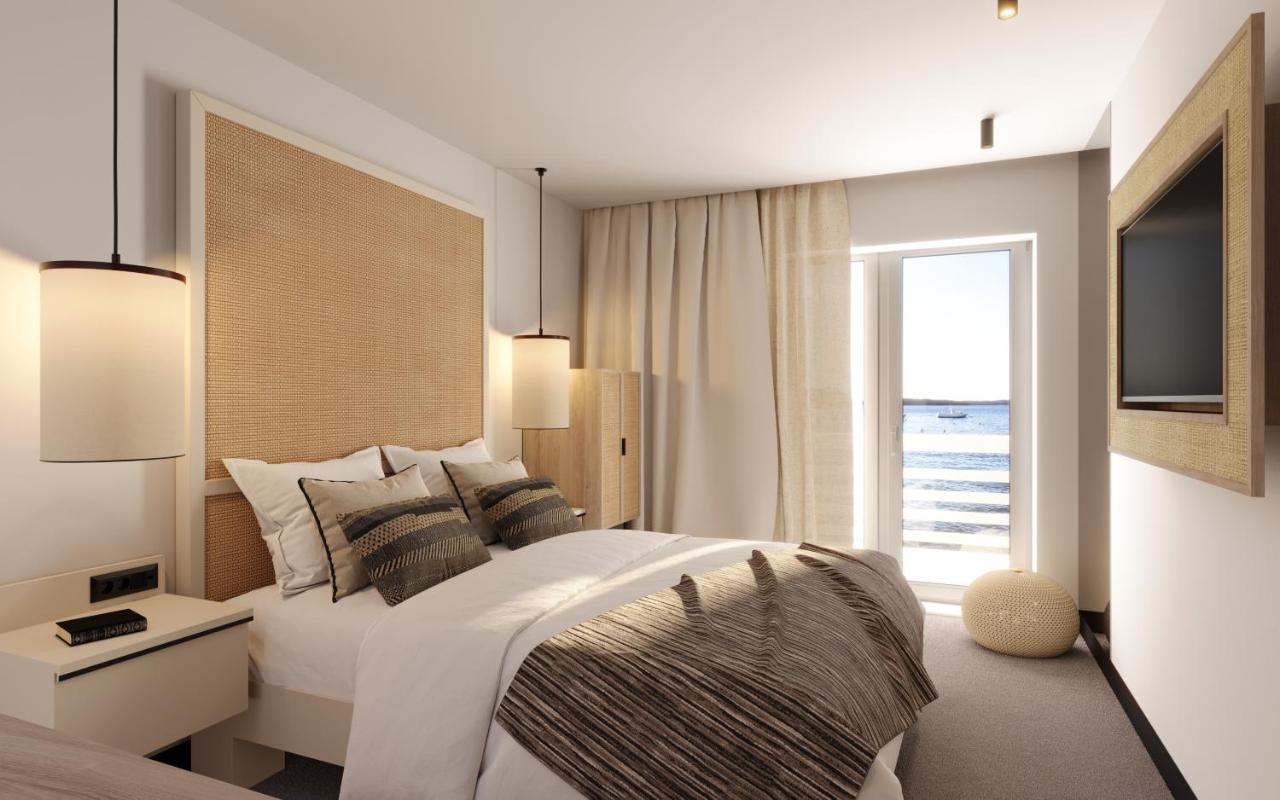 Beach Bay Hvar Hotel is a 4-star hotel in the center of Hvar. It offers air-conditioned rooms with a wardrobe, flat-screen TV, private bathroom, bed linen, towels, a balcony with a sea view, and a safety deposit box.
The boutique hotel provides a 24-hour front desk, an ATM, free shuttle service, room service, and currency exchange.
Breakfast options are available every morning. The on-site restaurant serves Mediterranean cuisine, with vegetarian, vegan, and gluten-free options available upon request.
Beach Bay Hvar Hotel has a sun terrace and offers bike hire. Popular nearby attractions include Franciscan Monastery Beach, Beach Križna Luka, Beach Bonj, Harbour of Hvar, and Hvar's Theatre and Arsenal. Split Airport is 82 km away.
10. Hotel Fortuna
9.4 Average Rating
Get the Lowest Rates Here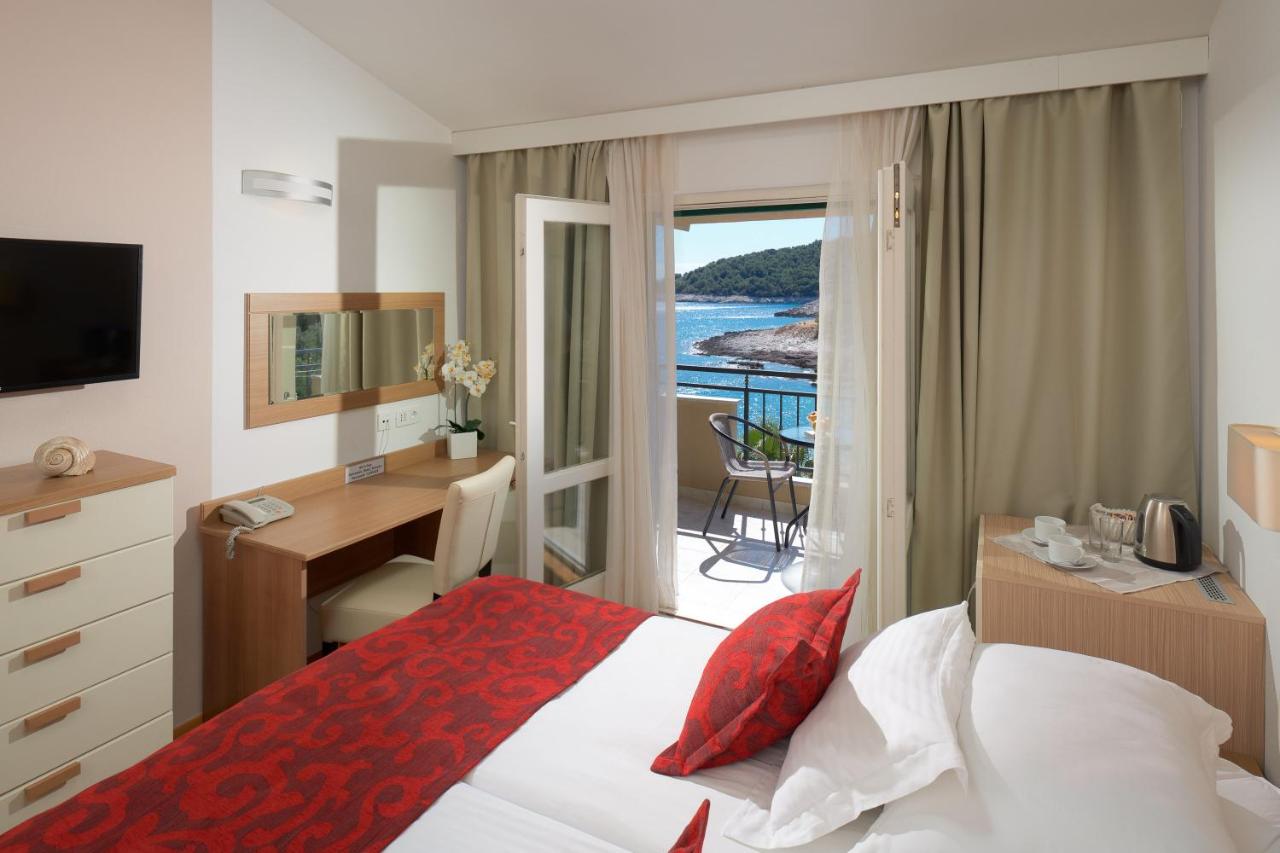 Hotel Fortuna is located in the Milna village, just 5 km away from the center of Hvar town. It offers tastefully designed and colorfully furnished rooms, air conditioning, flat-screen TVs, free WiFi, a coffee and tea maker, a private bathroom with toiletries and a hairdryer, and a balcony or outside sitting area.
The restaurant serves delicious Dalmatian cuisine and typical Mediterranean meals. Guests can relax at the beach or enjoy local specialties at the beachside restaurant. In the vicinity of the Fortuna, there are 4 unspoiled pebble beaches.
Hotel Fortuna provides comfortable accommodations, delicious food, and an ideal location for a relaxing beach getaway.