The best boutique hotels in Nassau place you in some of the most idyllic locations in the Bahamas.
Nassau, the capital city of the Bahamas, is a popular travel destination known for its stunning beaches, crystal-clear waters, and vibrant culture. Situated on the island of New Providence, Nassau offers visitors a mix of historical landmarks, exciting activities, and world-class resorts.
With its year-round warm weather, friendly locals, and endless opportunities for adventure, Nassau is a must-visit destination for anyone looking to experience the best of the Caribbean.
We hand-picked top-rated boutique hotels in Nassau to consider for your next getaway!
The 10 Best Nassau Boutique Hotels
1. SLS at Baha Mar
8.2 Average Rating
Get the Lowest Rates Here
SLS at Baha Mar is a luxury hotel located in Nassau, Bahamas. It offers guests a variety of amenities, including two outdoor pools, numerous food and beverage options, a world-class casino, a tennis court, and a fitness center. Free WiFi access is available throughout the hotel.
The ocean-front rooms and suites feature elegant décor, air conditioning, and a bathroom with a bath or shower and a hairdryer. Extras include a safety deposit box and a laptop safe.
At SLS at Baha Mar, guests can enjoy a variety of activities, such as fishing, snorkeling, canoeing, and water sports. There are also on-site shops and luggage storage. The property offers free parking.
2. Comfort Suites Paradise Island
7.4 Average Rating
Get the Lowest Rates Here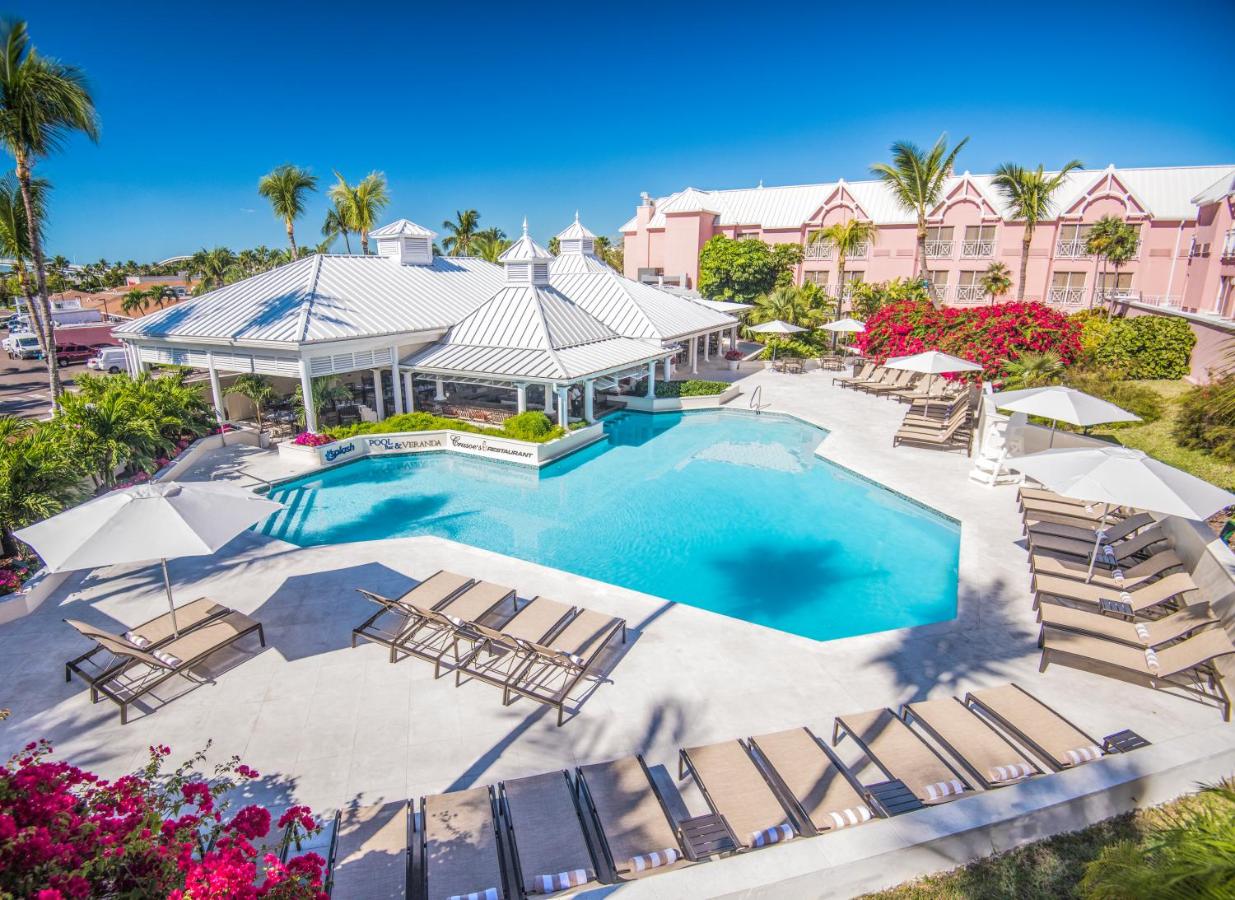 The Comfort Suites Paradise Island is located adjacent to the Atlantis Paradise Island, and guests of the hotel can enjoy full use of all their facilities, including swimming pools, a private beach, magnificent waterscapes, a Lazy River Ride, water slides, a health spa, tennis, and Kids Camp. Guests also have full signing privileges at Atlantis' restaurants and lounges.
This Paradise Island, Bahamas boutique hotel is within walking distance to Marina Village at Atlantis, with its variety of shops and restaurants, Paradise Shopping Plaza, and many Nassau attractions such as the Queen's Staircase and Fort Charlotte. The Nassau International Airport is 30 minutes away. Nearby, guests can explore the Cloisters, a picturesque destination home to 14th-century French monastery ruins. There are also many opportunities for duty-free shopping along Bay Street and at the Straw Market, featuring fabulous shops, boutiques, and lots of local cultures.
Your Morning Breakfast at the Comfort Suites Paradise Island is full of hot and delicious items, making it the perfect way to start your day. The free hot breakfast features eggs, meat, yogurt, fresh fruit, cereal, and more. If you're leaving early, a Your Suite Success Grab & Go bag is available for the two hours prior to breakfast.
The hotel also features a beautiful outdoor pool, where guests can relax with a swim, take a nap on the sundeck, and enjoy a drink amidst a tropical setting at the poolside bar. A variety of outdoor cafés, eateries, and pubs can be found in the surrounding area, including the Bamboo Lounge located at the hotel.
3. Margaritaville Beach Resort Nassau
8.1 Average Rating
Get the Lowest Rates Here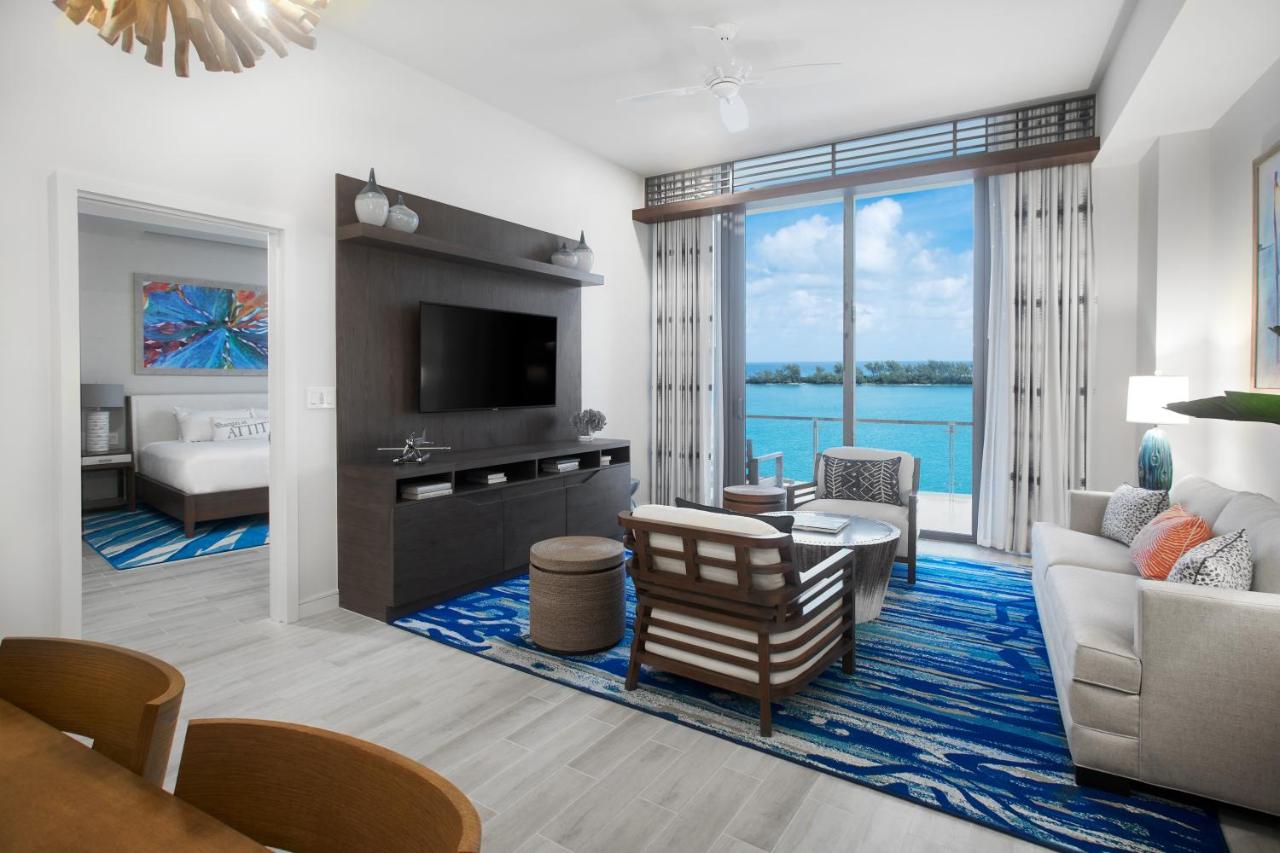 Margaritaville Beach Resort Nassau offers 5-star accommodation in Nassau, facing the beachfront. This non-smoking resort offers a range of facilities, including an outdoor swimming pool, fitness center, garden, shared lounge, terrace, and bar. Guests can also enjoy the hot tub, karaoke, and free WiFi throughout the property.
The resort provides a range of rooms, each offering a kitchen with a fridge, microwave, and toaster. An à la carte, continental, or Full English/Irish breakfast is also available. The restaurant offers American and Italian cuisine, with vegetarian, vegan, and dairy-free options.
The resort also has a children's playground, hairdresser, and business center, and car hire is available. Junkanoo Beach is 100 m away, and Saunders Beach is 2.2 km away. The nearest airport is Lynden Pindling International Airport, 18 km from the property.
4. Sandyport Beach Resort
7.8 Average Rating
Get the Lowest Rates Here
Sandyport Beach Resort and Village is an attractive Caribbean-style resort located in the Old Towne Marina area of Nassau, Bahamas. It features a private beach area, 3 lagoon-style pools, a tennis court, and rooms, studios, and suites with Caribbean-style décor. It also has air conditioning, flat-screen cable TV, and kitchen facilities in some suites and studios.
At the heart of Sandyport is the Olde Towne Marina Village, which offers seven restaurants, a gym, a spa center, and stores. The Blue Sail Restaurant is located beachside and serves local cuisine, seafood dishes, stone-baked pizzas, and cocktails.
The resort is near many attractions and amenities. Lake Cunningham and Cable Beach Golf Course are within 2 km, while Nassau town center is 15 minutes drive away and Paradise Island is 20 minutes away. Lynden Pindling International Airport is a 10-minute drive away.
5. Grand Hyatt Baha Mar
8.2 Average Rating
Get the Lowest Rates Here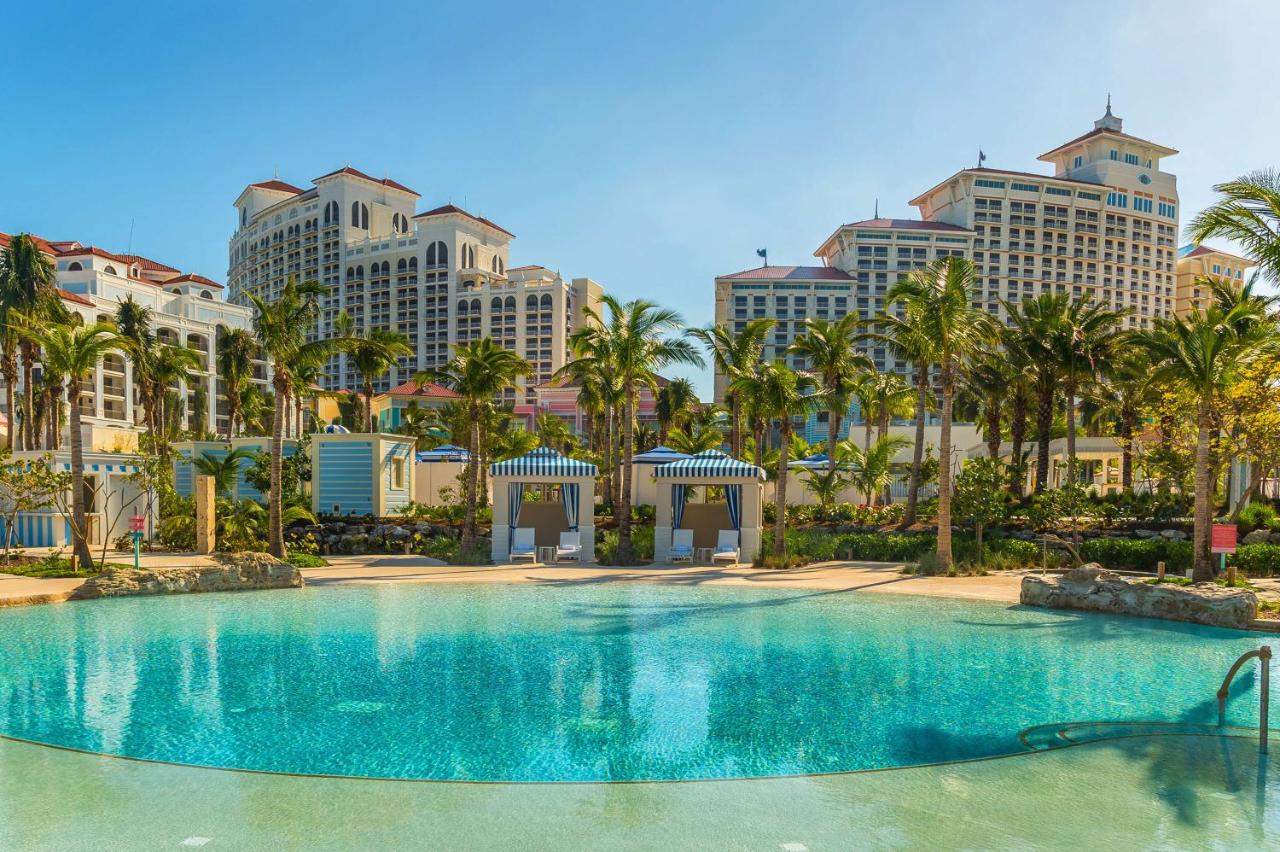 Grand Hyatt Baha Mar is located in Nassau and offers stunning views of Cable Beach and Goodman Bay. Guests can enjoy the 6 outdoor pools, private beach area and spa, and wellness center. Free WiFi access is also available.
The accommodation features air conditioning and a minibar. Each room has a private bathroom with a bath or shower, a hairdryer, and bathrobes. Extras include a desk, a safety deposit box, and a laptop safe.
Grand Hyatt Baha Mar offers a variety of restaurants, bars, and lounges, and also has a Racquet Club with 9 tennis courts for guests to enjoy. Other activities available onsite or in the surrounding area include shopping, golfing, and gambling.
6. Warwick Paradise Island Bahamas – All Inclusive – Adults Only
7.6 Average Rating
Get the Lowest Rates Here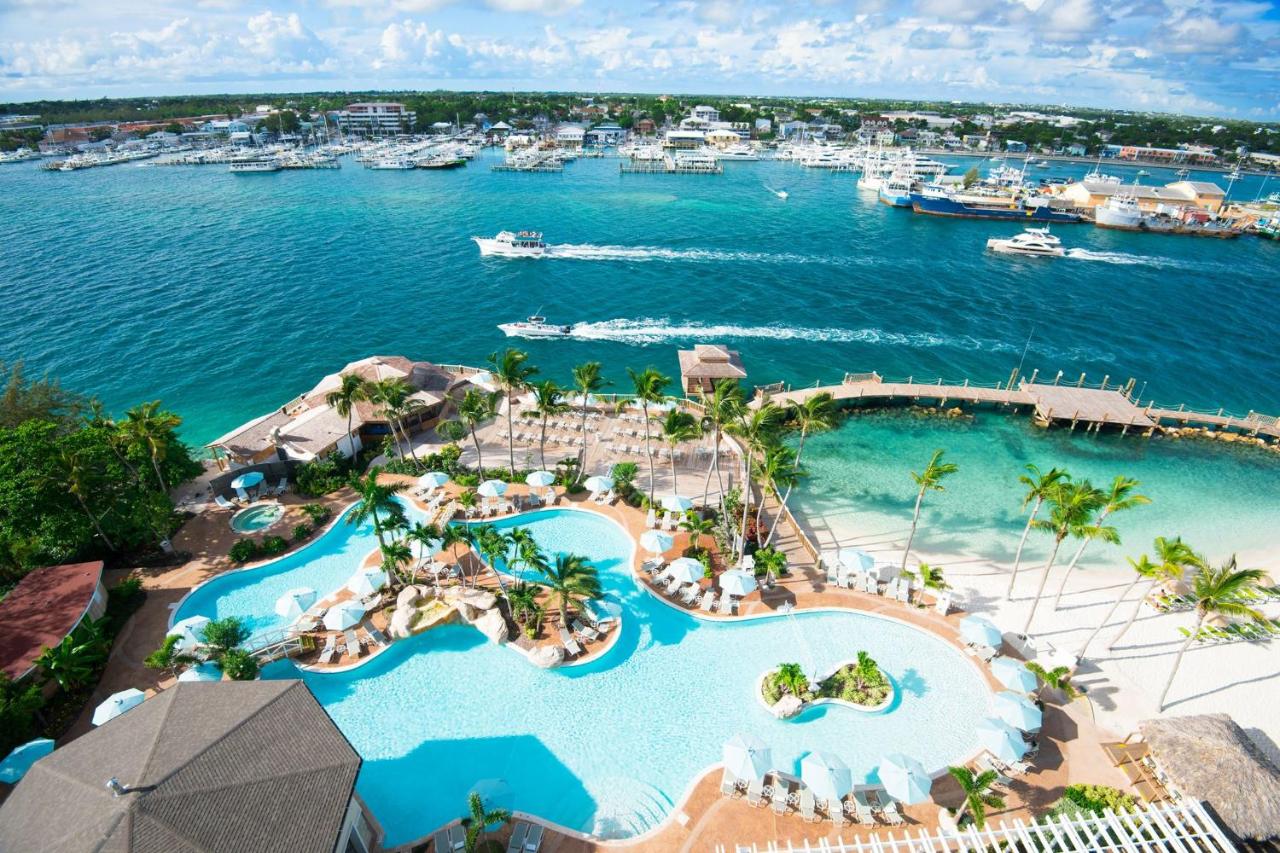 Warwick Paradise Island – Bahamas All-Inclusive is a 4-star Adults Only resort situated on Paradise Island. It offers 250 guest rooms with mini-fridges and views of Paradise Island, as well as a private harbor beach and 10,000 square-foot terraces. Guests can take advantage of complimentary standard WiFi throughout the resort.
The Warwick Paradise Island – Bahamas All-Inclusive provides all-inclusive rates that cover all meals, snacks, alcoholic and non-alcoholic beverages, nightly entertainment, activities, and use of the fitness center. Guests can enjoy 5 restaurants and 2 bars on-site, as well as a 10-minute walk to nearby shopping, casinos, and Cabbage Beach. The resort is located a 30-minute drive from Nassau's Lynden Pindling International Airport (NAS).
7. The Coral at Atlantis
7.8 Average Rating
Get the Lowest Rates Here
The Coral at Atlantis is a luxurious resort located on Paradise Lagoon Beach on Paradise Island. It features a variety of amenities and activities, including a water park, casino, golf course, and 11 pools. The warm-colored rooms offer a balcony with an ocean or garden view, a flat-screen TV, an entertainment system, a coffee maker, and a safe.
At Dolphin Cay, guests can take advantage of exciting activities such as swimming with dolphins, snorkeling with manta rays, scuba reef excursions, and playing with sea lions. They can also take part in marine mammal trainer classes.
The Coral at Atlantis also features a 10,000-square-foot gym with yoga and pilates classes, tennis courts, a rock climbing wall, a theatre, and a 2,000-volume library. Guests can enjoy all of these amenities and activities while taking in the breathtaking views of Paradise Island.
8. The Reef at Atlantis
7.8 Average Rating
Get the Lowest Rates Here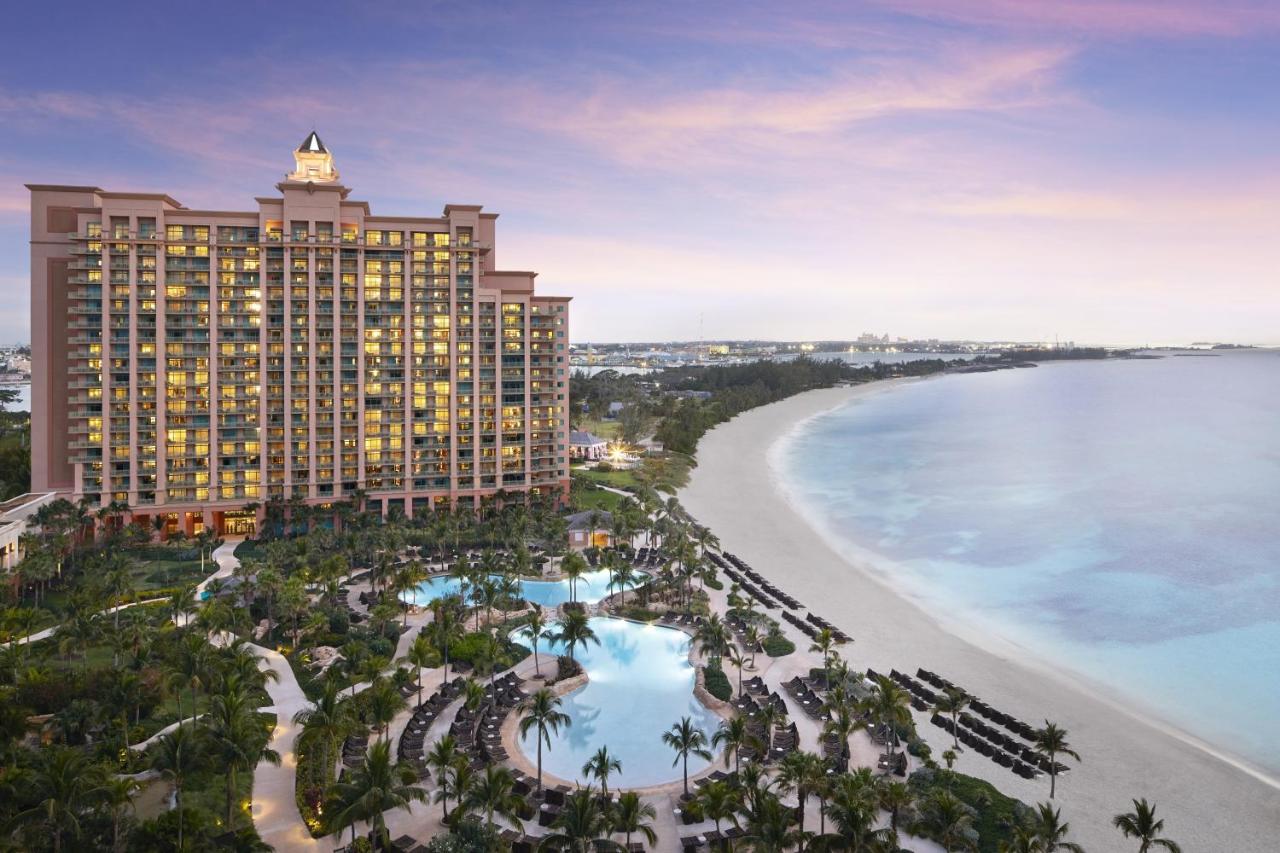 The Reef Paradise Beach is the perfect destination for a luxurious getaway. Located right on Paradise Beach, this residential resort offers a large casino, a 141-acre water park, and a marine habitat. The spacious accommodations include kitchen facilities, private furnished balconies, a garden, harbor or Atlantic Ocean views, cable TV, and an iPod docking station.
On-site dining is varied and plentiful, with 21 restaurants and 19 bars. Fine dining is available at Nobu and Café Martinique, and Bimini Road serves Caribbean dishes. Other amenities include access to the Atlantic Movie Theatre, Fitness Centre, unlimited local phone calls, casino lessons, and two 12 oz bottles of water daily.
For those interested in exercising, the 10,000-square-foot gym offers yoga and Pilates classes, and there are also tennis courts and golf courses. World-class duty-free shopping boutiques include Cartier, Gucci, Michael Kors, and Versace.
At Dolphin Cove, guests can swim with the dolphins and sea lions. Visitors can also relax on the Current river which floats through the tropical foliage. Snorkeling in the ruins of Atlantis and scuba diving are also available.
9. Graycliff Hotel
7.9 Average Rating
Get the Lowest Rates Here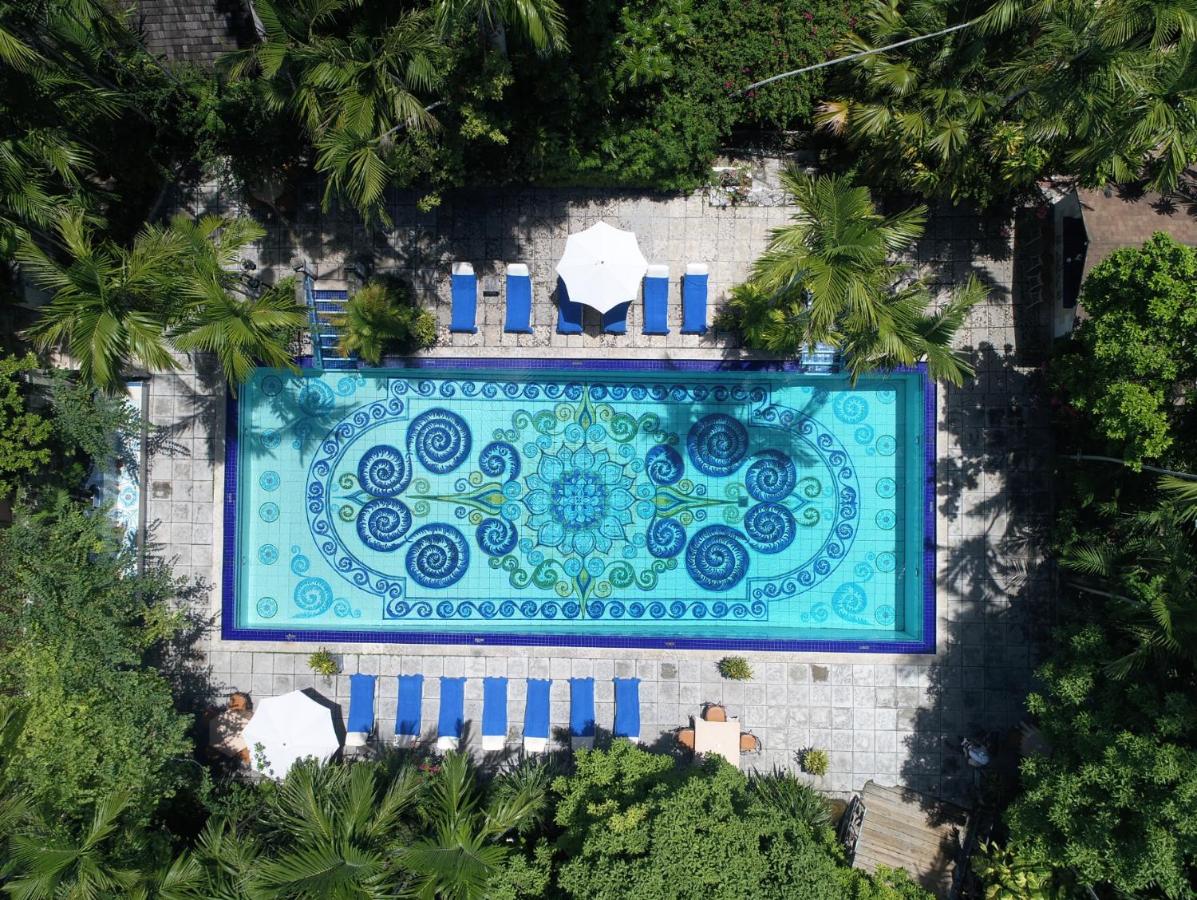 Graycliff Hotel is a restored mansion from 1740 that overlooks the Government House in the old part of Nassau. It features air-conditioned rooms with free WiFi, tastefully decorated in a European style with luxurious tapestries and amenities.
The hotel also offers two restaurants, two swimming pools, and an on-site Chocolatier. The Humidor Churrascaria Restaurant serves Brazilian cuisine and meat cuts, while the winery offers bottles from over 15 countries. Guests can also visit the Graycliff Cigar Company, which boasts the 3rd largest private collection of wines in the world with over 250,000 bottles.
Graycliff Hotel is conveniently located 13 km from the Lyndon Pindling International Airport and 4 minutes' drive from the National Art Gallery.
10. The Island House
9.0 Average Rating
Get the Lowest Rates Here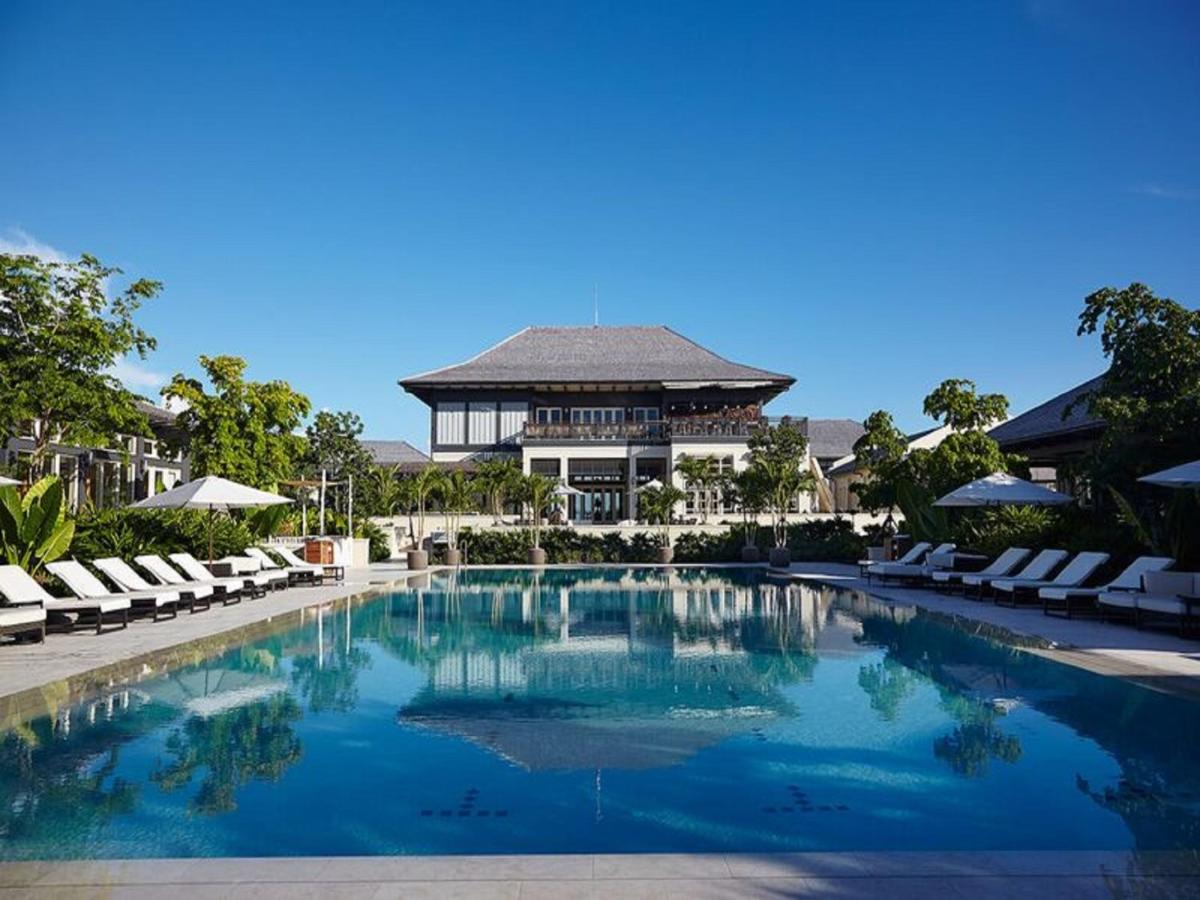 The Island House is a hotel located a 6-minute drive away from the beach Nirvana. It offers a variety of amenities such as an outdoor pool and spa center, a restaurant, a terrace, a 24-hour front desk, and a fitness room.
The rooms come with a flat-screen TV, unique local art, energy-conserving automated lights, and a private bathroom with a bath, shower, hairdryer, and Bamford toiletries. WiFi is available throughout the property.
Additional facilities include a cinema with films featured every week, free yoga classes at the Movement Studio, a squash court, a paddle tennis court, and a 25 m lap pool.