The best boutique hotels in Quebec City place you in some of the most idyllic locations in Canada.
Quebec City is a stunning destination with its captivating European charm, narrow cobblestone streets, iconic Chateau Frontenac and many more exciting attractions. As one of the oldest settlements in North America, it has been declared a UNESCO World Heritage site. For visitors looking for a unique experience, it is the perfect place to explore, relax and indulge.
When planning an unforgettable stay in Quebec City, there are some of the best places to stay. To make your vacation hassle free, we have hand-picked top-rated boutique hotels that offer luxurious amenities and comfortable accommodations. From traditional inns to trendy B&Bs and from luxury resorts to budget hotels – our selection of places to stay offers something for every type of traveler!
The 10 Best Quebec City Boutique Hotels – Places to Stay
1. Fairmont Le Chateau Frontenac
8.7 Average Rating
Get the Lowest Rates Here
The Fairmont Le Château Frontenac is one of the most luxurious Quebec City boutique hotels. It is situated in the heart of Old Quebec, boasting views of the St. Lawrence River. The property also features various European-style rooms with cable TV, coffee maker, ironing facilities, and air conditioning.
For added convenience, the hotel offers many services, including an indoor pool, hot tub and steam rooms, a fitness room, a business center, and concierge services. Guests can also enjoy various treatments at the hotel's on-site spa called Spa du Château.
Dining enthusiasts will be delighted to learn that this hotel has several on-site restaurants offering a selection of classic dishes and local specialties. And for those who want to explore the area's attractions, Montmorency Park is just two minutes away by car, while Notre Dame Cathedral and Citadel of Quebec can be reached in just three minutes by foot or 500 m, respectively.
2. Hotel le Priori
9.1 Average Rating
Get the Lowest Rates Here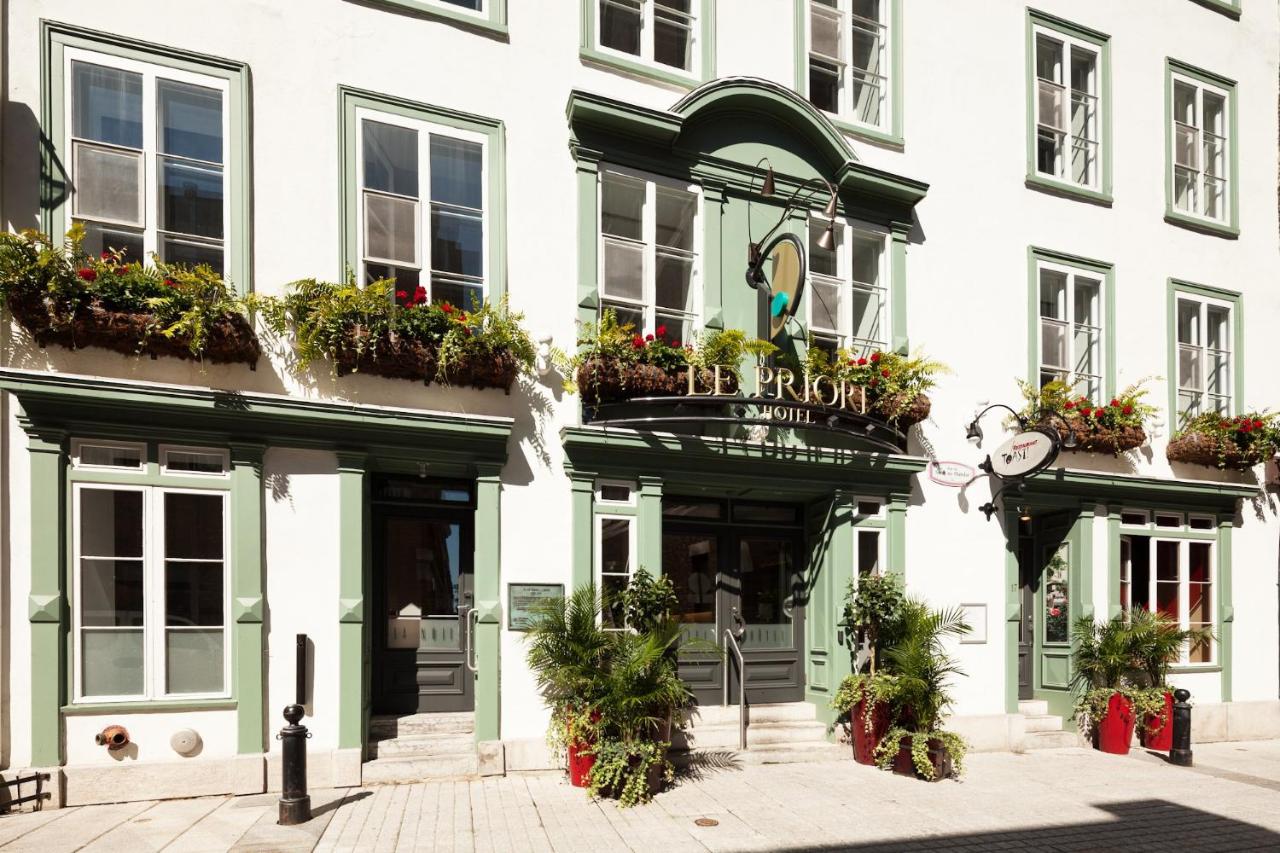 Those looking to stay in a boutique hotel in Quebec City must look no further than the historic Hotel le Priori. Boasting almost three centuries of history, the hotel is located in downtown Old Quebec City, just two minutes from the city center. The building itself was originally constructed in 1734 and features original exposed brick walls, which evoke the sense of history that the city embodies. Each uniquely decorated room and suite provides its special blend of classic Art Deco furniture and modern amenities such as free WiFi and working fireplaces in select suites.
Being located within a World Heritage Site also allows guests to be within walking distance of some of Quebec City's most famous attractions. These include traditional antique shops on St. Paul Street, scenic cruises down the Saint Lawrence River, and Notre Dame Cathedral. With its prime location, enriching historic decor, and comprehensive amenities, Hotel le Priori presents an oasis for those seeking a truly memorable boutique experience in Quebec City.
3. Hotel Port-Royal
8.4 Average Rating
Get the Lowest Rates Here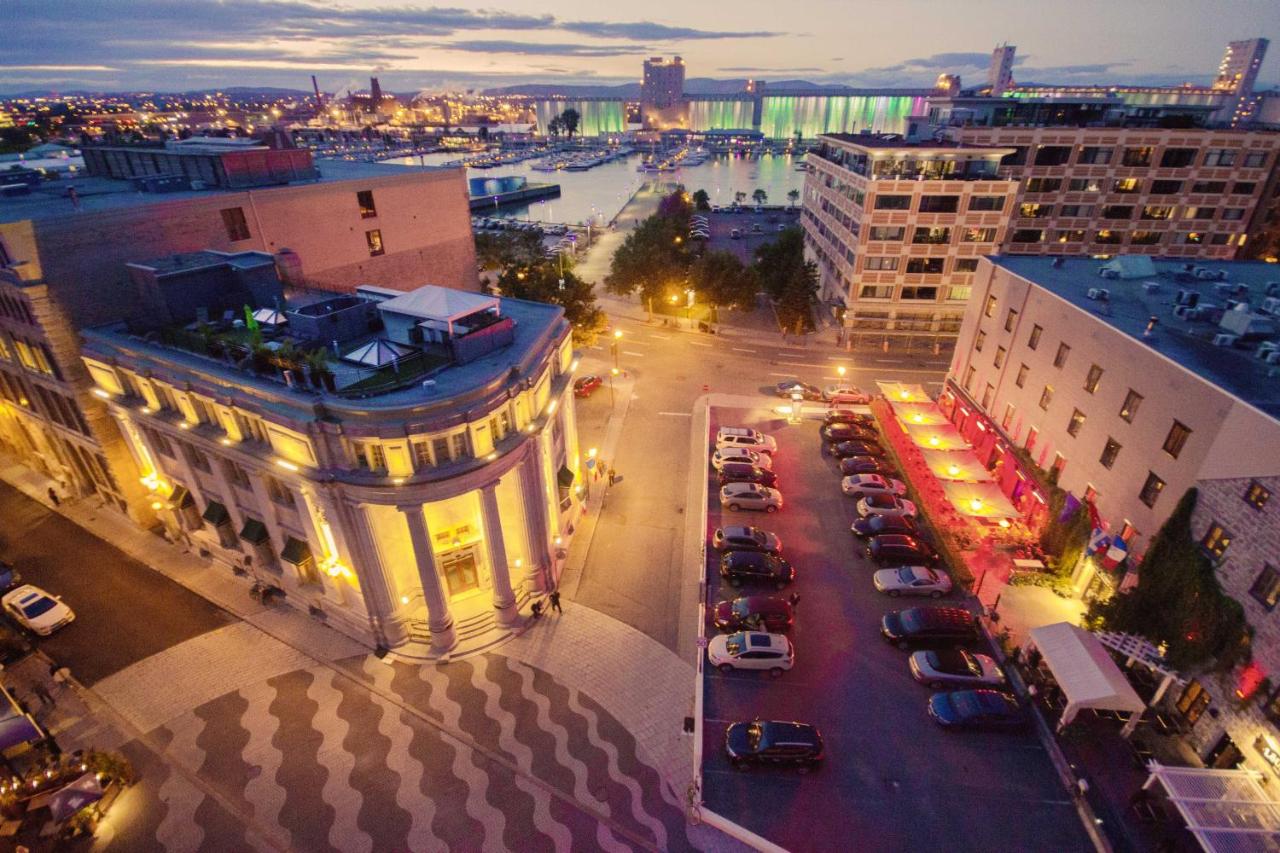 Hotel Port-Royal is one of the best boutique hotels in Old Quebec City. It is conveniently located just a 5-minute walk from the historic Notre Dame de Quebec Cathedral and a 10-minute walk from the Museum of Civilization. Each suite has a kitchen or kitchenette and features cable TV and free WiFi, providing all the modern amenities needed for an enjoyable stay.
Hotel Port-Royal offers this option in the morning for guests who prefer to have breakfast delivered to their rooms. A number of other attractions are also within walking distance of the hotel, including the Citadelle of Quebec and the scenic Saint Lawrence River, which is only one block away.
Thanks to its great location and modern amenities, Hotel Port-Royal is an excellent choice for travelers exploring Old Quebec City.
4. Auberge Saint-Pierre
8.9 Average Rating
Get the Lowest Rates Here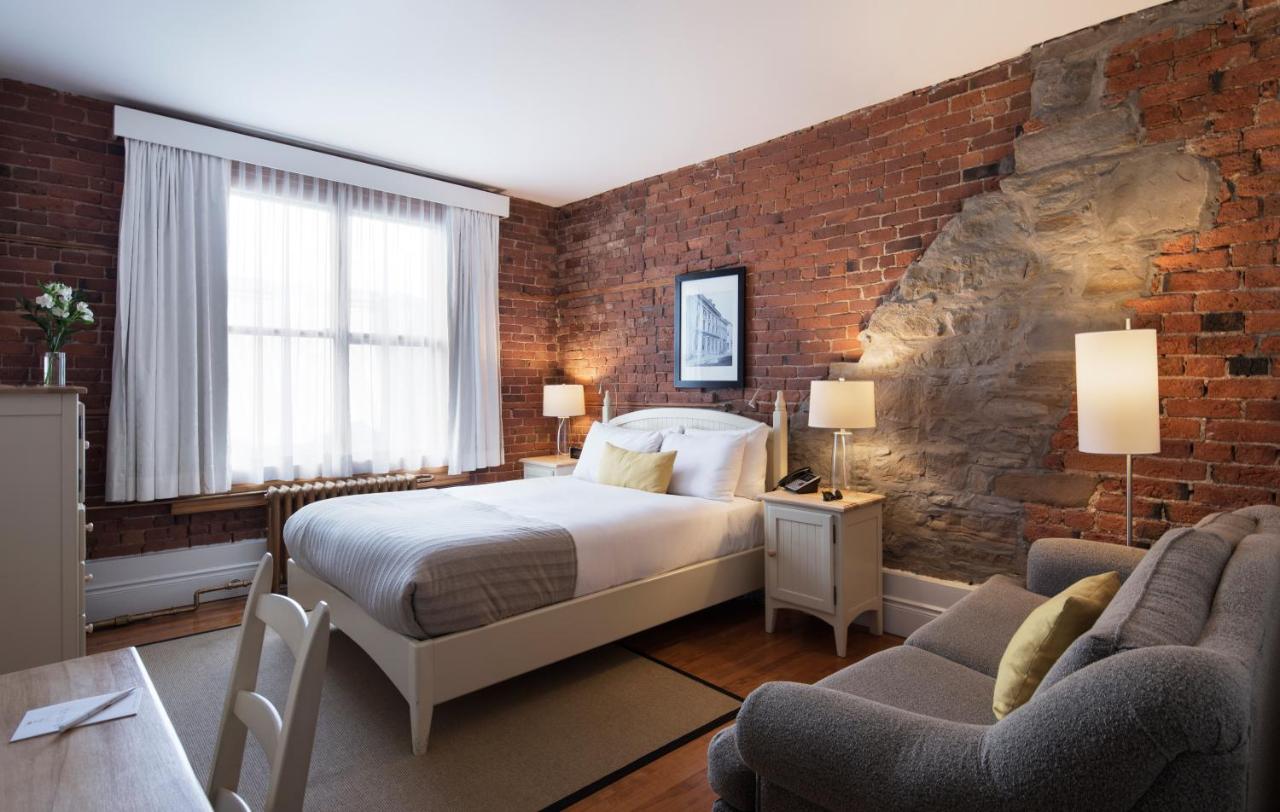 New hotels are popping up all over Quebec City, offering a great option for travelers. One of these new hotels is the Auberge Saint-Pierre, located in the heart of Quebec's Old Port. This charming hotel offers guests easy access to the waterfront and various nearby attractions, along with a number of convenient amenities. The 24-hour front desk, concierge service, and business center allow guests to meet their needs easily.
The rooms at Auberge Saint-Pierre provide modern amenities for guests to enjoy. These include WiFi access, a flat-screen cable TV, a coffee machine, and a safe for storing valuables. The 19th-century building that houses the hotel adds an old-fashioned charm to the property, while the library, complete with a cozy fireplace, provides the perfect place to relax after a long day.
For those looking for meals without leaving the hotel, guests can dine at Bistro-Bar on-site. This is just one more convenient service Auberge Saint-Pierre provides to ensure that guests have an enjoyable experience during their stay in Quebec City.
5. Hôtel Marie-Rollet
8.5 Average Rating
Get the Lowest Rates Here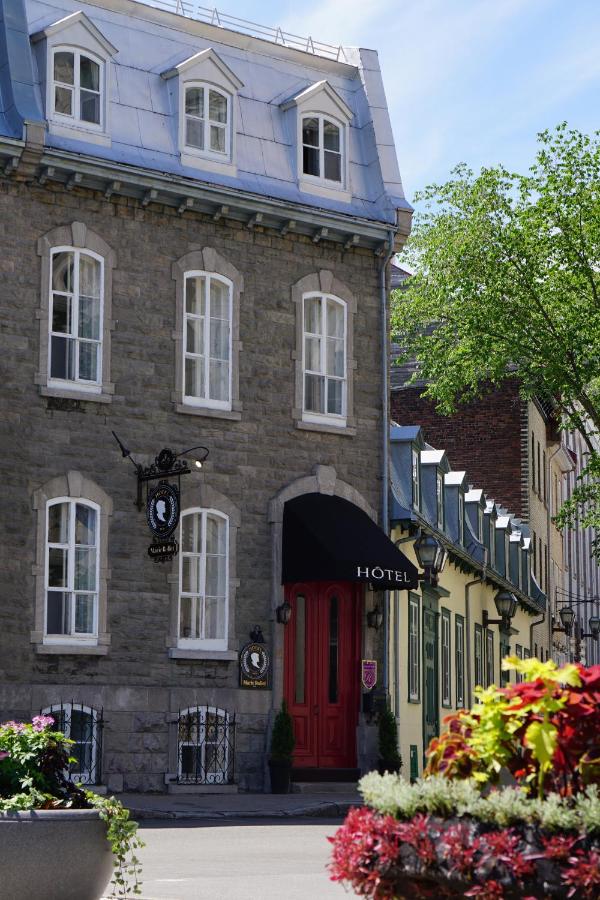 Hotel Marie-Rollet is one of the best hotels in Quebec City. Located just a 5-minute walk from the historic Citadelle de Quebec, this conveniently located hotel offers stunning views from its rooftop terrace along with free WiFi in every room. Each room includes a private bathroom and a work desk and seating area, providing guests with all they need for an enjoyable stay.
Furthermore, it is within a 15-minute walk of the Musee de la Civilisation and Port de Québec and only a 5-minute walk from the iconic Château Frontenac. All these features make Hotel Marie-Rollet an ideal choice for travelers looking to explore everything the city has to offer.
6. Le Capitole Hotel
9.2 Average Rating
Get the Lowest Rates Here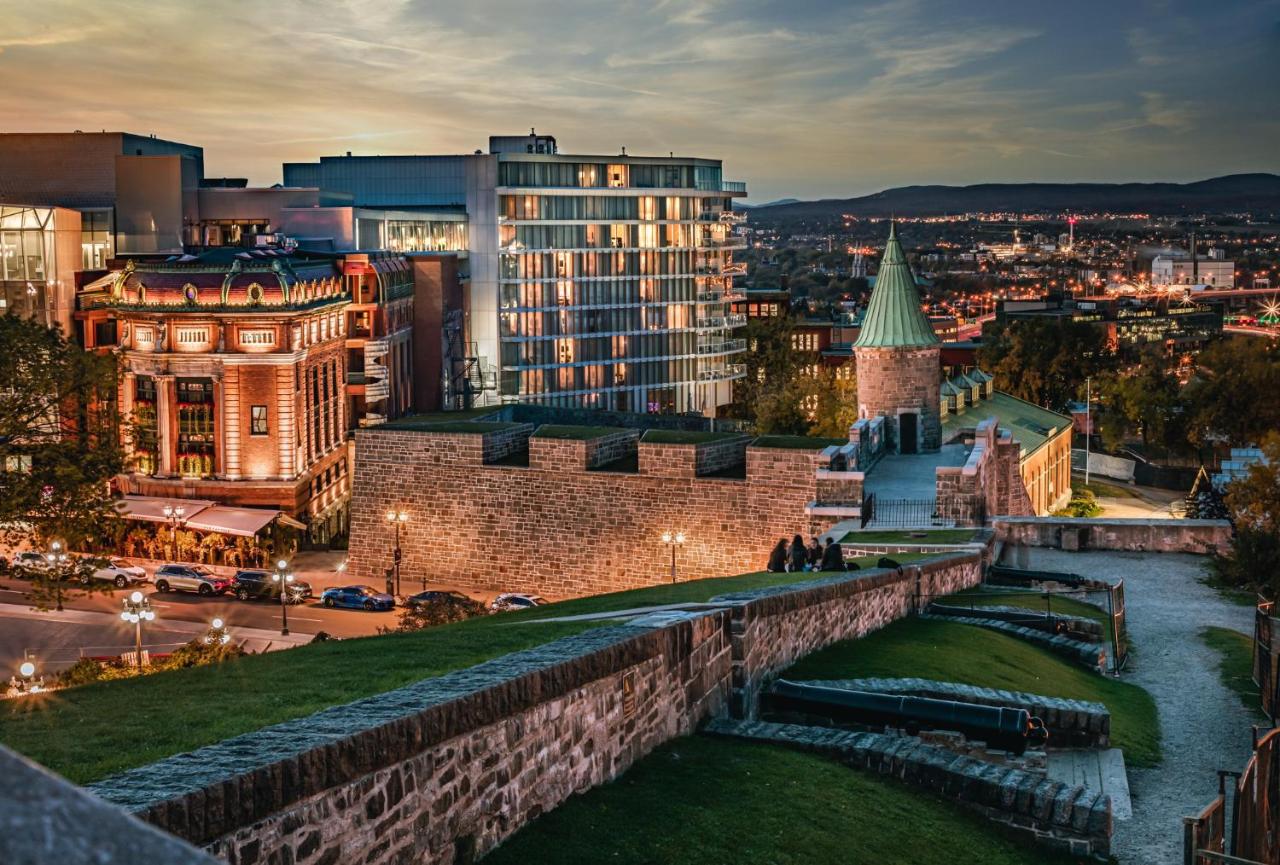 Le Capitole Hotel is one of the best hotels in Quebec City located in the heart of the walled city of Old Quebec. Guests will enjoy an array of dining and entertainment options nearby, within a 6-minute walking distance from Fontaine de Tourny.
The hotel offers guests modern amenities such as TVs with cable channels and movie channels, free Wi-Fi, bathrobes, and a minibar – all at no extra cost.
In terms of location, Le Capitole is conveniently located for visitors who want to explore other cultural attractions. The National Museum of Fine Art Quebec is just a 5-minute drive away, while the vibrant Quebec City center is only 3.2 km from the hotel. Thus, guests can easily make use of all that Quebec City has to offer while staying at Le Capitole Hotel, making it one of the best hotels in Quebec City.
7. Hotel Manoir Morgan
8.9 Average Rating
Get the Lowest Rates Here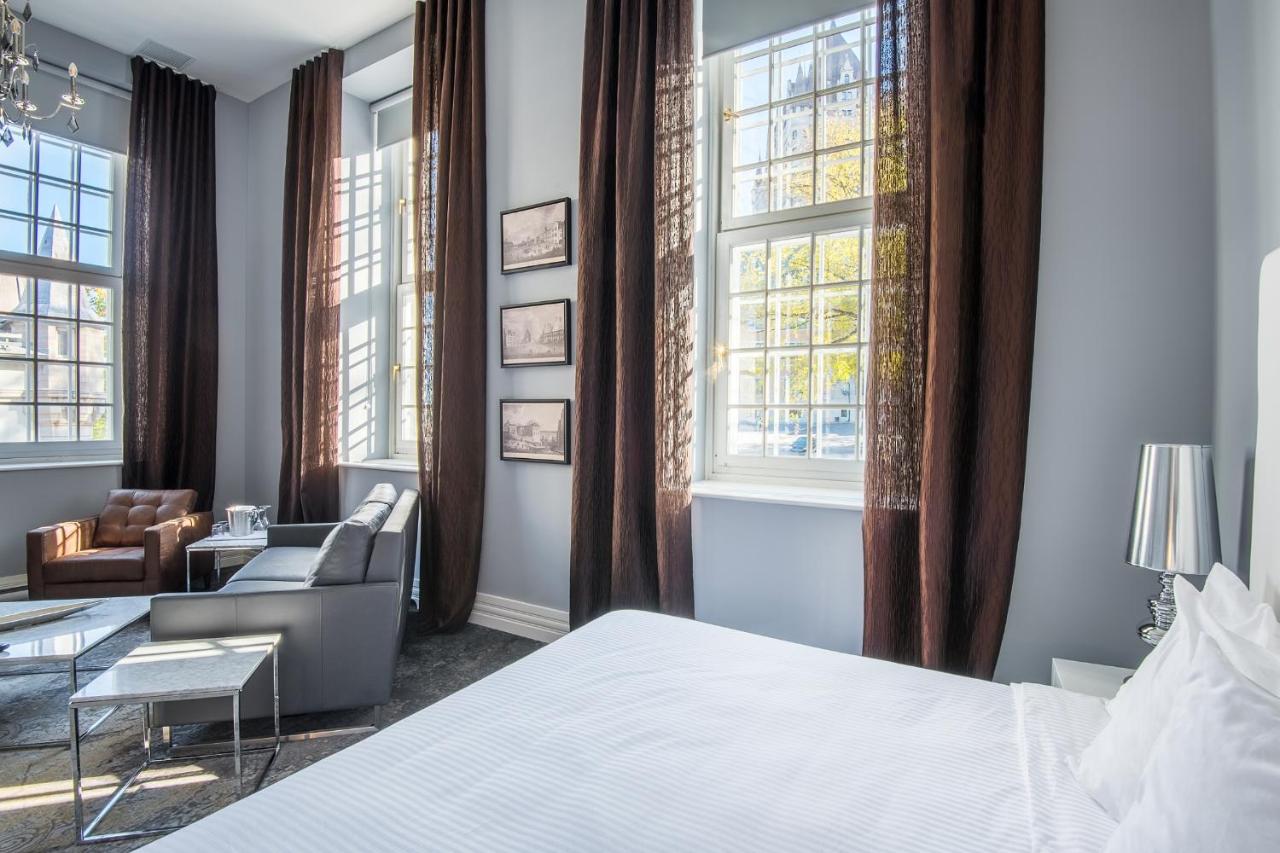 If you are looking for the best boutique hotels in Old Quebec City, then Hotel Manoir Morgan is a great option. Located only 100 meters away from the iconic Fairmont Le Chateau Frontenac, the 3-star hotel is conveniently situated within walking distance of many popular attractions including the Basilique Cathedrale Notre Dame de Quebec, Vieux Quebec Old Quebec, Morrin Centre, and Quartier du Petit Champlain. The nearest airport is Québec City Jean Lesage International Airport which is just 14 km from the hotel.
The accommodation features attractive amenities such as a terrace, restaurant, and bar to fulfill all your dining and entertainment needs. Furthermore, hotel guests can make use of free WiFi, a 24-hour front desk service, and luggage storage during their stay for an even more comfortable experience.
The air-conditioned rooms are thoughtfully designed with all necessary facilities such as a desk, coffee machine, fridge, safety deposit box, and flat-screen TV. Each room also has a wardrobe for extra convenience when storing personal items. Moreover, smoking is not allowed throughout the property so that it remains clean and hygienic for all visitors.
In conclusion, Hotel Manoir Morgan offers unbeatable comfort and convenience for anyone who wishes to explore Old Quebec City's culture, cuisine, and entertainment in luxury.
8. Le Chateau de Pierre
8.2 Average Rating
Get the Lowest Rates Here
Le Château de Pierre is a boutique hotel located in the heart of Old Quebec, offering contemporary comfort while being part of the historic sites. It is within walking distance of iconic locations such as the Château Frontenac, the Terrasse Dufferin, the Citadel, and Quartier Petit Champlain. Each air-conditioned room is equipped with cable TV, free Wi-Fi throughout the hotel, and private bathrooms with free toiletries.
The hotel also offers convenient amenities such as a mini-fridge (in some rooms), an ice machine, and a private stone garden filled with seasonal flowers which provides a unique atmosphere for guests to relax in. Guests can add on an affordable Quebecois breakfast from La Bûche restaurant – 200m away on rue Saint-Louis. Though there isn't an elevator at the hotel due to its historic building status, guests are welcomed into their rooms via stairs.
The entire staff at Le Château de Pierre works digitally so communication between guests and staff will take place by phone or text message before arrival. The city reflects four centuries of history that UNESCO recognized when it named it a World Heritage Site in 1985; featuring attractions such as museums, cultural institutions, festivals, carnivals, shows, and gastronomy as well as boutique shopping options.
9. Auberge Saint-Antoine
9.3 Average Rating
Get the Lowest Rates Here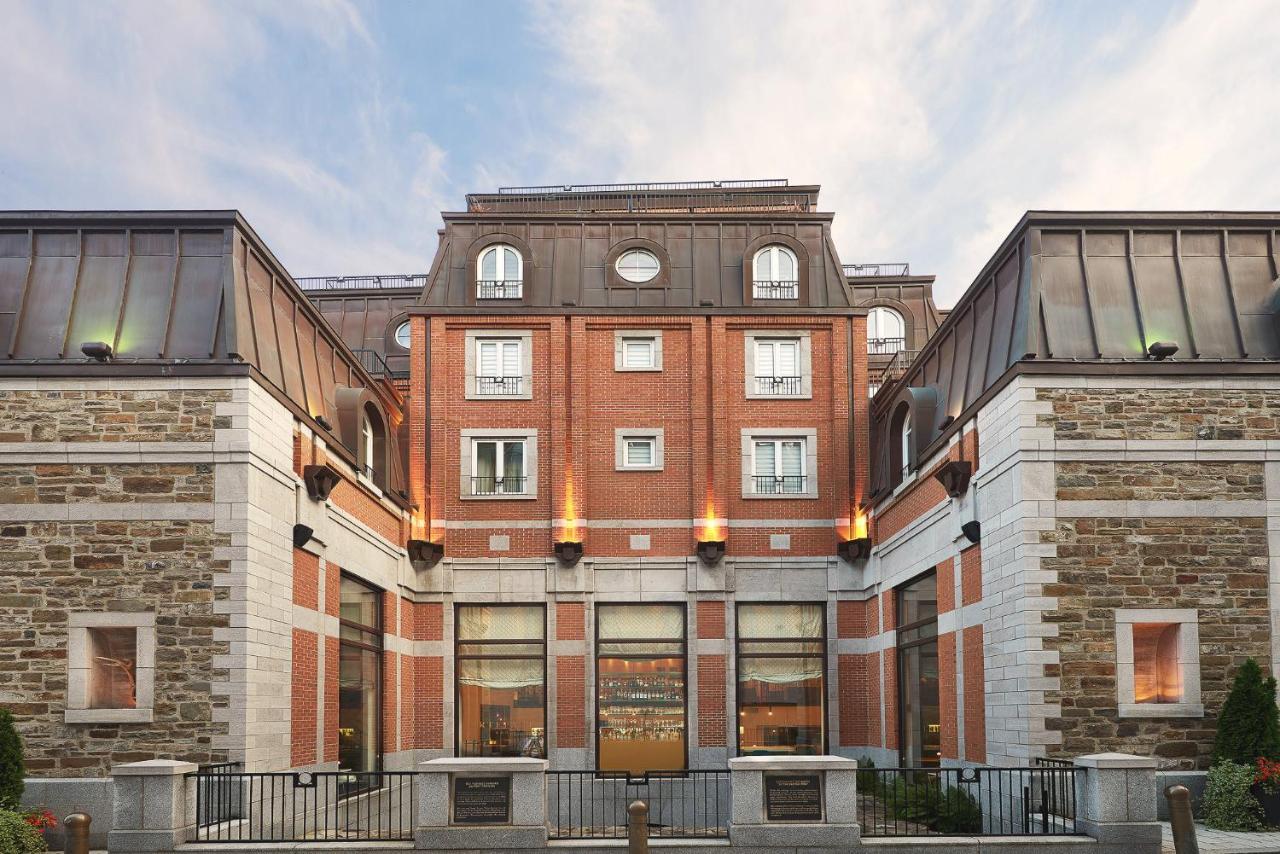 One of the cool hotels in Quebec City is Auberge Saint-Antoine. Located in the Old Port area and steps away from Le Petit Champlain shopping, Auberge Saint-Antoine offers luxury guestrooms with a variety of amenities. Each room comes with goose-down duvets and pillows, heated bathroom floors, free high-speed internet access, minibars, and coffeemakers. Fitness centers and massage services are also provided for guests to use. Guests can even explore the archaeological artifacts displayed throughout the hotel.
Auberge Saint-Antoine also has two on-site restaurants – Chez Muffy that features French-Canadian cuisine for breakfast, lunch, and dinner; and Cafe Artefact that provides light meals. With hospitality and luxury as top priorities at Auberge Saint-Antoine, visitors can be sure to have an unforgettable stay in Quebec City.
10. Monsieur Jean, Vieux Québec
9.2 Average Rating
Get the Lowest Rates Here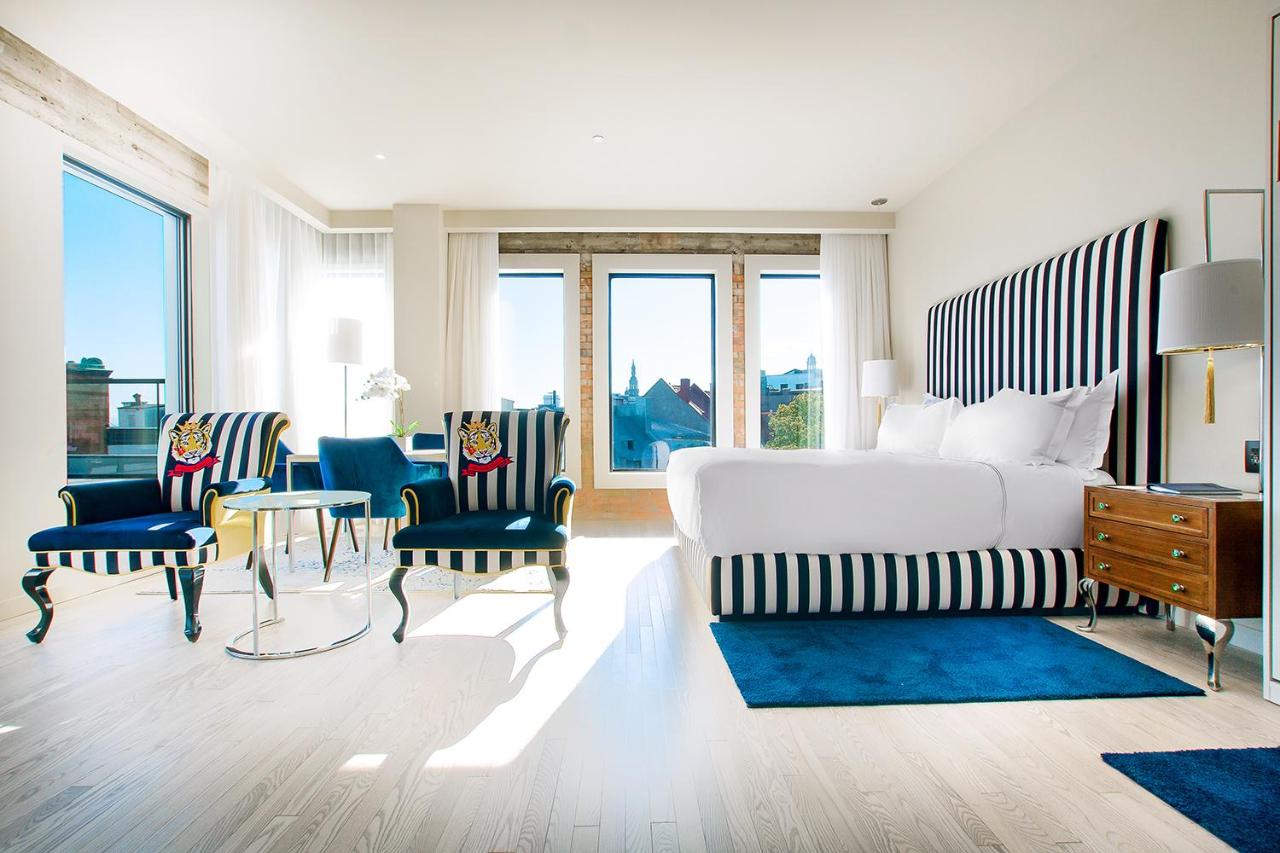 Monsieur Jean, Vieux Québec is a boutique hotel in Quebec City offering the perfect getaway for visitors. With amenities such as a fitness center, restaurant, free WiFi, air-conditioned rooms with flat-screen TVs and cable channels, kitchenettes, private bathrooms with complimentary toiletries and hair dryers, plus some rooms with terraces and views of the city, this boutique hotel in Quebec City is ideal for any kind of traveler.
Additionally, Monsieur Jean is conveniently located within walking distance of popular attractions like Quartier du Petit Champlain and Terrasse Dufferin. It also provides private parking on-site and 24-hour front desk services. Start your day off right with a continental breakfast each morning at this boutique hotel in Quebec City.