Ubud is home to some of the finest restaurants in all of Bali. From fine-dining establishments offering an array of international cuisines to rustic cafes and traditional eateries, there is something for everyone in Ubud. Many restaurants offer views over the rainforest or terraced rice fields, ensuring that every meal you have is an unforgettable experience. Whether it's a romantic dinner for two or a family gathering, the best restaurants in Ubud guarantee a delicious meal with stunning surroundings.
With its lush green rice paddies, stunning views of Mount Agung, and an abundance of delicious restaurants to choose from, it's no wonder why Ubud has become one of the most popular places to visit in Indonesia for food lovers everywhere. From traditional Balinese cuisine to modern fusion dishes, there are plenty of options for finding the best restaurants in Ubud that will satisfy even the pickiest eater's palate.
The 17 Top Rated Restaurants in Ubud
1. Shichirin Ubud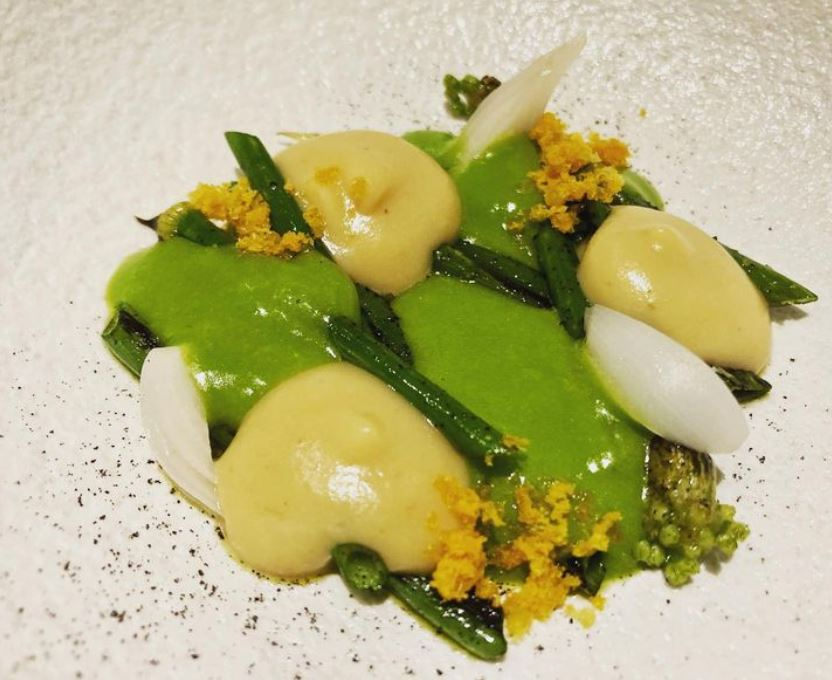 Shichirin is a Japanese Konro Grill Restaurant located in the heart of Ubud, offering guests a unique and enjoyable experience. The restaurant serves a selection of premium meats, expertly grilled to perfection by the restaurant's professional chef. Open daily from 4 PM to 11 PM. Guests can enjoy delicious cuisine in a soothing atmosphere.
I recently had the privilege of dining at this boutique hotel and was truly impressed. Every dish was a work of art, from the presentation to the taste. The menu offered a wide range of options, and I was amazed at the cuisine's attention to detail and authenticity.
The staff members were top-notch, providing attentive, welcoming, and accommodating service. They were knowledgeable about the menu and helped us choose the perfect dishes.
The ambiance of the restaurant was also remarkable, with a modern design that made it the perfect setting for a romantic dinner or a special celebration. All in all, I highly recommend this boutique hotel for an unforgettable dining experience.
2. Wild Air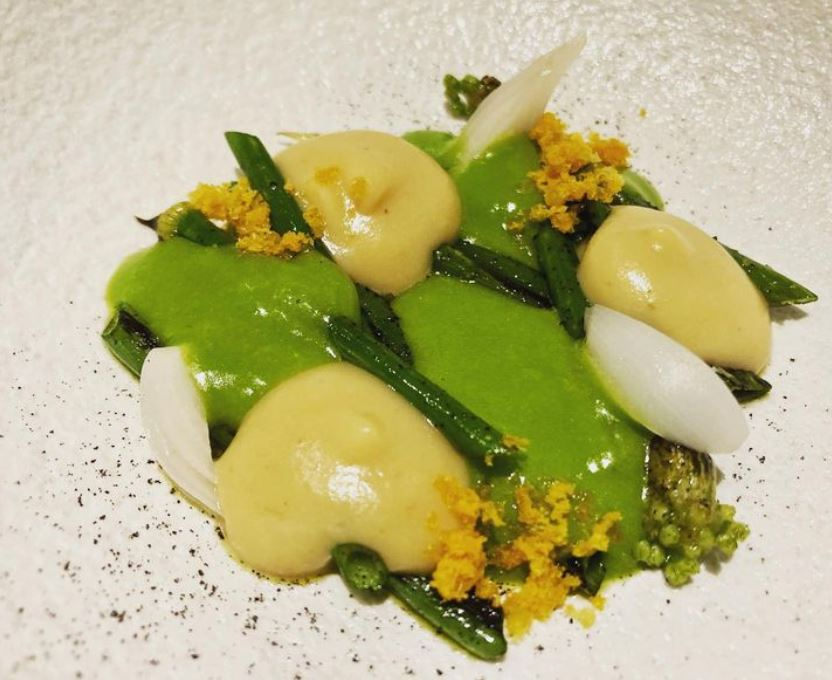 Located in the heart of Ubud, Wild Air Restaurant is a boutique hotel with a restaurant and co-working space. Nestled in unspoiled nature, the restaurant offers breathtaking views of the green valley and signature beverages made with passion by professional chefs. The co-working space is equipped with comfortable seating areas and stunning views to refresh the mind.
Guests can also enjoy a swim in the onsite pool. Wild Air Restaurant is open daily, from Monday to Sunday, from 7:00am to 10:00pm, and warmly welcomes guests to enjoy delicious food and breathtaking views.
3. LOCAVORE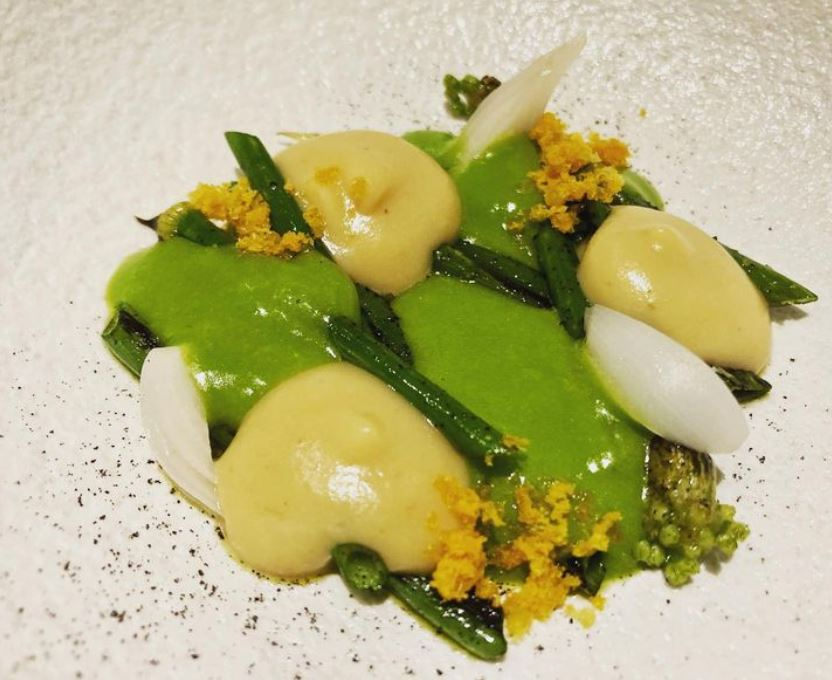 Ubud is home to one of Bali's best resorts and exciting dining experiences, LOCAVORE. Located in the heart of the city, this restaurant takes its commitment to sustainability seriously. Focusing exclusively on locally sourced produce from the island's farmers and fishermen, LOCAVORE serves innovative dishes that feast for the eyes and taste buds.
Even the restaurant's décor has been carefully chosen to reflect its eco-friendly ethos – patrons can enjoy their meal surrounded by natural stone walls and bamboo plants. LOCAVORE offers something special for everyone, whether an intimate dinner for two or a group dinner. With its farm-to-table approach, high-quality ingredients, and attentive staff, LOCAVORE is quickly becoming one of Ubud's hottest restaurants – no wonder why it's always so highly rated!
4. Naughty Nuri's Warung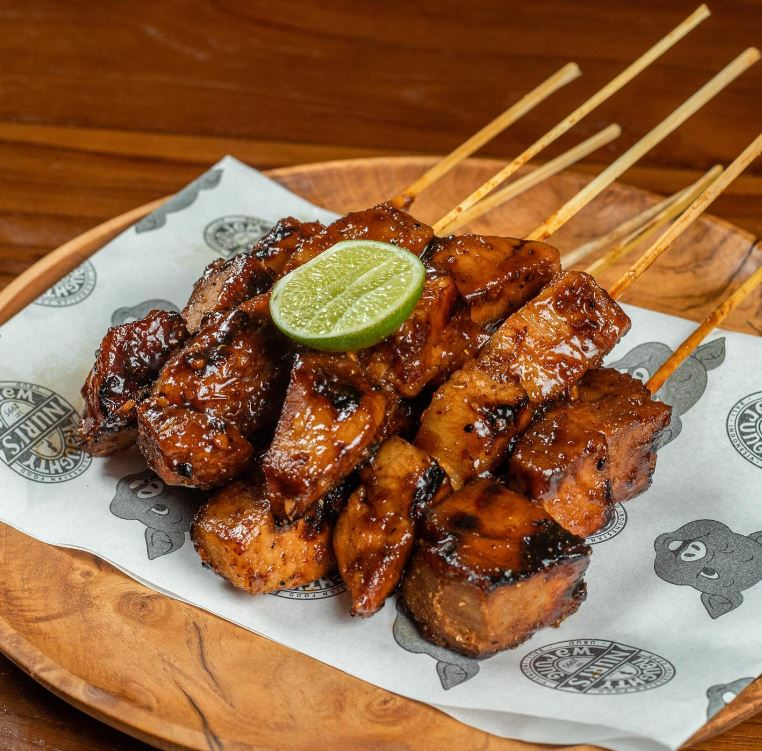 This restaurant serves up a range of flavorful Indonesian dishes, many of which feature the area's fresh ingredients. From juicy pork ribs to oozing grilled corn, plenty of options are available to satisfy any craving. But it doesn't end there – this warung also has an incredible drinks menu boasting cocktails, beers, and wines from all over Indonesia. For a truly unique experience, visitors should be sure to try the 'Signature' martini – made with local rum and chili vodka. With its welcoming atmosphere, friendly wait staff, and delicious offerings, it's no wonder why Naughty Nuri's Warung is so popular among locals and tourists alike!
5. Café Vespa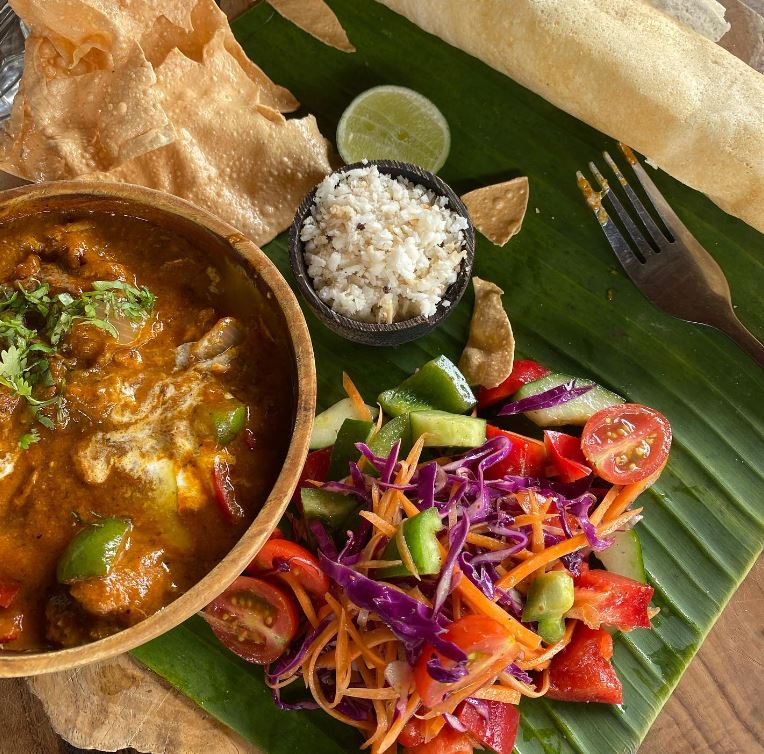 Café Vespa is a charming café is in the heart of Ubud. Offering espresso-based coffee drinks and delicious pastries, it's perfect for an early morning pick-me-up or a mid-day snack. The menu also features an array of savory dishes that are sure to please – from pizzas to sandwiches and salads.
Whether you're searching for a light meal or just some coffee, there's something for everyone here. Apart from its tasty food offerings, what really sets Café Vespa apart is its atmosphere. With its vintage Vespa scooters lining the walls and its bright colors and cheerful decorations, it's easy to see why this café has become one of Ubud's most beloved eateries!
6. Clear Cafe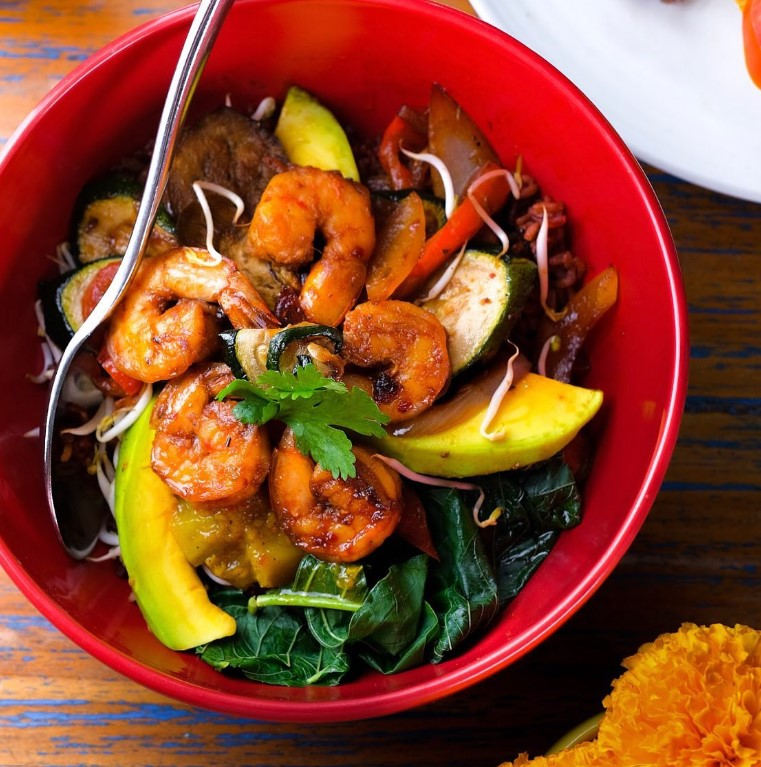 Ubud's Clear Cafe is the perfect spot to relax and unwind after a long day of exploring. Located atop a hill, this café offers stunning views of the surrounding rice fields and an oasis of tranquillity amidst Ubud's hustle and bustle. With its cozy lounge chairs and chill-out music playing in the background, it's easy to forget about the world for a few hours here. The menu features a wide range of organic juices, smoothies, coffees, and teas made from fresh ingredients sourced from local farms.
Clear Cafe also offers light meals such as sandwiches, salads and pizza, so you won't go hungry here! Whether you're looking for a place to get some work done or just want to take in the incredible view, Clear Cafe has something for everyone.
7. Bebek Tepi Sawah Restaurant & Bar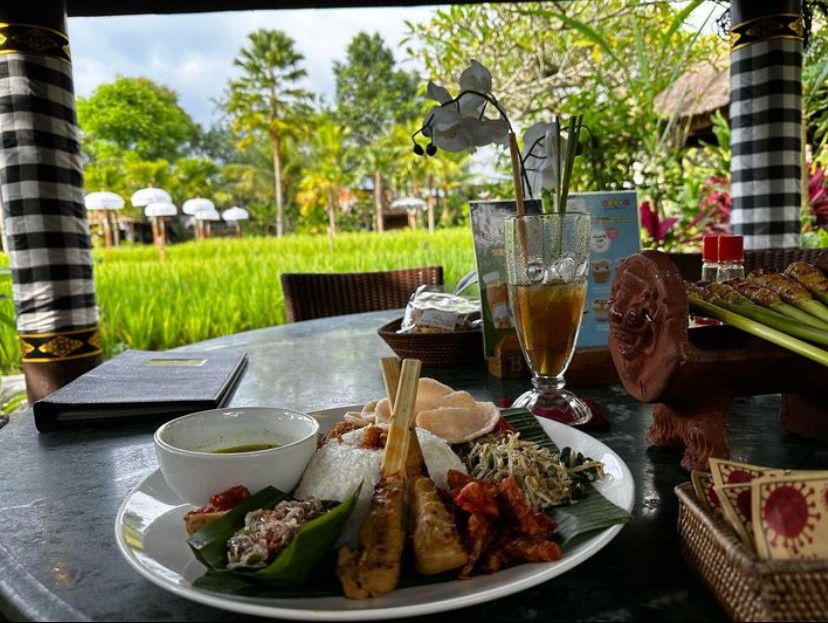 Nestled in the rice fields of Ubud, Bebek Tepi Sawah Restaurant & Bar provides a unique and unforgettable dining experience. Priding itself on serving traditional Balinese recipes, this restaurant is known for its succulent grilled duck dishes and delicious side dishes, including fried bean curd cubes, sweet potatoes, and stir-fried greens. The restaurant also serves a wide selection of alcoholic and non-alcoholic beverages, including craft beer, wine, and cocktails – perfect for an after-dinner indulgence!
But it's not just about the food here; Bebek Tepi Sawah has a sense of community spirit. With its open-air terrace overlooking the majestic view of the rice paddy, it's easy to get lost in the tranquility here whilst making new friends along the way. Whether you're searching for fine dining or just some good company, Bebek Tepi Sawah is definitely worth a visit.
8. Mozaic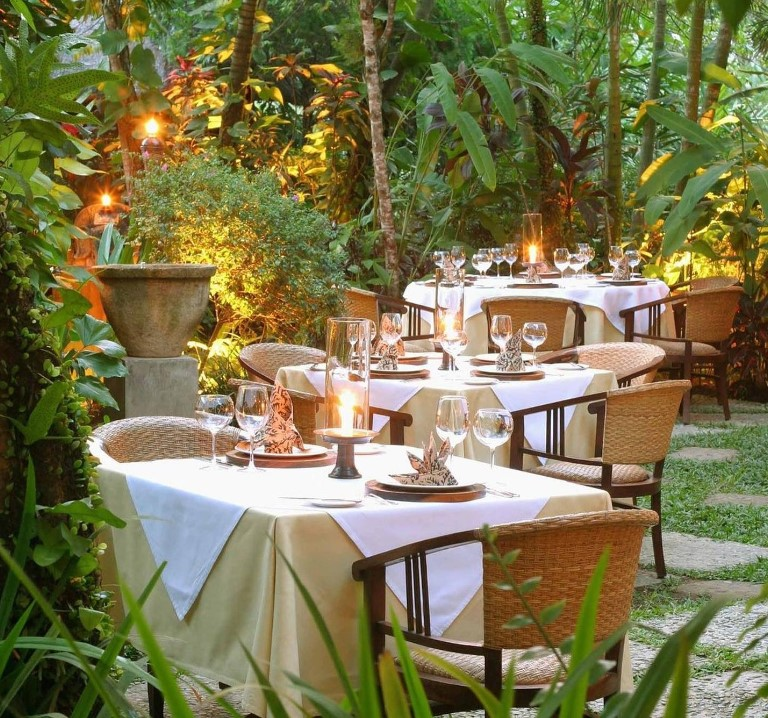 Located in the heart of Ubud, Mozaic restaurant boasts a unique and modern atmosphere that will please discerning foodies. Awarded with numerous accolades from various international magazines, Mozaic's menu features renowned dishes from all over Southeast Asia with a focus on Indonesian fare.
Whether it's a bowl of fragrant Balinese-style fried rice with pork belly or succulent grilled local fish, each plate is exquisitely presented and full of flavor. And for those looking to indulge in something exceptional, the chefs at Mozaic also offer a series of tasting menus highlighting their modern cuisine. The restaurant has an inviting outdoor seating area overlooking lush jungle-landscaped gardens – perfect for romantic dates or special celebrations! With its delicious food and laidback vibe, Mozaic will surely provide you with an unforgettable fine dining experience in Ubud.
9. Nusantara by Locavore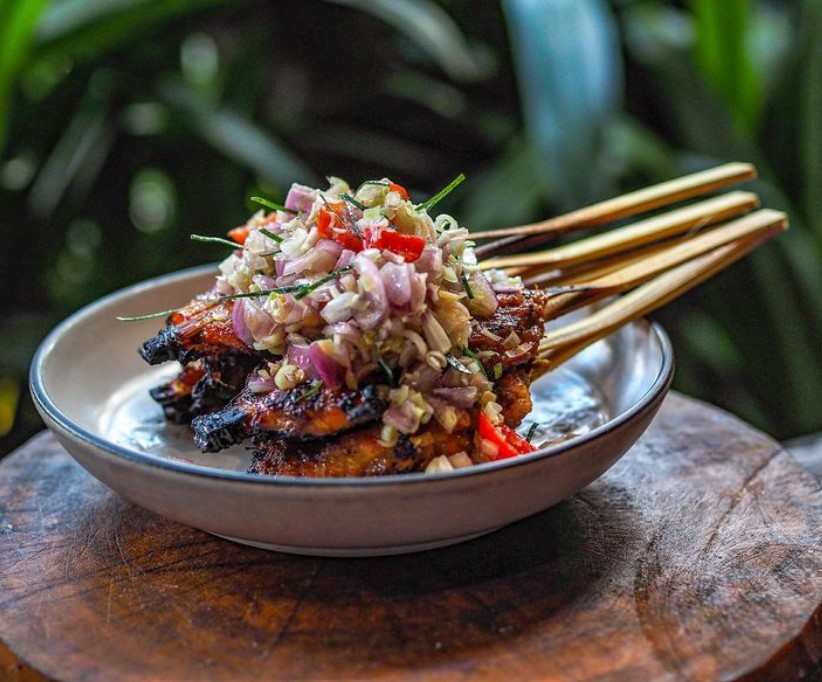 Nusantara by Locavore offers guests an authentic Indonesian culinary experience. The restaurant prides itself on its farm-to-table philosophy, with many ingredients sourced locally. Whether it's a fresh take on classic dishes like Ayam Betutu or contemporary creations such as Ikan Bakar, each dish is full of flavor and showcases traditional Indonesian spices and seasonings.
And for those looking for something even more special, Nusantara by Locavore also offers up some unique rijsttafel – a Dutch-Indonesian feast featuring a selection of small plates which are perfect for sharing! With its delicious food and relaxed atmosphere, Nusantara by Locavore will surely provide you with a memorable fine dining experience in Ubud.
10. Sari Organik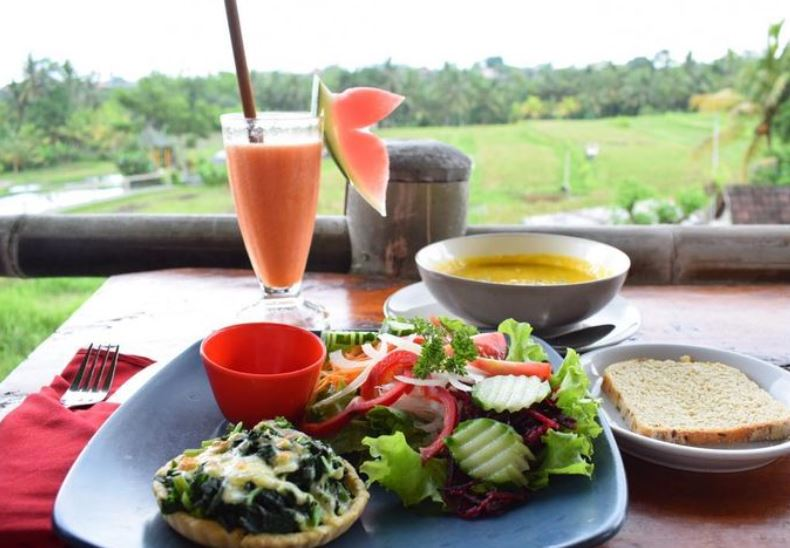 Sari Organik is a brilliant spot for those looking to sample some truly delicious – and ethically-sourced – Indonesian cuisine. The restaurant boasts an innovative style of cooking that uses only natural and organic ingredients grown on its own farm, ensuring a fresher and healthier meal for customers.
From traditional dishes like Ayam Betutu to more contemporary recipes such as grilled local fish, the chefs at Sari Organik have crafted a menu full of flavor and variety. And with its commitment to sustainability, the restaurant is actively reducing its environmental impact by using biodegradable packaging and energy-saving appliances. With its delicious food, tranquil setting, and eco-friendly practices, Sari Organik will surely provide an unforgettable dining experience in Ubud.
11. Kebun Bistro & Bar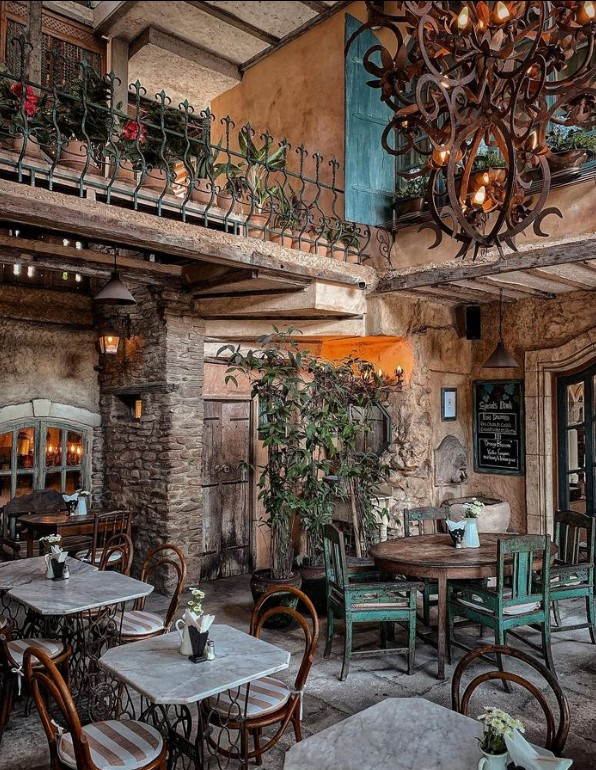 Kebun Bistro & Bar is a stylish and modern spot to enjoy Indonesian-inspired gastronomy. The restaurant offers an ever-changing menu with fresh local ingredients and a unique fusion of flavors. Think classics such as Bakmie Goreng combined with more adventurous dishes like Crispy Duck Breast Salad.
Additionally, Kebun Bistro & Bar has a fantastic selection of drinks, including craft cocktails, wines and spirits, and a range of non-alcoholic beverages to guarantee something for everyone. With its delicious food, chic setting, and friendly atmosphere, Kebun Bistro & Bar will surely provide you with an unforgettable dining experience in Ubud.
12. CasCades Restaurant & Bar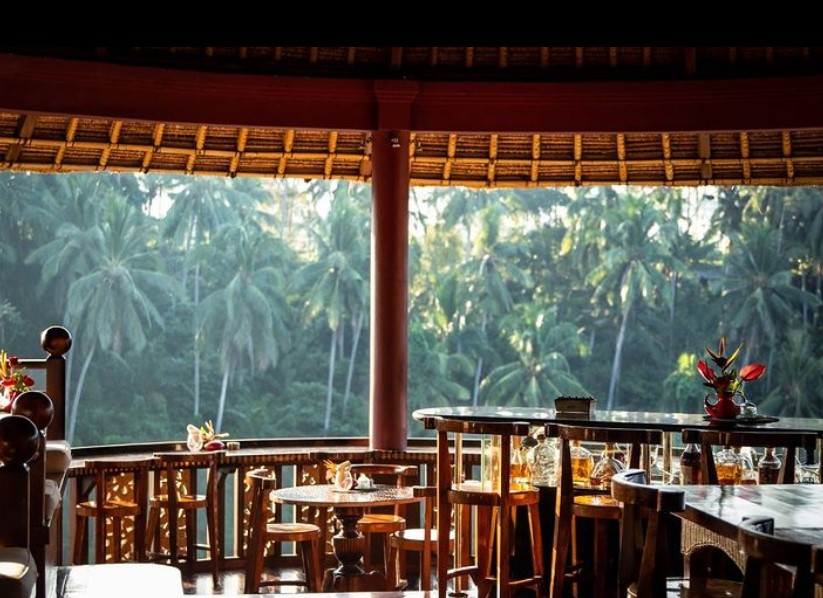 CasCades offers an exquisite selection of international cuisine surrounded by magnificent views of the Ayung River Valley. The menu features mouth-watering dishes such as Seafood Risotto and Seared Tuna with Mango Salad and an extensive wine list that is sure to please even the most discerning palate.
The bar serves classic cocktails like Mojitos and Sangrias in a modern yet elegant atmosphere for those looking for something a bit more relaxed. With its delicious food, stunning location, and superb service, CasCades Restaurant & Bar will surely provide you with an unforgettable dining experience in Ubud.
13. Yellow Flower Cafe & Juice Bar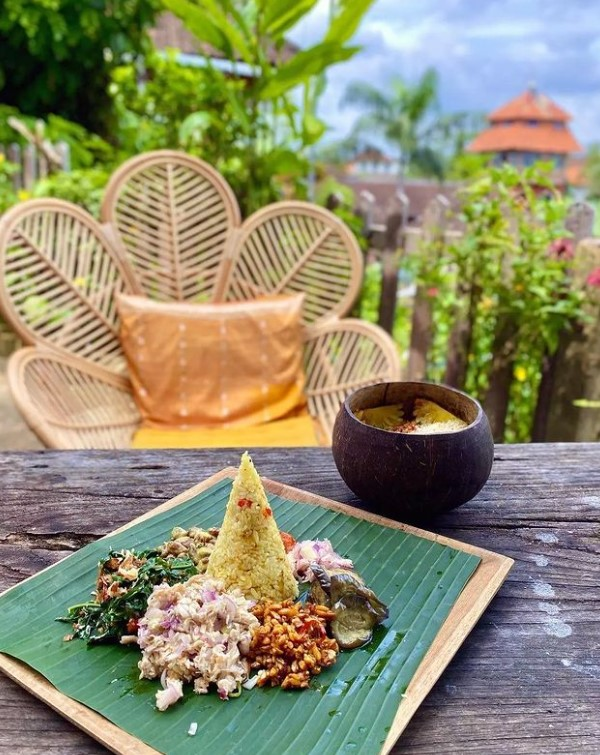 Yellow Flower Cafe & Juice Bar is the perfect spot for a quick bite or a refreshing drink in Bali. Located in the heart of Seminyak, this vibrant cafe and juice bar boasts a diverse menu that offers classic dishes such as Nasi Goreng and freshly prepared smoothies and juices. From Mango and Banana to Kale, Spinach, and Ginger, each glass of juice is an explosion of flavors.
The cafe's interior has been expertly designed with bright colors and exciting artwork, giving off a relaxed, casual atmosphere. Whether you're looking for something light to eat or need to recharge with a thirst-quenching beverage, Yellow Flower Cafe & Juice Bar has you covered.
14. La View Restaurant & Bar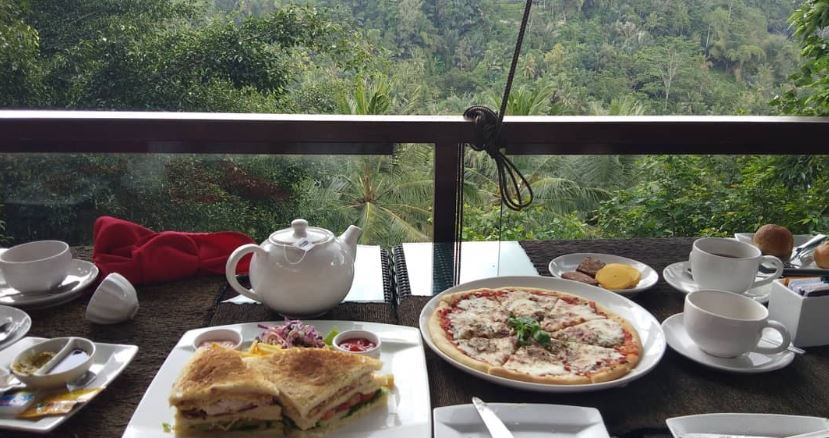 La View Restaurant & Bar at The Chedi Club Tanah Gajah, Ubud, is an upscale restaurant serving classic French-Indonesian fusion cuisine in a romantic setting. Be sure to try their signature dish – beef rendang with Balinese spices.
Enjoy at the bar with one of the many local draft beers or signature cocktails. Spectacular views of the Ayung River Valley make for a truly unique atmosphere, while live music performances complete your evening under the stars. Whether looking for a romantic dinner or a place to unwind after a long day exploring Ubud, La View Restaurant & Bar is sure to exceed all expectations.
15. Indus Restaurant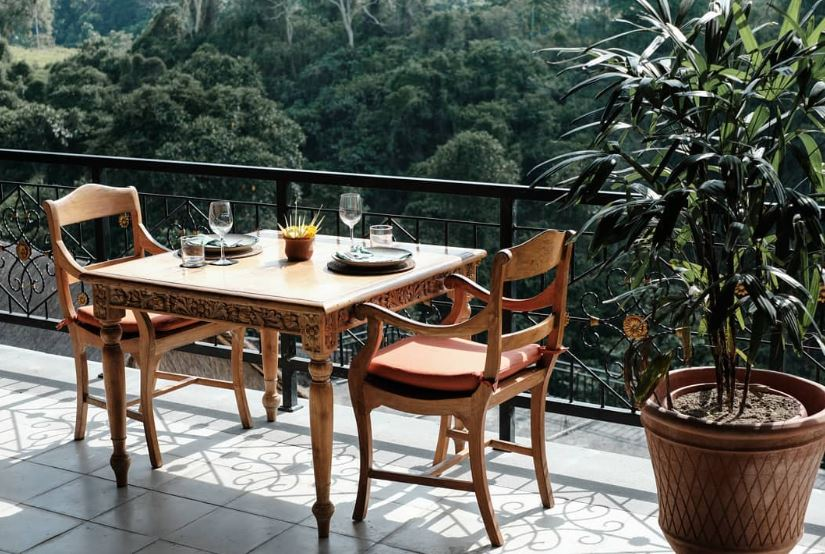 This bustling restaurant offers classic dishes such as butter chicken and vegetarian specialties like aloo gobi. The chefs pay close attention to each dish's unique flavors, textures and ingredients. The interior is beautifully designed with vibrant decorations and plush seating, making it a cozy and inviting spot for lunch or dinner with friends and family.
16. Bridges Bali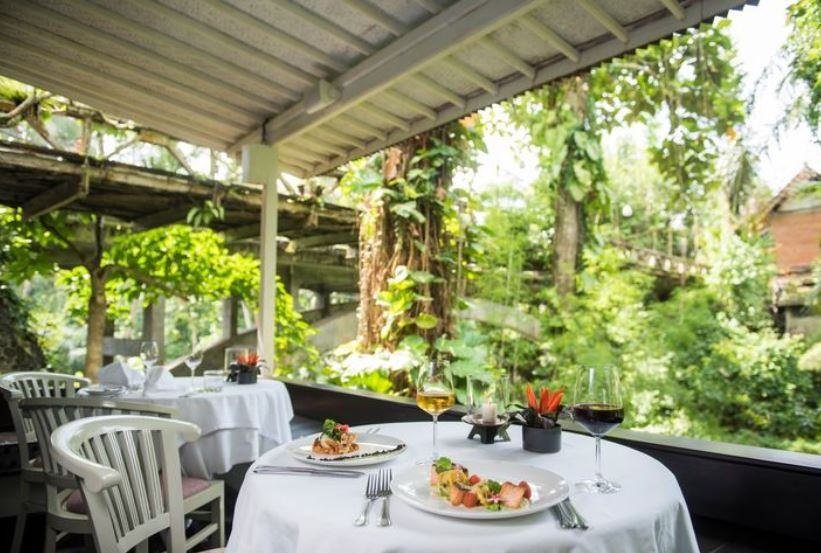 Bridges Bali in Ubud offers an unforgettable dining experience for all its guests. Enjoy panoramic views of the Ayung River Valley while you savor and share modern interpretations of classic Indonesian dishes prepared with fresh local ingredients. Choose from a variety of delightful starters, mains, and desserts prepared with Balinese spices that will tantalize your tastebuds.
An extensive wine list complements each dish perfectly, as well as other unique beverage selections like kombucha and craft beer. Make sure to save time to check out the terrace – the perfect spot to enjoy a romantic sunset or watch the stars come out on a balmy evening.
17. Warung Enak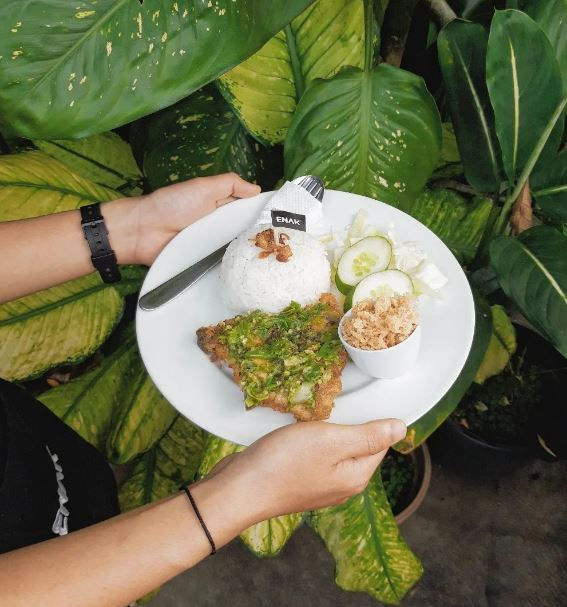 Warung Enak is a hidden gem in Ubud, offering some of the tastiest traditional Indonesian dishes. Here you can find classics like satay and Soto Ayam with a twist and inventive creations like beef rendang pancakes and Tempe Bacem. With its casual-yet-chic vibes, the restaurant is perfect for a quick lunch or an intimate dinner with friends.
The staff are warm and welcoming and determined to satisfy their guests' appetite for delicious food – after all, their name 'warung enak' translates to 'tasty café'! And for those looking for something extra special, why not try their unique high tea set? Warung Enak is a must-visit spot in Ubud – it promises an unforgettable culinary experience.
18. Kafe Batan Waru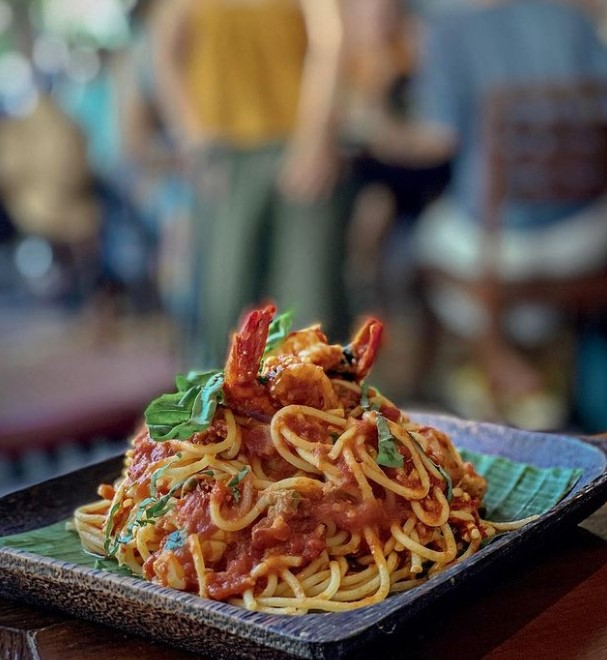 Kafe Batan Waru is a cozy, hip cafe in Ubud serving delicious food and drinks. It offers a unique hotspot for locals and tourists and provides an opportunity to sample traditional Balinese fare. The menu features classic dishes such as Nasi Campur (mixed rice) with Ayam Betutu (free-range spicy chicken). Be sure to also try the modern takes on the classics like mee-Goreng (fried noodles), laksa (local seafood noodle soup). And if you have a sweet tooth, their famous Martabak Manis (sweet pancake) is a must-try.
For those looking to sweeten the deal, indulge in specialty beverages. They offer popular items like kopi susu (local coffee mixed with condensed milk) or smoothies made with tropical fruits. Enjoy your meal in a comfy alcove surrounded by cheerful artwork, or choose to sit outside on the terrace for a view of Ubud's lush greenery. Kafe Batan Waru is sure to delight your senses!
19. Murni's Warung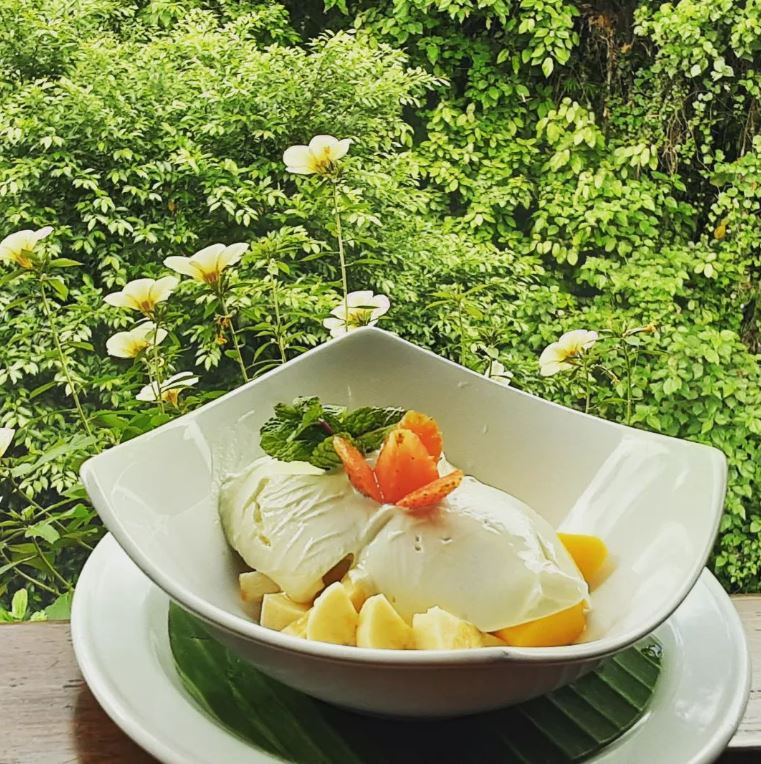 Murni's Warung is an iconic restaurant in Ubud that has been serving up traditional Balinese dishes since the 1970s. Nestled in the heart of Ubud, Murni's Warung is a must-visit destination for food lovers. A famous institution that has been around for decades, making Murni's Warung an icon of local cuisine.
The menu offers a creative mix of Indonesian and Western-inspired dishes, as well as some unique culinary surprises. The outdoor terrace provides a relaxing atmosphere where visitors can take in the sights and sounds of Ubud. From succulent seafood creations to tasty vegetarian options, Murni's Warung has something for everyone.
Overall, Ubud is a fantastic destination for food lovers worldwide looking for a unique culinary experience. There are plenty of options for finding the best restaurants in Ubud that will satisfy even the pickiest eater's palate. Whether you're looking for traditional Balinese cuisine or modern fusion dishes, there's something for everyone in this vibrant city!