The Hotel Raphael Paris was built in 1925 in a majestic stone building with a richly decorated façade, run by the same family for four generations. Its limestone exterior is quintessentially Parisian, with wrought-iron window railings and balustrades.
A showcase of French tradition and hospitality, the hotel has been awarded 5 stars for its quality and luxury, and one of the best luxury accommodation in Paris with amazing Eiffel Tower views.
The Raphael Hotel is situated in the 16th arrondissement of Paris, in the heart of the entertainment area. Its unparalleled service, timeless elegance, tradition and the French art of hospitality earned this luxury accommodation five stars. You can't get any quality and luxury than this in central Paris!
This immaculate Haussmannian palace features a seven-story private mansion that is walking distance away Arc de Triomphe and Eiffel Tower, and many other major and iconic attractions Paris has to offer.
Quick overview: What to Expect from Hotel Raphael Paris
This 5-star hotel provides luxurious accommodation in the midst of the city of Paris. It offers panoramic views, gastronomical restaurants, and elegantly designed deluxe rooms with hardwood furnishings, with a few suites have balconies and views of the Eiffel Tower.
>> CHECK HERE FOR LOWEST RATES AND AVAILABILITY
Location of Hotel Raphael Paris
Located in Paris's 16th Arrondissement neighborhood, Hotel Raphael is in the entertainment district and near a Paris Metro station. Major attractions near Hotel Raphael are Baccarat Museum and Jacquemart-Andre Museum for travelers who are looking for cultural a experience, while other notable landmarks include Arc de Triomphe and Place Charles-de-Gaulle (Place de l'Etoile).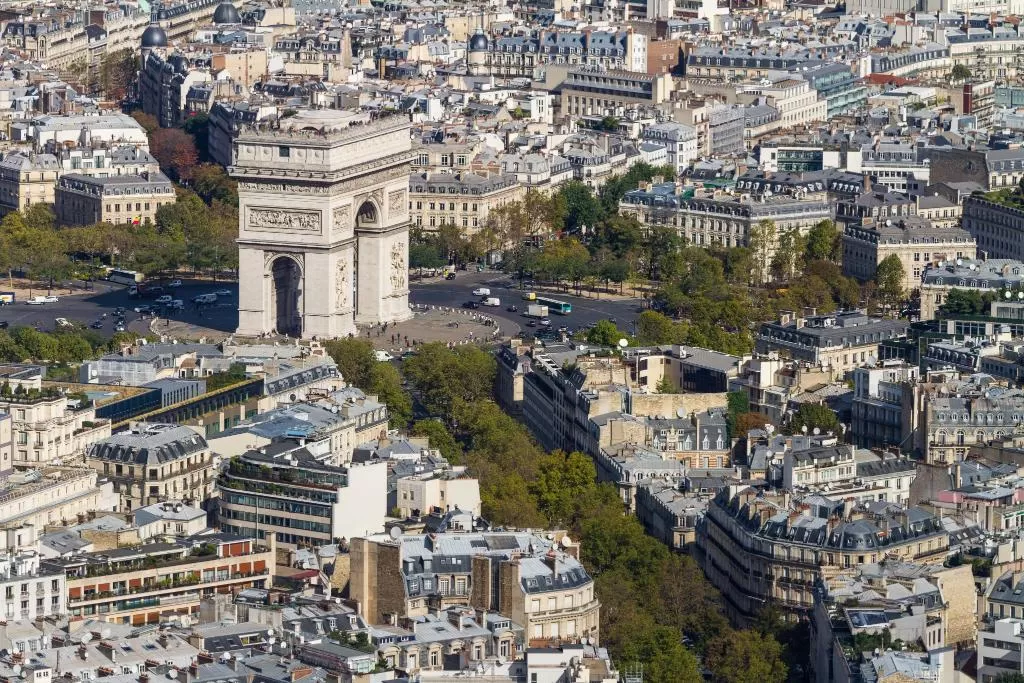 Charles de Gaulle – Etoile Metro Station is just 400 meters away, providing direct access to the Louvre Museum and the Grand Palais. Trocadero is a 15-minute walk away, which offers one of the best views of the Eiffel Tower in Paris.
Place Charles-de-Gaulle (Place de l'Etoile) – 3 min walk
Arc de Triomphe – 3 min walk
Champs-Elysees – 4 min walk
Baccarat Museum – 6 min walk
Place du Trocadero – 13 min walk
Staff and Service at Hotel Raphael Paris
Raphael's concierges are particularly attentive and well-informed. The hotel provides daily housekeeping, dry cleaning service, luggage storage, multilingual staff porter, bellhop Tour, and ticket assistance, and turndown service. There is also a Business center with 6 meeting rooms and conference space for guests to use.
Rooms and Suites at Hotel Raphael Paris
Decorated in a Louis 15th and 16th style, guest rooms feature wooden furnishings and elaborate wall hangings. They include a flat-screen TV and a minibar. Some of the suites feature a balcony, views of the Eiffel Tower and lounge area.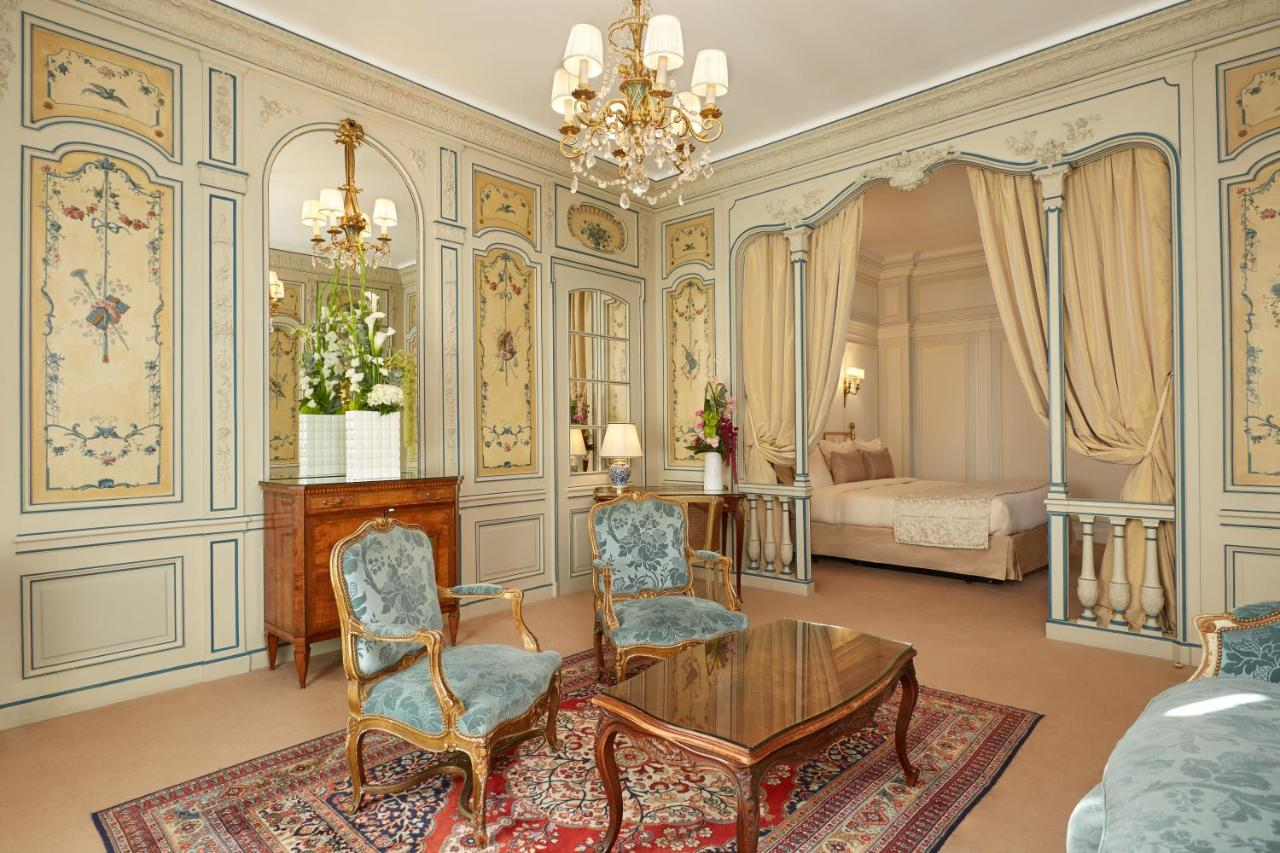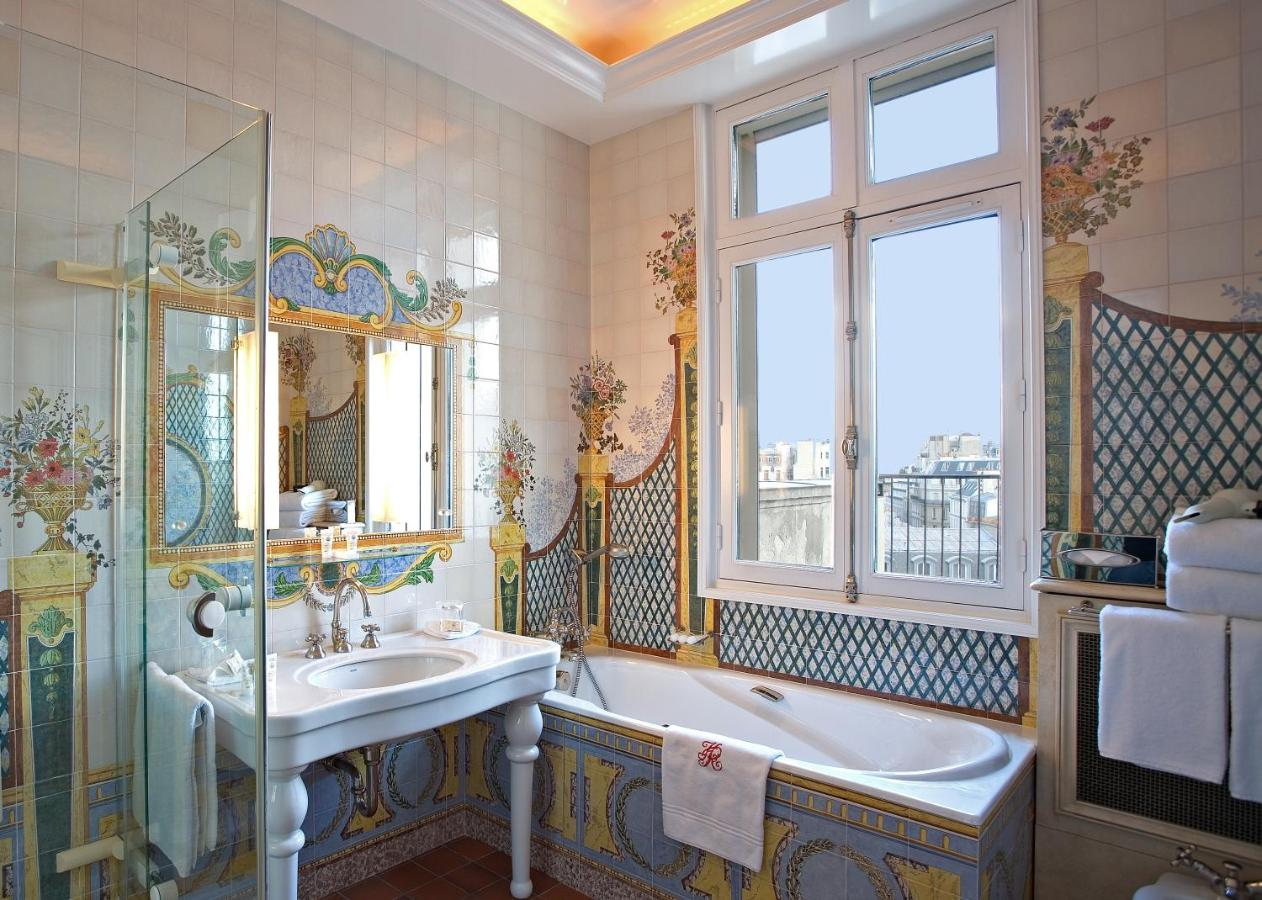 There are 83 rooms, of which 53 are suites, each decorated in quintessential Parisian fashion with authentic antique furnishings including Louis XV- and Louis XVI-style furnishings. Each one has a distinct design, some with pale walls and decorative moldings, others with period wallpaper. The rooms are extraordinarily spacious, and the suites from the Old World feels like you are sleeping in a first-class cabin on a grand, early-20th-century ocean liner.
The hotel offers unparalleled views over Paris from its rooftop garden terrace (which opens an outdoor restaurant and bar in the spring and summer).
>> CHECK HERE FOR LOWEST RATES AND AVAILABILITY
Amenities
Some of the more popular amenities offered include a rooftop bar, free wifi, and an on-site restaurant.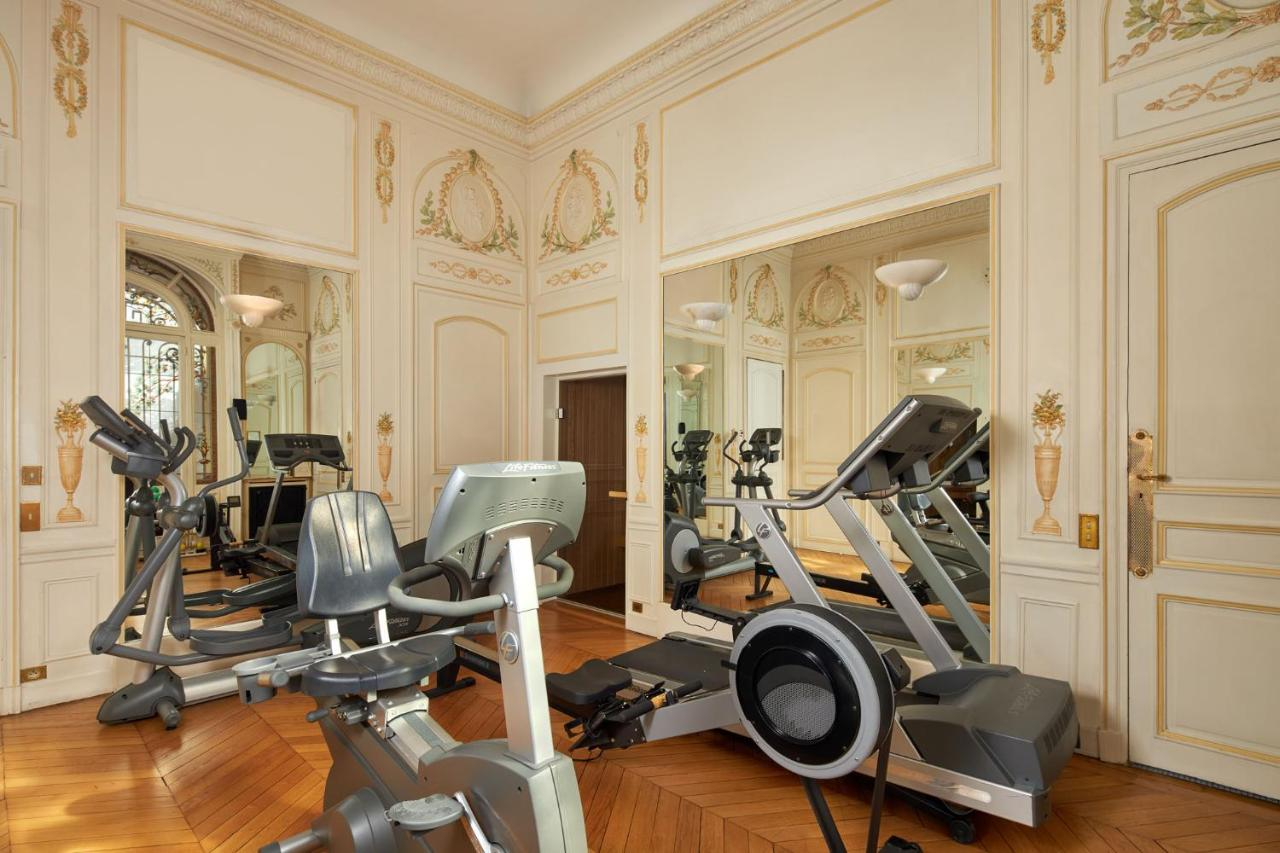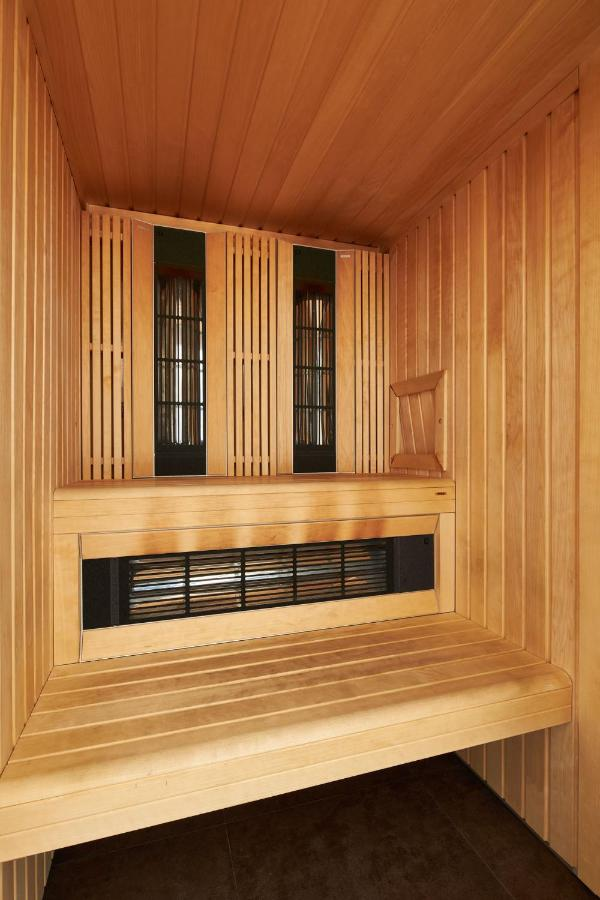 The hotel has a small fitness room with a rowing machine, an elliptical, a treadmill, a bike, free weights, and yoga mats. The fitness center also has a sauna and hammam that are free for guests to use, plus free Evian bottled water. Raphael guests are free to use the spa facilities at the sister hotel, the Majestic Hotel Spa Paris.
>> CHECK HERE FOR LOWEST RATES AND AVAILABILITY
Restaurants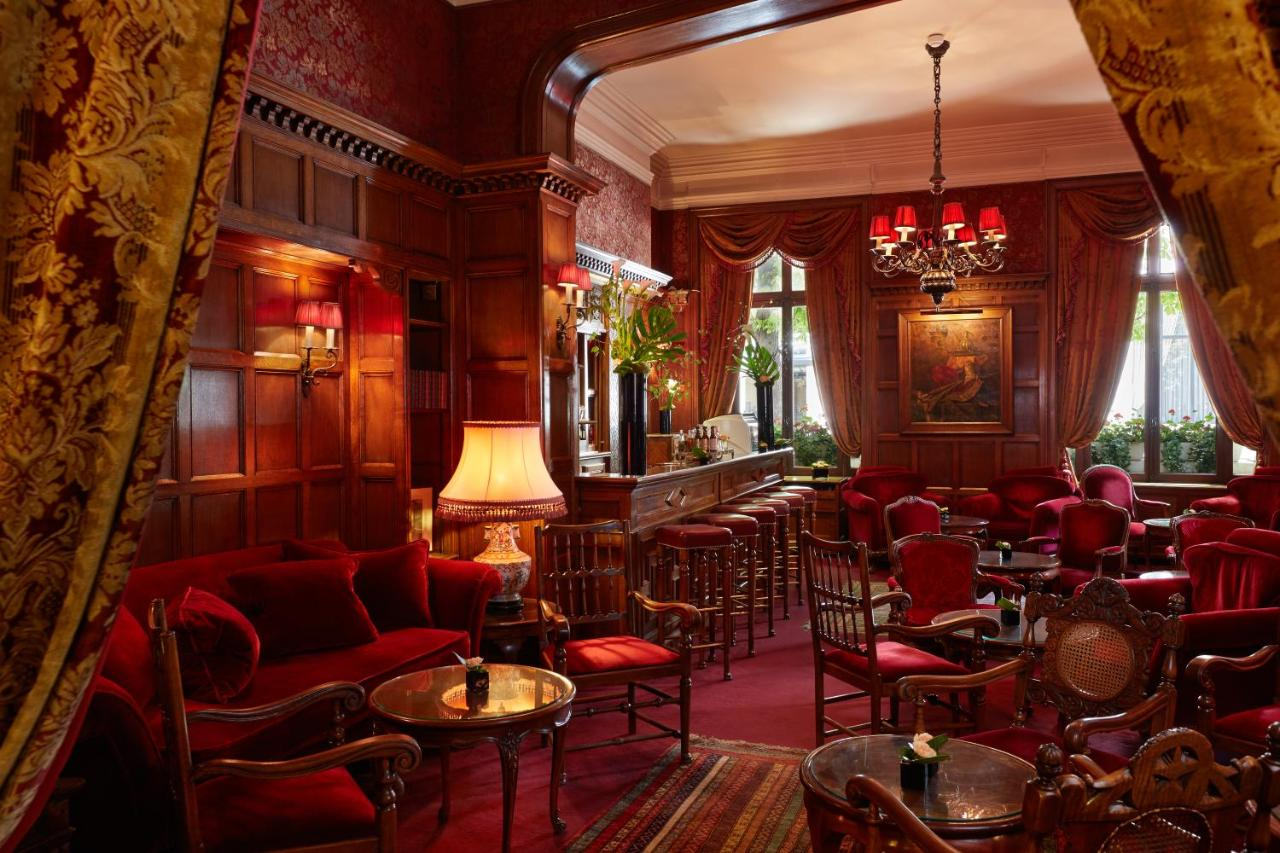 The restaurant serves a breakfast buffet (included in some bookings) daily and lunch and dinner during the week only. The English Bar, popular with locals, serves upscale sandwiches and traditional French entrees in a sumptuous, red-velvet setting reminiscent of a London gentleman's club.
The Raphael Restaurant serves gourmet French cuisine at lunch and dinner either in the formal dining room, the English Bar or on the stunning rooftop garden terrace during the spring and summer season. It is considered one of the most romantic restaurant settings in all of Paris.
The Chef proposes gourmet French cuisine at the sophisticated Raphael Restaurant. Guests can relax and have a snack, tea, drink or just relax in the English Bar's red velvet armchairs. During the summer season, guests can quench your thirst or sit down for a summertime meal on the splendid rooftop located on the 7th floor.