The best boutique hotels in Idhra place you in some of the most idyllic locations in Greece.
Idhra (also spelled Hydra) is a stunning Greek island located in the Saronic Gulf, just a short ferry ride away from Athens. This charming island is known for its rugged natural beauty, pristine beaches, and traditional architecture. With no cars or motorbikes allowed on the island, Idhra retains its quaint and peaceful atmosphere, making it a perfect escape from the hustle and bustle of city life.
Visitors can explore the winding cobblestone streets of the main town, admire the breathtaking views from hilltop monasteries, and swim in crystal-clear waters surrounded by stunning landscapes. With its unique blend of history, culture, and natural beauty, Idhra is a must-visit destination for travelers seeking an authentic Greek experience.
We hand-picked top-rated boutique hotels in Idhra to consider for your next getaway!
The 10 Idhra Boutique Hotels – Best Places to Stay
1. Orloff Boutique Hotel
9.3 Average Rating
Get the Lowest Rates Here
Orloff Boutique Hotel is a 4-star boutique hotel in Hydra, lovingly restored from one of the historic Hydra mansions of the 18th century. Located just 100 m from Hydra Port, the hotel's architecture reflects the period, featuring high walls, no balconies, a secluded garden, and courtyards.
Each of the nine rooms and suites is individually designed, blending family antiques and rare objects with modern comforts. Guests can enjoy Simmons beds, state-of-the-art room equipment and amenities, and a delicious Greek breakfast featuring homemade treats and local cheese in the secluded garden.
Orloff Boutique Hotel is conveniently located in a pleasant part of Hydra town and is close to all the islands landmarks. Kountouriotis Mansion is 150 m away.
2. Four Seasons Hydra Luxury Suites
9.1 Average Rating
Get the Lowest Rates Here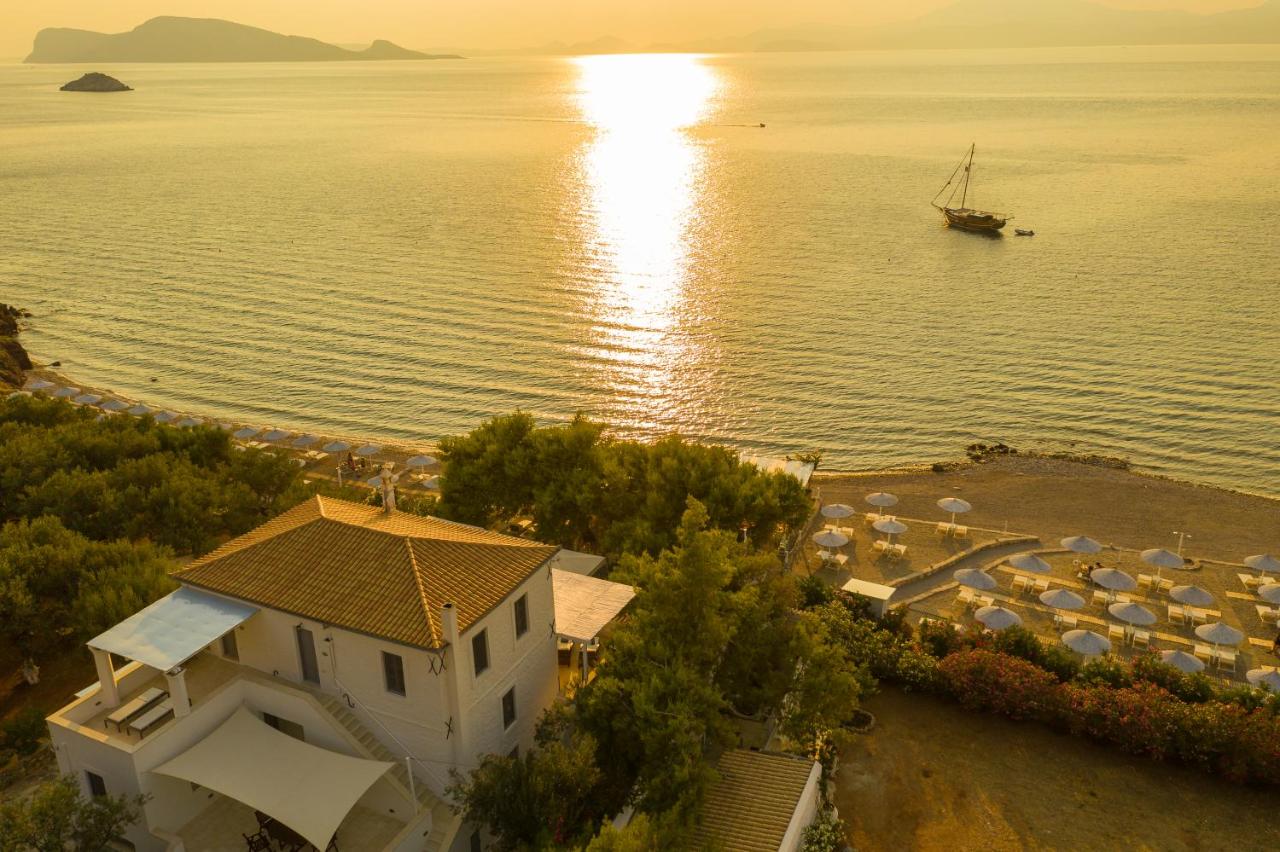 The Four Seasons Hydra Luxury Suites is one of the most luxurious boutique hotels in Hydra. Located on a private beach in Plakes Vlichos, the hotel offers free Wi-Fi and individually decorated air-conditioned suites with wood-beamed or paneled ceilings, an LCD satellite TV, a dining area, and a seating area with a sofa. Guests can enjoy breathtaking views of the mountain or Argo-Saronic Gulf from the furnished balcony or veranda.
The hotel offers a complimentary breakfast daily and an à la carte restaurant serving fresh fish, seafood, traditional Greek dishes, and a selection of wines. Room service is also available. Guests can also enjoy complimentary beach towels, sun beds, umbrellas, and books from the library. For those who want to explore the area, the hotel's 24-hour front desk can arrange excursions such as hiking and boat tours. The hotel also offers free boat transfers to and from the port and four canoes for free upon availability.
For added convenience, a mini market is 800 m away, while taverns and cafes are less than 4 km away. These features make the Four Seasons Hydra Luxury Suites one of the best boutique hotels in Hydra.
3. MANDRAKI BEACH RESORT
9.7 Average Rating
Get the Lowest Rates Here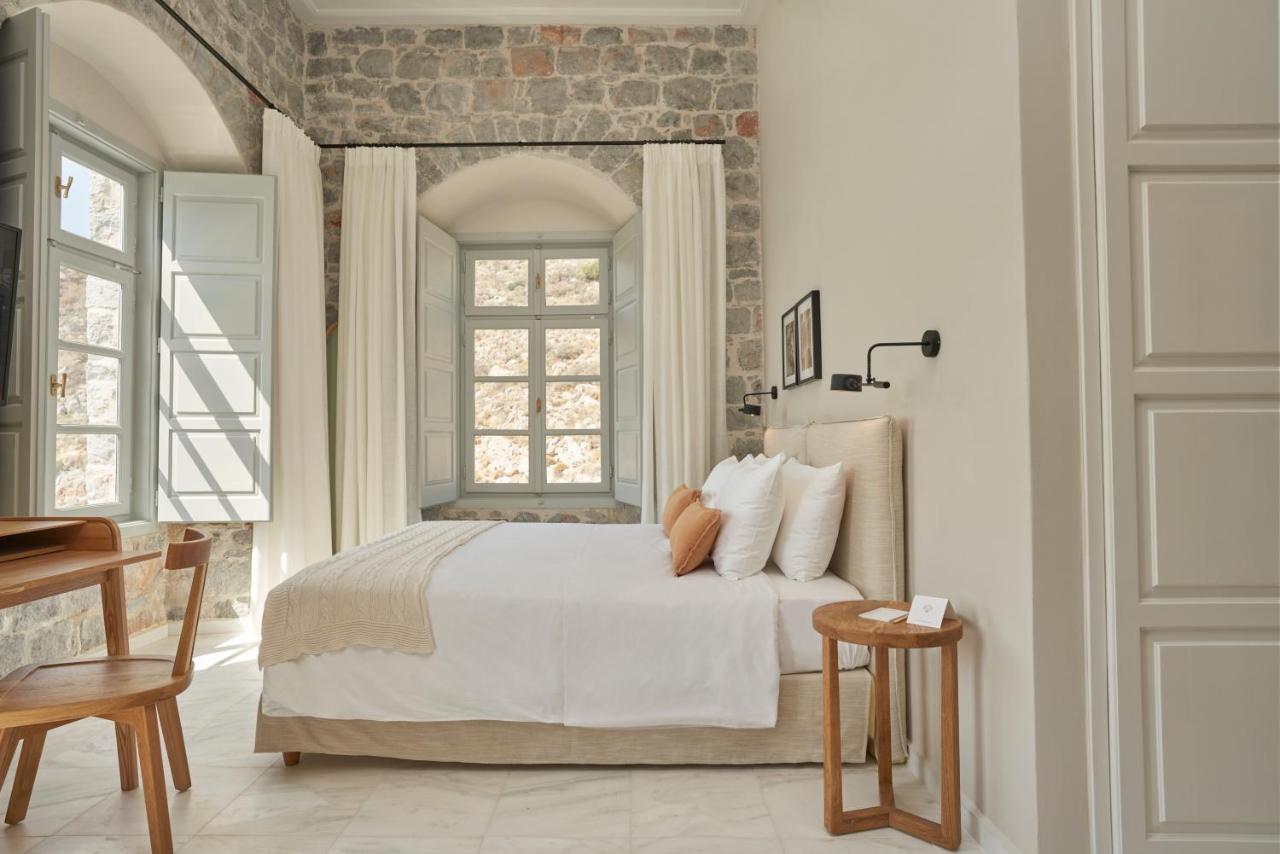 MANDRAKI BEACH RESORT is located in Mandraki and is within 2.8 km of Avlaki Beach. This 5-star Hydra boutique hotel offers a range of amenities, including concierge services, allergy-free rooms, a restaurant, a bar, room service, and a business center.
The rooms are air-conditioned, with a desk, coffee machine, minibar, safety deposit box, flat-screen TV, and a private bathroom with a shower. Guests can enjoy a terrace with a sea view in certain rooms. Bed linen and towels are provided in all rooms.
4. Angelica Traditional Boutique Hotel
8.9 Average Rating
Get the Lowest Rates Here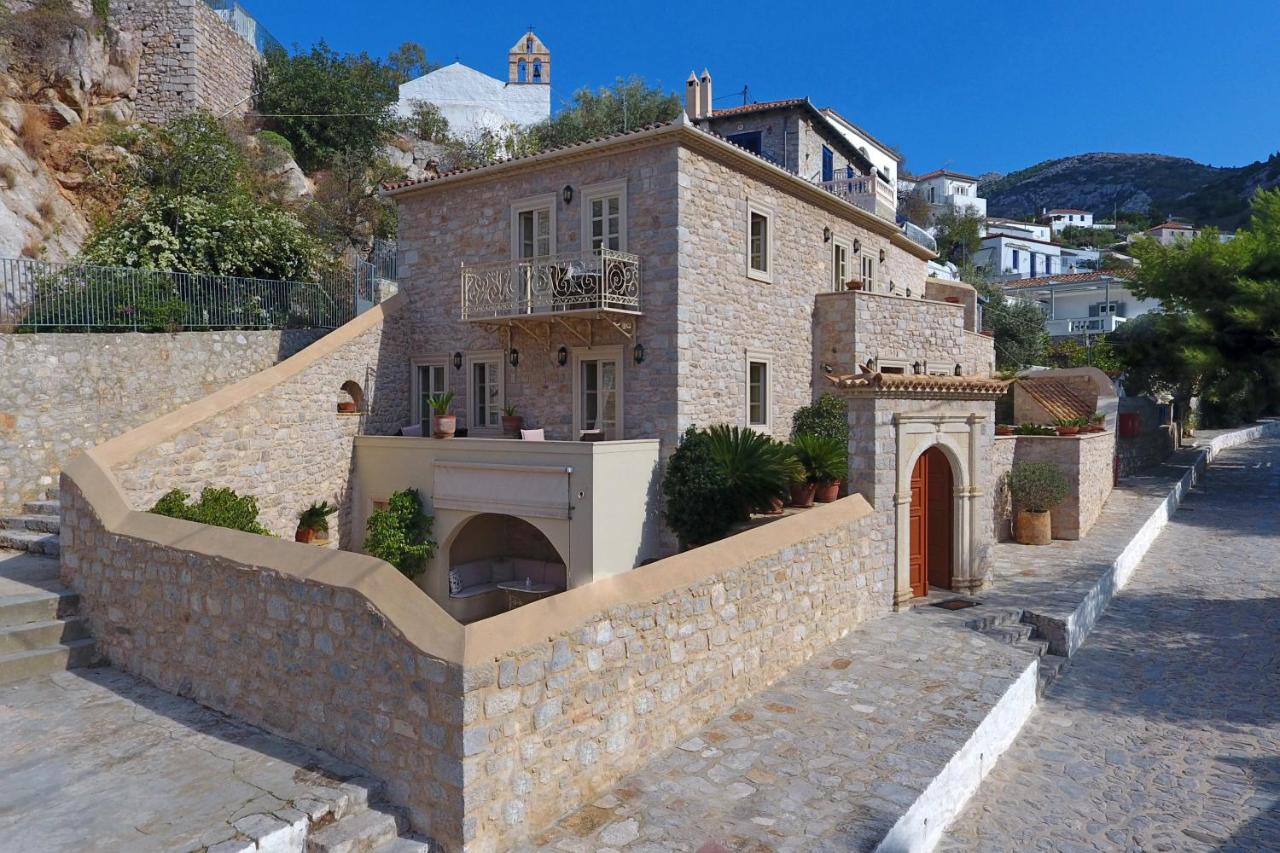 Angelica Traditional Boutique Hotel is in a historic building in the heart of Hydra. It offers charming accommodations with spa baths or jet showers and a courtyard with a mini pool, hot tub, and sauna. Each romantic room is air-conditioned and includes satellite TV, a safe, and a marbled bathroom with a complete set of Korres cosmetics.
Guests can start their day with a Greek Breakfast served buffet-style, including fruit pies, local pastries, and fresh eggs. The garden offers a seating area with deck chairs and comfortable sun beds, perfect for enjoying breakfast or relaxing.
This boutique hotel in Hydra is situated on the central road of the island, about 3 minutes on foot from the port. A variety of water sports are available at the beach, 250 m from the hotel. The property can arrange a transfer from Athens upon extra charge. Metochi Port, where sea taxis to Hydra Island depart daily, is 5.5 km away.
5. Guesthouse Alexandra
9.3 Average Rating
Get the Lowest Rates Here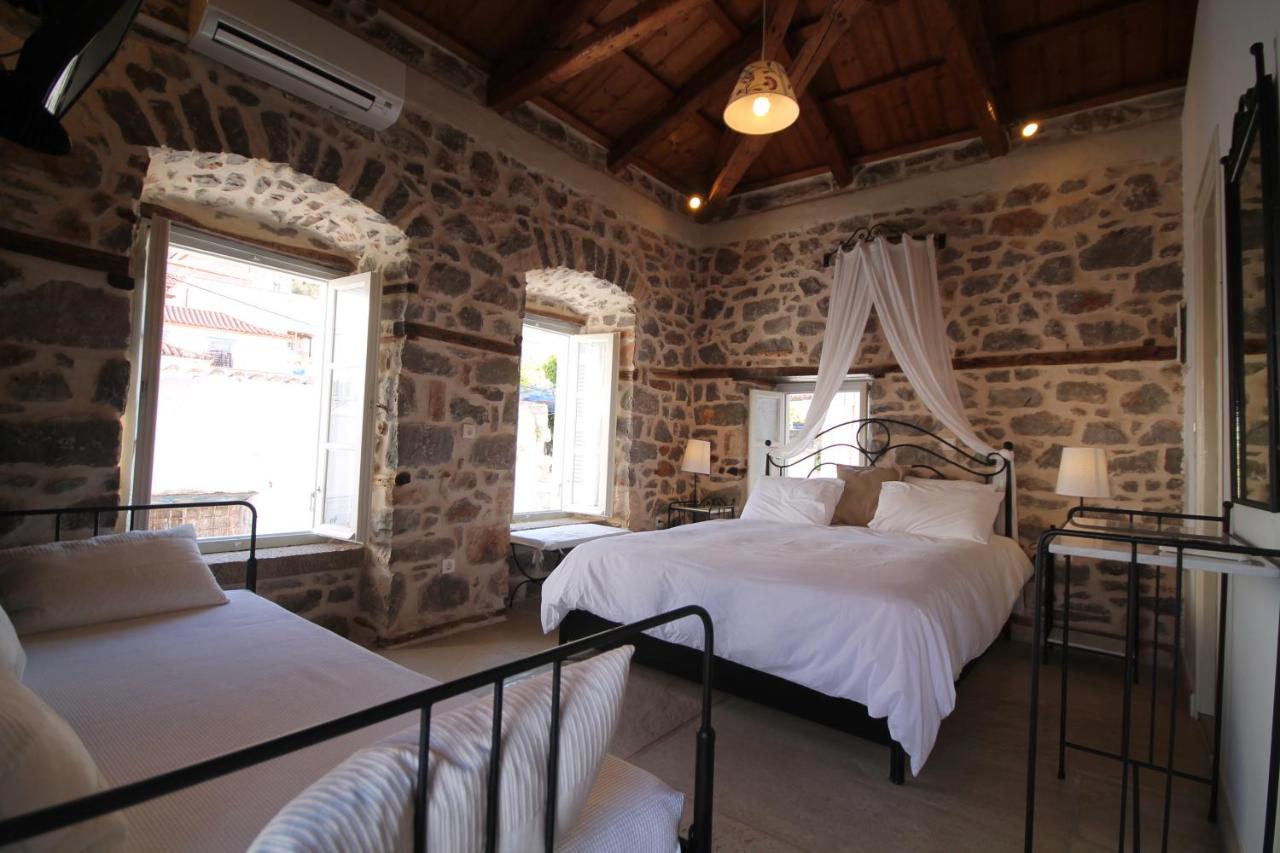 Guesthouse Alexandra is a traditionally built property in Hydra Town, just 100 m from the port. It features stone-built walls, iron beds, beamed ceilings, a garden, a sun terrace with a communal kitchen, and free WiFi in public areas.
Each room at the guest house is equipped with a TV, air conditioning, and a refrigerator. The private bathroom includes a shower and hairdryer; some rooms have free WiFi. Bed linen is provided.
This boutique hotel in Hydra is close to various restaurants, bars, tavernas, grocery stores, and other amenities. It is 300 m from George Kountouriotis Manor and 2 km from The Hydra Museum Historical Archives.
6. Hotel Sophia
9.5 Average Rating
Get the Lowest Rates Here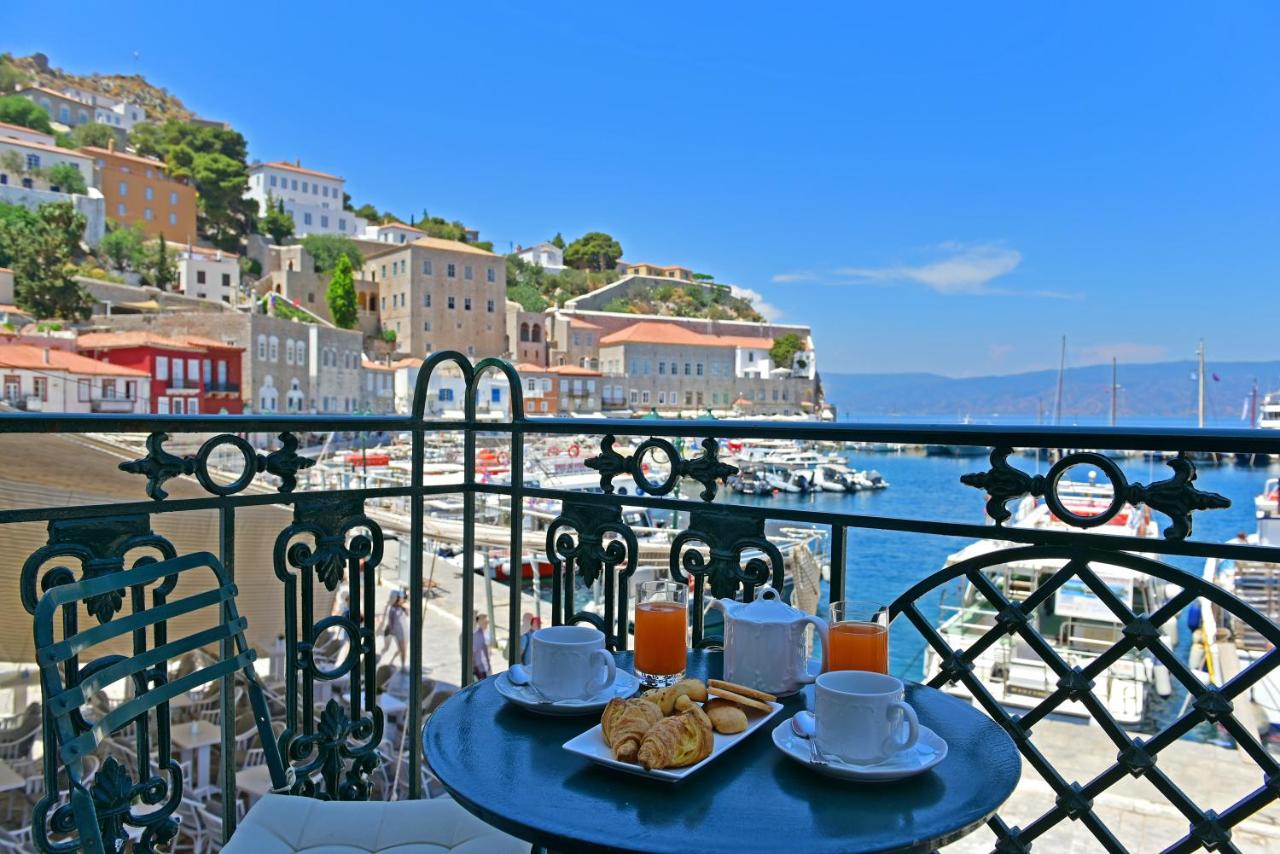 Hotel Sophia is a 3-star hotel located just 15 m from the sea in Hydra. It is housed in a restored 19th-century building and offers a shared lounge, a 24-hour front desk, and free WiFi access. The Hydra Port and The Hydra Museum Historical Archives are 15 m and 350 m away, respectively.
This boutique hotel in Hydra has rooms that come with a wardrobe and a fridge. Each room has a private bathroom with a shower, free Apivita toiletries, bathrobes, and slippers. Some rooms also have a balcony.
A rich breakfast, including traditional pies, homemade jams, and juices, is served to guests. It can be enjoyed at a shared sea-view balcony or in the privacy of their rooms.
The Ecclesiastic and Byzantine Museum is just 35 m from Hotel Sophia.
7. Hydra Hotel
8.7 Average Rating
Get the Lowest Rates Here
The recently renovated Hotel Hydra is a turn-of-the-century building set in the heart of the island of Hydra. Boasting magnificent views overlooking Hydra, the hotel is just a 5-minute walk from the nearest swimming area.
Hydra hotel offers guests 8 tastefully decorated rooms, most with panoramic views of the island. The select amount of rooms, combined with the tranquil location, allows guests to enjoy peace and total relaxation throughout their stay. Guests are welcomed with fresh flowers and local almond sweets.
Each apartment features a modern and spacious living area with a separate bedroom and is fully air-conditioned with a free wireless internet connection. Guests can enjoy a peaceful and relaxing stay in this stunning location, with breathtaking views of Hydra.
8. Hotel Miranda
8.7 Average Rating
Get the Lowest Rates Here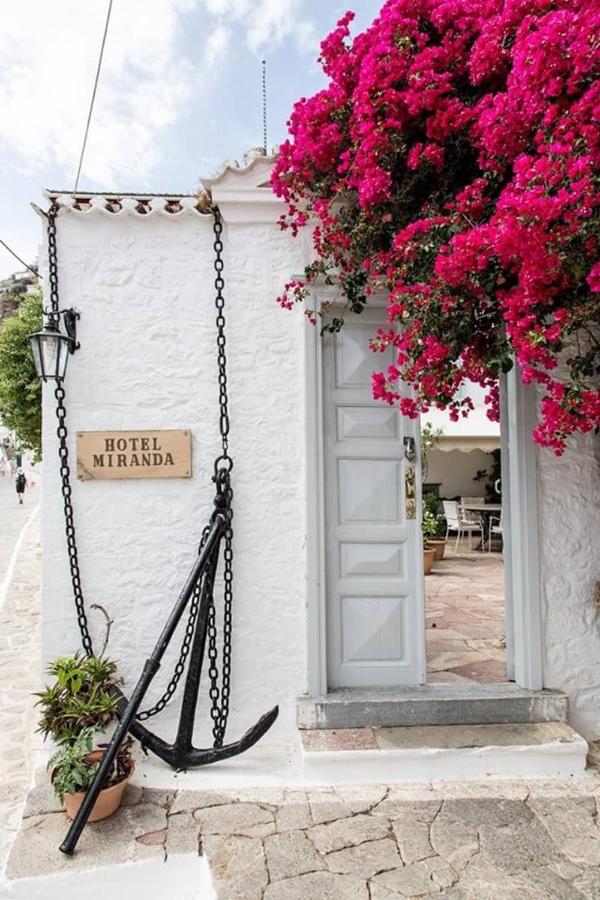 Originally a wealthy sea captain's mansion built in 1810, the Hotel Miranda is a fine example of characteristic local architecture. It is located 100 m from the port and 200 m from Ydra's main beach.
Hotel Miranda features uniquely styled rooms, some with old hand-painted ceilings by Venetian artists. They are all air-conditioned and offer garden or sea views. Free Wi-Fi, a flat-screen TV with satellite channels, and a seating/dining area are standard.
A homemade breakfast with fresh local products is served in the hotel's garden, full of flowers and lemon trees.
Declared a National Heritage monument by the Ministry of Culture, the Hotel Miranda has a fine collection of 18th and 19th-century furniture, prints, and paintings. Several art exhibitions of a high standard take place annually in the Hotel Miranda Art Gallery.
The boutique hotel in Hydra is beautiful and quiet, only 3 minutes walk from the harbor and the cosmopolitan life of Hydra. 24-hour reception staff will gladly offer information on local attractions and things to do. The property can arrange tours with certified hiking guides in the surrounding area.
9. Unique luxury suites
9.5 Average Rating
Get the Lowest Rates Here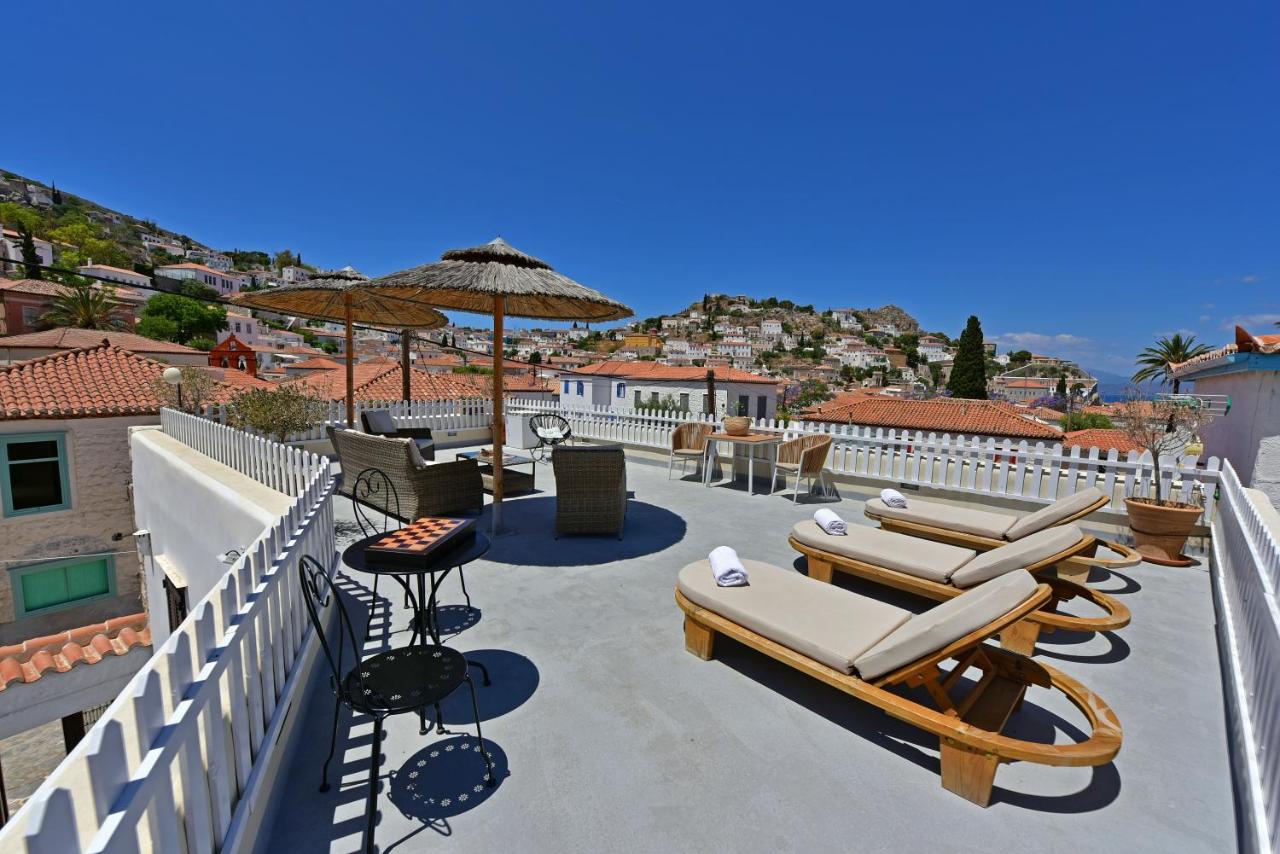 Unique Luxury Suites is an accommodation in Hydra, less than 1 km from Avlaki Beach and 2.4 km from Paralia Vlichos. It offers garden views and features a garden, a terrace, and mountain views. Free WiFi is available throughout the property.
The air-conditioned apartment has 1 bedroom, a living room, a fully-equipped kitchen with a fridge and coffee machine, and 1 bathroom with a shower and free toiletries. Towels and bed linen are provided.
Hydra Port is 500 m away, while George Kountouriotis Manor is 600 m away.
10. NESEA Boutique Apartments
9.7 Average Rating
Get the Lowest Rates Here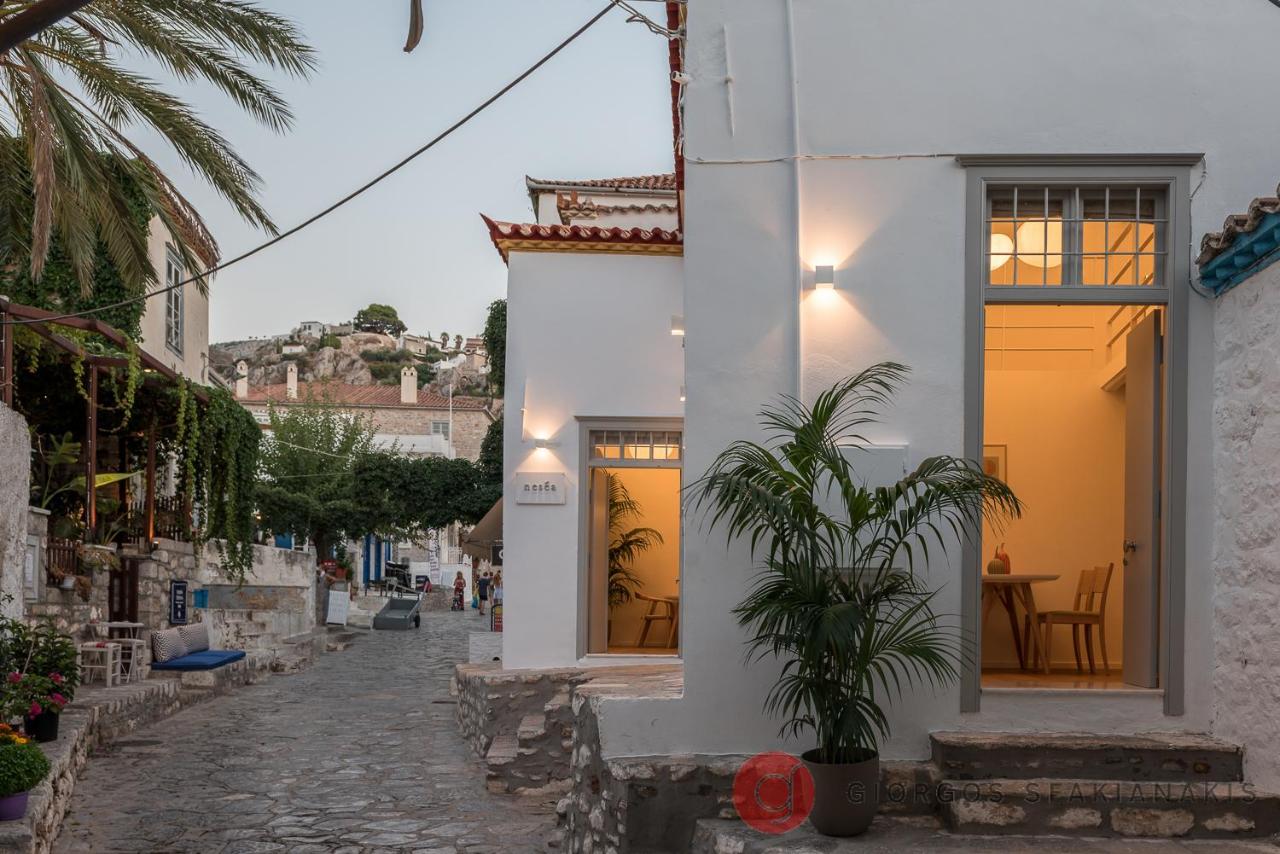 NESEA Boutique Apartments is located in Hydra, 2.1 km from Paralia Vlichos and 2.8 km from Profitis Ilias Monastery. It offers accommodation with complimentary WiFi throughout the property.
Each unit is equipped with a private bathroom, air conditioning, a flat-screen TV, and a fridge. Some units also include a terrace or balcony with views of the city or mountains.
A variety of breakfast options are available, including à la carte and continental. Additional services provided by NESEA Boutique Apartments include laundry and business facilities like fax and photocopying.
Popular attractions near the accommodation include Avlaki Beach, Hydra Port, and George Kountouriotis Manor.