The best boutique hotels in Lugano place you in some of the most idyllic locations in Switzerland.
Lugano, Switzerland, is an ideal travel destination for those looking for a luxurious experience. With its stunning lakefront, alpine views, and lush green parks, Lugano is the perfect destination to relax and explore. Boutique hotels in Lugano offer a unique and personalized experience that is sure to make your stay unforgettable.
From charming family-run establishments to luxurious 5-star properties, there is something to suit every taste and budget. With its stunning views, delicious cuisine, and incredible hospitality, Lugano is the perfect destination for a romantic getaway or a family vacation.
We hand-picked top-rated boutique hotels in Lugano to consider for your next getaway!
The 10 Best Lugano Boutique Hotels 
1. Villa Principe Leopoldo – Ticino Hotels Group
8.9 Average Rating
Get the Lowest Rates Here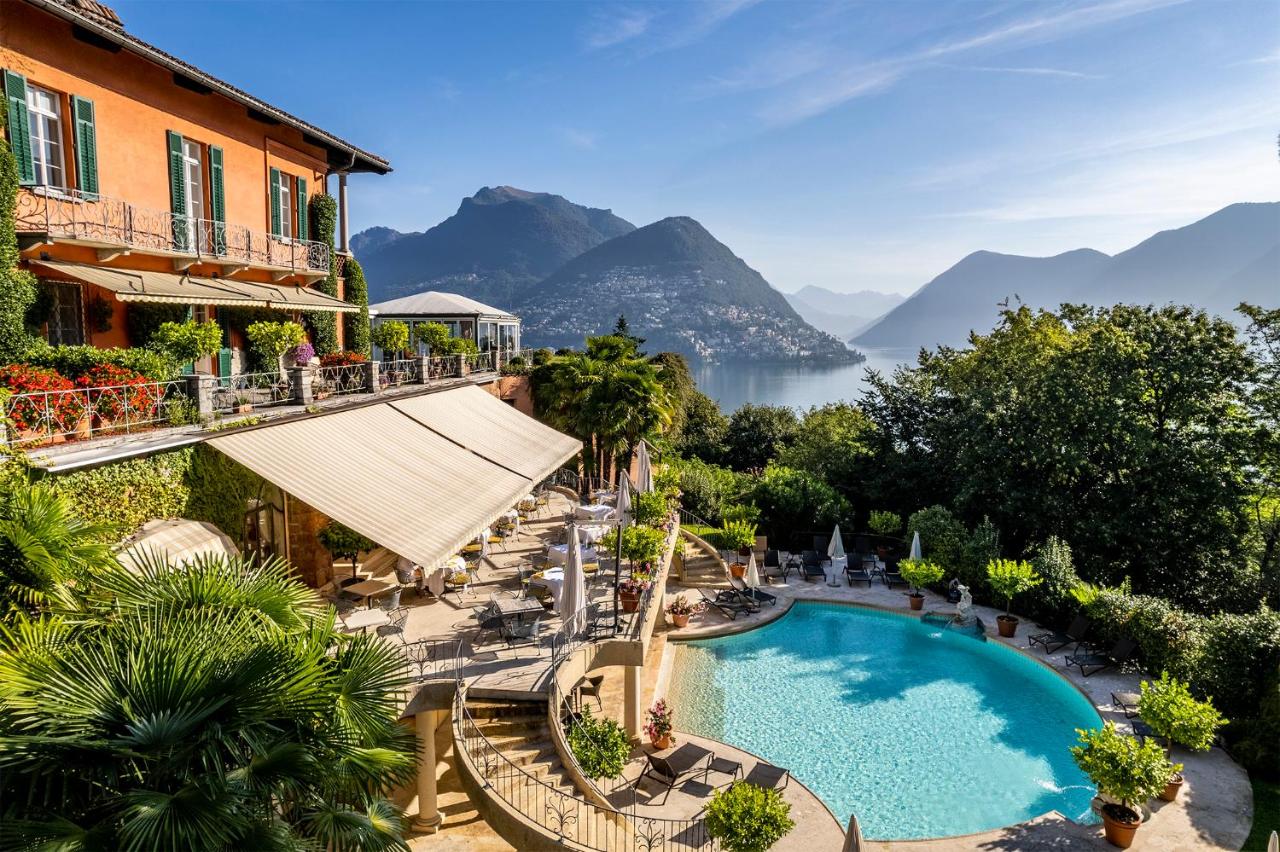 Villa Principe Leopoldo – Ticino Hotels Group is a luxurious boutique hotel located atop Lugano, surrounded by a large park. It offers spectacular views of Lake Lugano and the mountains and features a variety of leisure, sports, and wellness facilities. Guests can enjoy free WiFi and exquisite dining options.
A Member of Relais & Chateaux, this boutique hotel is a harmonious blend of Italian charm and Swiss excellence. It was once a prince's residence and offers views of the lake, garden, and nearby park.
The Kiso Spa provides a relaxing atmosphere with personalized treatments based on the Villa Principe's own top-quality cosmetic line. Guests can also indulge in the hot tub, sauna, and steam bath facilities.
The Principe Leopoldo Restaurant has been praised in the most important international guides. The Piano Bar & Lounge offers an exclusive selection of cocktails and wines, champagne, and malt whiskies, all accompanied by live music. A breakfast room is available in each building.
The spacious and stylishly decorated guest rooms are air-conditioned and come with bathrobes and slippers in the luxurious bathrooms.
Villa Principe Leopoldo – Ticino Hotels Group is 2 km from the city center of Lugano. Free outdoor parking is available on-site, while garage parking is possible at an additional cost. A charging station for electric and Tesla vehicles is also available.
2. Hotel Bellevue Bellavista Montagnola
8.6 Average Rating
Get the Lowest Rates Here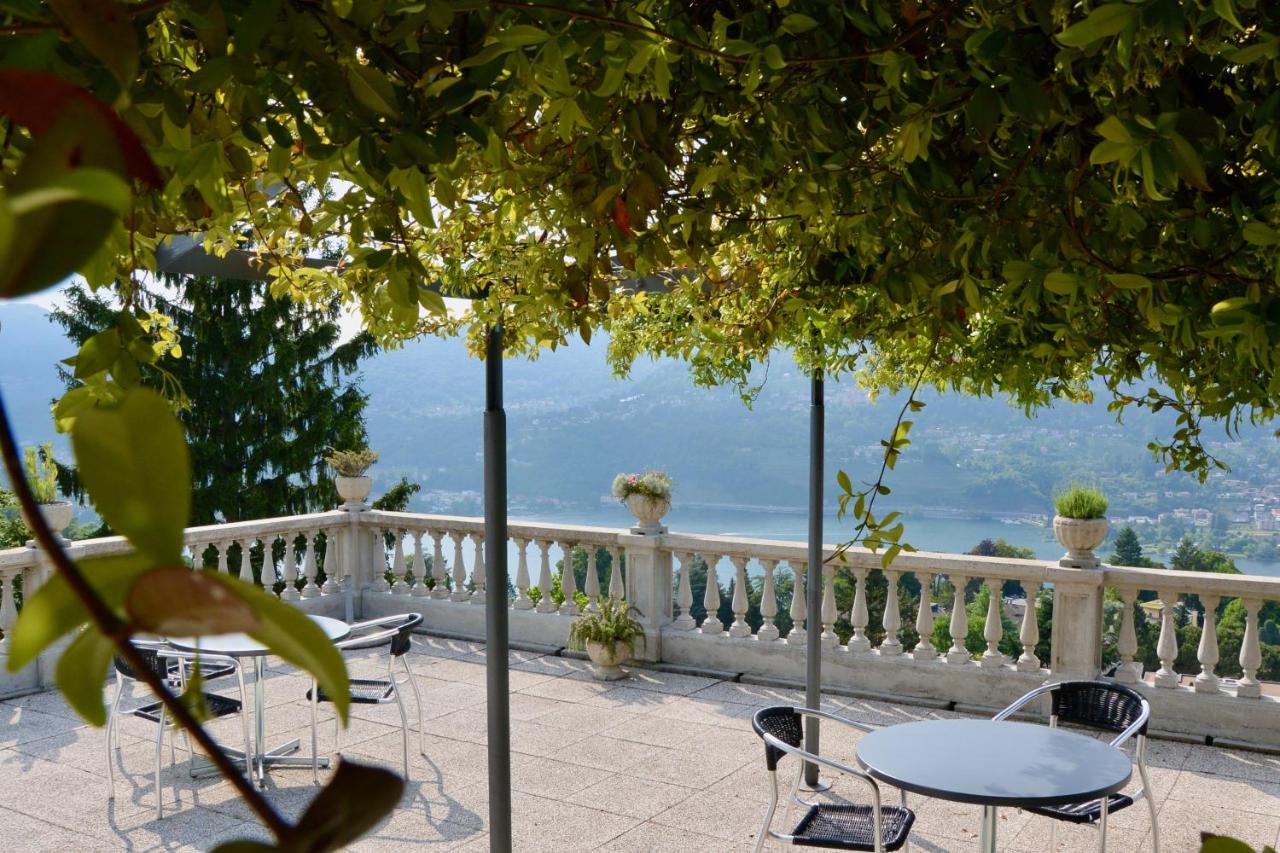 Situated atop a hill in Montagnola, the Bellevue Bellavista boutique hotel offers spectacular views of Lake Lugano. Guests can take advantage of the sun terrace located on the roof, as well as complimentary Wi-Fi. Additionally, the hotel features a traditional Italian restaurant. The Hermann Hesse Museum is located a mere 200 meters away.
The Bellevue Bellavista boutique hotel boasts a range of stylishly appointed rooms, each featuring wooden furniture, a kitchenette, a minibar, cable TV, a seating area, and a bathroom with a hairdryer. Some rooms even have balconies.
The Bellevue Montagnola Bus Stop is conveniently located right outside the hotel, and the A2 motorway is just 1 km away. The centre of Lugano and Lugano Airport are both 5 km away. Free private parking is also available on site.
3. Hotel Federale
8.5 Average Rating
Get the Lowest Rates Here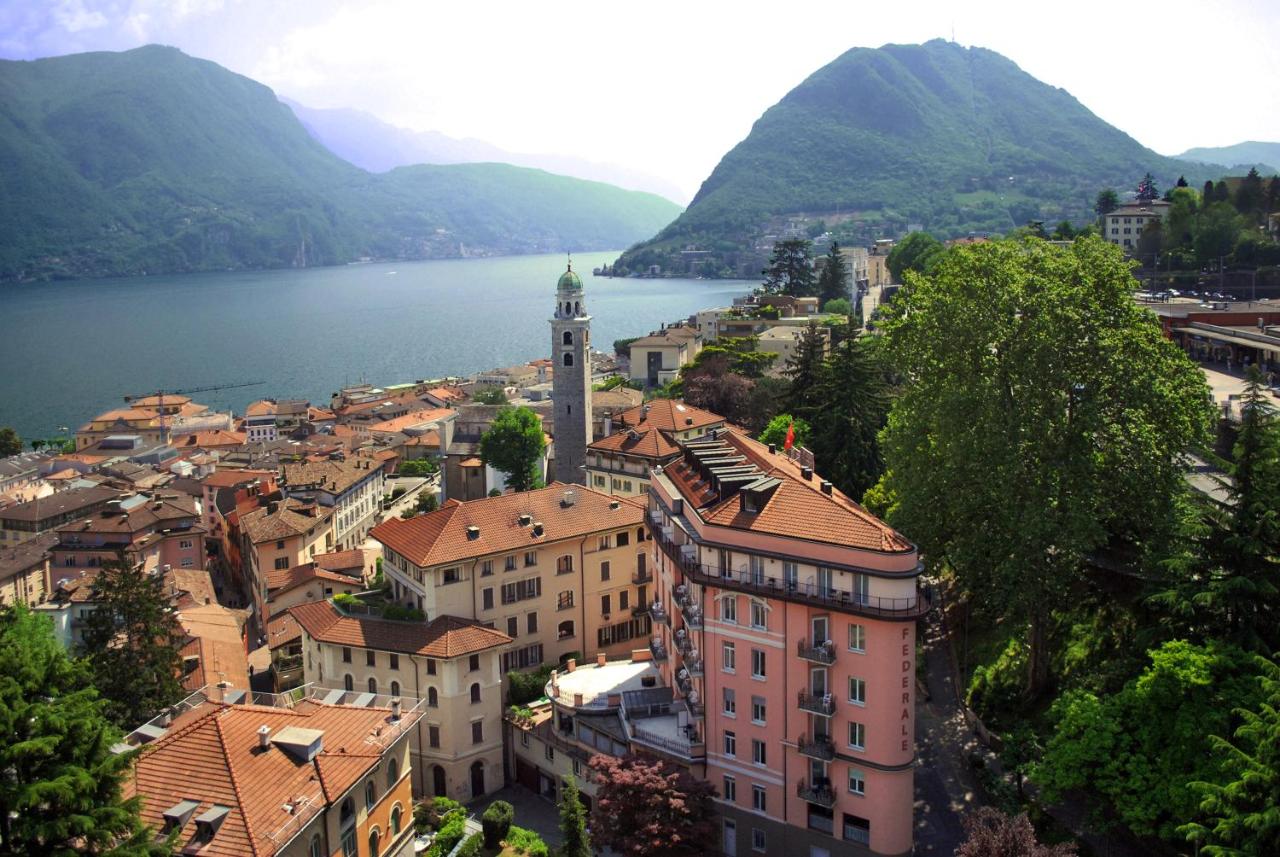 This family-owned boutique hotel is nestled in a quiet corner of Lugano, just a short 3-minute walk from the train station and a leisurely stroll away from the town center and its breathtaking lakeshore. Guests can enjoy a peaceful stay in one of the hotel's quiet rooms, many of which provide a balcony view of Monte Bré or overlook the city.
The hotel is ideal for both business and leisure travelers, offering limited meeting facilities and an elegant restaurant for a simple yet enjoyable dining experience. The bar is the perfect place to relax and enjoy an evening drink. Additionally, the hotel is just a short walk away from the famous Piazza Riforma, with its many sidewalk cafés.
4. Hotel Splendide Royal
8.7 Average Rating
Get the Lowest Rates Here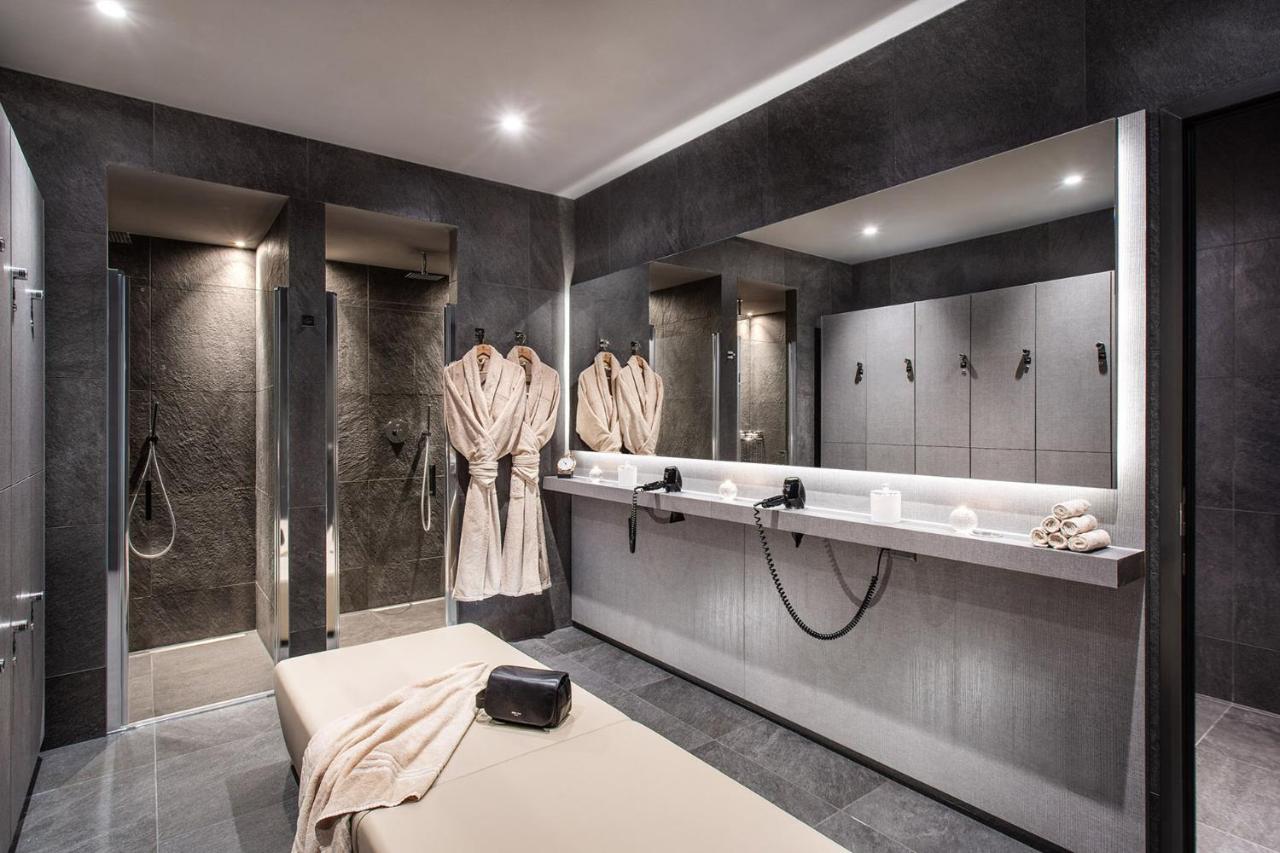 The Splendide Royal is a luxurious 5-star boutique hotel located on Lugano's main street, right by the lake. Established in 1887, the hotel has maintained its turn-of-the-century character and offers free WiFi throughout the entire non-smoking property.
The Splendide Royal has a staff of 100 employees who provide meticulous personal service, inspiring loyalty among its guests. In fact, more than half of its guests are usually repeat visitors.
The hotel's restaurant, I Due Sud, is headed by an executive chef who has been rewarded with 1 Michelin star and 16 Gault et Millau points for his cuisine, combining traditional flavors from southern Switzerland and southern Italy. The restaurant serves dinner from Tuesdays to Saturdays (reservation highly recommended), while the La Veranda restaurant (14 G&M points) is open daily for lunch and dinner, offering Mediterranean dishes with local and seasonal produce.
The Splendide Royal also features the Splendide Lifestyle Spa, which includes a pool, a sun terrace, a gym, as well as various saunas and steam baths. Beauty and cosmetic treatments can also be booked.
The Belle Epoque bar offers aperitifs, cocktails, and a selection of international hors d'oeuvres and snacks until 00:30 at night.
Guests can park their cars in the garage or outside on the hotel grounds. With its boutiques, the city center is only a few minutes away, accessible by a pleasant stroll along the lake.
5. Continental Parkhotel
8.7 Average Rating
Get the Lowest Rates Here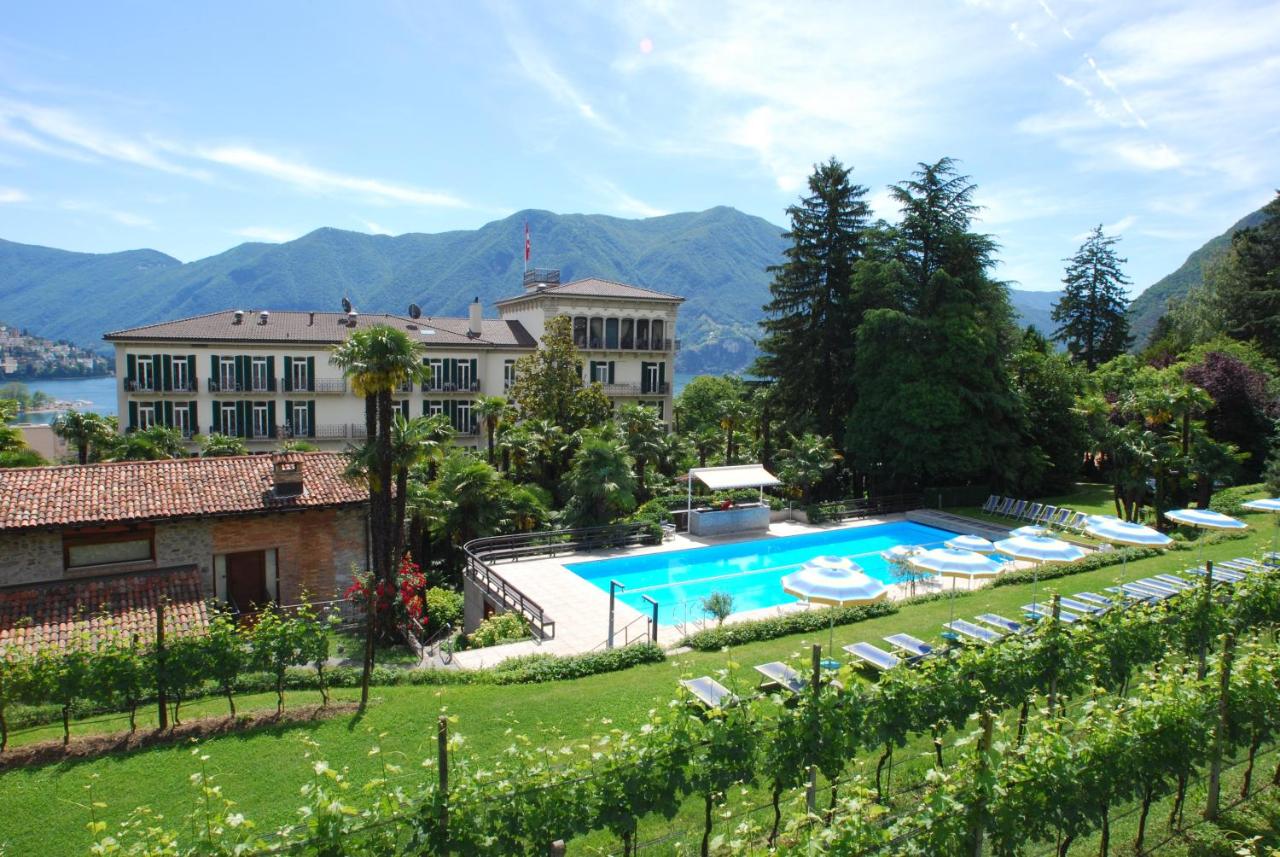 Located just 200 meters south of the main railway station of Lugano, the family-run Continental Parkhotel is a boutique hotel that offers a range of amenities and services. All rooms are air-conditioned and non-smoking and are equipped with soundproofed windows for a peaceful stay. Guests can choose between the comfort rooms in the annex building and the superior rooms in the hotel's main building.
After a day of sightseeing or business in Lugano, guests can relax and enjoy the wonderful swimming pool amidst a large park. For dinner, guests can dine at La Veranda à la carte restaurant or, in summer, at the Grotto & Ronco dei Bianchi Distillery, which serves warm Ticino specialties from 6:30 p.m. to 10:00 p.m. The buildings of the surrounding Ronco dei Bianchi historical vineyard have also been carefully restored and house a distillery, a cellar for wine production, the agricultural museum, and the grotto restaurant.
6. Villa Sassa Hotel, Residence & Spa – Ticino Hotels Group
8.1 Average Rating
Get the Lowest Rates Here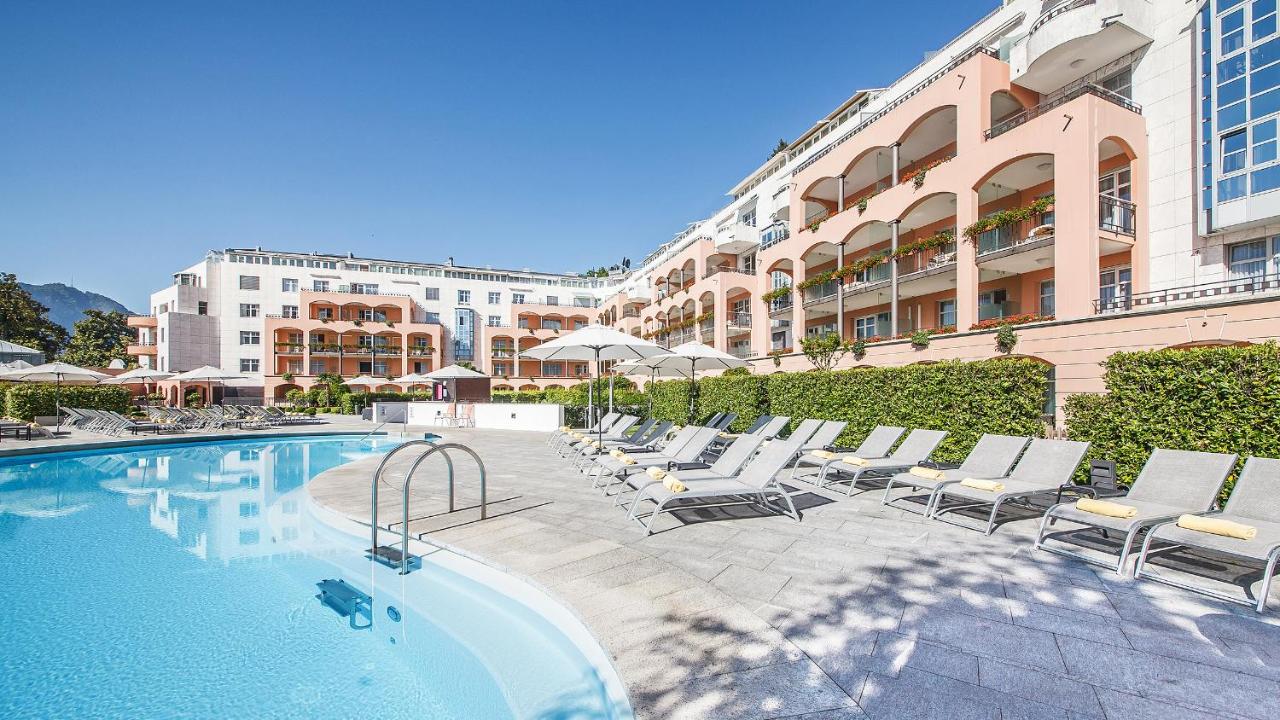 Villa Sassa Hotel, Residence & Spa – Ticino Hotels Group is a luxurious boutique hotel in Lugano, Switzerland. It is situated in a large park and provides breathtaking panoramic views of the city, Lake Lugano, and the surrounding mountains. The city center is only a 15-minute walk away.
The hotel offers a range of comfortable rooms, each with a balcony, satellite TV, a minibar, and a safety deposit box. The bathrooms are equipped with a bath or shower, toilet, free toiletries, a hairdryer, and bathrobes.
The 3,000 m² Spa and Wellness Club at Villa Sassa is a paradise for relaxation and rejuvenation. It features heated indoor and outdoor swimming pools, a hot tub, a sauna, a Turkish bath, a relaxation area, and a fitness center. A variety of beauty treatments and massages are also available.
The on-site restaurant, Ai Giardini di Sassa, serves a selection of Swiss, Italian, and international dishes. Guests can also enjoy drinks and snacks at the bar, and in fine weather, they can dine on the terrace. This boutique hotel is a perfect destination for a restorative getaway.
7. Hotel Gabbani
8.4 Average Rating
Get the Lowest Rates Here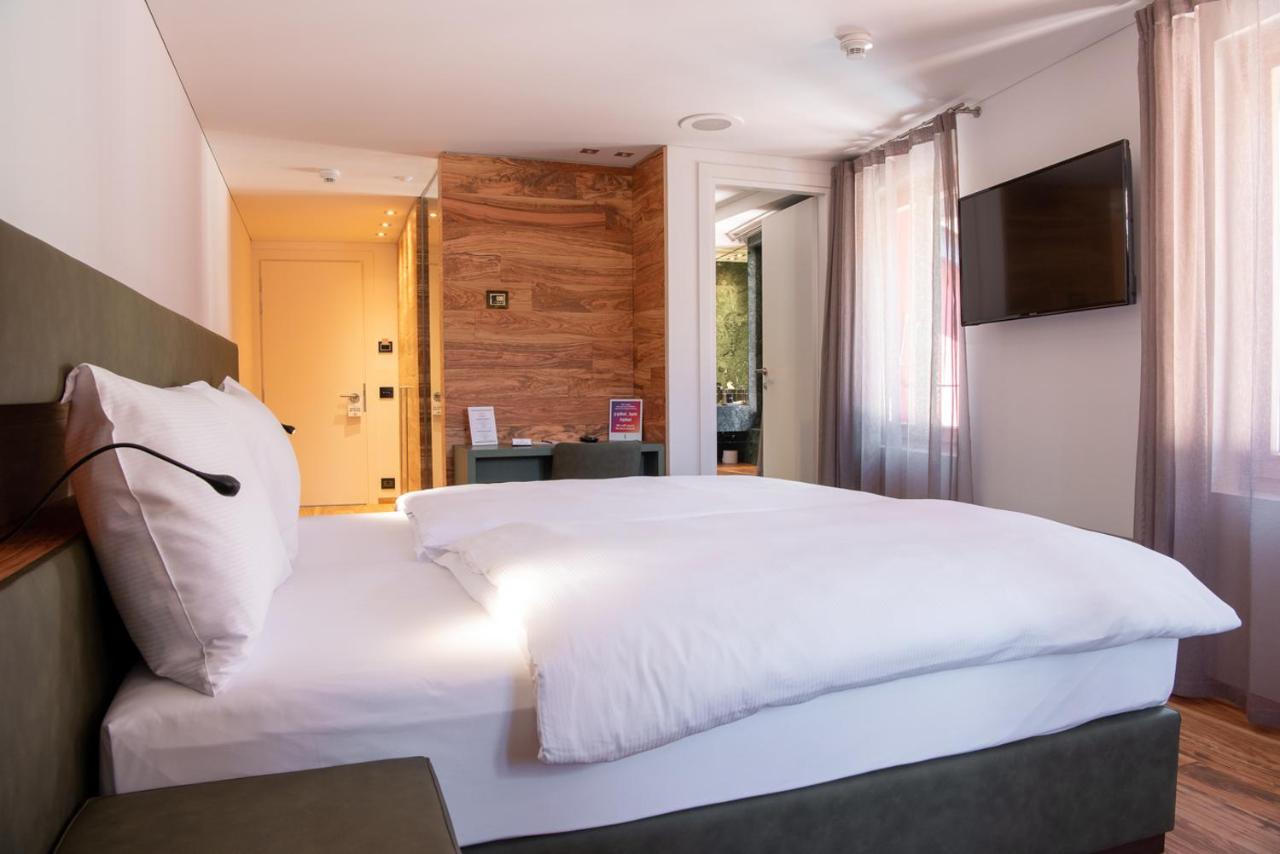 Situated in the heart of Lugano, Hotel Gabbani is a luxurious boutique hotel offering stylish and unique rooms with free WiFi. Each room features air-conditioning, a minibar, a flat-screen TV, and a special blend of warm oak furnishings, classic Danish-design armchairs, marble illuminated elements, pastel-toned or bright-contrasted decor, and ad hoc elements such as a bathtub next to the bed or a small staircase.
Guests can also enjoy the à la carte gourmet restaurant Gabbani, a bar on the ground floor, and the Ikobani restaurant with Japanese specialties and drinks that can be enjoyed on the rooftop terrace with a city view during spring and summer. A gourmet shop with a selected choice of regional delicacies is also available on-site.
Located only 50 meters away from the Main Train Station, which is reachable by the city cable car, Hotel Gabbani is also close to Civico Park and the shores of Lake Lugano, which are only 2 2-minute walk away. Furthermore, Lugano Central Ferries Station and Piazza Riforma Bus Station are both within a radius of 200 meters, while San Salvatore Mountain is only a 10-minute bus ride away. Public parking is provided for a charge at a nearby location.
8. Grand Hotel Villa Castagnola
9.1 Average Rating
Get the Lowest Rates Here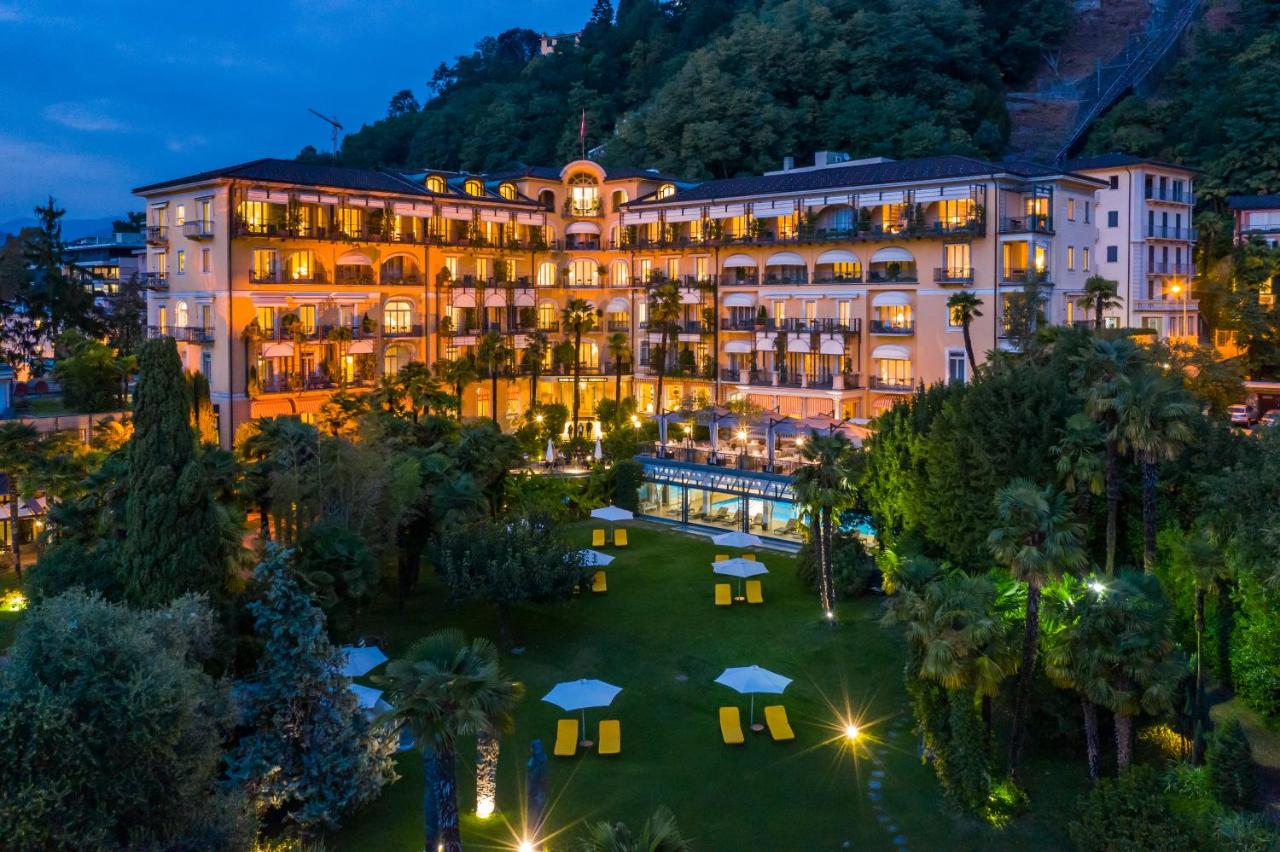 Situated along the shoreline of Lake Lugano and just a short walk from the Old Town of Lugano, the Grand Hotel Villa Castagnola is an exquisite 5-star boutique hotel. This impressive mansion, which was once the home of a noble Russian family, was converted into a hotel in 1885 and offered guests a luxurious experience. Guests can enjoy an indoor pool, a tennis court, 3 restaurants, and free WiFi.
The two gourmet restaurants, Le Relais and Gallery Arté al Lago and the La Rucola, serve Mediterranean cuisine made with the freshest seasonal ingredients and a selection of wines from the well-stocked cellar. Rooms and suites are individually decorated and offer stunning views of the park and/or lake and a balcony, terrace, or loggia.
The hotel is conveniently located near bus stops, the boat pier, and the funicular to Monte Brè. The city center is just a few steps away and features several cafes, shops, and restaurants.
9. Hotel Lido Seegarten
8.5 Average Rating
Get the Lowest Rates Here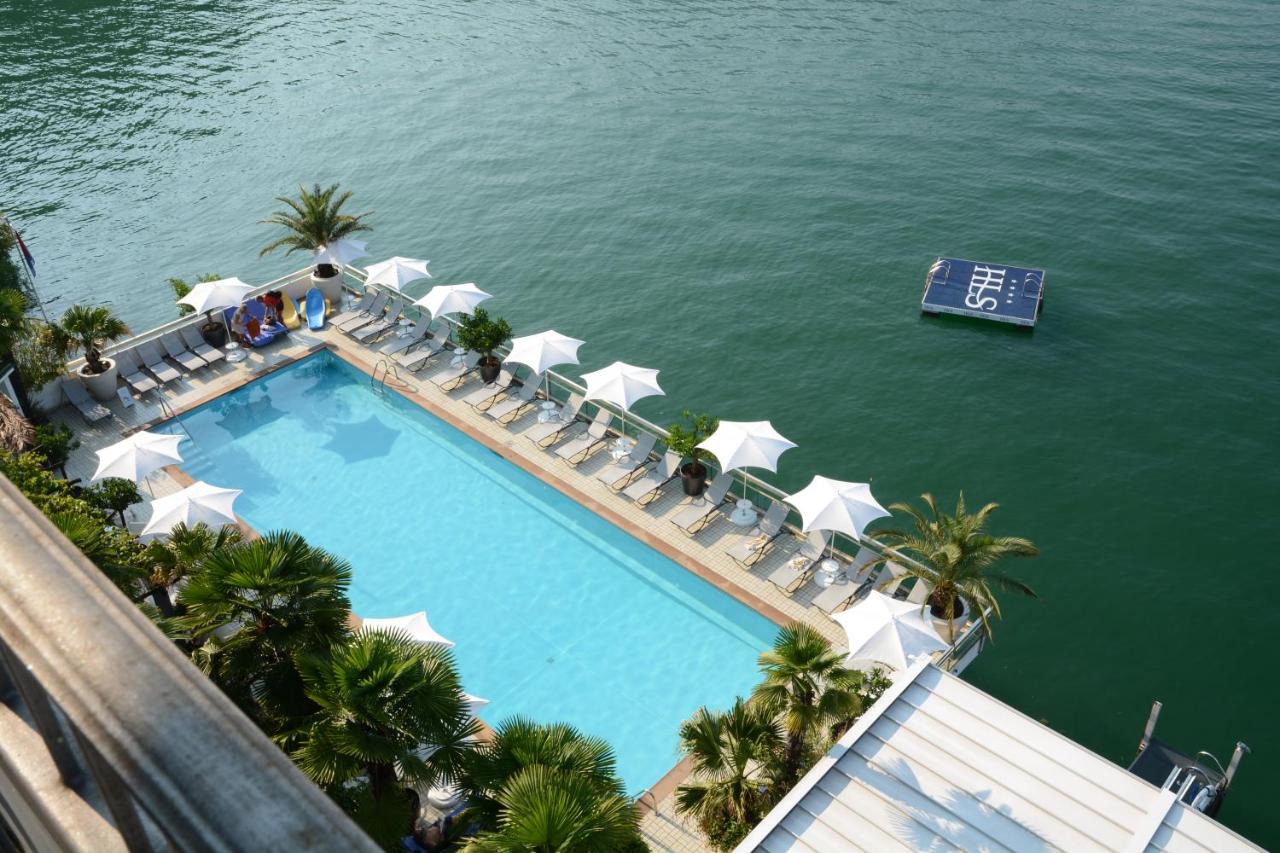 Situated on the shores of Lake Lugano, Hotel Lido Seegarten is a family-run, 4-star boutique hotel. Guests can enjoy the convenience of free WiFi and a south-facing outdoor pool with direct lake access. The hotel is a 10-minute walk from the center of Lugano.
The hotel features two restaurants, Rialto and La Terrazza, which serve Mediterranean cuisine and grilled dishes. Guests can also enjoy seasonal specialties at the rustic-style restaurant La Fornace. A bar and terrace with lake views are also available.
The air-conditioned rooms come with lake or mountain views, a flat-screen smart TV with cable channels and radio, a seating area, a minibar, and a bathroom. Deck chairs, sunshades, towels, bathrobes, and a bar service are available at the pool. The fitness center offers panoramic views of the lake and the mountains.
The Exhibition Centre is 400 meters away and it is 1.5 km from Lugano Train Station and 5 km from Agno Airport. Bus lines 2 and 3 stop right outside the hotel. The Palazzo dei Congressi Conference Centre can be reached within a 7-minute walk, and the hotel is a 10-minute walk from the center of Lugano.
10. LUGANODANTE – We like you
9.2 Average Rating
Get the Lowest Rates Here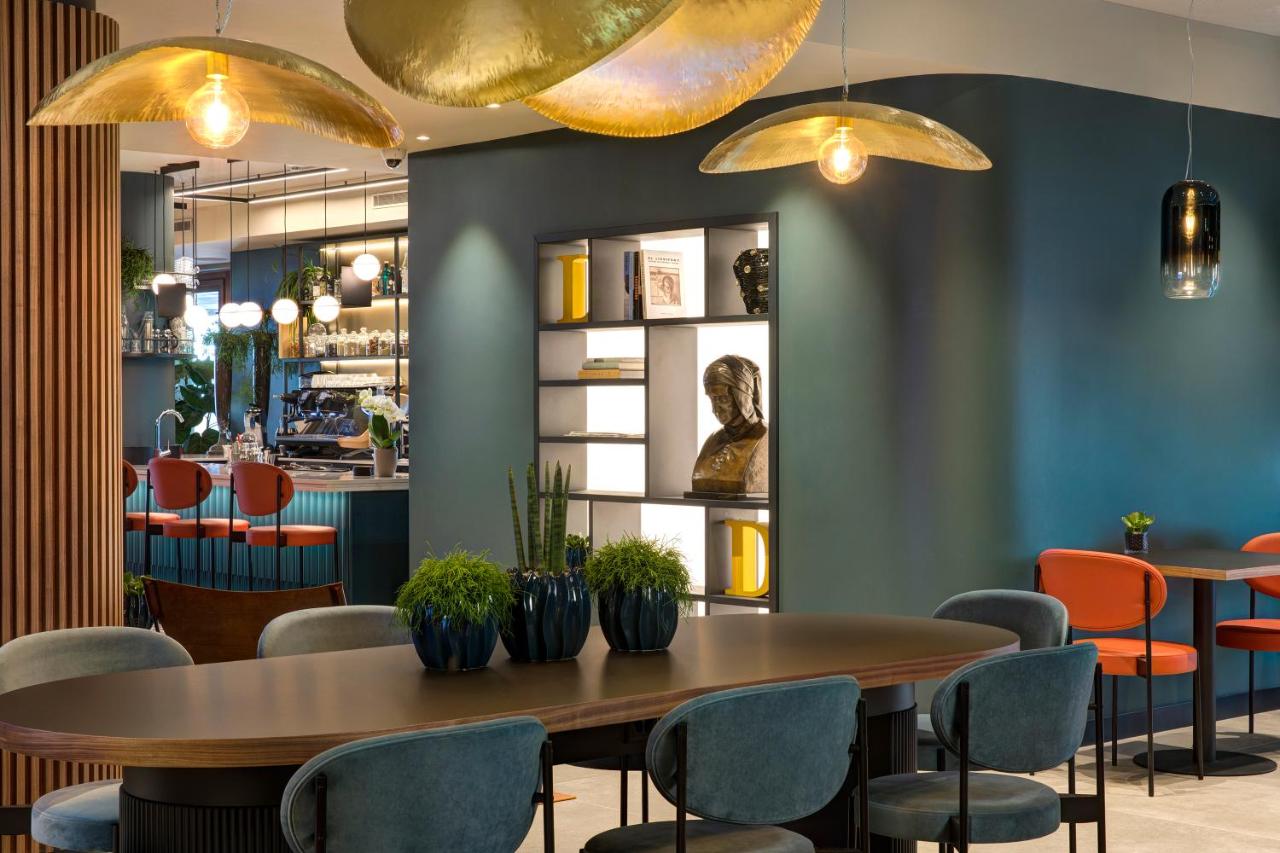 The 4-star Superior Hotel LUGANODANTE – We like you is a boutique hotel in the quiet Piazza Cioccaro, in Lugano's historical heart and financial district. It offers free WiFi and a Ticino Ticket containing discounts, free admission, and free use of local buses and trains. The hotel was fully renewed in the summer of 2020 and features air-conditioned and soundproofed rooms, each with a Full HD TV up to 43″, a kettle with a selection of teas and coffees, as well as complimentary water from the minibar and some soft drinks.
Every morning, a rich breakfast is served by the Flamel Bistrot Team with the highest quality products, most of which are sourced from Ticino or Switzerland. Lunch, dinner, and a mixology experience at Flamel Bistrot and Cocktail Lounge are also available for hotel guests and locals.
The boutique hotel also provides a private parking garage and valet service (subject to advance booking) for an additional fee, with 3 charging stations for electric cars. The exit of the A2 motorway is a 5-minute drive away, and the lake is only 3 minutes away. The LAC cultural center, the Palazzo dei Congressi, and the university are easily reachable on foot. A funicular takes guests directly from the hotel to the train station every 5 minutes. The entire property is non-smoking.