The best boutique hotels in San Carlos de Bariloche place you in some of the most idyllic locations in Argentina.
San Carlos de Bariloche often referred to as Bariloche, is a stunning destination nestled in the foothills of the Argentine Andes, renowned for its picturesque landscapes, crystal-clear lakes, and snow-capped peaks. Located in the heart of Argentina's Lake District, Bariloche is a popular year-round destination for outdoor enthusiasts and adventure seekers, offering many activities such as skiing, hiking, mountain biking, kayaking, and fishing.
The town boasts unique Alpine architecture, a vibrant cultural scene, and a renowned gastronomic culture, making it a perfect destination for those seeking to indulge in natural beauty and urban amenities. With its stunning vistas, unparalleled outdoor activities, and rich cultural experiences, San Carlos de Bariloche is a must-visit destination for any traveler seeking to explore the wonders of Argentina.
We hand-picked top-rated boutique hotels in San Carlos de Bariloche to consider for your next getaway!
The 10 Best San Carlos de Bariloche Boutique Hotels
1. Nido del Cóndor Hotel & Spa
8.6 Average Rating
Get the Lowest Rates Here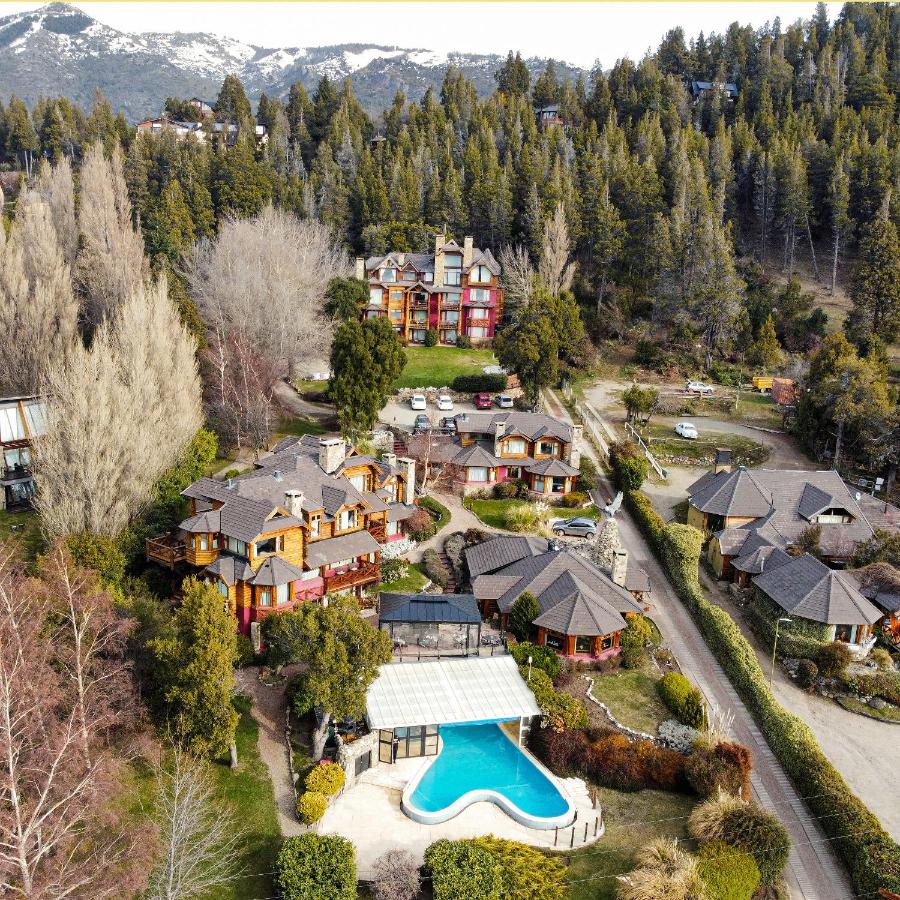 Nido del Cóndor Hotel & Spa invites you to experience the best of both worlds; the warmth of a cottage and the luxurious accommodation of a 5-star hotel. With breathtaking views of Nahuel Huapi Lake and just 300 m from Bonita Beach, the boutique hotel is conveniently located near Cerro Catedral Ski Centre, Bariloche city center, and other international ski centers a short drive away.
Transfers to and from the ski center can be arranged, and ski lessons and equipment can be hired at the hotel. Ski storage is also available. Furthermore, the hotel offers an array of amenities for your pleasure, including in- and outdoor pools for children and adults, a luxurious spa with a sauna, Scottish showers, and Finnish Baths. Massage sessions can be requested at an additional cost.
Finally, your kids can join supervised activities at the Playing Site, which includes physical exercises, video games, and movies. Nido del Cóndor Hotel & Spa offers the perfect opportunity to relax and embrace the beauty of nature.
2. Charming Luxury Lodge & Private Spa
9.4 Average Rating
Get the Lowest Rates Here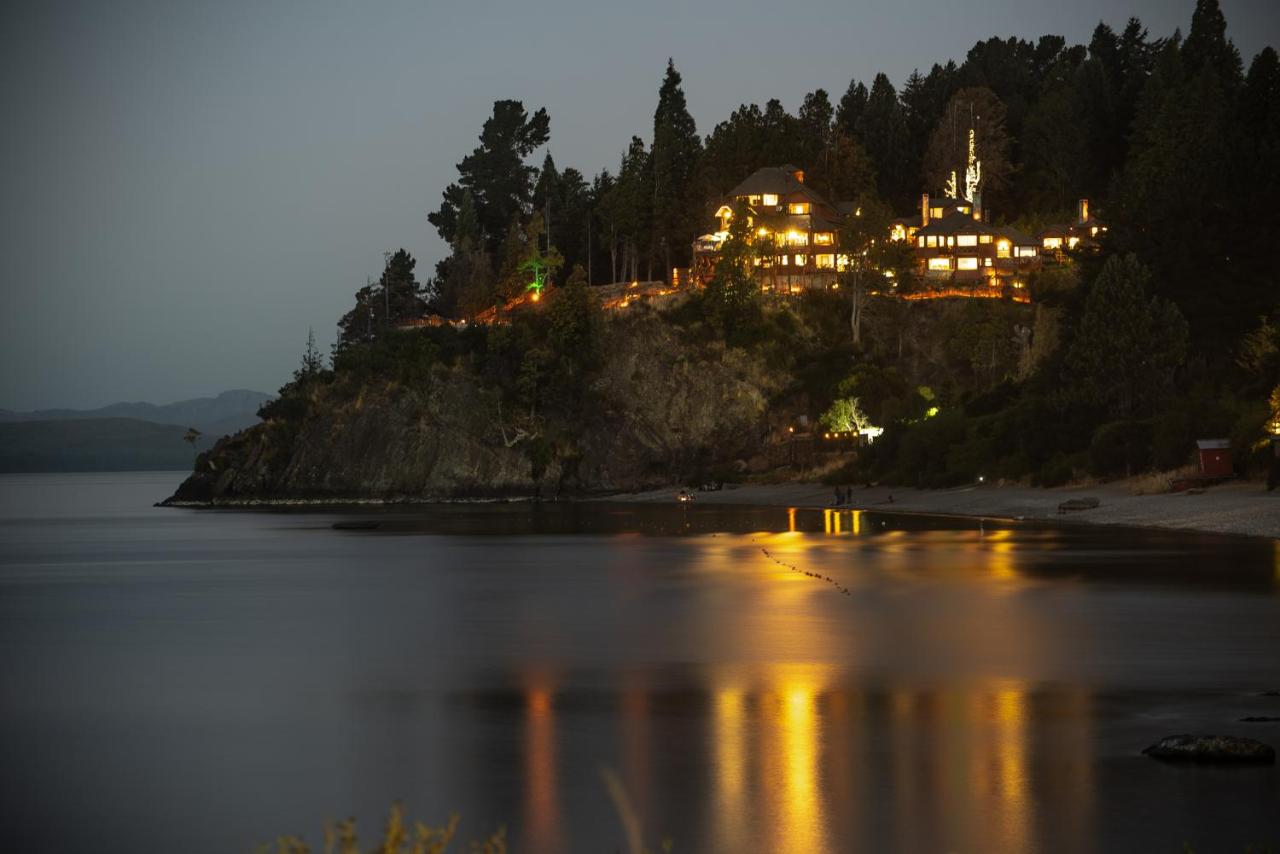 Charming Luxury Lodge & Private Spa is a stunning property 12 km from Catedral Ski Center and 7.4 km from downtown Bariloche. It offers plush bungalows with private hot tubs, balconies with stunning lake views, and gabled wooden roofs.
The rooms come equipped with plasma TVs, minibars, home theatres, spa facilities, heated flooring, and stone fireplaces. Guests have free access to a ski lounge at Terrazas Shopping, where they can enjoy pre and post-ski gym classes, use the lockers, and warm up with a cup of hot chocolate.
The boutique hotel also offers a variety of outdoor activities, including horse riding, kayaking, and bike rental, to explore the surroundings. Guests can also enjoy spa facilities such as an outdoor heated pool, hammam, sauna, and two hot tubs.
A buffet breakfast is served daily, and the restaurant offers international dishes. Common BBQ facilities are also available. Ski lessons can be booked, and ski storage and ski equipment are provided.
The 24-hour front desk can secure shuttles to Luis Candelaria Airport, which is 20 km away. Charming Luxury Lodge & Private Spa is the perfect place to enjoy a relaxing getaway in the Argentinean Patagonia.
3. Peninsula Petit
9.5 Average Rating
Get the Lowest Rates Here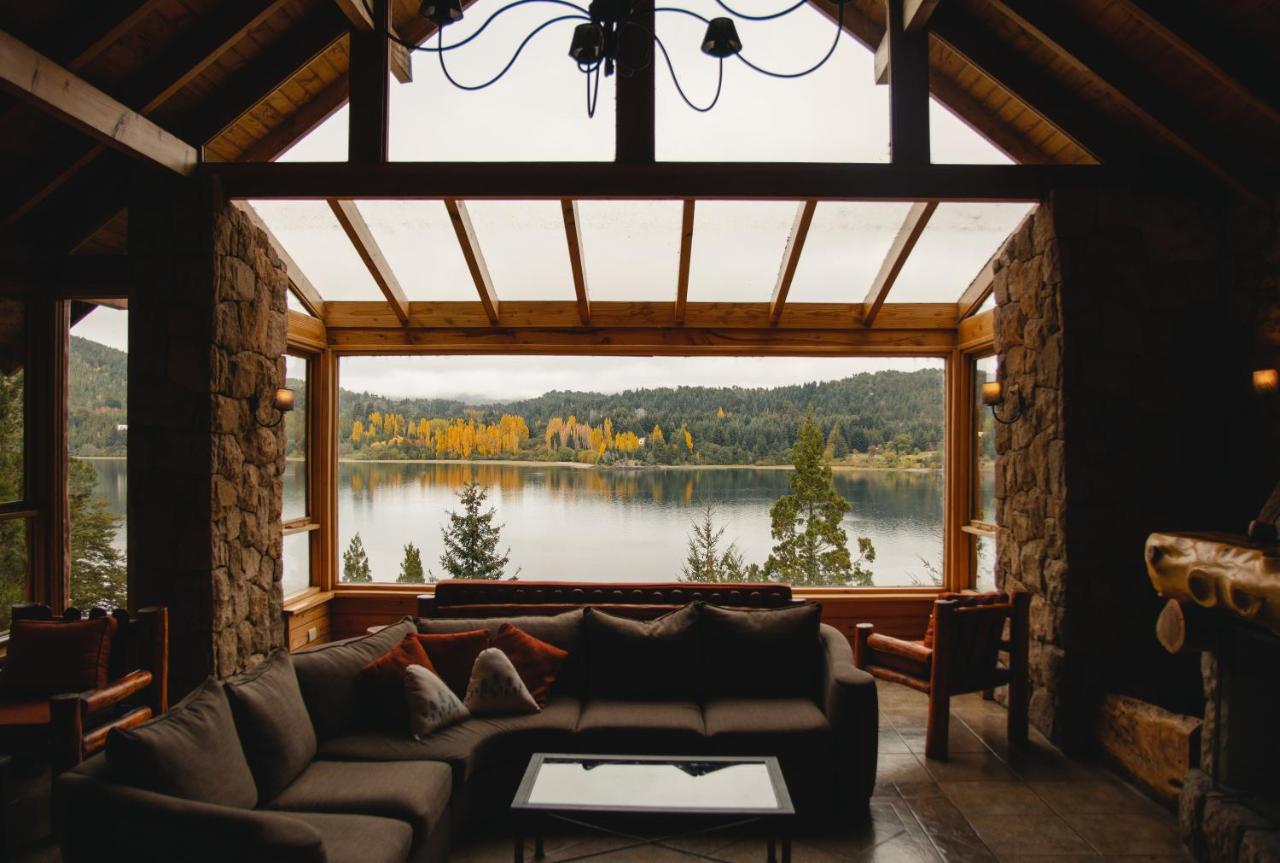 Peninsula Petit Hotel is located in San Pedro's Peninsula, just 20 km from downtown Bariloche and 35 minutes from the Catedral Ski Center. Guests can benefit from discounts on ski equipment and ski lessons. During the summer, mountain trekking, bird-watching trips, and lake visits can be arranged.
The boutique hotel offers luxurious rooms with views of Lake Nahuel Huapi and free WiFi access. The gardens can be explored by the guests or they can take a walk to the beach. The Desde el Sur Restaurant serves local gourmet products like rainbow trout and homemade pasta.
The Bustillo Avenue is 500 m away, and transfers to and from Bariloche International Airport are available for an additional cost.
4. Hosteria Sudbruck
9.3 Average Rating
Get the Lowest Rates Here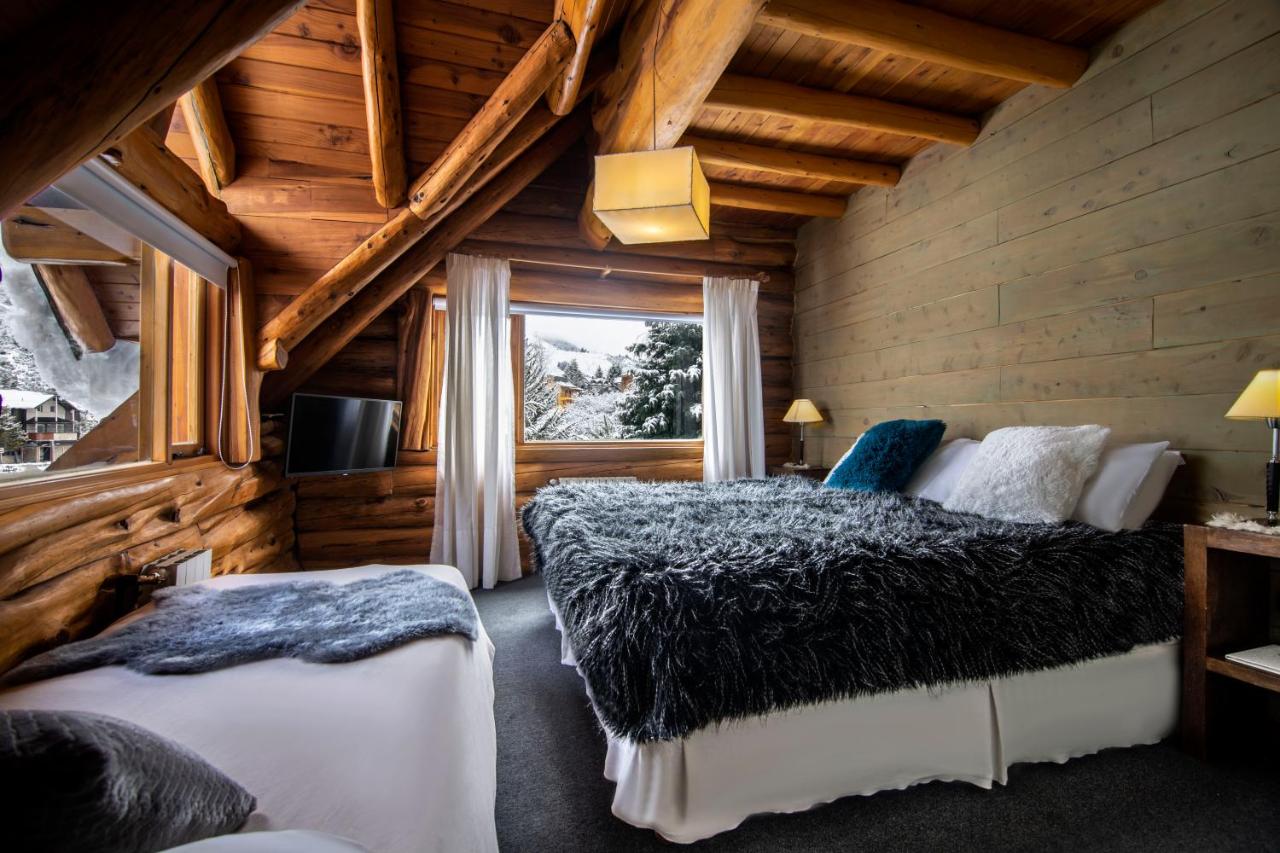 Hosteria Sudbruck is located just 200 m away from the ski lifts of Catedral Ski Centre. It offers comfortable and cozy rooms, all of which are equipped with heating, satellite TV, and free Wi-Fi. Each room also has a private bathroom.
The boutique hotel provides guests access to a seasonal hot tub with spectacular mountain views and a seasonal restaurant with regional dishes. Guests can relax in the hot tub or take advantage of the garden area.
Ski equipment rental, lessons, and discounts for ski passes and heliski trips for advanced skiers are available. During the summer, guests can explore the area by kayaking, kite surfing, fishing, or horse riding.
The popular downtown Bariloche area, entertainment venues, and chocolate shops is 18 km away. Free parking is provided, and the hostel is 30 km from Bariloche Airport.
5. La Cascada Casa Patagónica by DON
8.7 Average Rating
Get the Lowest Rates Here
La Cascada Casa Patagónica by DON is a wonderful retreat located on the outskirts of Bariloche. Guests can enjoy amazing views of the park, waterfall, and Nahuel Huapi lake. The hotel offers a variety of tastefully furnished rooms, ranging from 19m² to 30 m² in size.
Guests can take advantage of the proximity to nature by going on a walking tour, or they can reach Bariloche city center by taking the bus just a few meters away from the hotel.
Various recreational activities are available at La Cascada, including a sauna, gym, games room, indoor pool, and wine bar. The onsite restaurant serves various national and international dishes and a coffee shop and bar.
6. Alma Del Lago Suites & Spa
8.7 Average Rating
Get the Lowest Rates Here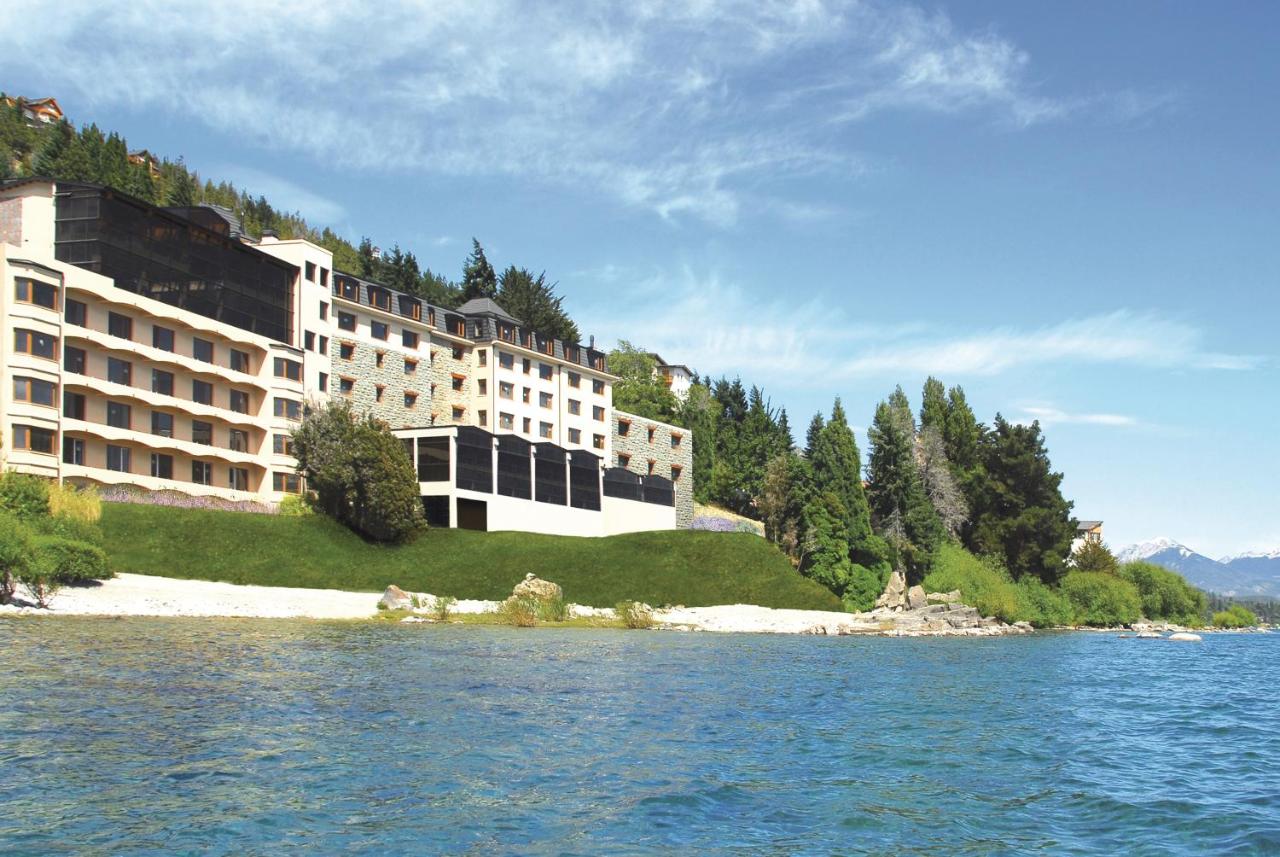 The Alma Del Lago Suite offers a luxurious stay with spectacular views of Nahuel Huapi Lake. Guests can enjoy a comfortable seating area and a flat-screen TV with cable channels in the rooms. The suite also features an expansive spa and relaxation area.
Spa & Relax features an indoor pool with a hot tub and offers a range of treatments, such as facial and body treatments, massages, and sauna facilities.
The suite also has a fine dining restaurant and wine bar, Terra Restaurant, where guests can enjoy a menu of Mediterranean-Patagonian cuisine accompanied by a selection of wines from the restaurant's private collection.
Alma Del Lago Suites & Spa is located 20 km away from Catedral hill and offers free parking on-site.
7. NH Bariloche Edelweiss
8.1 Average Rating
Get the Lowest Rates Here
NH Bariloche Edelweiss is a 4-star hotel located in Bariloche. It offers spectacular views of Nahuel Huapi Lake and the surrounding snow-covered mountains. The hotel provides ski storage services for guests. Catedral Ski Centre is 25 minutes away by car.
The rooms are spacious and bright, ranging from 20m² to 30m². They are all decorated exclusively and offer comfortable beds, flat-screen cable TVs, and luxurious bathrooms.
The boutique hotel has a restaurant, La Tavola, serving delicious Argentinean cuisine and wines. A varied breakfast buffet is also available.
Additional facilities include a gym, an indoor swimming pool, and panoramic lake views.
8. Hotel Panamericano Bariloche
8.0 Average Rating
Get the Lowest Rates Here
Situated next to the majestic Nahuel Huapi Lake, the 4-star Hotel Panamericano Bariloche offers rooms with views of the water and mountains and private bathrooms. The boutique hotel has tasteful decorations and a wide range of leisure options for the whole family.
La Cave restaurant serves cheese fondu upon request. At the Lobby Piano Bar, guests can have cocktails, drinks, Patagonian smoked meats, and a wide range of wines from the Zuccardi vineyards.
The property's spa features a heated pool, a gym, a sauna, and a hot tub. There is also a casino, games room, kids club, and the Panamericano Bariloche.
The staff is available to assist guests in planning leisure activities with intense contact with nature, such as mountain biking, horse-riding, fly fishing, or kayak crossing.
9. Hotel Huemul
8.0 Average Rating
Get the Lowest Rates Here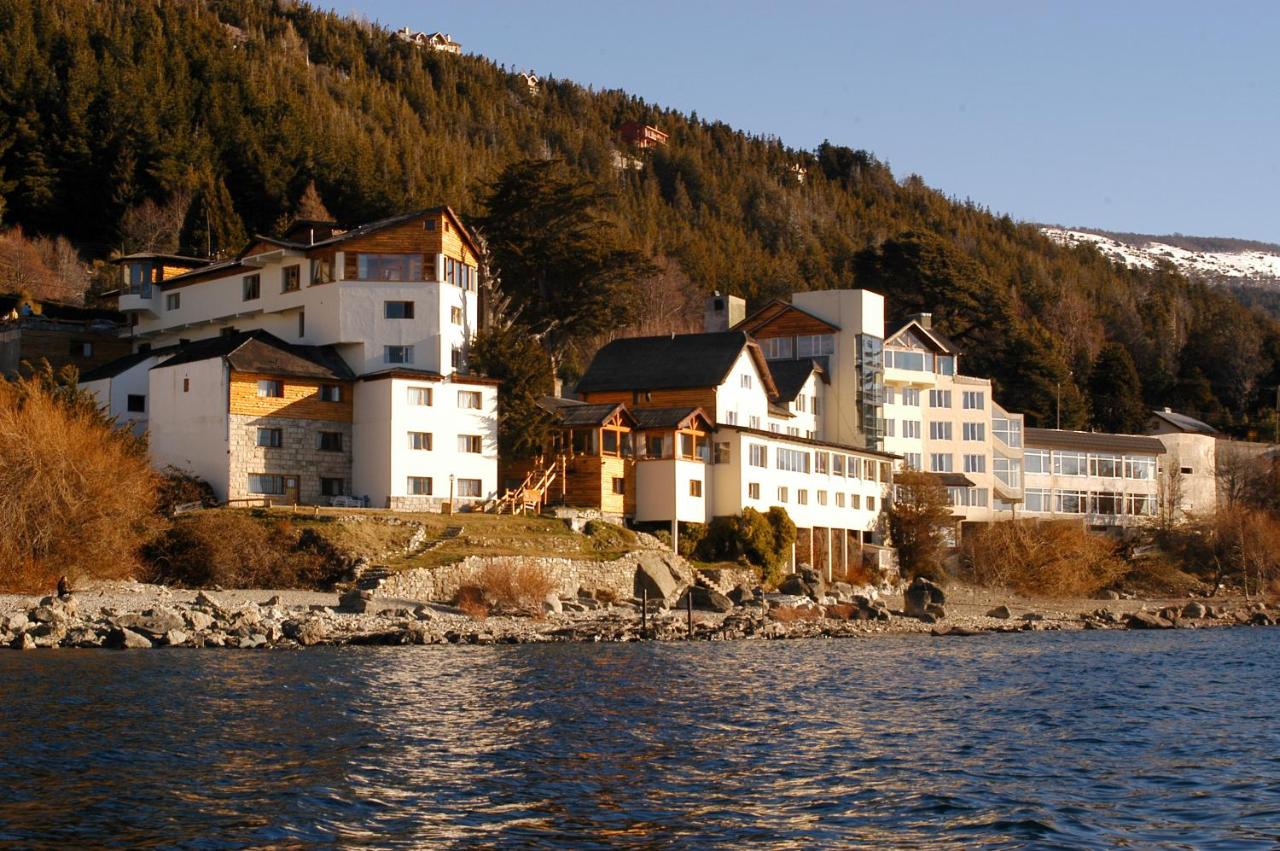 Hotel Huemul is located in San Carlos de Bariloche and offers direct beach access. It features a regional restaurant, a bar, and a fitness center. Guests can enjoy a buffet breakfast, free Wi-Fi in public areas, and a computer.
The boutique hotel offers a variety of room types, all with private bathrooms. Some rooms have views of the lake and mountains, while the economic rooms have internal views.
Hotel Huemul also provides a sauna, a lounge, and a heated pool with panoramic beach and lake views. Lounge chairs and beach umbrellas are provided. Activities such as kayaking, boating, windsurfing, and fishing can be arranged for an extra fee.
The city center is 1 km away, and the hotel is 17 km from the Catedral ski center and 20 km from Luis Candelaria international airport. Free public parking is possible on-site.
10. Basia Hotel & Sushi
8.0 Average Rating
Get the Lowest Rates Here
Basia Hotel & Sushi is located in San Carlos de Bariloche, 2 km from downtown. The property is set in 20,000 sq. meters of the park and offers a heated swimming pool and an on-site restaurant. The hotel is comprised of two modules – a main building, which was recently renovated, and a second building situated just 50 m away, where the Deluxe and Superior Double and Triple rooms are located.
Each room has a king-size bed, a private bathroom, and cable TV. Guests may also enjoy free WiFi access and stunning views of Nahuel Huapi lake. Housekeeping services are provided free of charge.
The surrounding area offers a variety of activities, including fishing and skiing. Basia Hotel & Sushi is ideal for anyone looking for a tranquil environment with plenty of nearby attractions.