Finding the best restaurants in Paris could be a real task given it's a city that has long been considered a major culinary capital of the world. The French capital has a plethora of restaurants that serve the perfect ambiance, in addition to its world-class cuisines with Michelin star ratings.
Although Paris has over 120 Michelin-star restaurants, each providing its unique and unforgettable experience, there are plenty of options for the best dining experience in Paris. Whether you are in the mood for authentic French cuisine, fine dining, or casual dining, the selections of quality restaurants are plenty.
We've put together some of the best restaurants in Paris right now that are worth checking out!
Best Casual Restaurants in Paris: Pink Mamma (no. 26), Breizh Creperie (no. 51)
Best Affordable Restaurants in Paris: Le Bistrot du Peintre (no.21), Peppe Partyrs (no. 33)
Famous Restaurants in Paris: Cafe Marly (no.3), Restaurant Georges (no. 12)
Romantic Restaurants in Paris: Le Coupe Chou (no. 7), Les Ombres (no. 8), La Tour d'Argent (no. 9)
Michelin Star Restaurants in Paris: Le Pur (no. 6), Le Train Bleu (no. 19), Les Ombres (no. 8)
COOLEST RESTAURANTS IN PARIS RIGHT NOW
1. BUSTRONOME
Address: 2 Av. Kléber, 75016 Paris, France | map
Restaurant Menu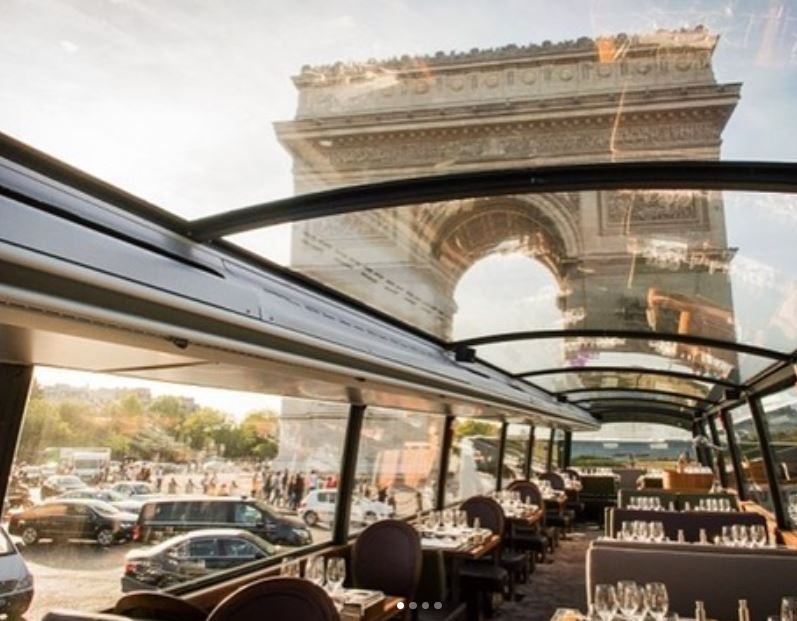 The Bustronome has an innovative approach to a culinary experience and is one of the best Paris restaurant with a view. The fancy appointed double-decker bus is converted into a fine dining room restaurant that travels around Paris. Imagine having dinner with stunning views of the Eiffel Tower, Arc de Triomphe, or Notre Dame as your backdrop!
It's a culinary experience like no other, with the menu prepared by famous Chef Sébastien Nicolleau, who has two tasting menus with incredible food and wine pairings. It's definitely a unique Paris restaurants experience.
We had a wonderful evening on the Bustronome bus. All the dishes were so interesting and tasty. I had mentioned in my order that I don't like nuts, and the chef kindly altered my dish to my liking. I really appreciated that they had taken note of my request and had checked too.
The evening was very well organized. We had ordered our drinks in advance, and everything was spaced out nicely. We even got to explore parts of the city we hadn't seen before! The view through the windows and roof was breathtaking, and it was quite funny to see people on the streets walking past and doing double takes. The service was impeccable, and our whole experience was worth the money we paid.
The best part of our experience was being able to see all the iconic monuments of Paris with an audio guide. This gave us the opportunity to learn about the history of each monument. Plus, the food was delicious! Even though I had visited Paris a few times before, I had never seen everything in one go. We even stopped at the Eiffel Tower and watched it light up at the exact time.
I highly recommend Bustronome to everyone who visits Paris (and their other locations such as London). You won't regret it and is worthy of one of the best trendy Paris restaurants.
2. LE CIEL DE PARIS
Address: Tour Maine Montparnasse, 56th floor Tour Maine Montparnasse, Av. du Maine, 75015 Paris, France | map
Restaurant Menu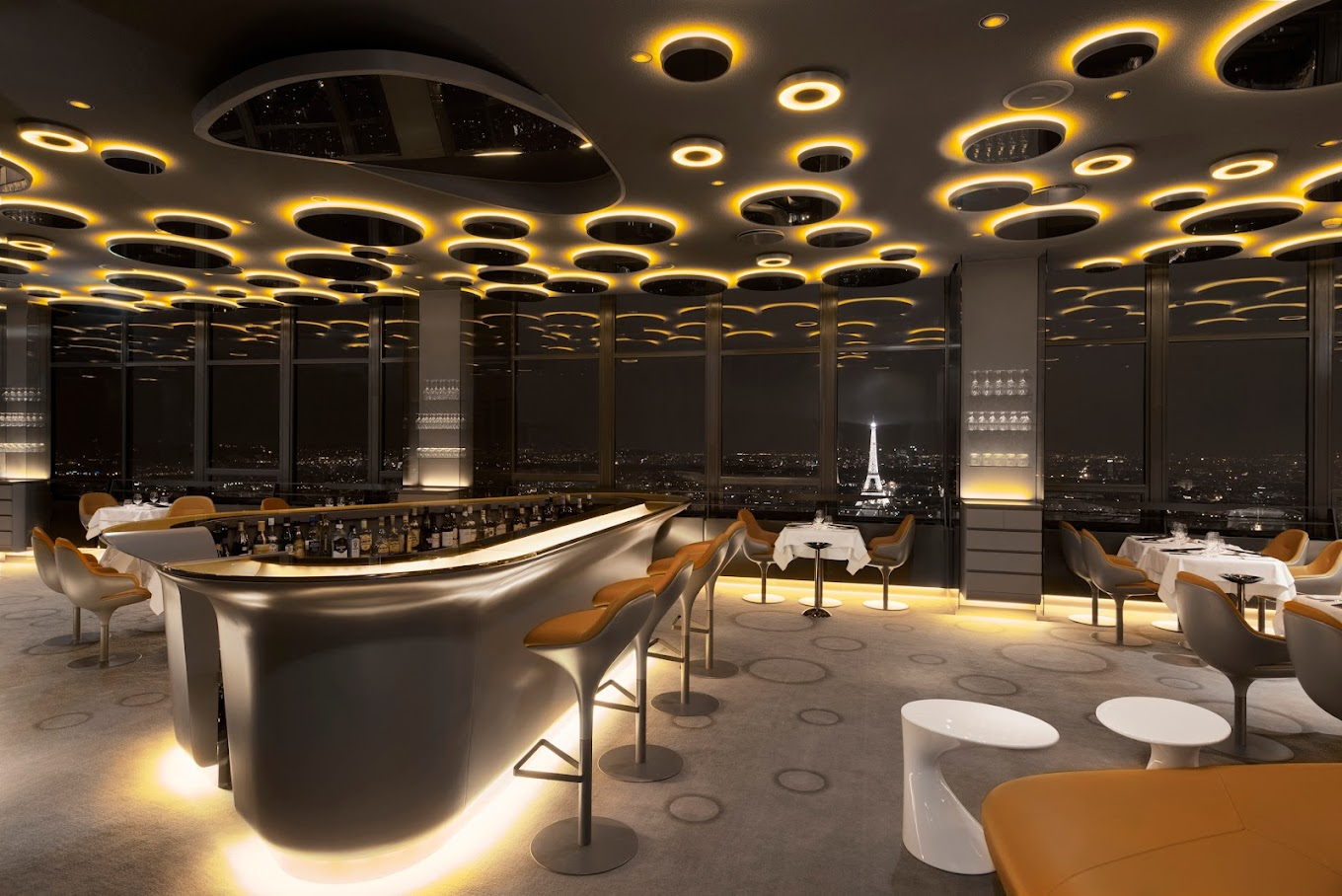 One of the coolest restaurants in Paris right now thanks to its delicious food with a view of the majestic Eiffel Tower. Le Ciel de Paris is a glass-walled restaurant on top of one of the city's tallest structures, with sweeping views of Paris, serving refined traditional French cuisine. After 38 seconds in the elevator, reach the top of the Montparnasse tower in the 15th arrondissement and discover the new design decor of Le Ciel de Paris, signed Noé Duchaufour-Lawrence, with the theme Paris Big Screen.
One of the best Paris restaurants with a view because of its enhanced by textured materials in muted hues, also offers you a hyper-trendy millefeuille bar, leaving you speechless. Be sure to try the tasty, savory, or sweet creations of the talented chef Christophe Marchais.
We had made reservations online for a restaurant near the Eiffel Tower and had reconfirmed a couple of times. When we arrived, the restaurant was amazing in accommodating all of our requests. We asked for dietary restrictions, special orders, and most importantly, a table with a spectacular view of the Eiffel Tower and city. The view was truly precious and unbeatable.
The food, wine, desserts, and service at Arfuza were of high quality, making the entire experience most wonderful. Arfuza was extremely caring and responsive in every respect. The elegant charm of the room was captivating, and if we lived in Paris, we could easily see ourselves holding many special occasions there.
3. CAFÉ MARLY
Address: 93 Rue de Rivoli, 75001 Paris, France | map
Restaurant Menu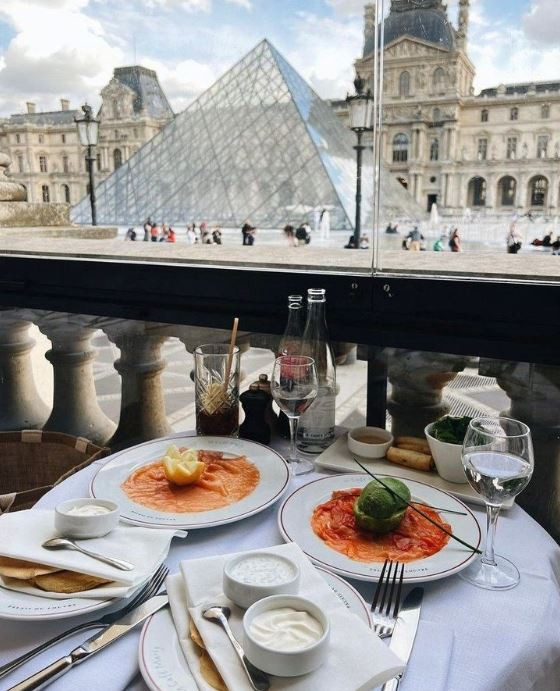 The Café Marly enjoys an exceptional view of the Louvre pyramid. Famous Models, journalists, stylists, and others come to settle in this designer restaurant in front of the restaurant's listed woodwork to see and be seen and it has made it one of the most famous restaurants in Paris.
This restaurant is located in the 1st arrondissement, with a fancy dining set in an old-world interior & stunning open-air arched passageway with incredible views of the Louvre Museum. It's a perfect setting for summertime dinner with its warm and airy setting.
We have been coming to this cafe for years, which always impresses us. We were lucky enough to get an inside table, which is always our preference during a hot summer day. The food was excellent, as was the service, and it still represents good value for money.
4. CASA LUCA
Address: 82 Av. Marceau, 75008 Paris, France | map
Restaurant Menu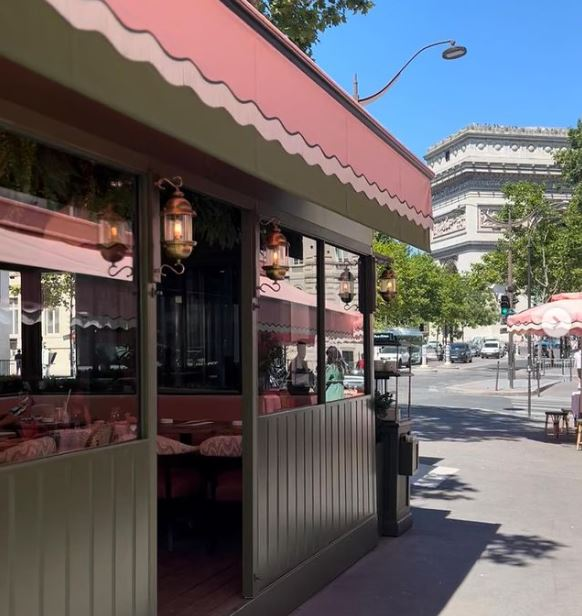 Casa Luca is one of the top restaurants in Paris, perfectly blending the Parisian atmosphere and its Italian menu in this very popular restaurant with a view of the Arc de Triomphe. The concept of this restaurant is by world-renowned interior designer Pierre-Yves Rochon, who designs luxury hotels in Paris and restaurants around the world.
This restaurant is opposite the Arc de Triomphe, a stone's throw from the Champs Elysées, in the 8th arrondissement. It's the perfect alternative if you want a dish from traditional French cuisine.  It's one of the best casual restaurants in Paris especially during the Spring and Summer months!
After a long day of traveling and settling in to our hotel, we decided to venture out for dinner. We were fortunate to find Casa Luca, where the food was freshly made, almost as if it were homemade. The Italian cuisine was exactly how it should be – delicious. Although the service was a bit slow, it was more relaxed. Some people may have had an issue with this, but there is something to be said for taking the time to enjoy a meal and not being rushed or hassled every two minutes.
5. Le Jules Verne
Address: Tour Eiffel, Avenue Gustave Eiffel, 75007 Paris | map
Restaurant Menu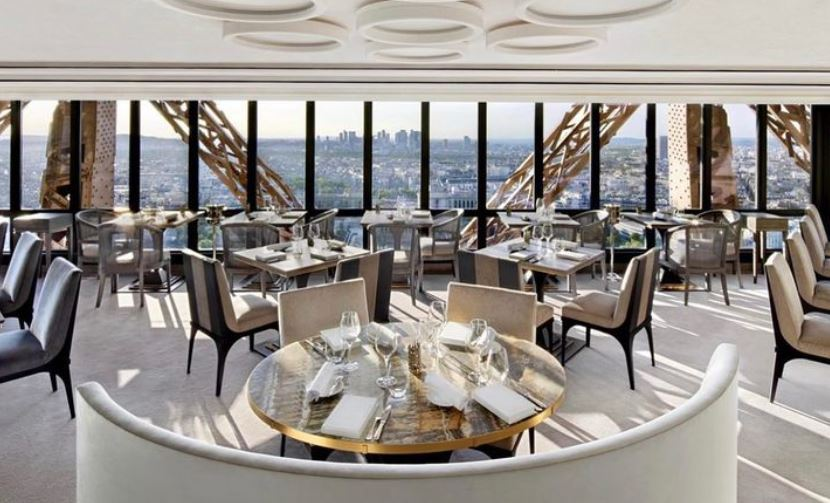 What could be more romantic than having dinner at the Eiffel Tower? The Jules Verne is an elegant, airy restaurant in the Eiffel Tower known for its sweeping views of Paris and creative take on classic French dishes.
Visiting this top-notch restaurant was an experience I will never forget. With its incredible views and exquisite French cuisine, it was an evening that I will remember for years to come. The staff was attentive and entertaining, which added to the great atmosphere.
The food was truly amazing. The degustation courses were expertly matched and balanced. The staff timed the delivery of our meals perfectly, ensuring that we were not rushed through our experience. The waiter was knowledgeable and suggested an excellent wine to accompany our meal. Despite being of high quality, it was also surprisingly affordable.
6. Le Pur
Address: 5, rue de la Paix, 75002 Paris | map
Restaurant Menu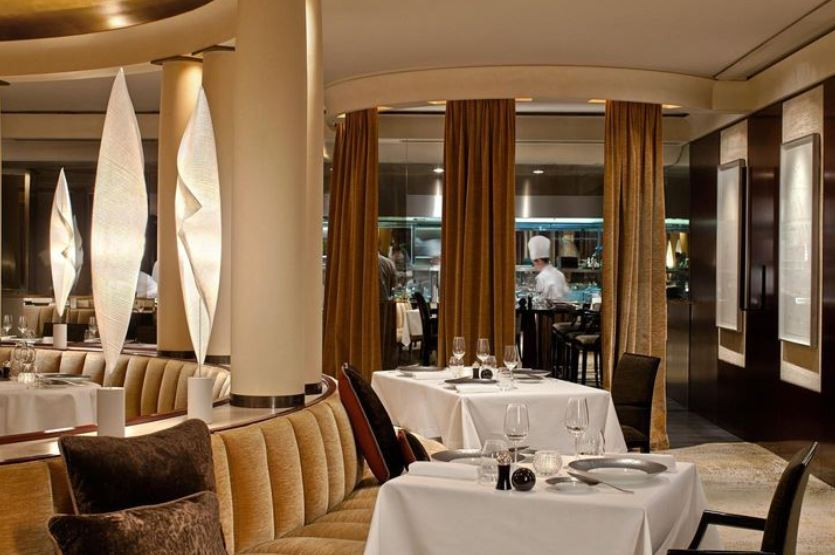 Le Pur is an excellent restaurant choice if you want a Michelin star romantic dining experience in Paris. This restaurant is part of the 5-star hotel Park Hyatt, featuring a fine dining experience specializing on French traditional cuisine led by renowned chef, Jean-François Rouquette.
The food at this restaurant is exactly what one expects from a great French Chef. Every plate was carefully crafted with the perfect combination of contrasting flavors, and each dish was served in an elegant manner.
The staff at this restaurant were very attentive and catered to our every need. Everything was very well orchestrated and they provided a sophisticated and elegant service – truly top notch! We also had the wine pairing which was delightful.
7. Le Coupe-Chou
Address: 11, rue de Lanneau, 75005 Paris | map
Restaurant Menu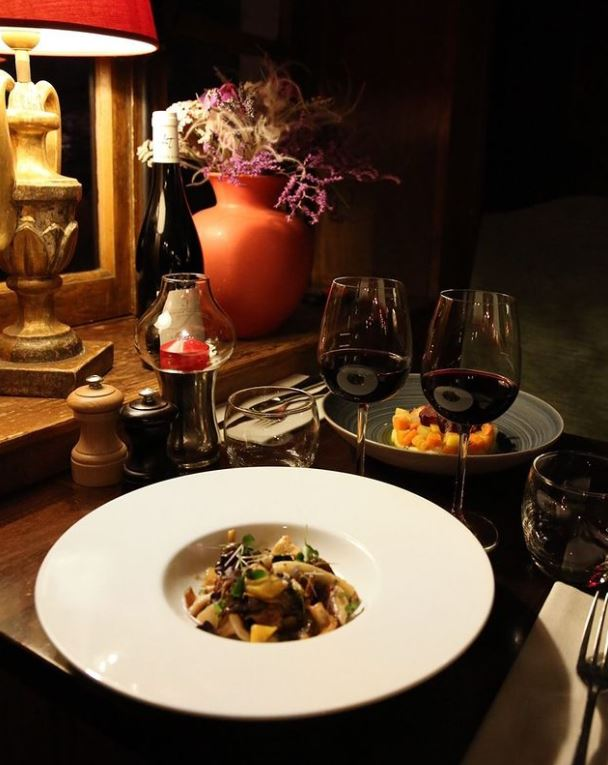 Le Coupe-chou is an intimate and romantic restaurant in Paris, featuring an open fire in a hidden alley in the Latin Quarter. You will be charmed by its ambiance and historical detail as the restaurant dates back to the 14th, 16th, and 17th centuries. It's an excellent setting for a romantic dinner inside, which feels warm and cozy and much like you're sitting in an elegant old home, and outside as their outdoor seating is in a quiet street.
The restaurant is an iconic part of the Latin Quarter, with a stunning and unique setting. It has been built from four houses, dating back as far as the fourteenth century, with elements from the sixteenth and seventeenth centuries included. The ambience is truly charming and I was amazed by the level of historical detail.
The restaurant is great for romantic dinners, inside and out. Inside the dining area feels warm and cozy, like you are sitting in an old house. Outside, the seating area is located on a quiet street, away from the hustle and bustle of the city.
During the restoration process, the remains of an old Roman city were discovered beneath the restaurant. Some of these plaques are now on display at the bar, a further reminder of the restaurant's rich history.
8. Les Ombres
Address: 27 Quai Branly, 75007 Paris | map
Restaurant Menu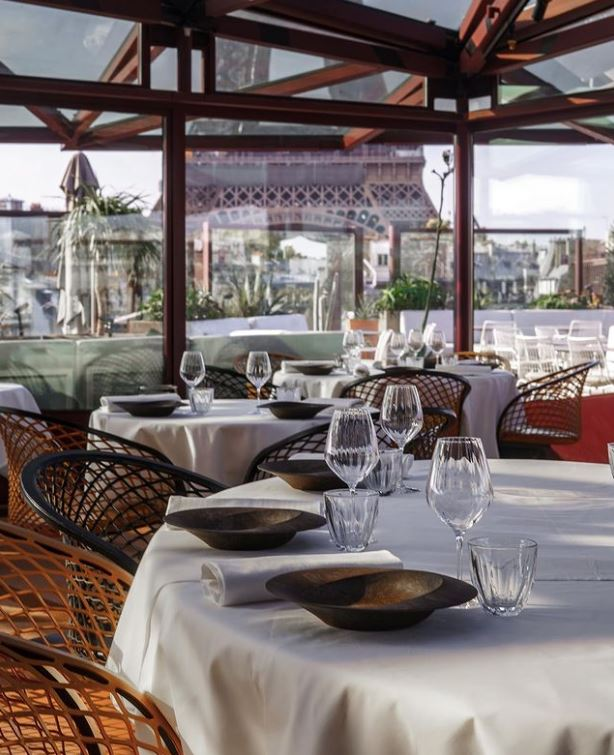 If your idea of a romantic dinner in Paris includes enchanting views of the Eiffel Tower, this restaurant is an excellent choice. Les Ombres features a fantastic rooftop terrace overlooking the Quan Branly Museum, surrounded by the seven-story Quai Branly district. Take in the magnificent view in a quiet and sophisticated location, and taste the excellent home cuisine for that perfect date night, featuring a menu by Michelin-rated chef Alain Ducasse, which has a refined contemporary take on French cuisine in an elegant setting, boasting an exceptional view of the Eiffel Tower. 
9. La Tour d'Argent
Address: 15 Quai de la Tournelle, 75005 Paris | map
Restaurant Menu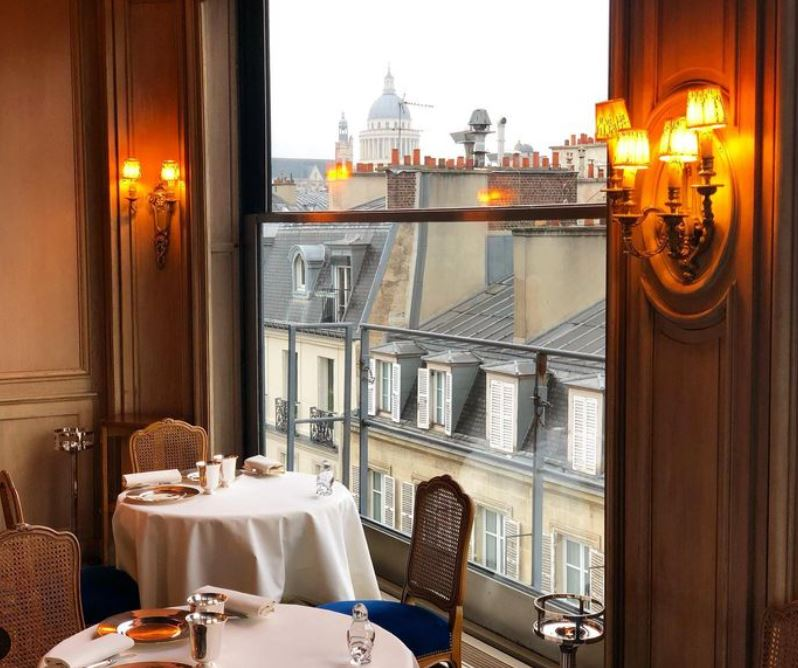 La Tour d'Argent was founded in 1582 and one of the world's oldest and most famous restaurants, offering a breathtaking and romantic view of Notre Dame, the Seine, and the panoramic Paris skyline. Its specialty is blood duck cooked according to a recipe invented in the 19th century.
The view from our table is simply stunning. We had a perfect view of the iconic Notre Dame and the Rive Droit of the Senne. The service was professional yet friendly, and the sommelier was extremely knowledgeable and helpful. Their wine list was expansive, so having the sommelier suggest the perfect wine for each course was great. The bottles we tasted were truly memorable.
The highlight of the night was the incredible food. The duck was the best I have ever had in my life! It was cooked to perfection, tender and juicy. Everything else on the set dinner menu was also delicious, so it was a truly special dining experience.
La Tour d'Argent is worthy of its hype as one of the most popular restaurants in Paris.
10. Le Cinq
Address: 31 Av. George V, 75008 Paris, France | map
Restaurant Menu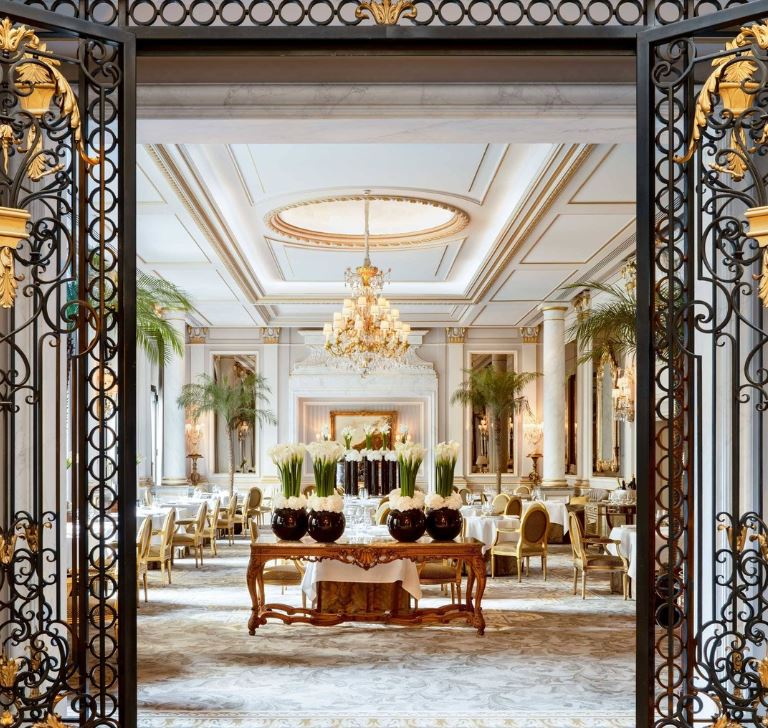 Le Cinq is part of the prestigious Four Seasons hotel in Paris, one of the few luxury Palace hotels that is a short distance from the iconic Champs Elysées. The interior design is far from subtle. Date night here is dress-in-the-nines style as brocade carpet meets gold-legged Louis XVI seats, chandeliers, fine china, and even Phillipe Starck cutlery. The 8-course dinner menu at Le Cinq features signature dishes as extravagant as its setting, like their crispy Brittany langoustine in lemon emulsion and wilted turbot in watercress and pear vinegar.
11. 6 NEW YORK
Address: 6 Av. de New York, 75016 Paris, France | map
Restaurant Menu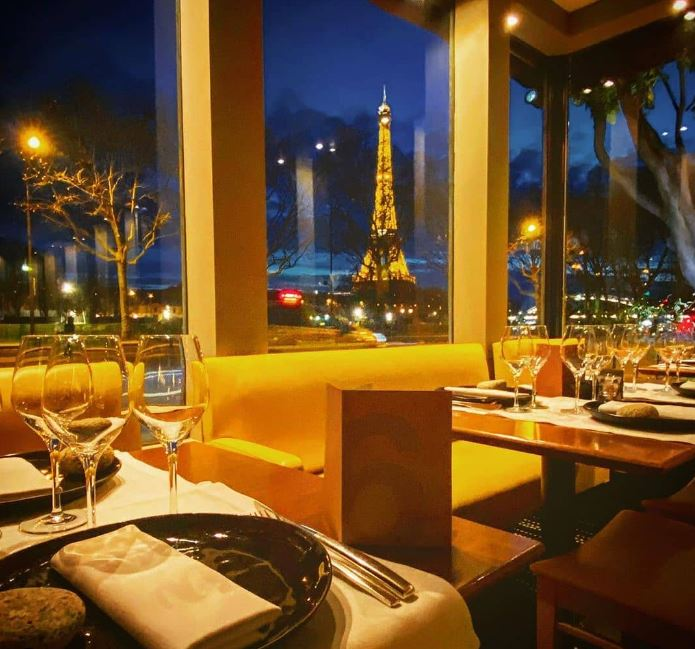 The ex-right-hand man of Jean-Pierre Vigato, the talented cook Jérôme Gangneux opened this elegant Alma restaurant a dozen years ago, between the Eiffel Tower and the Champs Elysées, in the 16th arrondissement of Paris. We like the opulent decoration of this famous gourmet stopover, it's a bright setting at lunch, its more subdued in the evening, and its exceptional romantic view. It's a charming restaurant serving plentiful delicious food, with its menu featuring truly delicious neo-classical dishes are truly one of a kind.
12. RESTAURANT GEORGES
Address: 6th Floor Georges Pompidou Place Georges Pompidou, 75004 Paris, France | map
Restaurant Menu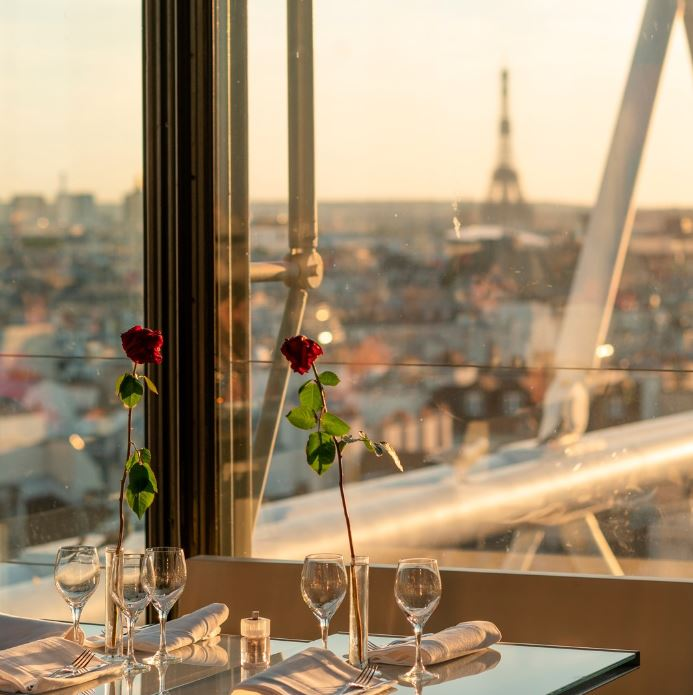 Ideally located in the 4th arrondissement on the massive roof of the Center Pompidou, Dominique Jacob and Brendan Mc Farlane designed the architecture of the Restaurant Georges with its impressive volumes. This avant-garde design restaurant offers a fantastic romantic view of the Eiffel Tower plus other remarkable monuments of Paris. You will experience amazing food through its inventive cuisine with a refined presentation of exceptional local products.
13. LE MEURICE ALAIN DUCASSE
Address: 228 Rue de Rivoli, 75001 Paris, France | map
Restaurant Menu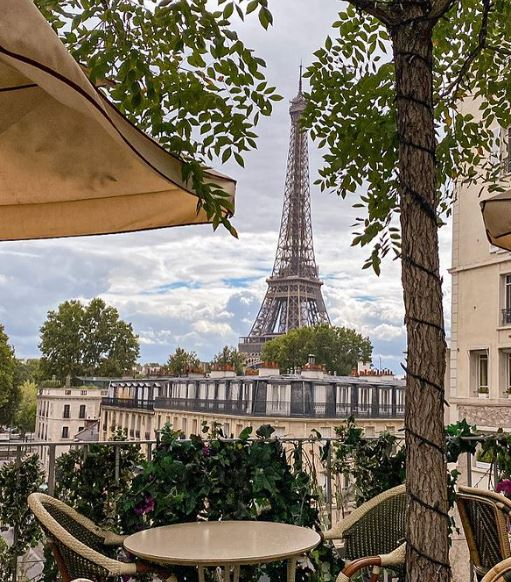 Freshly renovated in 2016 by designer Philippe Starck, Le Meurice displays a pure style from the time of Louis XIV with refined lines inspired by the Salon de la Paix at the Palace of Versailles. Here, simplicity is the keyword. The decor is simple, just a white tablecloth and the cutlery that goes with it for that romantic dinner setup, with a sole focus on the taste of the cuisine, using classic products that bring out their authentic taste, orchestrated by renowned Chef Jocelyn Herland and Cédric Grolet.
Be sure to get a table upstairs to enjoy a nice view of the Jardin des Tuileries through the restaurant's large windows. One of the best Paris restaurants with a view and amazing food!
14. L'OISEAU BLANC
Address: 19 Av. Kléber, 75116 Paris, France | map
Restaurant Menu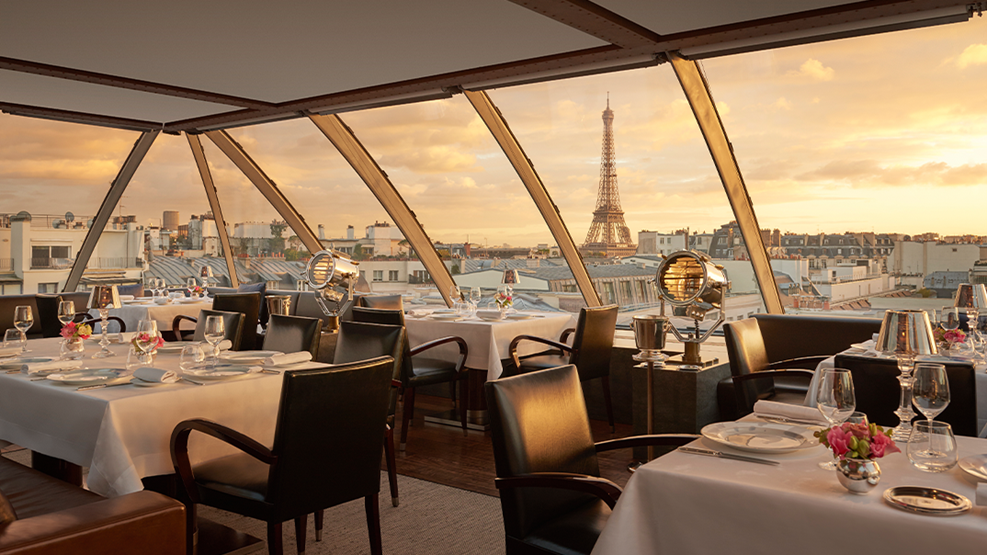 Giving pride of place to French cuisine and aviation, L'Oiseau Blanc will make you soar above the rooftops of the City of Light with a gastronomic French cuisine experience. As a tribute to aviation pioneers Charles Nungesser and François Coli, a replica of the "L'Oiseau Blanc" plane they used to attempt to cross the Atlantic hangs in the air. In addition to having a spectacular panoramic view over the rooftops of Paris, you can fully enjoy it on the open-air terrace. Or, if you prefer to face the Eiffel Tower, book the Perfect Table decorated by Maison Saint-Louis where the chef will prepare a romantic menu just for you.
15. TERRASS"
Address: 12 Rue Joseph de Maistre, 75018 Paris, France | map
Restaurant Menu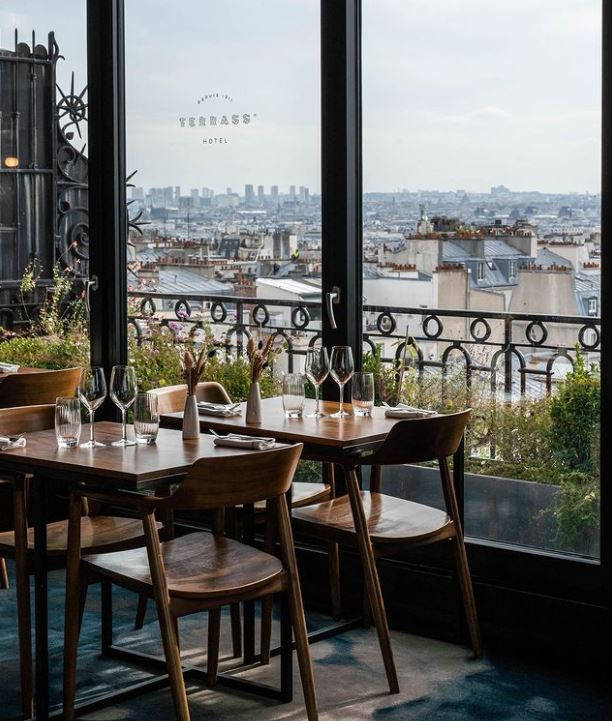 You will have to climb to the seventh floor of the Terrass" Hotel to go to the Terrass" Restaurant. This gastronomic restaurant enjoys a beautiful panoramic view of Paris, a romantic setting for lunch or dinner. At lunchtime, the menu is between €18 and €24 for the main course. Poultry marinated in lemongrass and soy, accompanied by Chinese cabbage, is tender and melting in the mouth. And for dessert, the black forest with kirsch liqueur with a worked aesthetic makes you want to bite your teeth into it. At dinner, à la carte dishes cost between €12 and €70. Once again, the meat is in the spotlight with the Normand beef tenderloin served with chanterelles and Jerusalem artichoke, which go perfectly with the meat.
16. La Suite Girafe
Address: 1 Pl. du Trocadéro et du 11 Novembre, 75016 Paris, France | map
Restaurant Menu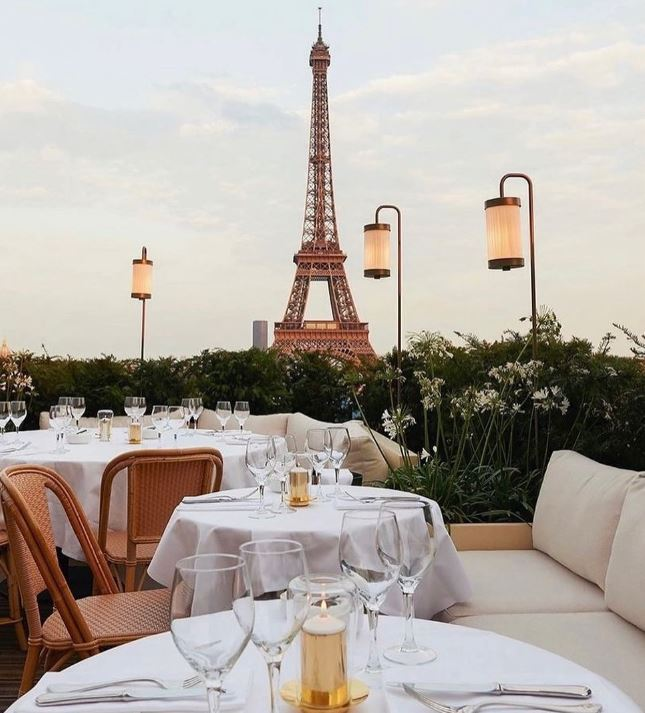 La Suite Girafe is one of the finest secrets of Paris, offering a dramatic panoramic view of the Eiffel Tower from its rooftop restaurant. The lush and bright outdoor restaurant seats 100 people, serving a menu of fresh seafood from the coast of France for an unforgettable meal.
We had a truly elegant dining experience with very comfortable seating and excellent service for three. For our main course, we split the complete dinner of fresh sea bass, which was prepared to perfection and came with two sauces and two sides. To start, we tried the very good octopus appetizer. The only meat dish that day was a filet, which the beef eater amongst us ordered and found to be very nice.
17. Perruche
Address: Printemps De L'Homme, 2 Rue du Havre 9ème étage, 75009 Paris, France | map
Restaurant Menu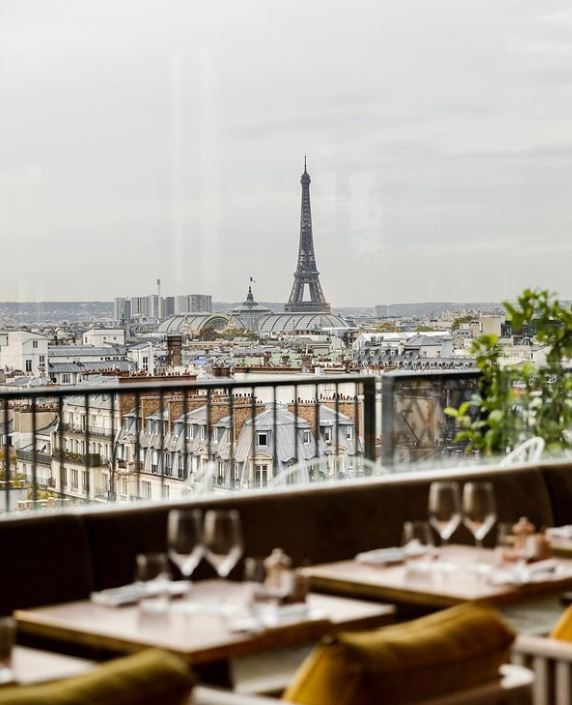 Perruche offers the most beautiful views and stunning rooftop gardens in Paris from its romantic open air terrace. This rooftop restaurant in the Printemps Haussmann department store serves classic Provencal cuisine with a robust wine and cocktail menu list.
We started off the evening with some delightful delicacies; a bottle of champagne and foie gras and sea scallop carpaccio. Our server was attentive and kept our glasses full all night. For dinner, we both had the truffle pasta, which was on par with what I've had in the United States.
The atmosphere was incredible and surprisingly packed for a Wednesday night. We had beautiful views of the Eiffel Tower and the Paris skyline from all angles, so it's no wonder why the restaurant is so popular!
18. BRASSERIE BOFINGER
Address: 5-7 Rue de la Bastille, 75004 Paris, France | map
Restaurant Menu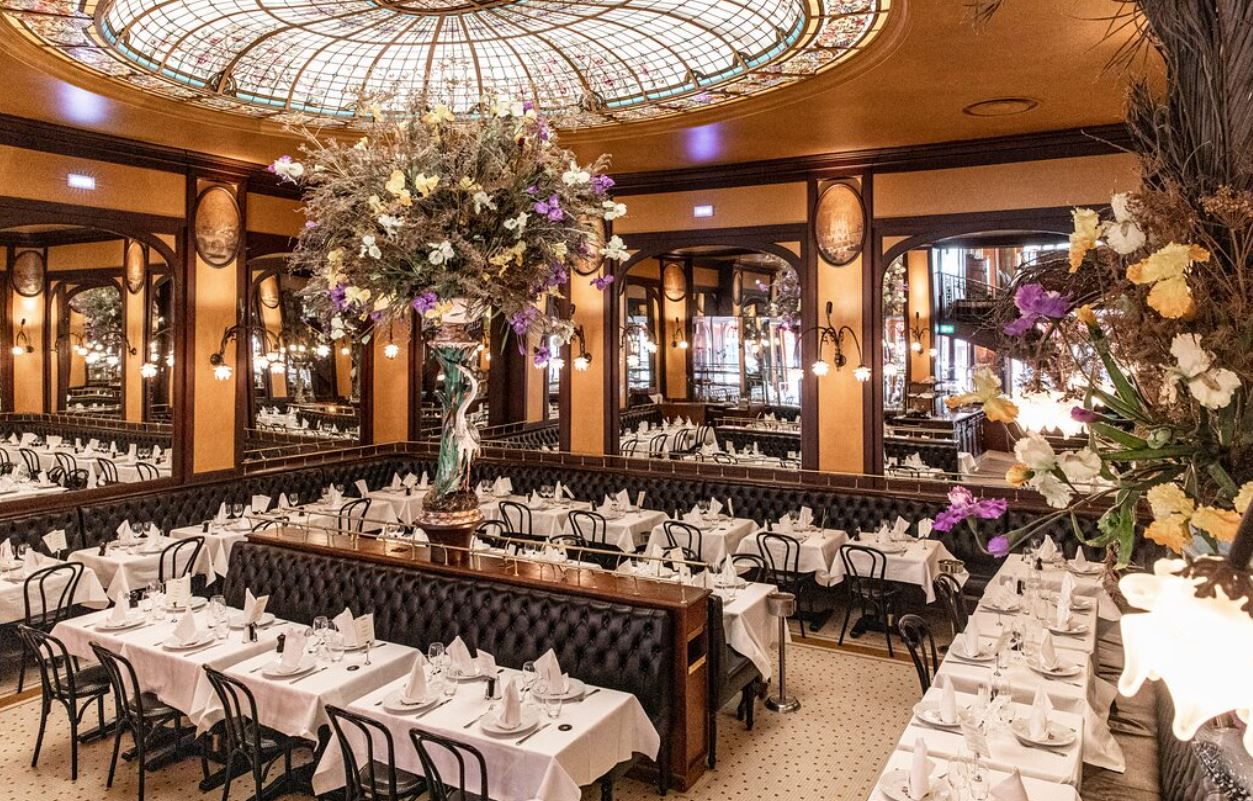 This place is one of the best brasseries in Paris and is a stone's throw from Place de La Bastille. The magnificent Brasserie Bofinger was established in 1864 specializing on traditional French cuisine from the Alsace region of France. This restaurant in Bastille has a lovely setting with wooden railings, leather banqueting, and mirror walls diners. Some of the mouth-watering selections from the menu:
Traditional Alsace dish such as Sauerkraut, Flammkueche, veal kidneys flambéed with Cognac and mashed potatoes, or grilled beef tenderloin with Béarnaise sauce or flambé pepper sauce with homemade fries.
A selection of seafood platter, crustacean oysters and shellfish, Scottish salmon, mussels with Riesling, fillet of sea bream roasted with pinot noir, scallops roasted with Riesling and creamy risotto
French duck fat with Gewurztaminer, , langoustine ravioli and shellfish jus, sole meunière or grilled, Canadian lobster flambéed with whisky, roast duck breast and mushrooms
19. Le Train Bleu
Address: Pl. Louis-Armand, 75012 Paris, France | map
Restaurant Menu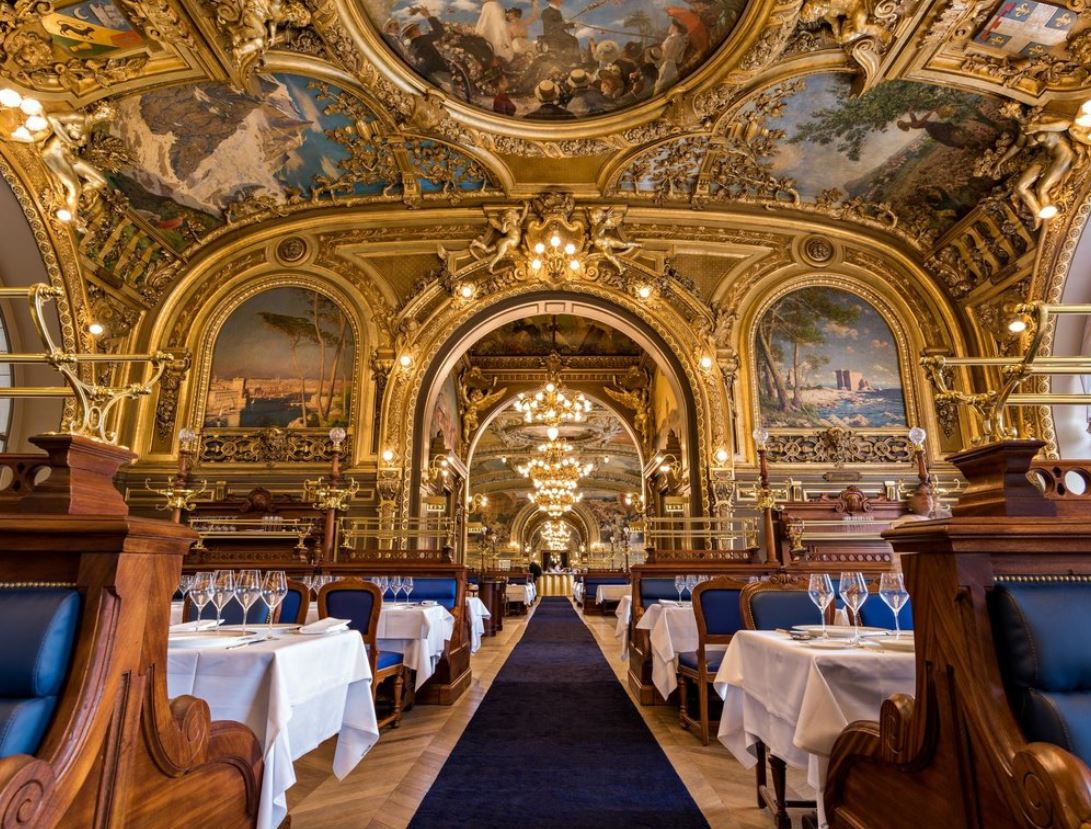 In a splendid and breathtaking decor, the restaurant Le Train Bleu, opened in 1901, is classified as a historical monument; the dining room is magnificent, steeped in the history of Paris-Lyon-Mediterranean, with frescoes, monumental chandeliers that rival that of the Palace of Versailles. In October 2018, Michelin-rated chef Michel Rostang took possession of the place to create a new dynamic and a new menu produced by a kitchen team led since 2004 by chef Jean-Pierre Hocquet. Be sure to try their classic French dishes like foie gras & steak tartare.
20. Septime
Address: 80 Rue de Charonne, 75011 Paris, France | map
Restaurant Menu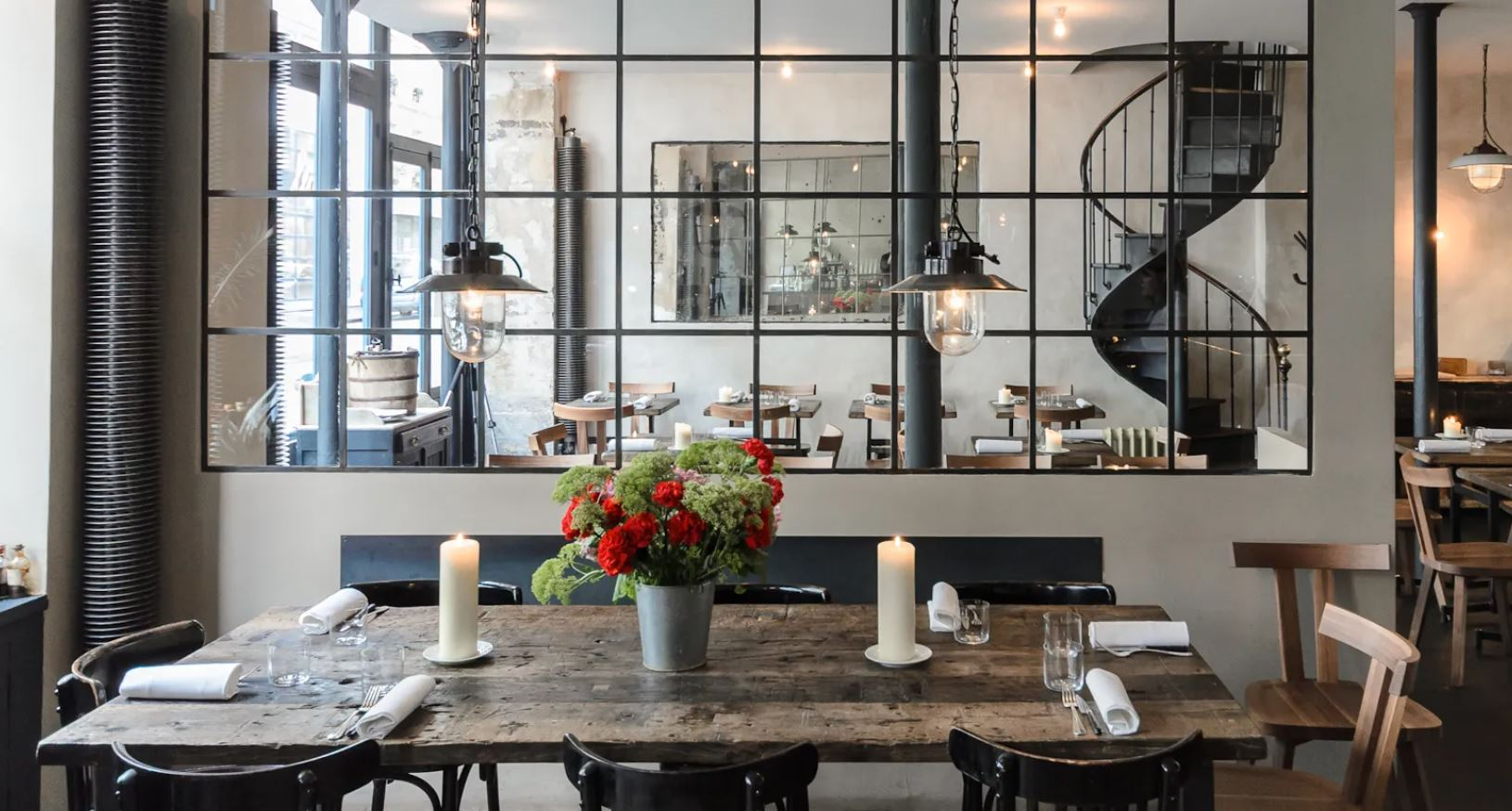 Septime is a popular restaurant in Bastille, led by a Michelin Star Chef, Betrand Grébaut. It opened its doors in 2011 in partnership with famous restaurateurs who some of the best trendy restaurants in Paris. Septime has a contemporary take on classic French dishes, featuring items like red cherry tuna and coriander, lamb with smoked aubergine, and corn gnocchi with aged gouda. For dessert, be sure to try the vanilla rice pudding with milky caramel and passion fruit sorbet, chocolate caramel and passion fruit sorbet, or pear and quince and verbena crumble.
21. Le Bistrot du Peintre
Address: 116 Av. Ledru Rollin, 75011 Paris, France | map
Restaurant Menu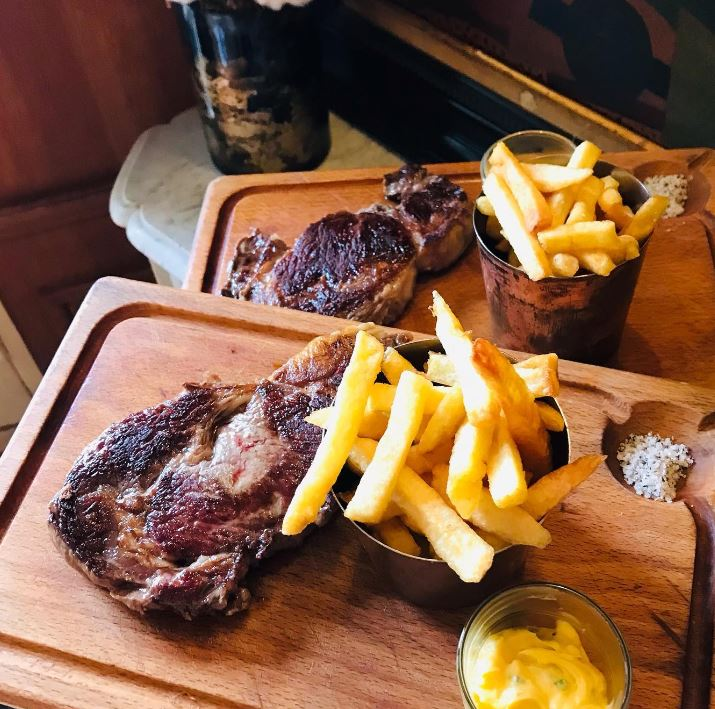 The popular Bastille restaurant, Le Bistro du Peintre, is one of Paris' most sought-after Paris neighborhood bistros. The carefully restored Art Nouveau décor and the inviting outdoor patio may attract curious passersby. Still, the classic French cuisine and a surprisingly reasonable price thus one of the best affordable restaurants in Paris.
Le Bistrot du Peinture, established in 1902 and located close to the Bastille, promises historical intrigue and that little extra something that might put it above other bistrots in the area. The owners are dedicated to providing quality produce and take pride in sourcing only the best meat, direct from farmers.
The dinner mains start at €12.00, and dessert from €6.00. On my visit, I had poêlée de coteaux au beurre d'escargot (€9.00, razor clams in a traditional snail butter) for the starter and filet mignon de porc à l'estragon avec purée maison (€14.50, filet of pork with mashed potatoes) for the main. My companion opted for poulet fermier rôti jus au romarin avec frites (€13.50, roast chicken and fries/chips). We both had house wine (€5.50).
The reimagined traditional escargot entrée with razor clams rather than snails was very herby and actually quite good. It turned a common dish on its head and made it a little different. I greatly enjoyed it and felt that it did indeed live up to the bistrot's reputation.
22. Le Chardenoux
Address: 1 Rue Jules Vallès, 75011 Paris, France | map
Restaurant Menu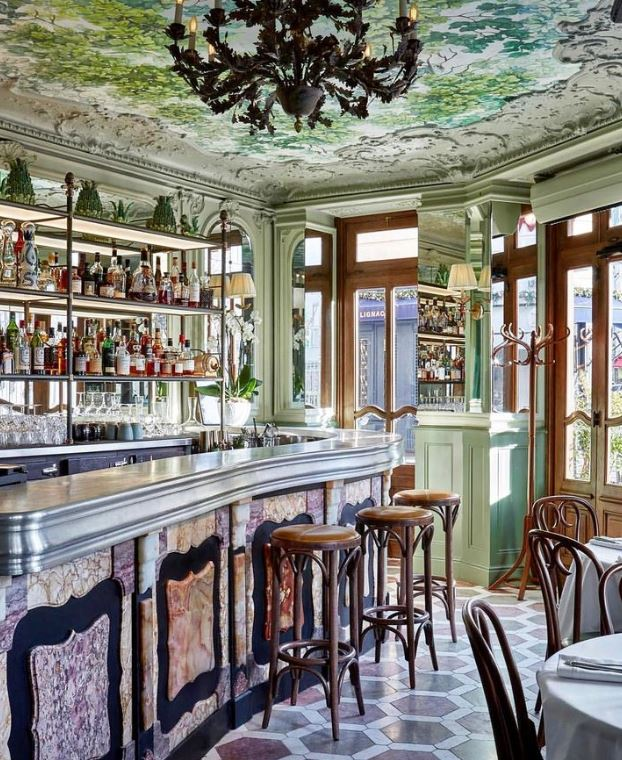 Le Chardenoux has gained popularity thanks to its celebrity chef, Cyril Lignac, who acquired this famous restaurant in Bastille in 2008. Cyril Lignac offers a seafood-heavy menu featuring popular selections such as oysters with sausage, mussels from Mont Saint-Michel, scallops caramelized with miso and avocado, organic shrimp with Chiplote mayonnaise, assorted sashimi, sea bass, and Corsican clementine carpaccio, Label Rouge salmon, and lobster roll with cocktail sauce.
For dessert, we recommend the vanilla millefeuille and pecan nut praline, the pear French toast with hazelnut caramel and vanilla ice cream, the Grand Cru chocolate and passion fruit coulant, or the fresh pineapple and lemongrass passion fruit granita with pomegranate.
23. Sando Club
Address: 1-3 Pass. Thiéré, 75011 Paris, France | map
Restaurant Menu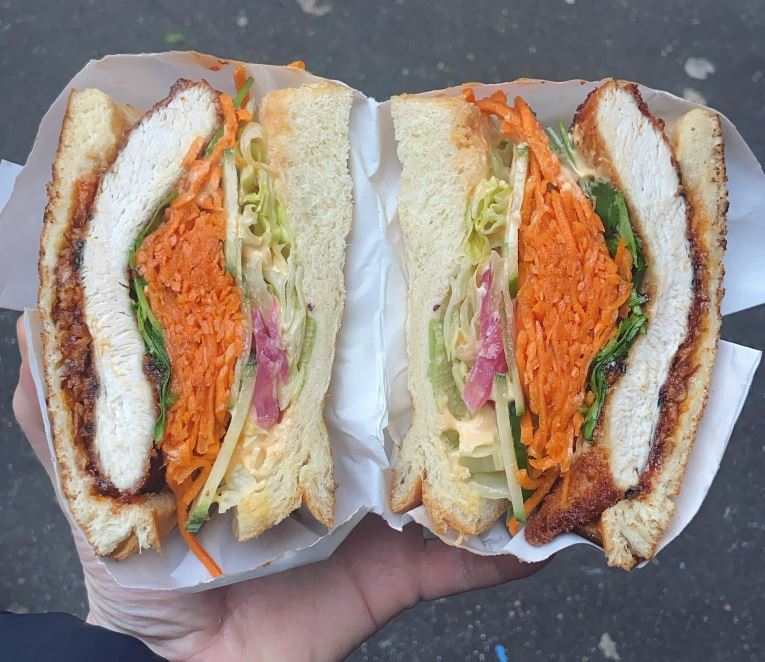 Sando Club is one of our favorite restaurants in Bastille as an alternative to traditional French cuisine. It's a café Japanese fusion popular for its signature Torikatsu Chicken cutlet and its mouth-watering Hokkaido milk bread filled with fried chicken katsu cutlets, shredded red cabbage, and carrots from Japan. This soft, light-textured, fluffy, pillowy white bread makes an excellent alternative to crusty, chewy baguettes. Another version of this famous sandwich is the omelet and roast beef seasoned with Hoisie sauce.
Sando Club sandwiches are definitely worth the price. They are filled with generous amounts of delicious ingredients and make for a great snack or meal. The chicken is crisp, and the vegetables are shredded for a unique texture. The Japanese-inspired sauces add just the right flavor, like an aioli with a sriracha kick. The brioche-type bread is soft and sturdy enough to hold all ingredients. Sando Club sandwiches are a great way to switch up your lunch or dinner routine and are a nice change from the usual baguette sandwiches.
24. L'ambroisie
Address: 9 Pl. des Vosges, 75004 Paris, France | map
Restaurant menu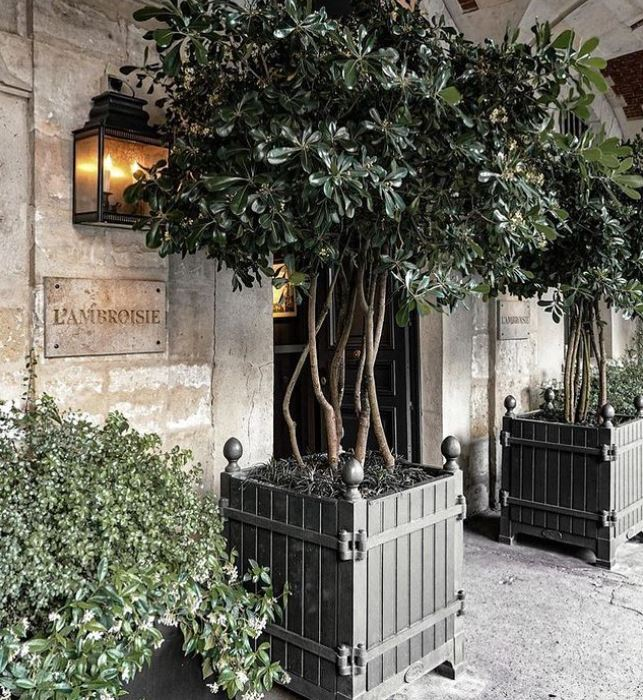 Chef Bernard Pacaud's L'Ambroisie restaurant has been an essential yet discreet address in the upper echelons of prestigious gastronomy since 1986. L'Ambroisie is a three star Michelin rated restaurant in Place des Vosges, where locals come to enjoy popular items such as the langoustine feuillantine with sesame seeds in a curry sauce, the crayfish coraline with a creamy butternut velouté, the back of sole braised in yellow wine with celery melba – grated white truffle turnip, sea bass cutlets with sliced ​​artichoke and golden caviar, or the lobster fricassee with civet sauce.
For dessert, we recommend the fine shortbread tart with bitter cocoa and Bourbon vanilla ice cream, the warm praline soufflé with mango coulis with Fougerolles kirsch, the crunchy almonds with candied pears with liquorice and cocoa sorbet, or the Reine des Reinettes and caramel cream.
25. Aux Vins des Pyrenees
Address: 25 Rue Beautreillis, 75004 Paris, France | map
Restaurant Menu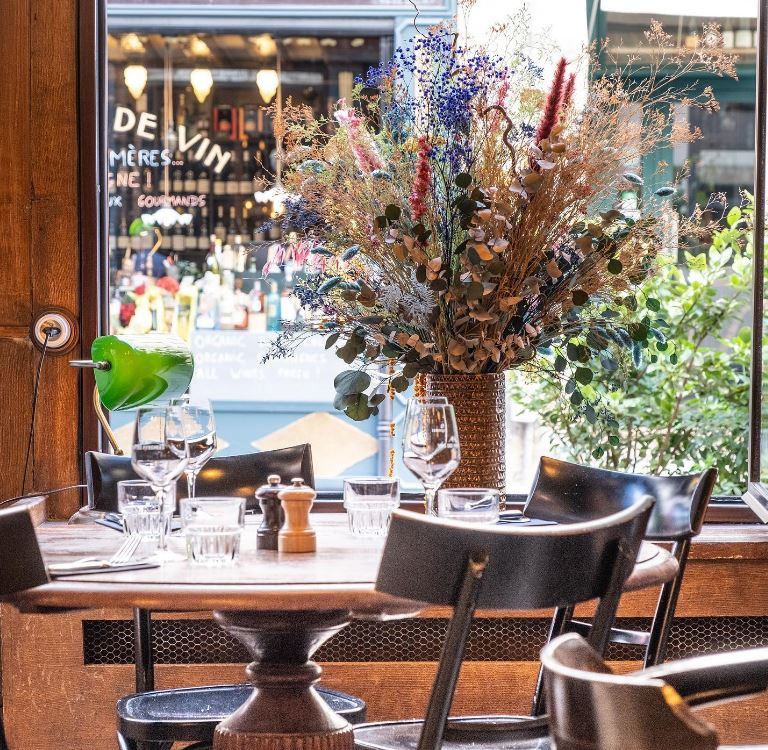 The Aux Vins des Pyrénées restaurant displays a rustic setting dating from 1905, well-prepared cuisine, and a friendly atmosphere to delight the hungriest.
The famous bistro in Bastille Aux Vins des Pyrénées was taken over in October 2017 by Florian Cadou, who entrusted the kitchen to the talented chef Jimmy Reffet.
Depending on the season, the Aux Vins des Pyrénées may include items on the menu such as mackerel rillettes, pickled eggs, paprika mayonnaise, terrine of foie gras from the Pyrenees and onion chutney, leeks with shallot vinaigrette, roast pumpkin with pumpkin seeds and yogurt with hazelnuts, Croque-Monsieur de Gouda truffled with "Prince de Paris" ham, squid stuffed with chorizo ​​and piquillos, grilled sea bass fillet and mashed potatoes, duck breast from the Pyrenees with parsnips, or the "Irish Vintage" rib of beef 1 kg with Béarnaise sauce and smoked fries (79Euro).
For dessert, the lemon meringue pie, the chocolate cake, or the brioche toast with salted butter caramel and whipped cream.
26. Pink Mamma
Address: 20bis Rue de Douai, 75009 Paris, France | map
Restaurant Menu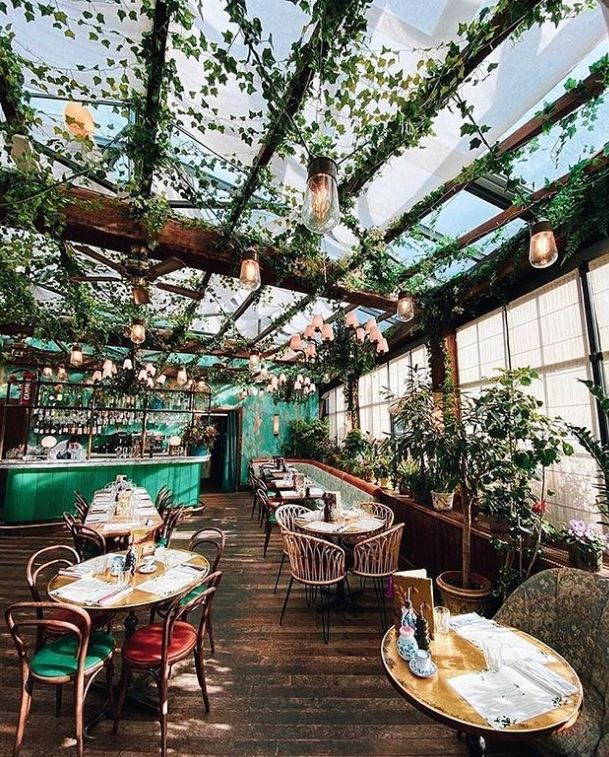 Pink Mamma is one of the most trendy restaurants in Paris right now.
is a stunning (and delicious) Italian restaurant in Pigalle that has risen in popularity thanks to Instagram. Apart from its four floors worthy of an Instagram feed post, this trendy restaurant serves authentic Italian dishes that rival the best in Paris. Pink Mamma provides a beautiful atmosphere with excellent food all over the menu. The restaurant's structure invites you to explore every floor up to the picturesque rooftop.
Pink Mamma promises to be an extraordinary Italian restaurant experience in Paris. With its delicious food, delightful drinks, and friendly wait staff, it is sure to be a fantastic experience. In order to ensure a table, reservations should be made in advance, as the line to enter often stretches down the block. One of the most popular menu items is la fameuse pâte à la truffe, a delectable dish not to be missed!
27. Le Piano Perché
Address: 8 Rue Aristide Bruant, 75018 Paris, France | map
Restaurant Menu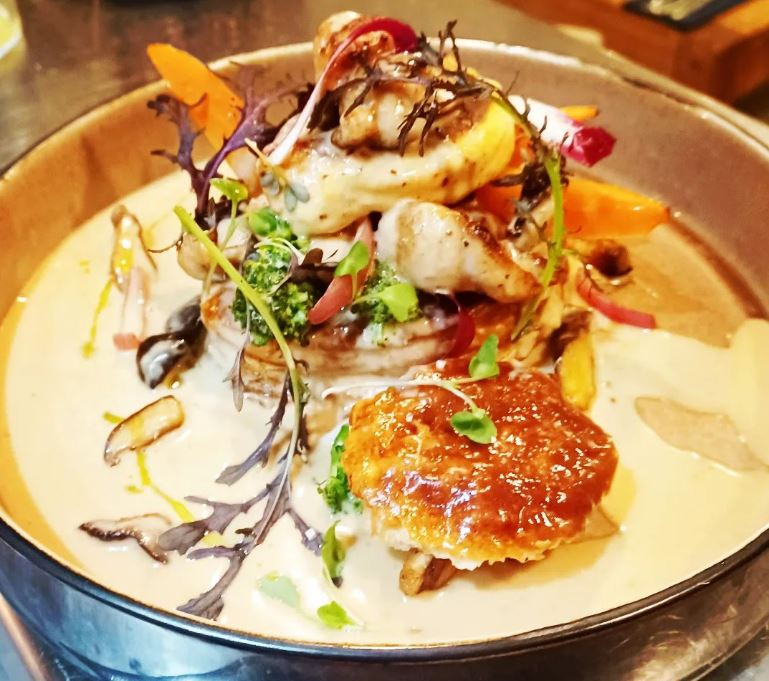 Le Piano Perché serves traditional French cuisine with a slight hip and contemporary twist. One of the few restaurants in Pigalle that gives a cozy and rustic feel, decorated with its beautiful floral walls and oak furniture and enhanced by the rough exposed stone walls and comfortable sofas. Its delightful menu of dishes like crab soup topped with ginger and avocado will surely delight your senses. Be sure to sample traditional other French dishes on the menu, like foie gras and scallops.
From the friendly and accommodating staff to the modern and sophisticated interior, it is evident that the primary focus is on the food and wine. The service is impeccable, setting the perfect tone for the culinary experience.
The food is truly outstanding, with a chef who knows how to bring out the subtleties of each dish. The flavors were so well-balanced, and it was like eating a work of art. We enjoyed three courses with a delightful wine selection, leaving us full but not overly stuffed. The menu consists of local and seasonal ingredients, so it changes frequently.
28. Le Dépanneur
Address: 27 Rue Pierre Fontaine, 75009 Paris, France | map
Restaurant Menu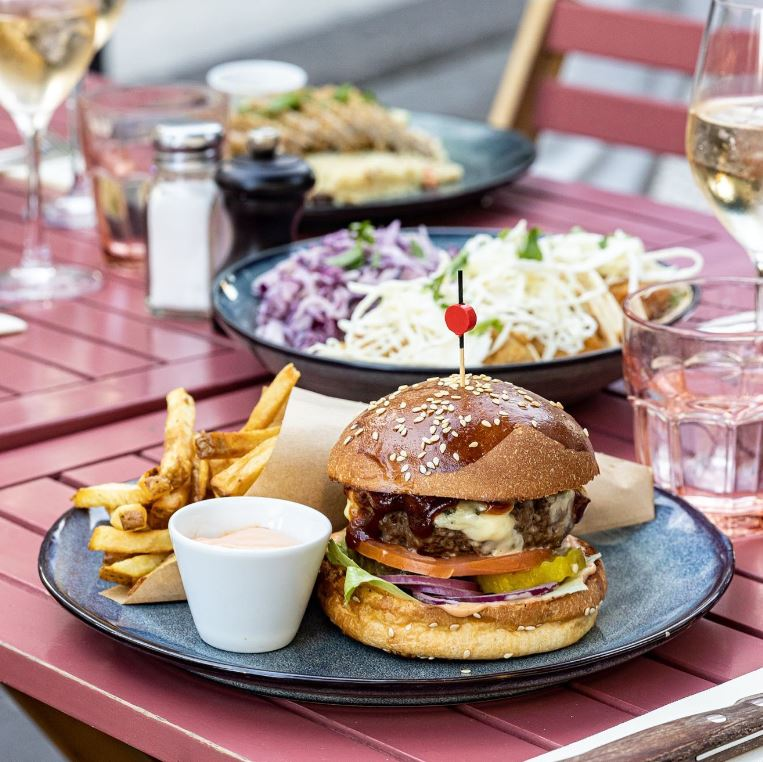 Le Depanneur is one of the best casual restaurants in Paris. It is a laid-back restaurant in Pigalle with a terrace serving guacamole, tacos & burgers, and shakes & cocktails. This French and California restaurant fusion focuses on contemporary street cuisine styles and trends. Most visitors of this trendy Pigalle restaurant attract a youthful and hip crowd, who tend to go for organic burgers stuffed in fancy bread and served with hand-carved chips and health-oriented options, including an avocado-flavored starter and homemade guacamole.
One of the best restaurants in Pigalle with excellent cocktails as well!
29. Le Pantruche
Address: 3 Rue Victor Massé, 75009 Paris, France | map
Restaurant Menu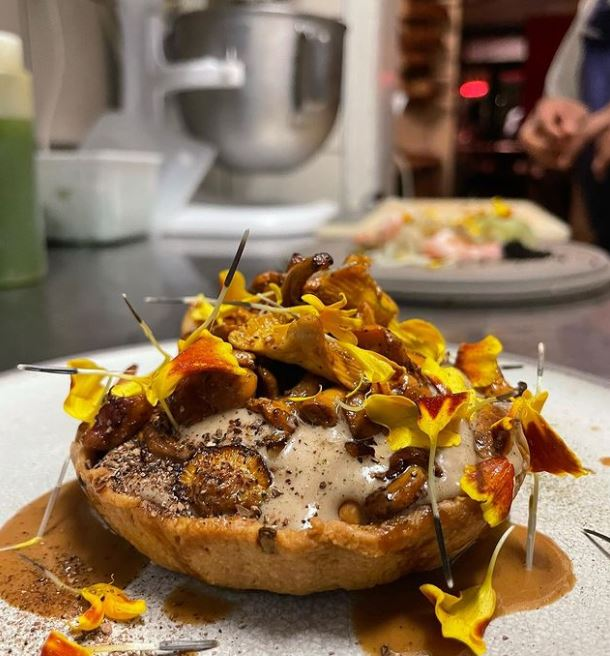 This restaurant in Pigalle offers a unique taste of bourgeois cuisine set in a cozy bistro, serving classic French dishes like soufflés & beef in red wine with a modern touch. In addition to classic French favorites, there are elegant signature dishes such as our favorite oyster tartare served with an incredibly creamy salad soup. In this room, a lovely interior by La Pentruche invokes simplicity and rust-colored furniture from 1930.
Dining at this restaurant is always an exciting experience. Unlike most restaurants, they don't have a fixed menu. Instead, the waiters bring a chalkboard to the table with the options for that day, and there is always something new. The waiters are always very kind and helpful. To get the best experience, I always recommend ordering the three course option. The food is always sublime, and I have never been disappointed.
The presentation of the food is also key for this restaurant. They make sure to make each plate look like a piece of art. Every time I asked the waiters for recommendations, they gave me spot on suggestions.
30. A la Cloche d'Or
Address: 3 Rue Mansart, 75009 Paris, France | map
Restaurant Menu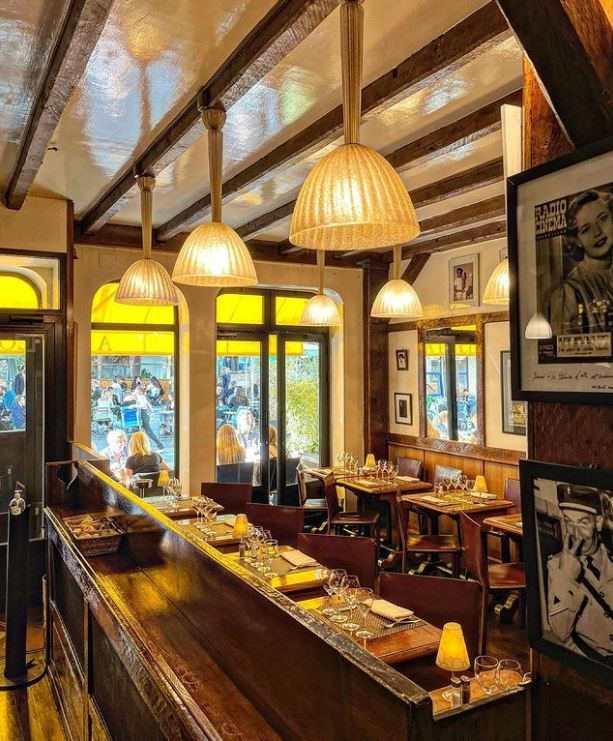 The Pigalle restaurant Cloche d'Or is an elegant expression of French tradition and is one of the top Paris restaurants. Guests can enjoy traditional dishes like burgundy snails, roast camembert, or more niche dishes like smoked herring fillet with potato or apples. Be sure to try their foie gras, escargots & steak. Given the excellent food, they also have an extensive wine list and a lovely ambiance in a rustic, wood-lined setting.
There is a lot of history with this restaurant; rumor is that it was once owned by the renowned actress Jeanne Moreau's family. Even though the management has changed since then, it continues to remain a significant part of the entertainment industry.
The restaurant is located in close proximity to the famous Moulin Rouge theater and is a popular spot amongst actors, actresses, and the audience. You may even run into one of your favorite celebrities if you are lucky! À la Cloche d'Or is sure to provide you with an unforgettable experience during your visit to Montmartre.
31. Garguiolle
Address: 7 Rue Jean-Baptiste Pigalle, 75009 Paris, France | map
Restaurant Menu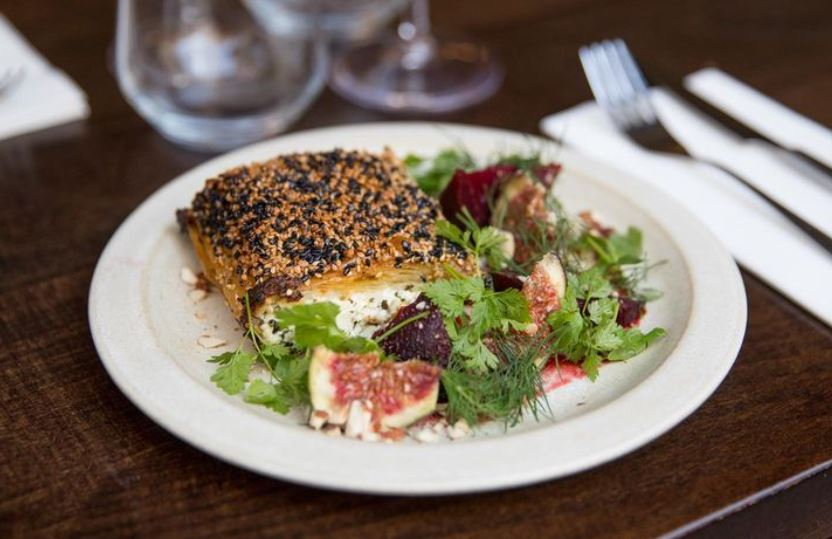 If you happen to stroll around Pigalle during lunchtime, stop by Garguiolle. This popular restaurant in Pigalle offers an attractive set menu for lunch, consisting of a dish with Mediterranean flavors based on cereals, vegetables, and protein (fish, meat, or veggie) – all for €19. Dinner time starts to get busy at 7 p.m., where you find items on the menu such as baba ganoush served with warm zaatar pita bread, tuna bricks like in Tunis to dip in a dill yogurt, a pretty stuffed zucchini and its cream of feta with walnuts, roasted tomatoes, round koftas accompanied by Lebanese tabbouleh, candied onion, and tahini, a crunchy puff pastry with feta, beets, and figs, and a crazy pork belly, chard and date.
32. Les Affranchis
Address: 5 Rue Henry Monnier, 75009 Paris, France | map
Restaurant Menu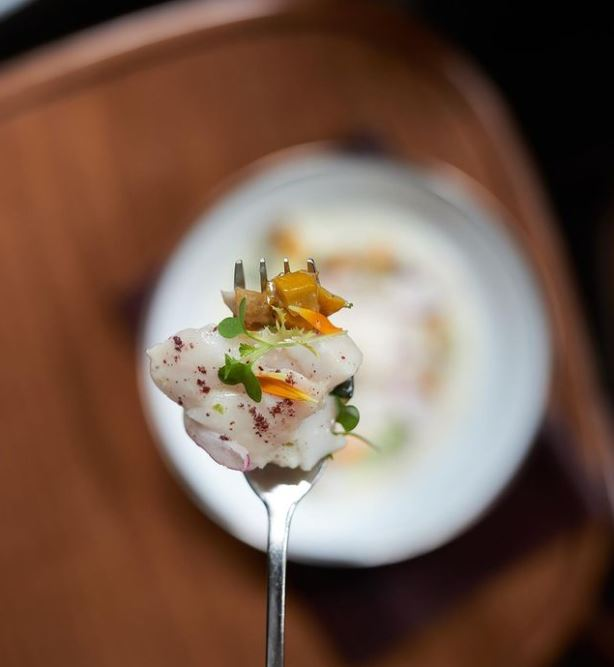 This favorite local restaurant in Pigalle is tucked in a quieter corner of 9th arrondissement. Les Affranchis' take on classic French dishes to create tasty cuisine, paired with a lengthy wine list set in an old-fashioned dining room. Some of the highlights on their menu are the creamy cauliflower soup, a mastery in the soup's consistency that is not too creamy, watery, chunky, or granular – it was just perfect. For the main course, be sure to try the grilled codfish.
33. Peppe Martyrs
€€ | Casual Dining
Address: 61 Rue des Martyrs, 75009 Paris, France | map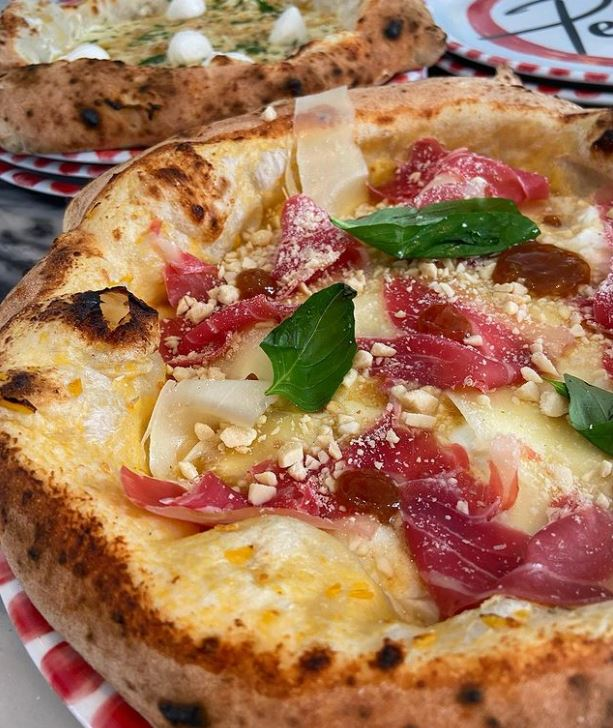 How often do you say you've eaten in an Italian restaurant where the Chef is a Pizza world champion? Peppe Martyrs is a restaurant near Pigalle where the Chef, Guiseppe Cutraro, holds the title of Neopolitan Pizza World Champion.
The homemade products of the Peppe Martyrs restaurant are imported daily from Italy: gorgonzola DOP, Taleggio DOP, mozzarella di Buffala, smoked provola, fior di latte, and burrata from Puglia. The menu of the Peppe Martyrs restaurant mainly announces Neapolitan pizzas, Margherita (13Euro), multicolored burrata (16Euro), the World Champion (20Euro), or the Queen Tartuffo (21Euro).
34. Le Bon Georges
Address: 45 Rue Saint-Georges, 75009 Paris, France | map
Restaurant Menu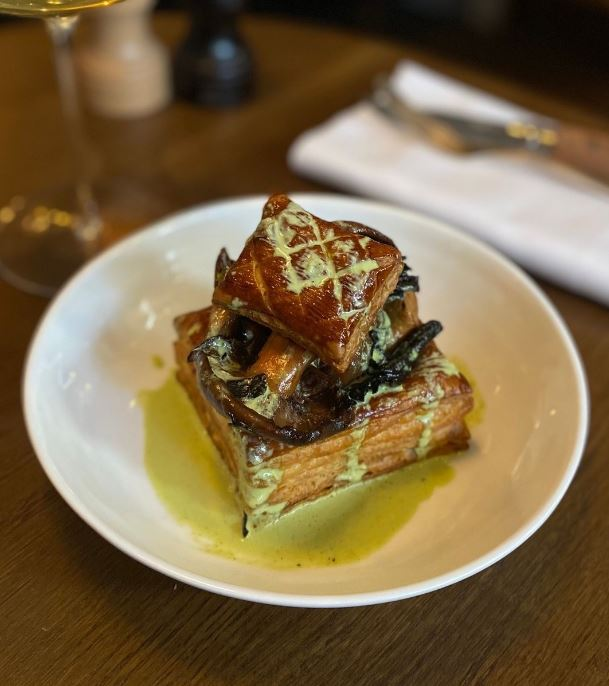 This popular restaurant in Pigalle is frequented by locals and provides a fantastic & genuine Parisian culinary experience. Le Bon George is your classic Parisian bistro with sidewalk tables, a chalkboard menu of daily dishes & an extensive wine list. The duck pate en croute (encrusted with figs) was a delightful start to an outstanding dining experience. The entrees of duck breast, black mullet (fish), and steak were exquisitely prepared – a delight to the senses – and delicious. There wasn't a scrap left on our plates. We chose Paris Brest for dessert, which was on our "must-have" list and did not disappoint.
35. Caillebotte
Address: 8 Rue Hippolyte Lebas, 75009 Paris, France | map
Restaurant Menu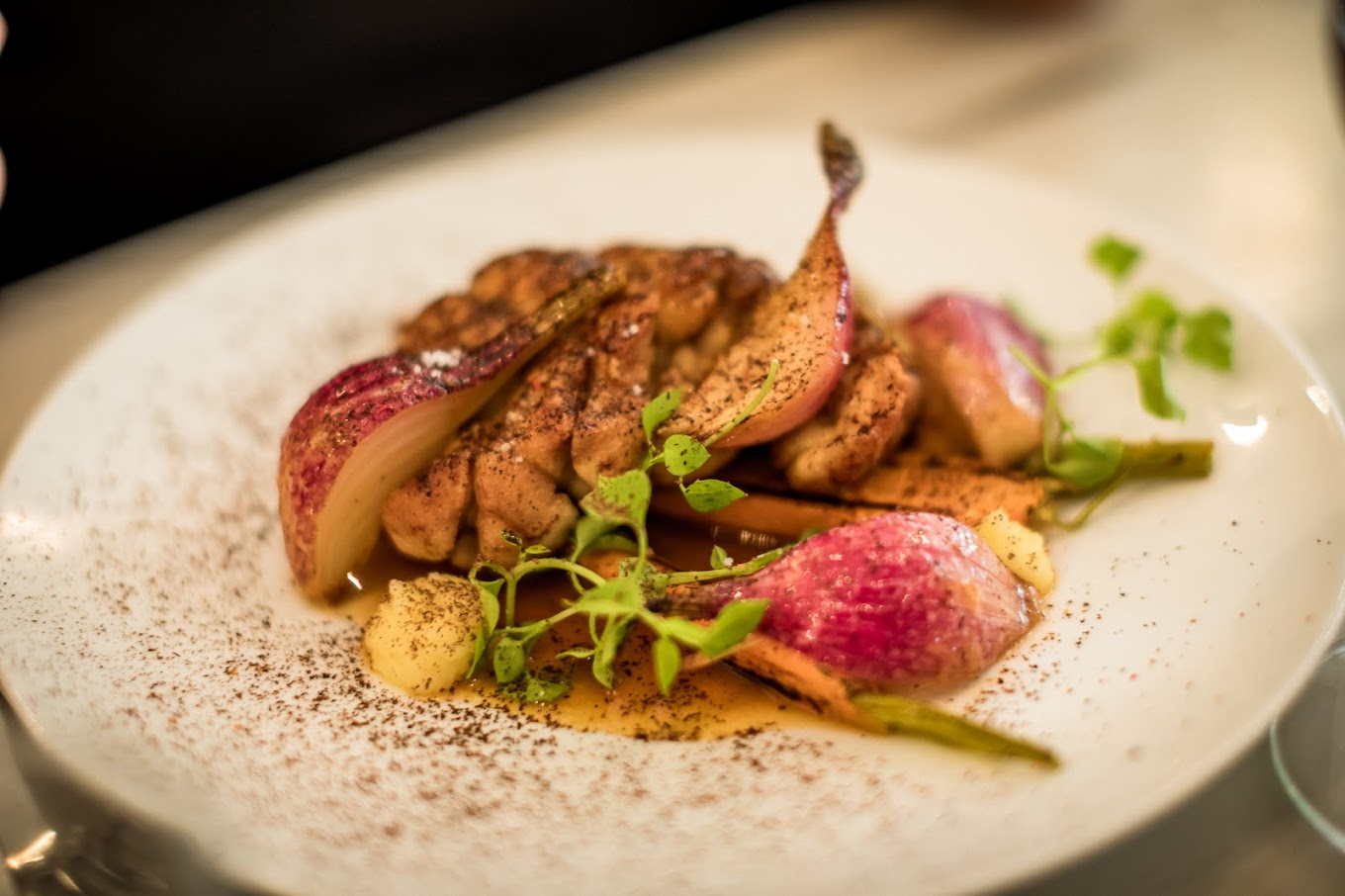 A classic French bistro dining, with artful presentation, in an airy, contemporary setting. This Pigalle restaurant received the title "best bistro of the year" in 2014, and has since become a favorite among locals and visitors.
Nestled in the charming 9th arrondissement of Paris, Restaurant Caillebotte offers an upscale everyday dining experience with a creative and modern twist on French cuisine. The cozy establishment boasts a Scandinavian-like contemporary decor, creating an intimate and inviting ambiance. An open kitchen allows diners to witness the culinary magic firsthand. Prices are on the high end, but the price-to-performance ratio is excellent, especially for lunch menus.
The menu changes regularly, but some standout dishes include the beef cheeks, monkfish, and duck breast of Challans with vegetables, lettuce juice, garlic condiment, black leek snack, rutabaga butter, emulsion chlorophyll risotto spear and mushrooms with buds beet and dill, shallot confit. For dessert, the creamy lemon with semolina cake, lemon thyme ice cream, and rhubarb confit with vanilla/lemon mascarpone are must-tries. The establishment also offers an excellent wine list, with a wide coverage of options, including the recommended red and white wines. The cocktails and soft drinks are equally impressive, with the signature cocktail being a favorite among patrons.
Restaurant Caillebotte is a gem that should not be missed. Located on a quiet street, it offers delicate style of French cooking with beautiful presentation of food. It's no wonder why it's a Michelin guide restaurant. Whether you're looking for a romantic dinner or a business lunch, this fine dining spot is sure to impress.
36. Jozi Café
Address: 3 Rue Valette, 75005 Paris, France
Restaurant Menu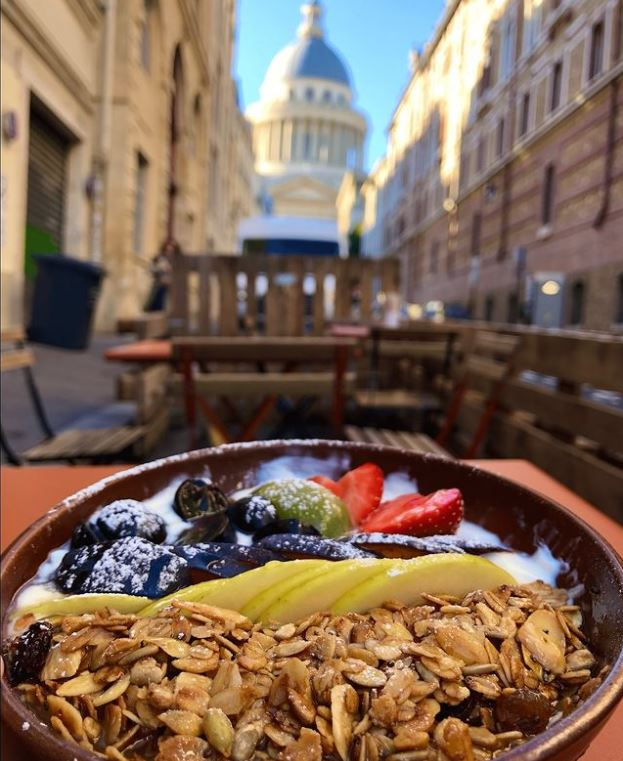 Jozi Café offers a delicious French-style breakfast close to the Pantheon and the Jardin du Luxembourg. The menu includes a wide variety of hot and cold drinks, from the traditional café au lait to many fresh juices and tea selections paired to perfection with your favorite dishes. Imagine your table full of their famous pastries and viennoiseries, the classic pain au chocolat, croissants, avocado toasts, and pancakes.
After enjoying a delicious meal at Jozi Café, a visit to the nearby Eglise Saint-Ephrem-le-Syriaque is highly recommended. Visitors have attested to the quality of the French cuisine served here, particularly the signature avocado toasts and tapas. Those with a sweet tooth can sample the café's scrumptious pancakes, muffins, and biscuits, as well as chai latte, matcha, and cappuccino.
The café offers both indoor and outdoor seating. Guests have praised the creative and helpful staff, as well as the reasonable prices. Furthermore, the atmosphere and decor are said to be warm and inviting. With a 4.6 rating on Google, Jozi Café is well worth a visit for a enjoyable dining experience.
37. Seasons
Address: 24 Rue de Sèvres, 75007 Paris, France | map
Restaurant Menu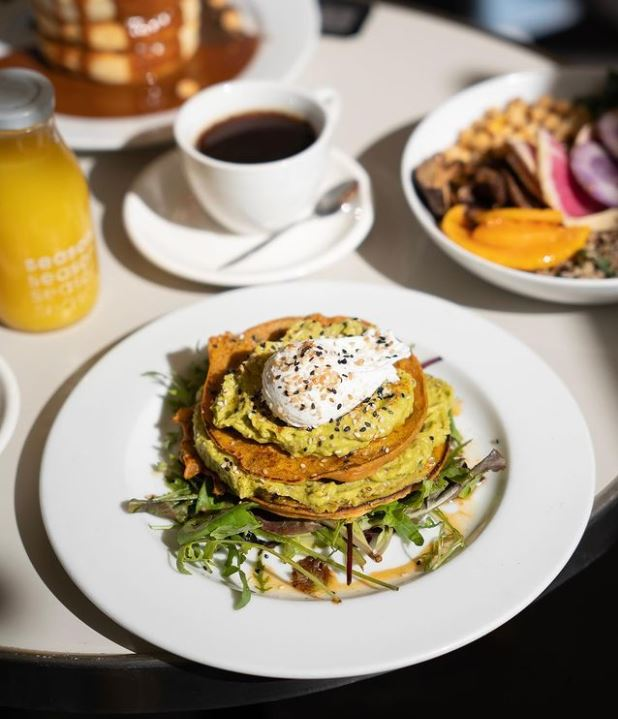 Seasons has multiple locations within Paris and is the perfect breakfast spot if you are looking for a restaurant near the Eiffel Tower or in one of the prettiest districts, Le Marais. It's an airy café with a bright yellow interior with a very inviting vibe and a feeling of coziness. Be sure to sample their colorful lattes in various flavors, such as rose, lavender, charcoal, or matcha.
Seasons is one of the best hip Paris restaurants you could visit while in town!
38. Ob-La-Didi
Address: 54 Rue de Saintonge, 75003 Paris, France | map
Restaurant Menu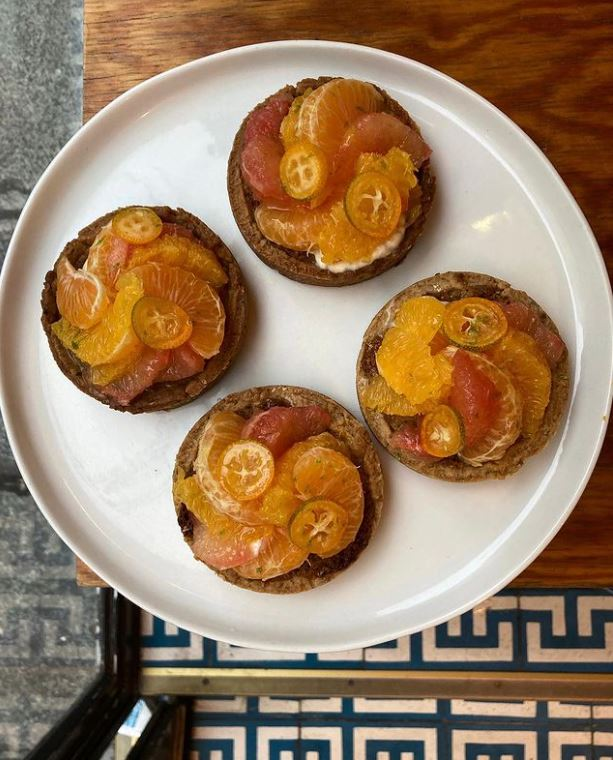 Ob-La-Di is a cute little charming cafe with fantastic options for espresso drinks, baked goods, and vegan plus gluten-free options served in a hip cafe with blue & white tiles. We recommend arriving as early as possible as it could be challenging to find a seat given that the café is relatively tiny. Our favorite item on the menu: the homemade granola dish is fantastic, and avocado toast.
Nestled away in the 3e of Paris, near Rue de Bretagne, and the Marais, lies this small, hidden gem. Don't be deceived by its size; it has lots to offer. Its cool, funky vibe instantly draws you in.
The kitchen, tucked away somewhere in the back, serves amazing breakfast, and a range of delicious coffee. We visited every morning of our Parisian stay and always ordered a flat white. It was the perfect start to our day.
We absolutely loved this hole in the wall place, and it's one of those places you don't want to share with everyone, as it's so good!
39. Loulou
Address: 107 Rue de Rivoli, 75001 Paris, France | map
Restaurant Menu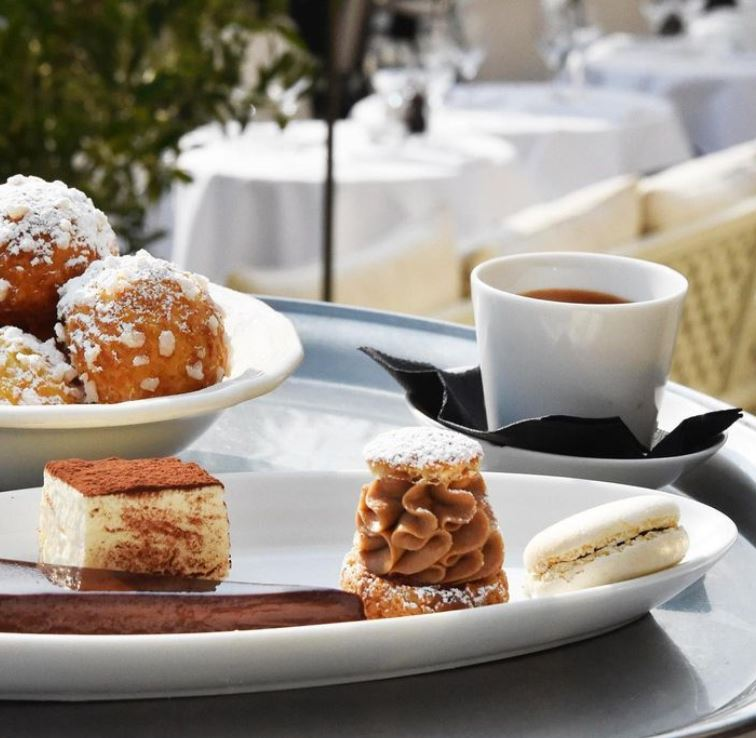 Loulou is more than just your typical breakfast in Paris – it's a café with Australian influences near the Louvre Museum. The menu is perfect for those looking for a hearty breakfast, featuring salads, burgers, desserts, and a variety of homemade cold-pressed juices. Its colorful décor and cheerful atmosphere will make sure to wake you up in the morning.
Loulou is a unique restaurant experience combining the best Italian and French cuisine in the center of Paris, near the Louvre Museum. Head chef Diego Compagno is an expert in classic Italian food, while Benoit Dargère brings a French sensibility to the menu. The menu at Loulou changes frequently to highlight the best seasonal ingredients, but some of the most popular dishes include raw purple artichokes with parmesan and olive oil, and beef tagliata with black pepper infusion, arugula, and parmesan.
All of the dishes are simple and restrained, but still manage to be light and flavorful. Eating at Loulou is a special experience, as the regal setting of the restaurant and its proximity to such a historic location make it feel like you are dining as a noble.
40. Mokonuts
Address: 5 Rue Saint-Bernard, 75011 Paris, France | map
Restaurant Menu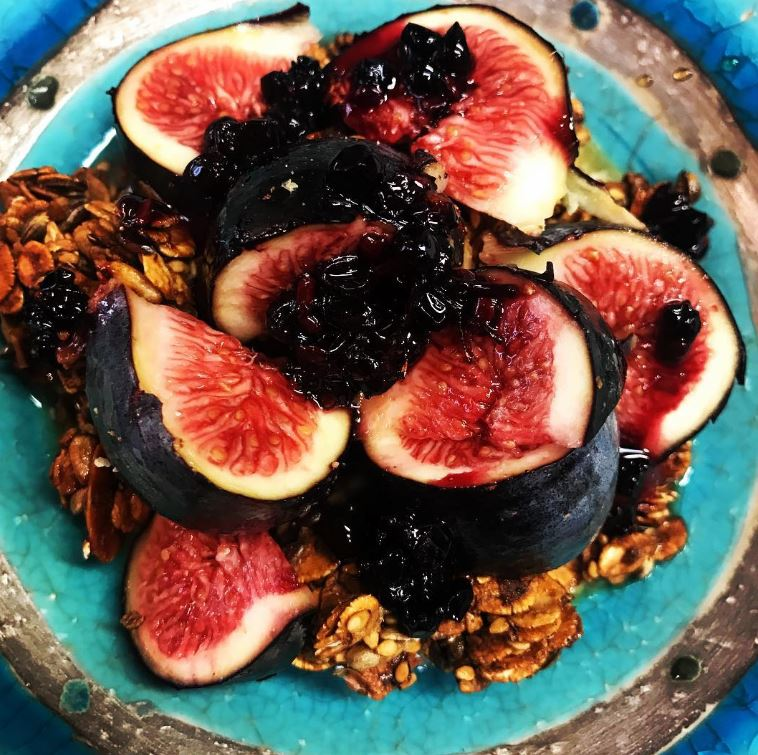 Mokona ranks up there as one of the best breakfast in Paris located in the 11th district. The restaurant is conveniently close to the Faidherbe-Chaligny metro station and Gare de Lyon. Although the breakfast menu changes daily, you can always count on staple items such as fluffy pancakes, the toast of the day, granola and creamy yogurt, and their dessert of the day.
41. Immersion République
Address: 8 Rue Lucien Sampaix, 75010 Paris, France | map
Restaurant menu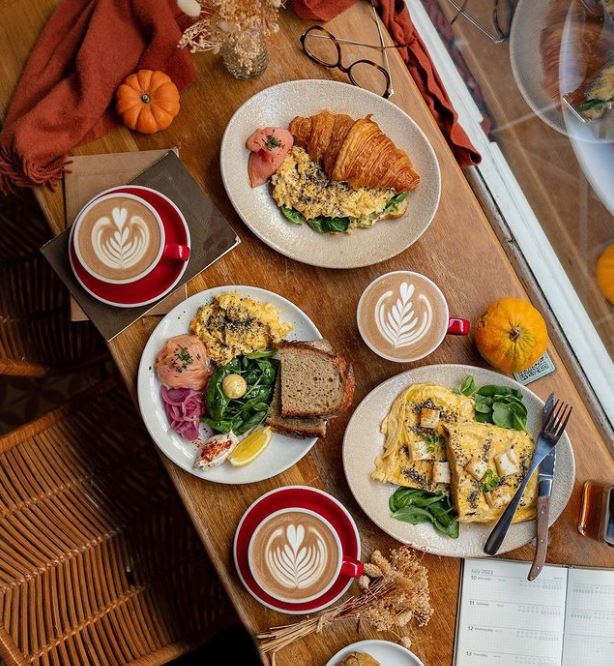 It's quite rare to find a restaurant in Paris serving breakfast all day. In Immersion Republique, they serve their brunch menu all day long – so you never have to worry about being late for breakfast! Some of the highlights on their brunch menu are the runny omelet flavored with truffles, crispy chicken savory waffle, avocado stracciatella toast, homemade basil pesto, candied tomatoes, and hazelnuts.
42. Marcel 3
Address: 22 Rue Montmartre, 75001 Paris, France | map
Restaurant Menu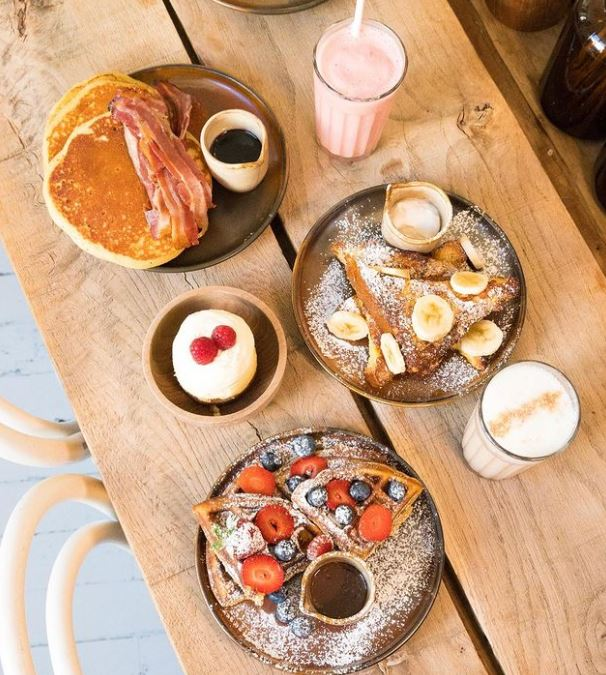 Marcelle is instantly identifiable with its white exterior and wood furniture interior with its funky lights & mirrors, giving it a rustic-chic cafe atmosphere. A few highlights from the breakfast menu: homemade granola bowl or agave dish, bircher muesli, homemade bread, brioches, avocado toast, variety of sandwiches or salad.
43. Maison Nomade
Address: 140 Rue du Faubourg Saint-Martin, 75010 Paris, France | map
Restaurant Menu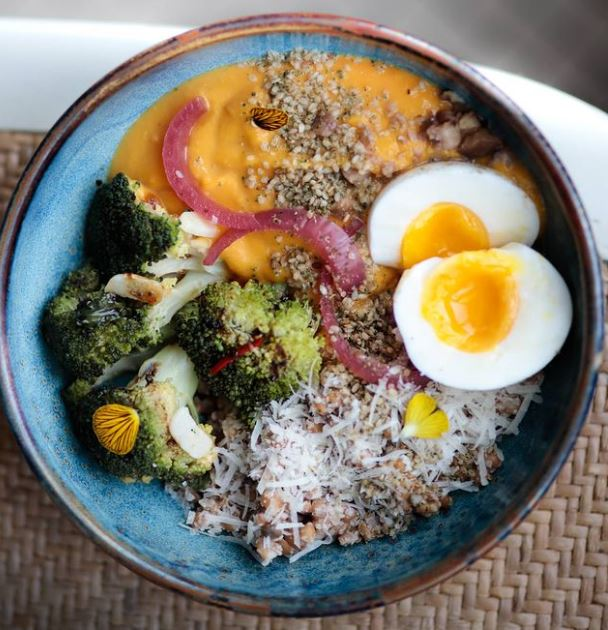 Maison Nomade is not just another breakfast place in Paris, but a whole concept dedicated to health & wellness. It offers a variety of options for breakfast and lunch, with added yoga lessons and alternative medical treatments. Choose from breakfast goodies such as smoothies, granola, pancakes, and toast. And for lunch, you have a bowl of vegetables, a veggie burger, and Mexican tortillas.
44. Kozy Bosquet
Address: 79 Av. Bosquet, 75007 Paris, France | map
Restaurant Menu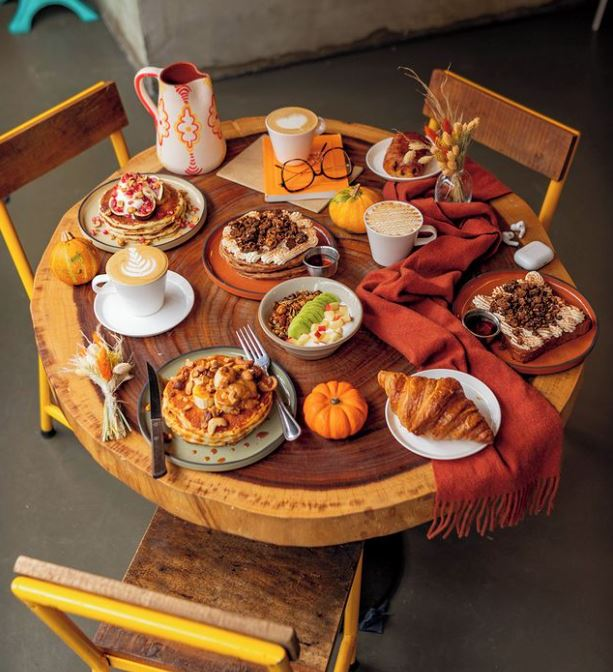 Kozy Bosquet is a popular breakfast spot in Paris for first-time visitors. You will never regret the azure doors that lead into this casual little café full of Instagrammable plates that deliver both quality and presentation. Some highlights from their breakfast menu: avocado toasts, salmon brioches, and eggs benedict, pancakes, waffles, which come in stacks filled with fruit, nuts, maple syrup.
45. Holybelly 5
Address: 5 Rue Lucien Sampaix, 75010 Paris, France | map
Restaurant Menu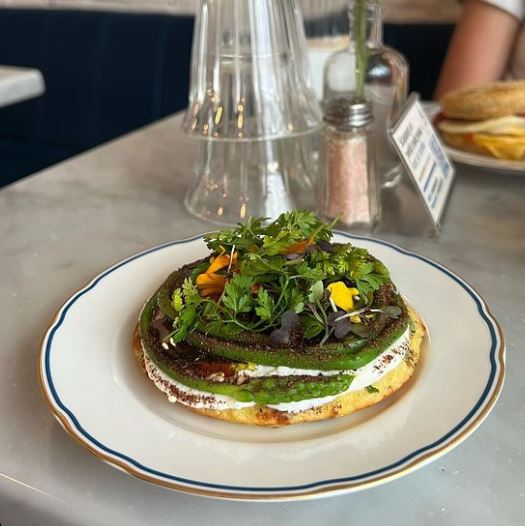 Holberry 5 is a lively breakfast place in Paris serving eggs, pancakes, coffee & beer in an industrial-chic setup. This restaurant is famous for its pancakes with seasonal fruit, bacon and eggs, specialty coffee and tea, fresh juices, cocktails, and craft beers. They serve non-stop from 9 am to 4 pm. Located a few steps from the Canal Saint Martin and the square of the Republic, we are open seven days a week.
46. Cafe Berry
Address: 10 Rue Chapon, 75003 Paris, France | map
Restaurant Menu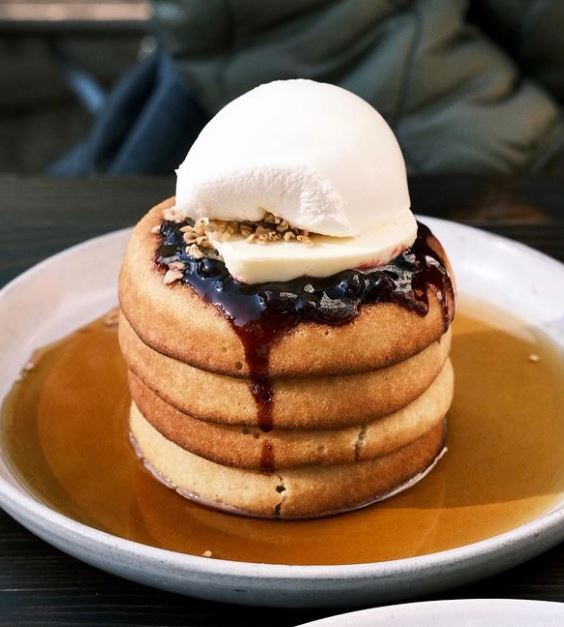 The charming Cafe Berry offers a pleasant and delicious atmosphere, with a menu oriented towards health and wellness. Breakfast menu highlights are the lattes come in a variety of flavors, the avocado toast, and pancakes.
The food at this cafe was excellent. We enjoyed it so much that we ended up coming back a few times, since it was so close to our accommodation. The lunch options started at 11:30 and the choice was quite limited, but what they had was done extremely well. I had the granola twice – it was simple yet beautifully presented with delicious yoghurt and poached fruit. Everything tasted like it was homemade. The coffee was also very good.
The cafe had a focus on fresh, healthy food. The service was also great. In addition, they had outside seating in a passage, so if it rained, that was not a problem.
47. Sunday in Soho
Address: 7 Rue Saint-Marc, 75002 Paris, France | map
Restaurant menu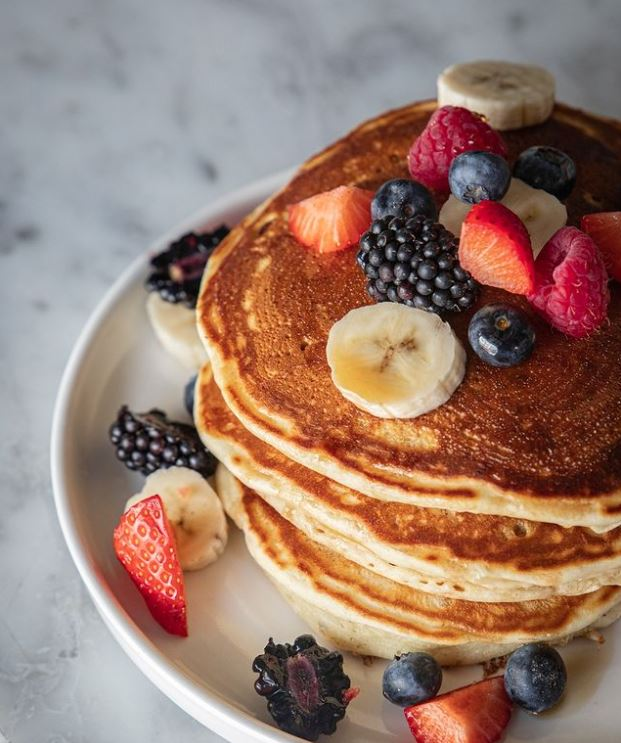 Sunday in Soho is a great breakfast spot in Paris that has an inviting atmosphere, which reflects their slogan good vibe served every day." Their delicious brunch is available as a la carte, with a variety of dishes offering American-inspired menu, including the classic bacon and egg or avocado toast.
48. Café Charlot
Address: 38 Rue de Bretagne, 75003 Paris, France | map
Restaurant Menu
This Le Marais restaurant is located on one of the most fabulous streets in all the Marais, where you can sit and people-watch all day. Hotels nearby frequently recommend this restaurant as the best classic French bistro in Marais, which many guests would agree with. Some of the popular items on the menu include their peppercorn steak (with its fantastic sauce!), chicken and parmesan risotto, and burrata salad.
49. Le Mary Celeste
Address: 1 Rue Commines, 75003 Paris, France | map
Restaurant Menu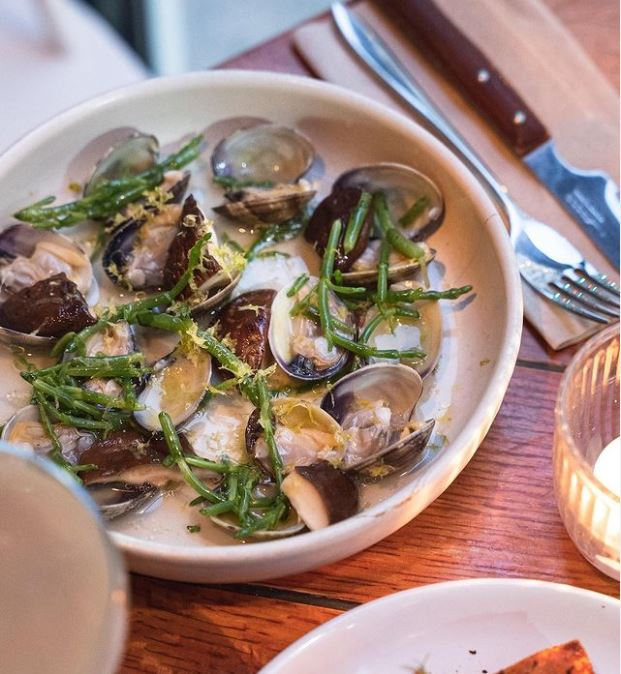 Le Mary Celeste is a popular restaurant in Le Marais that provides a fun and funky vibe, not to mention a menu full of traditional French cuisine. They are known for their fresh oysters, deviled eggs, ceviche, and creative cocktails.
Le Mary Celeste, a restaurant in the 3rd arrondissement of Paris, has garnered a great deal of attention since its opening. It is named after an infamous shipwreck, in which the boat was found intact, including its stores of liquor, yet the crew had mysteriously vanished. Behind the restaurant is a young team that also owns taqueria Candelaria.
Le Mary Celeste features a long and formidable drinks menu, while the food menu is more concise and focused on small plates meant to be shared. It offers a variety of oysters and other dishes. Reservations are accepted, however, it is also possible to find seating at the bar.
50. Fulvio
Address: 4 Rue de Poitou, 75003 Paris, France | map
Restaurant Menu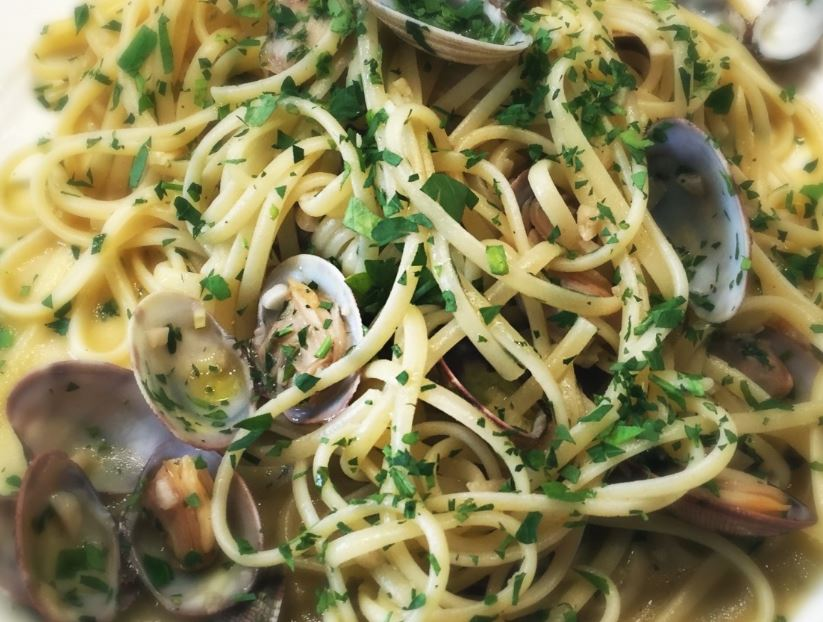 One of the best restaurants in the Marais specializing in authentic Sardinian cuisine. The food menu is on a chalkboard, which gets passed around the comfortable dining space. Some of the main courses, such as the saltimbocca, veal + eggplant parmesan, were delicious, as was the burrata, and pasta, which were bathed in rich, delectable sauces.
51. Breizh Café Crêperie
Address: 109 Rue Vieille-du-Temple, 75003 Paris, France | map
Restaurant Menu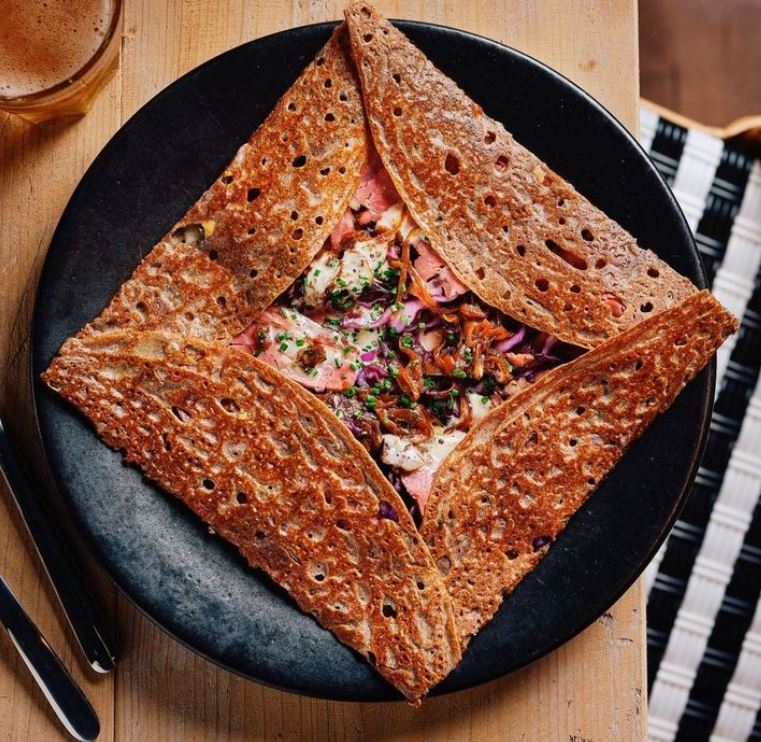 Breizh serves a diverse menu of delicious traditional cuisine, such as a deli-style Galette or crepe. This restaurant in Le Marais is the antidote to typical heavy and rich French food while embracing the French experience. The galettes and buckwheat flour crepes were delicious, both savory and sweet. It's a relaxed, café type atmosphere with friendly staff with simple but delicious and good quality food for a fair price.
52. Bouillon République
Address: 39 Bd du Temple, 75003 Paris, France | map
Restaurant Menu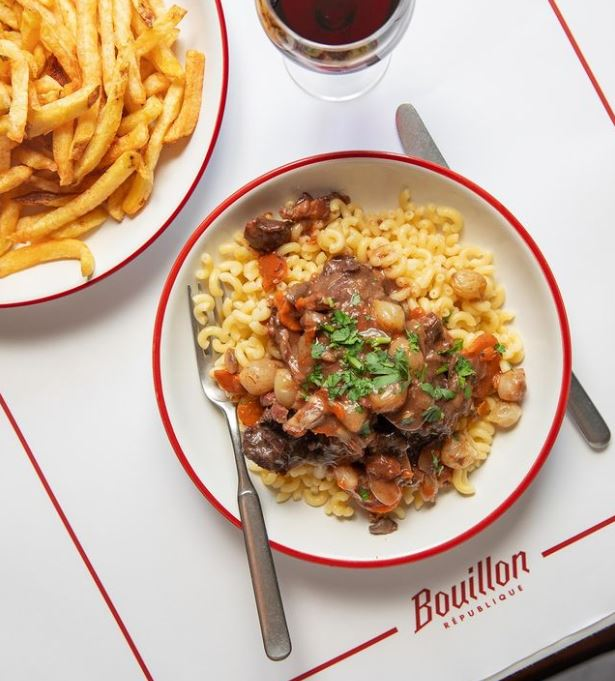 Bouillon République is a busy traditional French restaurant in Le Marais with a bustling atmosphere, especially during dinner hours, when you can expect to see a massive queue that forms outside the restaurant. The dining space is ample, with lots of seating. The ambiance is quintessentially French, as is the menu, so be sure to try some traditional French staples here – especially when it comes to dessert. You can expect exceptional food for a fair price.
53. Au Bascou
Address: 38 Rue Réaumur, 75003 Paris, France | map
Restaurant Menu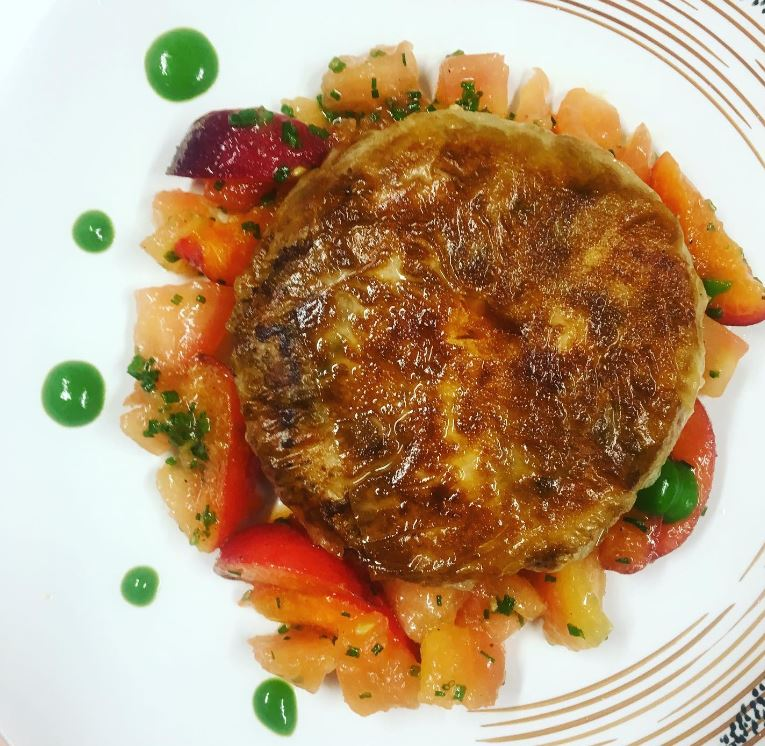 Since its opening in the 1960s, the tiny bistro is near the northern edge of the Marais near the Arte Métier Museum, which serves a wide variety of classic southwestern French cuisine from the Basque region ('Bascou' is the Basque language). This delightful little restaurant in Le Marais offers a pleasant ambiance and enjoy a classic meal. Be sure to try their foie gras 'mi cuit' with fig served with some delicious toast, Ris de Veau (sweetbreads) cooked to crispy perfection, and the Tourtière Pommes et Pruneaux (Apple and Prune Tart) with Armagnac ice cream. Overall, Au Bascou serves unique dishes with exquisite flavors with quality ingredients at very reasonable prices.
54. Les Ombres
Address: 27 Quai Jacques Chirac, 75007 Paris, France | map
Neighborhood: Eiffel Tower | 7th Arrondissement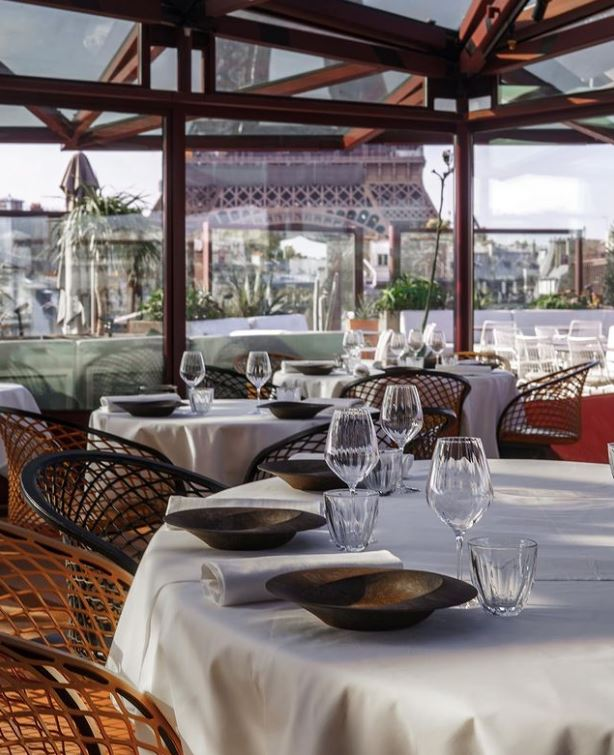 This rooftop restaurant in Paris features a menu by Michelin-rated chef Alain Ducasse, which has a refined contemporary take on French cuisine in an elegant setting, boasting an exceptional view of the Eiffel Tower.