Shopping in Montmartre allows you to purchase unique items and souvenirs you won't find anywhere else in Paris. The shops in Montmartre are as eclectic and full of character as the neighborhood itself and will for sure provide a fun shopping experience. 
Whereas popular neighborhoods such as Saint Germain des Pres or the Golden Triangle are known as the mecca for luxury shopping in Paris, Montmartre is the place to find arty and craft venues, vintage boutiques for the jewelry and accessory fans, delightful delicatessen shops, and ready to wear stores.
Apart from shopping, travelers come to Montmartre because of its charm and history. This Bohemian neighborhood used to be the area where iconic writers and artists, such as Van Gogh and Picasso, used to live. Visitors love its quaint cobblestone streets, little cafes, art gallery, and charming Paris restaurants, which are a few reasons Montmartre is one of Paris' most popular tourist destinations.
If you are planning where to shop in Montmartre, we list our favorite shops below for you to check out so you know exactly what to look out for when strolling this beautiful neighborhood.
You Might Like:
Montmartre Shopping Guide
1. Montmartre Village
Specialty & Gift Shops
11 Rue du Mont-Cenis, 75018 Paris, France
map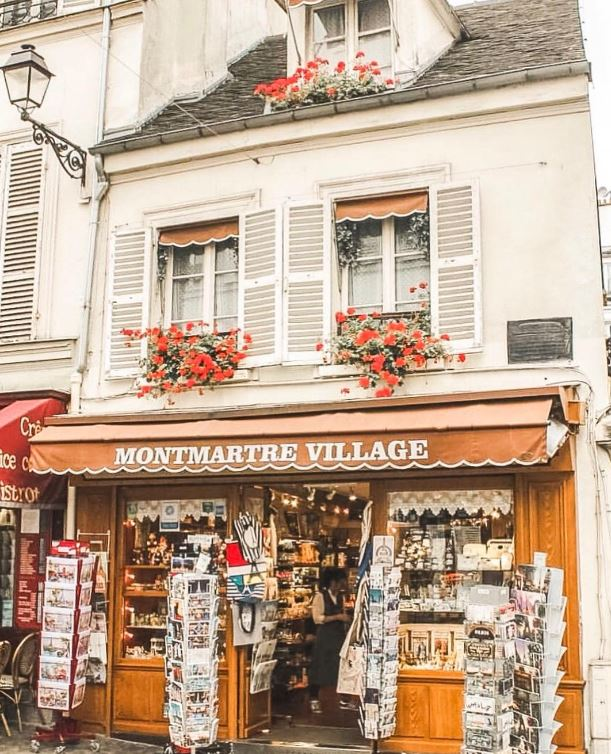 Montmarte Village is one of the most unique souvenir shops near Sacré Coeur to find the perfect souvenirs and gifts. They have loads of cute little items that you can find: all things Paris, tote bags, foldaway bags with the Eiffel Tower on them, sun-powered bob heads for the car, mugs, fridge magnets, shopping bags, and a variety of other things.
This cute little store is on the best shopping street in Montmartre and has the best price compared to the rest of the souvenir shops in Montmartre.
2. Paris Duck Store
Specialty & Gift Shops
6 Rue Yvonne le Tac, 75018 Paris, France
map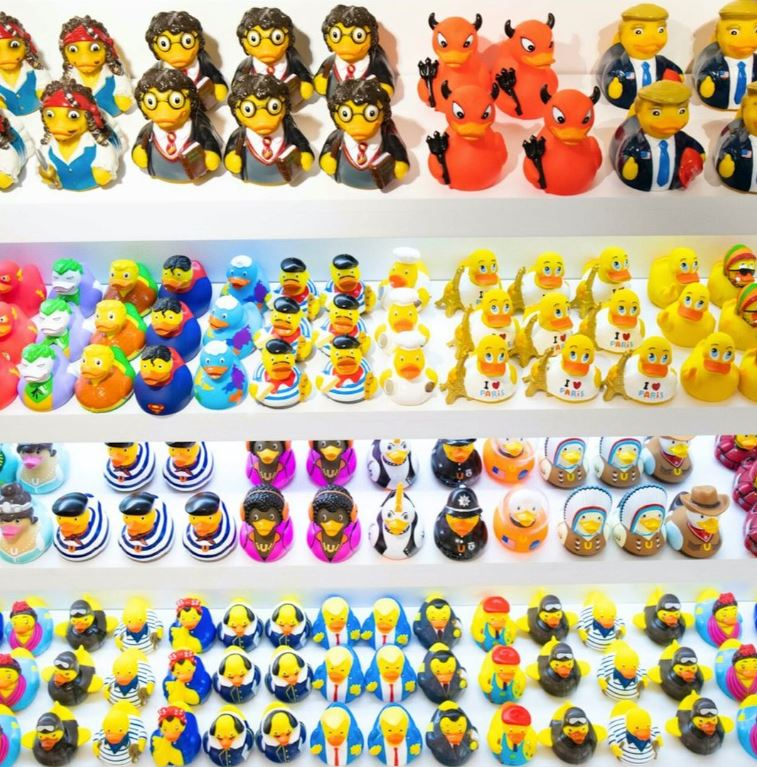 This Paris Duck Store might be the most eccentric shop in Montmartre. It's a little store in Montmartre with a selection of 350 types of ducks of different colors and sizes for you to take home to your little ones. The main inspiration of this charming shop in Montmartre is the Dutch visual artist Florentijn Hofman, who creates playful urban installations like the Rubber Duck and the Hippopo Thames in Europe.
3. La Boutique des Anges
Specialty & Gift Shops
2 Rue Yvonne le Tac, 75018 Paris, France
map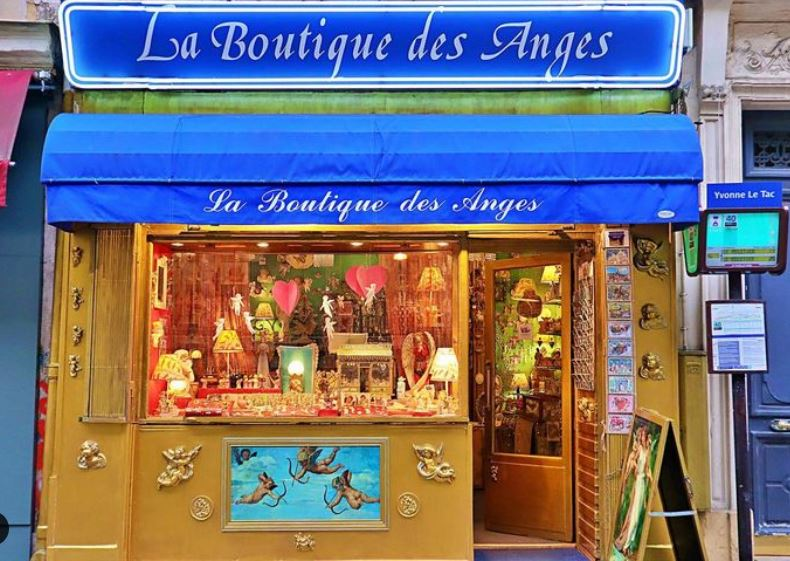 La Boutique des Anges, or Angel's Boutique, is a charming boutique shop devoted to angels at the foot of Sacre Coeur Basilica in Montmartre. The lady who owns the place creates, crafts, and paints every piece in this boutique shop – definitely one of the quaint Montmartre shops not to miss.
4. Montmartre, I Love You
Specialty & Gift Shops
4 Rue la Vieuville, 75018 Paris, France
map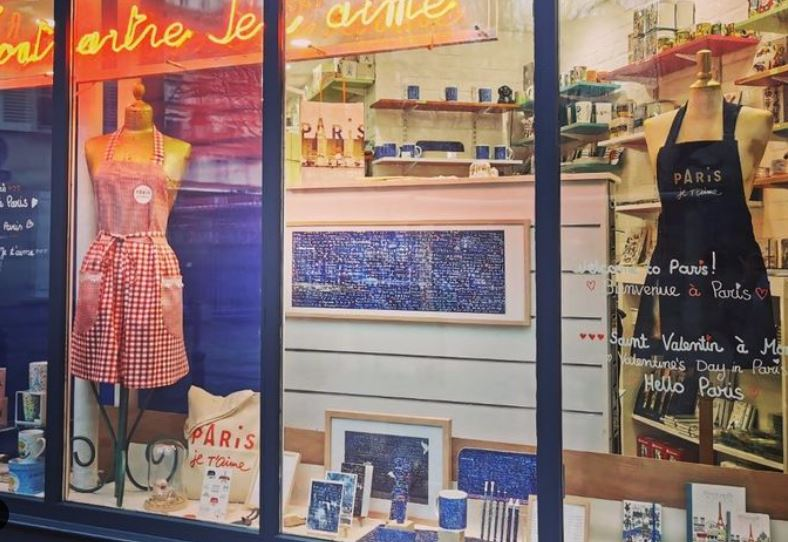 Spending the whole afternoon in this beautiful Montmartre boutique shop is easy. This quaint souvenir and one of the quirky gift shops in Paris has all the cute postcards, trinkets, accessories, and adorable cat gifts for you to take home. The shop is also located next to Montmartre's famous "I Love You" wall.
5. Maison Georges Larnicol
Chocolate Artisan
7 Rue de Steinkerque, 75018 Paris, France
map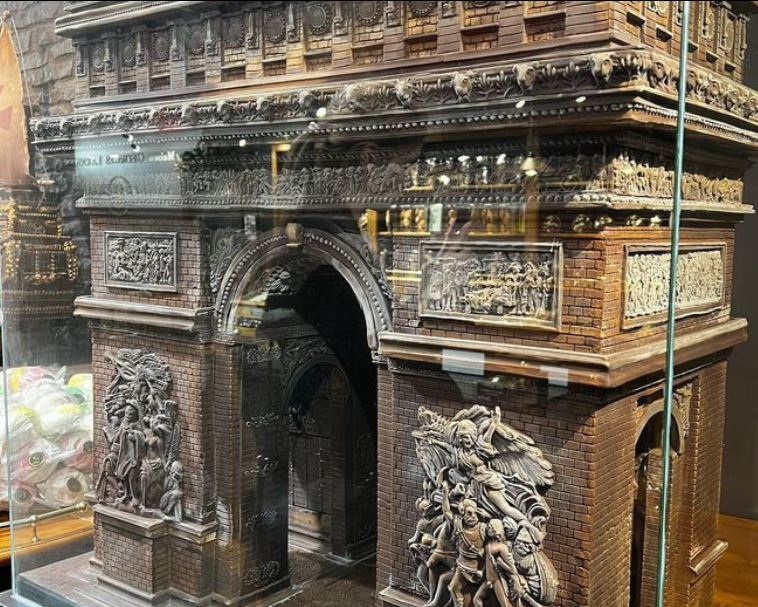 For chocolate lovers, you might fall in love with Maison Georges Larnicol for its spectacular bigger-than-life chocolate replicas and delicious pastries. This little chocolate museum in Montmartre contains original chocolate creations of replicas of iconic attractions of Paris, encased in a glass of Sacre Coeur, Notre Dame, Sainte Chappelle, Arc de Triomphe, and a giant Eiffel Tower.
It is worth going to the store to see these chocolate replicas. The store has plenty of confections such as chocolate, meringues, cookies, and French dessert items. The shops are nicely laid out and have beautiful displays. Highly recommend getting take-home gifts and delicious items while in Paris!
6. Le Monde en Couleurs
Arts and Crafts
24 Rue André del Sarte, 75018 Paris, France
map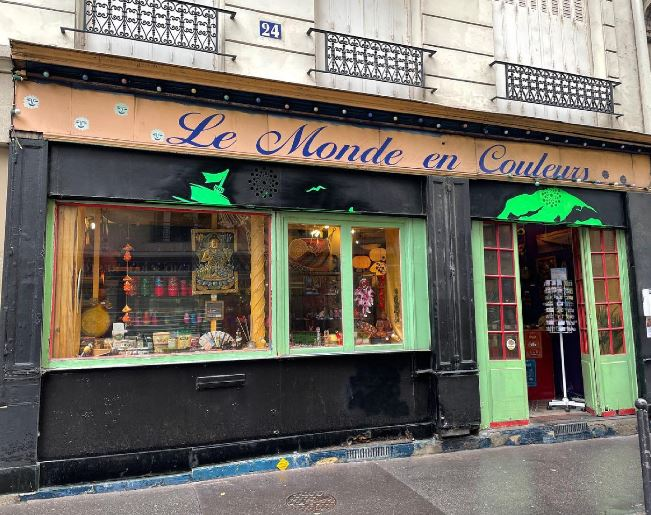 Le Monde en Couleurs is a Montmartre shop that has been there for years, where you can find improbable objects that come from all over the world with some precious stones and earrings in the shape of a Mexican muerta.
Montmartre Shopping FAQ
Does Montmartre Have Shopping?
Montmartre is a must-see destination for art and craft lovers. The concept store Spree, located on rue La Vieuville, offers shoppers a unique experience with a combination of clothing, design furniture, and an art gallery. Additionally, the main shopping street of Montmartre features vintage boutiques, cozy cafes, and delightful delicatessen shops.
What was Montmartre Famous For?
Montmartre is a historic area in Paris, France, that is known for its artistic history and white-domed Basilica of the Sacré-Cœur. Situated on a hill in the northern part of the city, the Basilica is one of the most iconic monuments in Paris and is a popular tourist destination. Montmartre is also known as a nightclub district, attracting a vibrant nightlife with its many bars and clubs.
What is Montmartre Most Famous Street?
Rue de l'Abreuvoir is a charming street located in the 18th arrondissement of Paris. It is situated in the neighborhood of Montmartre, an area renowned for its culture and history. This street is one of the most iconic in the area, having been featured in many TV shows and movies, such as Emily in Paris and Amélie.
Rue de l'Abreuvoir is a winding street that can be explored in a few minutes. Its picturesque cobblestone streets and pastel-colored buildings make it the perfect place to take a leisurely stroll and admire the beauty of the area.
Is Montmartre a Good Area to Stay in Paris?
Montmartre is the perfect area for you if you are looking for a village-like atmosphere during your stay in Paris. Located in the 18th arrondissement, Montmartre offers an array of sights and activities. Its cobblestone streets, stunning basilica, and an array of traditional cafes and restaurants give it a unique charm. Even more remarkable is that there is a tiny vineyard nestled within the area!