Travelers all over the world are in search for the best restaurants in Latin Quarter Paris because of the city's most charming and iconic neighborhoods. If you are visiting Paris for the first time (or have been here several times), the Latin Quarter, or 1st arrondissement, will have the delicious dishes you are looking for since its streets overflow with restaurants and cafés.
But how do you weed out the restaurant tourist traps in the 1st arrondissement? We're here to guide you to the best restaurants in the Latin Quarter of Paris.
MORE ON THE LATIN QUARTER:
Best Restaurants in the Latin Quarter of Paris
If you are in the famous Latin Quarter of Paris, you should stop for dinner and soak up the vibe. We have compiled a list of the best restaurants and attractions located around the Paris Latin Quarter.
1. La Jacobine
Address: 59-61 Rue Saint-André des Arts, 75006 Paris, France
Hours: Tuesday – Sunday: 12–11PM; Monday: closed
Telephone: +33 1 46 34 15 95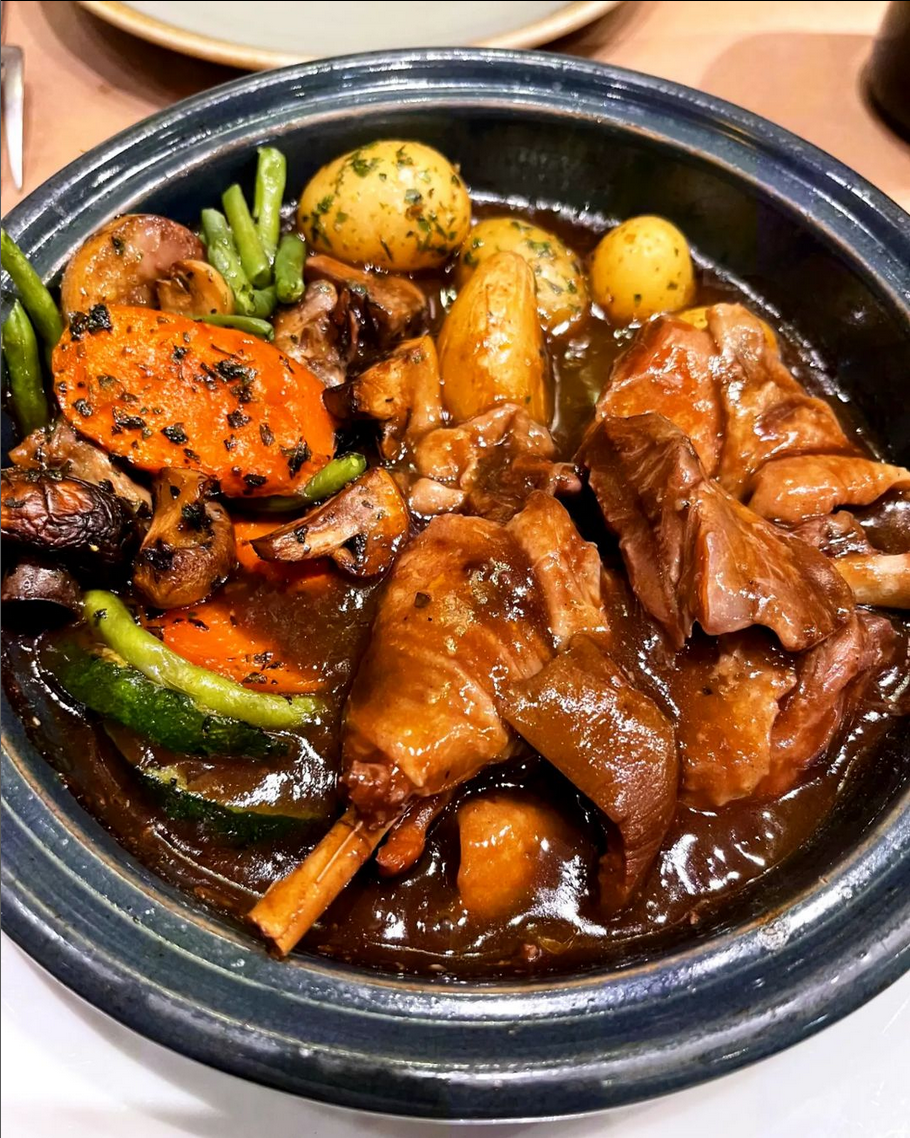 La Jacobine is one of the best restaurants Latin Quarter Paris, tucked away in a historic passageway. It is always packed with people eager to try its traditional French dishes, friendly staff, and cozy decor. Because it is so popular, making a reservation day in advance or showing up early to get a table is best.
Once inside, you will be amazed by the stunning decor and warm atmosphere. Generous portions of mouthwatering entrees, like French onion soup, escargots, and Coq Au Vin, are served. The desserts are also something special to experience.
We had a wonderful time dining at La Jacobine. Our meal was made up of French classics, from the onion soup to the lamb shank, to the delicious cheesecake. Everything was cooked with care and love. The only challenge was that we had to wait until after 10 PM to get seated. This just goes to show how much people want to eat here – definitely one of the best Latin Quarter Paris Restaurants.
2. Le Petit Châtelet
Address: 39 Rue de la Bûcherie, 75005 Paris, France
Hours: Monday – Sunday: 12–2:30PM, 7–10:50PM
Telephone: +33 1 46 33 53 40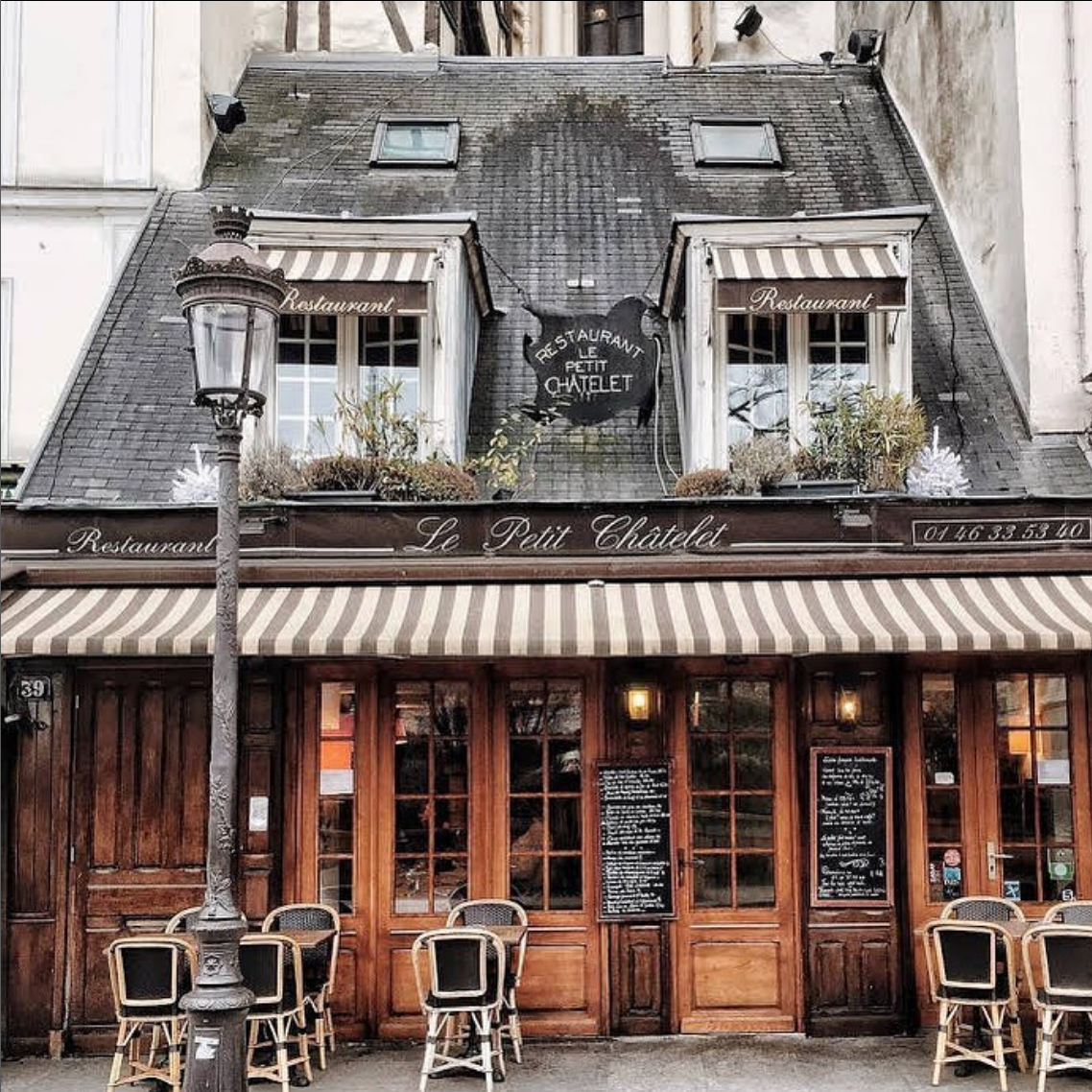 Le Petit Châtelet is a family restaurant that has been operating for four generations, passed on from father to son. Located close to Notre Dame Cathedral, it can easily be mistaken as a tourist trap, but this spot offers a cozy and comfortable place to sit down. Inside, it is quite homey and quaint, with a charming open fireplace and tables right up against each other. It is one of the best restaurants in Latin Quarter Paris.
We had the pleasure of having lunch here and made a reservation beforehand. Upon entering, we were welcomed by the wonderful smells from the back woodfire grill. You could hear the fire crackle and the sizzling of meats.
I ordered the escargot puff pastry soup and the lamb kabobs with salad for lunch, while my husband had the chicken with rice. We shared the profiteroles, as recommended by some French regulars, with their US friends who frequent this spot every time they're in town. Everything was so delicious.
This unique spot was humbling and amazing! We felt like we were dining with some homemade French friends. We will definitely be back and highly suggest you make a reservation here.
3. La Grotte de Chypre
Address: 85 Rue Mouffetard, 75005 Paris, France
Hours: Monday – Saturday: 11:30AM–11PM; Sunday: closed
Telephone: +33 1 45 87 09 80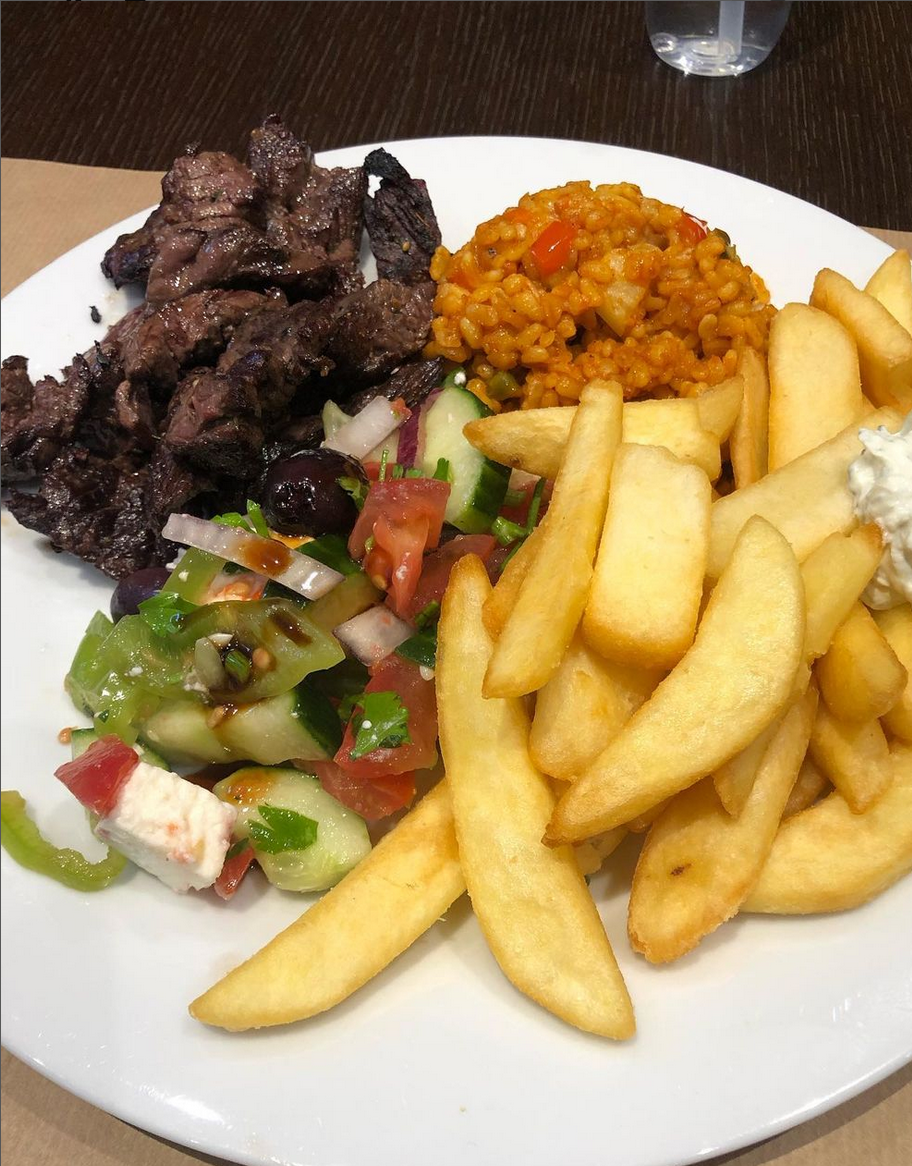 The food at La Grotte de Chypre is exceptional, making it one of the best restaurants in Latin Quarter Paris. The menu selection is incredibly fresh and delicious, with a myriad of options. Prices are very reasonable, making it a great value. The owners are incredibly friendly and welcoming. They have a great selection of meat dishes as well as plenty of vegan and vegetarian options.
Located on Rue Mouffetard, La Grotte de Chypre is not fast food in the American sense. They specialize in Mediterranean cuisine that is prepared perfectly and is absolutely delicious. The food is fantastic, and the service is also reputed to be wonderful.
The menu has a wide variety of Greek and Turkish dishes that will please most vegetarians. Everything is homemade and fresh, and the staff is very friendly and accommodating.
4. Le Rôtisserie d'Argent
Address: 19 Quai de la Tournelle, 75005 Paris, France
Hours: Monday – Sunday: 12–2:15PM, 7–10:30PM
Telephone: +33 1 43 54 17 47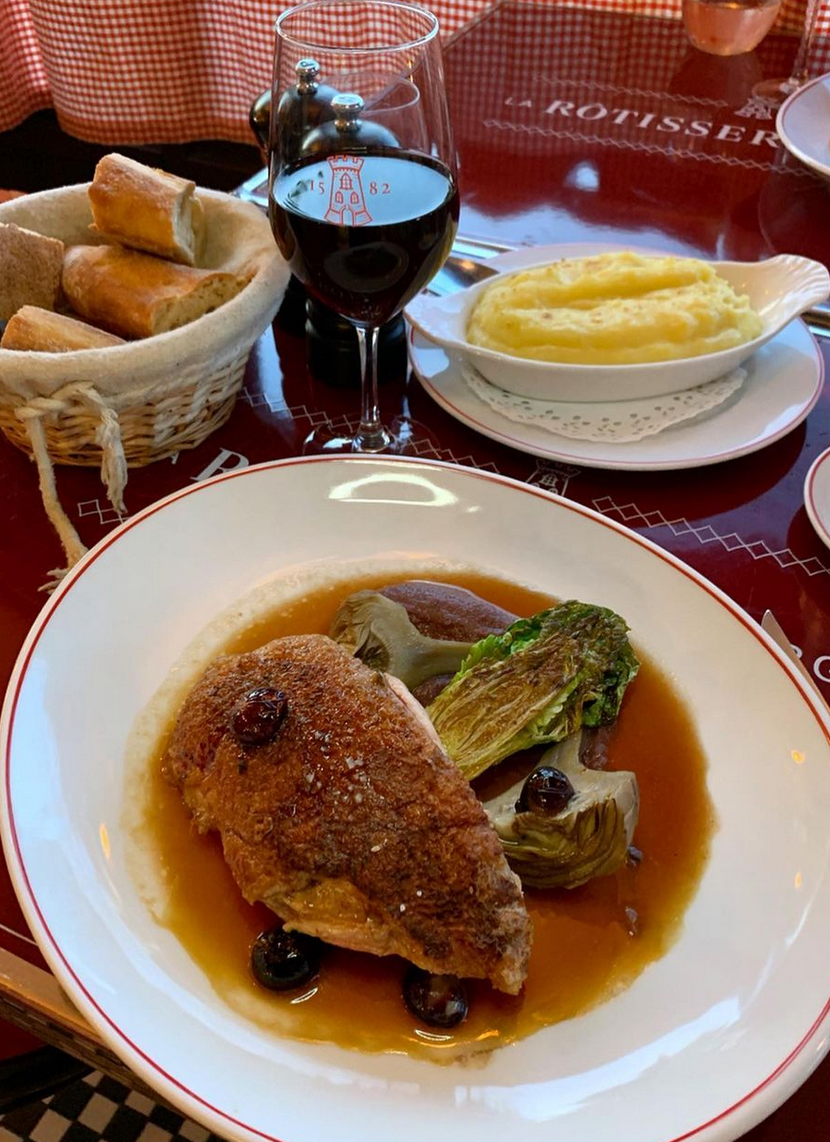 Le Rôtisserie d'Argent has been serving delicious roasted duck since 1989. A chic setting, attentive staff, satisfying portions, lively vibe, and scenic views of Notre Dame and the Seine River are all part of the experience you will get here. Featuring an open kitchen, you watch your meal come to life. Here, you can dine on everything from the quenelles de Brochet André Terrail to duck foie gras and finish it off with a dessert of Chocolate mousse.
La Rôtisserie d'Argent is an elegant French restaurant with a Michelin star rating. Apart from the excellent food, this restaurant in the Latin Quarter is known for its breathtaking view of Notre Dame.
5. Restaurant Tamara
Address: 15 Rue de Richelieu, 75001 Paris, France
Hours: Tuesday – Saturday: 7–10:30PM; Sunday – Monday: closed
Telephone: +33 1 71 60 91 30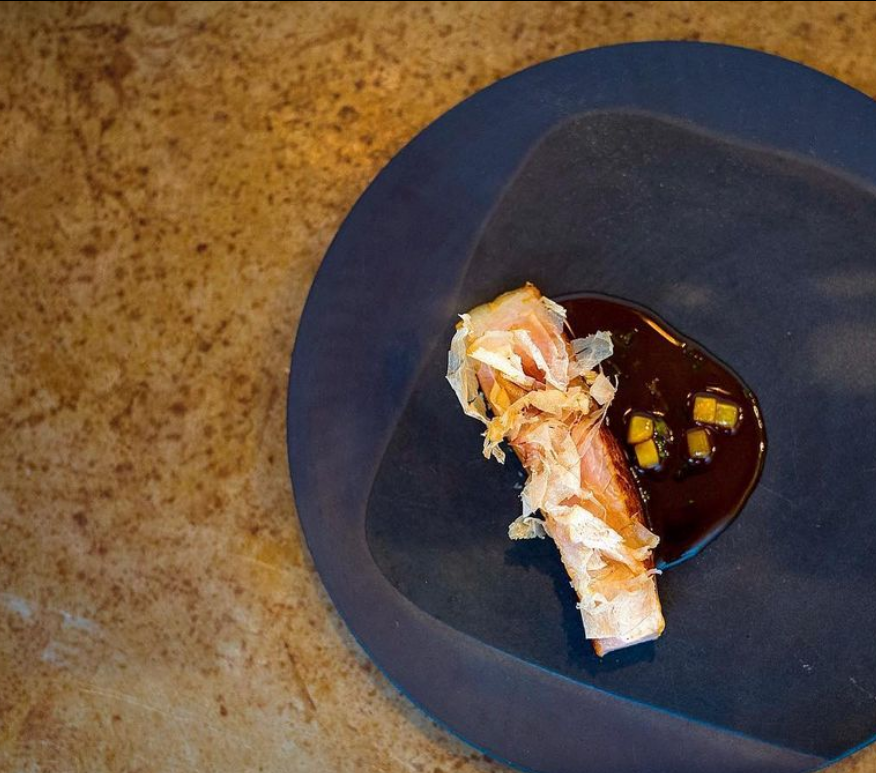 Restaurant Tamara, led by Chef Clément Vergeat, offers a casual chic experience in a relaxed and intimate setting close to Palais Royal and Opéra. Guests can choose between a tasting menu (€110) or a selection of a la carte dishes accompanied by an eclectic wine cellar. In addition, guests can visit Nellu, a modern Food & Wine Bar offering craft wines from Europe and a casual gastronomic menu. This place is one of our favorite Paris Latin Quarter restaurants.
At Restaurant Tamara, the staff strives to deliver the best of modern cuisine and hospitality with an ethical and sustainable supply chain. Upon visiting, guests will be welcomed with warm friendliness, and the cuisine will not disappoint. The chefs have managed to make the humble local ingredients shine with a freshness that is unparalleled.
For those looking to add to their experience, it is highly recommended to get the non-alcoholic beverage pairing. The staff have worked incredibly hard to create unique beverages to complement each dish, and it will be evident upon tasting. The pride and passion that goes into every aspect of the restaurant is unparalleled.
6. La Dédicace
Address: 9 Rue Laplace 75005 Paris, France
Hours: Monday – Saturday: 11AM–11PM; Sunday: closed
Telephone: +33 9 83 72 77 64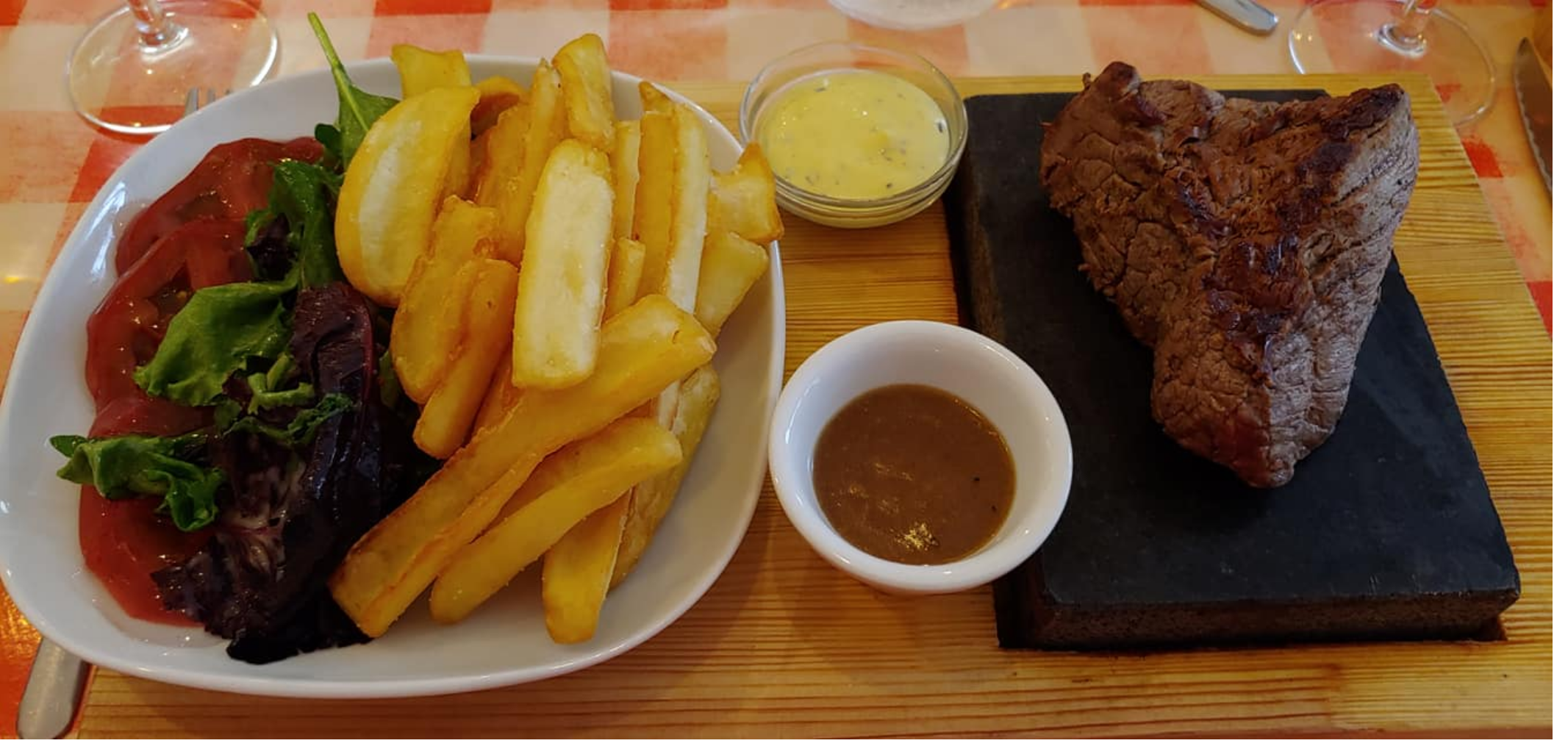 One of the best restaurants in the Latin Quarter for those looking for home-cooked traditional French cuisine. The size of the restaurant is rather small, so you really feel as if you are in an intimate, pleasant setting. A popular item on the menu is their juicy steak (don't forget to ask for the perfect wine pairing with it!) Very reasonable prices that start between 22 and 33 €.
We arrived at the restaurant on a cold day and opted to sit inside. The interior was small but cozy. As soon as we entered, the owner greeted us warmly and showed us to our table. He gave us personalized attention as we perused the menu, which was written on a board on the wall. I chose a steak that was served on a searing hot stone embedded in a wooden plank. It was a beautiful presentation and the flavor of the steak was enhanced by searing the cut side a bit. The potatoes and salad that accompanied the meal were also outstanding.
My friends got the dessert assortment, and they absolutely loved it. They raved about each bite they consumed. It was definitely worthy of a high recommendation!
7. La Truffière
Address: 4 Rue Blainville, 75005 Paris, France
Hours: Tuesday – Saturday: 12–1:45PM, 6:45–9:45PM; Sunday – Monday: closed
Telephone: +33 1 46 33 29 82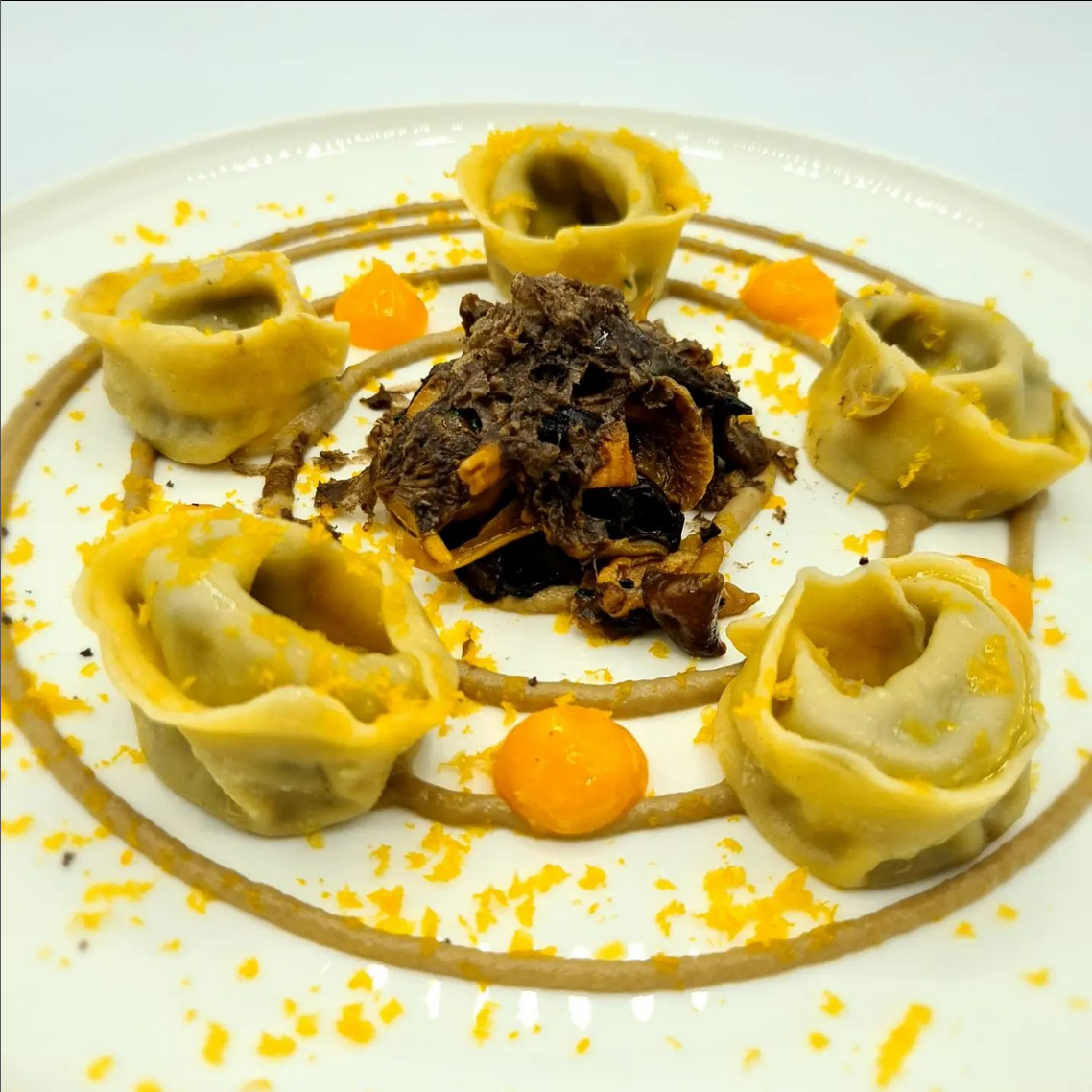 La Truffière is a Michelin star restaurant in Paris that focuses on truffles in every way possible. The building dates back to the 17th century and features an innovative menu with a variety of wines to choose from. It is the perfect place for a date night or special evening in Paris, though the seating areas are small, so it is recommended to book in advance to ensure a seat.
We visited La Truffière during our trip to Paris, and it was by far the superior of the two Michelin-star restaurants we visited. The food was outstanding, original, and presented beautifully. The wine pairing showcased a variety of French wines that matched the complex flavours perfectly, and some of the dishes were even matched to the wines instead of the other way around. The staff were all professional and attentive but also had a great sense of humor. We couldn't fault the experience, and it has made it into our top 5 Michelin-star restaurants of all time!
8. Les Crêpes de Louis-Marie
Address: 1 Rue de l'Arbalète, 75005 Paris, France
Hours: Hours vary
Telephone: +33 6 48 79 68 57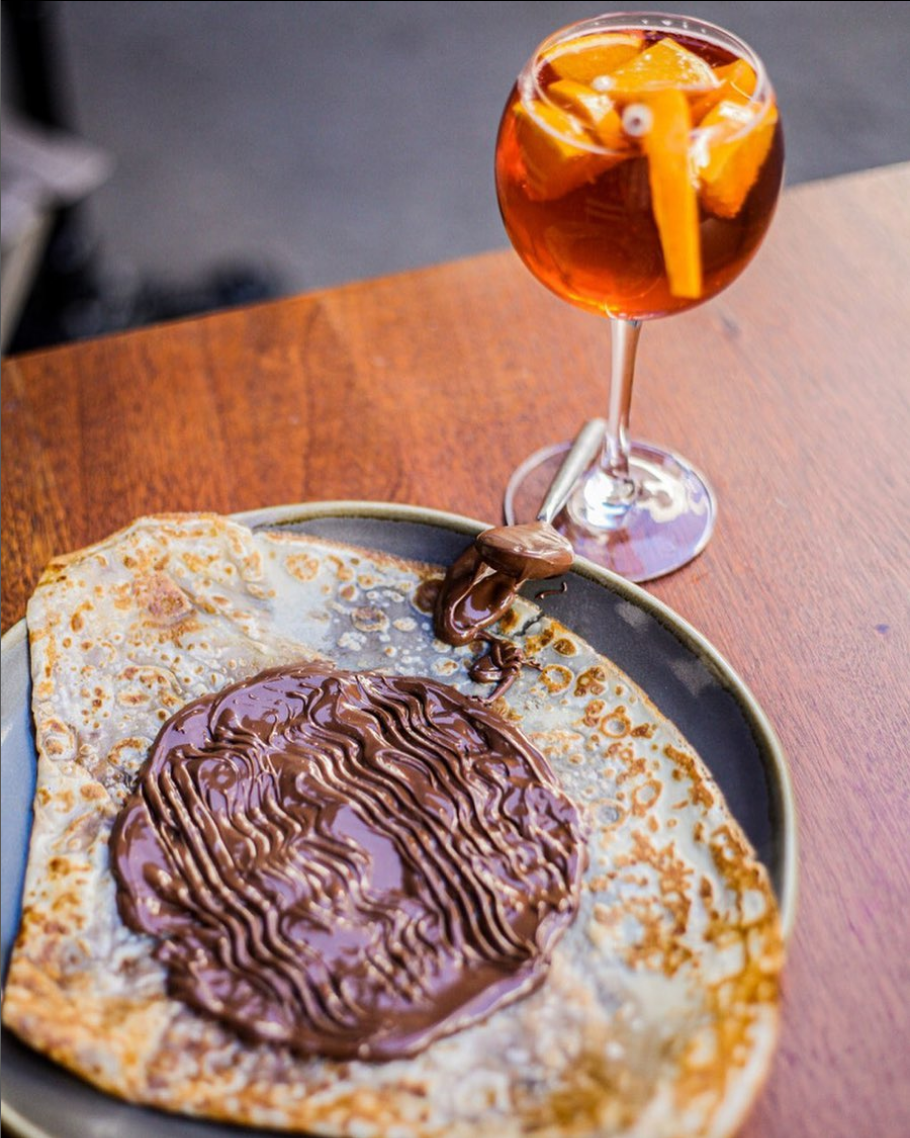 At Les Crêpes de Louis-Marie, guests can enjoy a variety of freshly-made crêpes, ranging from savory to sweet to vegetarian. The traditional crêpe combo with cider is particularly popular and recommended.
Located near La Congregation du Saint-Esprit, this restaurant offers a variety of French cuisine, from tasty patties to pancakes for dessert. The cider is particularly popular, and many visitors start their meal with a cup of coffee.
The staff at Les Crêpes de Louis-Marie is known for their high level of hospitality, and visitors can expect fast service and fair prices. The restaurant has a lovely atmosphere and spectacular decor, and has earned a rating of 4.7 from the Google rating system.
9. Le Méchoui du Prince
Address: 36 Rue Monsieur le Prince, 75006 Paris, France
Hours: Monday: 7–10:30PM; Tuesday – Sunday: 12–3PM, 7–11PM
Telephone: +33 1 40 51 88 48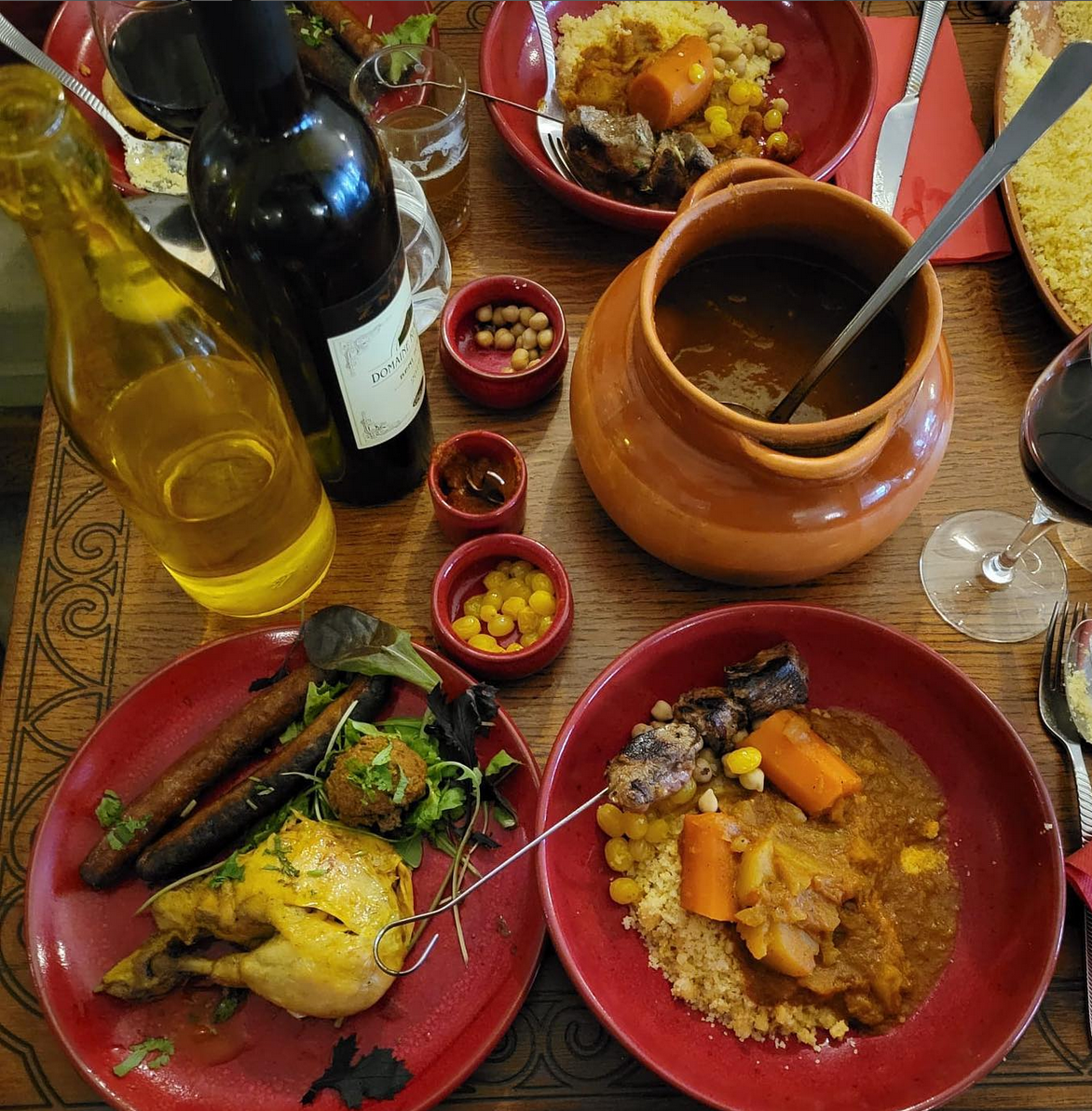 My favorite Moroccan restaurant in Paris is Le Casbah. Located in the Latin Quarter, it offers a warm and welcoming atmosphere with elegant and comfortable décor. Every time I come, I'm always impressed. I'm always sure to try their famous mint tea, tagine of chicken lemon confit with olives, and cinnamon ice cream. These dishes never disappoint, and I always leave feeling completely satisfied.
The Lamb-shank and couscous and chicken tagine were both incredibly flavorful and cooked to perfection. The Moroccan Rose was a pleasant surprise and a perfect way to end the meal. Prices were reasonable, and the portions were large, so much so that we had to take some food home with us!
The staff at Le Casbah were all incredibly friendly and helpful. They made sure we had a pleasant experience and enjoyed our meal. I would definitely recommend this restaurant to anyone looking for a delicious and unique dining experience in Paris.
10. La Crète
Address: 85 Rue Mouffetard, 75005 Paris, France
Hours: Sunday – Friday: 12–2:30PM, 6:15–10:30PM; Saturday: 12–2:30PM, 6:30–11PM
Telephone: +33 1 43 31 30 47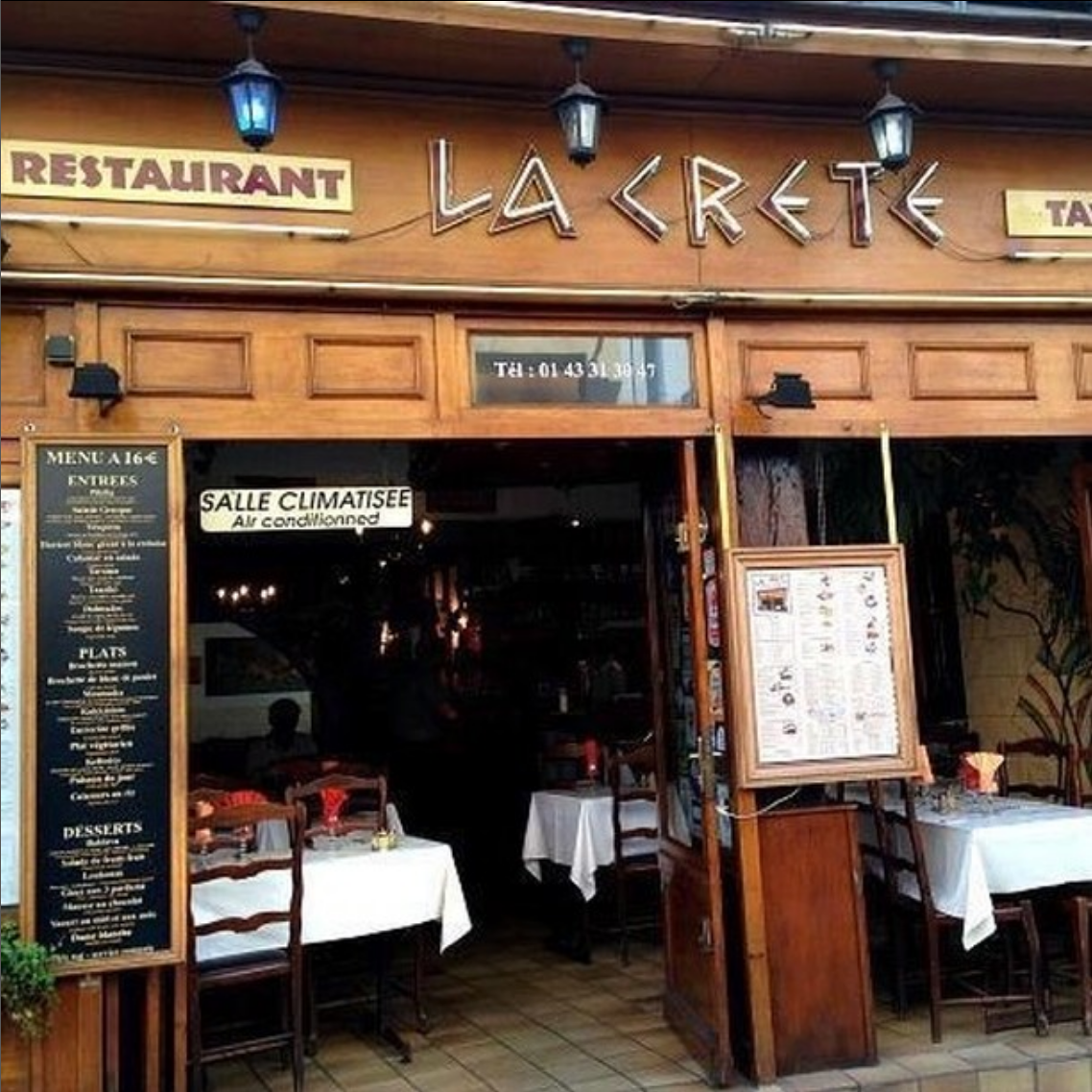 La Crète is located just steps away from Panthéon's most famous building. This Paris hotel manages to avoid tourist traffic despite being very close to the charming Place Monge and Place de la Contrescarpe. It's an excellent spot to rest and recharge during your exploration. Go for top-level Greek food including barbecued steaks, fresh fish and a great Greek salad. The interiors are comfortable and warm, and during their outdoor seating area is perfect during the summer season.
11. Kodawari Ramen
Address: 29 rue Mazarine, Paris, 75006, France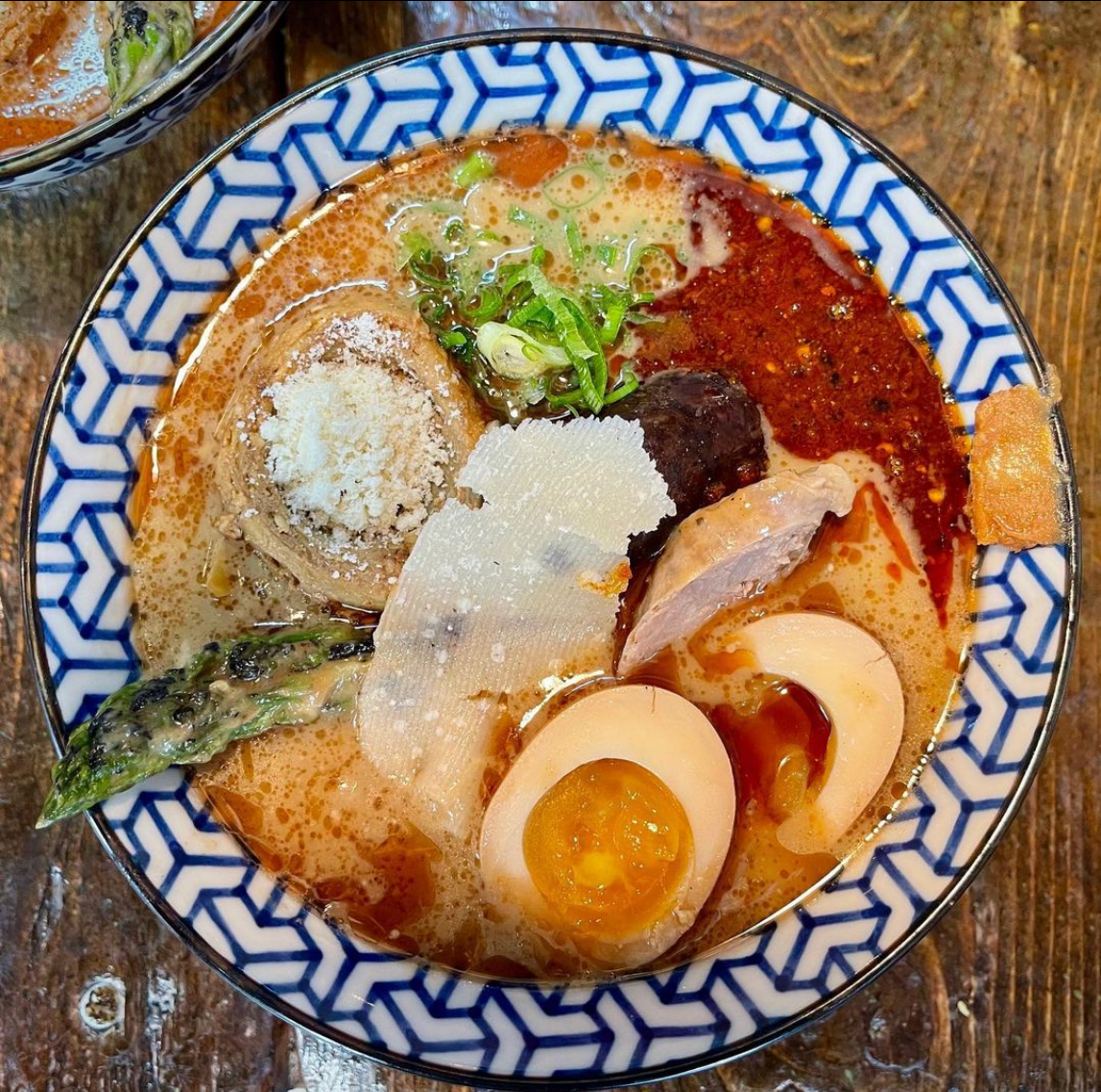 Because noodles are made at home, there will be a good variety of flavors. Aside from the excellent food, the atmosphere of the restaurant is hard beat. The experience dining at Kodawari Ramen feels as if you are in a hole in a wall restaurant in Tokyo, where your chef is cooking your food in front of you. Since it is a very popular restaurant in the Latin Quarter and they don't take reservations, we recommend to arrive early to make sure you have a table.
12. Au Petit Suisse
Address: 16 Rue de Vaugirard, 75006 Paris, France
Telephone: +33 1 43 26 03 81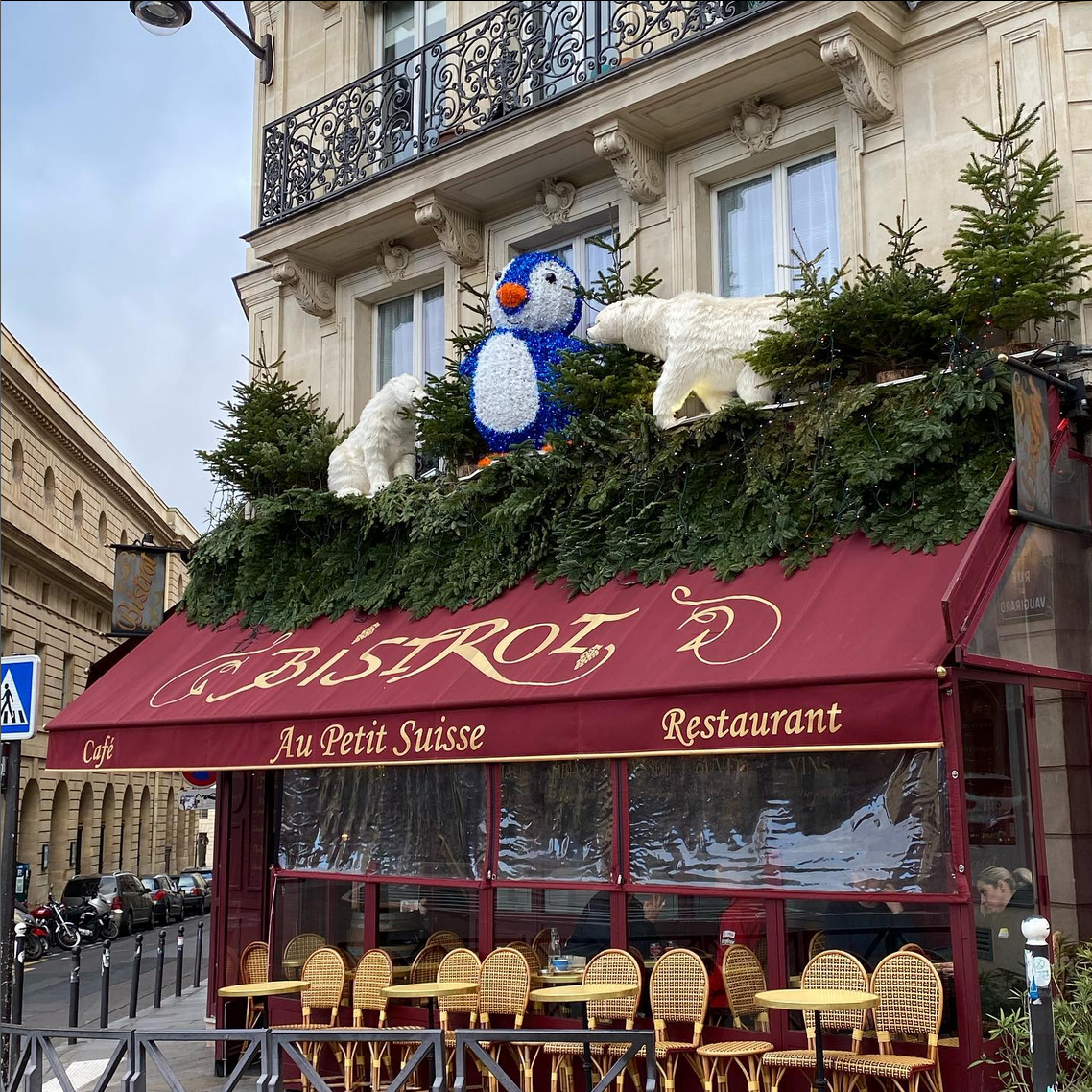 We had a great experience at a restaurant in Paris. We had a decent breakfast there with good service, so we decided to come back for dinner as a group of four adults. We had tried a number of similar places on our trip for lunch or dinner in various sized groups, and we were all very happy with our meals at this particular place. Everyone had different meals and were content with their choices. The cocktails were well made and the wine suggested to us was not expensive, but enjoyable.
At the time of our early dinner, there was only one person serving us. He managed to keep us attended to despite the small kitchen, as the chef did a great job of keeping up with orders. The menu was traditional French food, which we found interesting. The setting was relaxed, yet elegant and warm. The staff was helpful, professional, and friendly. We would definitely seek this place out the next time we are in Paris.
13. Chez Gladines
Address: 44 Bd Saint-Germain, 75005 Paris, France
Hours: Monday – Sunday: 12–10:30PM
Telephone: +33 1 46 33 93 88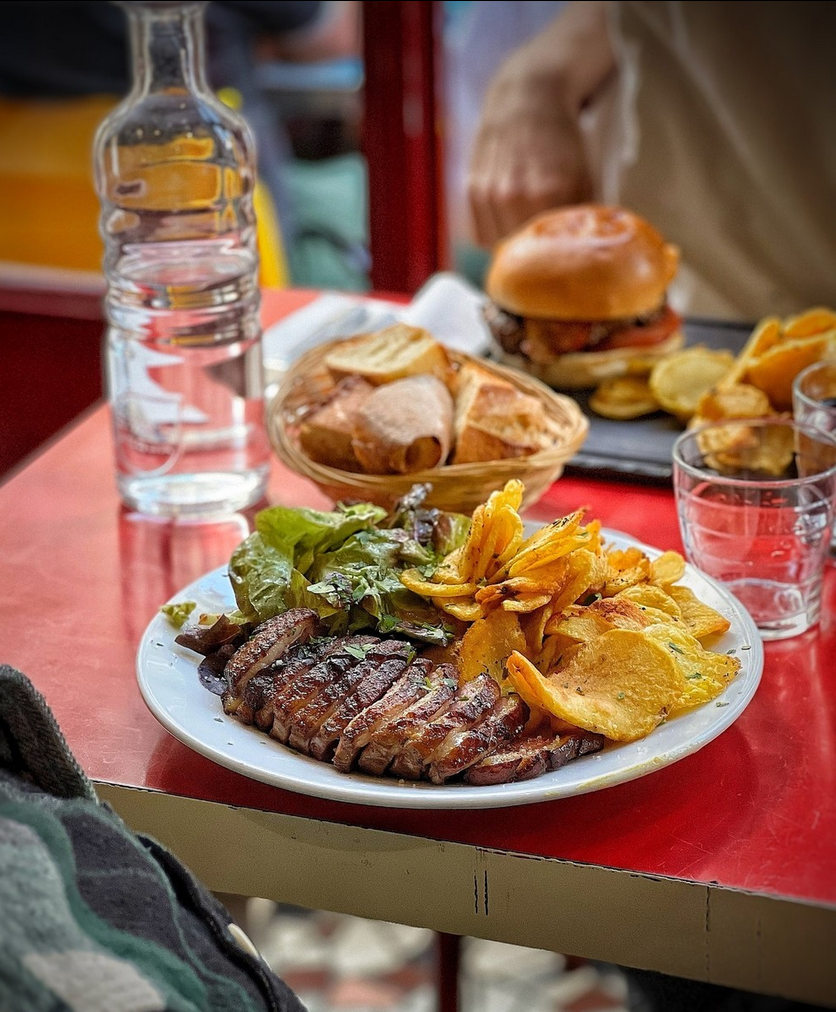 Chez Gladines is a Basque style restaurant located at a Paris metro station. It offers large portions of southwestern French cuisine with a Basque flair, including dishes containing ingredients such as duck pepper and basques. The atmosphere is calm and relaxed, and the pricing is reasonable – the average cost of a main entree is €14.
We heard good things about this restaurant and decided to try it out. However, when we arrived at 6 pm, we found out it did not open until 7 pm. We decided to walk around the neighbourhood to enjoy the scenery and found a nearby pub for happy hour if needed.
At 6:50 pm, we lined up and were one of the first to be seated in the restaurant. We ordered escargot and another appetizer to share as starters, and they gave us lots of fresh bread. We also ordered a bottle of wine for €20. The food came fairly quickly and was tasty.
When we left shortly after 8 pm, the place was packed and there was a line up.
14. Les Trublions
Address: 34 Rue de la Montagne Ste Geneviève, 75005 Paris, France
Hours: Hours vary, check website
Telephone: +33 1 42 02 87 83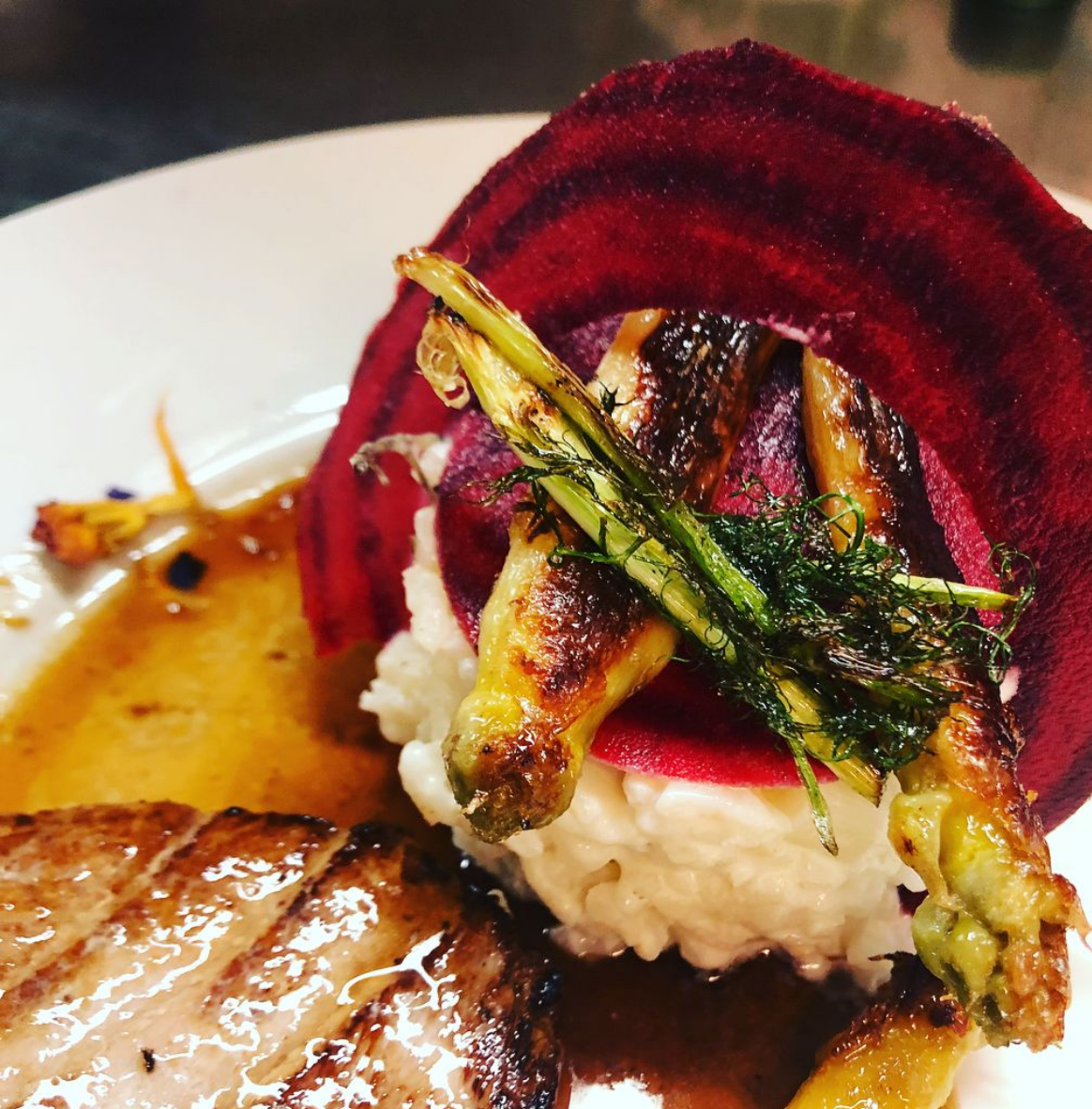 At this creative establishment, everything is prepared from scratch and the menu changes daily. Although there may be limited choices, the chef only uses fresh ingredients. We were warmly welcomed by a lady who was fluent in French and English. She explained the menu and wine selection to us with care and humour. My wife has dietary requirements, which the chef had been advised of beforehand. I was incredibly impressed by the chef's ability to create stunning dishes that looked and tasted amazing, despite the dietary restrictions.
I started with a dish of ricotta and crayfish, which was perfectly balanced in terms of flavours and textures, and perfectly seasoned. My main course was calamari with a subtle, delicate risotto – it was exquisite! The dessert was just the right amount to round off an amazing experience, and the flavours were again subtle and balanced.
15. The Polidor
Address: 41 Rue Monsieur le Prince, 75006 Paris, France
Hours: Monday – Sunday: 12–3PM, 7PM–12AM
Telephone: +33 1 43 26 95 34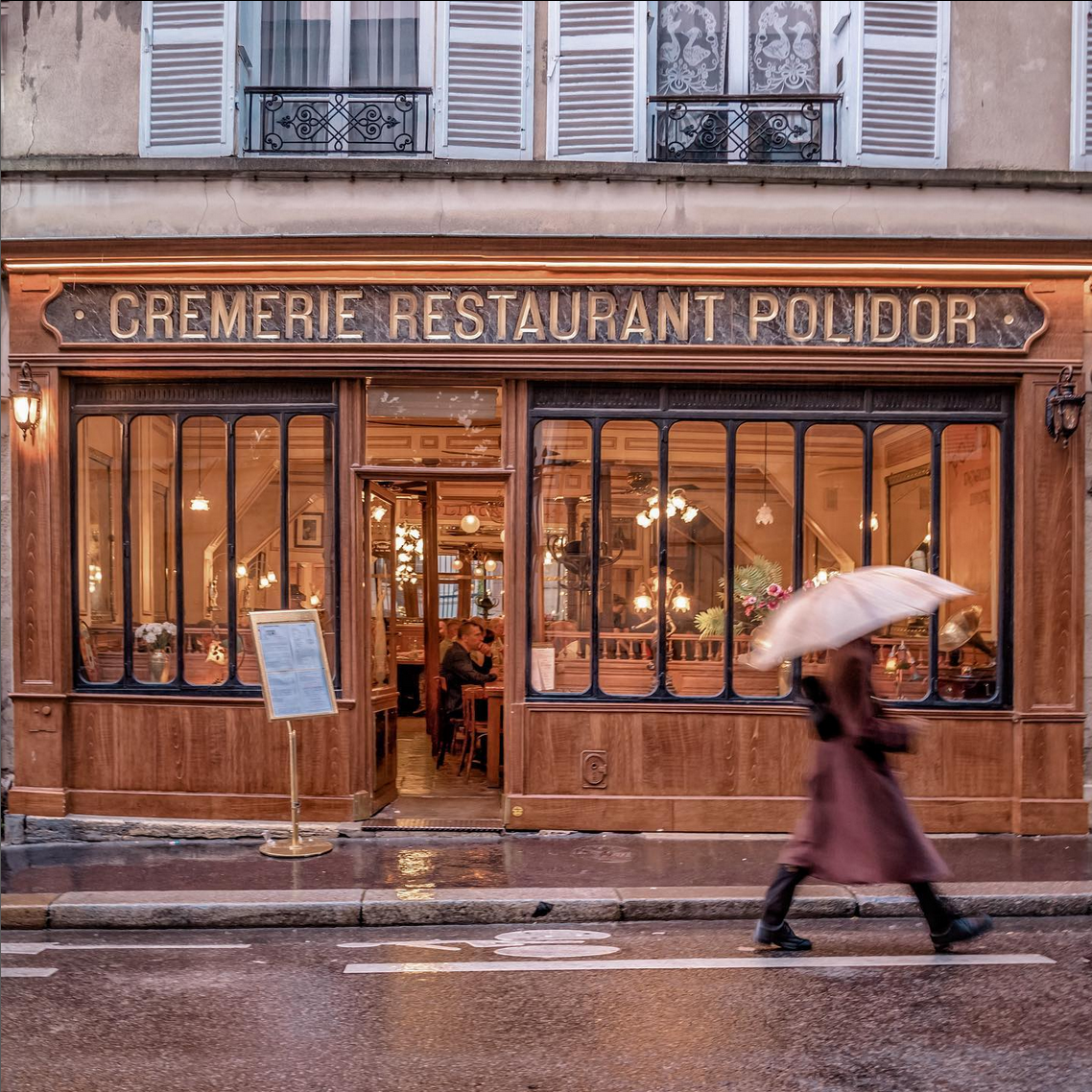 The Polidor, located in the Latin Quarter of Paris, is renowned for its traditional cuisine. Popular items on the menu range from the Bourguignon and Duck Confit to Sauerkraut and Rib Steak Marchand de Vin. The price menu starts at 22 € for a 2-course meal and 35 € for a 3-course meal.
The restaurant is very efficient and the limited menu allows for quick service. All of the dishes taste delicious, from the Cheese Ravioli to the Boeuf Bourguignon and the Tarte Tatin for dessert. The prices are very reasonable compared to many other Parisian restaurants. It should be noted that guests may have to share tables with other patrons; however, it is usually not awkward. The only downside is that the restaurant fills up quickly and reservations are recommended to avoid disappointment.
16. Au P'tit Grec
Address: 68 Rue Mouffetard, 75005 Paris, France
Hours: Monday – Sunday: 11:30AM–12:30AM
Telephone: +33 1 43 36 45 06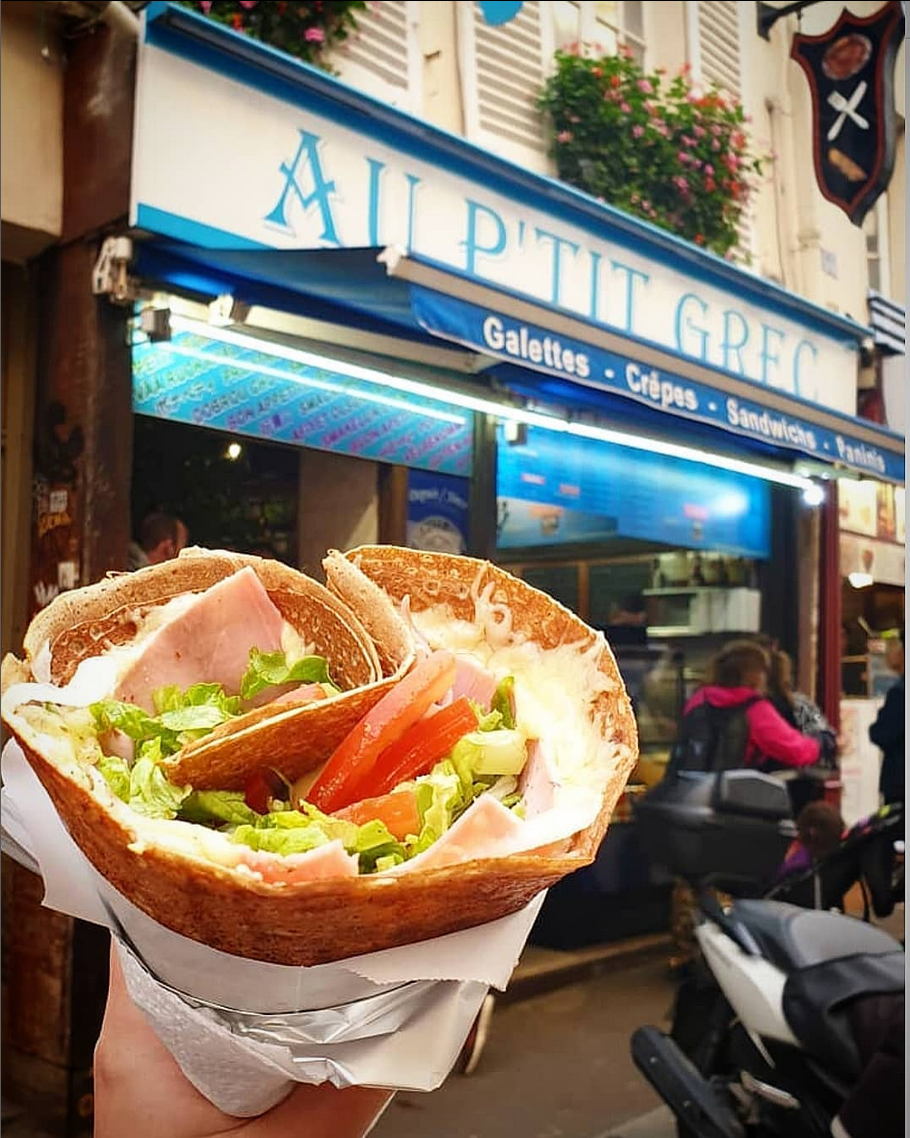 Au P'tit Grec is widely known as the best place for onion soup in Paris. Its other popular items, such as the supreme chicken, are also praised for their taste. This place is a well-known institution in Paris, offering a variety of meals. Even during the empty days of August, a long queue of people could be seen waiting outside.
One of the most popular orders is the "Savoyarde", which is a hearty dish made up of potatoes, cheese and salad. There is also a range of grecs (toasted crepes with various fillings) available, including a vegetarian option. As for drinks, they offer the standard selection of 1164 beer, soda, water and cider.
There are a few tables inside, but most people decide to take away their grecs and eat them in the parks nearby. A standard grec usually costs 6.50 Euros, while 7 Euros is the price for those with more meat. My companion ordered a grec with eggplant, ham and feta cheese.
The Grec's Greek origins are quite apparent, and many older people have fond memories of coming to Au P'tit Grec when they were younger.
17. La Grange Aux Canards
Address: 23 Rue Frédéric Sauton, 75005 Paris, France
Hours: Hours vary
Telephone: +33 1 44 41 14 09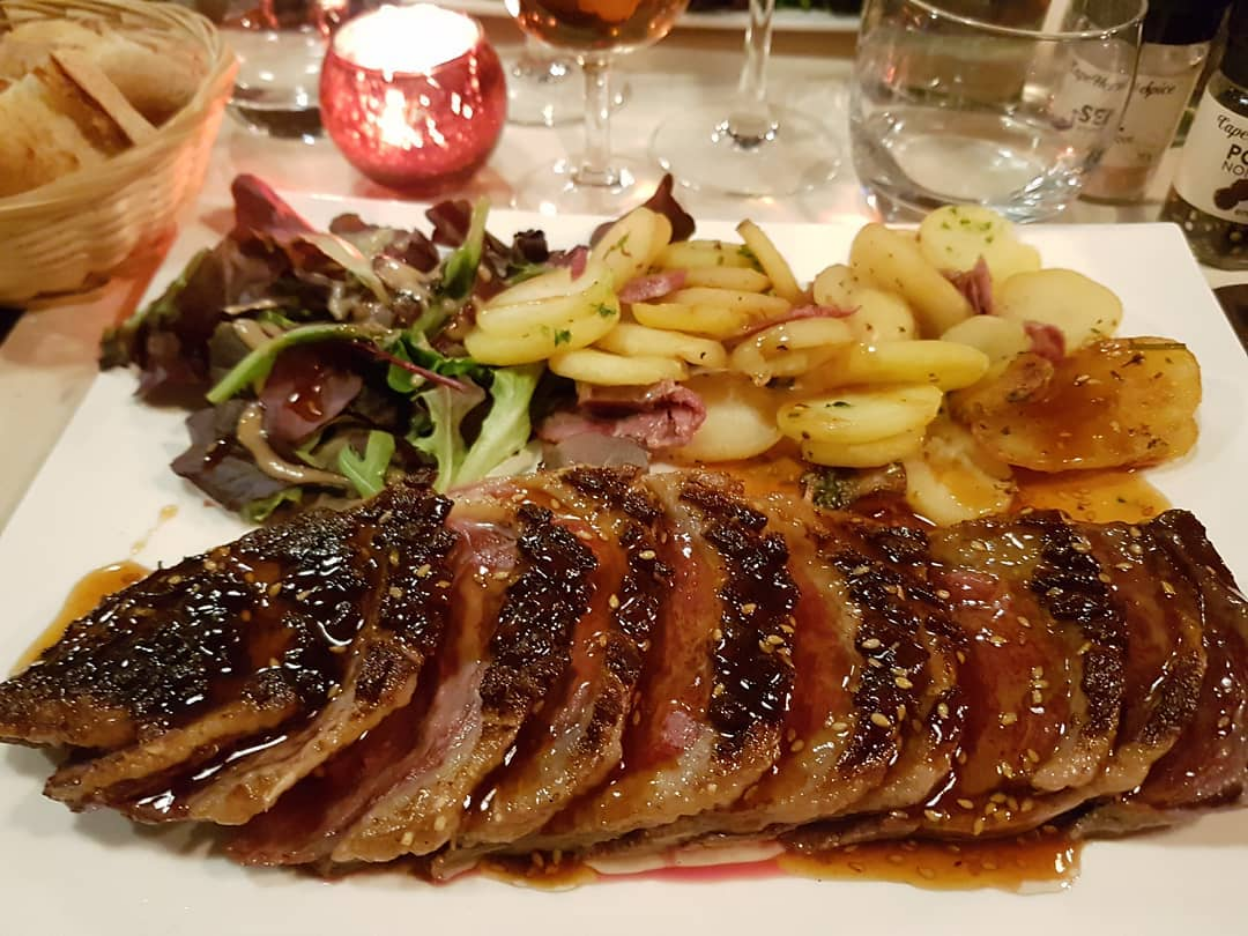 We were drawn to this restaurant because of its reputation for serving delicious duck dishes. We had booked our table online, but when we arrived, they weren't quite prepared. We decided to take a short break and went to the bar next door for a drink. When we returned about a third of an hour later, they were very gracious and kind, even though I had accidentally broken a wine glass. The food was absolutely amazing! We started with escargot which was a first for us, and it was incredibly buttery and garlicky. We then each had the duck ala orange with polenta, which exceeded all expectations! The duck was so tender and perfectly cooked with a tender pink center.
For dessert, we had a special apple tart. The restaurant was cozy and intimate, with small tables for two and some tables available outside on the sidewalk. The street wasn't very busy, so it was a wonderful spot for people watching. As a final touch, they brought us a dried plum in a plum liquor which was a perfect way to end the meal.
Best Bars in Latin Quarter Paris
La Fusée
La Fusée This is one of Time Out's 100 best bars in Paris. Click here to see the full list. Good bars are hard to find in this corner of Beaubourg, but Le Fusée attracts plenty of young people with its warm atmosphere, charming little terrace, and reasonable prices for the area. Its hangings of coloured garlands go well with the ambiance, which includes live concerts of gypsy jazz, swing and French music on Sundays.