The best restaurants Montmartre Paris are some of the must try when visiting France's capital for that authentic Parisian experience. The Bohemian neighborhood is one of the most-visited areas in Paris and home to some of the best restaurants in Paris. After strolling up and down the cobbled streets in Montmartre and soaking in the views from the Sacré-Cœur Basilica—the city's highest point—satisfy your hungry appetite at one of these non-touristy Montmartre restaurants.
There are three important things to learn while eating at Montmartre near Sacre Coeur Basilica. Firstly, many of these restaurants that serve great food are closed for about 1 week – usually Monday and Tuesday. The second is to send an RSVP if possible if possible to ensure table availability since many reservations are part of the Paris culture. Third, avoid tourist trap restaurants!
Below are our hand picked local favorite and best restaurants in Montmartre for your next Paris visit.
More on Montmartre:
The 15 Best Restaurants in Montmartre
1. Terrass
Address: 134 rue Joseph de Maistre, 70018
Tel: +33 1 46 06 72 85
Hours: Mon, 3:30 – 11:330, Tuesday-Sunday: 3:30 pm – 12:30 am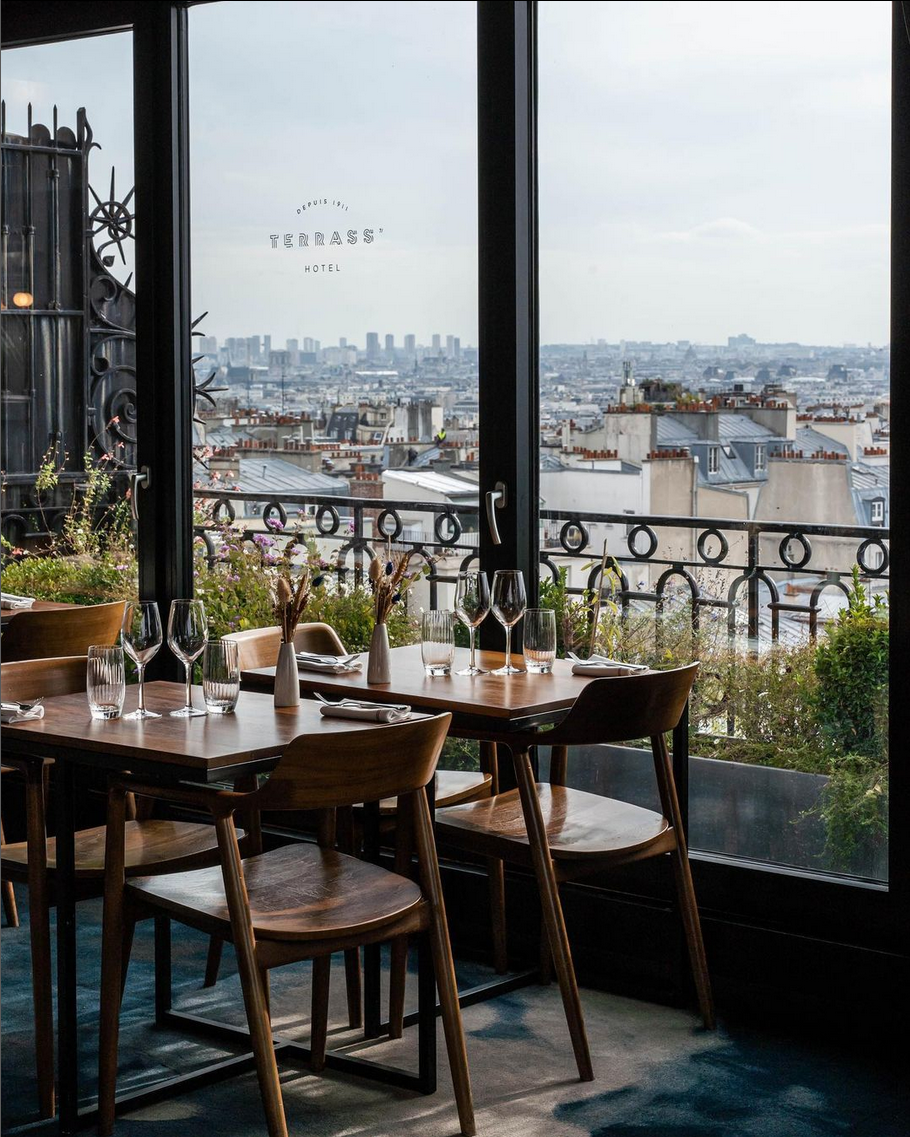 One of the most recommended Paris restaurants for great views of the Sacré Coeur in Montmartre. Terrass offers stunning views of Paris from their bar. In the summer it's possible to sit outside on TVs from the seventh to the 8th floor, while a panoramic indoor kitchen is available for the off-season months. Everyone is invited to dine here or consume, but reservations are highly recommended.
Enjoy Chef Eric Lurthy's modern interpretation of traditional French food while showcasing the most breathtaking views across the city. With spectacular views over the Eiffel Tower and a cold glass of French wine at your disposal – this restaurant in Montmartre is the perfect place to cap off your evening.
2. Brasserie Bellanger
Address: 140 Rue du Faubourg Poissonnière, 75010 Paris, France
Tel: +33 9 54 00 99 65
Hours: Monday to Thursday: 9am – 12am, Fridays-Saturdays: 9am-12:30am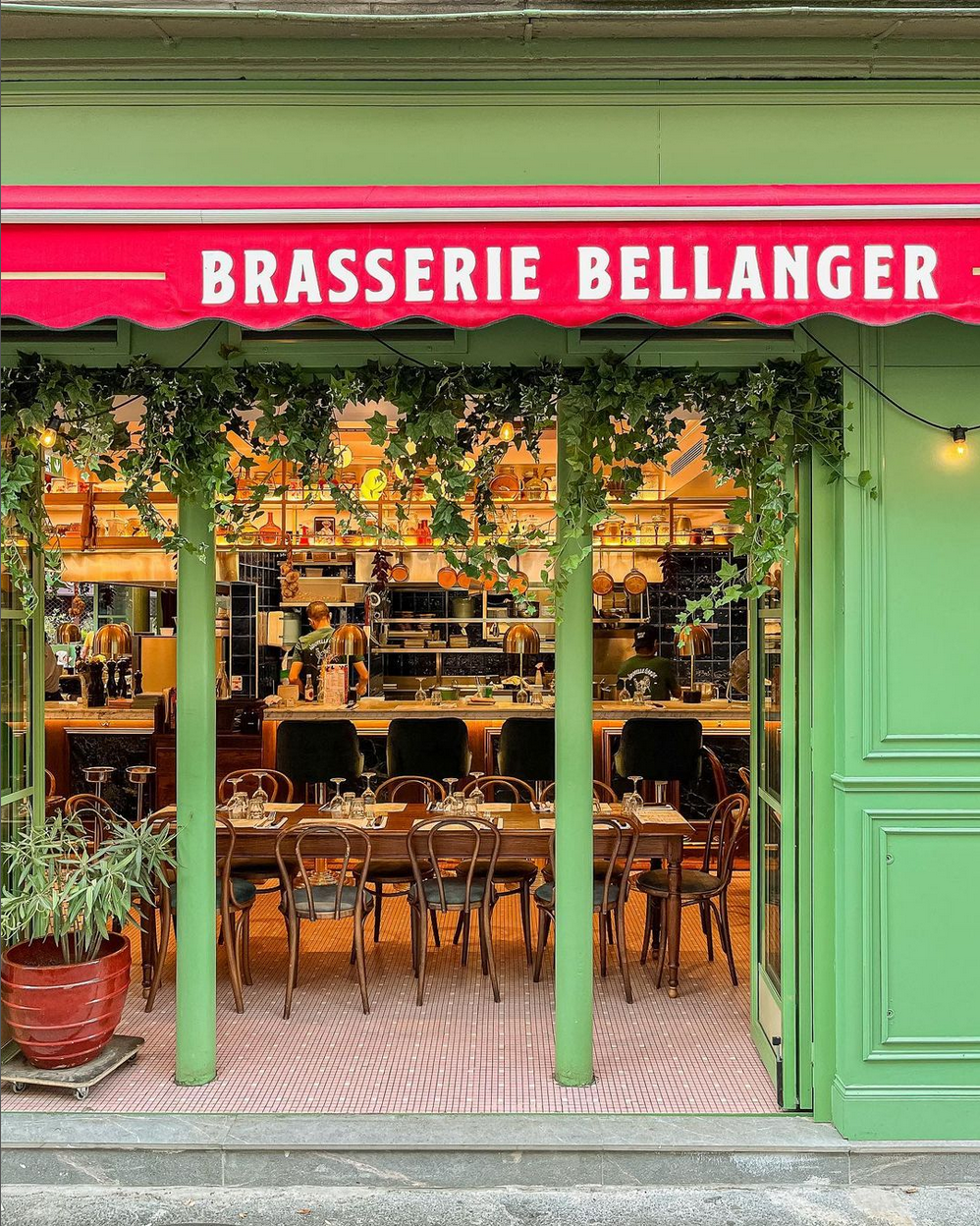 Brasserie Bellanger is a traditional French brasserie with an impressive menu that changes weekly. They are committed to sourcing locally, and you can find a map of all their producers on their website. It is located about a 15-minute walk from the basilica.
Despite its location, Bellanger is a hidden gem! The food is exquisite and made with love and attention to detail. The staff is friendly and professional, and the 'Capitain' personally trains them to an exceptionally high level. Highly recommended, one can enjoy a delicious meal and a bottle or two of Cotes-de-Rhone for an unforgettable experience.
3. Brasserie Barbes
Address: 2 Bd Barbès, 75018 Paris France
Tel: +33 1 42 64 52 23
Hours: Sunday to Wednesday: 9am-1am; Thursday to Saturday: 9am – 2am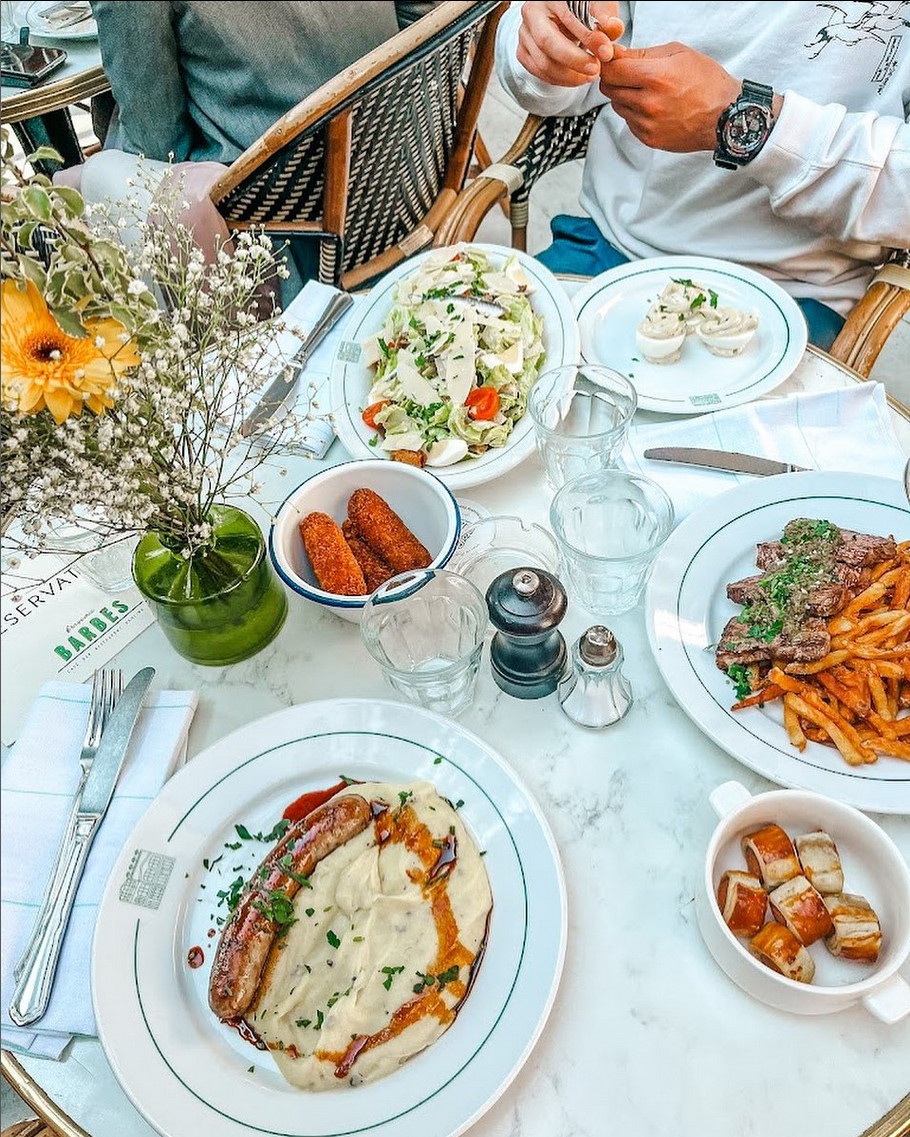 Brasserie Barbès is located near the Barbès-Rochechouart metro stop on Boulevard Barbès. It offers a traditional French food and drinks range in a trendy bistro-style setting. The ground floor is more of a sports-bar area with pub games such as table football and darts and their signature beers served directly from the tanks.
The first floor is split into two separate areas. There is an eating area and an enclosed terrace offering views of the metro trains passing the station. The place was very busy when we visited, and we had to sit at the bar. We had a few glasses of 1664 Kronengbourg brewery lager; the house lager served perfectly and was reasonably priced.
Overall, Brasserie Barbès is a great place to experience the real everyday Montmartre. We especially love to watch the trains from the second-floor glass windows. This is a place that is definitely worth visiting and easy to access, as the metro station is just a minute away.
4. Babalou
Address: 4 Rue Lamarck, 75018 Paris France
Tel: +33 1 42 51 37 32
Hours: Monday to Friday: 6:30pm – 10:30pm; Saturday-Sunday; 12 – 2:30 pm, 6:30-10:30 pm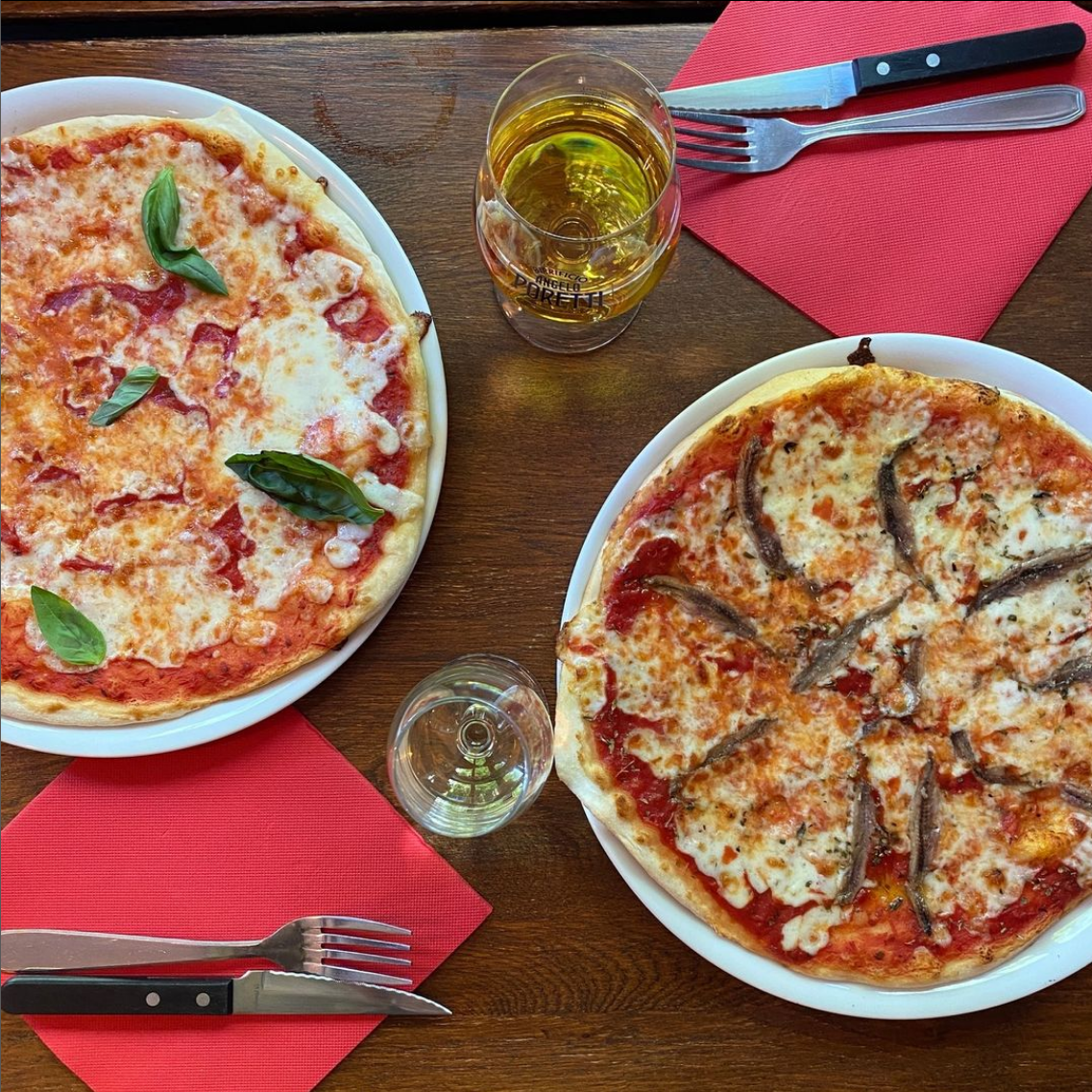 Babalou is a small family-owned Italian restaurant located in the shadow of Sacre Coeur in Paris. It offers an intimate, tucked-away feel and isn't a tourist trap like many of the other restaurants in the area. The decor was eclectically cozy and casual, and we were given a nice window table. The service was excellent, and it was clear that the owners take a great amount of pride in their work.
We began our meal with a burrata appetizer, which was delicious. My friend had a glass of Italian red wine for drinks, and I had a strong negroni. We then split a pizza with a great thin crust, delicious sauce and cheese, and quality ingredients. For dessert, we shared a bowl of three scoops of ice cream.
Overall, we had a wonderful experience at Babalou. The food was affordable and solidly good, and it was a refreshing break from a day of sightseeing. We were so happy to have found a reliable, high-quality restaurant in such a crowded area.
5. La Vache et le Cuisinier
Address: 18 Rue des Trois Frères 75018 Paris
Tel: +33 1 42 62 22 15
Hours: Monday-Sunday: 7 pm-12 am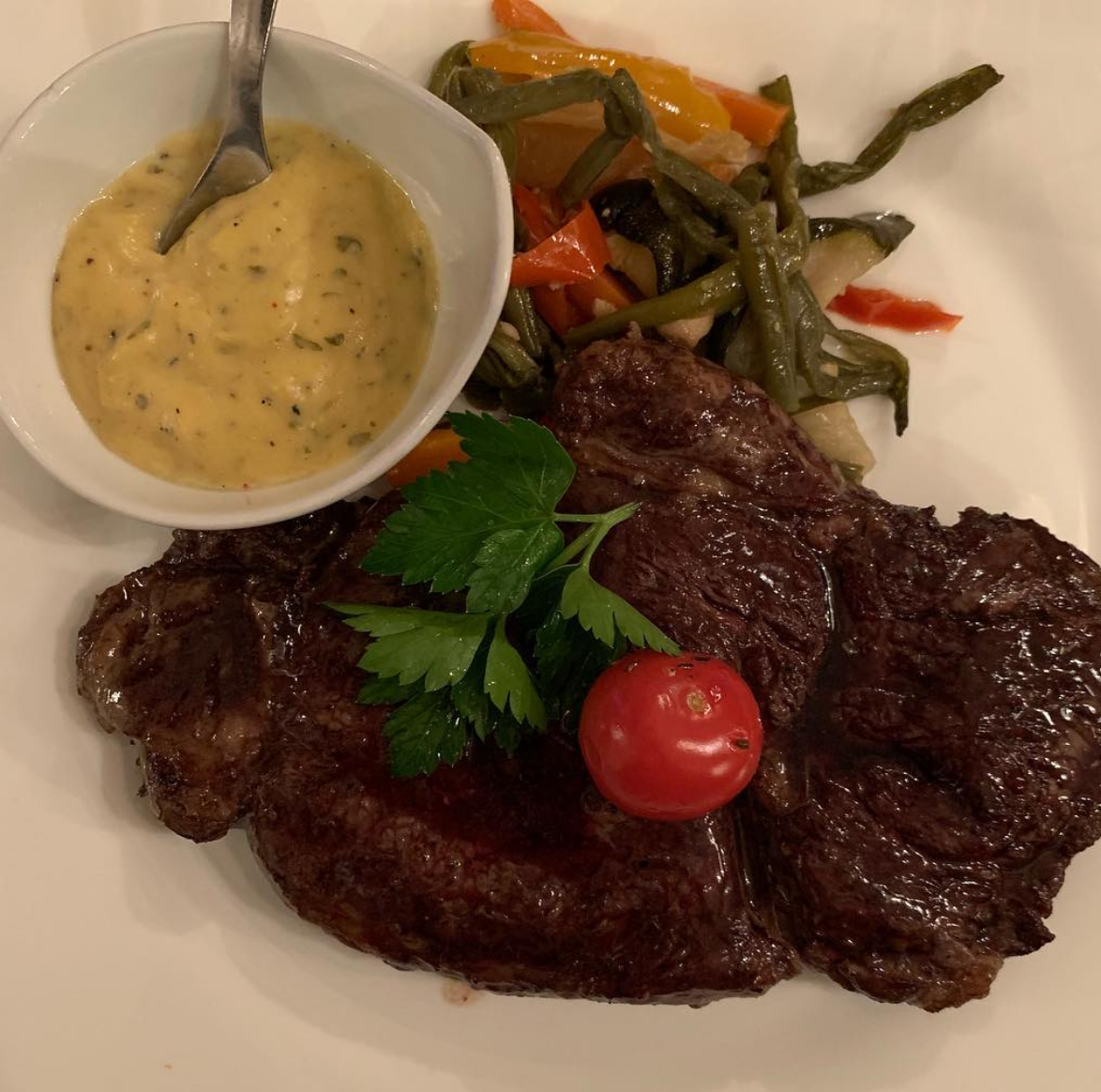 La Vache et le Cuisnier is a quaint restaurant located at the foot of Montmartre Hill. The atmosphere is relaxed and unpretentious, and the menu features classic French dishes such as magret de canard, rabbit, and lamb tournedos – all cooked to perfection. Unfortunately, vegetarians should take note that there aren't many options for them at this restaurant. Reserving a table in advance is recommended, as the restaurant has limited seating.
Those who make the trip are rewarded with delicious dishes like filet mignon cooked at low temperature with its gratin dauphinois, beef skirt with onion sauce, and dark chocolate fondant for dessert. A wide selection of wines is available to complement the meals.
6. Polissons
Address: 35 rue Ramey 75018 Paris
Tel: +33 6 46 63 57 50
Hours: Sunday – Monday closed; Tuesday – Saturday: 7:30 – 2:00 am
Slightly off the Montmartre tourist track, this modern restaurant run by a professional couple celebrates bold flavors. The menu is reworked every month, albeit with some perennial classics, a five-course tasting menu in the evening, dishes for sharing, according to availability (prime rib or lobster). The ideal place to tuck into unpretentious cooking.
For dessert, be sure to try the chocolate mousse, a real delight, and the homemade ice cream.
7. Grenouilles
Address: 55 Rue du Chevalier de la Barre 75018 Paris
Tel: +33 1 42 58 68 74
Hours: Sunday – Saturday: 9:30 am – 11 pm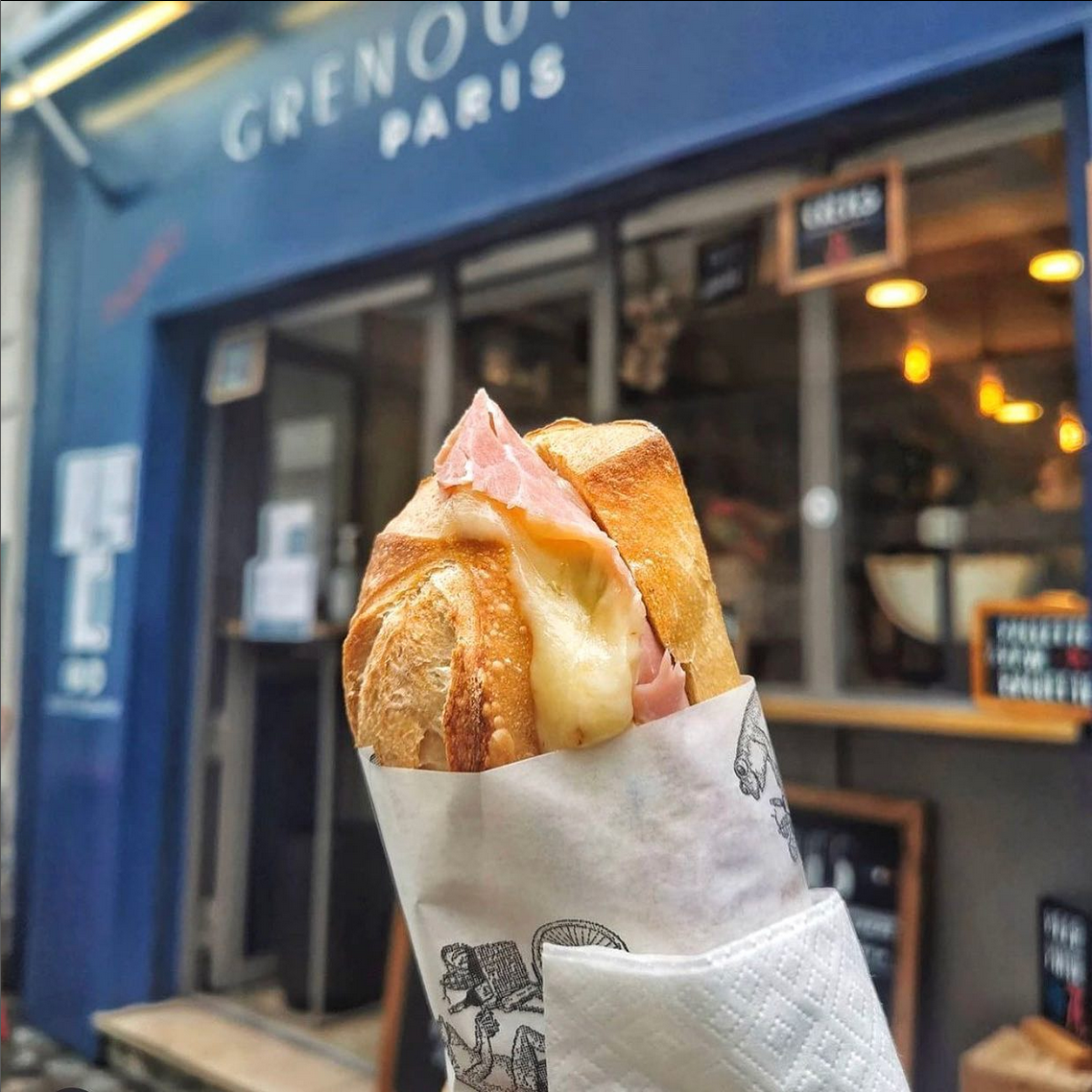 Grenouilles is the perfect place for those looking for quick and delicious food on the go. They offer a variety of traditional French baguette sandwiches and crêpes. Our recommendation is the raclette and cheese sandwich, where the cheese is melted and sprayed into the sandwich. Additionally, there is a small selection of French craft beer to choose from for a refreshing break from the typical French wine.
This little gem is conveniently located just a few steps away from the iconic Sacre Coeur. Everything served at Grenouilles is absolutely delicious. However, the raclette sandwich is a must-try! It is served in a freshly baked French baguette with Parma ham and pickles. For the perfect experience, accompany it with a glass of hot, delicious French wine.
8. L'Arcane
Address: 52 Rue Lamarck 75018 Paris
Tel: +33 1 46 06 86 00
Hours: Sunday – Monday: closed; Tuesday – Saturday: 7:15pm – 10: 15 pm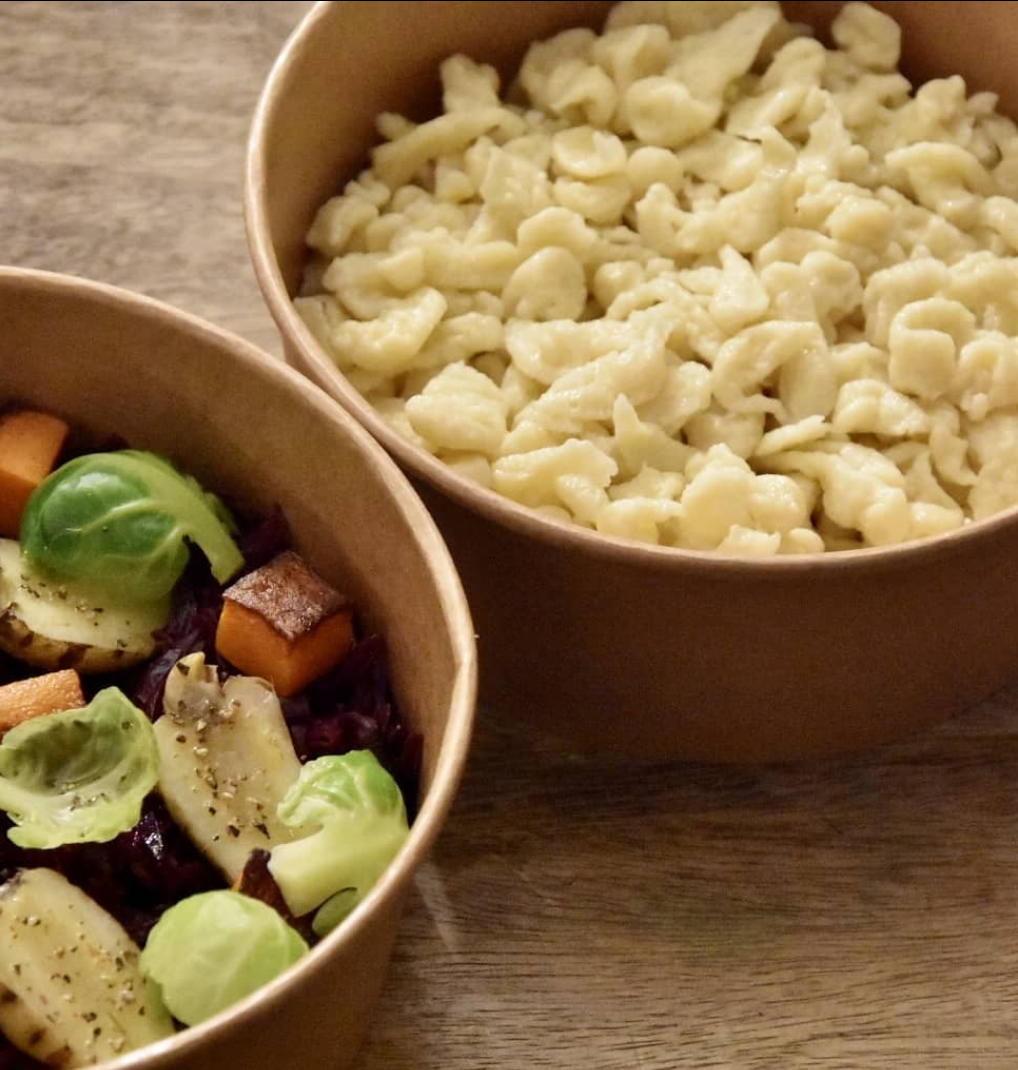 L'Arcane is a top-notch French restaurant with a Michelin star rating, offering a unique and sophisticated dining experience. It serves an array of five to seven course surprise cooking menus as well as options à la carte. The wine list is also impressive. Upon entering, the atmosphere is inviting and relaxed, with quality furnishings and beautiful artwork. The tables are spread out for a more private dinner experience.
We had the pleasure of dining at L'Arcane on a Tuesday evening with the "Menu Tentation" and wine pairing. Every course was a delight, and the accompanying wines were a perfect match. Our server Sophie and her team provided excellent service. Much to our surprise, we were able to speak to the Chef at the end of the evening. We would highly recommend this restaurant and would love to come back in the future.
9. La Boîte aux Lettres
Address: 108 Rue Lepic 75018 Paris
Telephone : 0141 51 76 84
Hours: Mon – Sat 12pm – 2pm | 7pm – 11pm.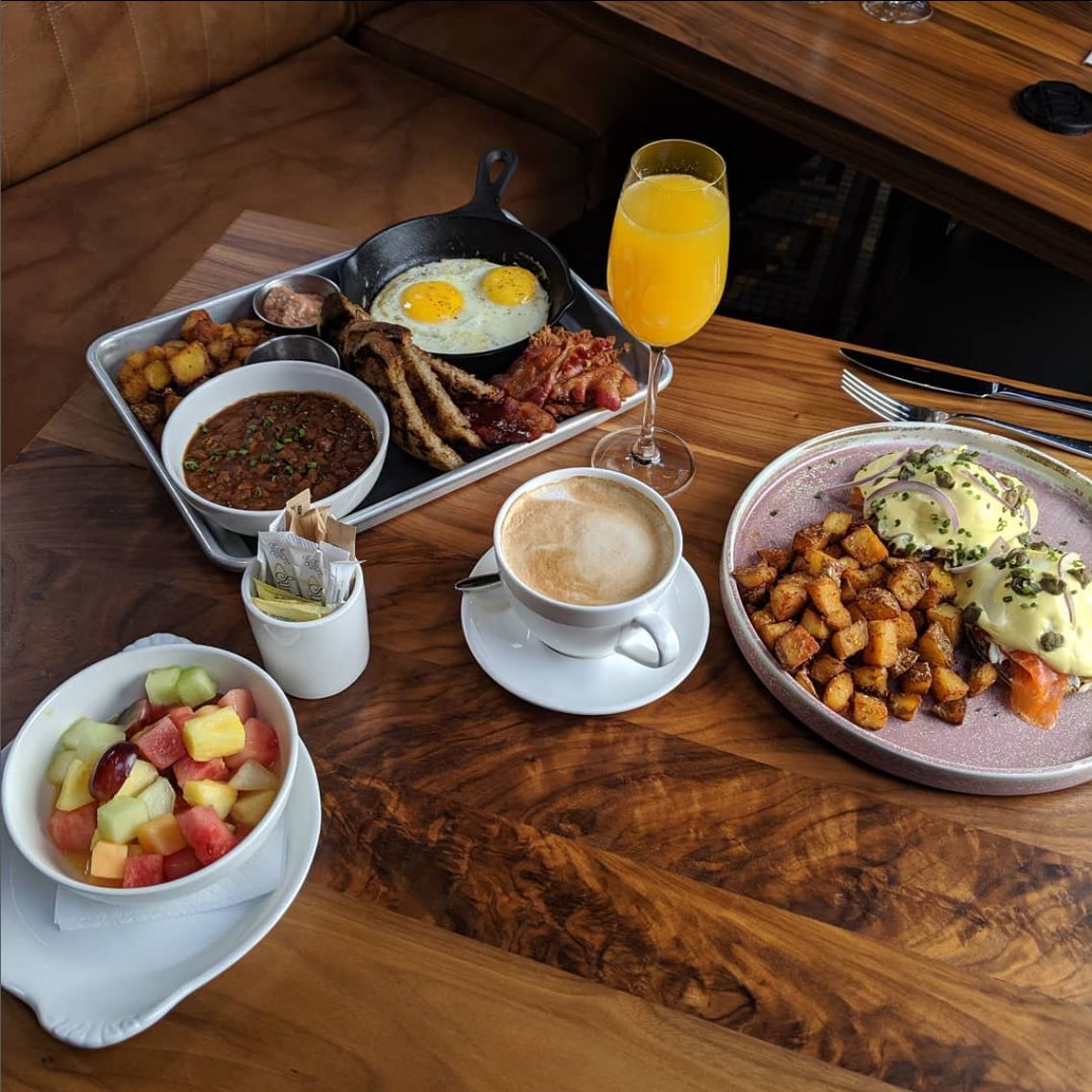 This is undoubtedly one of the best restaurants in Montmartre. La Boîte aux Lettres is a charming little restaurant nestled at the top of Rue Lepic, where everything in the menu is homemade. Popular dishes such as the chicken supreme and tiramisu are to die for.
Chef Frederic Paul Chartier was trained under the iconic French Chef, Alain Ducasse and his cuisine is always full of inspiration. The handwritten menu changes weekly since Chartier incorporates seasonal ingredients into every dish.
10. Can Alegria
Address: Rue Jean-Baptiste Paris 75009
Telephone: +33 613 10 51
H0urs: Mon – Sat 6:30 – 11:30; Tuesday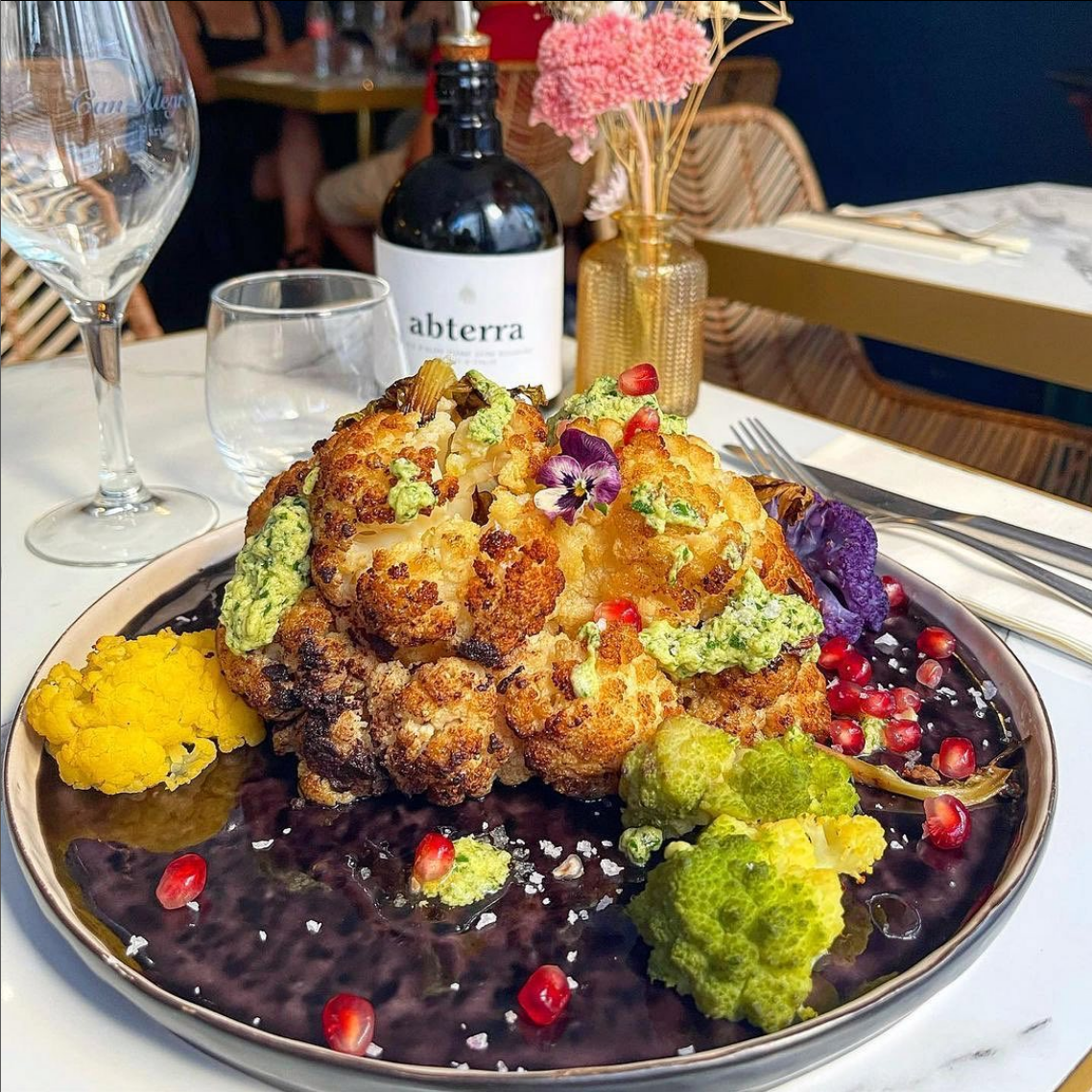 This restaurant offers Mediterranean food A little further away from Montmartre. Can Alegria is an attractive yet comfortable restaurant focusing exclusively on the Mediterranean cuisine. Other popular items on the menu are chicken with morels, grilled octopus, ratatouille, and grilled salmon or grilled lamb shanks. The streets surrounding Can Alegria are filled with lots of hip bars, a perfect spot for young couples or a groups of friends traveling together to visit after dinner.
11. Seb'on
Address: 62 Rue d'Orsel 75018 Paris
Tel: +33 1 42 59 74 32
Hours: Monday – Tuesday: Closed; Wednesday – Saturday: 7 -11 pm; Sunday: 12-3 pm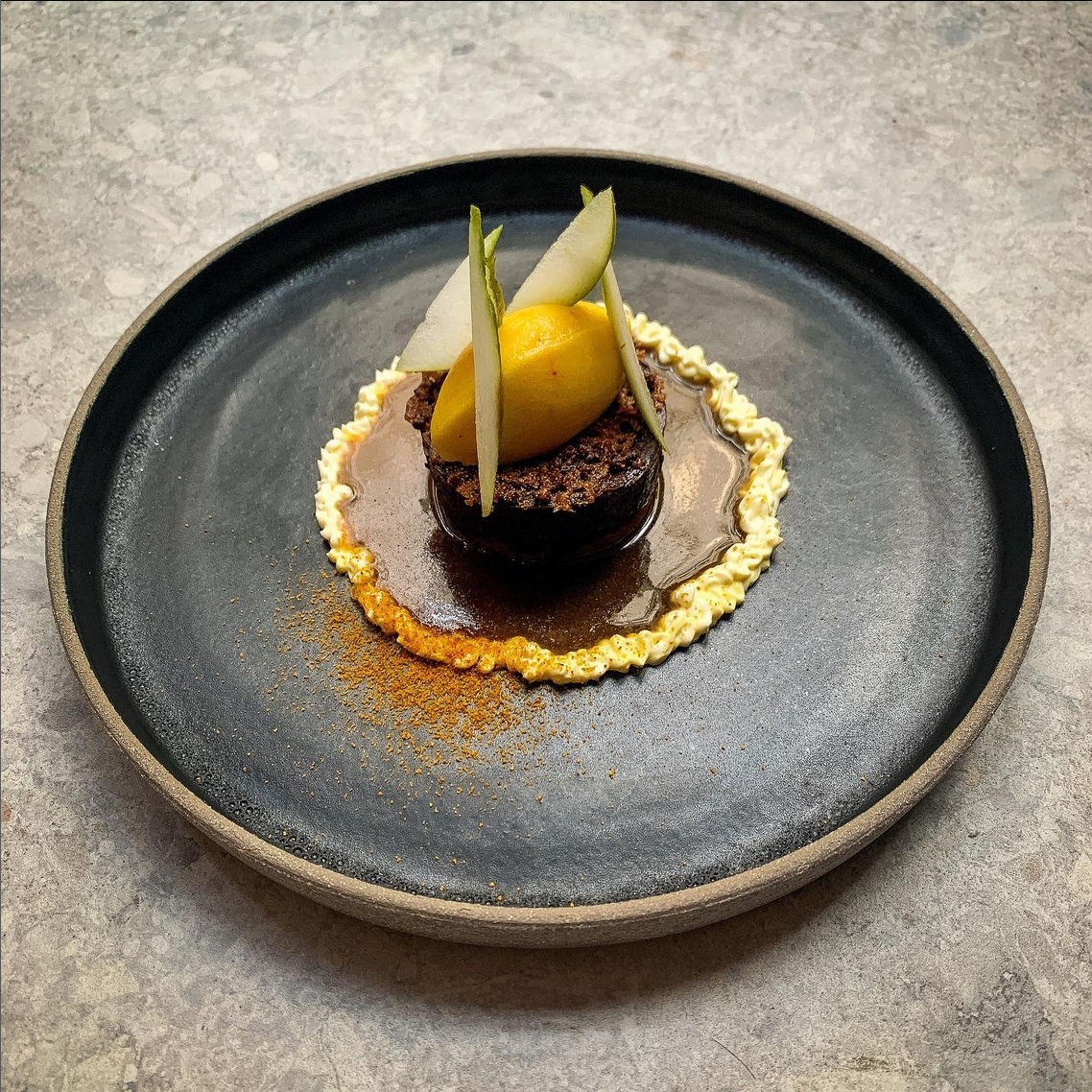 Hidden in plain sight right in the heart of Montmartre lies Seb'on. Offering excellent food and a casual yet chic atmosphere, this place is truly the definition of a hidden gem . Their handwritten chalkboard menu highlights French classics reinvented with a gourmet twist. Chef Sébastien Heloin trained under French greats at the likes of the Ritz and the Bristol, and his decades of culinary excellence really shine through at Seb'on. Every week, the menu is updated by the chef in order to incorporate fresh seasonal ingredients.
There are just nine tables at Seb'on, so you're sure to receive great, personalized service. The restaurant is cozy and intimate, definitely the perfect place for a romantic dinner!
12. In Bocca al Lupo
Address: 14 Rue Francoeur 75018 Paris
Telephone: 0142645792
Hours: Tuesday – Saturdays from 6:15 until 7:20 pm | Wednesdays – Sundays from 12:30 to 20:00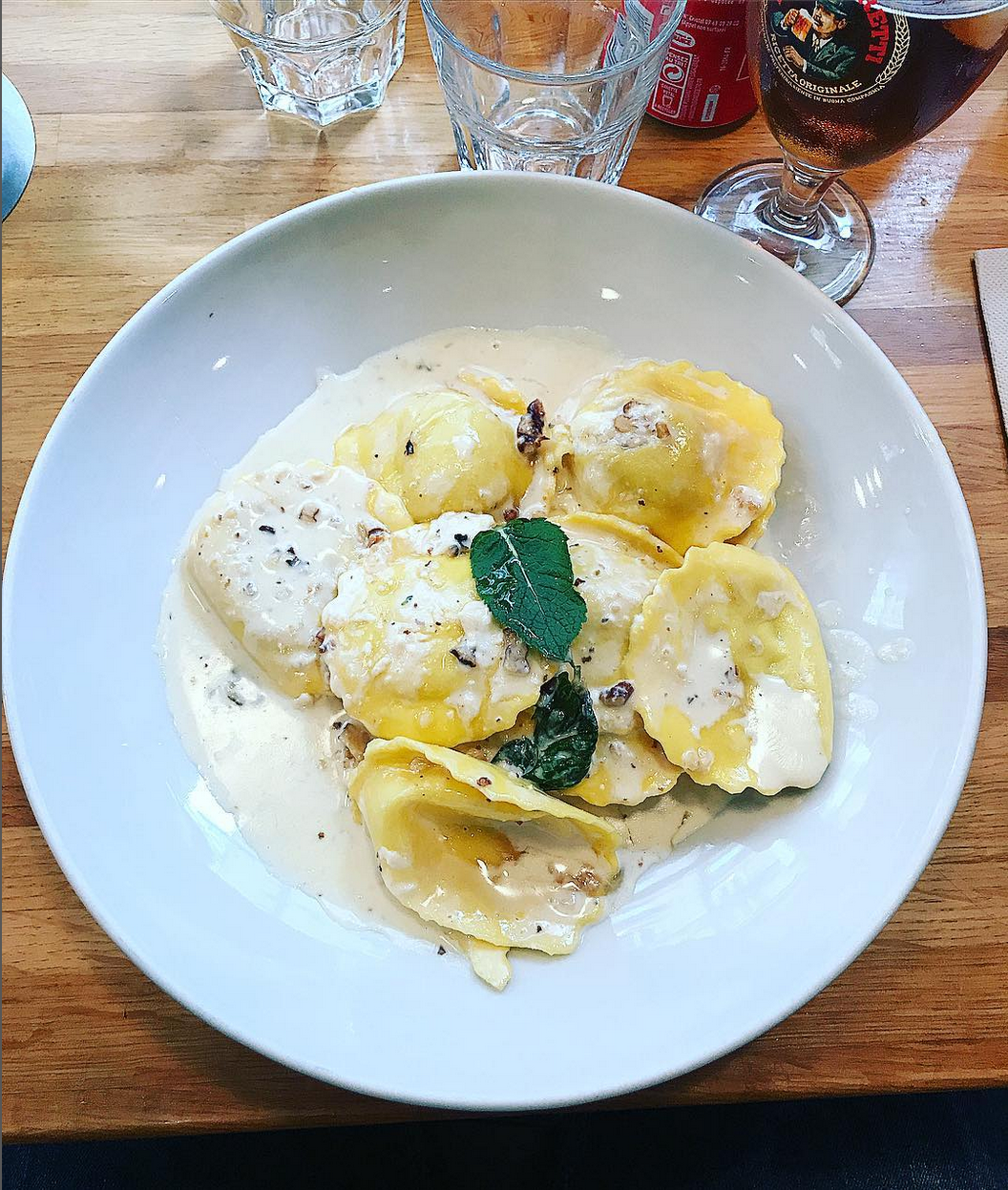 If you're looking for a unique French dining experience, this restaurant located near Sacre Coeur in Montmartre is a great option. Everything is freshly made from traditional ingredients, including their popular pizza. The interior was cozy with wood-burning ovens and decorations featuring various knives and utensils. To top it off, the restaurant wasn't packed with tourists.
We started off our meal by ordering a bottle of wine and the meatball appetizer. The meatballs had a wonderful texture and the sauce was incredibly flavorful, reminiscent of Sunday Sauce. For our main courses, we tried the zucchini caesar and the pappardelle. The zucchini caesar was a light, fresh take on the classic caesar salad and the pappardelle with seafood bisque and lemon oil was divine.
Overall, we had a wonderful evening and would highly recommend this restaurant to anyone looking for a unique culinary experience!
13. Part des Anges
Address: 10 rue Garreau 75018 Paris
Tel: +33 1 55 79 98 53
Hours: Sunday – Monday: Closed; Tuesday – Saturday: Hours differ, check website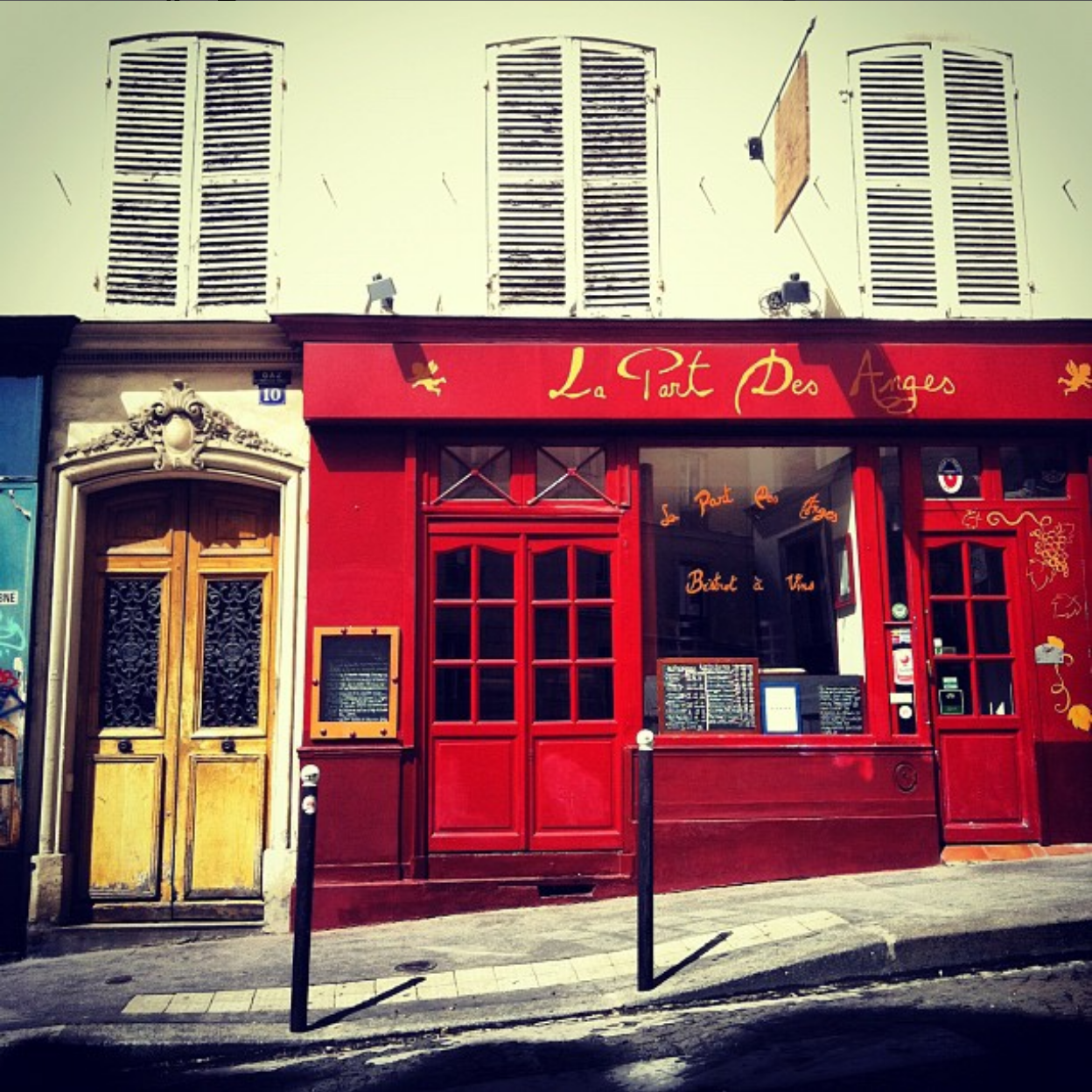 La Part des Anges is a café and restaurant that offers a pleasant outdoor seating area, making it a great place to visit in the summer. They specialize in French duck dishes, such as magret de canard and pain perdu. For those with a sweet tooth, they also serve French toast with salted caramel.
The service at La Part des Anges is attentive and the food is excellent. We had foie gras, escargot, and rumpsteak. The steak was very tender and perfectly prepared, and the foie gras was excellent. The escargot was served in an unusual tomato-based sauce, which was pleasant. The wine suggested by the staff, a Croze Hermitage, was a great pairing for the food and had a high rating on Vivino.
14. Le Moulin de la Galette
Address: 83 Rue Lepic 75018 Paris
Telephone: 01 46 06 84 77 77
Hours: Sunday – Saturday: 12 -10 pm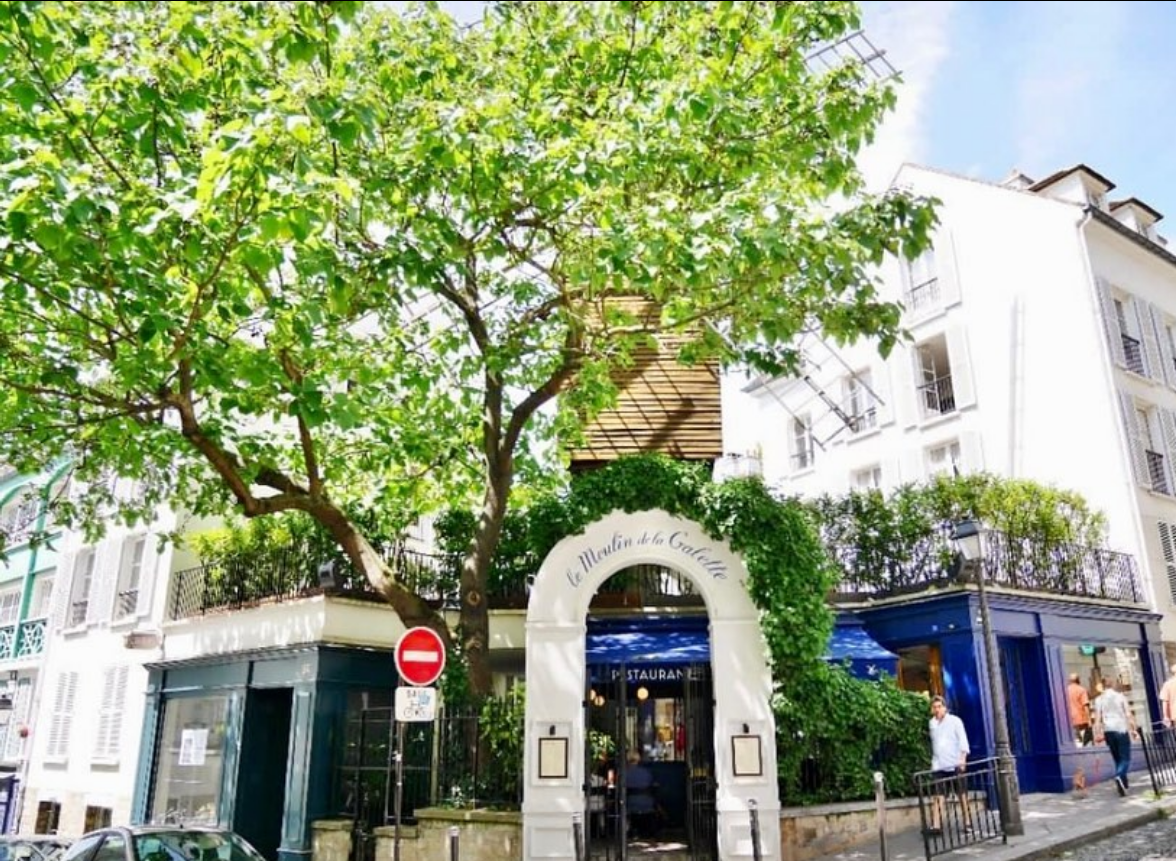 Back in the 19th century, Le Mouline de la Galette was an older windmill providing flour to Paris. Soon it became a Guinguinette, a public drinking and dance venue immortalized as a masterpiece of painter Renoir. In 2015, the legendary hotel has reopened as the restaurant and boasts the chic dining area and the pleasant terrace in the summer months. Le Moulin de La Galette, which means great food, offers authentic French food with a superb wine cellar and 150 references on offer. A must visit when in Montmartre!
15. Le Poulbot
Address: 3 Rue Poulbot 75018 Paris
Tel: +33 1 42 23 32 07
Hours: Sunday – Saturday: 12–2:30PM, 6:30–10:30PM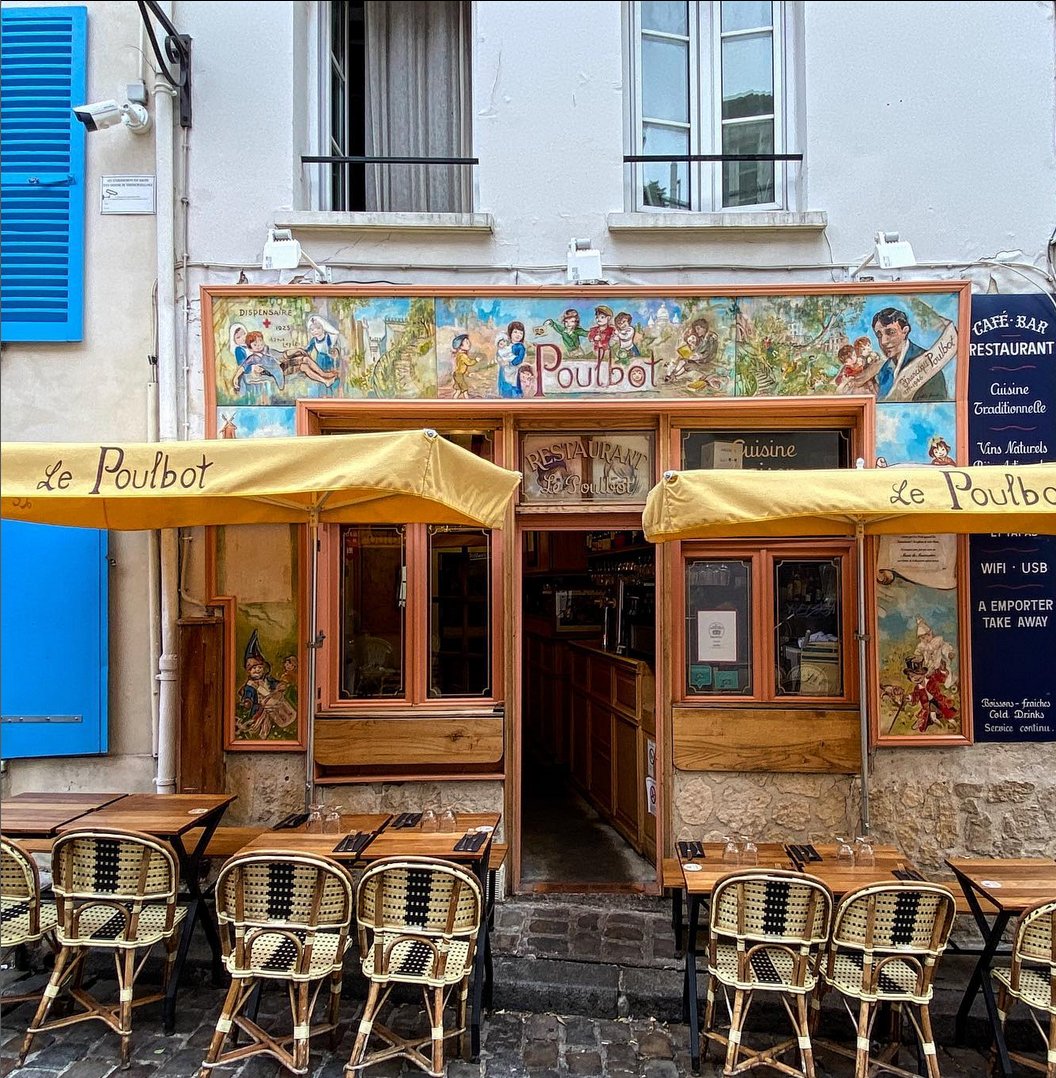 Named for Montmartre artist who primarily worked on street kids, this restaurant is a gem located in Montmartre's downtown area. Les dirigeants du Poulbot—Twins Thomas and Matheus Bellair, opted for a focus on offering tasty French traditional recipes. Traditional onion soup snails, boeufbourguignon, or duck confit are presented in cozy surroundings with a good choice of biodynamic wines.