The Hôtel Plaza Athénée hotel review in Paris.
For over a century, the Hôtel Plaza Athénée has defined the Parisian luxury hotel experience. One of Paris's eight officially-designated "palace" hotels – a distinction given only to the most esteemed 5-star hotels in France. The glamorous landmark hotel—the darling of Russian celebrities and the designers of Russian billionaires—sits on the most expensive avenue of the French capital. This luxury hotel on the 8th arrondissement was refurbished recently and has been adding two buildings as well as several luxurious suites.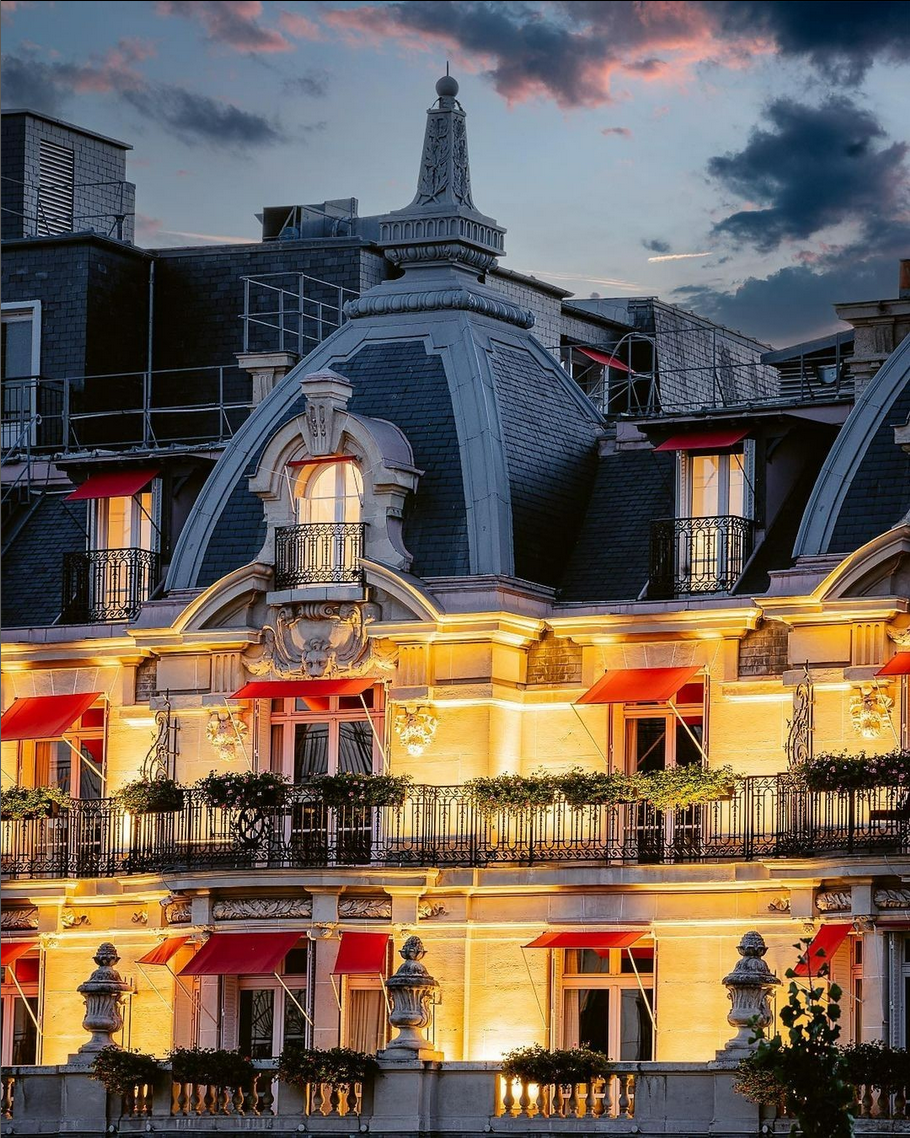 Hôtel Plaza Athénée offers 208 rooms in an elegant Paris-style hotel. This luxury hotel on the famous shopping street in Paris, Avenue Montaigne, one of the best areas to stay in Paris. It offers upscale amenities, fine dining, and overall opulent experience. However, the small touches — like fresh orchids on the marble floor, pillow, linen, delectable menus, personalized mini bar, and the iconic Eiffel Tower views — make the hotel unforgettable.
But don't let the aura of elegance fool you as there's always been a playfulness at the heart of this grande dame. Opened in 1913, with its signature red awnings facing the iconic Avenue Montaigne, Hotel Plaza Athénée has long ties to the fashion world, from the days when Christian Dior named collections after the hotel, to its appearance in fashion-themed favorites like Sex and the City and The Devil Wears Prada.
The Ultimate Luxury Experience, with Antique and High-Fashion Details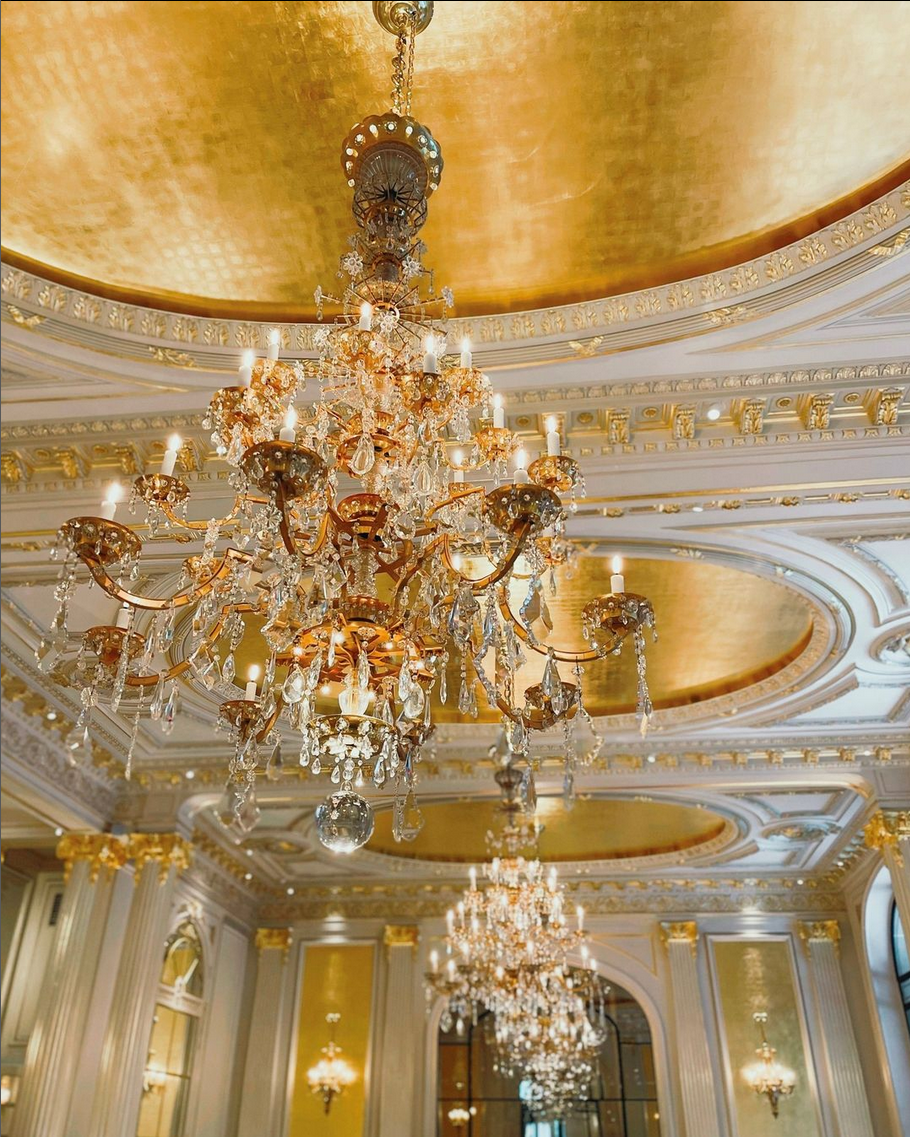 Hôtel Plaza Athénée is the stuff of Parisian dreams, with chandelier-clad dining rooms, foliage-filled courtyards and elegant rooms, each decorated with crown molding and pops of jewel tones. Although the hotel exudes European charm, its quaint atmosphere doesn't mean amenities are few and far between. Additionally, the property boasts three restaurants, ranging from chic and casual to downright fine dining.
It is one of the few hotels in Paris that has been favored by luminaries including Elizabeth T. Taylor, Robert Burton, as well as Grace Kelly over the years. Guests at Hôtel Plaza Athénée will be treated to its stylish and elegant designs at the entrance, where red awnings hang from the centuries-old structure. The design continues inwards toward its hallway, with crystal chandeliers, bronze and oak furnishings, red colored sofas, curtains, and gorgeous floral arrangements in marble columns.
Location: Set Amid High-Fashion Boutiques on Avenue Montaigne in the 8th Arrondissement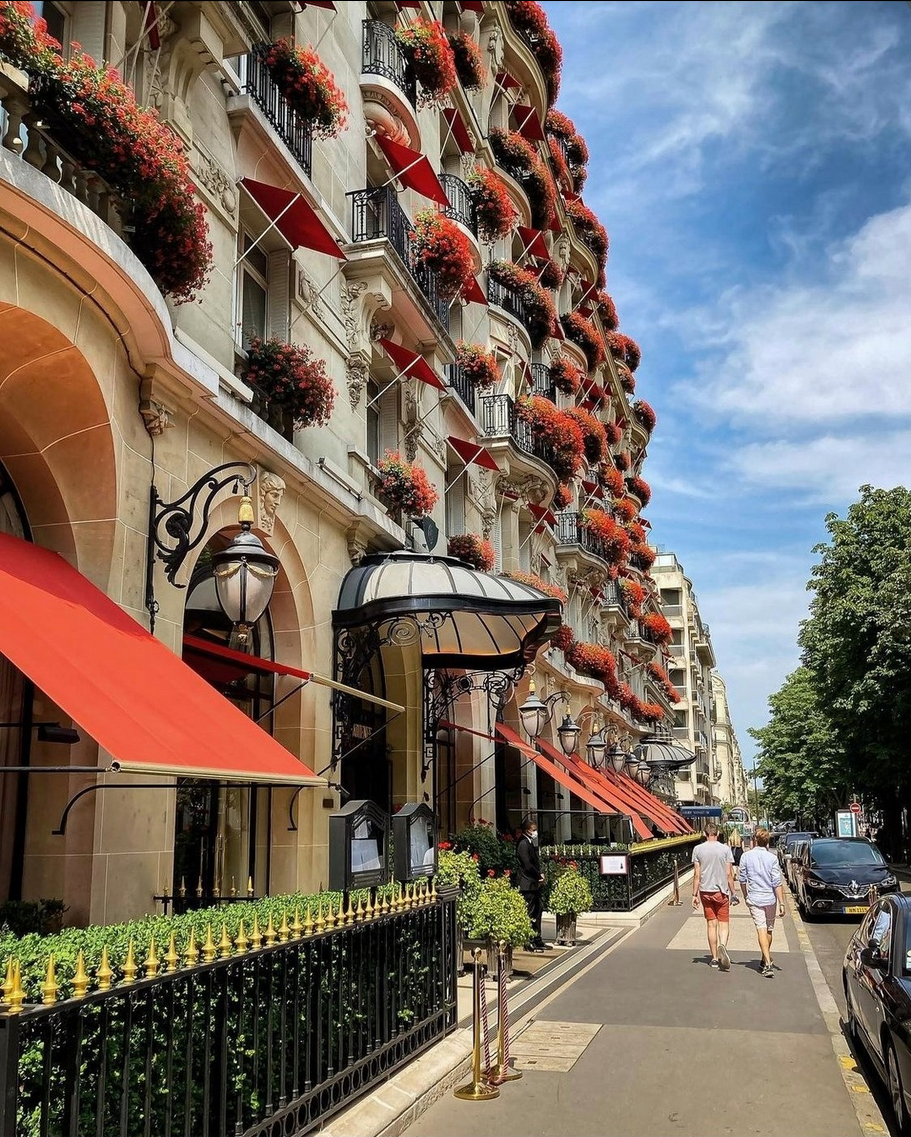 The Hôtel Plaza Athénée is located on the iconic Avenue Montaigne, famous for its high-end designer stores like YSL, Louis Vuitton, and Dior's flagship store. All the top-known brand names are easily accessible, and chestnut trees lined sidewalks make walking enjoyable. Restaurants and cafes are everywhere and popular attractions can be easily reached. On foot, theatre of l'Elysée is a minute from the Grand Palace hotel, taking eight minutes. The Eiffel Tower can be walked in just 15 minutes on Seine.
The Plaza Athénée is located on Paris' most famous shopping street, amid the high-end fashion houses of luxury brands like Louis Vuitton… …and Dior
Hotel Plaza Athénée is located in Avenue Montaigne, where major designer stores like YSL, Louis Vuitton, and Dior's flagship store are located. It has an amazing view of the Eiffel Tower, which is just a quick 15-minute walk from the property. The high-end theatres and cabarets of the 'Golden Triangle' district, such as the Théâtre des Champs Élysées and Crazy Horse, are within close walking distance.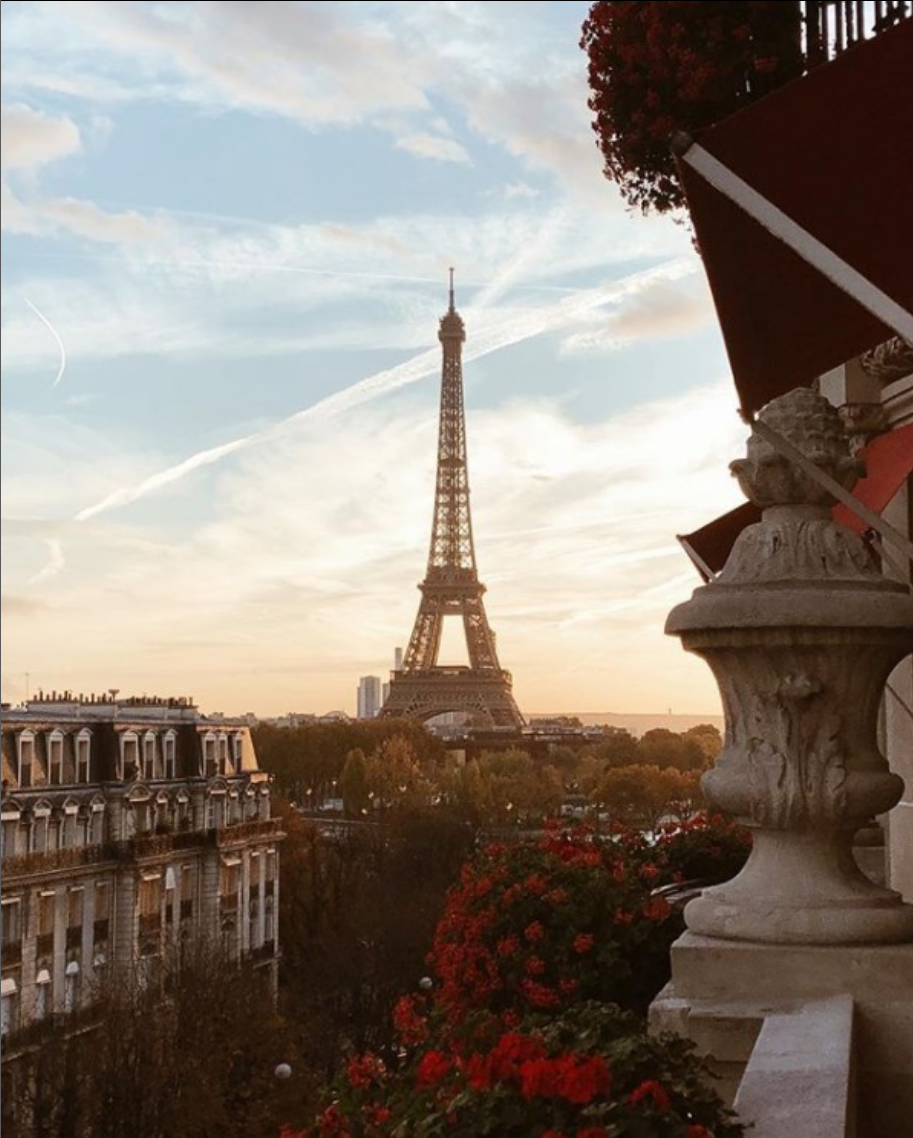 The Eiffel Tower is about a 15-minute walk across the Seine. The Alma Marceau Metro station is a five-minute walk from the hotel for simple access to destinations like Notre Dame, the Musee d'Orsay, and the Louvre. Charles de Gaulle Airport is technically 35 minutes away by car without traffic, but travel times can go way up at peak hours.
Antiques and Haute Couture in French Regency or Art Deco Rooms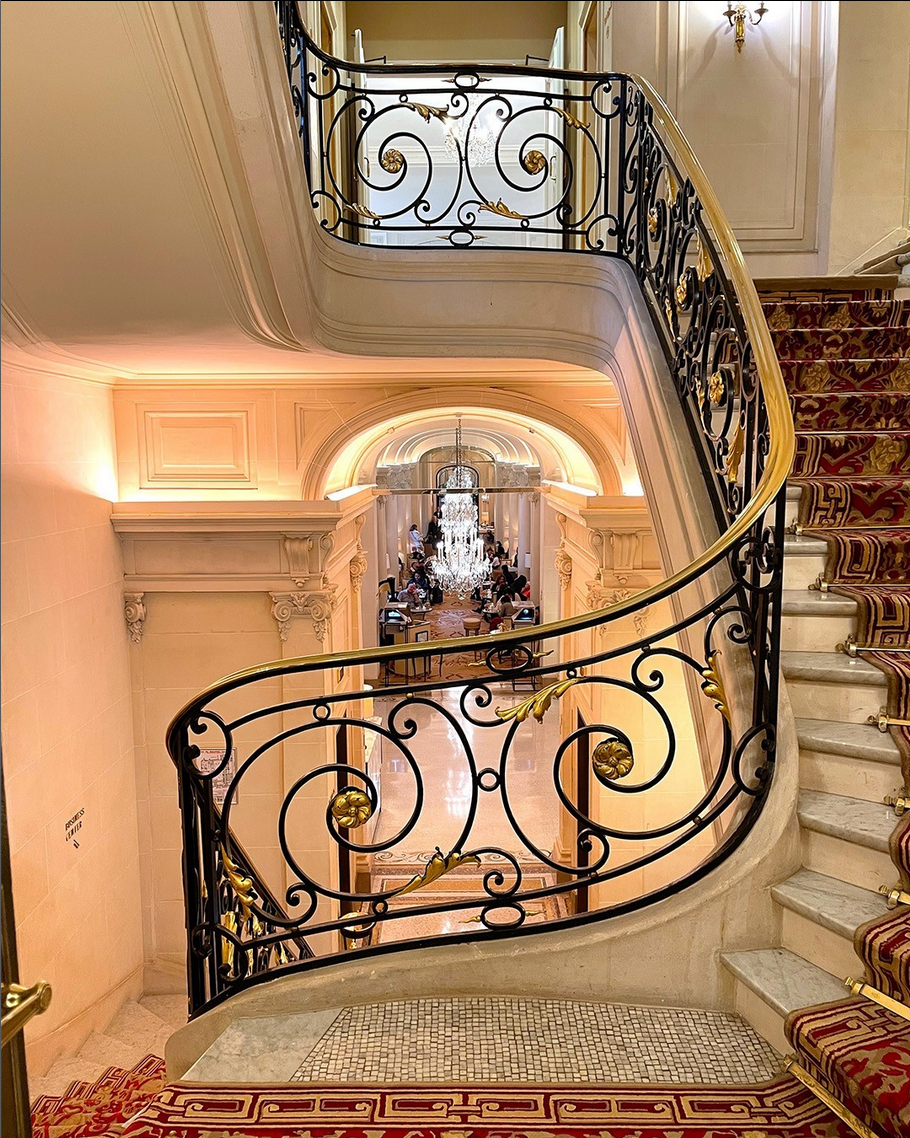 Eight floors offer a variety of accommodations including one of the six floors with the original Louis XV style and one of the top two levels with a contemporary art deco flair. The furnishings were created by Marie Josephe Pommereau, a famous interior designer who combines couture-style fabrics with finds from flea markets to achieve a unique luxury home experience. Pale pinks and yellow shades with touches of Damamak and embroidery, oil paintings, stylish period furniture and gold plated mirrors complete each floor. Upper-level rooms feature sleek, high-quality wood in warm chestnut colors that are used throughout, from closet doors in the kitchen to table tops.
The Hôtel Plaza Athénée Lobby
The interior grand decor blends touches of 17th-century Versaille style and Art Deco elements with a modern finish. In the lobby, polished white marble floors and chandeliers are embellished with contemporary flower arrangements.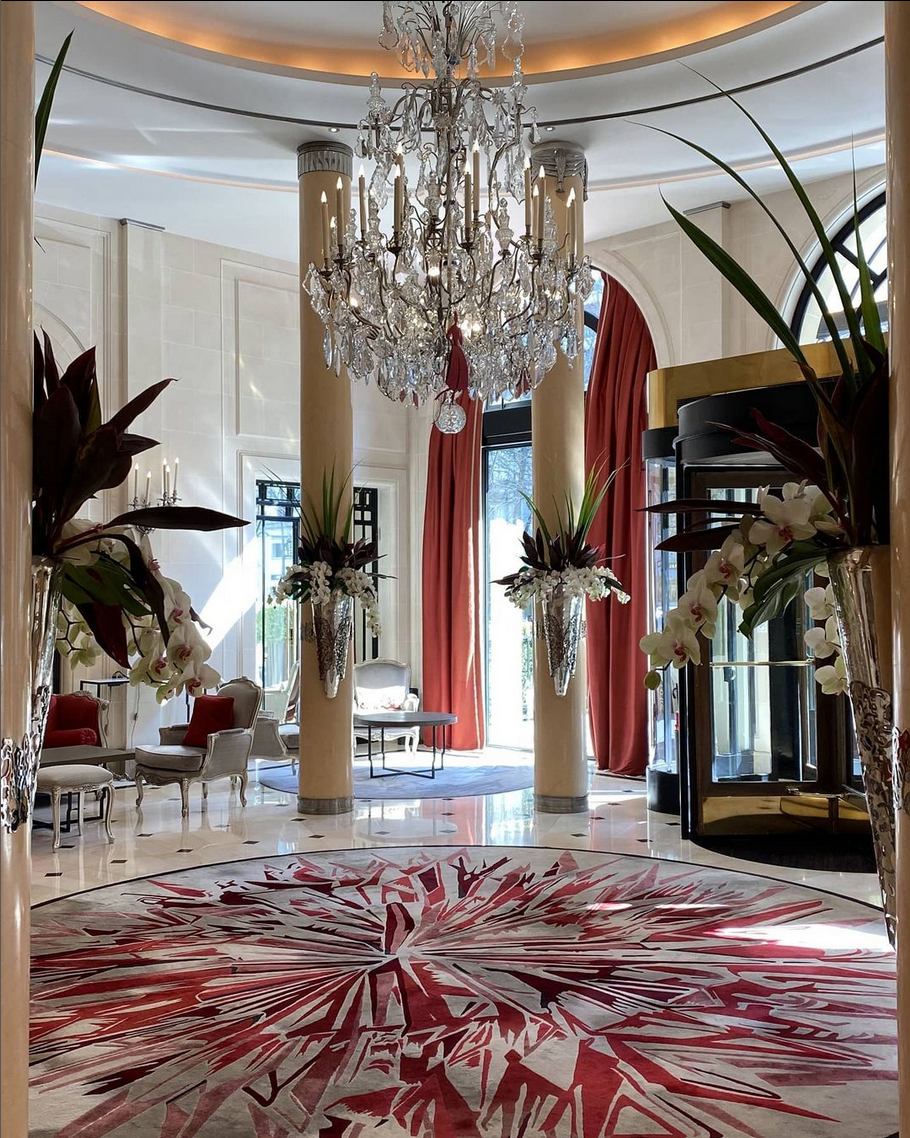 The beautiful marble reception opens into La Galerie an elegant passageway where one can have tea or snacks with your morning newspaper. The beautiful newly refurbished patio serves the shaded Cour Jardin restaurants and skating rink at night .
The Rooms and Suites of Plaza Athénée
Whether your room is done in classic French or Art Deco style, you'll find comfortably elegant furnishings, including silk-covered armchairs and cushy beds topped with high-end linens and your choices from the pillow menu.
10 Rooms feature grand Versailles-style portraits, panelling, plush carpet and chandeliers, with a more modern Deco stylings in some rooms, including some of the grandest suites on the top floor with Eiffel Tower views. The rooms at Hôtel Plaza Athénée are all equipped with a plasma screen TV, a personalized minibar (with 80 drinks to choose from), and comfy pillow selections.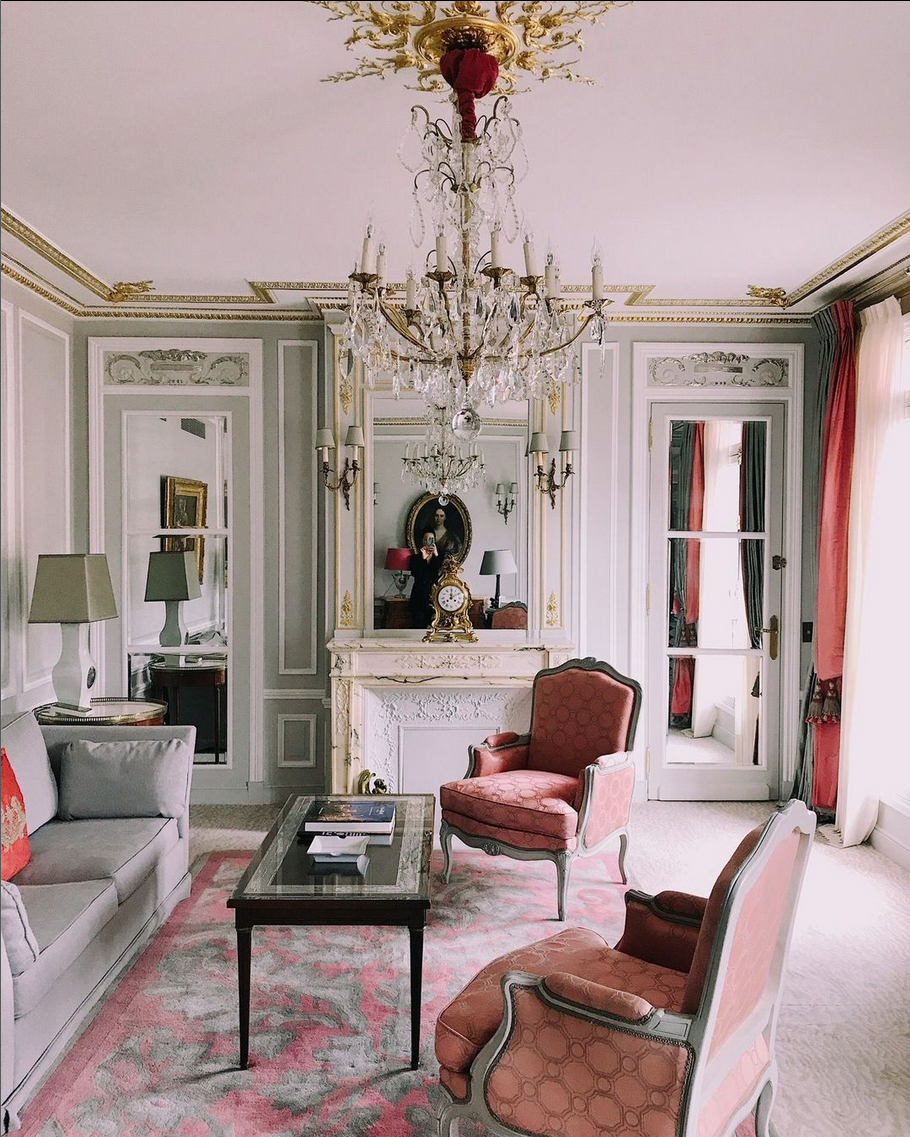 All rooms feature large safes, turndown service, newspaper delivery, twice-daily housekeeping, plasma TVs, and minibars stocked with guests' choice of 80 different liquors, 24 hour room service, and marble bathrooms. The standard Superior Guest Rooms have views of the interior courtyard, and Deluxe Rooms have decorative fireplaces and antique period lighting — some providing views of Avenue Montaigne.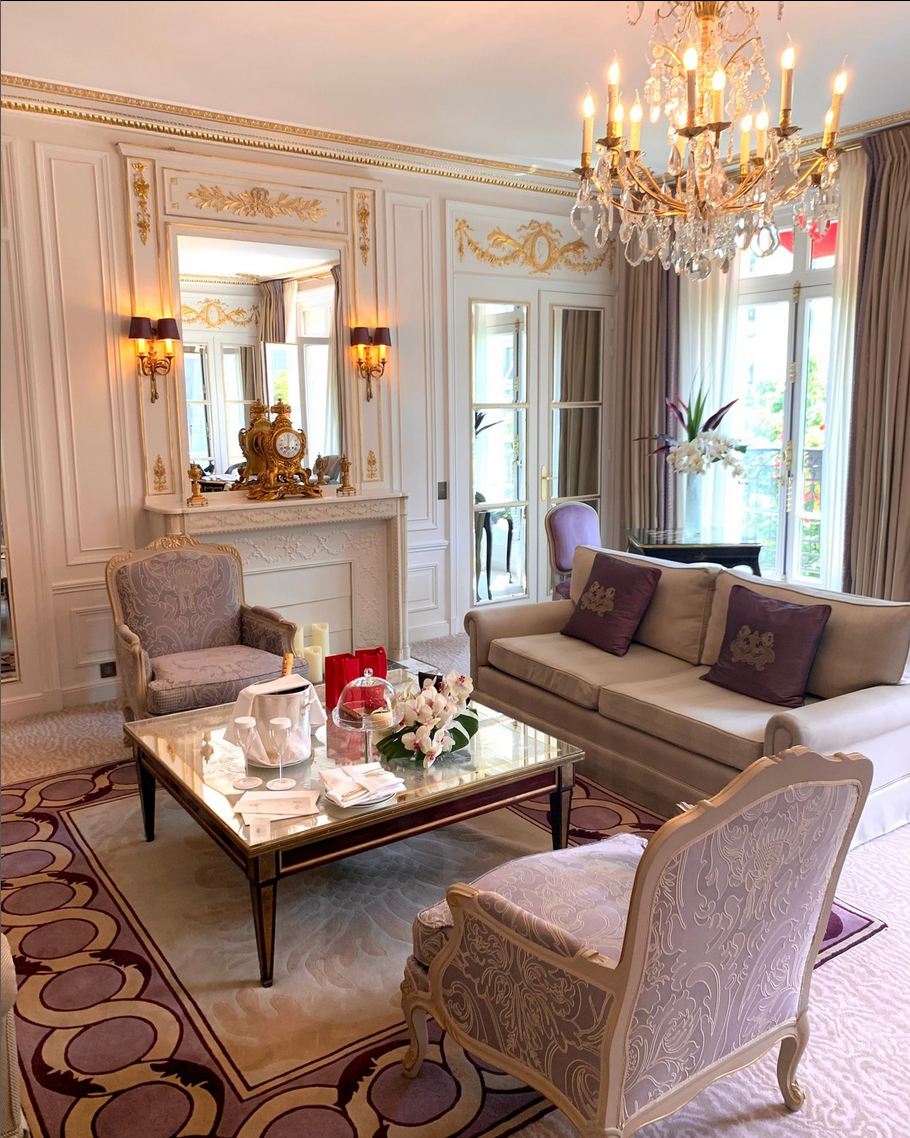 The suites' interior design, led by Marie-José Pommereau, expertly places contemporary pieces in a luxury traditional setting, culminating in the two quintessentially Parisian Eiffel suites, where the looming tower is framed by floor-to-ceiling windows. Each Prestige Suite includes a bottle of champagne, a large lounge filled with fresh flowers.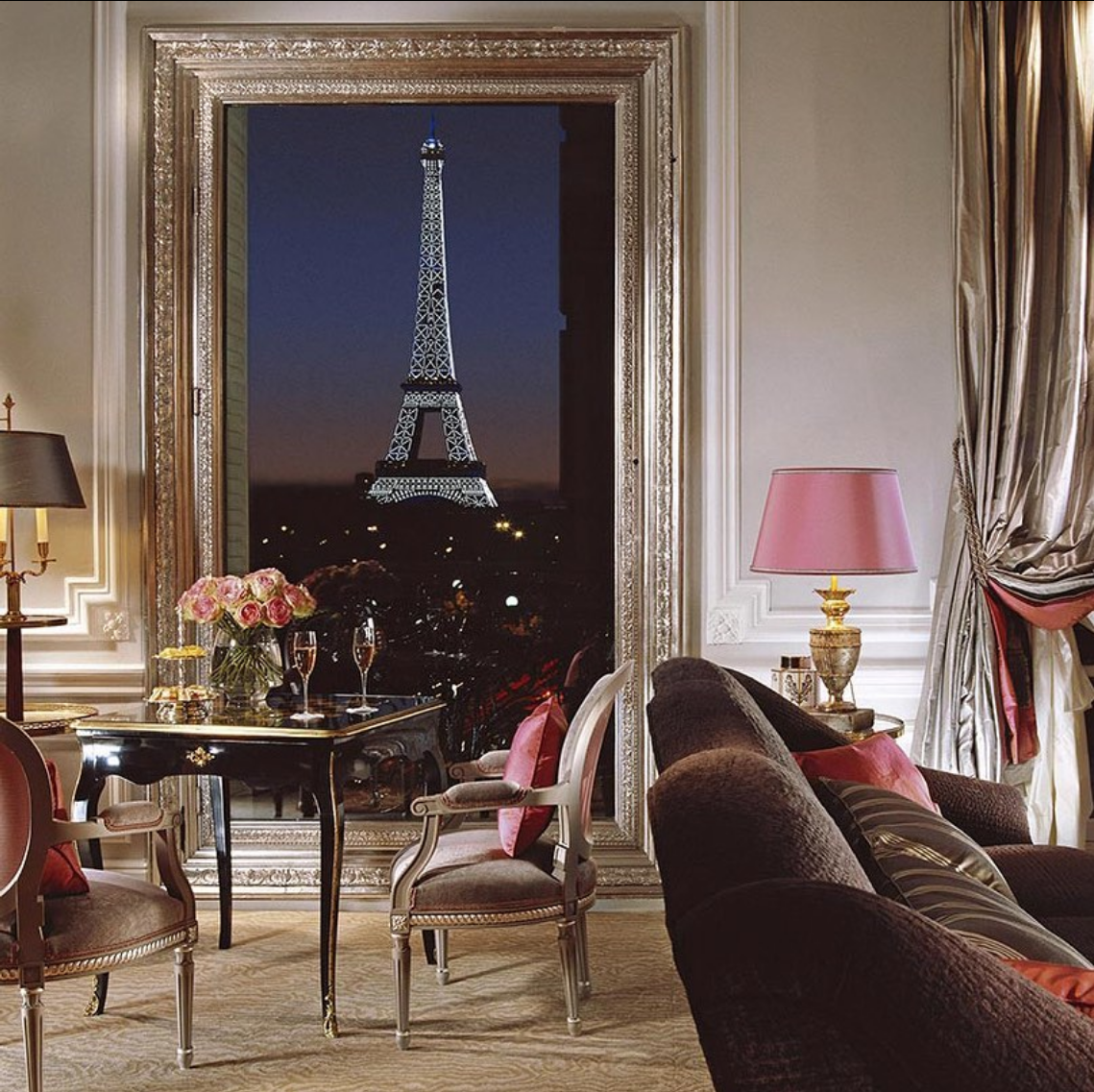 Some rooms have views of a quiet courtyard; others of Avenue Montaigne, or in some suites, famous city landmarks. Travelers that choose to stay in a suite will have access to a separate living room, a kitchenette and, in some cases, a private balcony or atrium. Bathrooms feature soaking tubs and rain showers, clad in either dark or light marble. The six signature suites are all drama, with splashes of vivid color, and perks like terraces, pianos, wine cellars, or—in the Haute Couture Suite—a door-sized silver picture frame outlining a perfect view of the Eiffel Tower. The Royal Suite features private steam rooms and Jacuzzi tubs.
Bathroom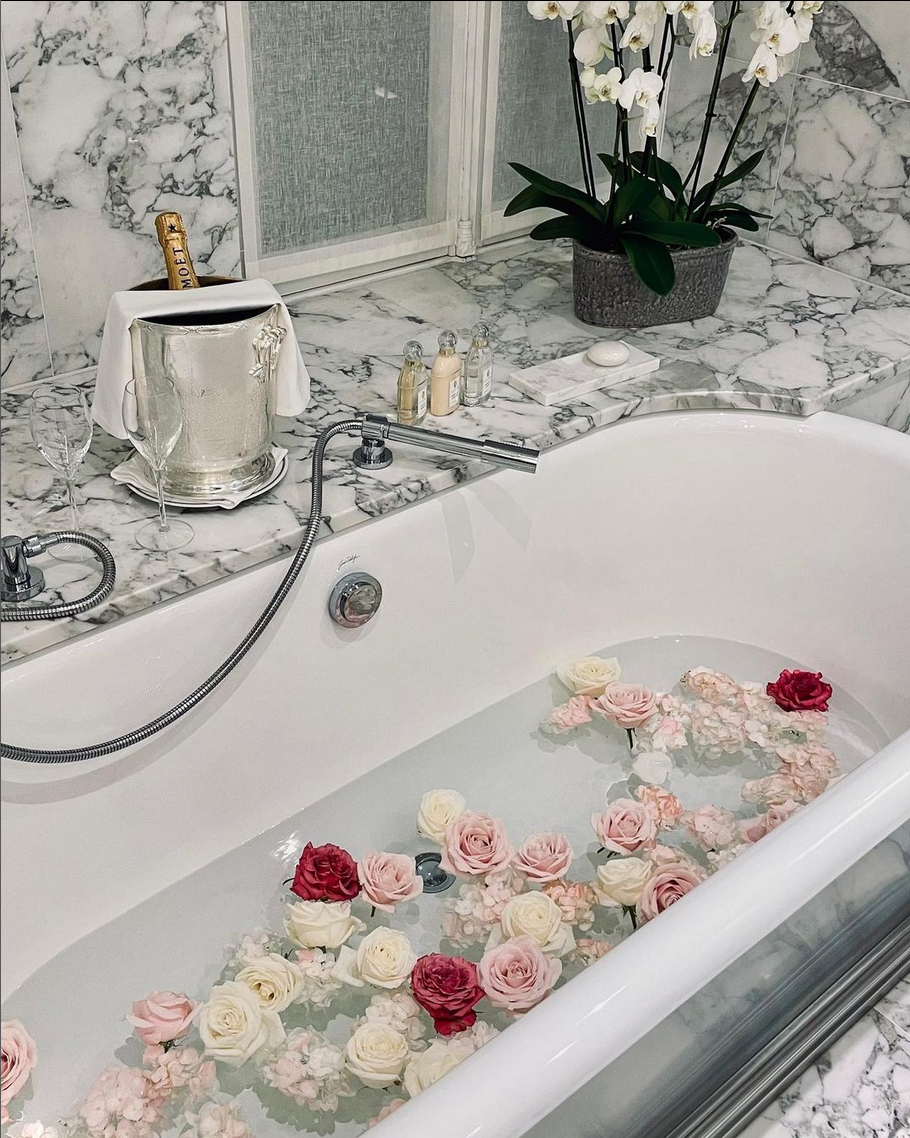 Luxurious marble bathtubs, rich in gold mosaics, feature large walk-in showers, bathtubs with shower heads, double sinks, luminous towels and heated toilet seats.
Restaurants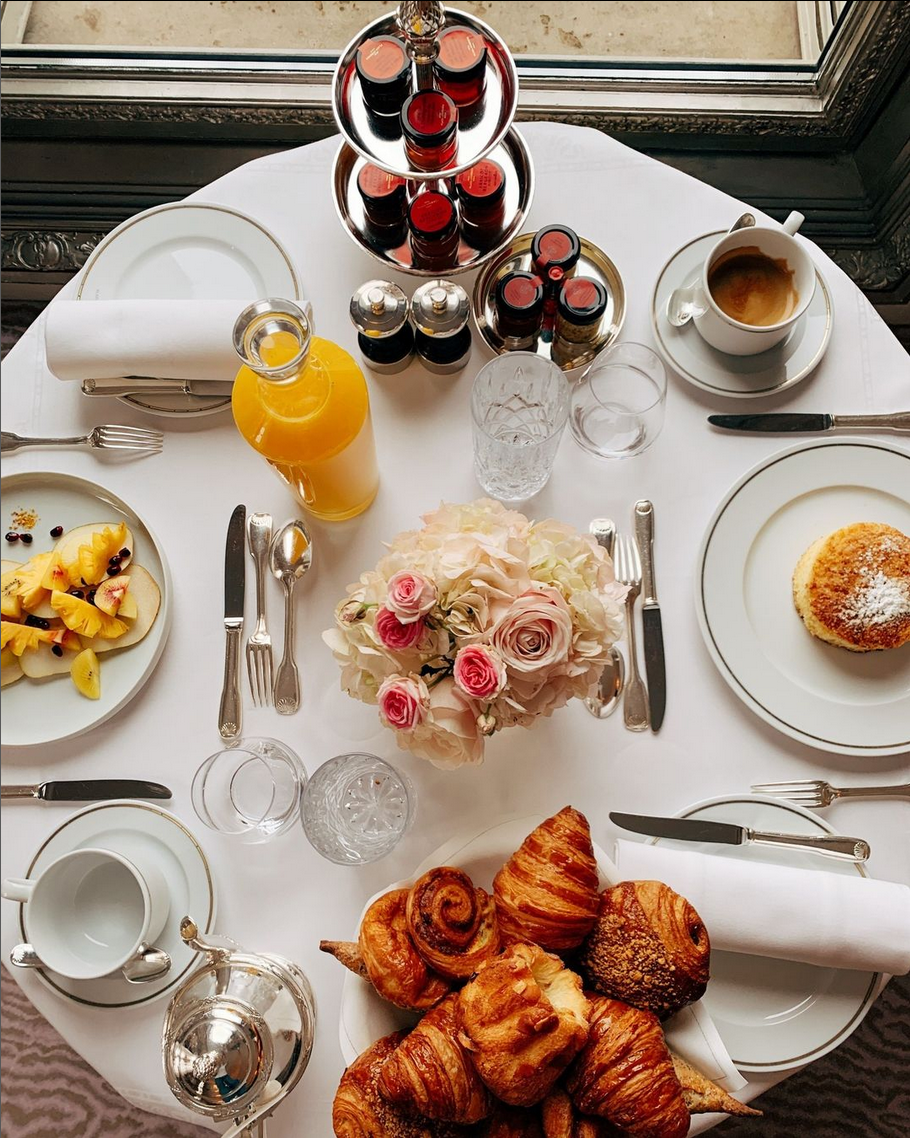 The hotel's five highly regarded on-site restaurants are all led by Michelin-star chef Alain Ducasse, and include contemporary French cuisine at Alain Ducasse au Plaza Athenee, and La Galerie, with pastries by famed pastry chef Christophe Michalak.
Alain Ducasse au Plaza Athénée is the glamorous gastronomic restaurant and transposes healthy eating trends onto elaborate haute cuisine dining. The restaurant doesn't serve meat, but instead offers dishes made from a 'fish-vegetables-cereal trilogy', with dishes starting from €90/£79.
In the dazzling restaurant, the decor features wood paneling, columns, and immense chandeliers contrasting with modern silver banquette, which reflects the grand environs in its polished surface. The bar features old-fashioned wood paneling, thrown into relief by an undulating electric blue ceiling installation.
Breakfast is served in the grand gastronomic restaurant and features continental, American, and healthy set options, or à la carte eggs, cereals and fruits. Breads, pastries and juices are excellent and the eggs are done to perfection.
Restaurants Near Hôtel Plaza Athénée
Le Cinq – 3-Michelin-starred modern French, located in the Four Seasons hotel. Amazing wine list; dress code.
Maison Noura – Elegant Lebanese restaurant, one block from Champs-Élysées.
Miss Ko – Sushi and Asian fusion, with fantastic Philippe Starck-designed interior.
Le Chalet du 8eme – Excellent crepes in a cool cabin-like setting. Great vegetarian option.
Le Laurent – 1-star Michelin housed within a former hunting lodge of Louis XIV, in the leafy Champs-Élysées gardens.
Pierre Gagnaire – 3-star Michelin, contemporary French cooking, seafood heavy.
Hôtel Plaza Athénée Amenities: Fitness Center and Spa
Additional on-site amenities at the property include a fitness center and a fully equipped business center. What's more, guests can relax after a long day of sightseeing with a treatment at the on-site spa. The hotel is also part of the Leading Hotels of the World portfolio, so Leaders Club members can enjoy extra perks here.
The spa's excellent fitness center includes cardio machines, free weights, and a boxing machine. Personal training is available on request. The fitness center, sauna, and hammam are open to hotel guests from 7am to 10pm daily.
Spa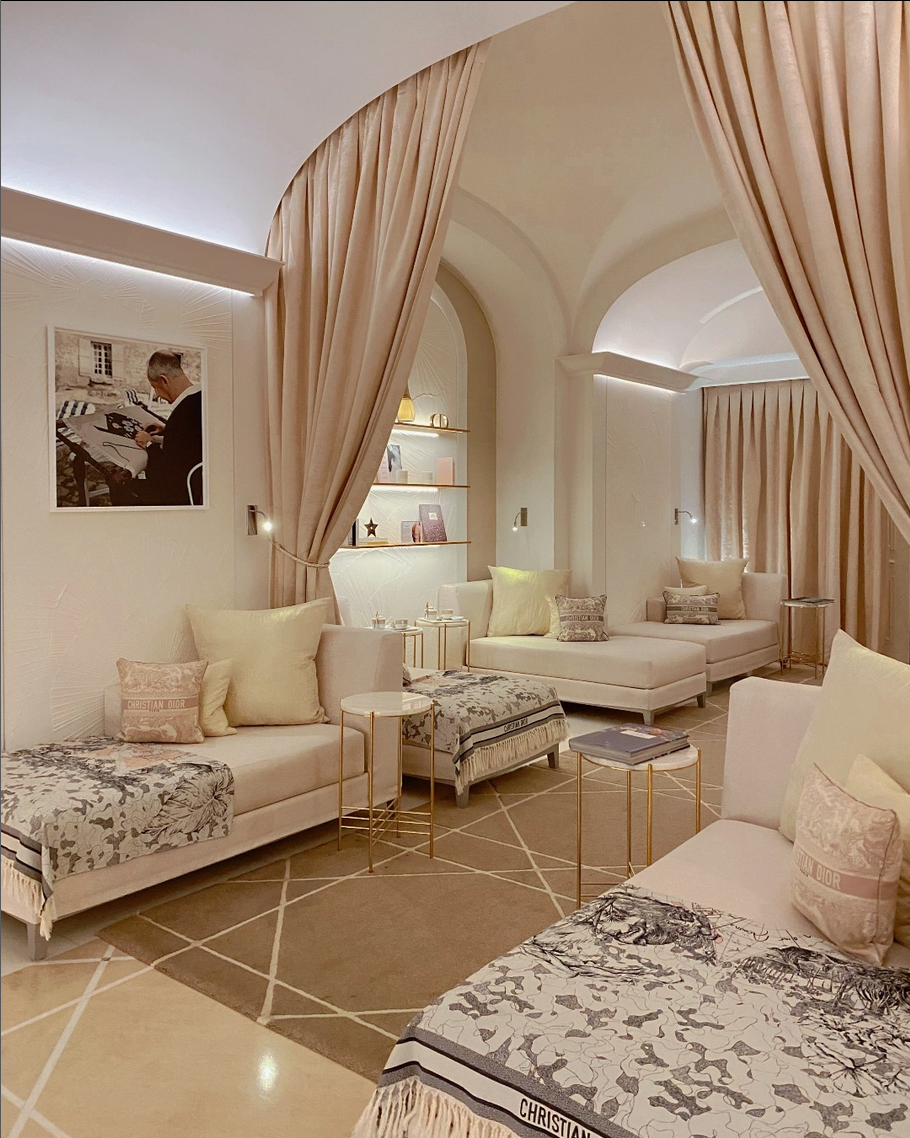 Guests at Hôtel Plaza Athénée are also offered complimentary access to its spa. The overall vibe of the spa is spacious and airy, featuring four private treatment rooms. Guests can choose from a variety of services, including massages, facials and body treatments. Each treatment room also houses a dressing room and a private shower. Steamroom and sauna are also available.
FAQ
Are pets allowed at Hôtel Plaza Athénée?
Yes, pets are typically allowed, but it's always best to call ahead to confirm.
Does Hôtel Plaza Athénée Offer any Business Services?
Yes, it conveniently offers a business center, meeting rooms, and a banquet room.
Are any cleaning services offered at Hôtel Plaza Athénée?
Yes, dry cleaning and laundry service are offered to guests.