Read below for our Shangri La Paris hotel review and our experience in one of the most beautiful hotels in Paris.
The entrance to Shangri-La Paris will immediately leave a great first impression, where your senses elevate to a different level. Guests at this 5 star hotel are greeted with an exclusive scent that combines white tea scent, ginger, and bergamot. Your attention turns toward the two impressive reception rooms on either side of the elegant hallway. A little farther back are two alconves forming the lobby. The overall first impression makes you feel as if you you were at a luxury home instead of a hotel.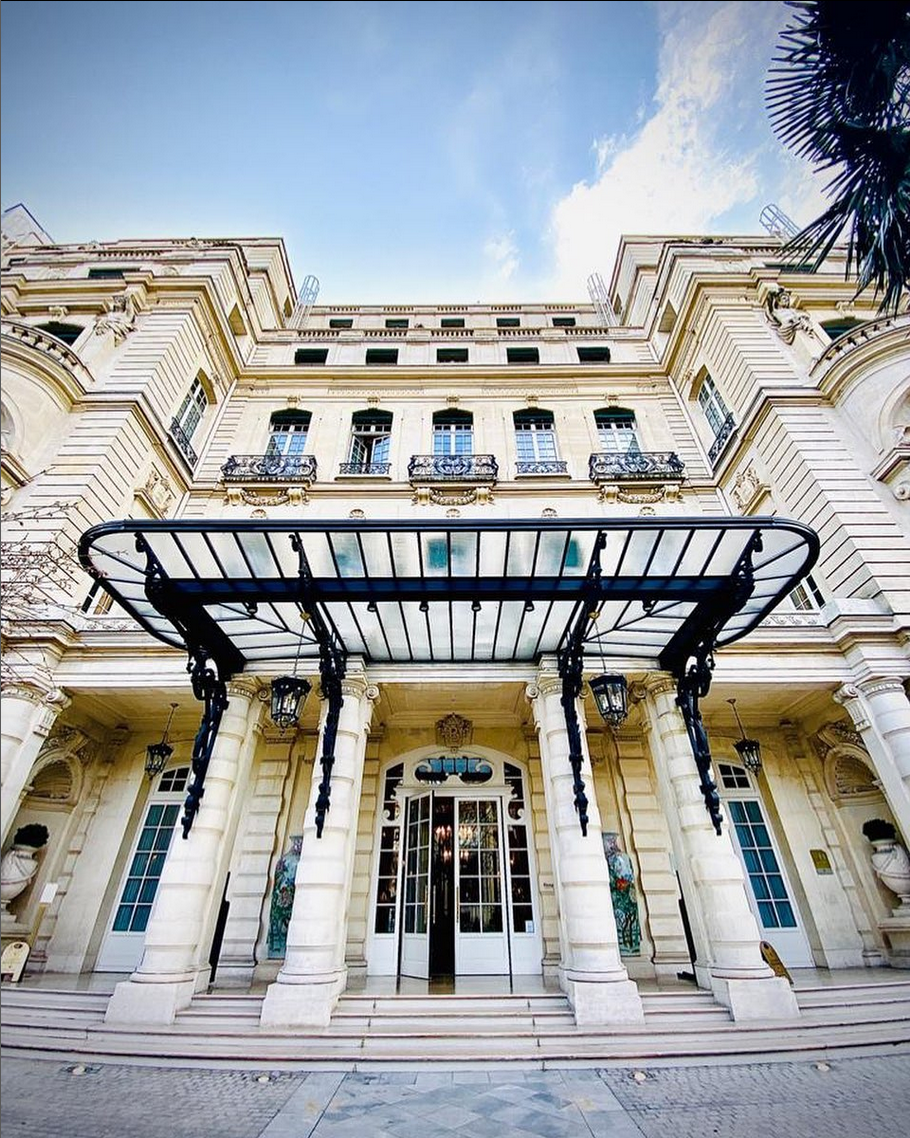 Once the home of Napoleon Bonaparte, the historic 5-star hotel features breathtaking views of Eiffel Tower. The rooms are decorated in neo-classical style, in shades of blue, white, ecru and white highlighting the family history.
Shangri La Hotel Paris Backstory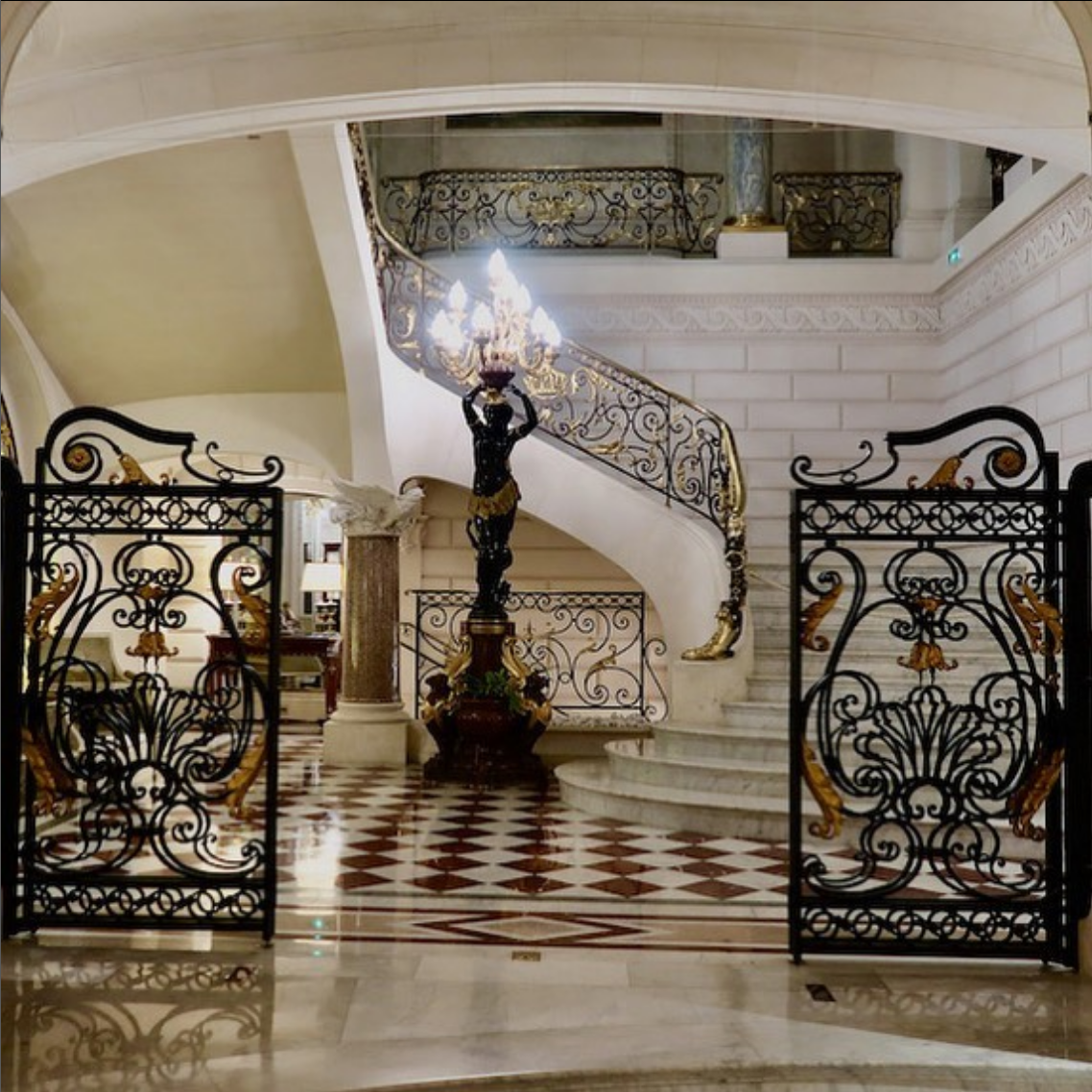 This historic house was once a residence for aristocratic prince Roland Bonapart, grandson of Napoleon and a renowned architect. The grand staircase is one of its highlights; Shangri La hotel and resorts Group acquired the property and spent four years meticulously restoring it, employing craftsmen and artisans to restore the magnificence of the ironwork and marble. It is the first Shangri-La in Europe, opening its magnificent suites in December 2010.
Location of Shangri La Hotel Paris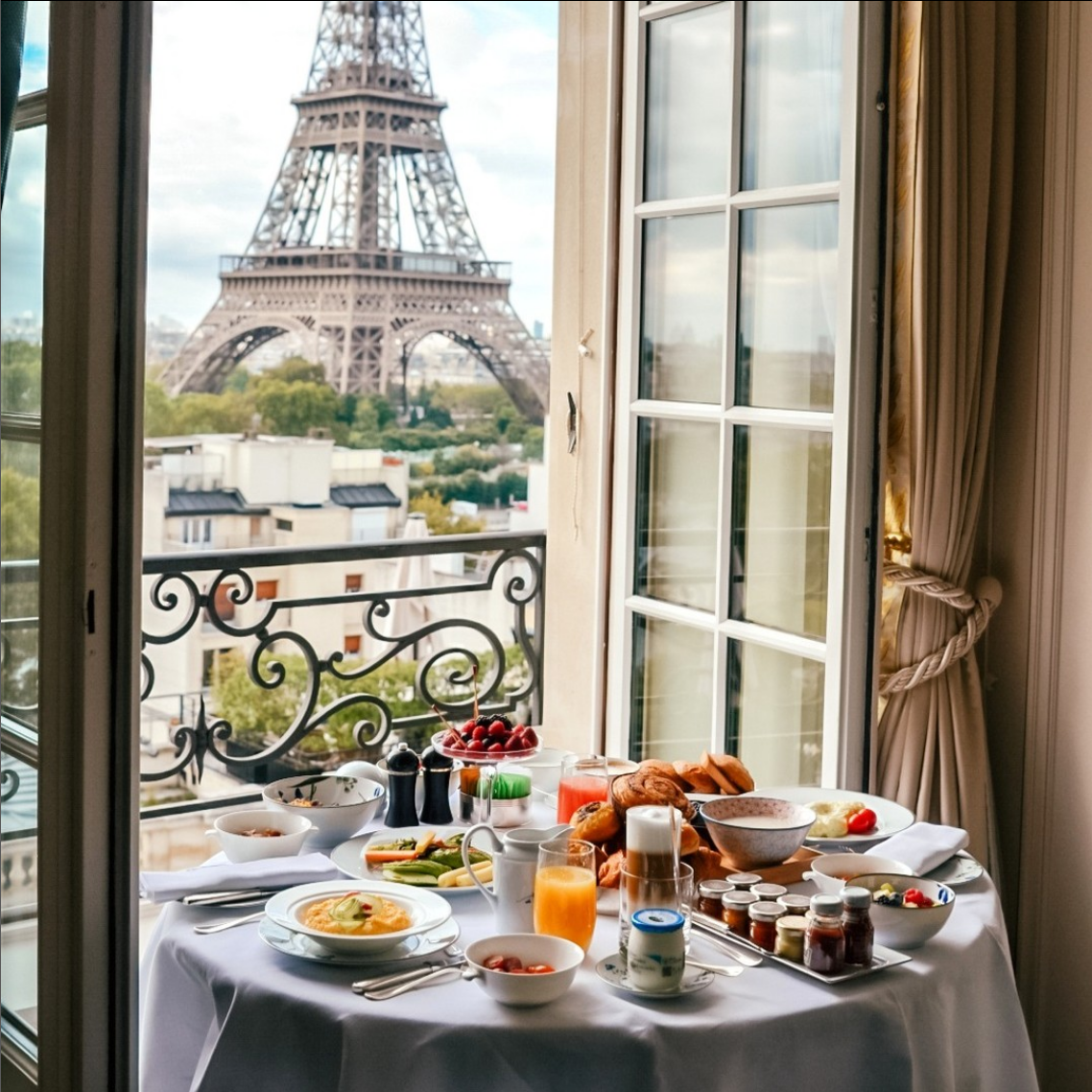 Shangrila Paris is located in the upscale 17th arrondissement, in one of the most expensive neighborhoods and areas of Paris, just a few minutes drive from a few Embassies, Museums, The Trocadero Gardens, The Aquarium Paris, and some of the best shopping in Paris.
One of the major attractions near Shangrila Paris is The Eiffel Tower, with most of the suites and rooms having a view of the iconic landmark. Other places of interest near Shangri La Paris are the Champs Elysées and the Arc de Triomphe, which are just a short walk from the luxury hotel.
The Palais de Tokyo and Musée d'Art Moderne de la Ville de Paris are less than five minutes' walk down the road, while selections of fine dining restaurants are only a short 20 minute walk away from the property.
A quick walk to the metro station Alma Marceau, you can also pick up the Batobus boat taxi at Trocadéro and go to eight of Paris's major sites by water.
>> CHECK FOR LOWEST RATES & AVAILABILITY
Rooms at Shangri La Paris
The views from Shangri La takes luxury hotels in Paris to a different level.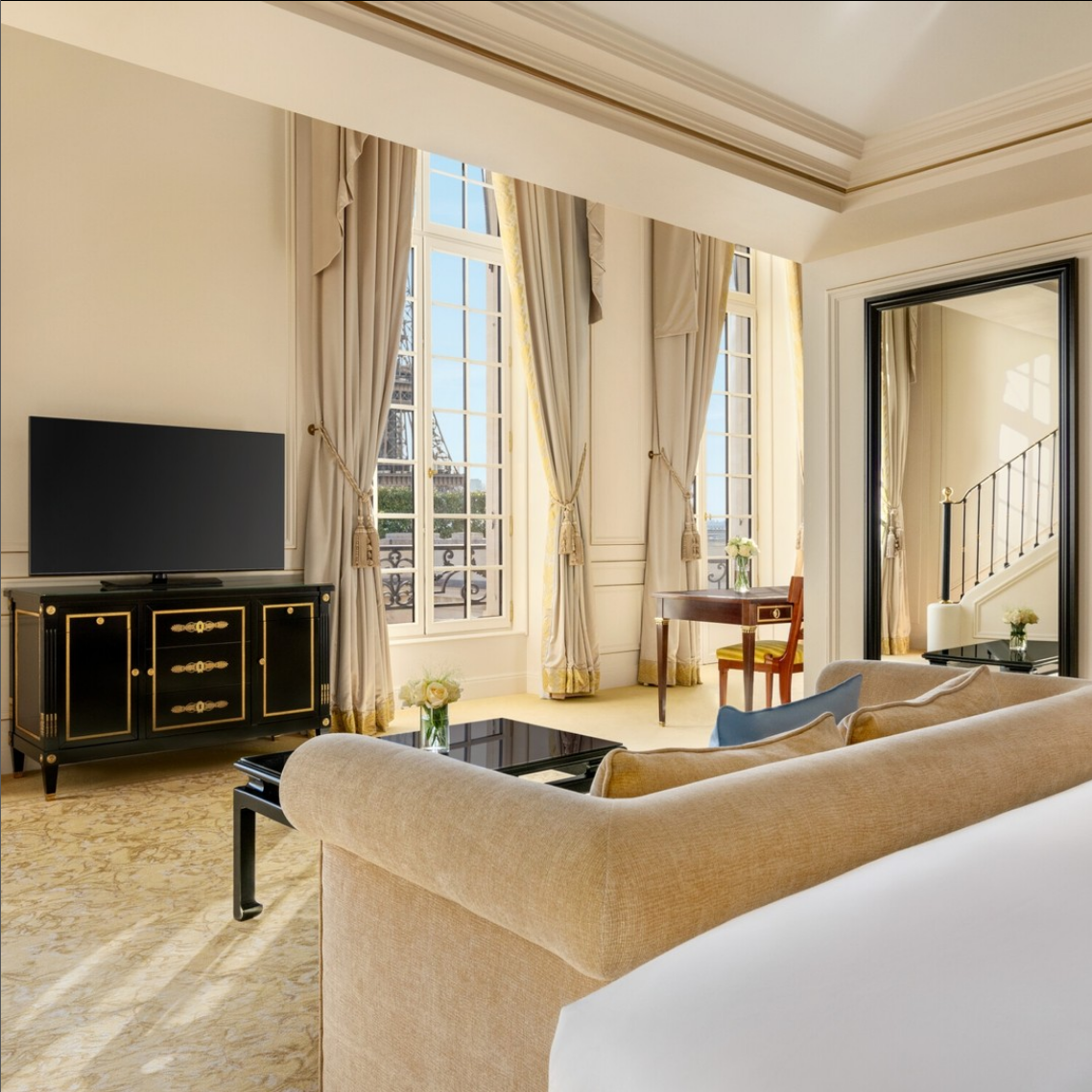 During my visit, I was upgraded to a Terrace Eiffel Tower Room on the 5th floor, which featured an oversized bedroom, the biggest king size bed I've ever slept in, beautiful linen and black-out curtains, a walk-in closet, and a private, furnished terrace providing spectacular views of the Eiffel Tower. The marble-clad bathroom was equipped with two sinks, a bath tub, and separate cabins for a rainshower and toilet. Premium Guerlain toiletries were provided. The wardrobe included large safety boxes, umbrellas and footwear cleaning supplies as well as a Nespresso coffee machine with coffee machine and a range of teas.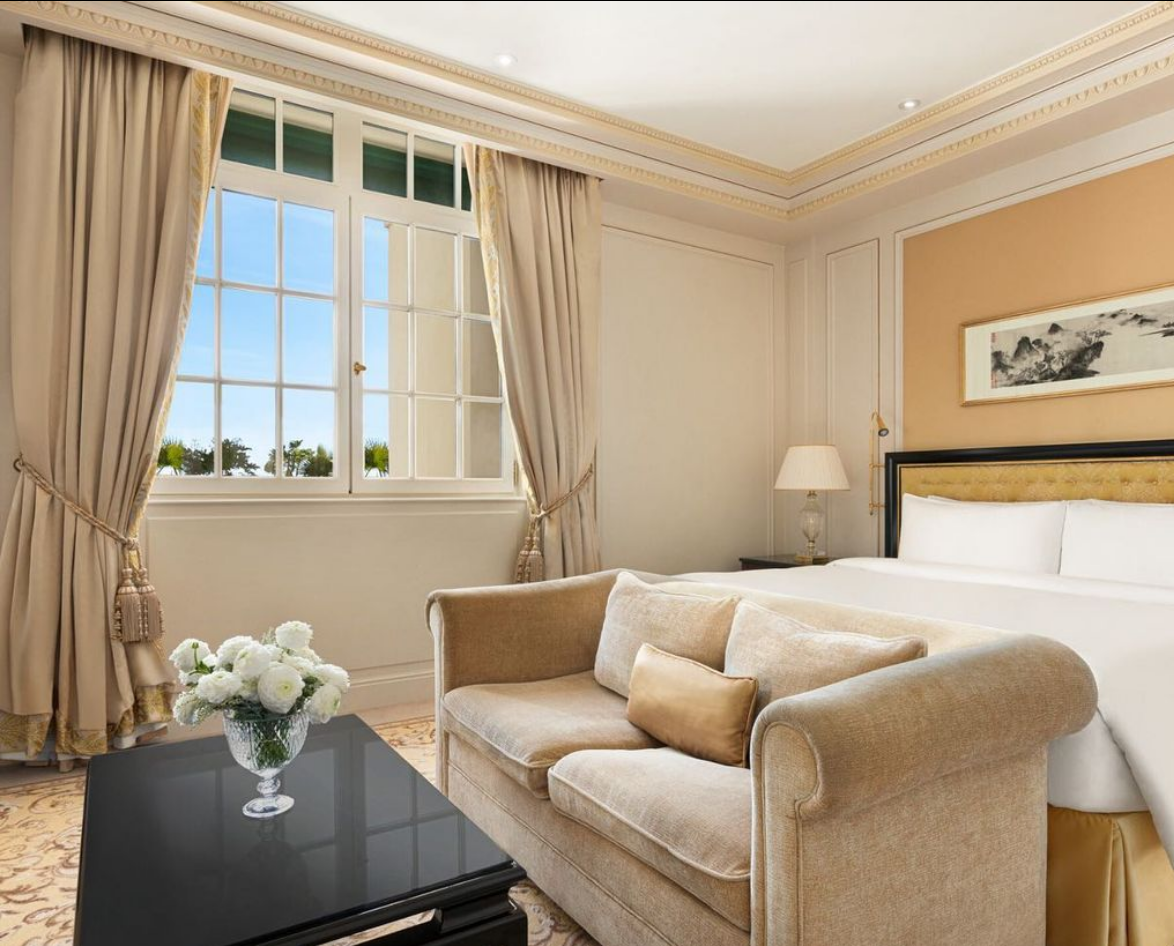 All in all, the average rooms are approximately 500 x 600 meters. The elegant interior is inspired by Pierre Yves Rochon, like all the rooms in the hotel. The walls and upholstery were adorned with soothing shades of blue and white, combining Parisian and Asian influences with office seating, and an impressive bathroom with plenty of storage.
Many rooms and suites at Shangri La Hotel Paris have iconic views of the Eiffel Tower, well worth the upgrade (although these rooms book up quickly). Every room here is fit for an emperor, tastefully decorated in golds and blues with silk-threaded wallpaper, feather duvets, bathrooms with heated floors, Bulgari toiletries, and TVs embedded in mirrors (even in the bathrooms) to preserve the period vibe. The Imperial Suite offers over-the-top fabric swags, passementerie, immense canopied beds, and gold bathroom fixtures.
Eiffel Tower View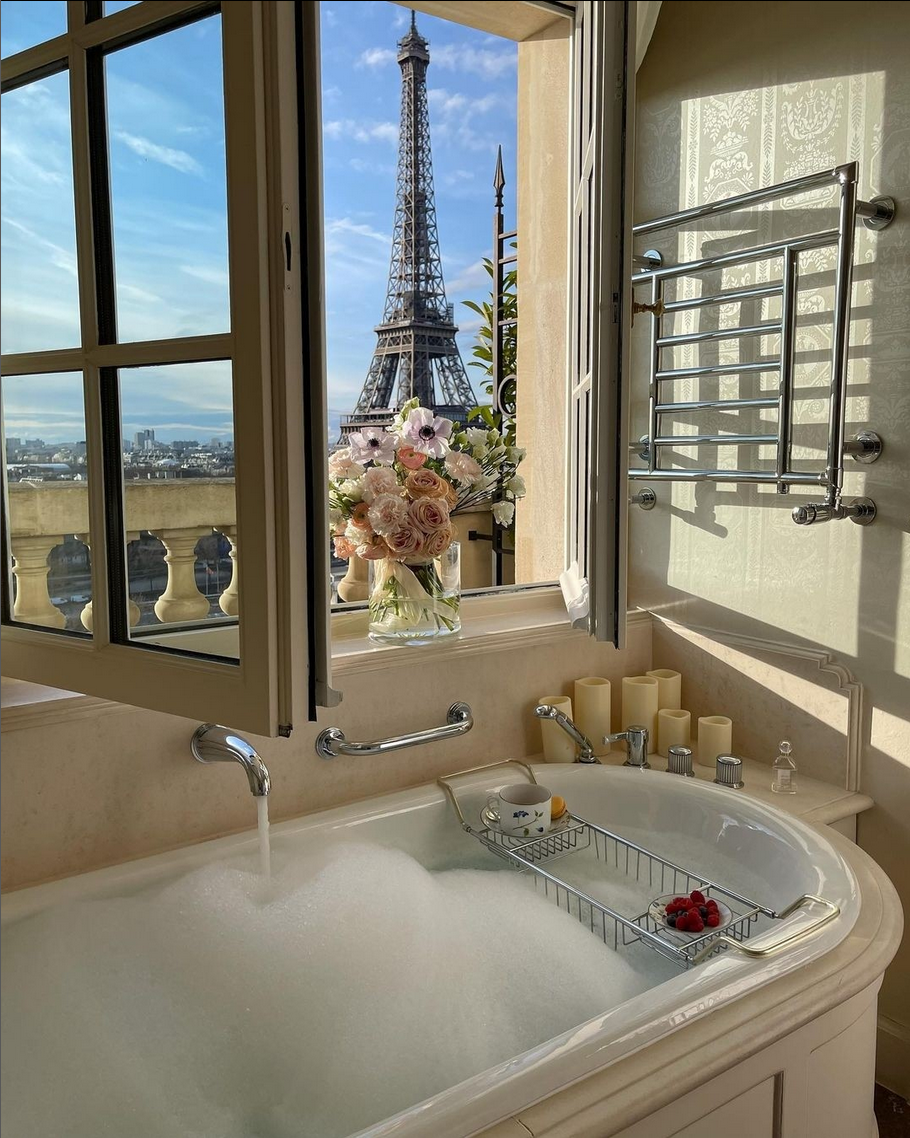 Of the 100 rooms and suites, nearly half have Eiffel Tower views (some even from the bathtubs), and half have terraces, so it's no surprise that the hotel is a top pick for proposals, honeymoons, and anniversaries. Custom furnishings, convenient technology, and an Asian-meets-European style are reflected in touches like textured paneling and silk-thread wallpaper.
The Eiffel Tower view from the hotel's top suites have been featured on countless glamorous fashion and travel magazines. However, the downside is that some rooms and suites do not come with those iconic Eiffel Tower views . The hotel website clearly states which rooms have a view and which don't, so my advice is to book the room that best fit your taste and expectations.
The Marble Bathrooms at Shangri La Hotel Paris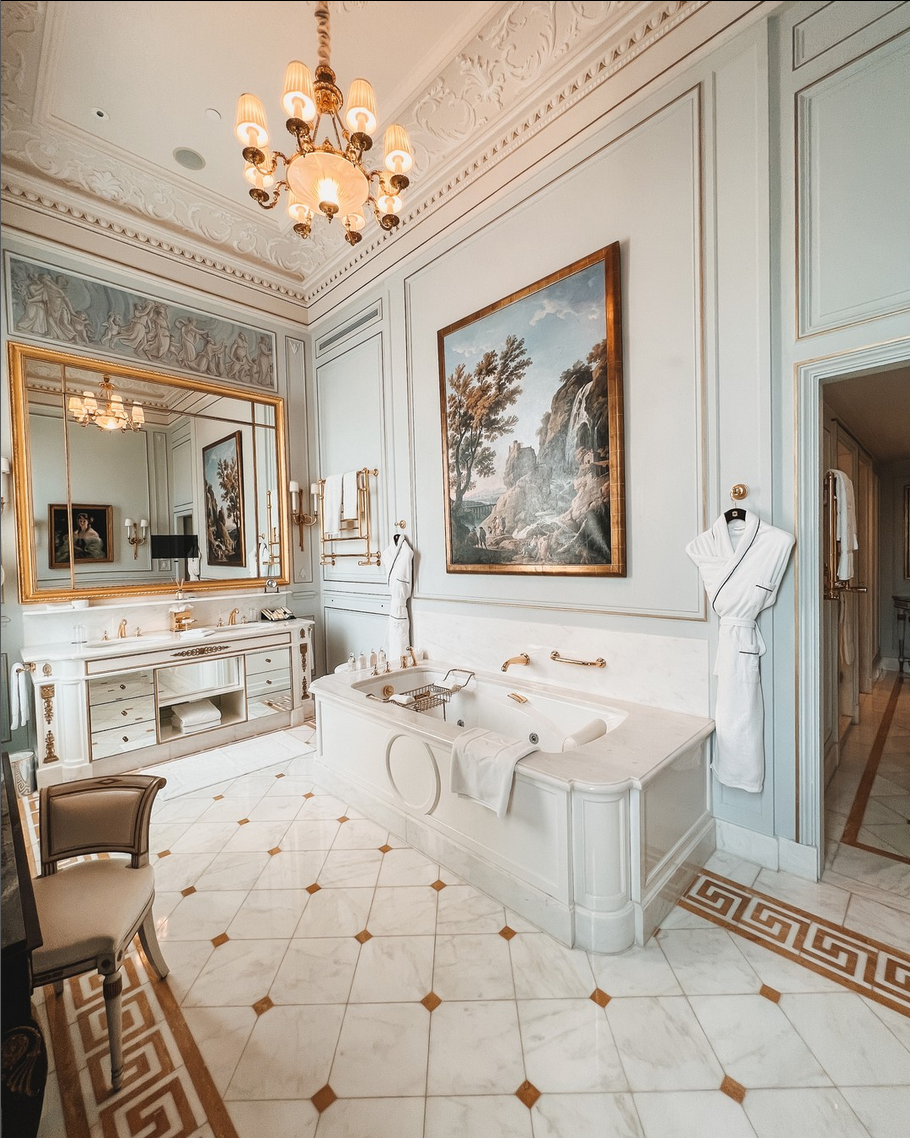 All rooms have elegant marble bathrooms with both showers and tubs, Guerlain toiletries (another notably French choice), plus robes and slippers set out at turndown. The oversized bathrooms feature heated floors, classic fixtures, separate rain shower and bathtub, double sinks, a mirror that doubles as a flat-screen TV, and daylight—a rarity in Paris.
The marble bathrooms are fitted with both deep soaking tubs and walk-in showers, plus robes and slippers set out at turndown—two options for using the Guerlain bath products—plus heated flooring and flat-screen televisions embedded in the fog-free mirrors. Best of all, many have windows to let in natural light (and showcase those Eiffel Tower views.)
>> CHECK FOR LOWEST RATES & AVAILABILITY
Room Service at Shangri La Hotel Paris
In addition to a selection of authentic Asian dishes, the room service menu features several picks from the hotel's fine dining restaurant, so you can savor Michelin-approved creations in your pj's.
Restaurants and Bars at Shangri La Hotel Paris
Shang Palace
During our stay, we were fortunate to dine in the one-Michelin starred Shang Place that serves traditional Cantonese-inspired Chinese dishes. Shang Palace, led by Chef Samuel Lee Sum, is the only Michelin-starred Chinese restaurant in France, focused on Cantonese cuisine, with dim sum, à la carte and set menus. Shang Palace is Europe's first Michelin starred Chinese restaurant, which also serves the best Peking duck in Paris.
La Bauhinia
La Bauhinia is a two-story restaurant with a stunning glass cupola, offering Asian-influenced afternoon tea with scrumptious pastries. Breakfast is also served in La Bauhinia – if you don't opt for room service, when poached eggs served on thinly sliced ham and avocado with fresh dill is delicate alternative to a Benedict. Innovation is also at play at other times of day, thanks to forward-thinking pastry chef Michaël Bartocetti's completely vegan afternoon tea.
Le Bar
A sophisticated but cozy bar, Le Bar, is located near the graceful entrance of Shangri La Paris. Although its signature cocktail is the "Pink Lady" (named after New York interior designer Lady Mendl who resided in the building's private apartments in the 1930s), it also showcases specialty Asian-influenced cocktails.
Fitness Center a the Shangri-La Paris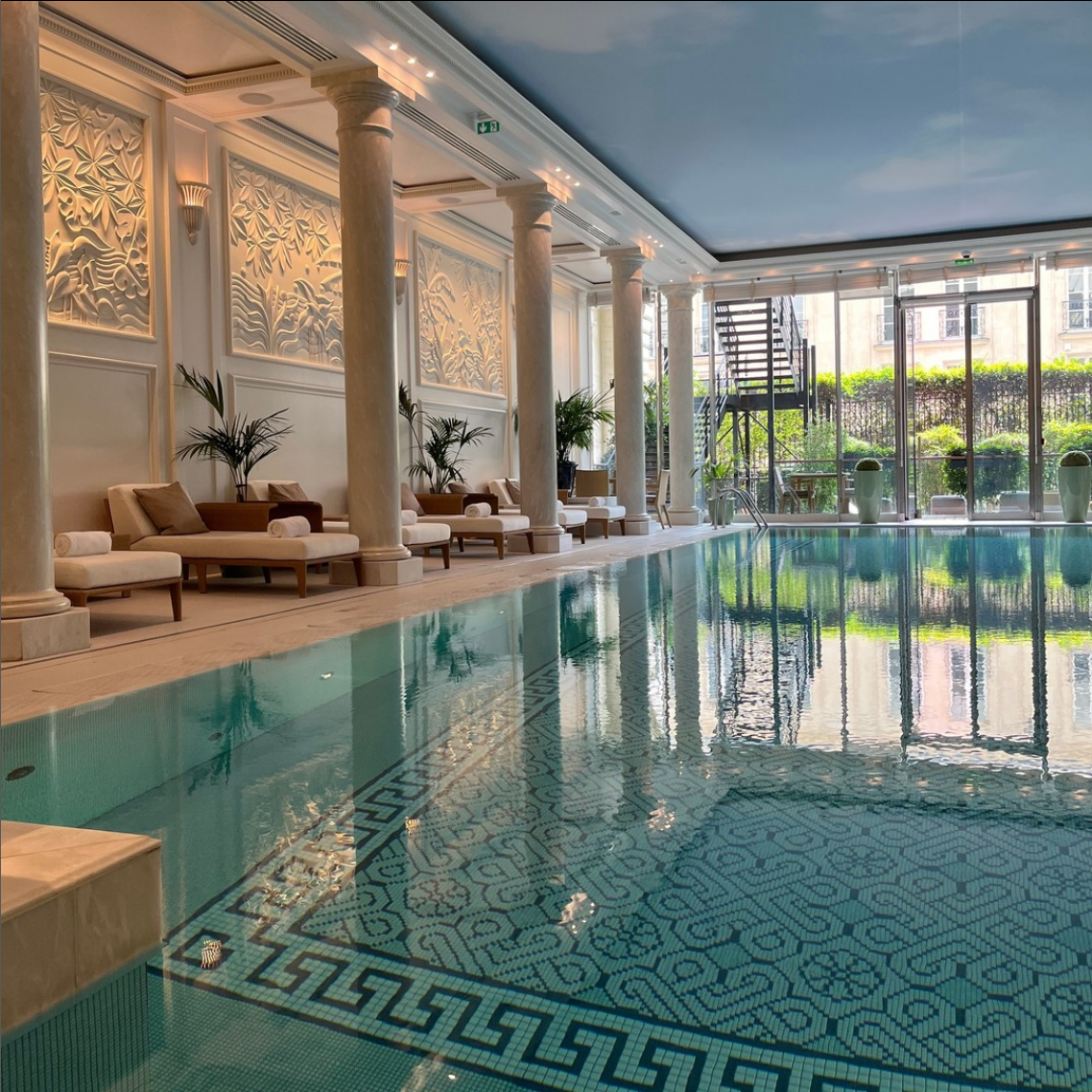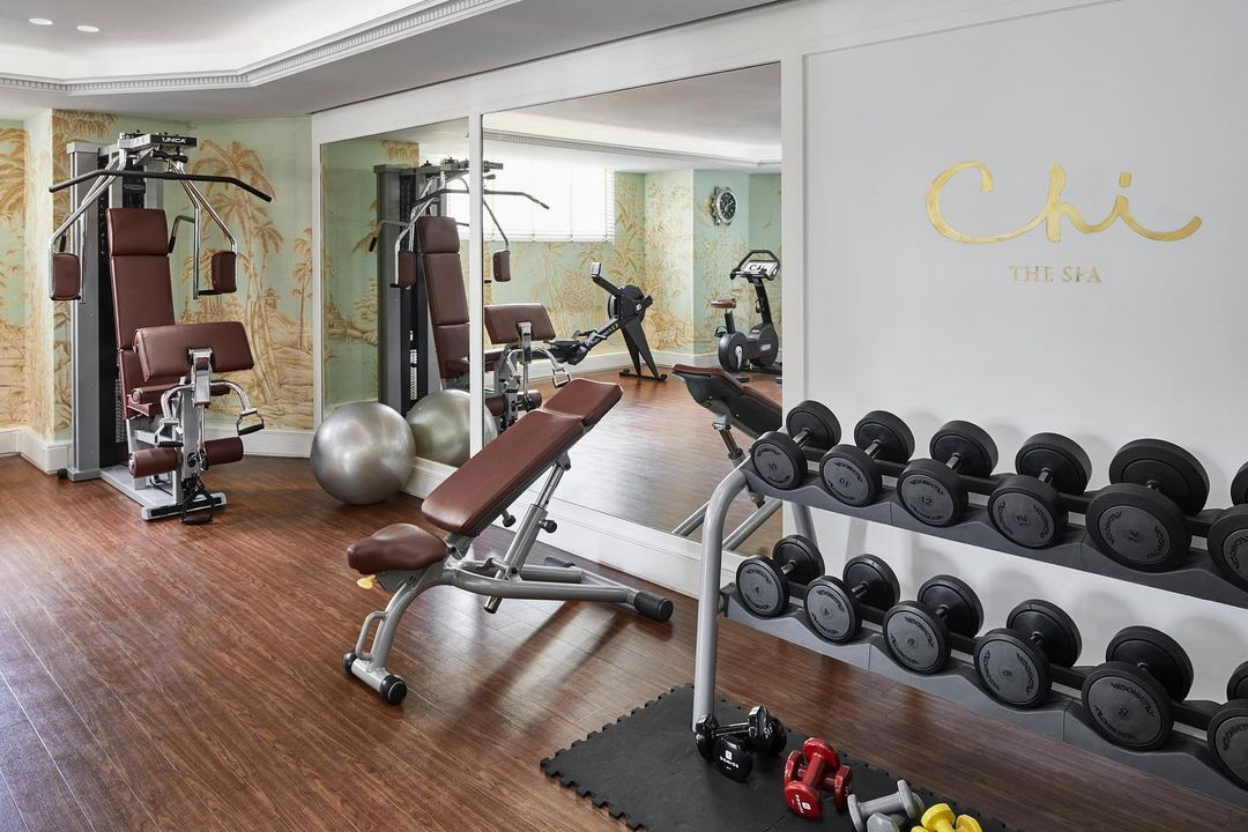 For those wishing to work off the calories from fine dining, a 24-hour fitness center is on-site, as is a lovely small spa for relaxing. The state-of-the-art fitness center at Shangri La hotel Paris is located just above the pool, featuring cycling machines, treadmills, elliptical trainers, various cardio training machines, stair stepper machines and free weights. The fitness room overlooks the swimming pool terrace, and is open from 8am-9pm daily.
Shangri La Hotel Paris Bottom Line
So, bottom line: worth it, and why? Despite the grand setting, it's easy to feel at home here, thanks to the intimate vibe and the quiet surrounding area. Though the hotel is close to major museums and sights, there's a real sense that here, you're in the Paris of Parisians.
>> CHECK FOR LOWEST RATES & AVAILABILITY