The luxuriously decorated Peninsula has raised upscale hotel standards in Paris following an $850 million renovation. From the bright lobby to the elegant rooftop restaurant, the 200 suites of the Peninsula Paris have touches of gold or silver, complemented by art works by today's popular contemporary artists. Designed in the finest style, the Peninsula is one of the best hotels in Paris and features modern and traditional furnishings with modern gadgets. Read below for the complete Peninsula Paris Hotel Review.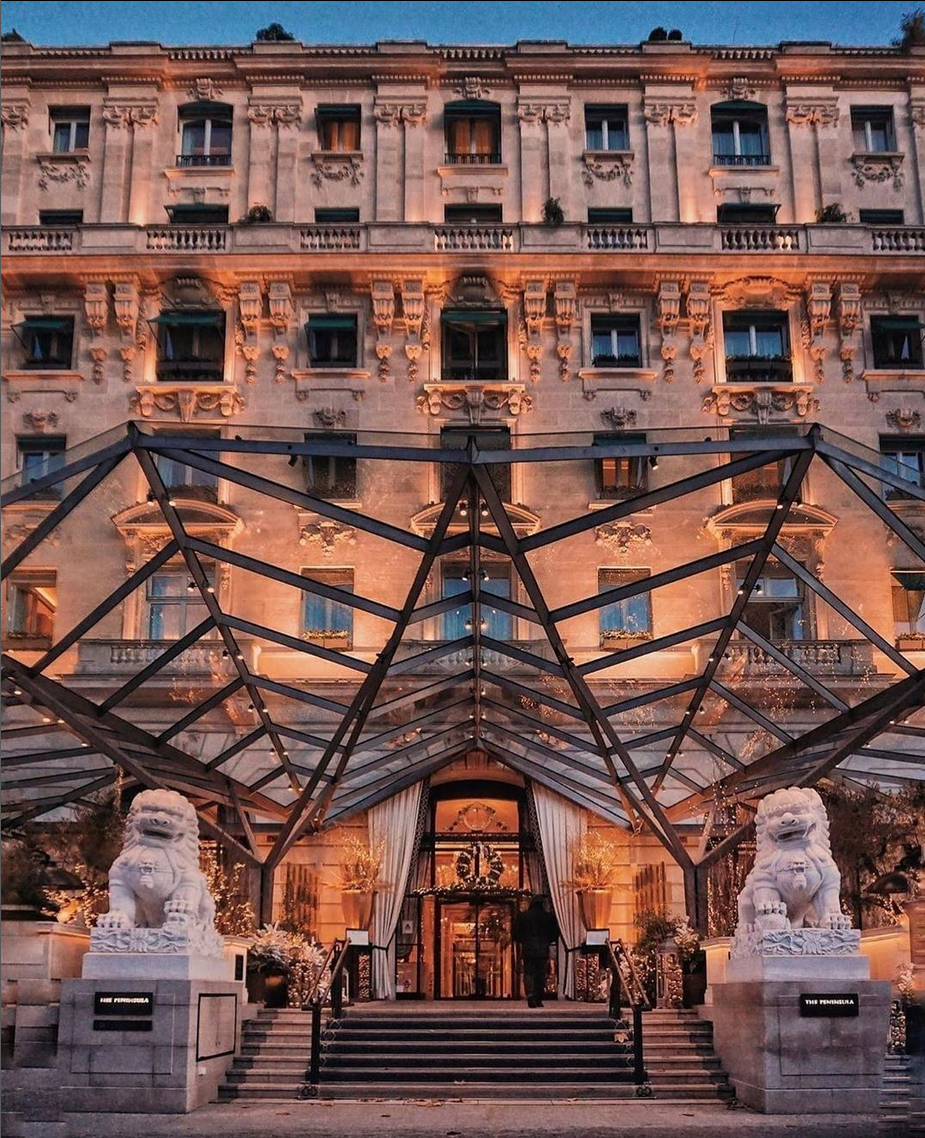 Located on a Tree-lined Avenue Near the Arc de Triomphe and the Champs-Elysees
Peninsula Paris is located at 19 Avenue Kleber in the 16th arrondissement, one of the most prestigious neighborhoods and best areas in Paris. The Peninsula Paris is only a 7 minute walk from the Arc de Triomphe and the Champs-Elysees, and less than a minute to the Kleber Metro Station (line 6), while Galleria-Musée Baccarat is just a 4 minute walk away.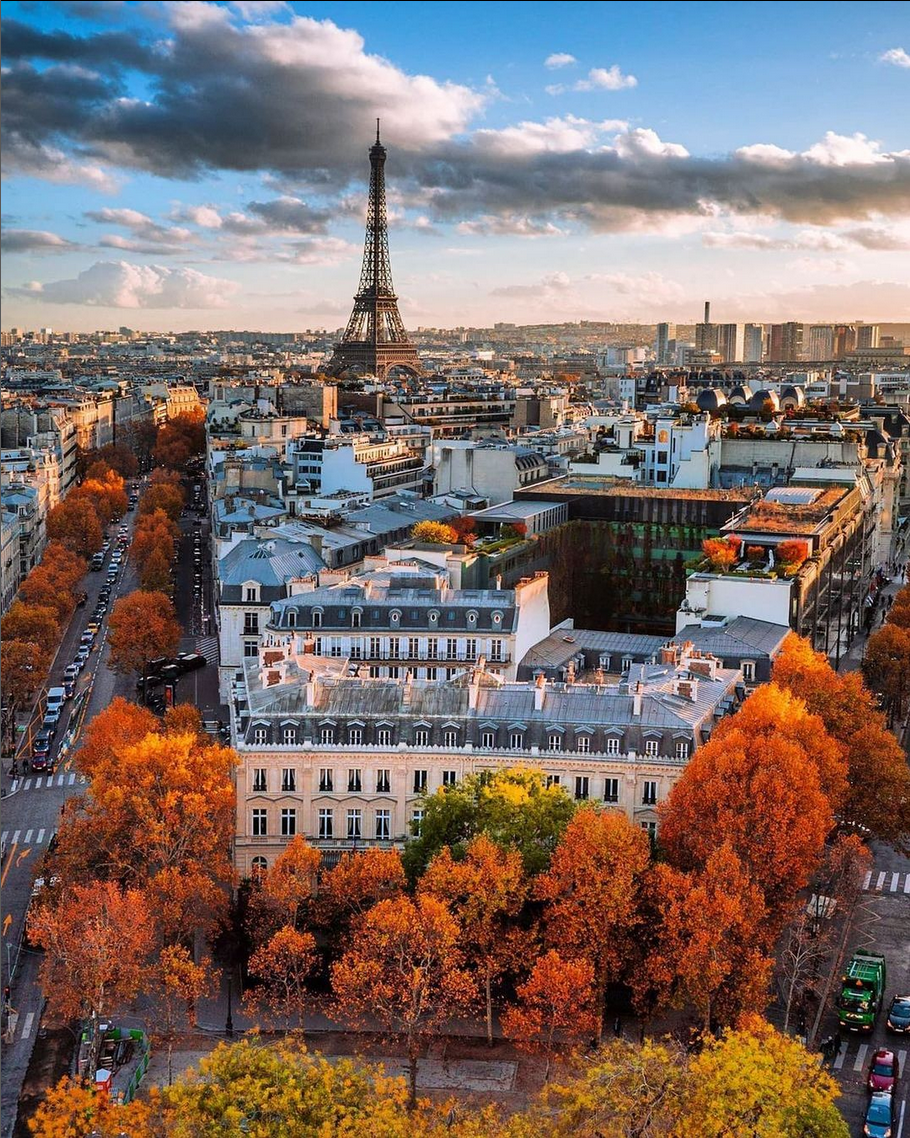 Fancy taking a long walk in this scenic city? Reaching the Eiffel Tower will take you less than 20 minutes on foot and you will be able to spot some historic sights and catch a glimpse of luxurious stores along the way.
>> CHECK FOR LOWEST RATES & AVAILABILITY
Style and Character
The Peninsula is known for its decadent décor and luxurious rooms. The luxury hotel offers breathtaking paintings that balance modern and playful elements reflecting Parisian art history. The Peninsula Paris is one of the best hotels in Paris with chic interior design that combines high quality materials with elegant and luxurious interior design.
The Peninsula Paris Lobby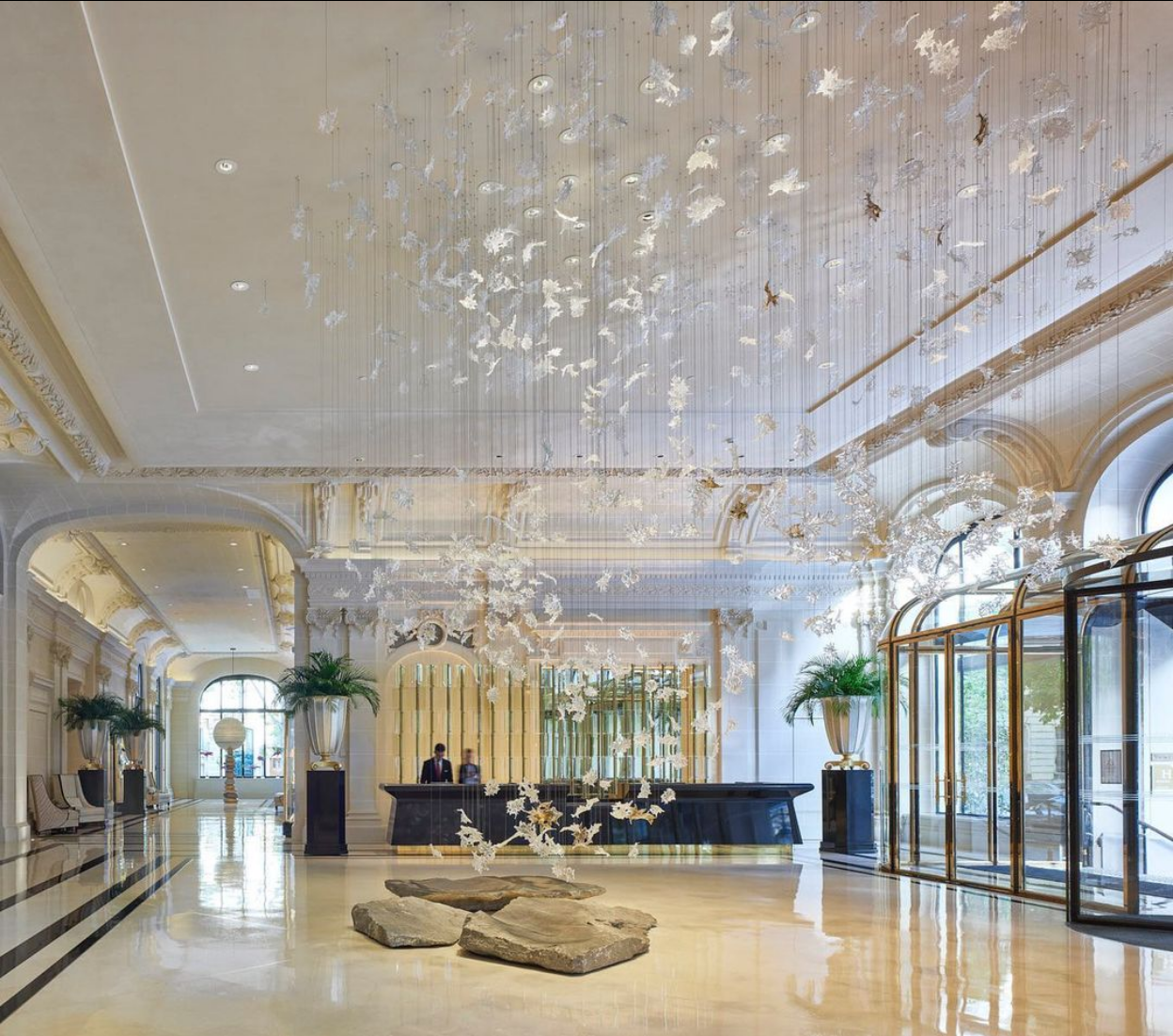 Guests checking-in at Peninsula Paris will be impressed by the lobby. Inside, the vast lobby blends polished white marble; cornicing and delicate wall moldings and a central sweeping staircase with wrought-iron railings. A striking crystal leaf chandelier is suspended on transparent chords, giving the impression that it is floating in the center of the space, where a muted cream palette is accented by restored original wood, decorative stone work, and 40,000 pieces of gold leaf. An extensive collection of abstract art further adorns the spaces, beginning with the sculpture of 800 Lasvit crystal "dancing leaves" greeting guests upon check-in at the lobby.
Service and Facilities
In addition to its exquisite furniture and the exceptional location, The Peninsula Paris boasts excellent service and facilities. In fact, it features everything you can expect from the best 5-star hotels: world-class spas, prestigious restaurants, and panoramic views of the sky from the rooftop. Guests at the Peninsula also enjoy its spa, where it features the most luxurious hotel swimming pool in France.
>> CHECK FOR LOWEST RATES & AVAILABILITY
Rooms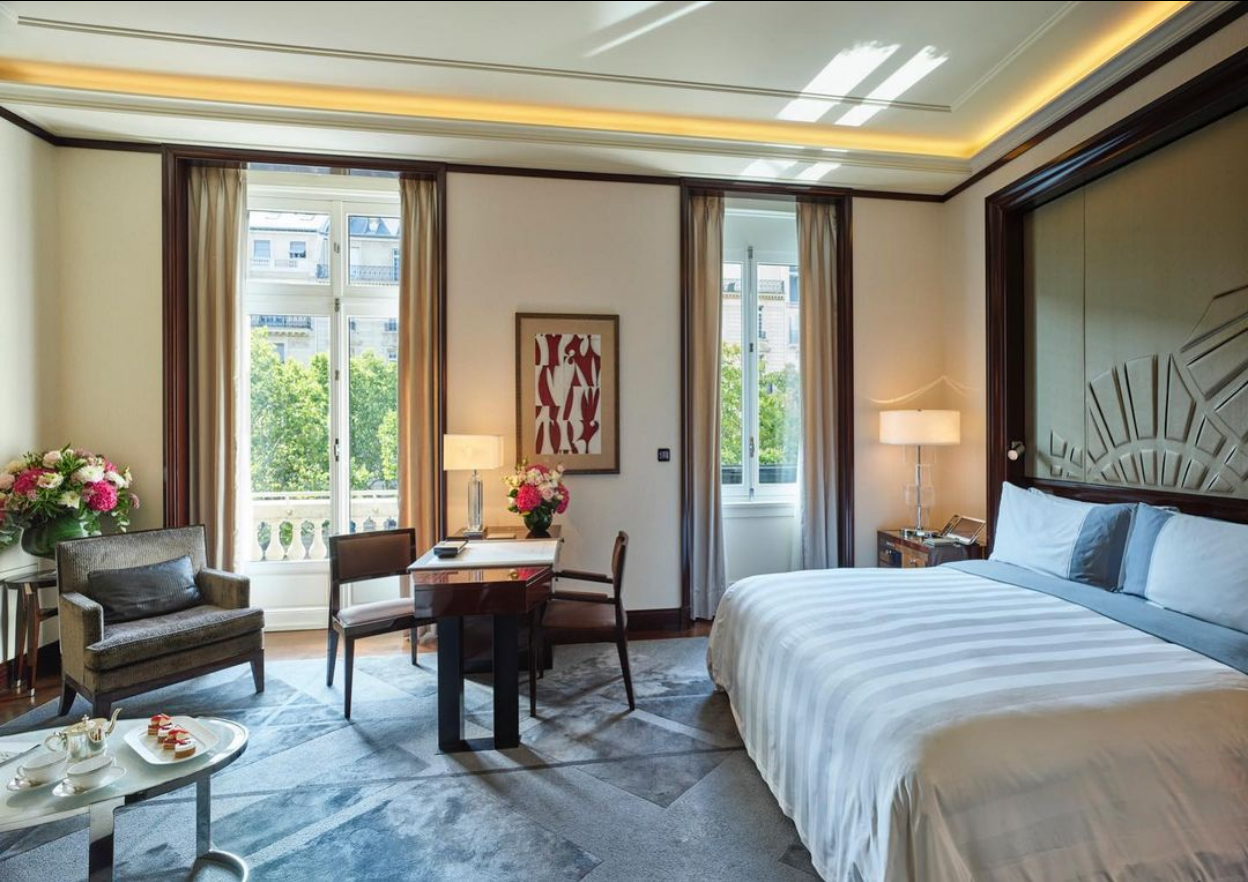 The Peninsula Rooms are still among the best out of all the Paris luxury hotels I've stayed in. Each of the rooms are tastefully elegant with a touch of modern flair. Highlights were the double upgrade to a suite with a view of the Arc de Triomphe; the modern bathrooms with Toto washlets; the fresh flowers, both white roses and orchids, that adorned our suite; the breakfast, with its excellent pastries, fresh fruits and juices, and Bordier yogurts.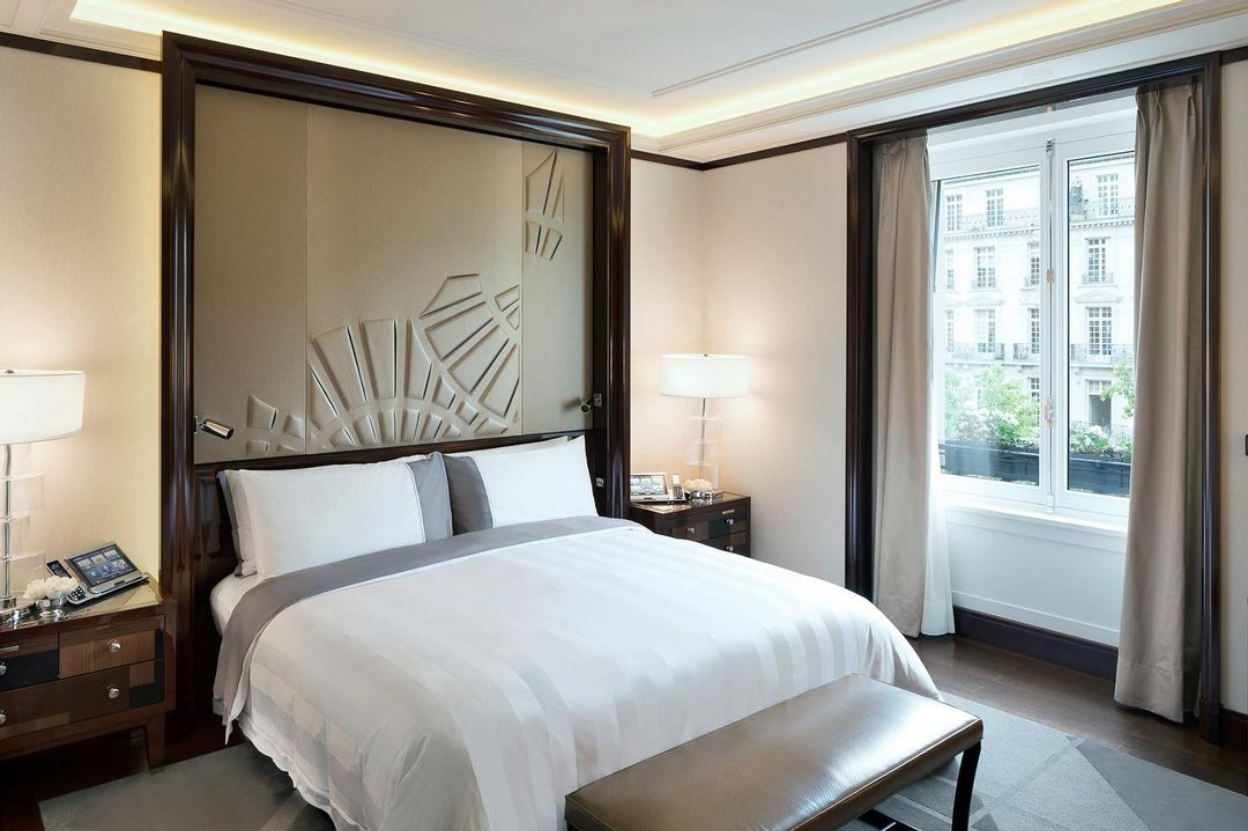 Elegant and airy, the rooms at the Peninsula Paris offer a comfortable atmosphere, with a blend of elegance and minimalist design, infused with beautiful art work, wood furnishings, and comfortable beds. The Peninsula suite provides all the necessities for relaxing after an extensive day. The color palette emits royal feel with its neutral tones with rich gold accents. Several bedrooms and suites come with an extensive dressing area where you can store your shopping items.
Most rooms and suites at the Peninsula have terraces and balconies featuring spectacular views of the Eiffel Tower and the Paris skyline. They are elegantly decorated, crafted with lacquered-wood finishes, spacious bathrooms, and large closet.
Each suite in Peninsula Paris are equipped with high-tech gadgets, such as tablets, that can operate from heating, lighting, blinding, cleaning up and contacting a valet. This is good for some but could appear too confusing for some. Tablet includes hotel information, restaurant menus and city guides.
Room amenities at The Peninsula include on-site room service, flat-screen TV, and Wi Fi.
The Peninsula Paris Bathroom w/ Oscar de la Renta Amenities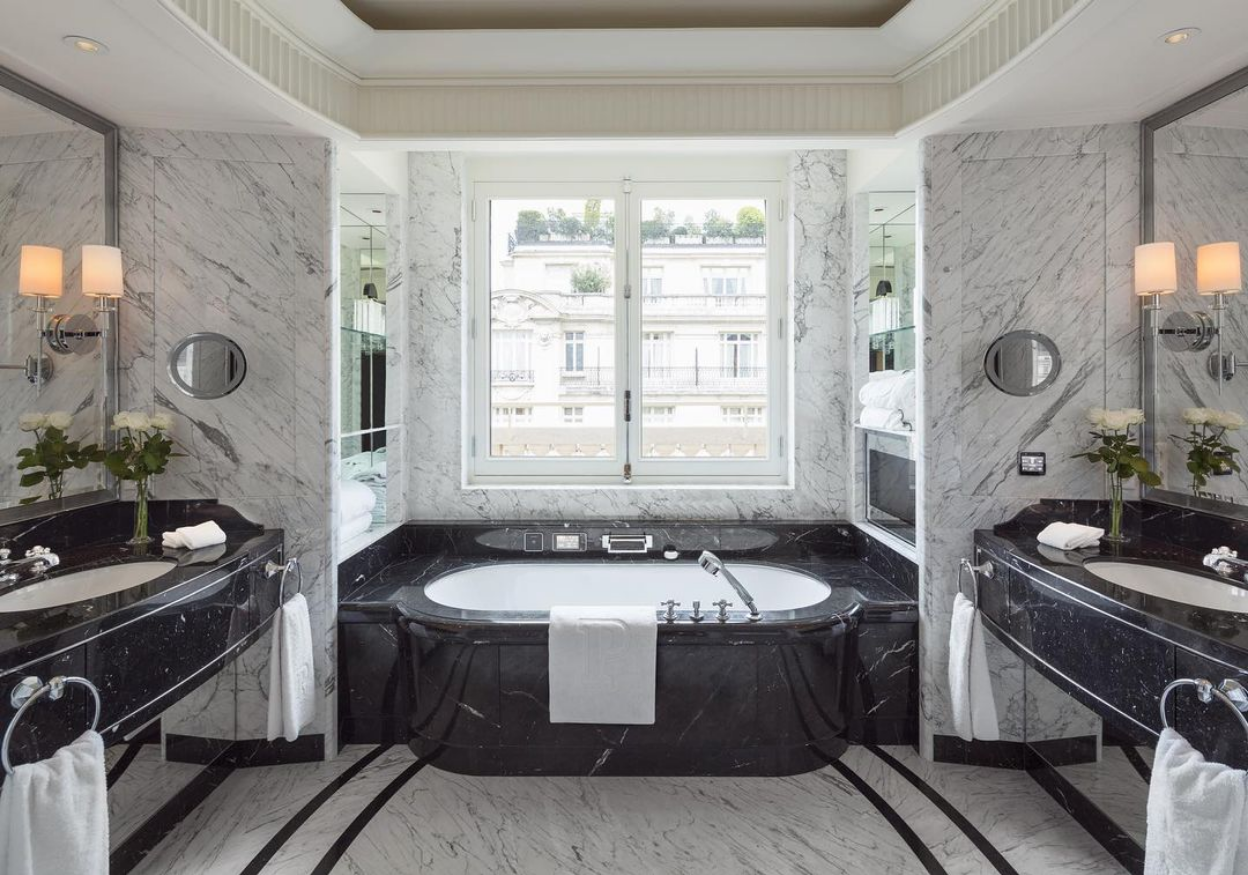 Each room and suite comes with a spacious dressing area where you can store all the lavish designer pieces you purchased during your stay. The marble-floored bathrooms have a his-and-her sink, a deep and sizable bathtub, and rain showers. There are also marble showers include separate showers, toilets and bathtubs and there are two wash basins, phones, lighting and a TV. Guests can enjoy complimentary Oscar de la Renta toiletries during the stay. The accommodation is further equipped with soft bathrobes, private balconies with stunning views of Avenue Kléber, and a generous minibar.
Food and Drinks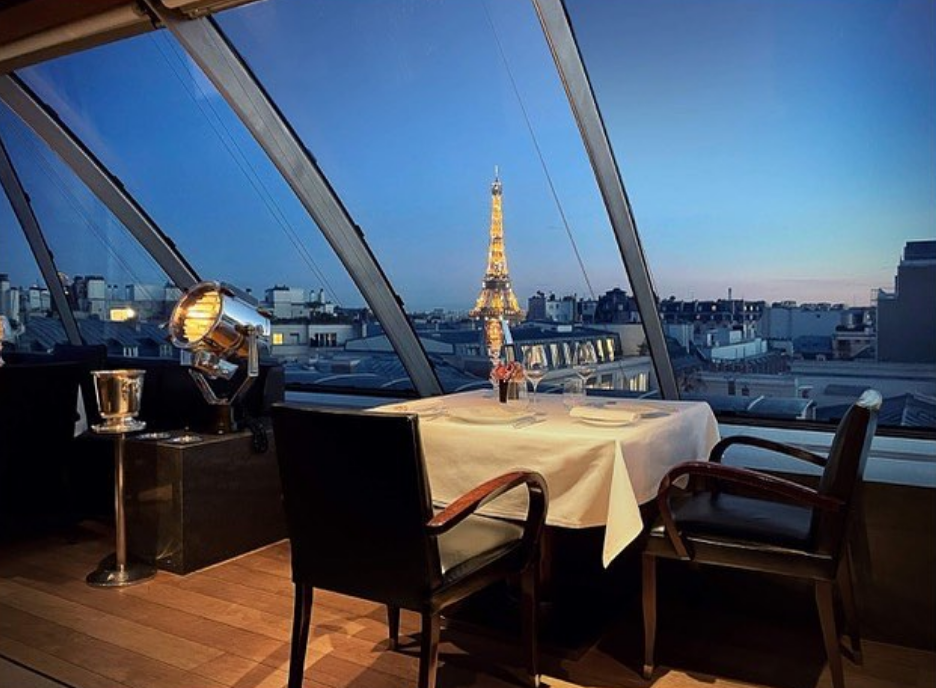 The Peninsula Paris is renowned for its L'Oiseau Blanc – a Michelin-starred rooftop restaurant with some of the best 360° views of Paris. It serves traditional French cuisine with a special emphasis on local ingredients. The menu features some French specialties guests adore, as well as some unique dishes like charred mackerel.
L'Oiseau Blanc is named after and themed around a vintage French biplane, serving French haute cuisine, presided over with flair by the hotel's charismatic head chef Christophe Raoux, a mentee of Alain Ducasse. Guests who are lucky enough to book the Katara Suite have their own private rooftop garden complete with sweeping views of all the major landmarks in Paris.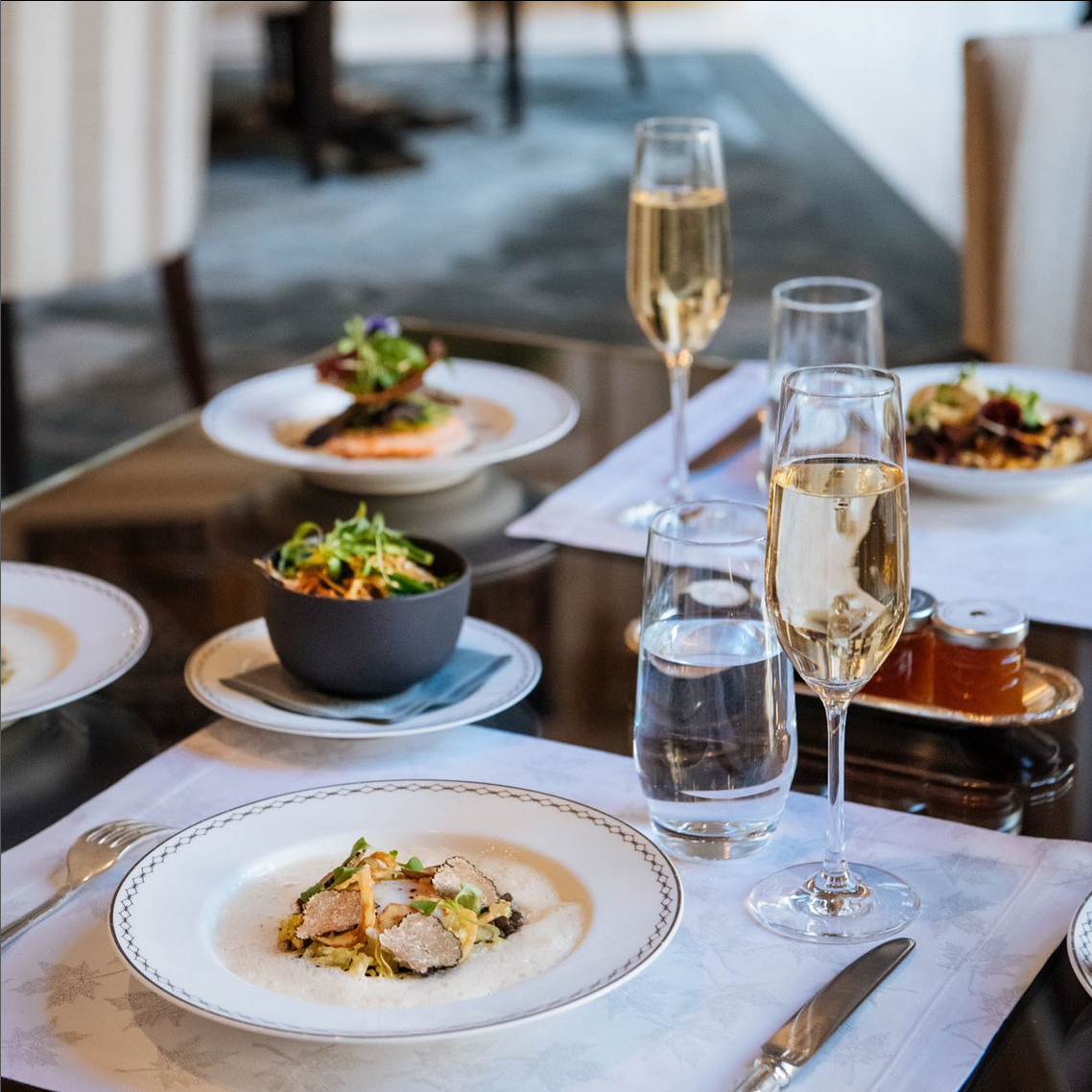 Apart from L'Oiseau Blanc, the guests at Peninsula Paris also enjoy Lili, which serves authentic Cantonese cuisine. With theatrical décor and Cantonese gourmet food prepared by Hong Kong chef Ma Wing Tak, it promises an escape from the familiar Parisian surroundings and takes you to an entirely different place.
The masterful Cantonese cuisine is combined with French Savoir-faire to bring you a feast for your senses. In addition to its grand main dining space, Lili also features a smaller dining room and intimate booth seating.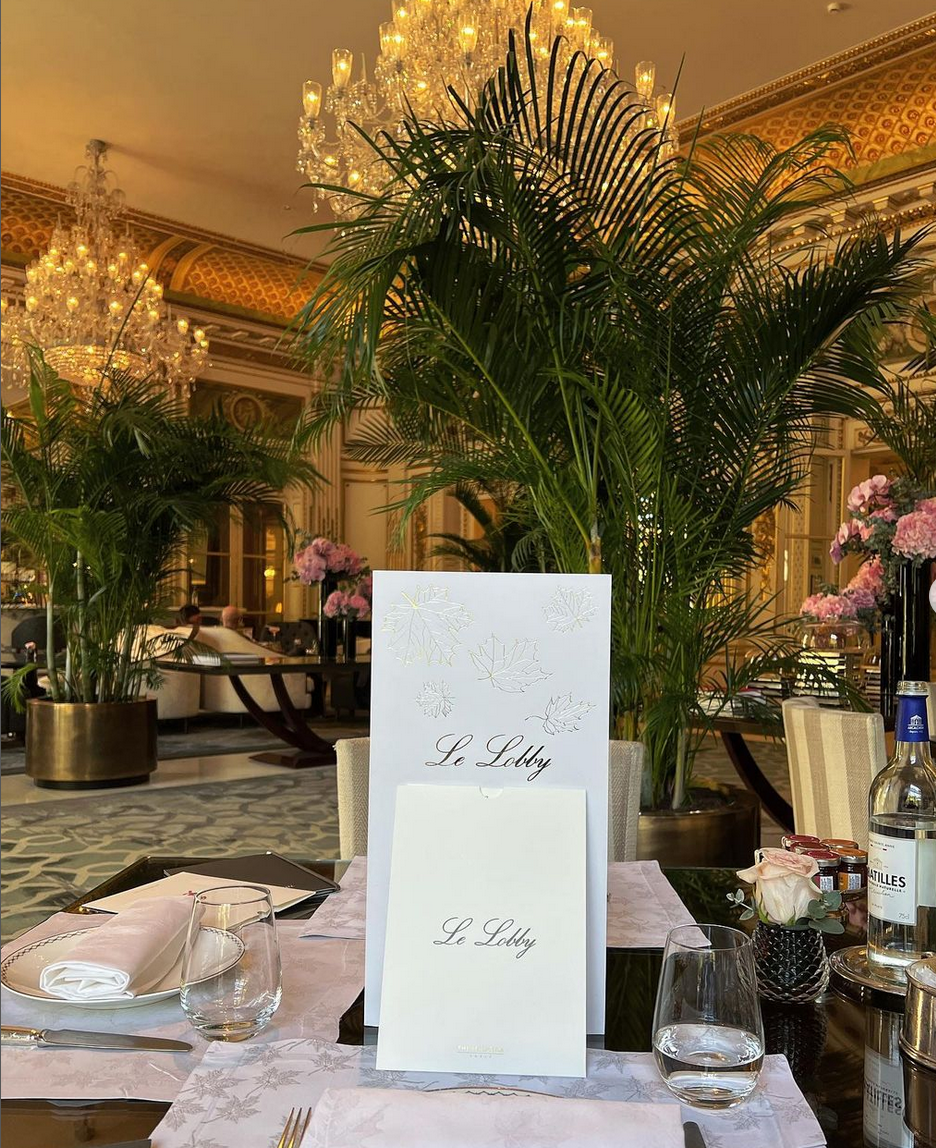 Guests at The Peninsula delight in the breakfast menu at Le Lobby where you can get a large selection of breakfast options and styles to choose from. Le Lobby also serves traditional French and International dishes for lunch, afternoon tea, and dinner, as well as brunch service on Sundays. The same menu is served seasonally just outside of Le Lobby, on the hotel's Kléber Terrace, looking out over the wide avenue of the same name.
Gym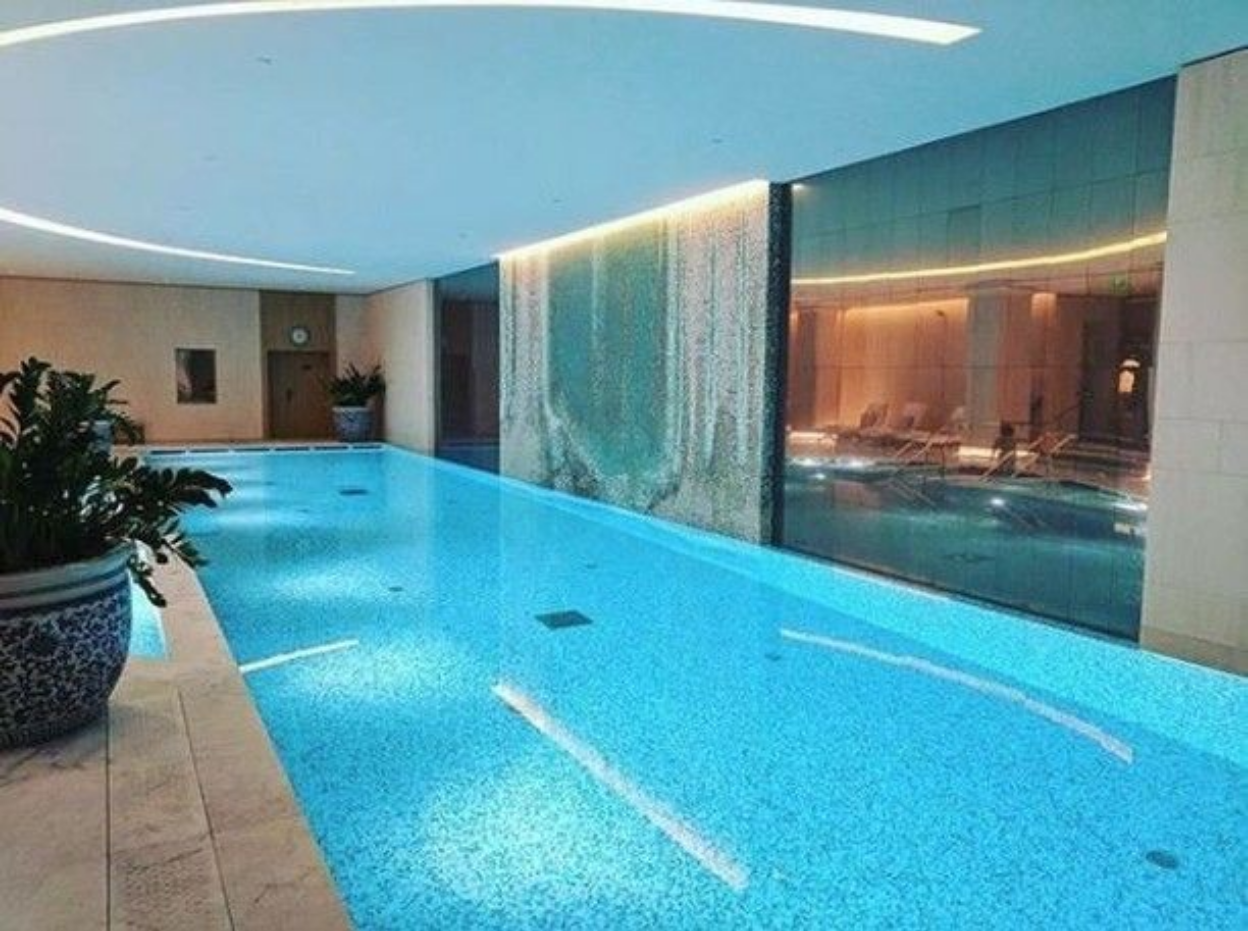 The two fitness rooms are equipped with state-of-the-art machines, plus a weekly schedule of 45-minute fitness classes held in the gym or pool. Check out the aquagym classes held almost daily in the pool. The Peninsula's fitness center features LifeFitness brand cardio and weight machines, medicine balls, personal training, and free weights. Yoga and coach-led classes are offered daily. Open 6:30am to 10pm.
World-Class Spa and Longest Hotel Pool in Paris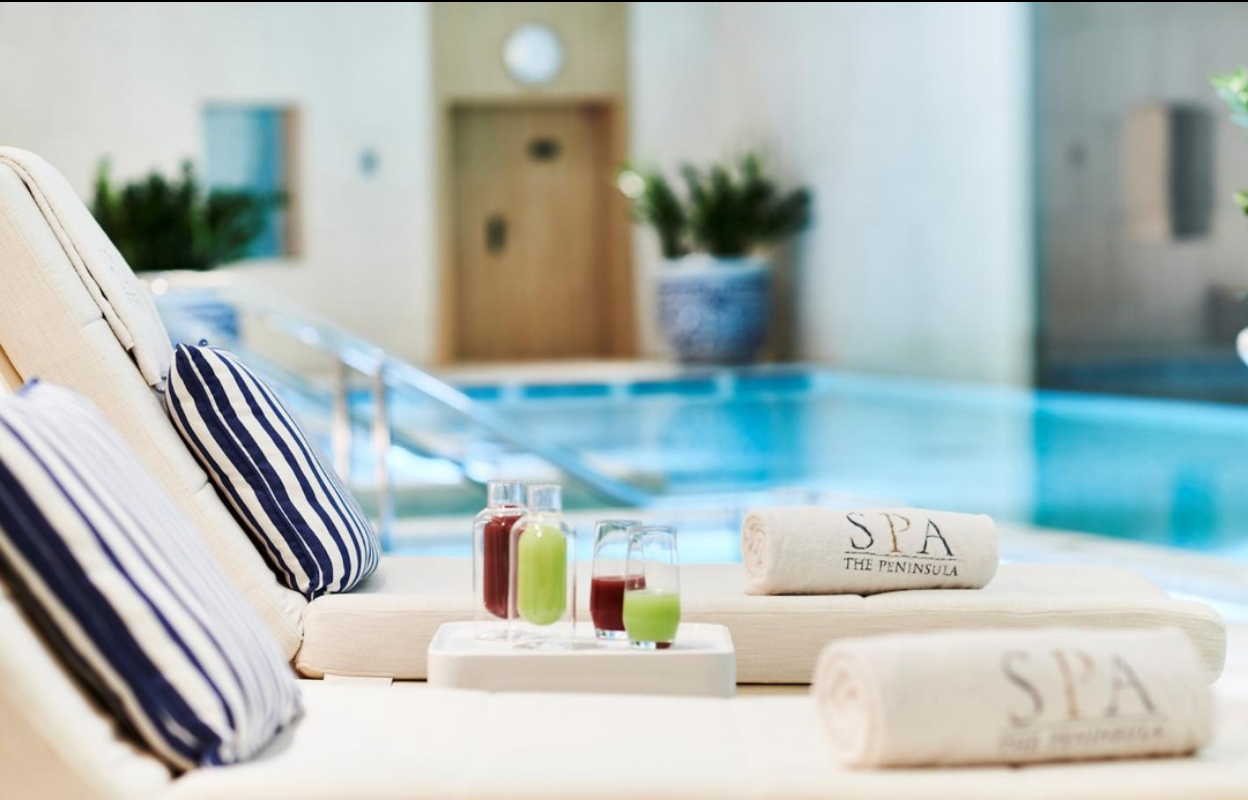 The Spa at Peninsula Paris is one of the best you'll ever find. The most expensive spa hotel in Paris offers eight treatment rooms, two with double beds. It has a luxurious, serene setting that includes relaxing oils with candlelight. The Spa has a main swimming pool, two vitality soaking pools and six treatment rooms for massages and Biologique Recherhe facials. The longest hotel pool in Paris can be found in the spa, so guests can enjoy a dip after getting relaxing treatments or breaking a sweat in one of its fitness facilities.
Shopping Near Peninsula Paris Hotel
High-end fashion brands synonymous with Paris like Louis Vuitton, Chanel, and Dior, are all located in The Golden Triangle, and is only a 15-minute walk away from the hotel. It's no surprise that The Peninsula Paris is a magnet for shopping fanatics from all over the world who like to enjoy designer fashion in the city it was founded in.
Head to the "Golden Triangle" of Avenues des Champs-Élysées, George V and Avenue Montaigne with its designer boutiques for all the best luxury brands: Chanel, Marni, Gucci, Céline, Jil Sander, Saint Laurent, Fendi, Chloé, Ralph Lauren, Ferragamo, Louis Vuitton, Dior, Armani, Prada.
Restaurants Nearby The Pensinsula Paris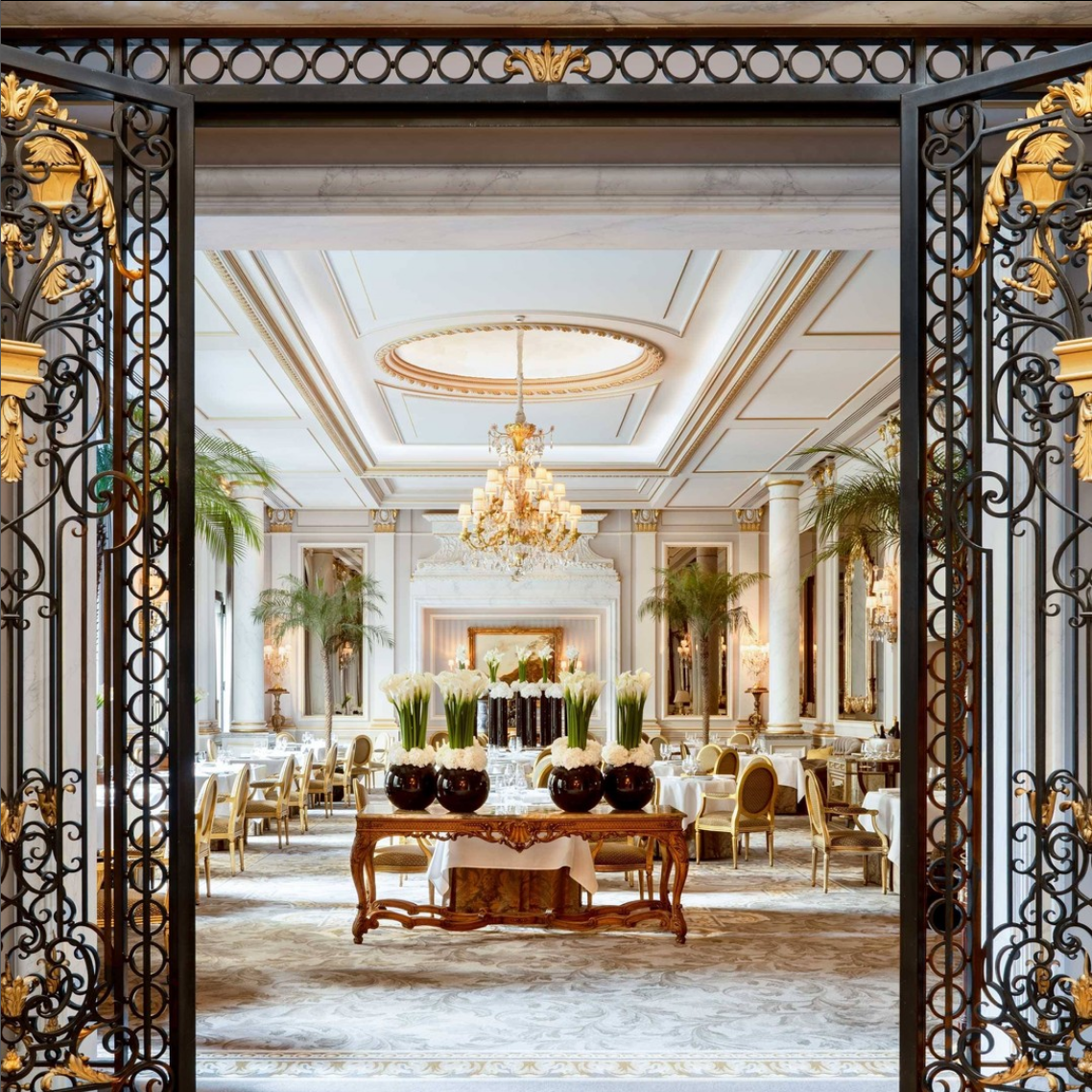 What are some nearby restaurants? Restaurants near The Peninsula include Le Cinq, Le Relais Plaza, and the Alan Geaam Restaurant.
Other nearby Restaurants Atelier Vivanda – Smallish but excellent French steakhouse with rustic décor and friendly service. Le Maxan – Modern but cozy French restaurant that serves a mean croque mignon. La Haute Cloche – Traditional, seasonal French cuisine in an intimate atmosphere that falls somewhere between a bistro and a fine dining restaurant. This place is also one of the best places for brunch in Paris.
The Peninsula Paris
19 Av. Kléber, 75116 Paris, France
Phone: +33 1 58 12 28 88
Check for Lowest Rates