Visitors look to book for the best hotels in 11th arrondissement because of its lively and central location, in one of the best areas in Paris. There's a lot visitors like about 11th Arrondissement, especially its shops, romantic neighborhood vibe, great cafes, and fun restaurants. There's plenty more to see and other attractions in the 11th arrondissement including popular attractions such as Place de la Bastille, Grands Boulevards, and Atelier des Lumières and Théâtre de La Bastille for those looking for a cultural experience.
The best hotels in Paris 11th arrondissement below range from budget hotels to luxury hotels, packed with all your must-haves for a comfortable stay in Paris.
The Best Hotels in 11th Arrondissement Paris
1. The Pullman Paris Bercy
Address: 1 Rue de Libourne, 75012 Paris France
Telephone: +33 1 44 67 34 00
Check for Lowest Rates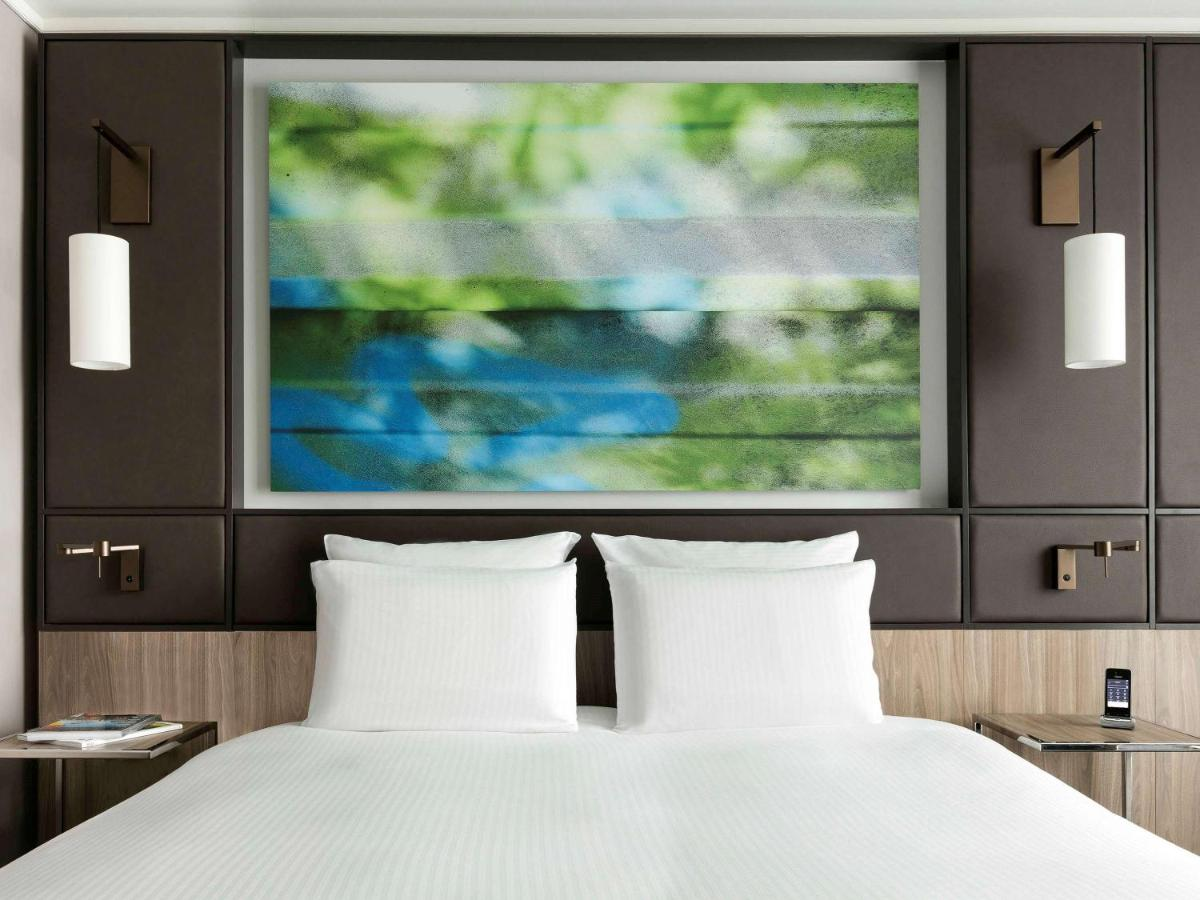 The Pullman Paris Center – Bercy is located just 1 km from the Accor Arena sports center and a 4-minute walk from the Cour Saint-Émilion metro station, providing direct access and walking disance to the 11th arrondissement main attraction such as the Paris-Gare de Lyon TGV train station, the Louvre Museum, Opéra Garnier and the Châtelet-Les Halles station.
The rooms have a contemporary decor featuring a large bay window, LCD TV, desk, tea/coffee with rain showers and high-end toiletries. The Pullman Paris enjoys a great location in the 11th arrondissement with trendy boutique shops, some of the best restaurants in Paris, and a cinema all nearby, and 15-minute metro ride from the Galeries Lafayette department store.
A review on Booking.com:

Upscale and stylish with modern comfortable rooms, close to metro station and restaurant area, very helpful hotel staff, relatively good access to Disneyland"
2. Ibis Paris Bastille Saint Antoine
Address: 13 Rue Trousseau, 75011 Paris France
Telephone: +33 1 48 05 55 55
Check for Lowest Rates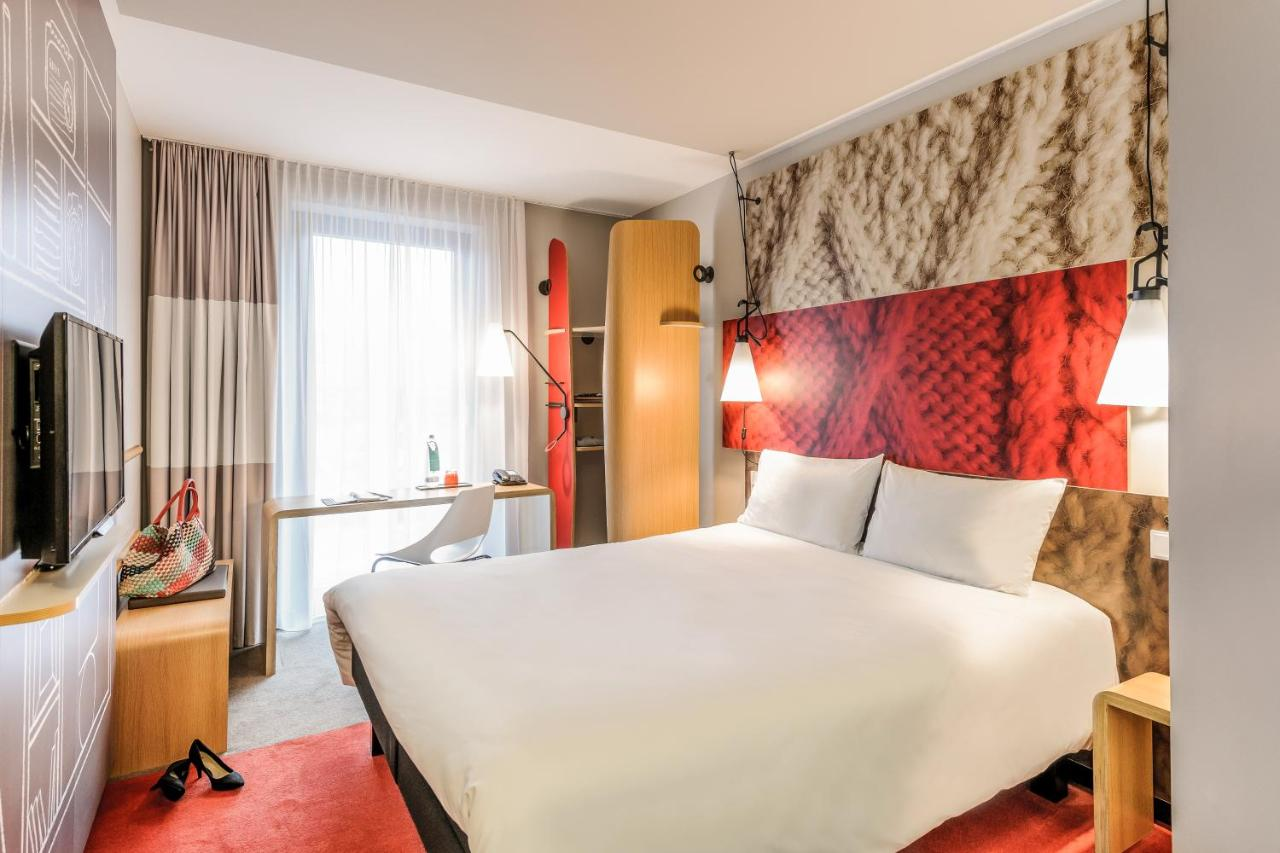 Ibis Paris Bastille Faubourg St Antoine is located in the 11th district of Paris, 900 meters from Place de la Bastille, featuring a terrace, garden and free Wi-Fi access.
Each air-conditioned room is decorated in a contemporary style including a flat-screen satellite TV, and a private bathroom. A buffet breakfast, consisting of sweet and savory dishes, such as eggs, fruit salad, yogurts and juices, is served every morning. Viennese pastries baked on site, fresh madeleines as well as a hot drink and fruit to take away are also available.
A review on Booking.com

Comfortable but small room on a very quiet street. We moved rooms away from the lift and to a higher floor. The reception staff were friendly and helpful. We stayed here because it is an easy ten minute walk to Gare de Lyon
3. New Hotel Le Voltaire
Address: 3 Rue Pétion, 75011 Paris, France
Telephone: +33 1 43 79 02 33
Check for Lowest Rates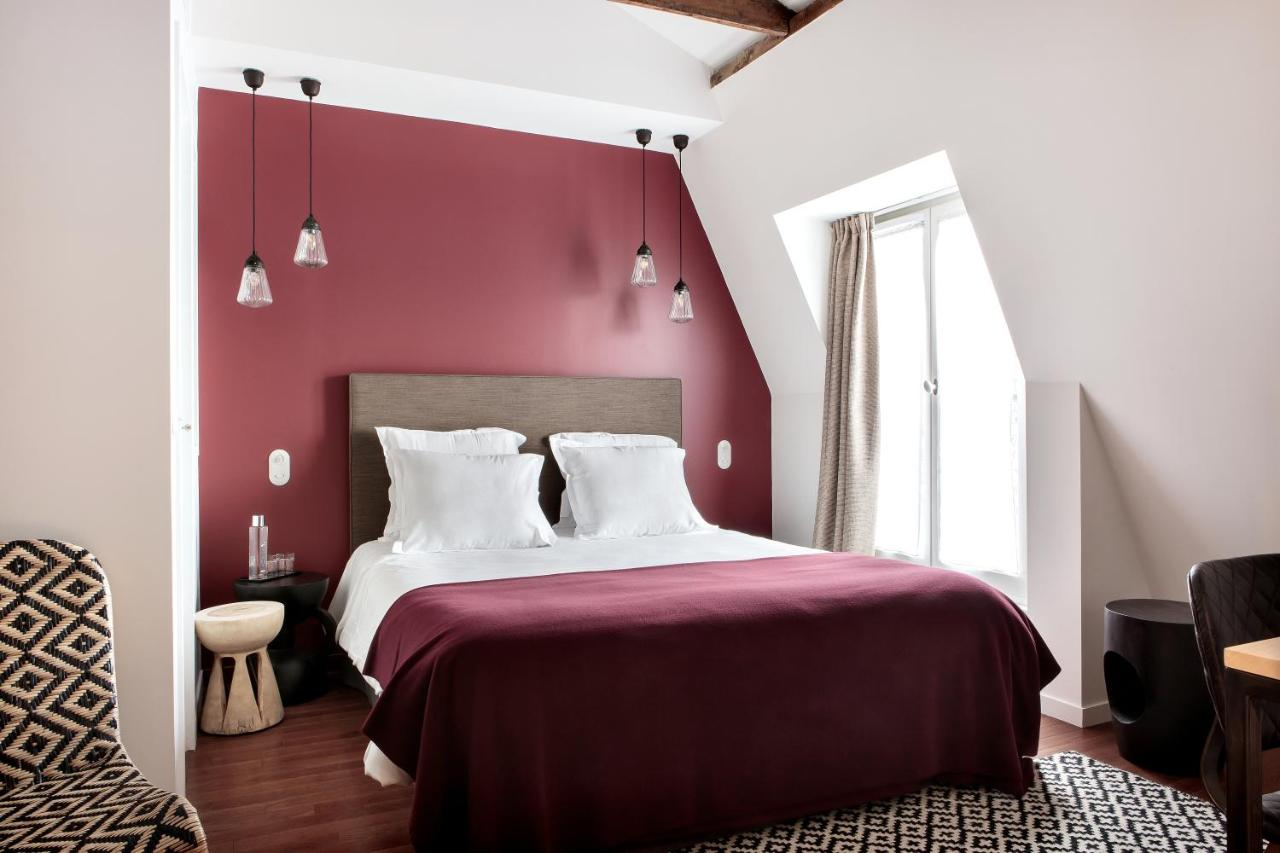 Located in the heart of Paris in the 11th arrondissement, the New Hotel Le Voltaire Paris is located just a 13-minute walk from the famous Place des Vosges. It offers an elevator, luggage storage and features free WiFi throughout the property.
All rooms feature a flat-screen satellite TV, safe and wardrobe. The private bathroom is equipped with a hairdryer and free toiletries. The Voltaire metro station, accessible in 3 minutes on foot, provides direct access to the Grands Boulevards and the Galeries Lafayette. Place de la Bastille is a 12-minute walk away.
A review on Booking.com

Location is perfect – lots of really nice restaurants and cafes close by, 12 minutes walk to the Marais, 2 minutes walk to metro. My second stay. Staff are very kind.
4. Hotel l'Antoine Paris
Address:12 Rue de Charonne, Paris, 75011
Telephone: +33 1 55 28 30 11
Check for Lowest Rates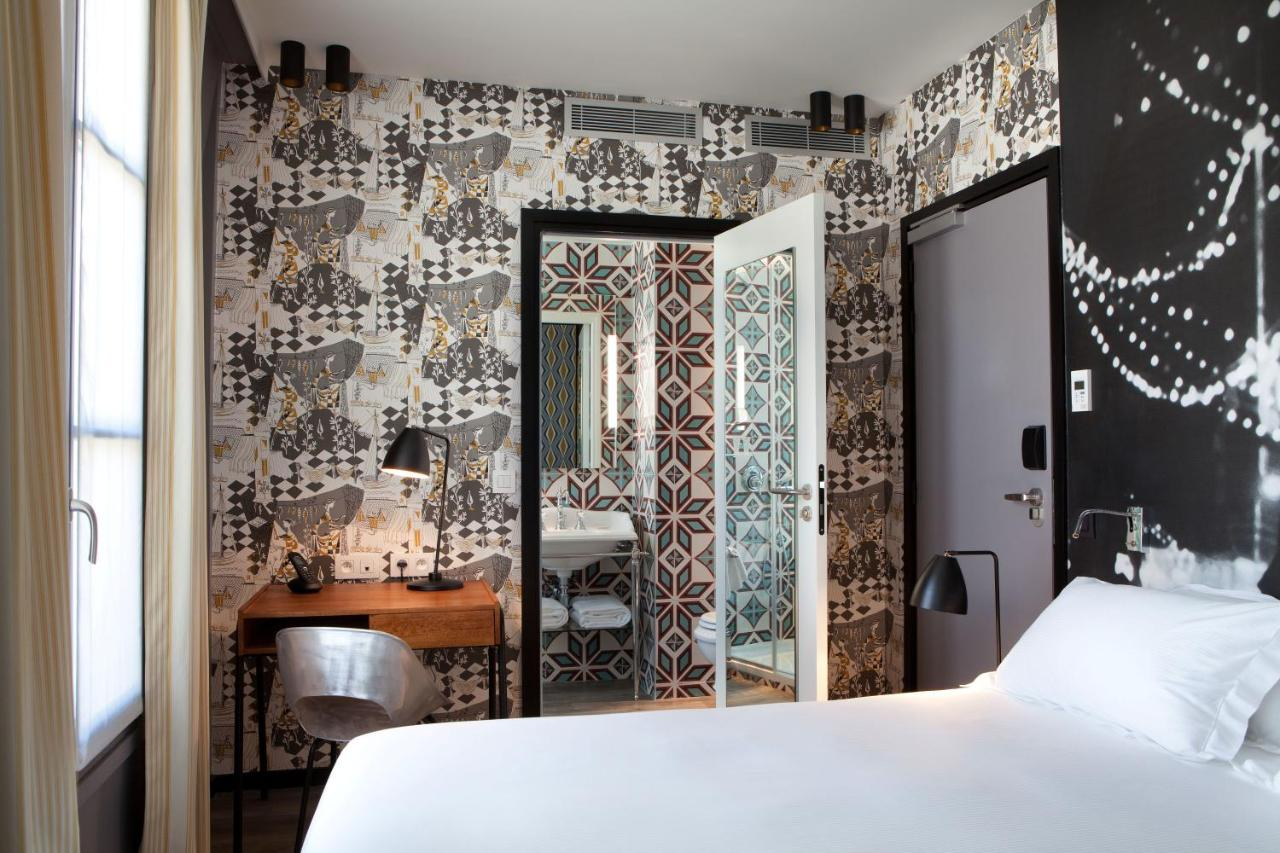 One of the few luxury hotels in the 11th arrondissement that entirely decorated by Christian Lacroix. Hotel L'Antoine offers individually decorated rooms in Paris, with a 6-minute walk from Place de la Bastille and Opéra Bastille.
There are many bars, cafes and restaurants in the surrounding area. Antoine is 800 meters from Place des Vosges and 240 meters from Ledru-Rollin Metro Station, providing access to Opéra Garnier.
A review on Booking.com
We liked the decor and the bathroom (comfy) an d the people working there were very polite and pleasent. The breakfast had small variety but it was good amd tasty."
5. Grand Hotel Nouvel Opera
Address: 152 Av. Ledru Rollin, 75011 Paris, France
Telephone: +33 1 43 79 98 76
Check for Lowest Rates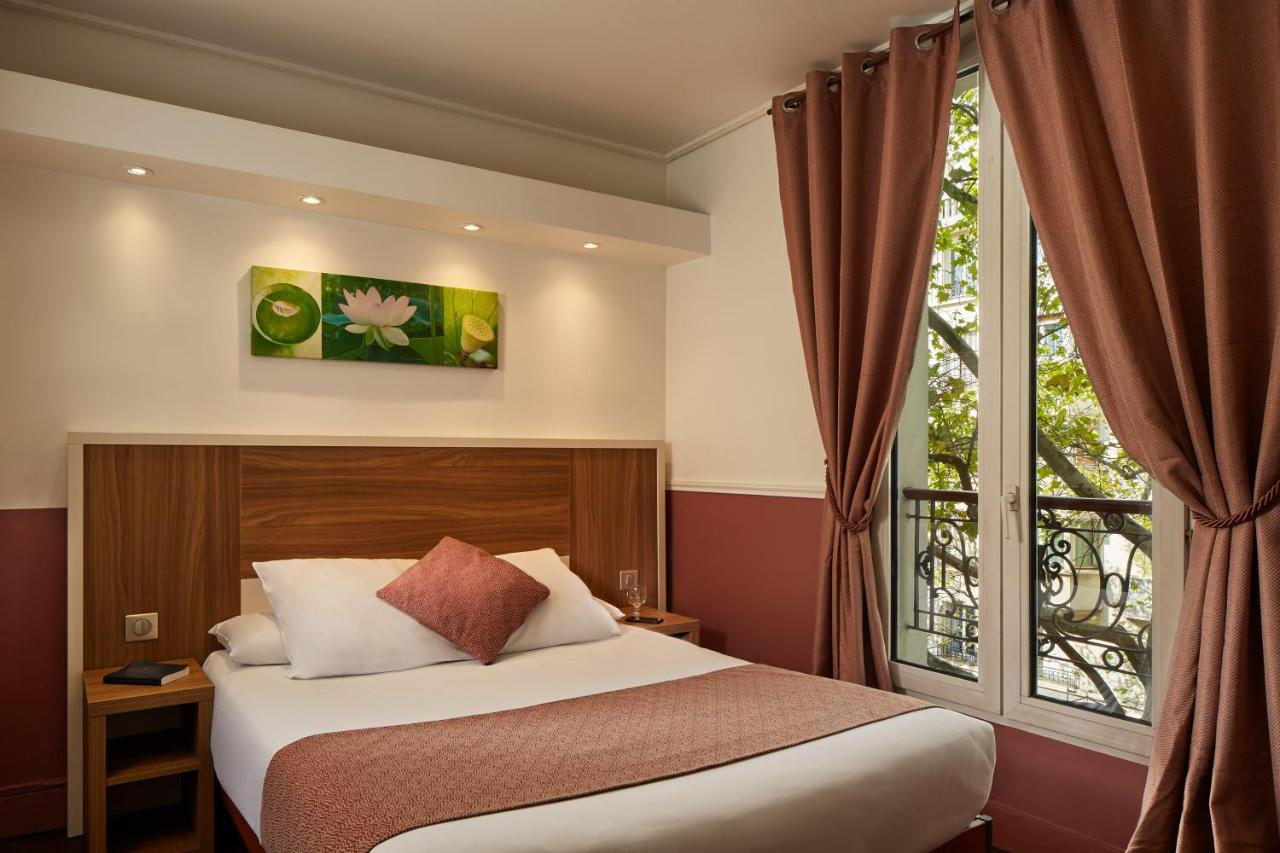 Guests at this hotel in 11th arrondisement have access to the airport shuttle that provides service from Paris Charles De Gaulle and Paris Orly international airport. This Paris hotel also provides an extensive range of services on their 24-hour front desk that includes travel and ticket bookings in addition to baggage handling.
A review on Booking. com:

My boyfriend and I visited Paris for the first time and were recommended to stay in the 11th Arrondissement and came upon Grand Hotel Nouvel Opera. We were so happy with our stay. The staff was very welcoming, friendly and helpful throughout our stay. We got to the hotel very early and couldn't check in until 2 but they let us freshen up and leave our bags with them so we could start exploring Paris.
6. Hôtel International Paris
Address: 6 Rue Auguste Barbier 75011 Paris France
Telephone: +33 1 43 57 38 07
Check for Lowest Rates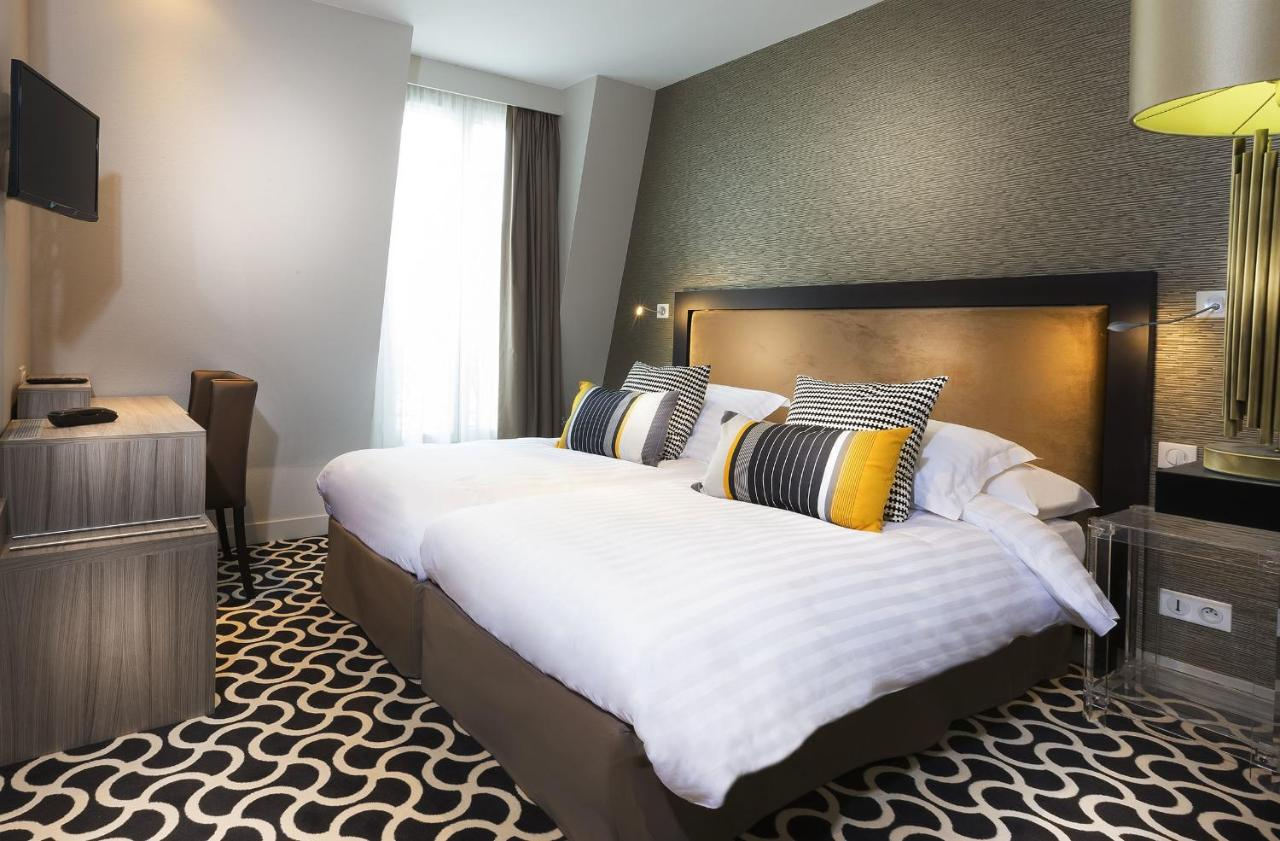 The Hotel International Paris is located in a small street, just 350 meters from the popular bars and cafés along the Canal Saint-Martin in the 11th arrondissement. It offers free Wi-Fi access throughout, a reception with a Nespresso coffee machine and a bar serving soft drinks.
The hotel has modern décor, with all rooms equipped with an LCD TV, a direct telephone line, a minibar and a desk. The private bathroom is fitted with a shower and a hairdryer. All rooms are serviced by a lift and some overlook the courtyard. This hotel in the 11st arrondissement has a 24-hour reception, where the multilingual staff can provide assistance with local tours, excursions, and buy tickets for shows and tourist buses.
A review on booking.com:

The guy at Reception was very friendly, relaxed, welcoming and helpful. The hotel/room was very clean and comfortable. The breakfast was fine and because the hotel is on a small road (off the Avenue Parmentier) with good double glazing, there was very little noise, day or night. There's a metro right nearby and a good mix of restaurants, bars & cafes (though they were closed during our stay due to COVID.) Good value; will book again.
7. Hôtel Gabriel Paris
Address: 25 Rue du Grand Prieuré, 75011 Paris, France
Telephone: +33 1 47 00 13 38
Check for Lowest Rates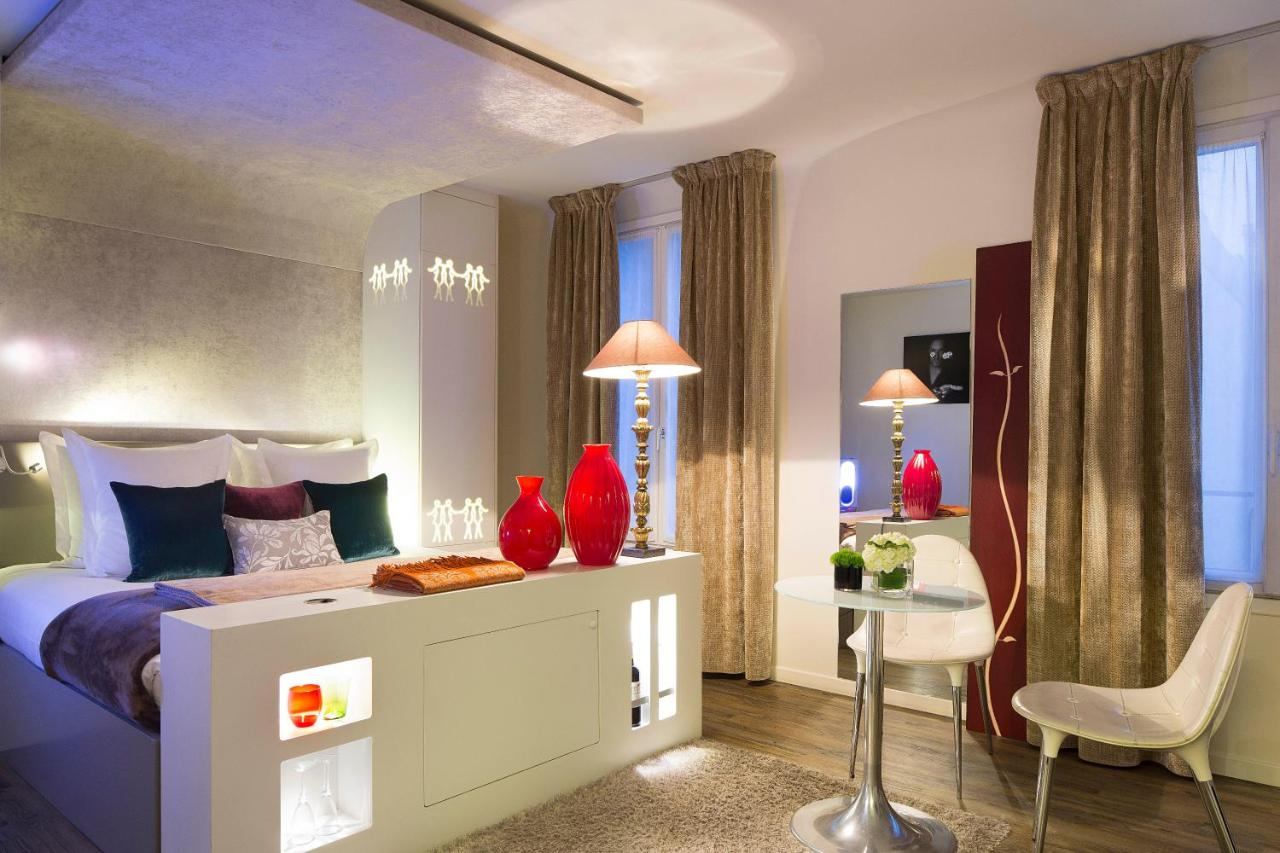 Hôtel Gabriel Paris is ideally located in the center of Paris, near Place de la Republique, featuring an Art Deco façade and an interior with contemporary decoration. The peaceful and refined atmosphere of this Paris hotel gives an intimate and elegant setting that contributes a peaceful and relaxing vibe. All rooms are elegantly decorated, featuring modern amenities such as flat-screen TV, an iPhone docking station, and free unlimited Wi-Fi access.
A review on Booking.com:

A true little gem of a hotel! Everything here is so good and welcoming: the staff, nicely designed rooms with cool lighting, exceptional cleanliness, plentiful breakfast, and the location in Folie-Mericourt, neighbor to the historic and beautiful Marais district. It's very close to Place de la Republique and Oberkampf metro stations, but you can also go on foot to explore the neighborhood, or even go to say Louvre museum in 30-35 min. Next time in Paris we won't look elsewhere.
8. Les Jardins du Marais
Address: 74 Rue Amelot, 75011 Paris, France
Telephone: +33 1 40 21 20 00
Check for Lowest Rates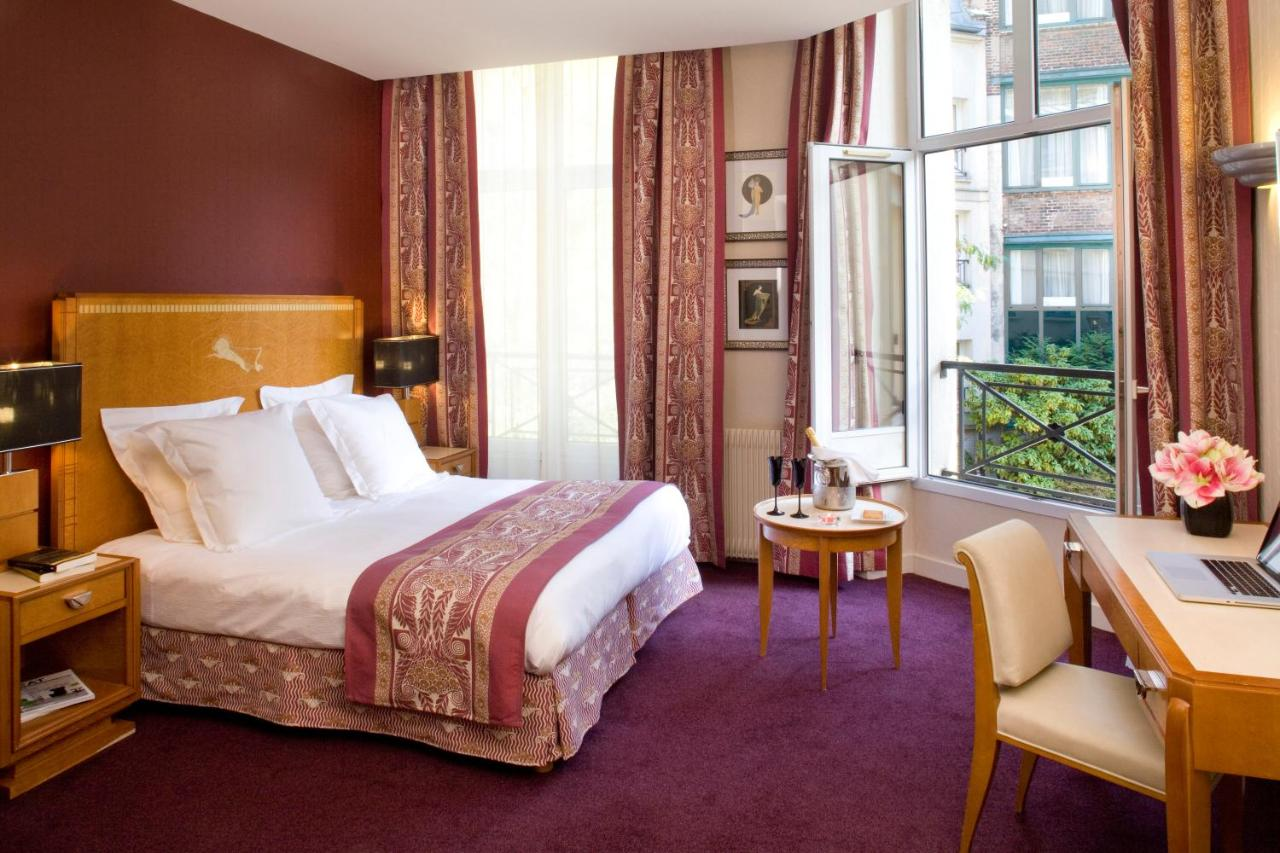 This very quaint hotel is a 4-star hotel near the 11th arrondissement. This boutique hotel has a convenient location in Le Marais district, which is a short walking distance to Places de la République and Place de la Bastille, both of which are only 10-minute walk away.
With a contemporary-style decoration, the rooms at Les Jardins du Marais are equipped with a flat-screen satellite TV and a minibar, with a beautiful marble bathroom. The Saint-Sébastien-Froissart metro station is 100 meters from the hotel Les Jardins Du Marais. It will give you direct access to the Opéra Garnier and Place de la Concorde.
A review on Booking.com

I really liked the quirkiness of the place, with that "indoor" garden. Perfect location near Bastille and just off the big avenue for reduced traffic noise nuisance. Super comfi bed and great generous pillows (I'm on the firmer side) for a restful sleep. Super nice and friendly staff
Tips for Booking Hotels in 11th Arrondissement
The typical price for three star hotels in 11th arrondissement for three nights ranges from $88 to $315 per night depending on the season. For the lowest rates in 11th arrondissement or hotels in central Paris, we recommend booking during the low season between January and April.