The best restaurants in Paris with a view, and its monuments are among the most visited in the world. The sweeping panoramic views of Paris make for exceptional views while having breakfast, brunch, lunch, or dinner. Imagine the perfect setup for lunch with the Eiffel Tower in the background or having dinner with a romantic backdrop of the Seine river as your backdrop.
Apart from the best hotels and shopping, Paris is also home to some of the best restaurants with views that will leave you speechless. Below is a of the best restaurants with a view in Paris.
You Might Like:
Best Paris Restaurants with a View
1. BUSTRONOME
Address: 2 Av. Kléber, 75016 Paris, France | map
Restaurant Menu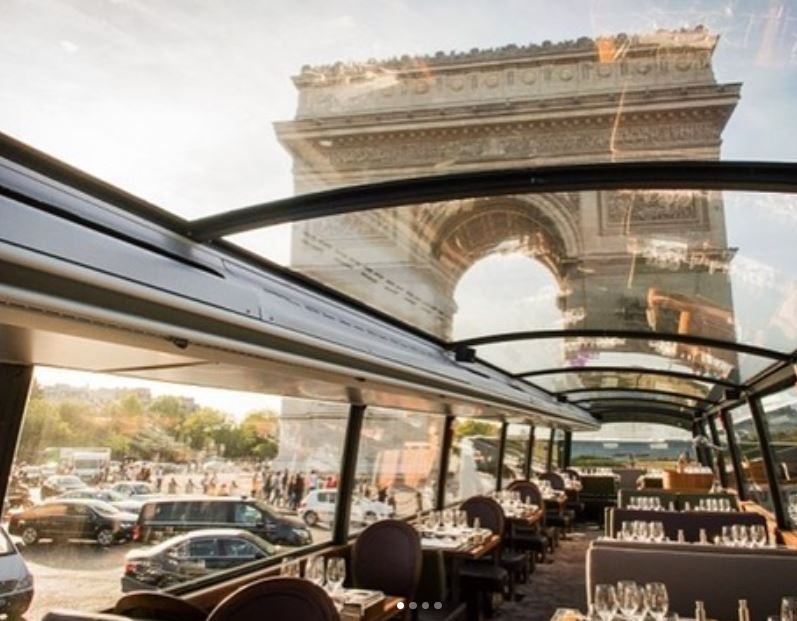 The Bustronome is one of the most innovative approaches to a Paris restaurant with a view. The luxuriously appointed double-decker bus is converted into a fine dining restaurant that travels around Paris. Imagine having dinner with stunning views of the Eiffel Tower, Arc de Triomphe, or Notre Dame as your backdrop! It's a culinary experience like no other, with the menu prepared by famous Chef Sébastien Nicolleau, who has two tasting menus with incredible food and wine pairings. It's definitely a unique Paris restaurants experience.
2. LE CIEL DE PARIS
Address: Tour Maine Montparnasse, 56th floor Tour Maine Montparnasse, Av. du Maine, 75015 Paris, France | map
Restaurant Menu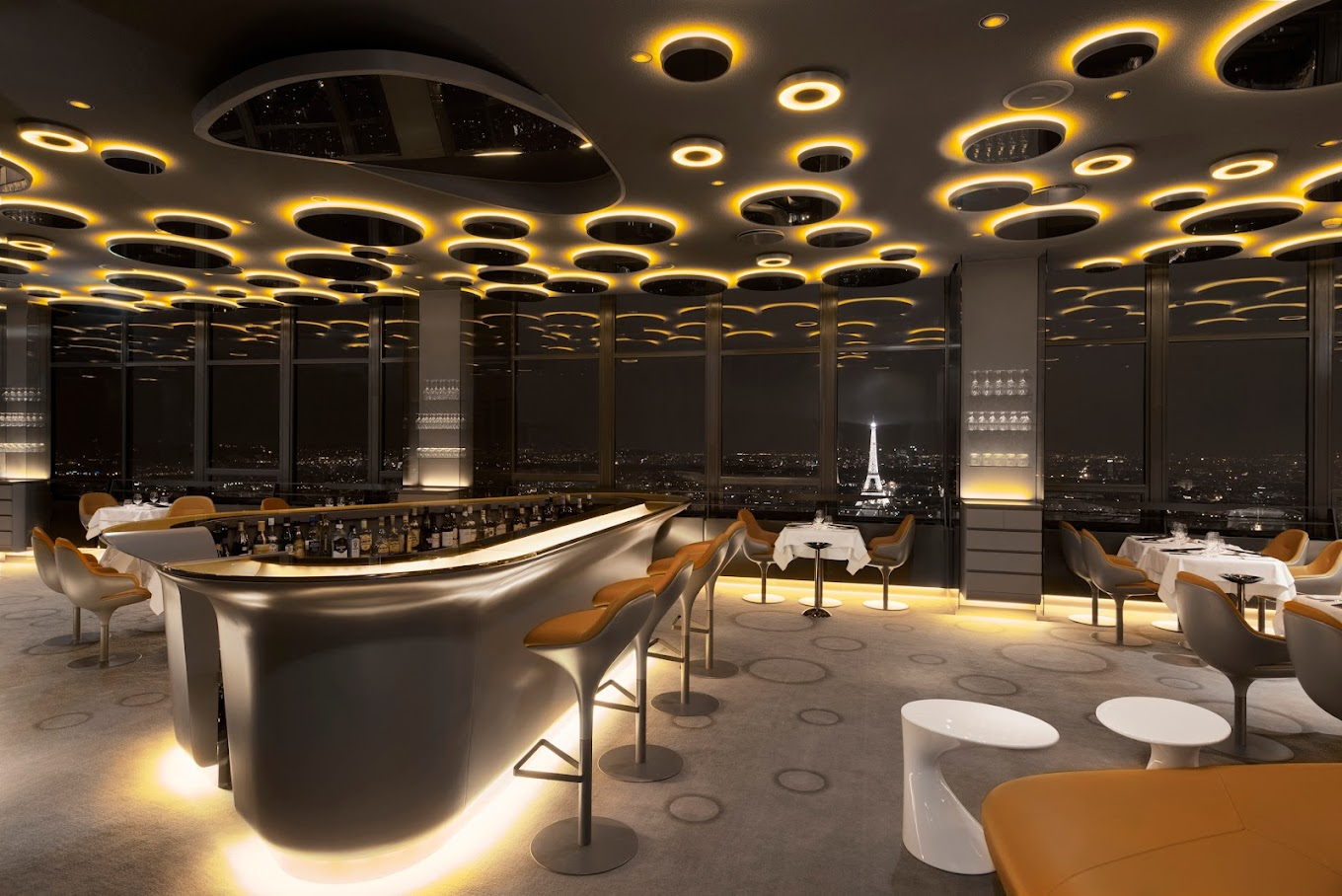 One of the best Paris restaurants with delicious food with a view of the majestic Eiffel Tower. Le Ciel de Paris is a glass-walled restaurant on top of one of the city's tallest structures. This restaurant offers sweeping views of Paris while offering an exquisite French cuisine. After 38 seconds in the elevator, reach the top of the Montparnasse tower in the 15th arrondissement and discover the new design decor of Le Ciel de Paris, signed Noé Duchaufour-Lawrence, with the theme Paris Big Screen. One of the best Paris restaurants with a view because of its enhanced by textured materials in muted hues, also offers you a hyper-trendy millefeuille bar, leaving you speechless. Be sure to try the tasty, savory, or sweet creations of the talented chef Christophe Marchais.
3. 6 NEW YORK
Address: 6 Av. de New York, 75016 Paris, France | map
Restaurant Menu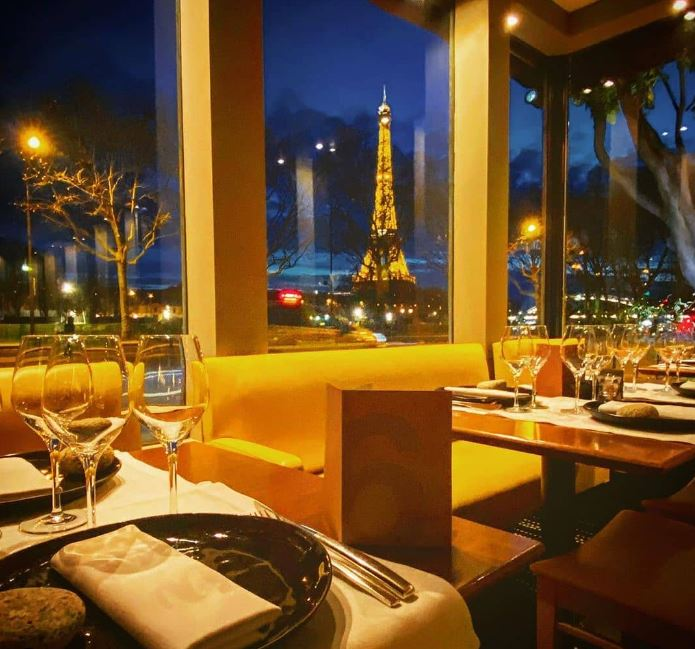 The talented cook Jérôme Gangneux opened this elegant Alma restaurant a dozen years ago. This trendy restaurant is in one of the best areas of Paris, between the Eiffel Tower and the Champs Elysées, in the 16th arrondissement of Paris. We like the opulent decor of this famous gourmet stopover, it's a bright setting at lunch, its more subdued in the evening, and its exceptional view of the Eiffel Tower. It's a charming restaurant serving plentiful delicious food, with its menu featuring truly delicious neo-classical dishes are truly one of a kind.
4. CAFÉ MARLY
Address: 93 Rue de Rivoli, 75001 Paris, France | map
Restaurant Menu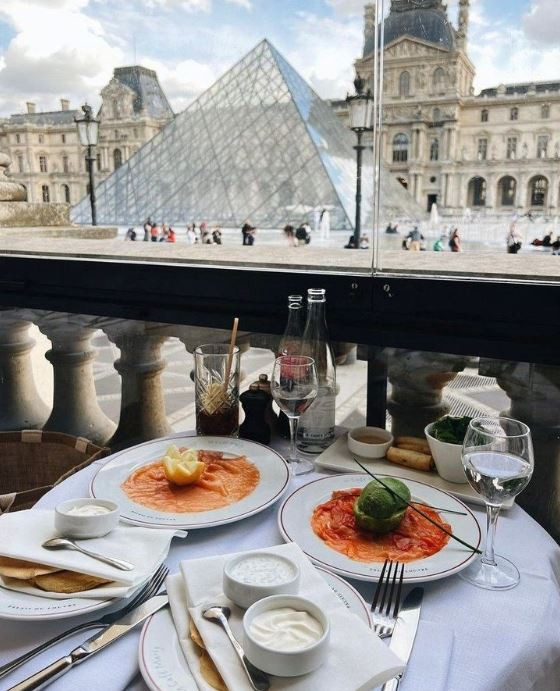 The Café Marly enjoys an exceptional view of the Louvre pyramid. Models, journalists, stylists, and others come to settle in this designer restaurant in front of the restaurant's listed woodwork to see and be seen.
This restaurant is located in the 1st arrondissement, with an upscale dining setting in an old-world interior & stunning open-air arched passageway with incredible views of the Louvre Museum. It's a perfect setting for summer time dinner with its warm and airy setting.
5. CASA LUCA
Address: 82 Av. Marceau, 75008 Paris, France | map
Restaurant Menu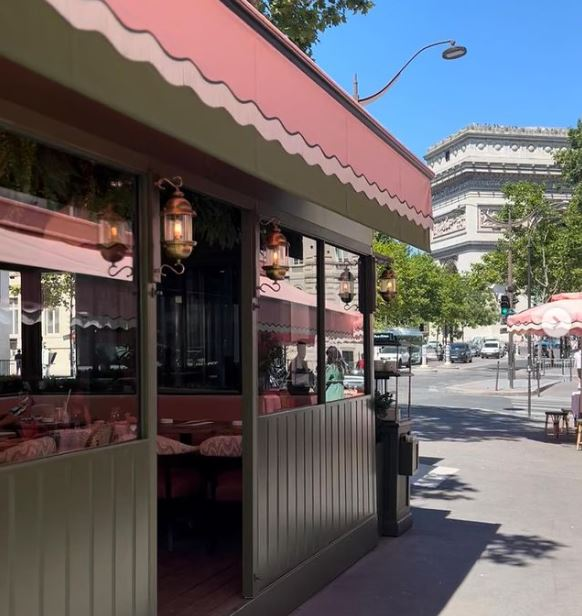 Casa Luca perfectly blends the Parisian atmosphere and its Italian menu on this very popular restaurant with a view of Arc de Triomphe. The concept of this restaurant is by world-renowned interior designer Pierre-Yves Rochon, who has designed luxury hotels and restaurants around the world. This restaurant is opposite the Arc de Triomphe, a stone's throw from the Champs Elysées, in the 8th arrondissement. It's the perfect alternative if you want a dish from traditional French cuisine. 
6. RESTAURANT GEORGES
Address: 6th Floor Georges Pompidou Place Georges Pompidou, 75004 Paris, France | map
Restaurant Menu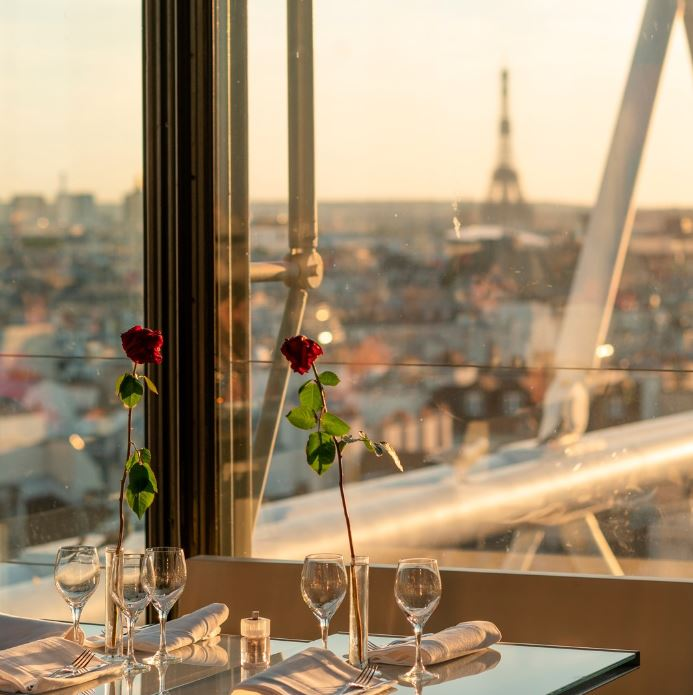 Ideally located in the 4th arrondissement on the massive roof of the Center Pompidou, Dominique Jacob and Brendan Mc Farlane designed the architecture of the Restaurant Georges with its impressive volumes. This avant-garde design restaurant offers a spectacular Eiffel Tower view plus other remarkable monuments of Paris. You will experience amazing food through its inventive cuisine with a refined presentation of exceptional local products.
7. CHEZ FRANCIS
Address: 7 Pl. de l'Alma, 75008 Paris, France | map
Restaurant Menu
Chez Francis is a famous luxury brasserie ideally located in the heart of the Golden Triangle in the 8th arrondissement, with a sensational and even breathtaking view of the Eiffel Tower. Its mythical terrace on the Place de l'Alma makes for an excellent breakfast, lunch, or dinner setting – quaint and intimate charm decor. On the menu, everything is homemade, not to mention fresh oysters and other shellfish.
8. Rosa Bonheur Sur Seine
Address: Port des Invalides, Quai d'Orsay, 75007 Paris, France | map
Restaurant Menu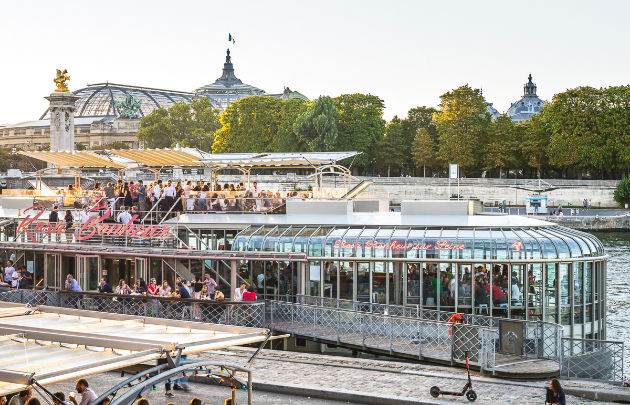 Rosa Bonheur sur Seine is the third property in a group of other famous places among the inhabitants of the French capital. At the foot of Pont Alexandre III since 2014, Rosa Bonheur sur Seine has already become a classic in the lives of trendy Parisians, becoming a must for strollers along the river. This place is located in a fantastic setting, listed as a UNESCO World Heritage Site. In this place, you can sip a glass of rosé while tasting tapas or pizzas cooked in a wood-fired oven, dance to the rhythm of the waves, or move around while listening to a pop-rock concert between two games of table football.
9. Marcounet
Address: Port des Célestins, Quai de l'Hôtel de ville, 75004 Paris, France | map
Restaurant Menu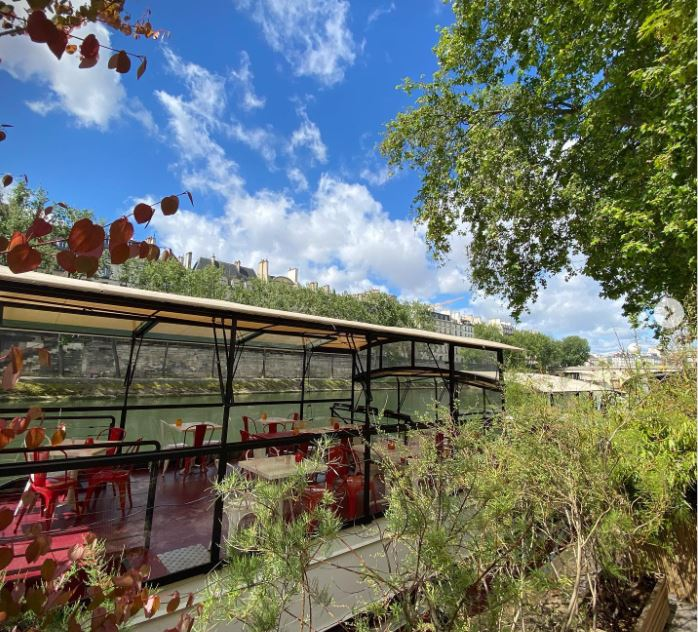 This restaurant offers a stunning backdrop of the Seine River on the bank of historic Paris, located between the town hall and Île Saint Louis.
When its beautiful terrace can accommodate up to 190 people, the Marcounet "overflows" and floods the banks of the Seine with wooden pallets transformed into tables. The silent atmosphere of the deck reserved for concerts contrasts with the festive explosions of the Parisian summer aperitif.
10. LÀ-HAUT
Address: 70, avenue Franklin Roosevelt – Suresnes | map
Restaurant Menu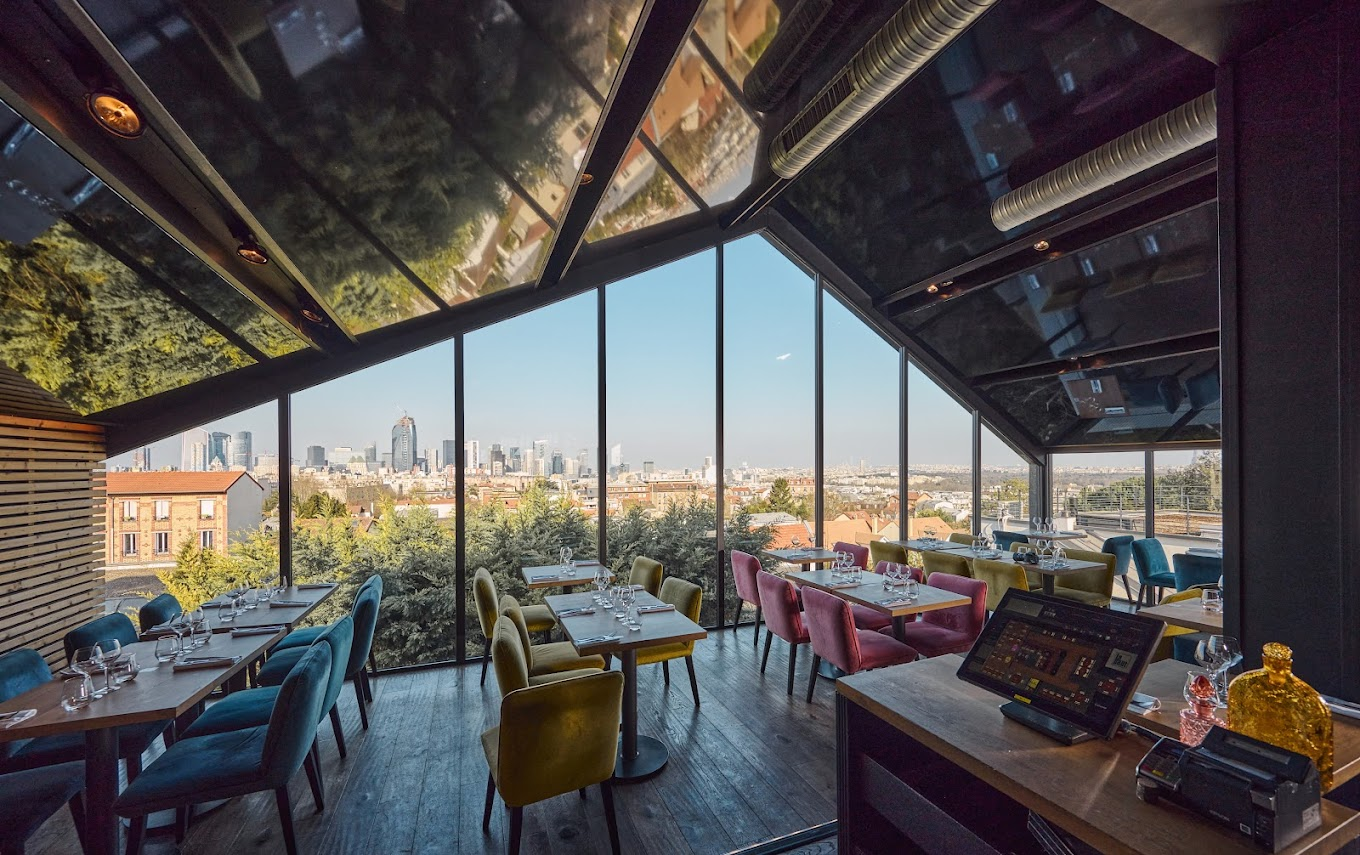 Located on Mont Valérien in Suresnes, near Porte Maillot, Là-Haut is one of the best restaurants in Paris with a breathtaking view of the capital. The menu respects the codes of bistronomy and changes every four weeks, but always with an unrivaled quality ratio. It's also one of the best restaurants in Paris with an affordable view, with exceptional dishes from the menu starting from 39.90 euros. Norbert Tarayre (celebrated chef on M6) and Yoanne Flament, who has rubbed shoulders with starred houses, pay great attention to the finest detail on their dishes using local ingredients only. Là-Haut is the unmissable trendy stopover in this increasingly trendy area of Greater Paris.
11. LE MEURICE ALAIN DUCASSE
Address: 228 Rue de Rivoli, 75001 Paris, France | map
Restaurant Menu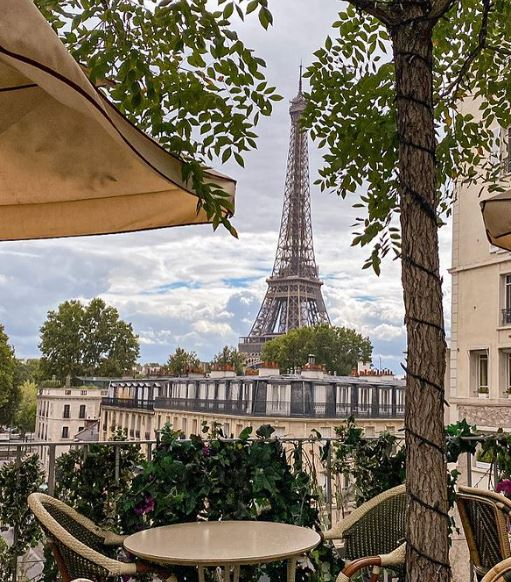 Freshly renovated in 2016 by designer Philippe Starck, Le Meurice displays a pure style from the time of Louis XIV with refined lines inspired by the Salon de la Paix at the Palace of Versailles. Here, simplicity is the keyword. There is no excessive decoration at the table, just a white tablecloth and the cutlery that goes with it, with a sole focus on the taste of the cuisine, using classic products that bring out their authentic taste, orchestrated by renowned Chef Jocelyn Herland and Cédric Grolet.
Get a table upstairs to enjoy a nice view of the Jardin des Tuileries through the restaurant's large windows. One of the best Paris restaurants with a view and amazing food!
12. L'OISEAU BLANC
Address: 19 Av. Kléber, 75116 Paris, France
Restaurant Menu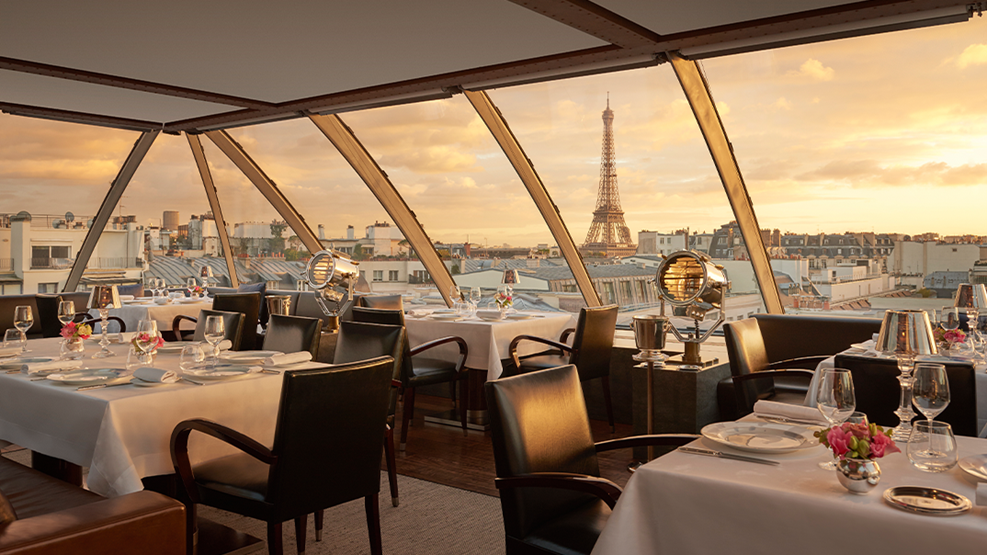 Giving pride of place to French cuisine and aviation, L'Oiseau Blanc will make you soar above the rooftops of the City of Light with a gastronomic French cuisine experience. As a tribute to aviation pioneers Charles Nungesser and François Coli, a replica of the "L'Oiseau Blanc" plane they used to attempt to cross the Atlantic hangs in the air. In addition to having a magnificent panoramic view over the rooftops of Paris, you can fully enjoy it on the open-air terrace. Or, if you prefer to face the Eiffel Tower, book the Perfect Table decorated by Maison Saint-Louis where the chef will prepare a romantic menu just for you.
13. TERRASS"
Address: 12 Rue Joseph de Maistre, 75018 Paris, France | map
Restaurant Menu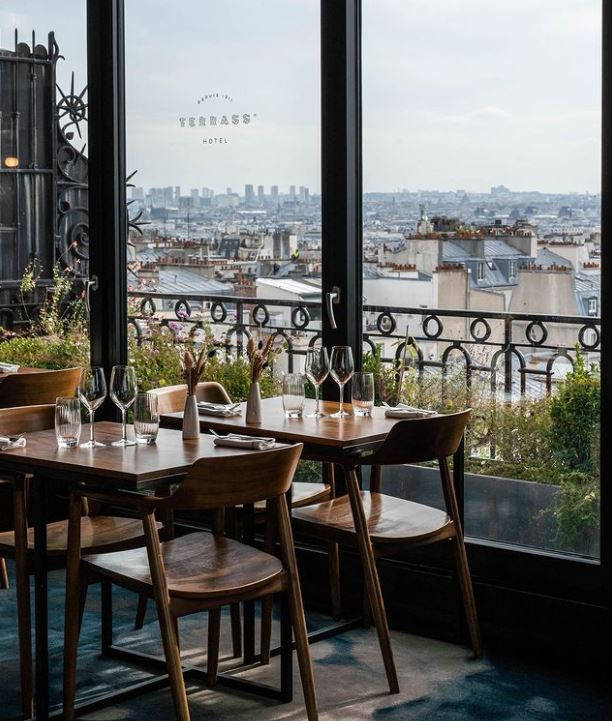 You will have to climb to the seventh floor of the Terrass" Hotel to go to the Terrass" Restaurant. This gastronomic restaurant enjoys a breathtaking panoramic view of Paris, a beautiful setting for lunch or dinner. At lunchtime, the menu is between €18 and €24 for the main course. Poultry marinated in lemongrass and soy, accompanied by Chinese cabbage, is tender and melting in the mouth. And for dessert, the black forest with kirsch liqueur with a worked aesthetic makes you want to bite your teeth into it. At dinner, à la carte dishes cost between €12 and €70. Once again, the meat is in the spotlight with the Normand beef tenderloin served with chanterelles and Jerusalem artichoke, which go perfectly with the meat.